How To Enjoy Dive-in Movies on Carnival Cruise Ships
Last Updated on December 6, 2023
Pool-side movies first started back in 2004 when Princess cruise line introduced their first big movie screen by their main pool on the Caribbean Princess. The following year, Carnival took up the idea and made their first Seaside Theater on the Carnival Liberty for Dive-in Movies. Since then, every Carnival ship has had this theater, and the screens have just gotten bigger and bigger. The movies run the gamut, from kid-friendly features, to action flicks, to Oscar-nominated films; you have quite the selection.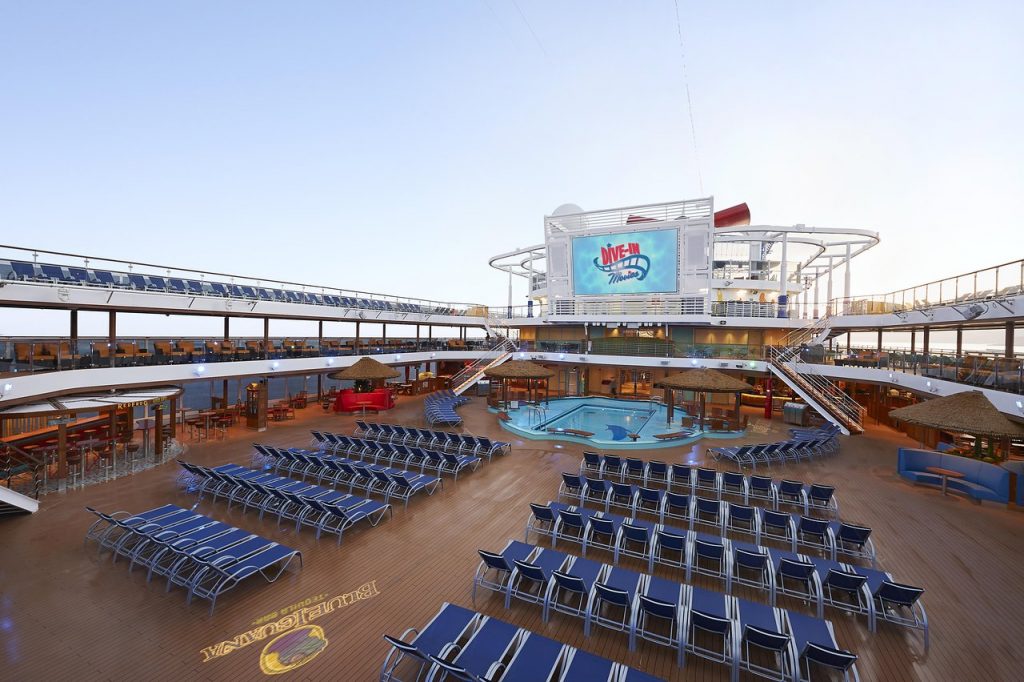 What Dive-in Movies are playing on Carnival?
The following movies will be showing on Carnival cruise ships for November 2023.
A Christmas Carol
The Grinch Who Stole Christmas
Grand Turismo
Indiana Jones and the Dial of Destiny
Mission Impossible – Dead Reckoning Part One
Love Actually
Oppenheimer
The Polar Express
Teenage Mutant Ninja Turtles
What movies will be showing during your sailing? Typically the movies being shown are ones that come out on-demand or on DVD that month. They're relatively new at-home releases but are out of theaters.
How much do Carnival's Dive-in Movies cost?
Dive-in Movies are included in the cruise fare, so there's no additional fee. Some ships will have popcorn available for purchase at around $3 per box.
When do the movies play?
The daily Fun Times schedule will list the movie times for each day. Typically, the first movies starts around 7 pm. A second movie usually shows between 9 pm and 10 pm. Some sea days, there might be a 4:30 pm matinee and other days there might be a midnight showing. R-rated features usually play at the later times.
Where do the Dive-in Movies show on a Carnival ship?
The movies take place at the Carnival Seaside Theater, which is at the main lido pool area on the cruise ship. You can't miss it, it's the area with the big screen where all the main activities and events occur during the day. 
How are the Dive-in Movies different from the IMAX Movies?
Two Carnival ships, the Carnival Vista and Carnival Horizon, also have an IMAX theater onboard. These venues show new movie releases that are currently playing in theaters onshore. It's set up like a traditional movie theater with stadium seating and concessions. There is an additional fee for these movies. 
Which Carnival ships have Dive-in Movies?
You can also find pool-side movies on some Royal Caribbean, Princess, and Disney cruise ships. 
CruiseSpotlight is an Amazon Associate. We may earn a commission when you click links to retailers and purchase goods.