I Sailed Royal Caribbean Harmony of the Seas and Carnival Celebration. Here's How I Think They Stack Up
In the past year, I had the privilege of sailing Carnival's newest and biggest ship, the Carnival Celebration, and one of Royal Caribbean's biggest ships, the Harmony of the Seas. It was the first time on both classes of ship, so it was really interesting to see how they'd stack up. These are some of the largest cruise ships sailing in the world right now, but they are run by two different companies and offer different takes on cruising. 
Here's an honest look at how the two ships compare.
About cruise ship classes
Before I start, a bit of background for people new to cruising. Cruise ships are broken into classes, where ships in the same class are very similar. That means, for the most part, the insights I share below can be applied to all the sister-ships of the Harmony of the Seas and Celebration. 
Harmony of the Seas is part of the largest class of cruise ships in the world, the Oasis-class. Royal Caribbean has six ships in this class that will, for the most part, have a similar experience: Oasis of the Seas, Allure of the Seas, Symphony of the Seas, Wonder of the Seas, with Utopia of the Seas coming in next year. 
The Carnival Celebration is part of the Excel-class, Carnival's newest and largest class of ship. You'll have a similar experience on Carnival's Mardi Gras, Celebration, and upcoming Jubilee.
How the size compared
The Carnival Celebration and Harmony of the Seas are both really big ships. While the Carnival Celebration is about 19% smaller than the Harmony of the Seas, they're both the largest class of ship by these two cruise lines and both are clearly megaships. Both also hold roughly the same amount of people, around 6,600, at full capacity. Megaships aren't everyone's cup of tea, but that's not what this comparison is about. We're looking at one megaship versus another.
How the look and feel of the ships compared
Harmony of the Seas 
Royal Caribbean tries to walk a fine line with Harmony of the Seas. They try to make it feel classy and sophisticated without feeling pretentious and stuffy. The stairwells and walkways are filled with art, which is typically more modern and whimsical than stuffy and classical. But there's no real clear personality on the ship.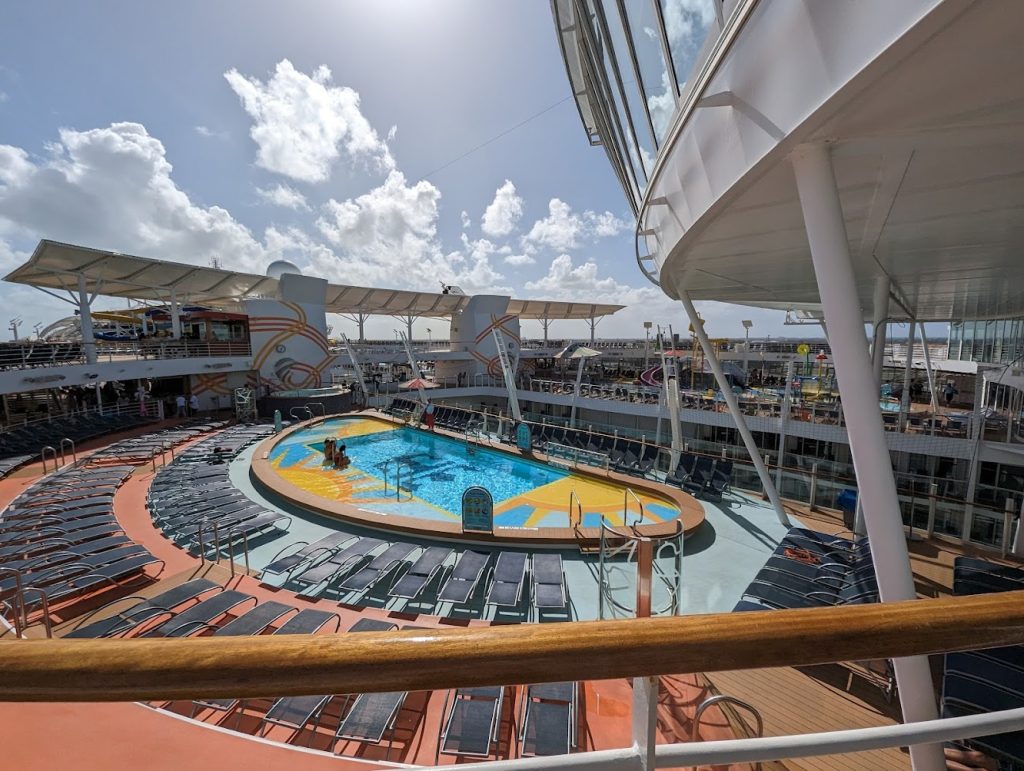 The outdoor areas on the Harmony of the Seas feel very industrial, with lots of plain metal and white paint. Royal Caribbean has started adding more color to their newer ships with Caribbean-themed pool areas and the vibrant Lime and Coconut Bar, but Harmony of the Seas still has the more old-school, blank canvas-like design.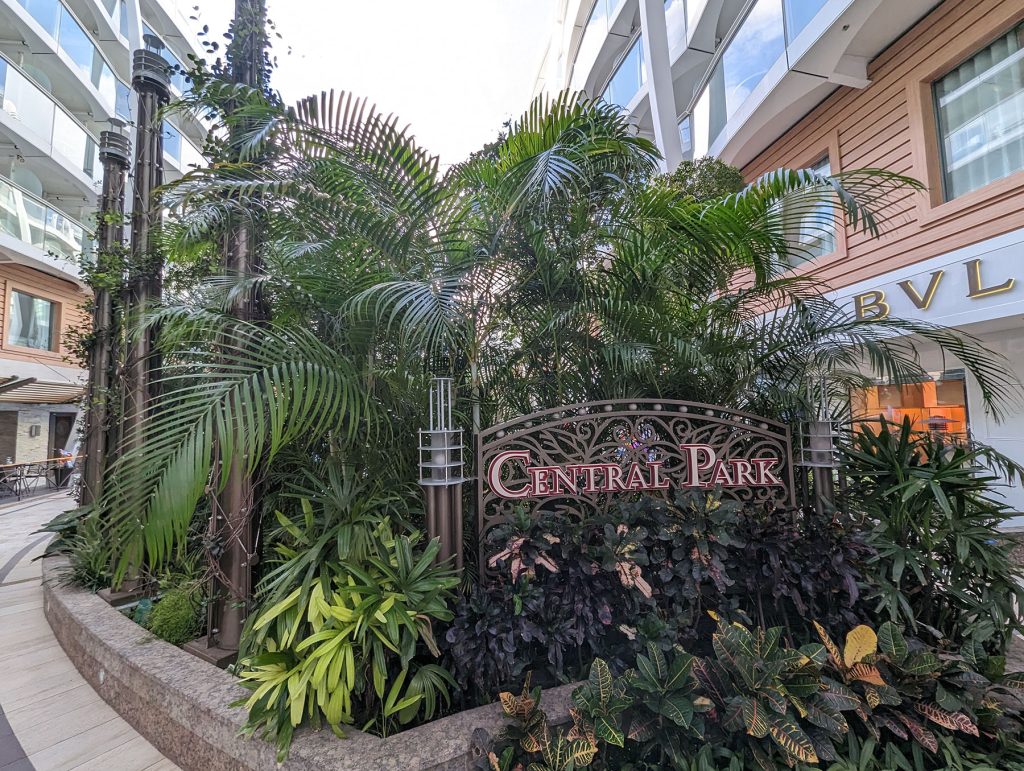 One notable exception is Central Park. With over 12,000 live plants, you feel like you've been transported into another world. This lush neighborhood is so peaceful. The sea breeze rustles the leaves as a soundtrack of birds and crickets fills the space, making it feel more natural. While it was one of my favorite parts of the ship, it didn't feel very "Caribbean."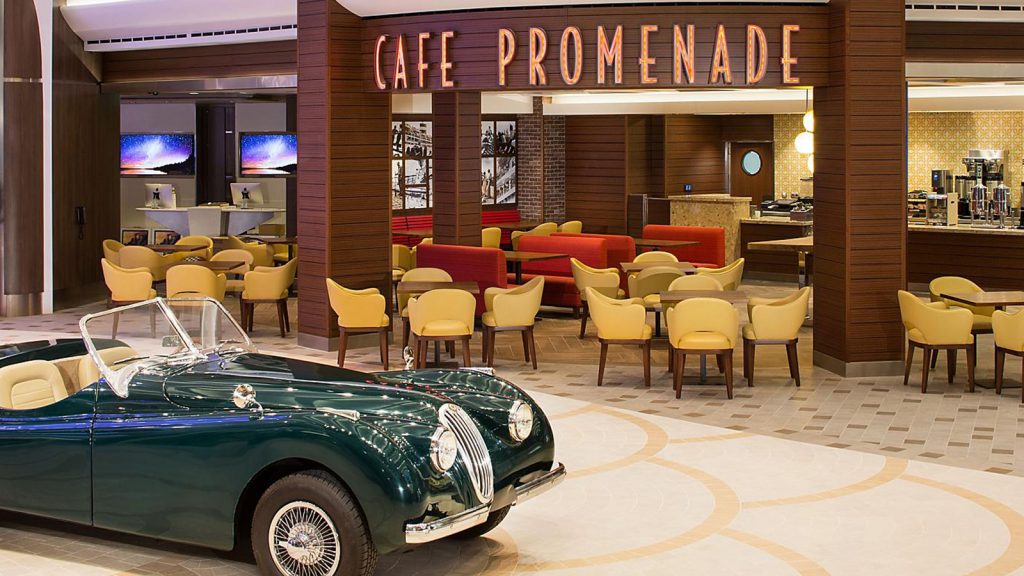 The Royal Promenade, a large multi-story venue that runs through the ship at Deck 5, also stands out. It's a hot spot day and night, hosting dances and serving as a main thoroughfare. But the Promenade can also feel like a mall with its layout of stores along the sides. 
My biggest problem with Harmony of the Seas was the lack of ocean views. Looking through the hundreds of pictures I took on this sailing, only a handful had the ocean in it. Very few venues have windows looking out, and the pool decks all focus inward, which kind of takes away one of the main reasons for cruising.
Carnival Celebration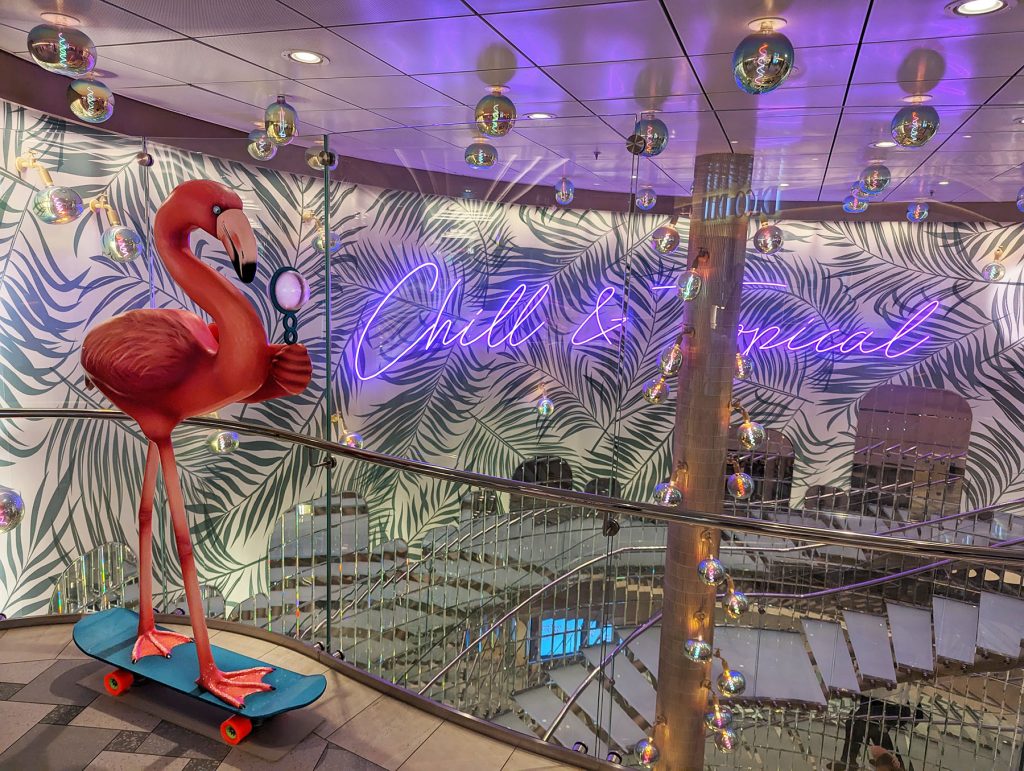 The Celebration has a distinct feel you get from the minute you walk on. It integrates whimsy with classier decor, like statues of flamingos roller skating in front of a crystal staircase or the vibrant confetti-themed color-changing ceiling in Celebration Central. If you've sailed on Carnival's older ships, the Celebration feels completely different. They've tried to elevate the look and atmosphere of the ship without making it feel like a Hyatt.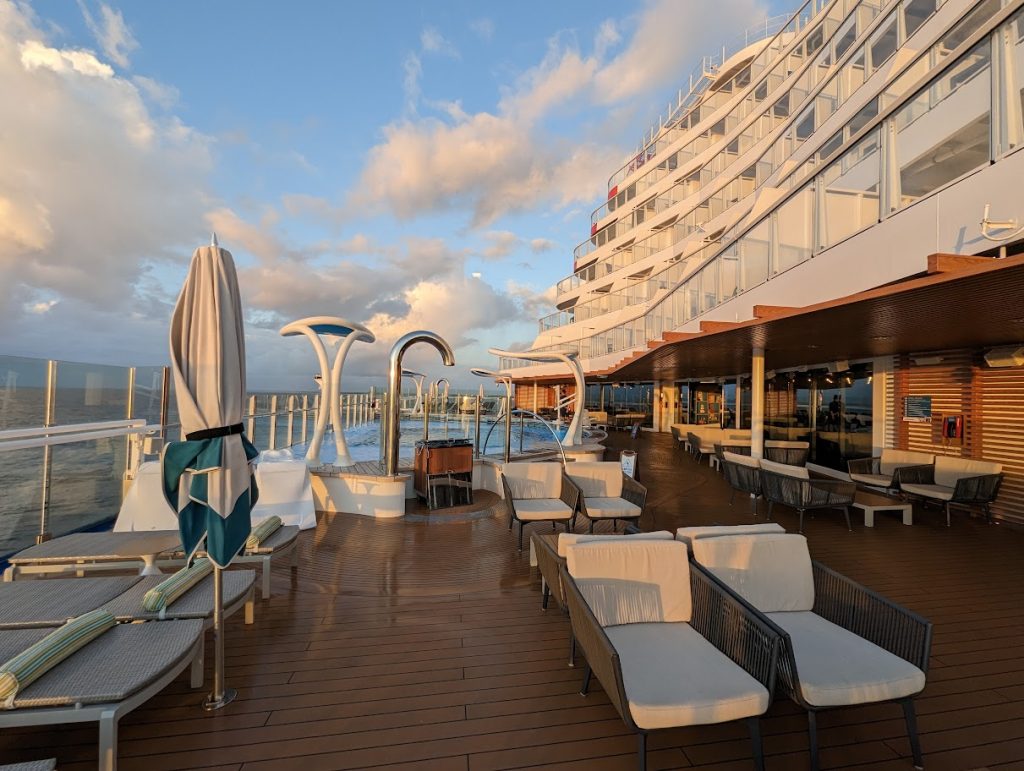 It's almost shocking at the difference in ocean views on the Celebration compared to the Harmony of the Seas. The ship has two aft-facing pools with bars that overlook the ship's wake, providing a relaxing view both day and night. There are so many places to grab a lounger or table and enjoy the panoramic views of the ocean.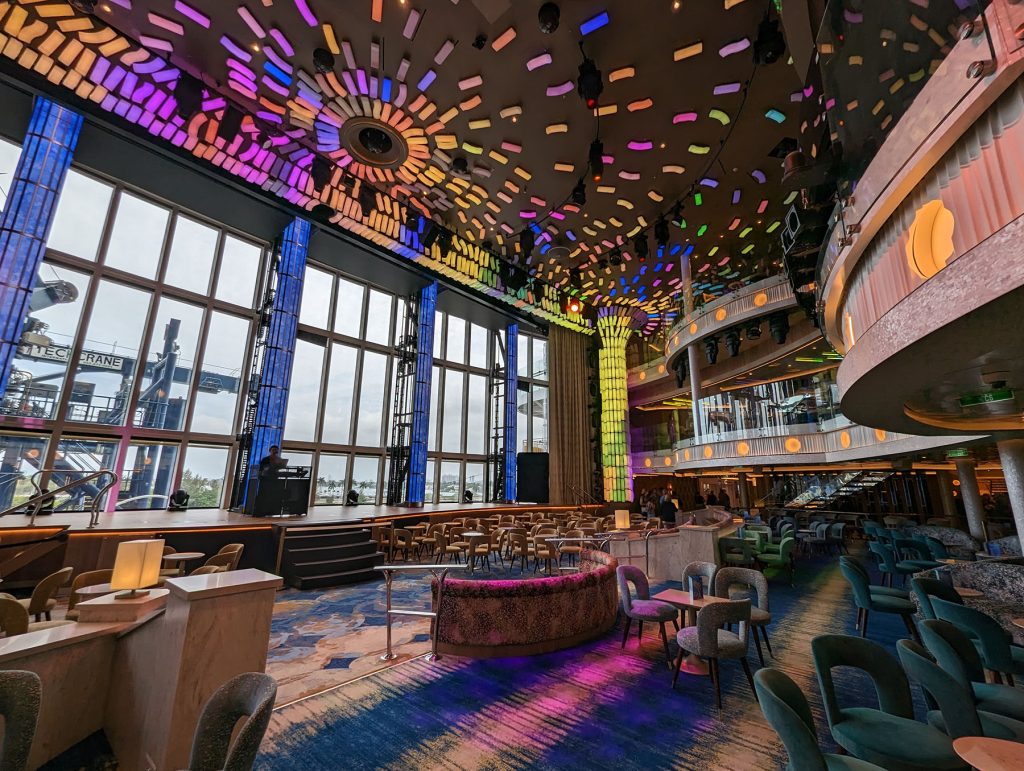 Inside the ship, their main hub, called Celebration Central, has floor-to-ceiling windows that span three decks and overlook the ocean. While these windows are often blocked with screens for performances that happen in the area, when they're open and uncovered, the views are impressive.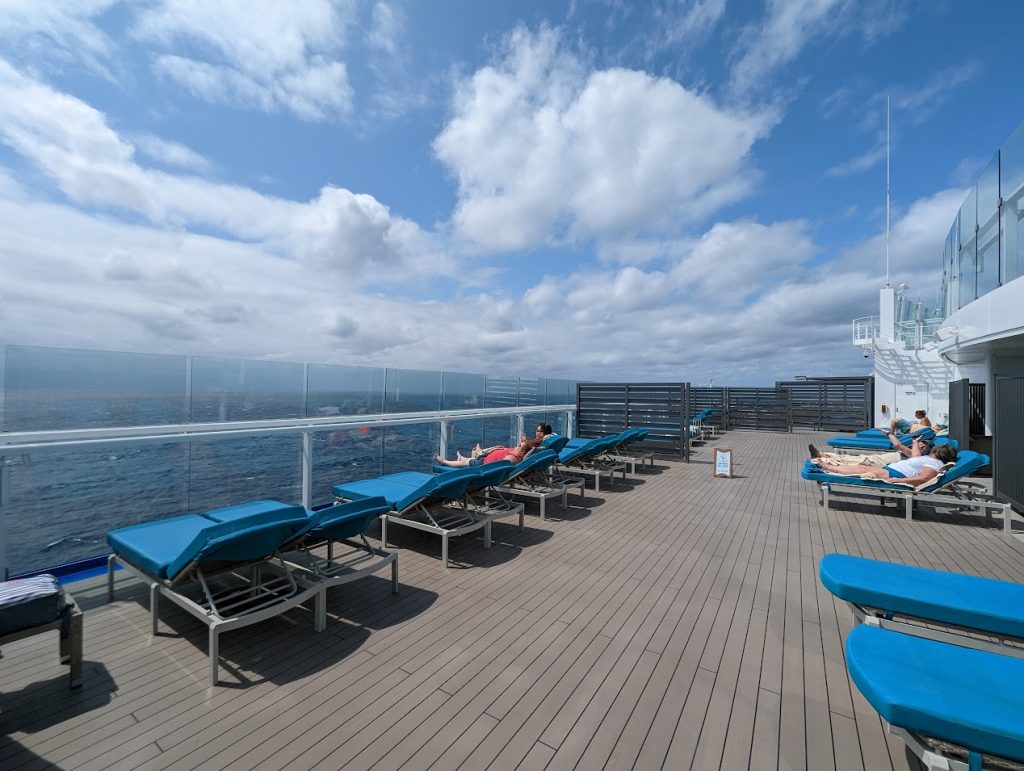 On the Celebration, most bars and dining rooms also look out at the ocean and provide some kind of views. While the main pool is interior-focused, most other loungers on the ship face the water, not the inside. 
One thing that stuck out about the Celebration was the lack of art. Stairwells were all empty and just had a colored wall. That very well may change as they were adding a Park West gallery as I was leaving the ship.
How the ship layout compared
Both Harmony of the Seas and Carnival Celebration use zones, or neighborhoods, to disperse crowds evenly across the ship. Royal Caribbean was the first to do this on their Oasis of the Seas, and it was highly effective at managing the thousands of people. Carnival copied this concept on their Excel-class ships. 
Harmony of the Seas Neighborhoods
Royal Promenade
Central Park
Boardwalk
Pools and Sports Zone
Vitality of the Sea and Fitness Center
Entertainment Place
Youth Zone
Harmony of the Seas is relatively easy to navigate as long as you can remember what neighborhood most stuff is in. But things are really spread out, which means lots of walking. The ship has only two elevator banks instead of the traditional 3, making it a longer walk between elevators. Walking to the nearest elevator means walking 1/3 of the ship instead of 1/4 of the ship with the three-elevator bank design.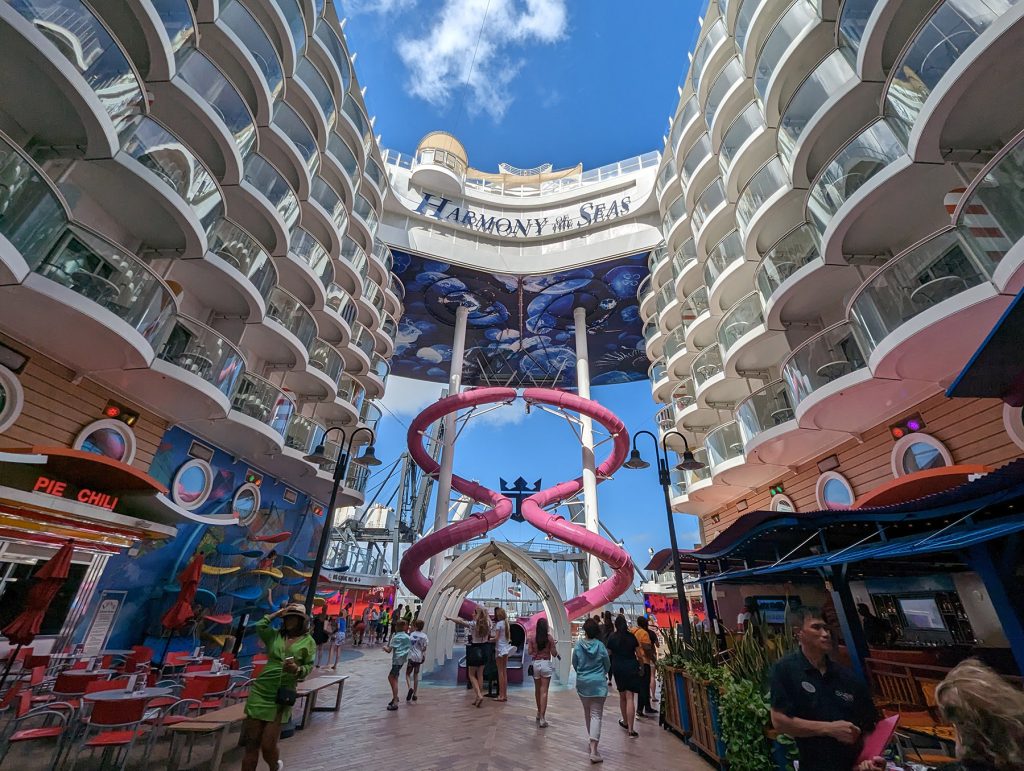 The Harmony of the Seas has a split superstructure design, which creates two internal neighborhoods that are lined with interior cabins and open at the top. In the middle of the ship is Central Park and the Boardwalk is at the back. The rest of the neighborhoods are less well-themed and more of a grouping of venues in a certain part of the ship.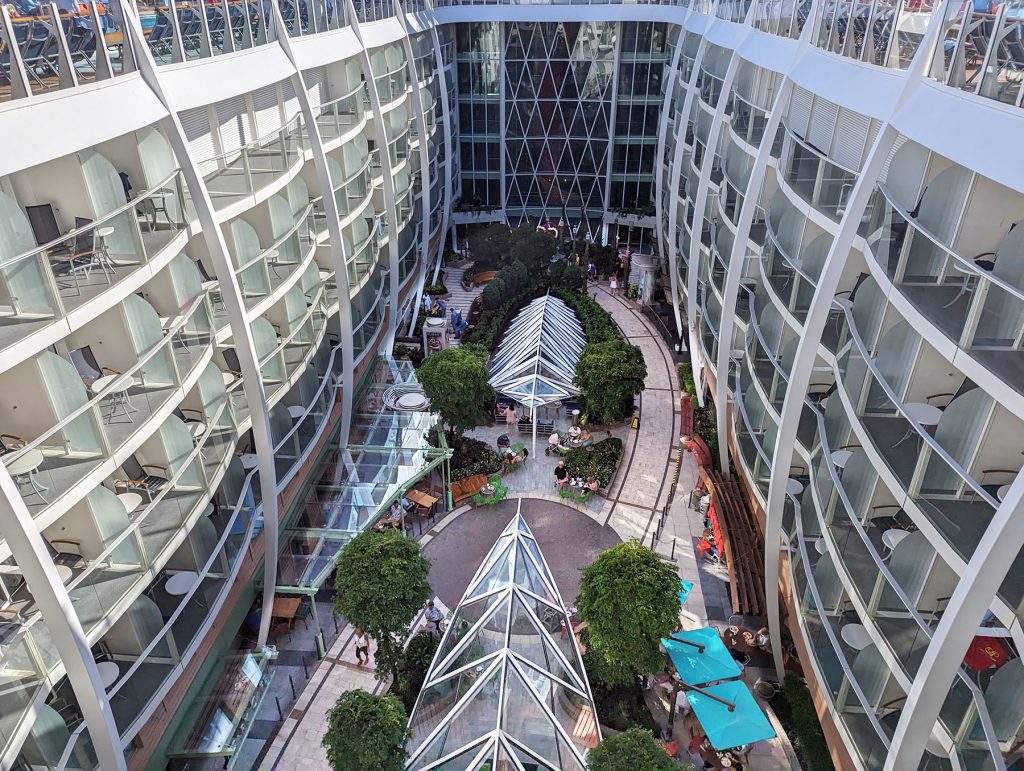 Carnival Celebration Zones
Celebration Central
Summer Landing
820 Biscayne
The Gateway
Lido
The Ultimate Playground
Carnival's zone layout is much more well-themed, carrying out the unique concept of the zone throughout all venues in the area. For example, in 820 Biscayne, a Miami-themed zone, you'll find Miami Slice pizza place and a bar serving Miami-inspired cocktails while art-deco, Miami-themed decor sets the space apart from the rest of the ship.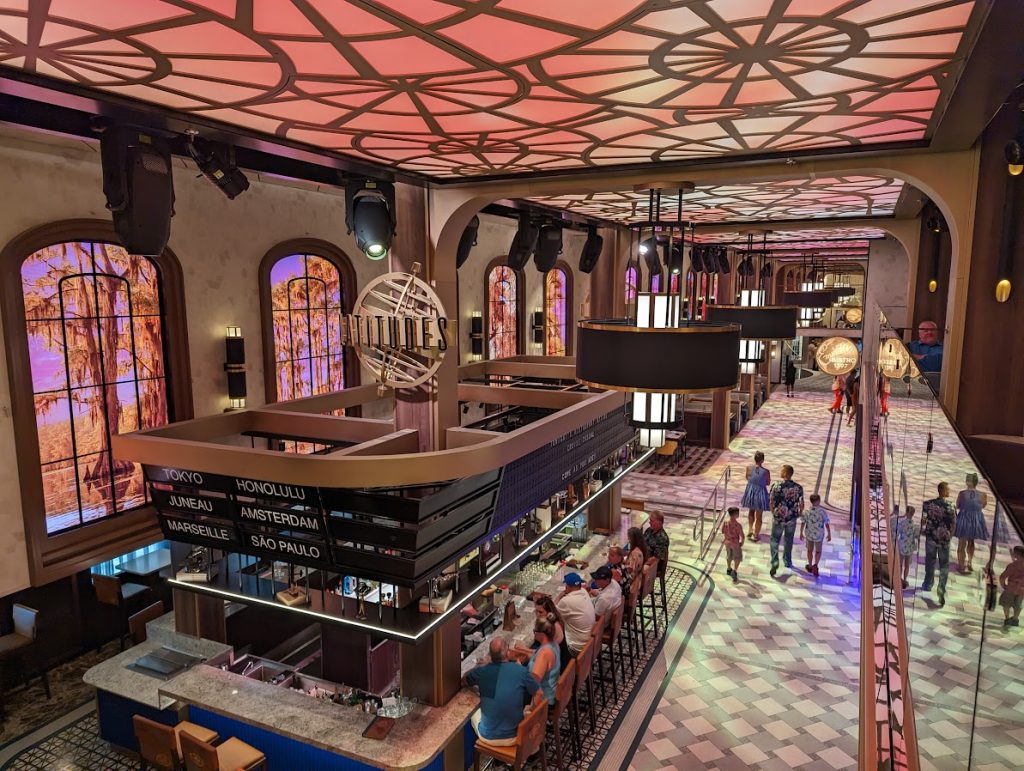 The layout of the Celebration is closer to that of a traditional cruise ship, so it's a bit easier to navigate and requires less walking. Venues and activities are still spread out but clustered better, so you're not constantly walking back and forth through the ship. Most activities are on the lower decks (6, 7, and 8) or the upper decks (16, 17, and 18). 
Carnival puts stairs between all the levels in the main promenade areas and thoroughfares, making it easier to get between spaces without waiting in the long elevator lines (although those stairwells are often closed in the evening for pictures). 
Comparing shows and entertainment
Carnival Celebration
Entertainment on the Carnival Celebration was fast-paced and diverse. Rarely did a show or activity go more than 40 minutes, and their daily schedule was jam-packed full of activities. 
The Carnival Celebration had two main venues for shows: the main theater and Celebration Central. In the main theater, they had game shows and production shows with choreography and cover songs. 
In Celebration Central, the 3-story atrium in the ship, they had more artistic performances where the actors would be amongst the audience. The seating in this area was very poorly thought out, but the shows themselves were impressive. Their Celestial Strings and Most Magnificent Circus shows were some of the best I've seen from Carnival.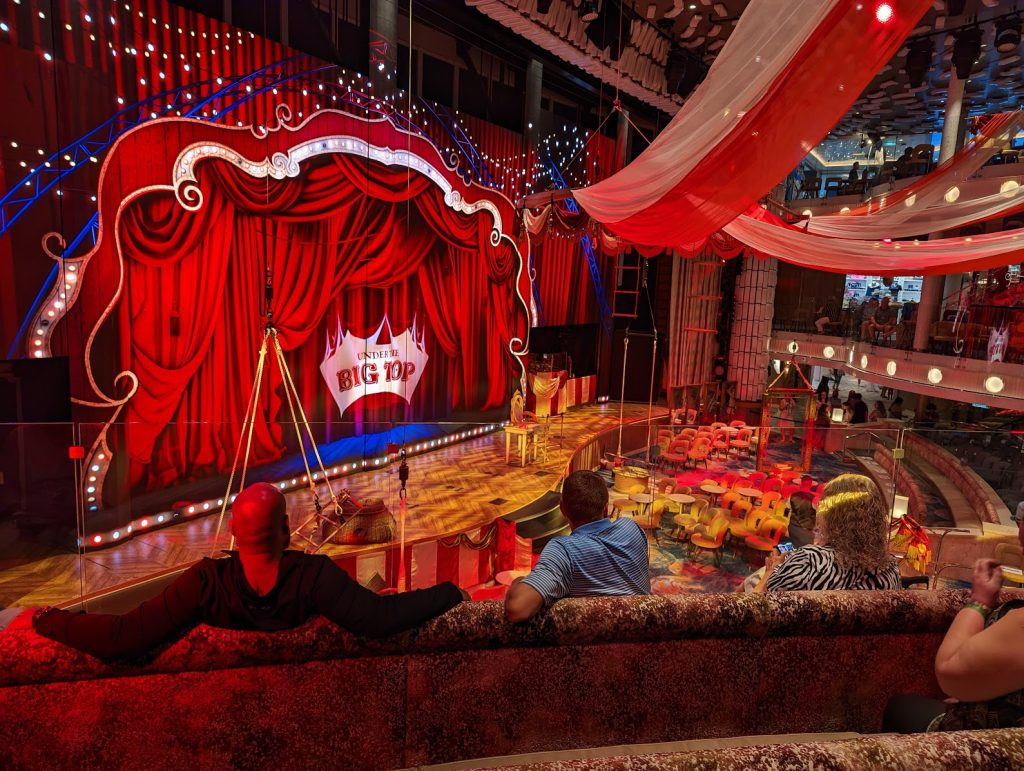 The Celebration also had a really strong comedy program. Over the course of my 7-day sailing, they had four different comedians performing in three different venues. While the comedy clubs were small, they ran seven different showings a night, meaning you could get in at least one show as long as you got there 15 minutes or so early. 
Harmony of the Seas
Harmony of the Seas had three main venues offering shows: the Main Theater, the AquaTheater, and the Studio B ice skating rink. The shows themselves were impressive.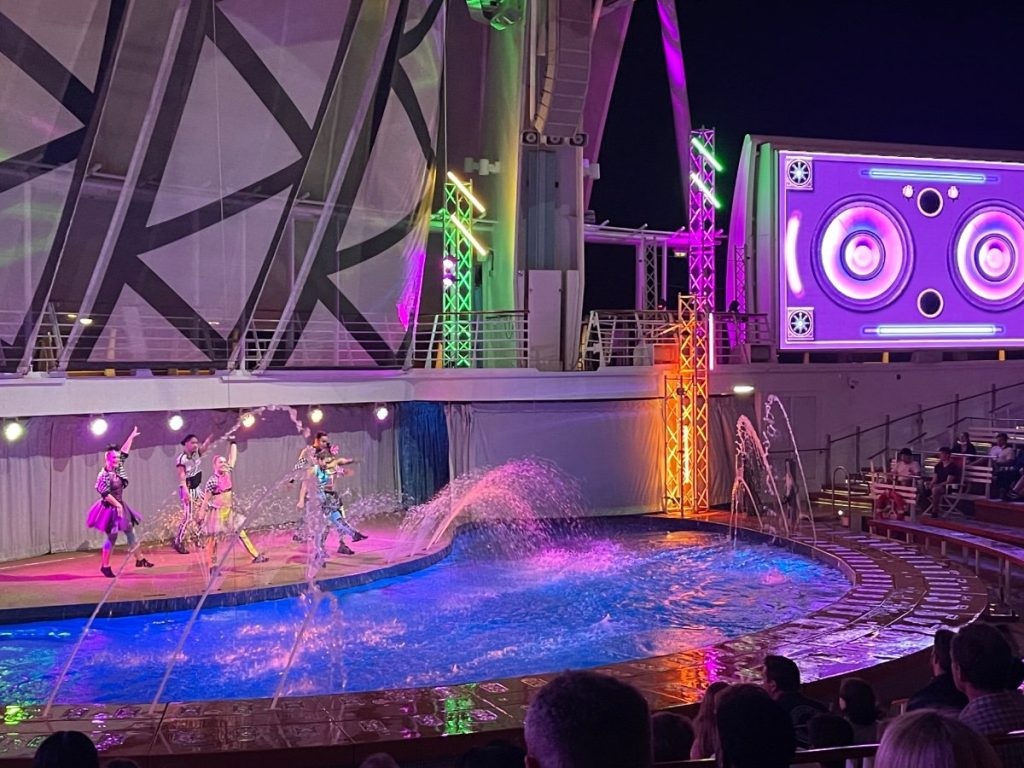 The AquaTheater and Studio B had Olympic-level performers executing impressive movements and stunts during artistic shows. In the main theater, they had a production show with dancing and cover songs as well as a version of the Broadway show Grease.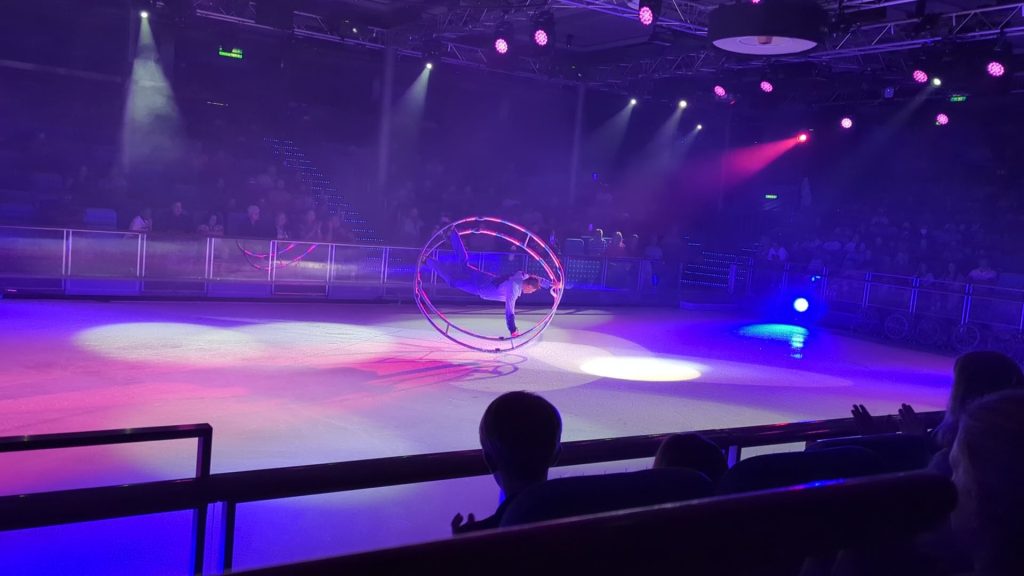 Their programming is a bit more avent-garde, though, sometimes choosing to be too artsy rather than appealing to everyone. For example, some of the shows had custom music no one knew, and made it harder to appreciate. 
For comedy, I can't comment on how it was because Royal Caribbean only had one venue for comedy, and it held only 206 people. I wasn't able to get into any shows during my cruise. 
Ship activities compared
If you want a ship with lots of things to do for people of all ages, you'll be happy on either the Harmony of the Seas or the Carnival Celebration. 
Harmony of the Seas activities
Harmony of the Seas has plenty on board to keep you entertained on sea days. The ship has a FlowRider, zipline, merry-go-round, ten-deck thrill slide, climbing wall, basketball court, splash pad, waterslides, mini golf, and an ice skating rink.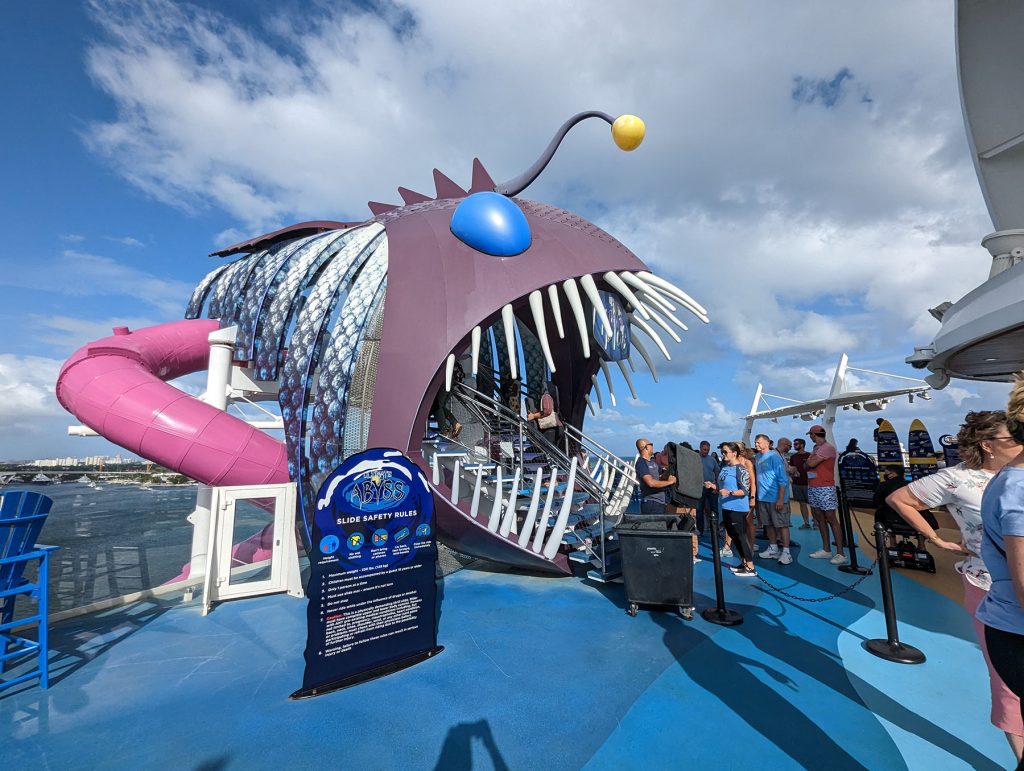 While the sheer amount of things to do was impressive, I was equally impressed that Royal Caribbean doesn't charge extra for these activities. They are all included in the cruise fare, which means the whole family can try these activities without racking up a big bill at the end.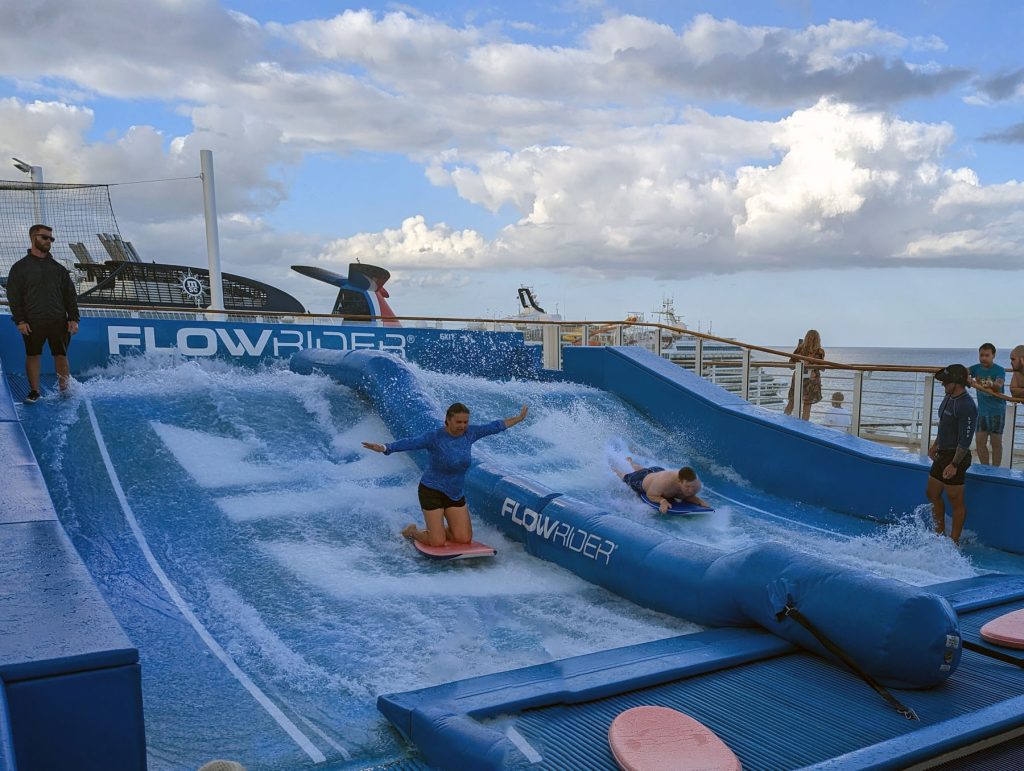 While I was on Harmony of the Seas, I tried the FlowRider surf simulator for the first time and loved it. The feel of the water rushing beneath me as I laid on the boogieboard was exhilarating, and I loved being pushed up the hill by the waves when I wiped out.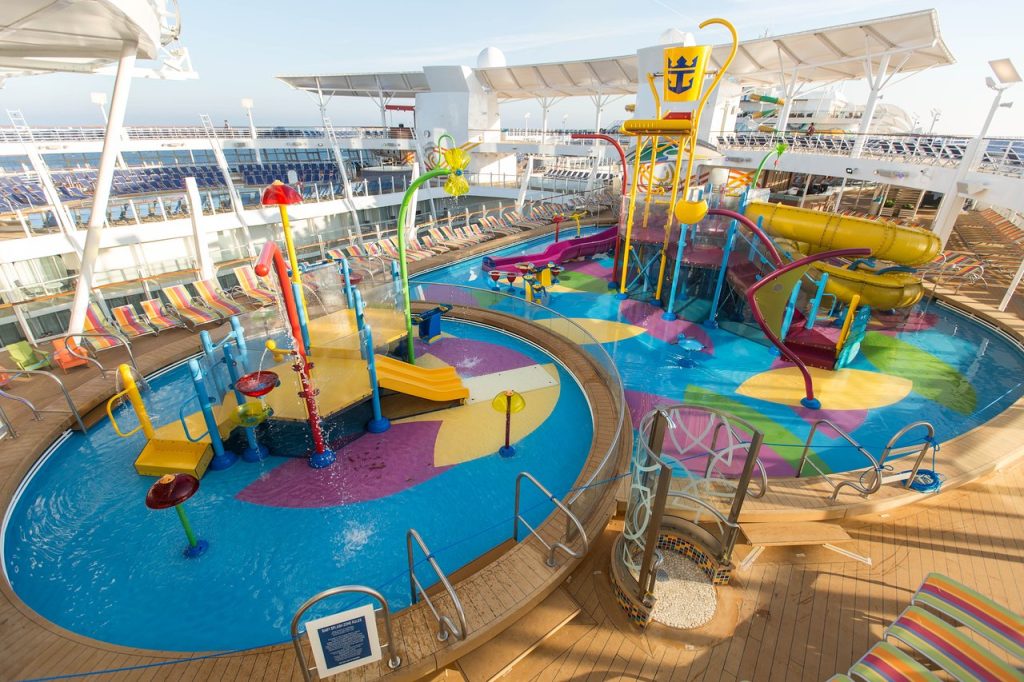 The Harmony of the Seas has three sizeable pools open to everyone and a splash pad for kids. Unfortunately, Royal Caribbean decided not to put an adults-only pool in the solarium, a colossal misstep (all other Oasis-class ships have one).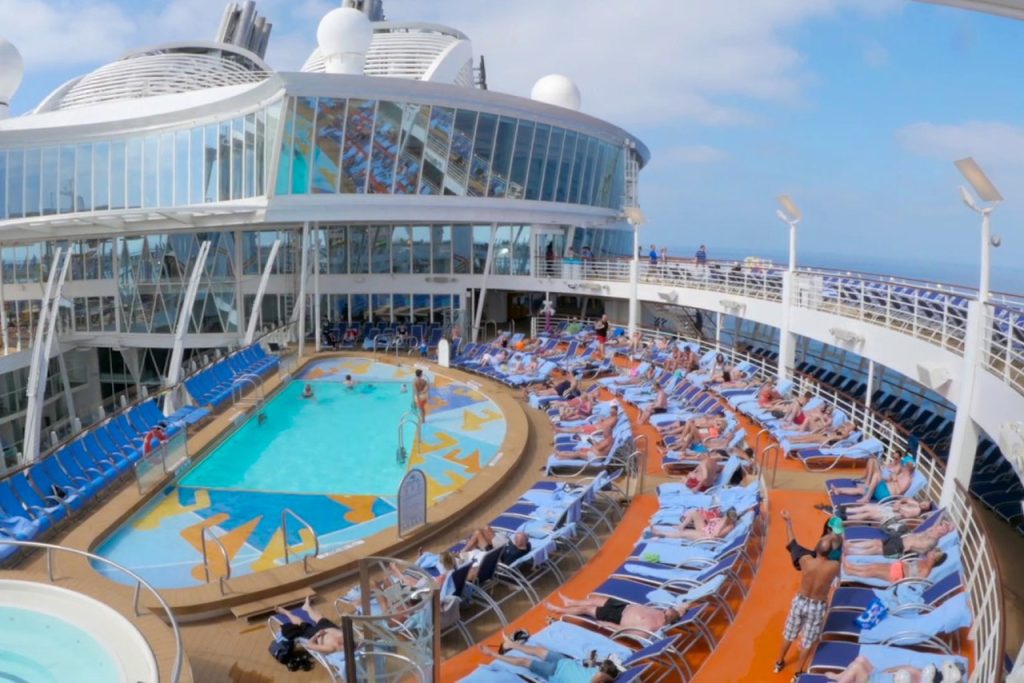 Carnival Celebration activities
The Celebration has similar activities; you'll find a mini golf course, a massive splash park, big waterslides, and a basketball court. For Carnival and Royal Caribbean, these are pretty much staples at this point. 
The Celebration has a few differentiators. In the Ultimate Playground, the Celebration has a massive ropes course on the ship's top deck with a zip line portion that goes right over the ship's side. The ship also has a roller coaster mounted to the top called BOLT. You'll also find an area with cornhole and shuffleboard for casual games.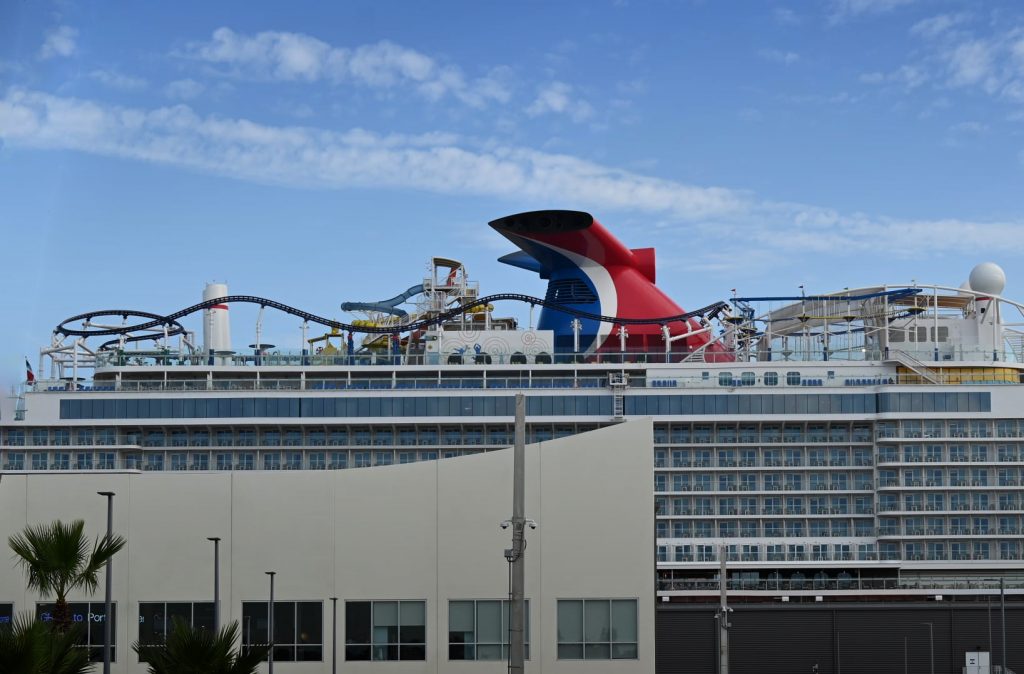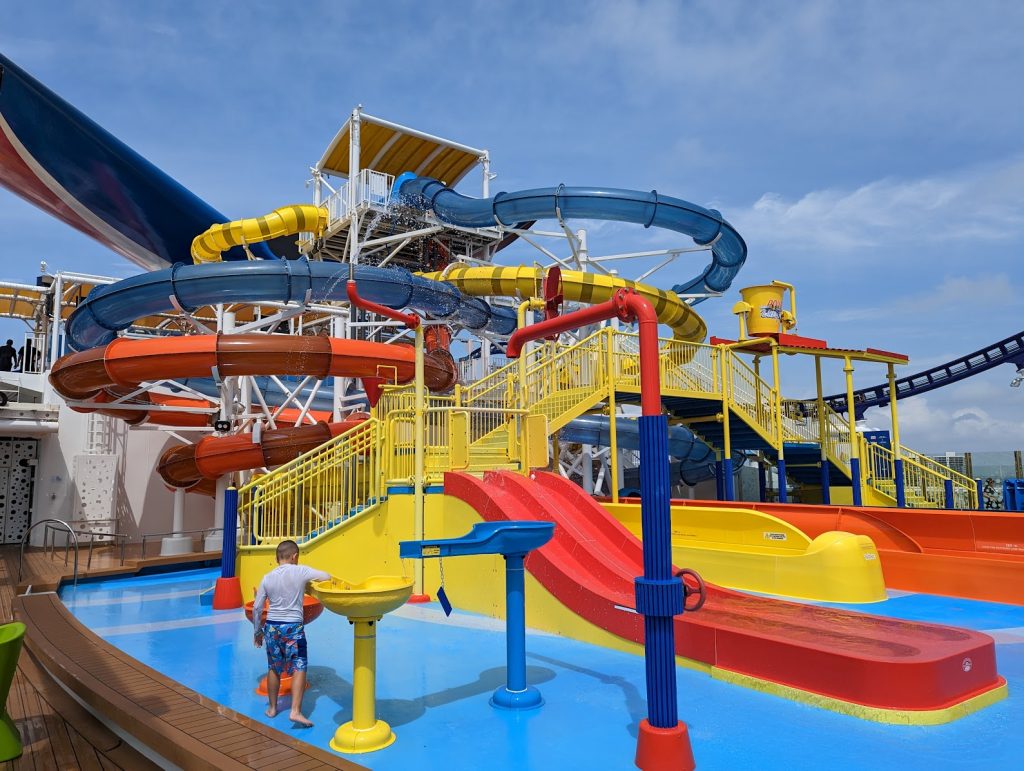 Most of these activities are included in the cruise fare, but unfortunately, Carnival charges $15 a person for the rollercoaster, which seems steep for a 90-second ride. 
In terms of pools, the Carnival Celebration has the same number of generally available pools, although they have much better views. The Celebration also has a nice-sized adults-only pool in the Serenity Area. 
How the food compared
Food is very subjective, so your experience may differ, but on both ships, I thought the food was solid. Over the course of the sailings, I had both amazing and lackluster experiences. At no point would I send anything back, but it was puzzling how I could have starkly different experiences on the same ship, restaurant, and sailing.
Dining options
Because both ships have a lot of options, I found I only went to the main buffet on each ship once. Instead, I'd go to alternate restaurants that were less crowded and had shorter waits. Avoiding the buffet on both ships really increased my cruise experience both times. This is something that is unique to both of these classes of ships; they have so many more dining options than the smaller and older ships.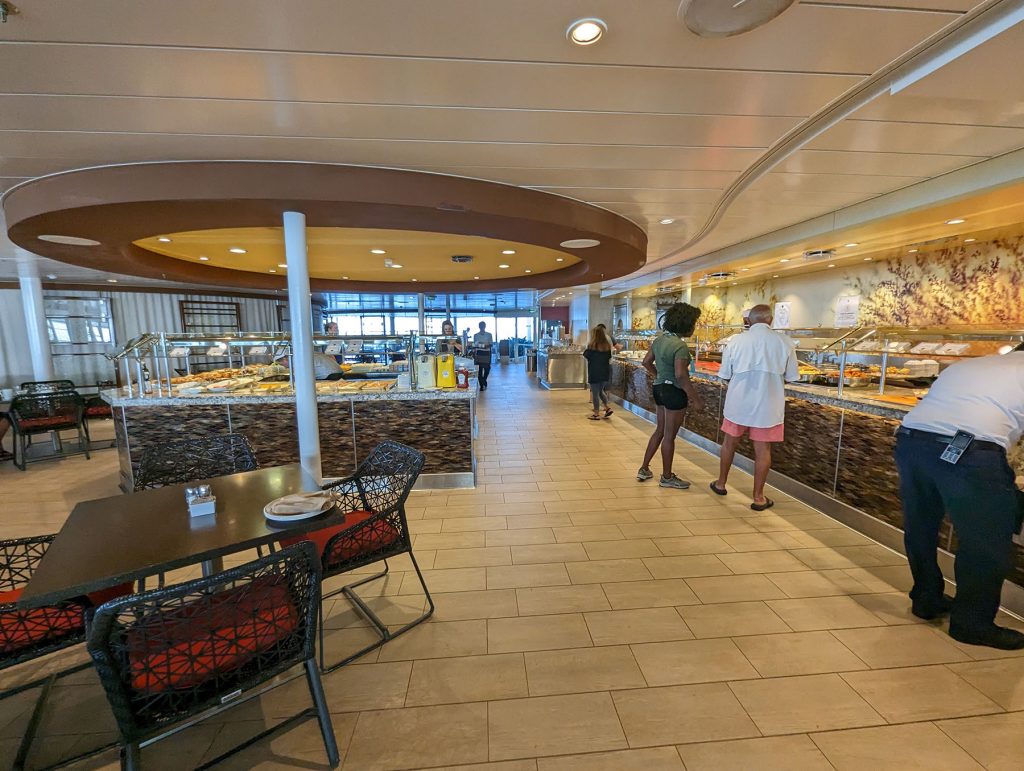 Upcharge restaurants
One difference that stood out is that Royal Caribbean really tries to push the upsell dining options, while Carnival has many more included venues. Carnival does have specialty restaurants available for an extra charge, but the cost of these restaurants is typically half of what Royal Caribbean charges. Also, three specialty dining options (Cucina del Capitano, Guy's Pig and Anchor Smokehouse, and ChiBang) on the Celebration were included for free (the first time at these restaurants is free, and the second is $10 per person). That being said, the quality of these included specialty restaurants was much lower than those with a charge. 
Main dining room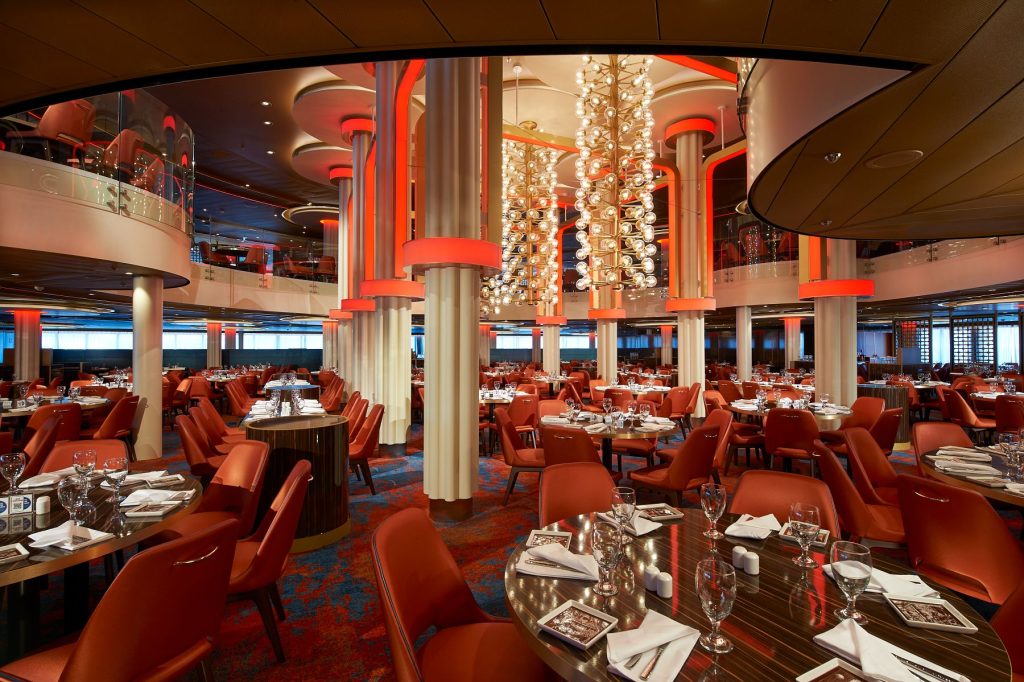 For the most part, the main dining room experience was similar for me. Both cruise lines have notably cut back on the quality of the food and dishes they offer. Back in the 90s, you'd get amazing meals in the main dining room with high-end service like you'd see at a steakhouse. Now, it's much closer to what you'd see at a restaurant at home. In my experience, it's better than a chain restaurant like TGI Fridays or Applebee's, but don't expect steakhouse-level dining for free anymore. If that's important to you, consider a premium cruise line or a dining package. 
Casual Food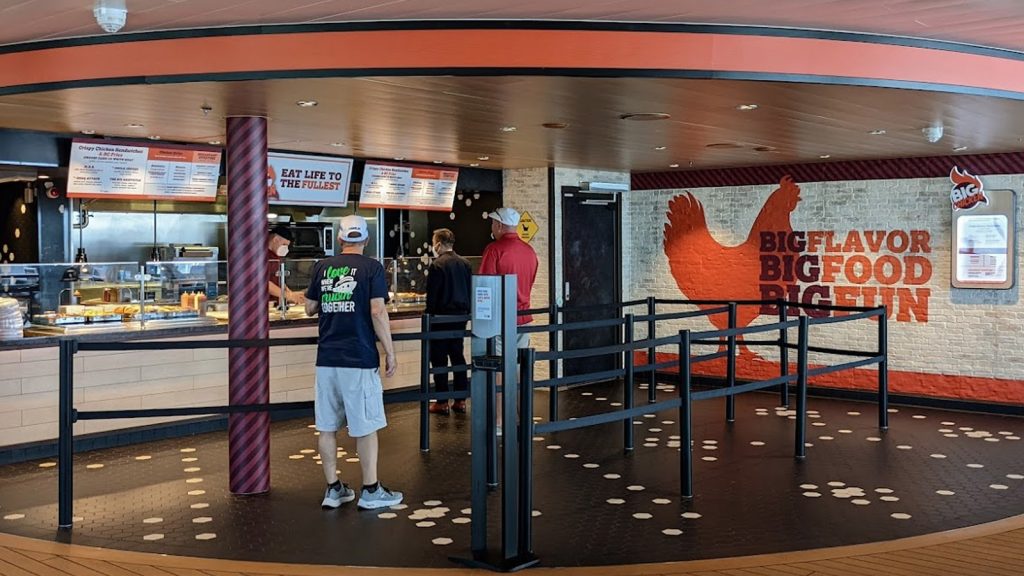 While the main dining room experience was the same on both, in my opinion, the fast-casual options on the Celebration were much better. Typically, these options are grab-and-go for lunch. Carnival brands their options and really puts a lot of focus on them. Guys Burger Joint, in cooperation with Guy Fieri, is still one of the best burgers I've ever had. Blue Iguana Cantina makes delicious tacos and burritos that I always look forward to. I was also blown away by the newest addition, Shaq's Big Chicken, which offered flavorful fried chicken and sandwiches.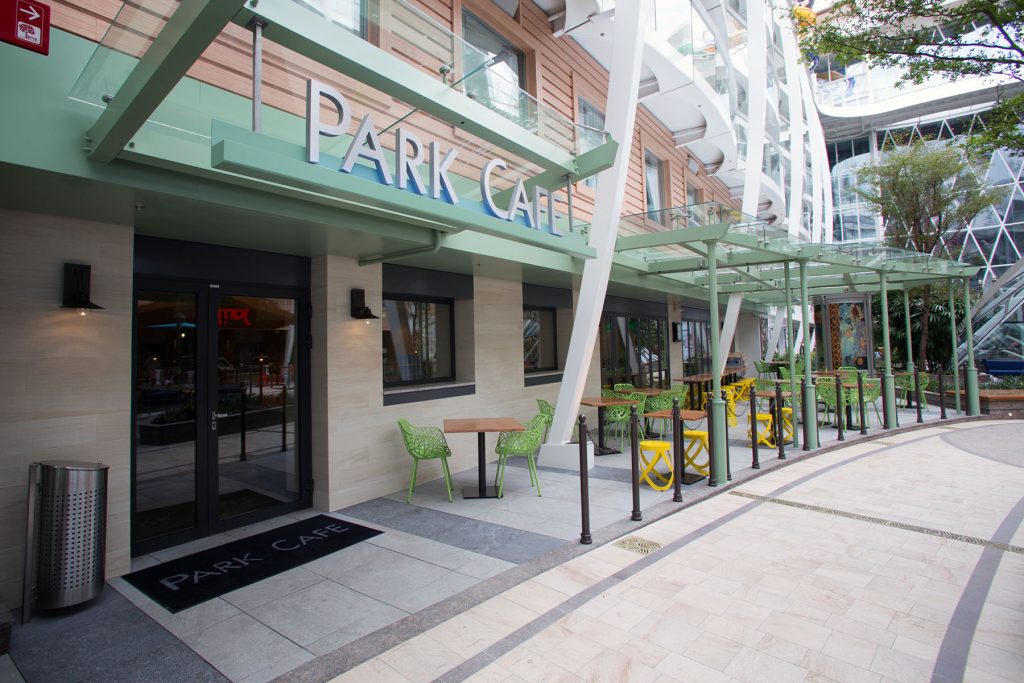 The Harmony of the Seas didn't have a lack of food, but you could tell they didn't focus on it. The Park Cafe and Cafe Promenade offer small sandwiches and salads throughout the day. There's no dedicated Mexican/fast casual place on Harmony of the Seas, and if you want a burger, you'll have to settle for a rubbery precooked patty from the buffet.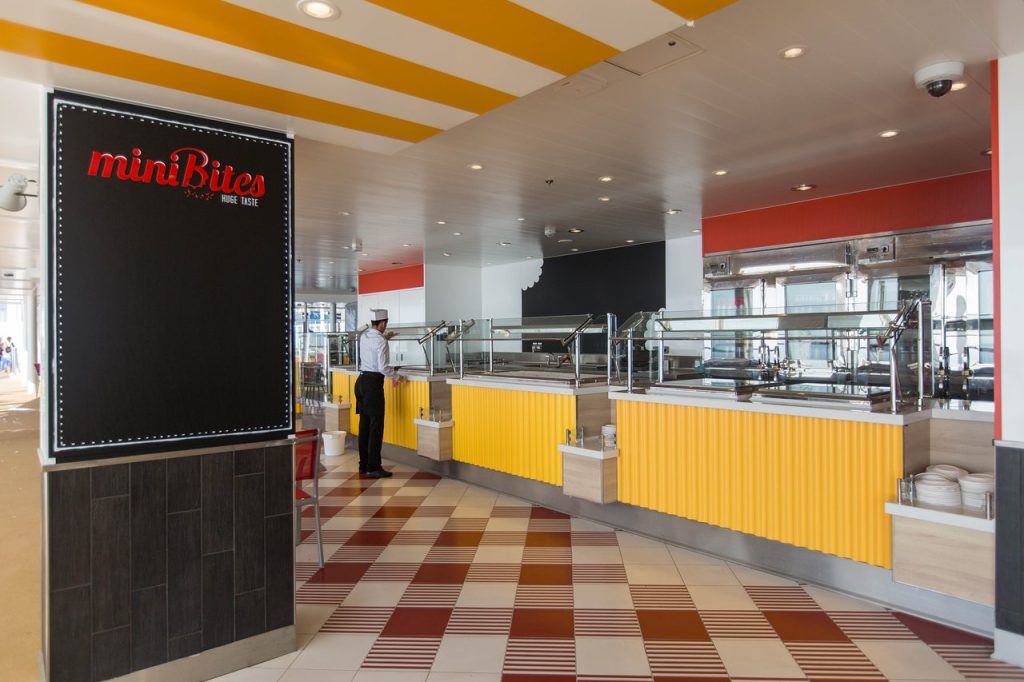 The Harmony of the Seas did have Sea Dogs in the Boardwalk that offered four choices of premium dogs, but oddly, the place didn't offer chips or fries to go with it, making it more of a snack than a meal. The ship also had "Mini Bites," a small buffet line conveniently located near the sports area and kids' decks. It has traditional American, kid-friendly fare like fries and chicken nuggets, but I definitely wouldn't call it high quality. It wasn't bad at all, but it also wasn't anything I'd write home about.
How the drinks and cocktails compared
You won't struggle to find a drink on either ship. Both ships have a large number of bars both inside and outside; you're rarely far from being able to get a cocktail.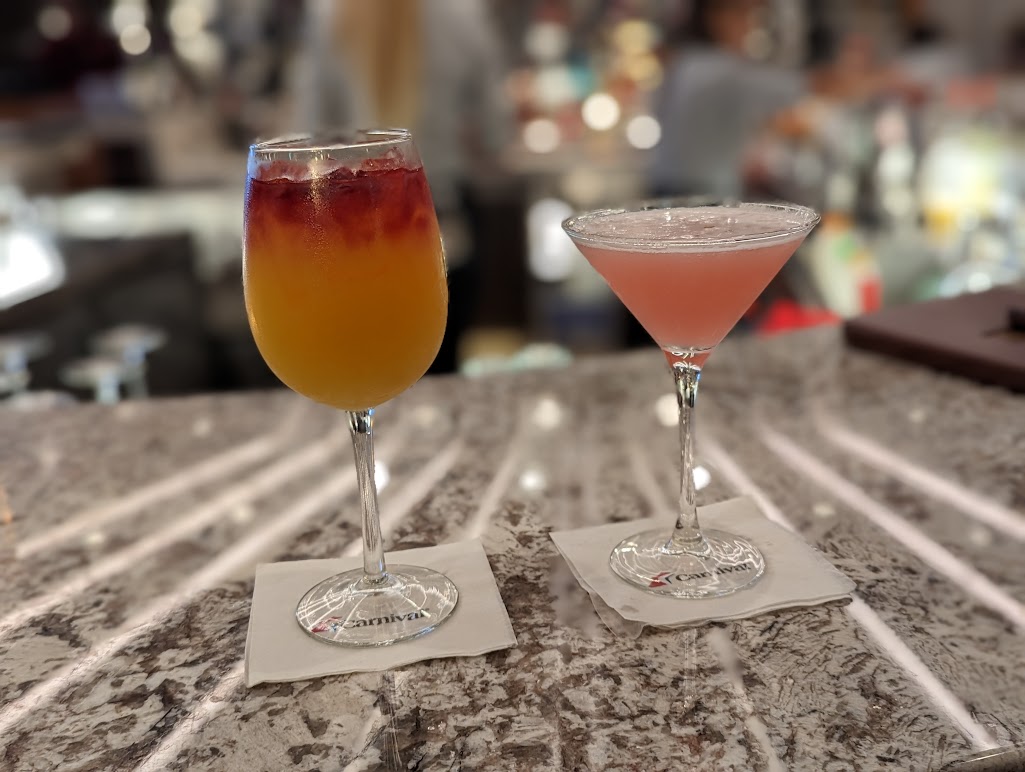 Bar menus and options
In terms of menus, Carnival far surpasses Royal Caribbean. First off, they actually have menus and high-quality ones. When I was sailing, Royal Caribbean still forced us to use apps to pull up the menus, which really stopped people from ordering things other than their "usual." You can see the Royal Caribbean drink menus here.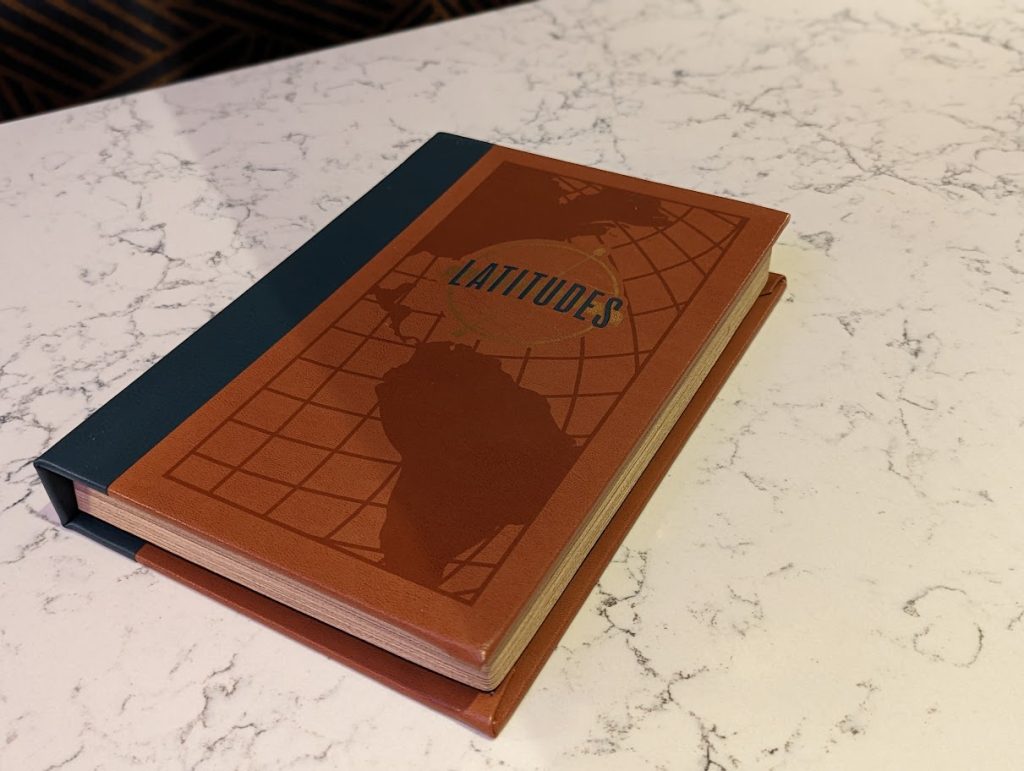 Nearly all of Carnival's bars had dedicated menus with completely unique cocktails. On the Celebration, I had my favorite new drink, The Japanese inspired Sakura, served with a bubble on top, and my favorite, Cucumber Sunrise from Alchemy Bar. You can see all the Carnival bar menus here.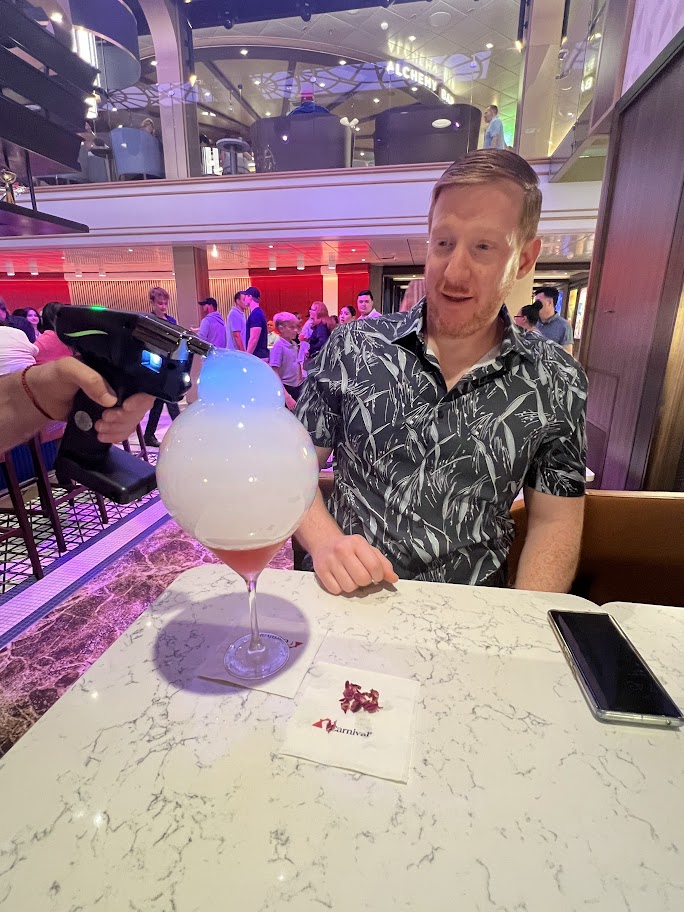 On the other hand, on Harmony of the Seas, most bars had a menu that was 95% similar, with one of two different cocktails. From my Harmony of The Seas cruise, I can't recall a single drink that stood out. Everything just seemed so boring compared to the offerings on the Celebration.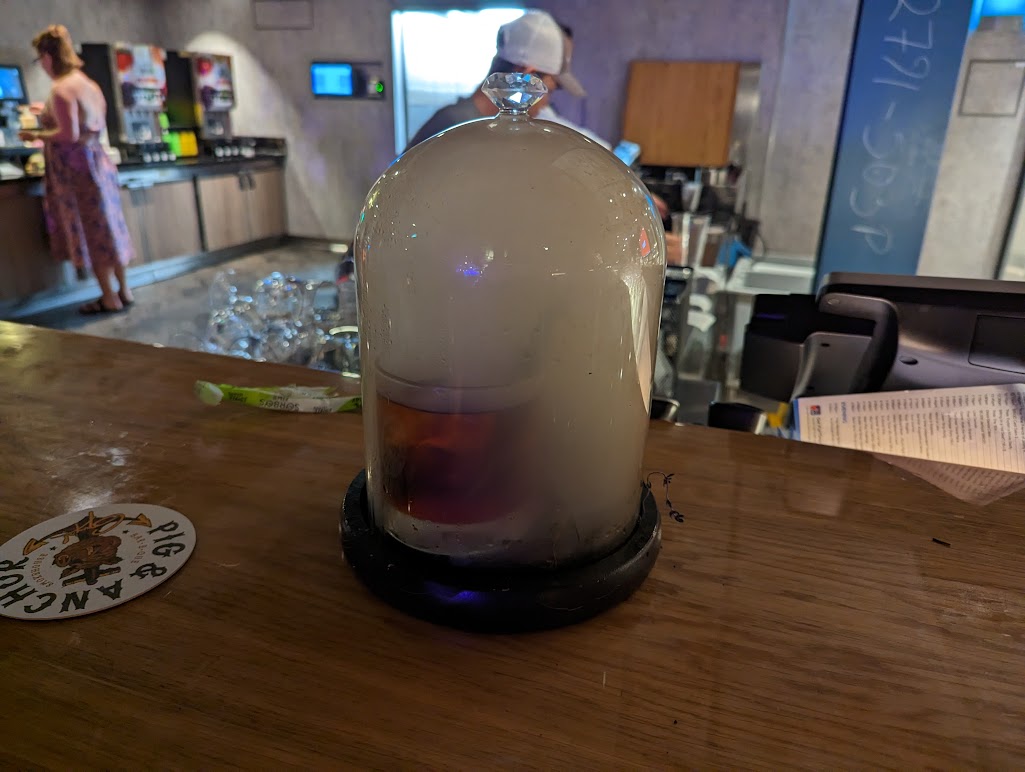 Bar service
In terms of service, both ships seemed to be fully staffed. The longest I waited for a drink was 5 minutes, but it was often less than that. Harmony of the Seas had bartenders and waiters circulating the pool decks constantly, while on the Celebration, they were hard to find. On the two days I spent on the pool deck in the adult-only Serenity area, I wasn't approached by a server once. 
Soda and Coffee
In terms of other nonalcoholic beverages, the Celebration is a Pepsi ship and Harmony of the Seas is a Coke ship. If you have a soda package on Royal Caribbean, you get a cup and can use the self-serve Coke Freestyle machines (you can also get sodas at any bar by ordering from the bartender).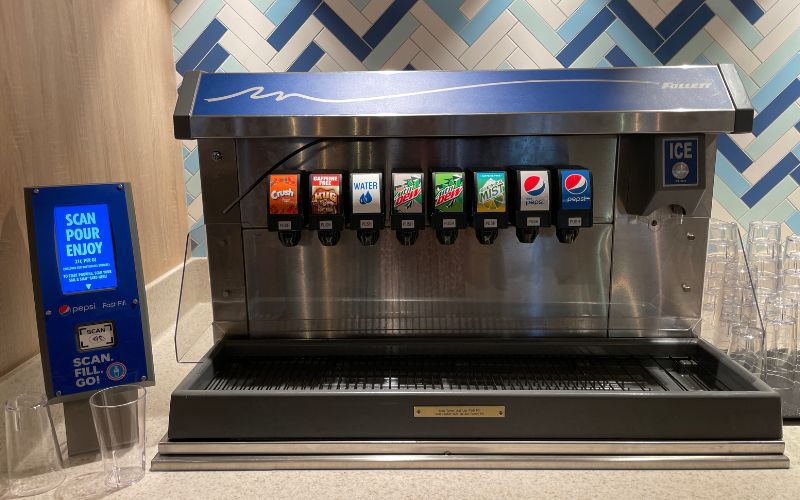 The Celebration had self-serve machines, but they were often broken for our sailing and had much fewer choices.
If you like coffee, Harmony of the Seas had Starbucks and Celebration had their own coffee shop called Java Blue Cafe. 
Drink Costs
In terms of cost, Royal Caribbeans' prices were around $2 per drink more expensive, which added up over a 7-day cruise. 
Both ships have drink packages available. Carnival's Cheers Package costs $64.95 a day, but it maxes out at 15 alcoholic drinks a day (soda, coffee, water, and mocktails are unlimited). 
Royal Caribbean uses dynamic pricing, so the drink package price fluctuates for each ship and sail date. For our sailing, the cost was between $72.99 – $77.99 per day. 
To see if a drink package is worth it, use our drink package calculator.
How the crowds compared
When I sailed on both ships, they were at full capacity. For Harmony of the Seas, it was "Jersey Week," where all New Jersey schools are off, so many families go down to Florida for vacation. For the Celebration, it was during the Miami-Dade County spring break. That meant this was as full as the ships would get, and there were a lot of kids. That meant around 6,600 guests on both ships. 
Overall, both ships handled full capacity really well. Neither felt overly crowded, and I've experienced worse crowding on much smaller ships with fewer people.
The key is the neighborhood design that splits people up. At no point is everyone in one place on the ship. At dining times, the restaurants are spread throughout the ship, splitting people into different areas. For shows, one would happen in the front of the ship while another was at the back end.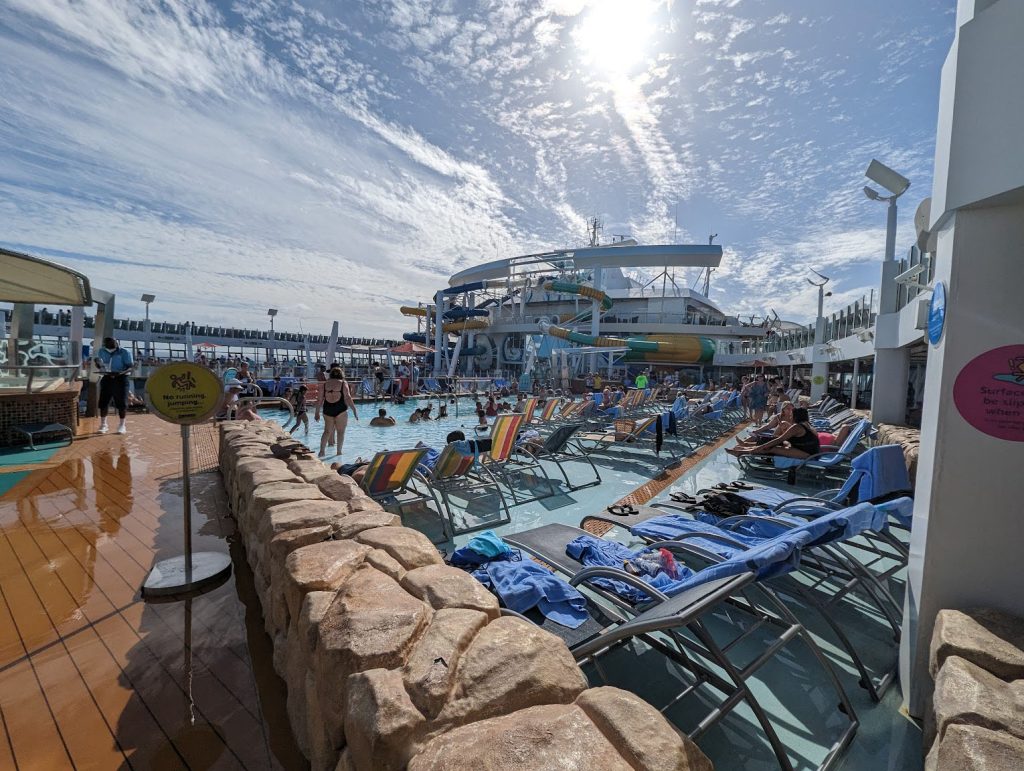 There were two exceptions, though. The pool areas on both ships felt crowded on sea days. They were standing room only, and most were filled with kids splashing and jumping. The Celebration's felt more crowded because the layout created a mass of people in the central area around the lido pool.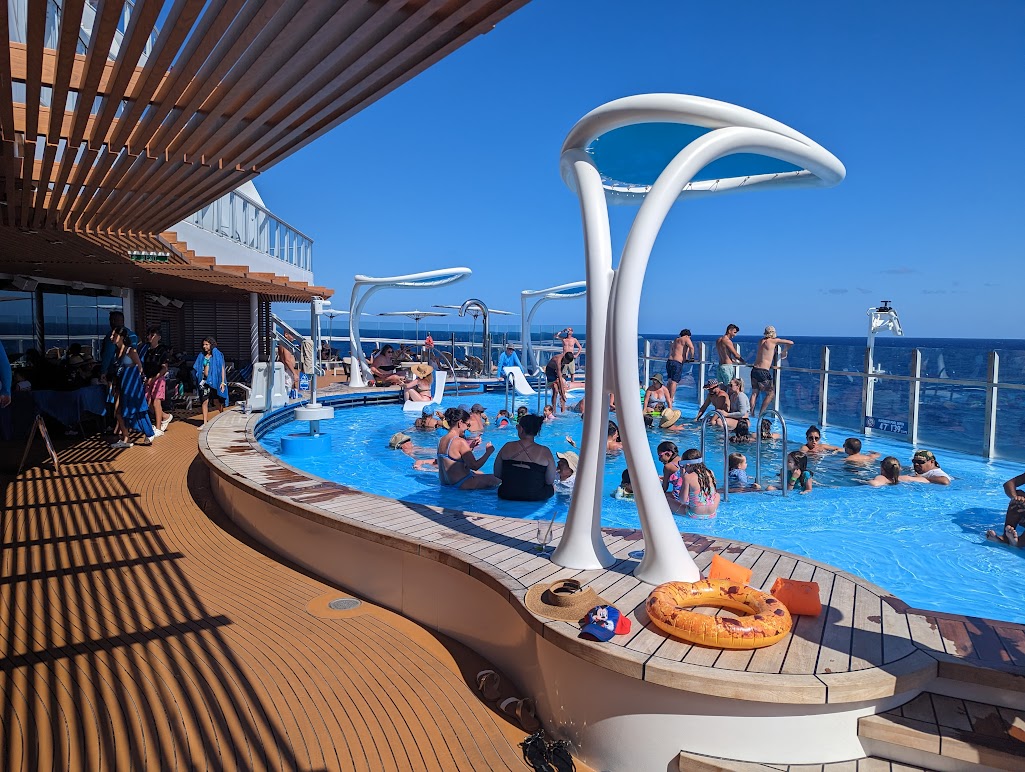 The other crowded area was the Celebration's Biscayne 820 zone at night. This area featured a very popular bar, an outdoor smoking area, a pizza place, and a sandwich place. At night, this area was very congested and filled with a lot of kids. On top of that, they squeezed a lot of photo areas in the hallway making it feel even more cramped.
Overall, though, on either ship, you'd never guess you had 6,000 people sailing with you. Since these sailings, I went on an older and smaller ship, Liberty of the Seas, and was shocked by how much more crowded and congested it felt. 
How the overall attitude/atmosphere compared
In terms of atmosphere, the two ships had a slightly different feel. 
With a Carnival ship, you know you're in for fun. The energy is in the air the moment you board, and other guests are quick to strike up a conversation. The entertainment staff is all over the ship, and although this specific sailing wasn't up to Carnival's usual standard, they were much more present than Harmony of the Seas.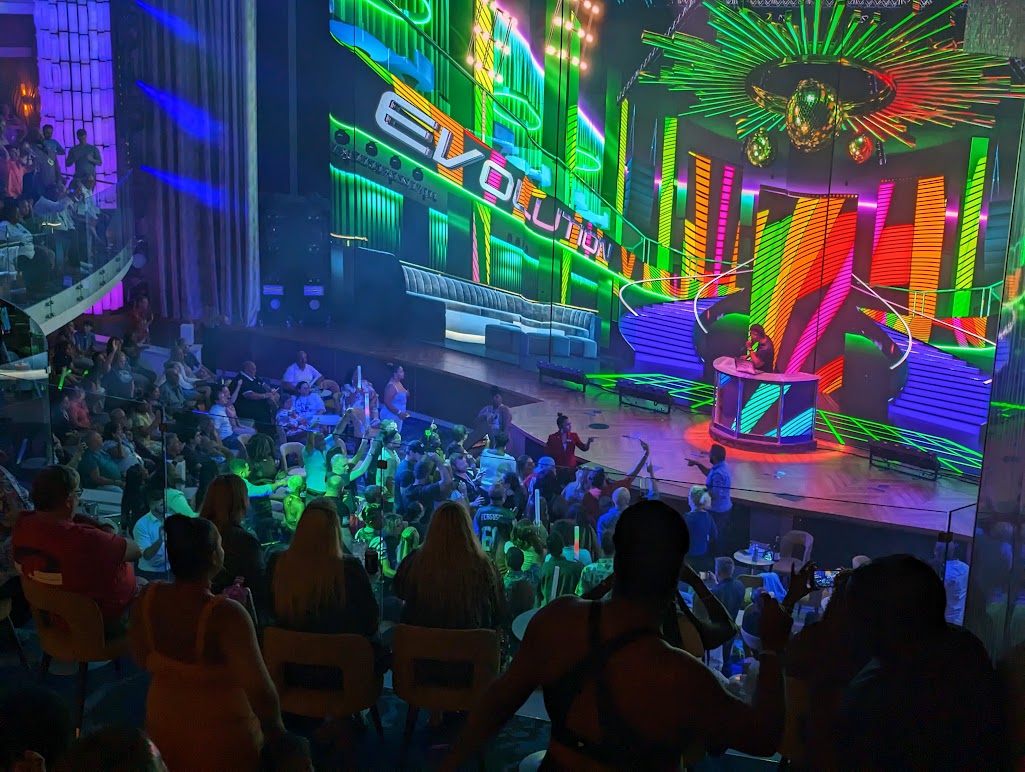 On Royal Caribbean, the entertainment staff was much more removed and had less energy and passion. On both ships, though, I encountered incredibly friendly and helpful staff who always greeted me with a smile.
If you read online comments, you'll see that people often refer to Carnival as the Walmart of cruise lines and hear about awful and unruly passengers. A lot of that has to do with the ship and sailing. Shorter, cheaper cruises on older ships will attract a more rowdy, party-heavy atmosphere on both cruise lines. These being the newer and larger ships that command a higher price, I saw a similar atmosphere and clientele on both. That being said, a cruise's atmosphere can wildly vary depending on who's sailing with you. If there's a senior tour onboard, it's going to feel different than if it was a massive amount of family reunions. 
Both are impressive ships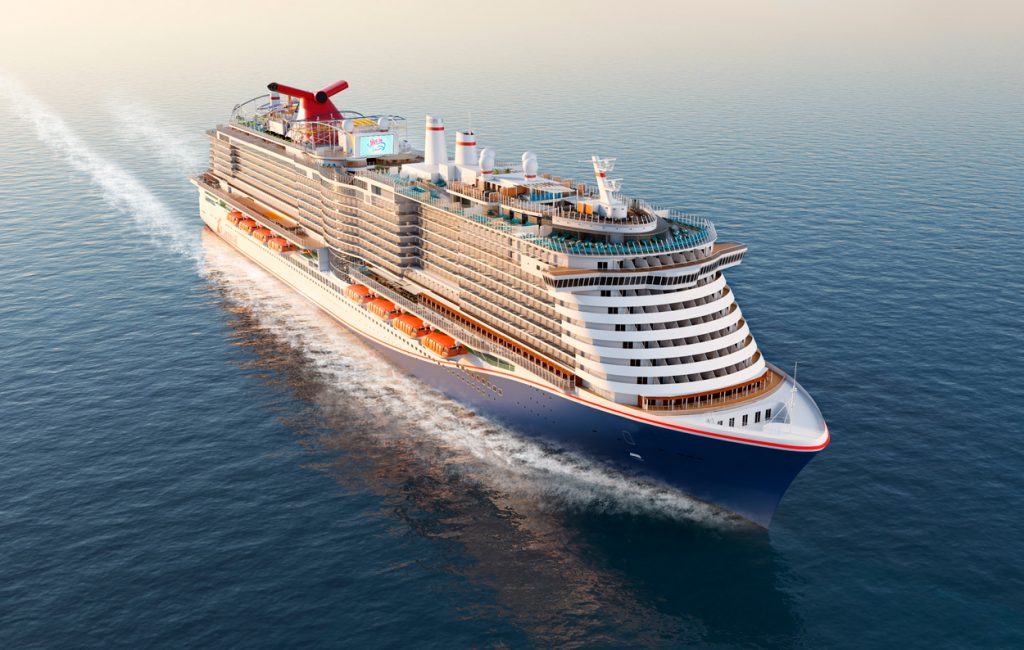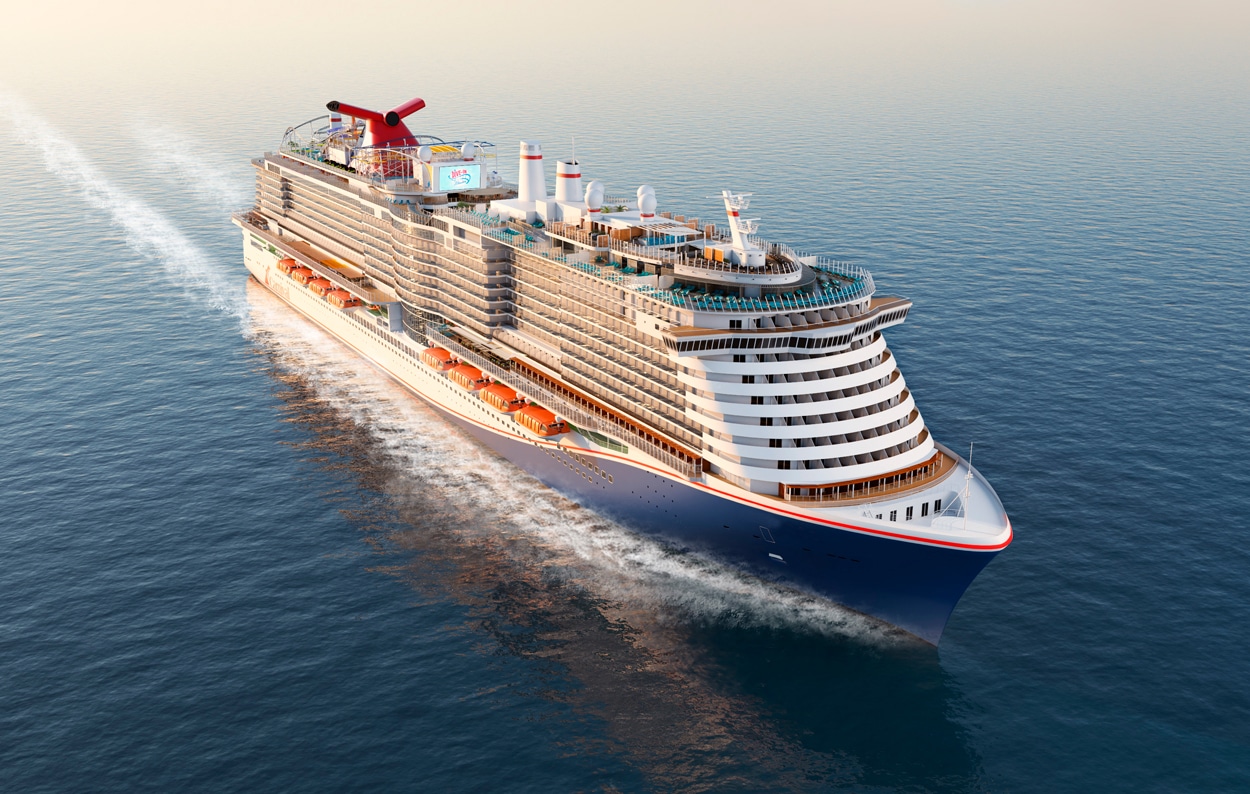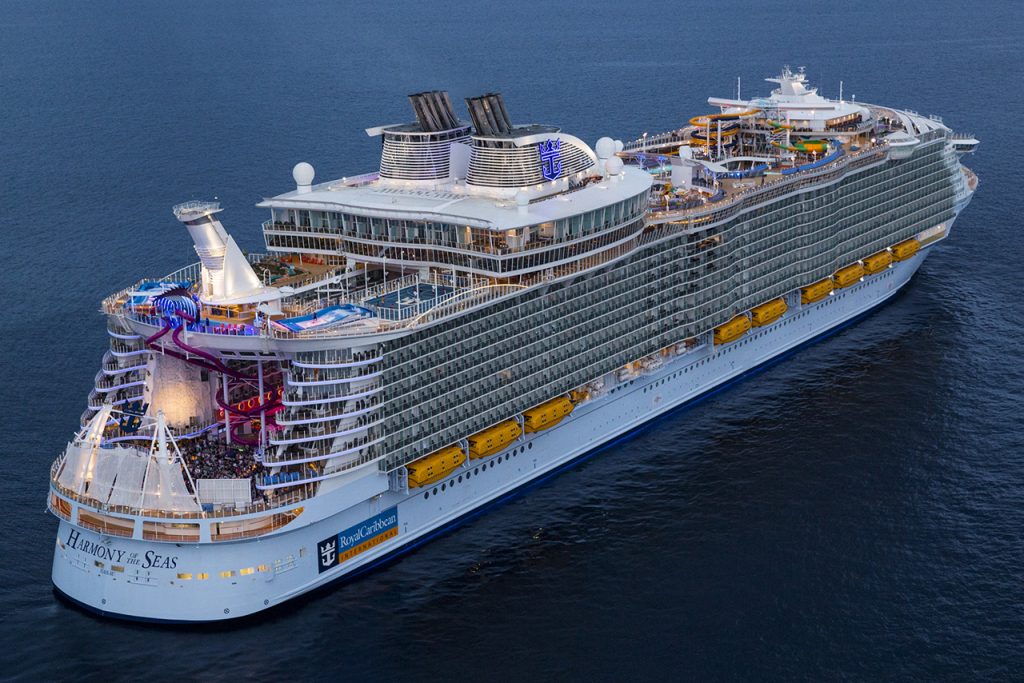 Honestly, both ships were great, and I'd sail again on either in a heartbeat. It's amazing to see how far cruising has come since I first sailed on the original Carnival Celebration back in 2004. They both represent decades of learning and improvements in technologies and philosophies of cruising. I was really blown away by both experiences. 
Overall, the ships were more similar than different, but there are a few key differences. 
If you love the ocean
The Carnival Celebration is a better choice. The ocean views available all around the ship far surpass anything you'd find on the Harmony of the Seas.
If you love food
There are a few caveats here; I found the main dining room on both to be serviceable but inconsistent. I had good and mediocre food on both ships. For fast casual, grab-and-go food, the Celebration comes out with better options in terms of quality and selection. If you prefer specialty or fine dining, Harmony of the Seas has more of those options, and they are generally good quality, but they'll cost you.
If you want a group cruise
Both ships have tons to offer, so they're good for a group cruise where people may have different tastes and preferences. The layout of Harmony of the Seas makes it a bit harder to bump into others in your group spontaneously, as most areas are self-contained. But at the same time, they offer free chat between guests on the ship, while Carnival charges $5 per person.
If you've never cruised before
Both ships are great for new cruisers, but just a warning, you're setting the bar high. They will break the most common expectations and misconceptions new cruisers have. They may be intimidating, though. 
You may want to skip either of these ships if…
You want an intimate atmosphere
There's something to be said about older, and smaller cruise ships. With fewer bars and restaurants, you get to know the staff well, seeing the same bartenders and waiters every night. You also bumped into the same guests repeatedly. It makes the ship feel more homey and familiar. 
You won't get that on either of these ships. In fact, by the end of the two sailings, there were still bars and restaurants I hadn't got to try. 
You want a high-class cruise experience
Both of these ships are mass-market ships made to appeal to a wide variety of cruisers of all ages. If you want luxury-level accommodations with higher-end food, you should look at the higher-end offerings from these companies (Celebrity and Princess Cruises are their premium counterparts). 
You have mobility issues
Even with well-designed layouts, there's no getting around the fact that these ships are big. On sea days, I was walking between 4 – 6 miles on each ship just getting around. If you have mobility issues, a smaller ship will make it easier to get around and enjoy your vacation. 
Follow along on my two sailings for all the details
Carnival Celebration Cruise
Carnival Celebration – Cruise Blog - Day 1 – Miami
Carnival Celebration – Cruise Blog - Day 2 – Sea Day
Carnival Celebration – Cruise Blog - Day 3 – Cozumel
Carnival Celebration – Cruise Blog - Day 4 – Costa Maya
Carnival Celebration – Cruise Blog - Day 5 – Roatan
Carnival Celebration – Cruise Blog - Day 6 – Sea Day
Carnival Celebration – Cruise Blog - Day 7 – Sea Day
5 Hits and Misses on Carnival Celebration
Royal Caribbean Harmony of the Seas Cruise
Harmony of the Seas – Cruise Blog - Day 1 – Fort Lauderdale
Harmony of the Seas – Cruise Blog - Day 2 – Sea Day
Harmony of the Seas – Cruise Blog - Day 3 – Costa Maya
Harmony of the Seas – Cruise Blog - Day 4 – Cozumel
Harmony of the Seas – Cruise Blog - Day 5 – Sea Day
5 Hits and Misses on Royal Caribbean Harmony of the Seas
If you want to stay up to date with what we publish, sign up for our monthly newsletter
CruiseSpotlight is an Amazon Associate. We may earn a commission when you click links to retailers and purchase goods.