Go Ice Skating on a Cruise Ship
Last Updated on October 9, 2021
Imagine skillfully skating over a sheet of ice while cruising sailing through the beautiful turquoise waters of the Caribbean at 20 mph. It sounds like it can't be true, but a lot of Royal Caribbean's ships today feature an ice rink where you can give it a go. 
Studio B – The First Ice Rink at Sea
Royal Caribbean introduced the first ice skating rink on the Voyager of the Seas in 1999. It was revolutionary addition to a cruise ship at the time. The space, named Studio B, was designed to be used as a multipurpose space; ice skating shows, open skating for passengers, escape rooms, art galleries, etc.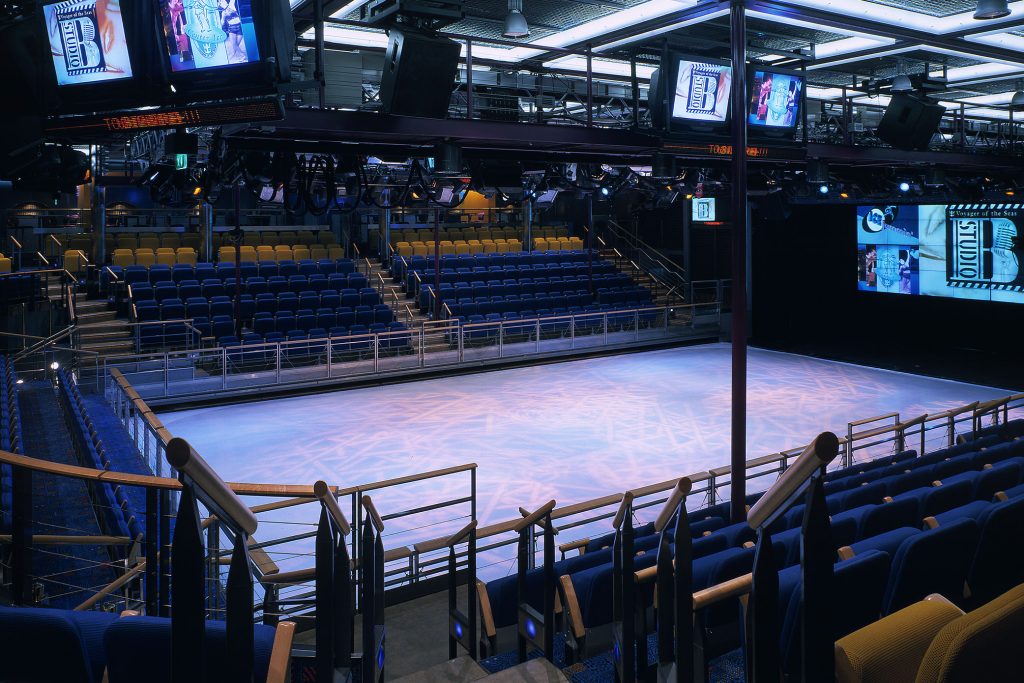 It was a unique concept and one that took a lot of engineering. Because it'd be impossible to drain and refill the ice every time they wanted to switch how the venue is used, the engineers had to design a movable floor that would slide out over the ice. In all the prototypes and experiments, they realized the floor would generate heat and damage the ice as it moved, so they had to figure out how to protect it. Eventually, they perfected a system, although it took an hour for the floor to move into and out of place. 
With the success of the Studio B ice rink, Royal Caribbean included the attraction on most of its cruise ships built after the Voyager of the Seas (most notably, it's absent from the Quantum-class ships that replace Studio B with the Seaplex). Ice skating on a cruise ship is a Royal Caribbean exclusive, so if you've heard of anyone ice skating on a cruise ship, you know it was a Royal Caribbean ship. 
What are the requirements to skate in Studio B?
Thankfully, there aren't a lot of requirements to ice skate on a Royal Caribbean ship. If you want to skate in Studio B, you must wear long pants and socks, so pack accordingly. Also, you must wear the supplied helmet for safety reasons. 
How much does Royal Caribbean's ice skating cost?
There is no additional cost to go ice skating on a Royal Caribbean ship; it's included in your cruise fare. Royal Caribbean provides skates that you can use as well as helmets. You can bring your own skates if you wish. 
When can you ice skate at Studio B?
Check your Cruise Compass once aboard to see the open skate sessions. Open skate sessions are typically on sea days, so they'll give you something to do while sailing between ports. A session usually lasts 30 minutes. 
Enjoy Visually Stunning Ice Dancing Shows at Studio B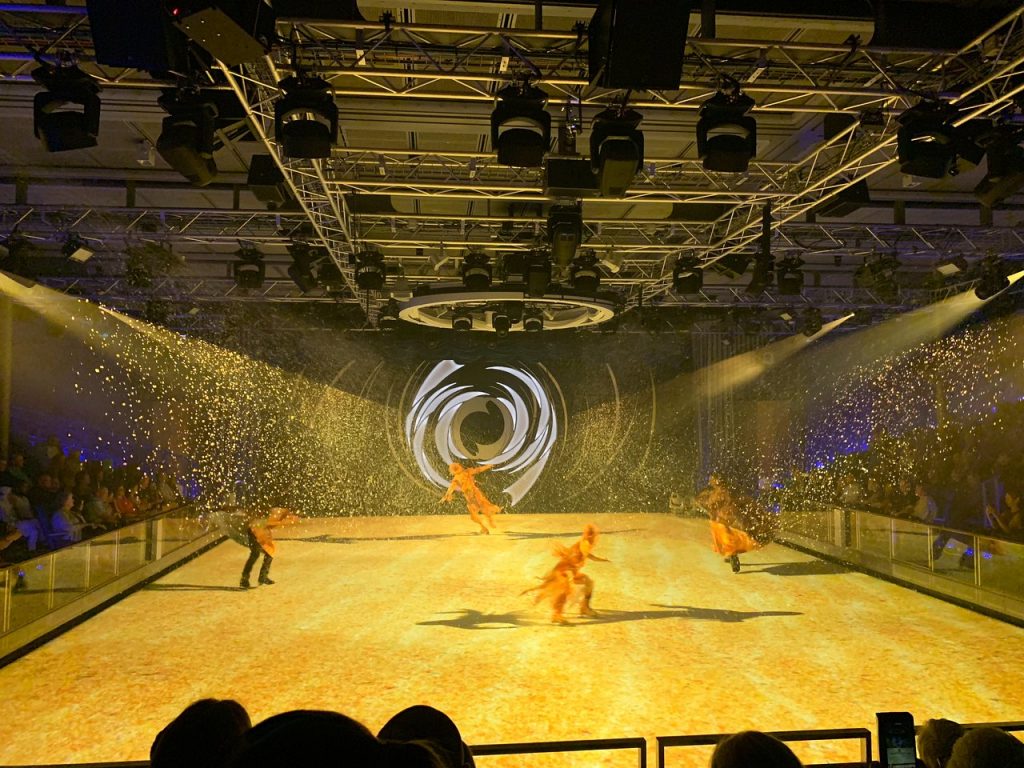 If ice skating isn't your thing, you can still enjoy Studio B. Depending on the ship, the Studio B theater can seat around 700 – 1,000 passengers. At night, you can see some fantastic ice shows here from professionally trained ice skaters. In fact, it's been reported that Royal Caribbean is one of the biggest employers of professional ice dancers in the world. With impressive moves and set decorations, it's worth checking out for sure. 
The shows can be canceled during rough seas, but the performers try their best to ensure the show goes on. The skilled ice dancers know how to scale back their performances during rougher weather, scaling back the moves to safer levels, jumping less high, or doing two turns instead of three. 
Which Royal Caribbean ships have ice skating rinks?
CruiseSpotlight is an Amazon Associate. We may earn a commission when you click links to retailers and purchase goods.