Inside Surfside and Thrill Island on Icon of the Seas
Royal Caribbean released some new renders of their upcoming ship, the Icon of the Seas. They shed some light on what guests can expect in two of the new neighborhoods found on the ship. Look at some of the new bars, restaurants, and attractions coming to the Surfside and Thrill Island neighborhoods.
Surfside Neighborhood is the ultimate family area
Compared to its Oasis-class siblings, one of the most noticeable changes on Icon of the Seas is that the Boardwalk Neighborhood has been transformed into the Surfside Neighborhood.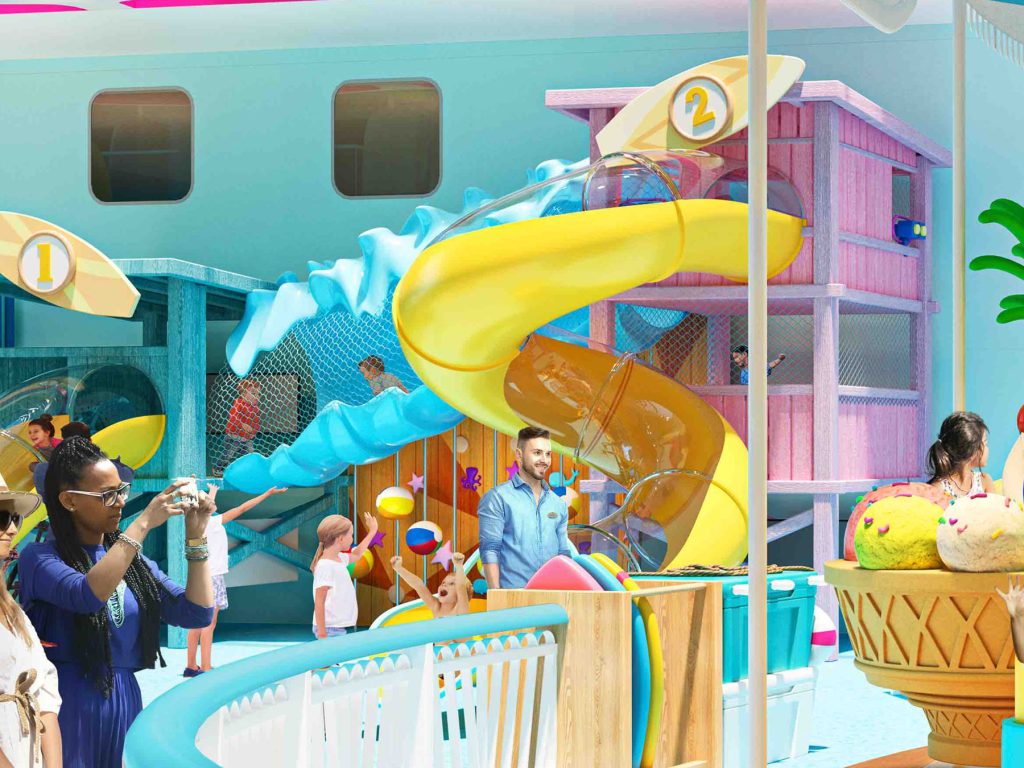 Surfside is the ultimate family area on the ship. This neighborhood has a playful beach theme that extends through the whole neighborhood. Kids can spend countless hours playing on the climbable Playscape area or splashing away in the Splashaway Bay aquapark.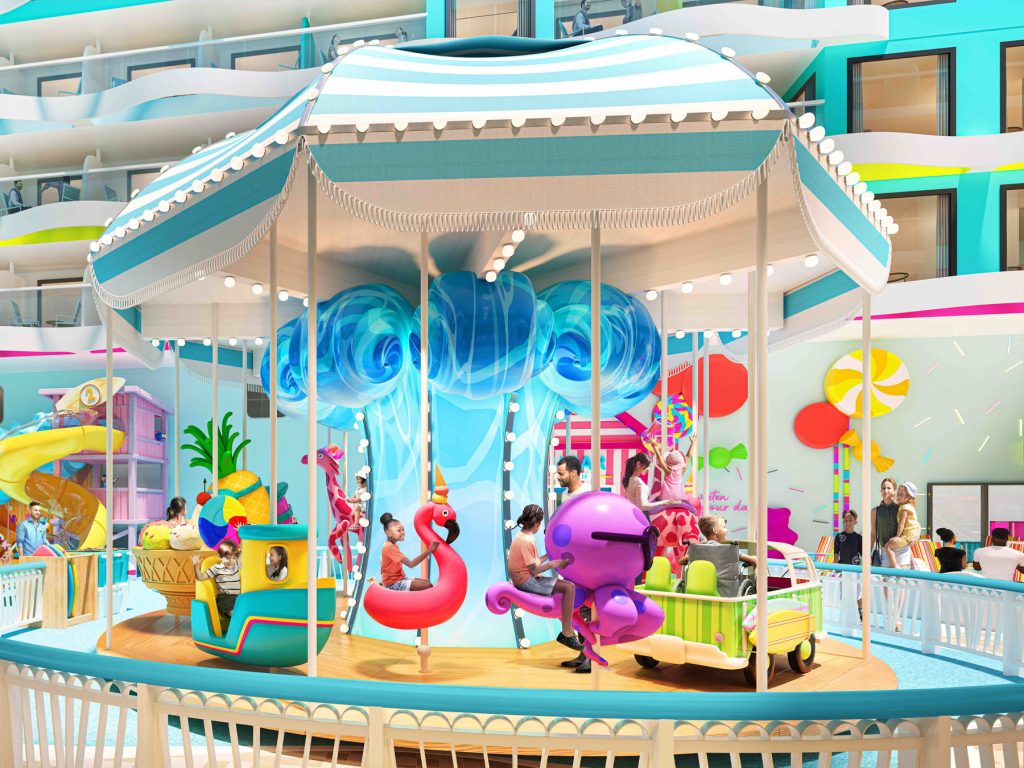 Like the Boardwalk on ships like Wonder of the Seas, Seaside will feature a carousel, but it's been completely reimagined. Royal Caribbean will swap out the traditional wooden, hand-carved design with a new, completely sea-themed version. It's a great way to refresh a tried and true idea. 
Surfside has its own dedicated buffet
A lot of the negative feedback during the first release of Icon of the Seas details was how swarmed it would be with kids, but the announcement here helps understand what Royal Caribbean was going for. They wanted to make an all-encompassing area where kids and families can be together.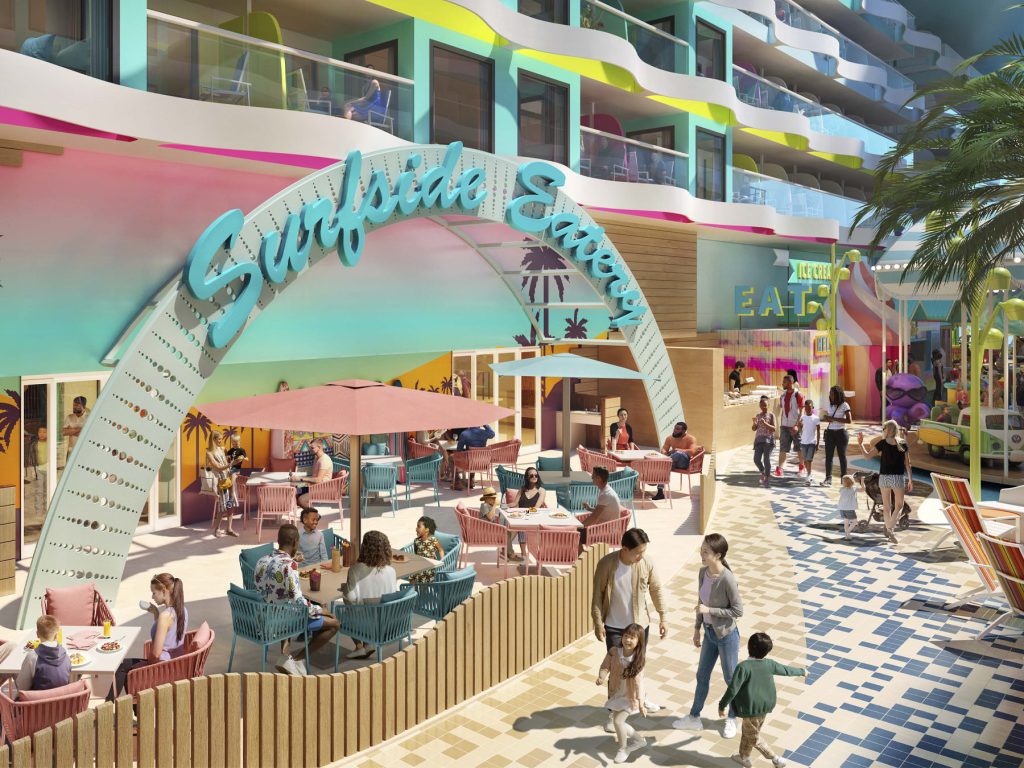 The Surfside Eatery will be a dedicated buffet in the area. Decorated in the same beachside theme as the rest of the neighborhood, it looks like a similar concept to the Mini Bites mini-buffet found on Oasis-class ship. This area offers a ton of casual food like chicken fingers, quesadillas, and french fries. It'll take a lot of the load off of the main Windjammer buffet, meaning families won't have to climb 10+ decks to get their kids a quick lunch.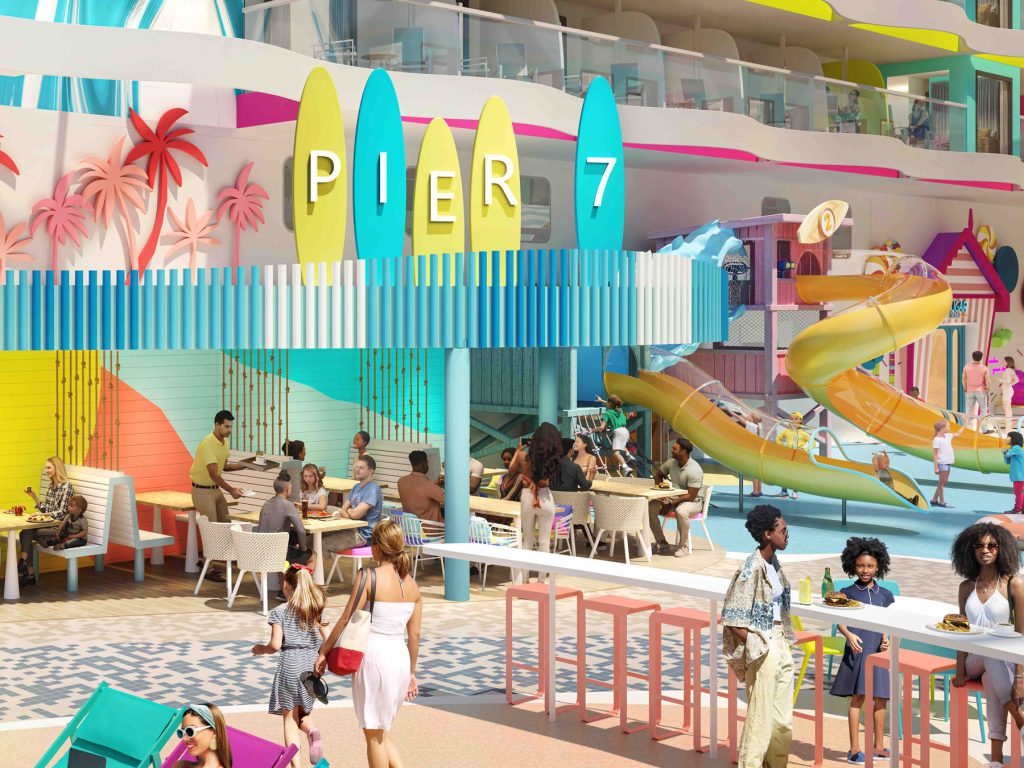 The area will also feature "Surfside Bites" and a new specialty restaurant, Pier 7. The restaurant will offer "beachside bites" like mango shrimp tostadas and surf n' turf. It will be a specialty restaurant, so there will be an additional charge for this venue. 
The Lemon Post Family Bar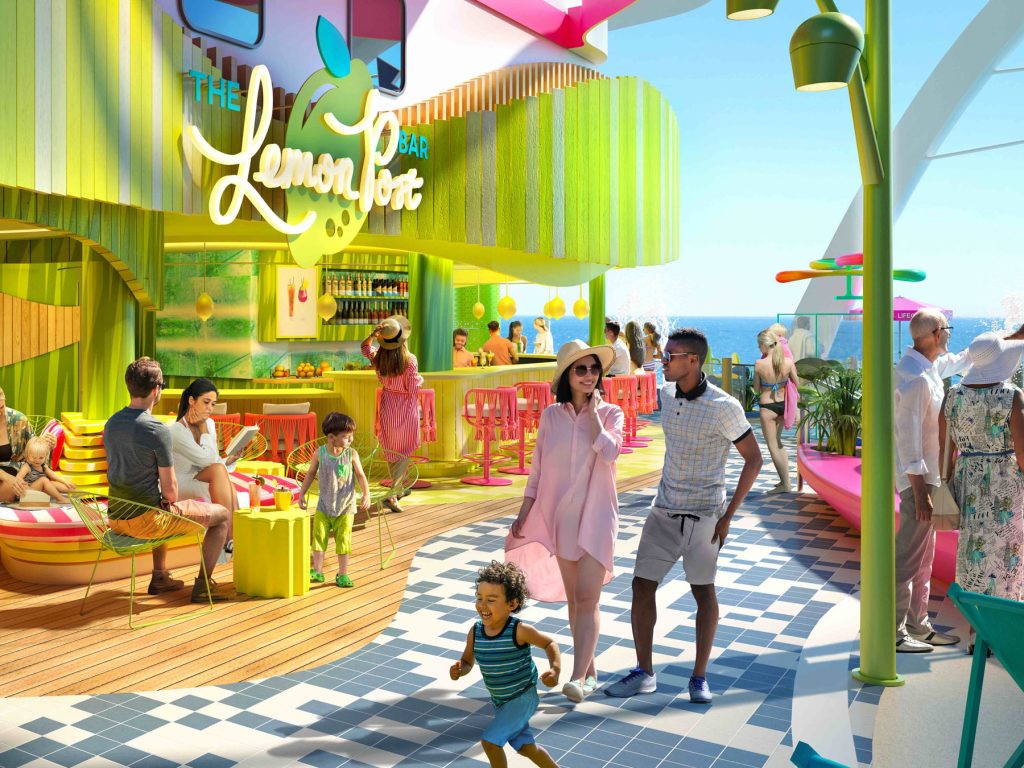 Surfside will also feature a new bar called The Lemon Post. It'll be a bar for the whole family, with separate kids and adult menus. Its close location to Splashaway Bay means this place will be popular. Thankfully, they didn't use the term floating around during the first press release, a "Mommy and Me Bar," which sounded wrong. 
Thrill Island Neighborhood will keep guests entertained
Royal Caribbean also gave us a glimpse at more of Thrill Island, the new neighborhood dedicated to adrenaline-pumping adventures and fun.  
Stop by Desserted for high-end milkshakes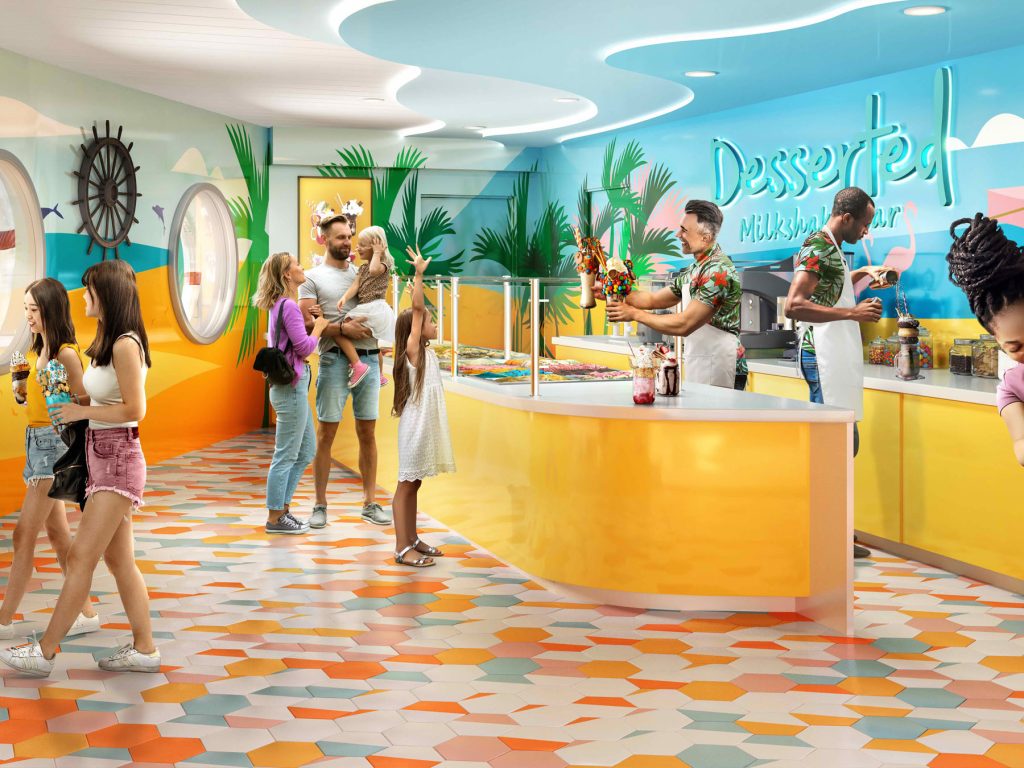 Thrill Island will feature a new venue called "Desserted," which sounds like it'll be the place to go for desserts and treats. This new bar will serve what they call "Insta-worth milkshakes." They'll also have spiked options available for adults who want a little more kick.
The Lost Dunes Mini Golf
For the past few ships, Royal Caribbean has done a fantastic job theming their mini golf courses. More than just cheap astroturf and a windmill, these courses are completely themed with fun challenges and decor. 
Wonder of the Seas has a deep sea theme with vibrant blues and fun sea life throughout the course. On Icon of the Seas, the mini golf will be called Lost Dunes and will find guests playing in a course filled with shipwrecks, plane crashes, and fallen palms. It's what you might see if the Bermuda Triangle had its own mini golf course.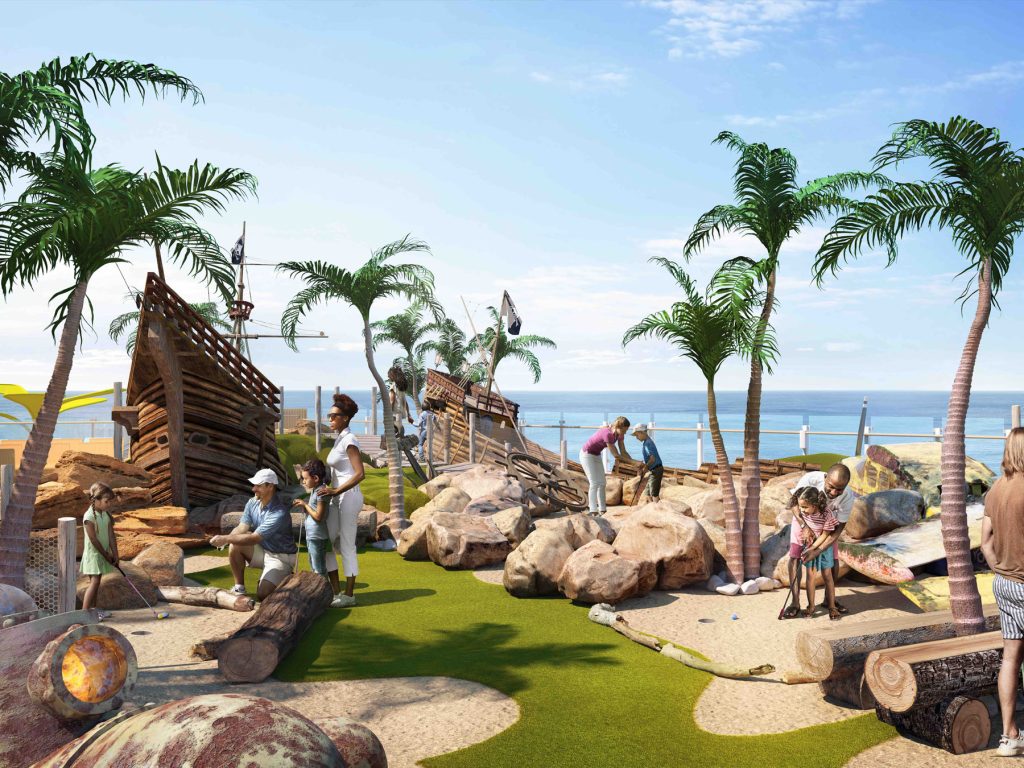 Basecamp Bar in Thrill Island
When you're taking a break between sliding in the Category 6 waterpark and trying the suspended rope course on Crown's Edge, you can stop by the new Basecamp Bar. This venue has an adventurous feel to it. On top of a standard bar, it'll also have a walk-up window to grab a cocktail and run to your next adventure.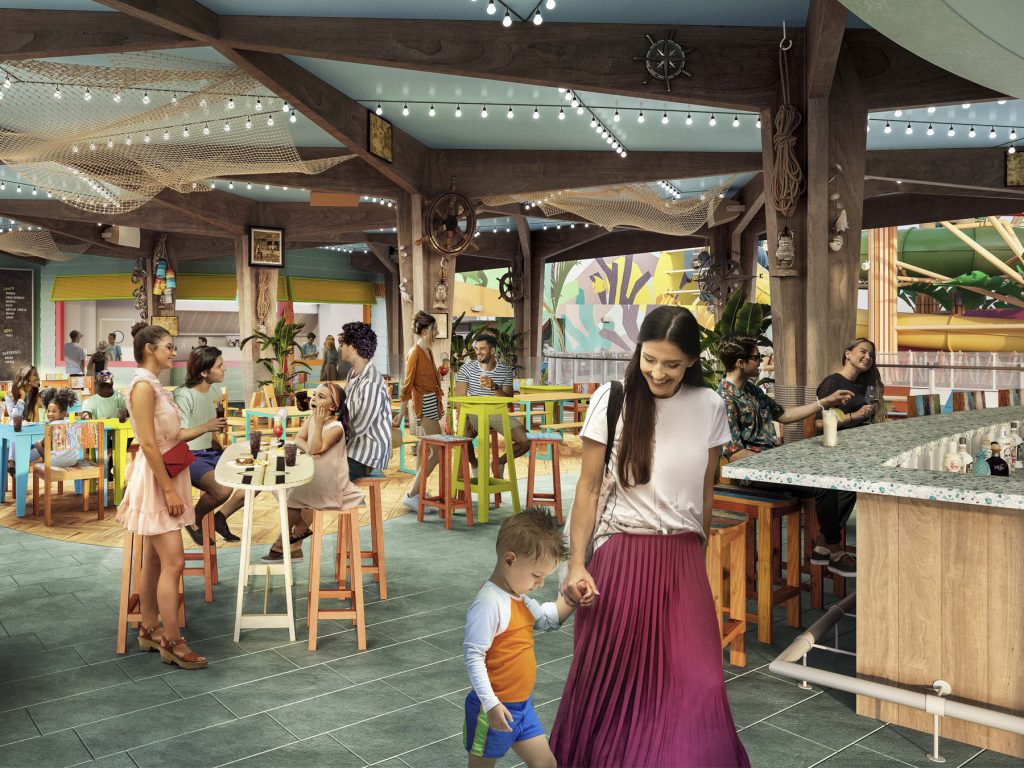 Reimaged Climbing Wall in Thrill Island
It just wouldn't be a Royal Caribbean ship if it didn't have a climbing wall on it. The Icon of the Seas will have one which Royal Caribbean says will have the line's highest vantage point yet. Called "Adrenaline Peak," this wall will also have racing lanes for siblings or family members who like a little competition on vacation. The views are sure to be amazing and intimidating.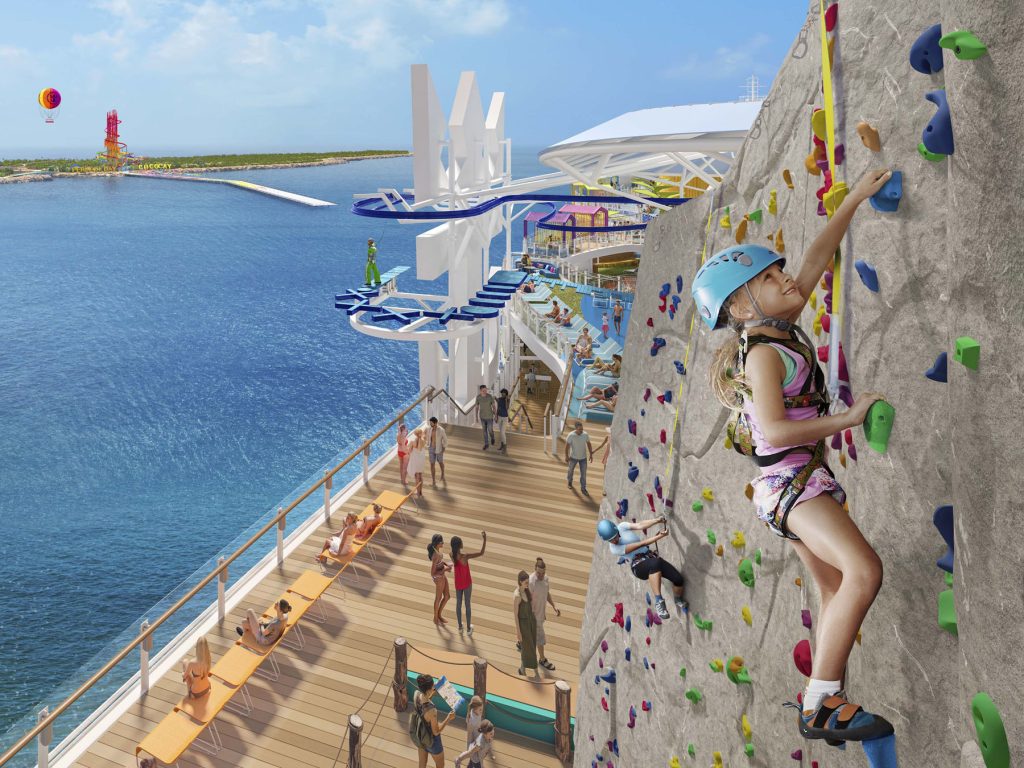 Icon of the Seas will be the ultimate family vacation
It's clear Royal Caribbean spent a lot of time figuring out how to let entire families enjoy a cruise vacation. Sometimes, younger kids just don't have enough activities to keep kids entertained. This ship will have something for all ages, from little kids and teenagers to the young at heart. 
Also, the new Surfside Neighborhood layout means families don't have to be spread out all over the ship. Icon of the Seas is big, and having a family running between different decks and parts of the ship is a nightmare for keeping track. Royal Caribbean makes the family vacation much less stressful by having bars, kid's clubs, restaurants, and activities all in one area.
The ship will sail in January and we still have so much more to learn. Follow us on Facebook or Twitter or subscribe to our newsletter to stay up to date.
CruiseSpotlight is an Amazon Associate. We may earn a commission when you click links to retailers and purchase goods.