Introducing the Norwegian Prima – Coming in 2022
Last Updated on August 25, 2022
Updated 5/12/2021 – Added new information about the ship's layout, rooms, and restaurants.
Today, Norwegian Cruise Line released some details on the newest upcoming ship in their fleet. The ship will be named the Prima, or "first" in Italian, and debut in Summer 2022. The ship was previously known by the codename "Project Leondardo" and will be the start of 6 brand new ships in this class. 
A Whole New Class Of Ship
For the past 10 years, all Norwegian's new ships have been in the Breakaway or Breakaway-Plus class. That means they have a similar structure, layout, and amenities, although each can vary slightly between ships. The Prima represents a whole new class of ship. One of the most significant changes will be that the ship uses Liquified Natural Gas (LNG), a cleaner alternative to traditional diesel. We've seen several of the newest ships, like the Carnival Mardi Gras, switch to this alternative fuel.
The Prima breaks the tradition of increasing ship size each year. It will hold approximately 3,215 passengers, 19% fewer than the Norwegian Breakaway, and about 4% fewer tons. Also, based on early renders, it looks like it gets rid of the water slides, race tracks, and ropes courses found on the newer Norwegian Ships. Instead, the ship is supposed to have an increased focus on outdoor space. In this render, you can see the increased outdoor space on the Promenade deck and aft of the ship. Norwegian's Breakaway Class Ships already do a fantastic job at making you feel in touch with the sea, so it'll be interesting to see how they build upon that for the Prima.
Find The Norwegian Prima at a Variety of Ports
Usually, most cruise ships stick to one or two home ports a majority of the year, but the Prima will be going on a mini-tour of the most popular cruise ports to start with so everyone has a chance to check out the new ship.
The Prima will start off with 10-day Northern European Cruises in Summer 2022, and then in October, it will move to the US. There, it'll sail from New York, Galveston, Miami, and finally from its homeport in Port Canaveral. Then in Summer 2023, it'll head back to Europe for some truly unique Northern European Cruises using Reykjavik and Southampton as home ports. 
An Improved Haven Experience
The Haven is Norwegian's luxury experience on their ships. It's a "ship within a ship" concept where passengers who stay there have exclusive access to parts of the ship. These amenities usually include a lounge, restaurant, and courtyard with a pool exclusive to Haven guests.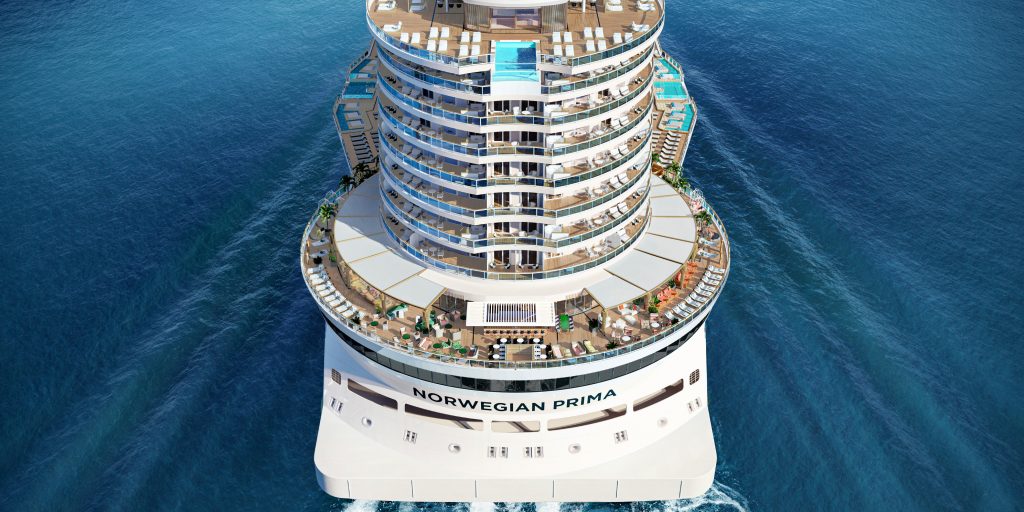 The Prima takes the Haven concept to a whole new level. Now, all 107 Haven suites are at the back of the ship with a spectacular ocean view. Designed to resemble the large ocean-view condo towers you'll find in Miami, they take up decks 10 through 15 on the Aft of the ship. They even have private elevator access to go between Haven exclusive areas. 
The biggest change is that rather than a small interior courtyard with a pool, Haven guests will now have access to a huge Haven Sundeck with its own infinity pool off the back of the ship. It's much more substantial and a massive upgrade over the previous areas. The layout seems reminiscent of Carnival's Havana areas found on the Carnival Vista, Carnival Horizon, and Carnival Panorama. While we're not a fan of the "ship within a ship" concept, I'll admit, these facilities are really enticing. 
Goodbye Waterfront, Hello Ocean Boulevard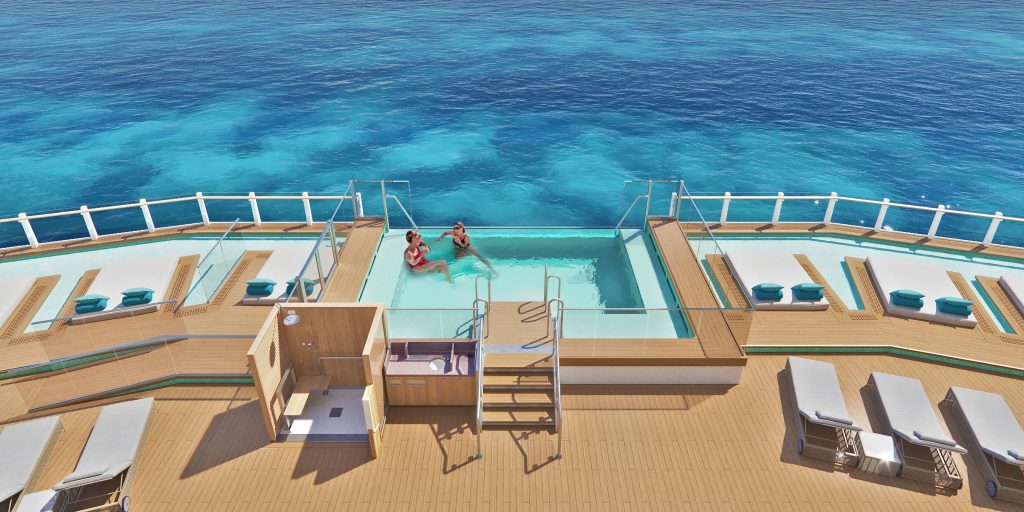 Norwegian's Breakaway-class Ships are known for the Waterfront, a massive promenade surrounding the ship with restaurants offering ocean view dining. The Waterfront put you in touch with the sea, allowing you to watch a beautiful sunset over the ocean while eating outside, with the sea breeze gently blowing by. Unlike Royal Caribbean's Oasis-class ships that seem to avoid the ocean altogether and focus inwards, this area puts the water front and center.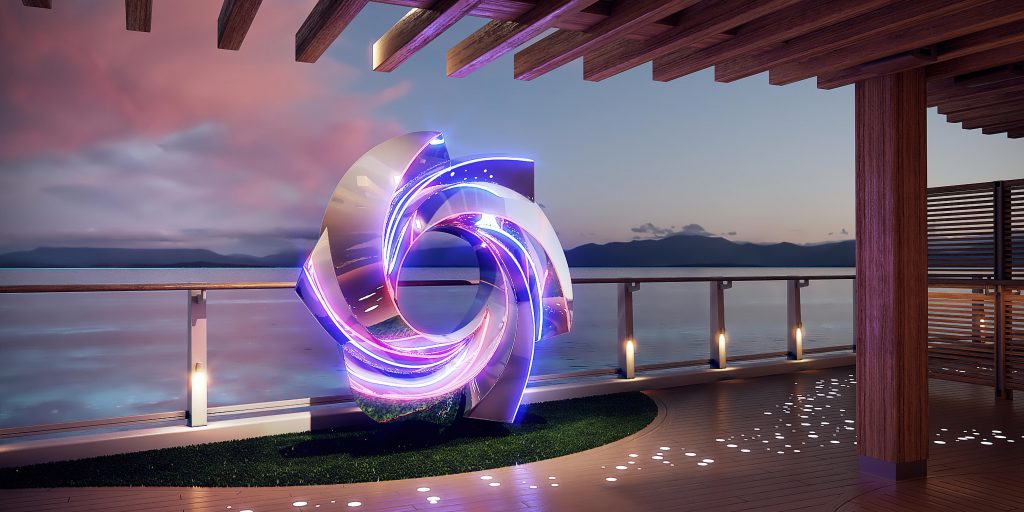 On the Prima, Norwegian upgraded the Waterfront to Ocean Boulevard. It will still have popular restaurants like the Waterfront, but it'll add some new features like:
The Concourse – An outdoor sculpture garden with effects that change as the sun goes down. 
Oceanwalk – Two glass bridges suspended 8 decks above the water level. Great to test your nerves or grab a perfect Instagram photo. 
Infinity Beach – The back of Deck 8 will feature two infinity pools. This design is similar to what's seen on Carnival Mardi Gras' Summer Landing. It pools the pool much closer to the water level for a spectacular view. It splits passengers between two main pool areas (there is also a traditional pool deck), relieving crowds and pressure. 
Restaurants – On Ocean Boulevard, you'll find a number of returning Norwegian favorites; Onda By Scarpetta, Los Lobos, and Local Bar & Grill. 
A New Center For Food – Indulge Food Hall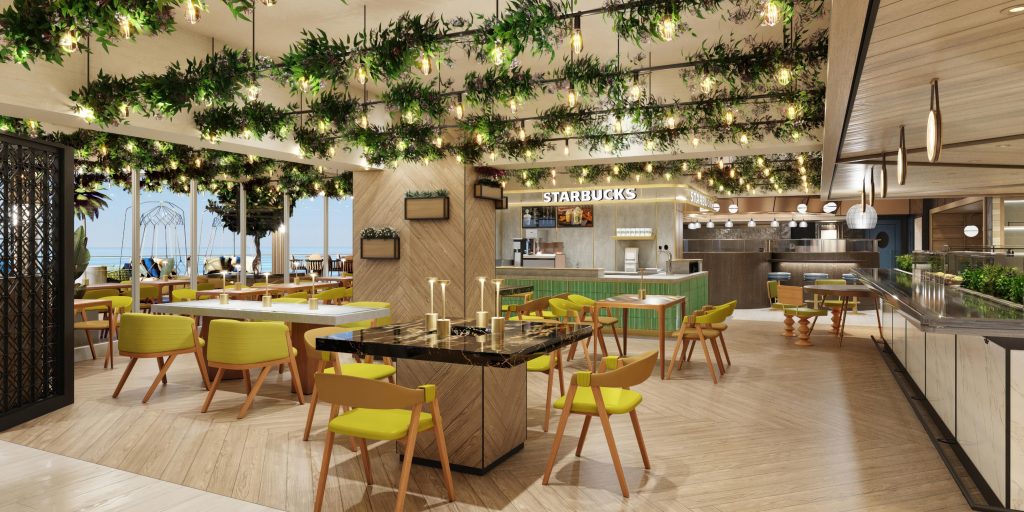 The Indulge Food Hall is at the back of Deck 8 and is an open-air marketplace-style venue with 11 different restaurants. The area features many different types of cuisine to try; rotisserie chicken, noodle dishes, Latin food, tapas, salads, Indian, and desserts. Indulge will also have popular Norwegian favorites like Q Texas Smokehouse, Coco's sweets, and Starbucks. While it's great to have so many options, it seems like Deck 8 is pretty restaurant-heavy. We wonder if that will lead to crowding during peak lunch and dinner times. Newer ships from other cruise lines have purposely spread food venues out to reduce congestion. Because this ship is smaller and holds fewer people, though, it may not be a problem. 
Still More to Come
Currently, there are no details of family or adventure activities on board; no race tracks, ropes courses, water slides, etc. Norwegian will announce more about the entertainment options on the Prima later this year.
Stay tuned for updates on this exciting, first-of-its-kind ship. In the meantime, you can read more about the destinations at NCL.com
CruiseSpotlight is an Amazon Associate. We may earn a commission when you click links to retailers and purchase goods.