Liberty of the Seas – Cruise Blog – Day 3 – Bermuda
It was day 3 of our 5 day cruise and the Liberty of the Seas arrived in Bermuda. It'd be the first of two days we'd get the explore the county. Follow along on our adventures in Bermuda. 
Liberty of the Seas – Day 3 – Bermuda Overview
Liberty of the Seas – Day 3 Cruise Compass
Surprisingly spacious breakfast in Windjammer
The previous two days, I was less than impressed at the capacity and flow in the Windjammer buffet. The service and food had been good, but the layout and size meant lots of confusion while trying to get food. I expected the same this morning but was in for a pleasant surprise. 
I arrived around 8 AM, and the place was only about half full. Looking out, I could see plenty of tables, and the buffets had no lines. It was a really nice change from the previous days. 
I also got to appreciate the seating area in the Windjammer for the first time. The panoramic windows around the whole ship provided impressive views of the Bermuda Royal Dockyard. 
About Royal Naval Dockyard in Bermuda
Liberty of the Seas docked in the Royal Naval Dockyard. It can hold two ships at a time, and while there are a couple of places ships can dock in Bermuda, this is where the Royal Caribbean ships almost always dock. 
Our cruise would be in Bermuda for two days. From 9 AM on the first day to 5:30 PM on the second day, the ship would be stationary, and guests could come and go as they pleased. It basically turned the Liberty of the Seas into a hotel. 
Tip: When getting off the ship, remember to bring a room key / SeaPass card for everyone. Adults will also need a photo ID to return to the ship (a driver's license is acceptable if you don't want to carry your passport around). One group had a miscommunication and didn't bring the younger children's SeaPass cards, so we couldn't leave the ship. Because the young kids didn't need to use their room keys while on the ship, they were misplaced. Luckily a quick trip to Guest Services got them reprinted. 
The Dockyard had a lot of things nearby, restaurants, shops, museums, and attractions. From here, public transportation was easily accessible; you could catch a shuttle, bus, or water ferry to many other places in Bermuda. 
Getting to Horseshoe Bay
For the first day, we wanted to go as a group and explore Horseshoe Bay, one of the most photographed beaches in the world. The beach is about a 25-minute drive from the Dockyard. You can choose from a variety of transportation options to get there. 
For tourists, Horseshoe Bay is a must-go destination. Locals will avoid it and go to smaller, quieter beaches. We chose to stick to Horseshoe Bay because it had bathrooms, food and drink vendors, lifeguards, chairs, and tents. If I was traveling on my own, I might have tried a more secluded, lesser-known beach, but with a group of 15, we were keeping it simple.  
To get to the beach, most of us took a shuttle. To access the shuttle, we walked off the ship and towards the main parking lot. There, a local guide asked where we wanted to go and directed us to the Horseshoe Bay shuttle. 
A line of small white shuttles that held about 15 people each lined the side of the parking lot. We talked to a gentleman at the front of the line, and he loaded us onto the first shuttle with space. Within less than 5 minutes, we were on our way. 
It was refreshing to have something so organized. It was also nice to have such helpful locals. Some cruise ports are full of people harassing you to go to their excursions and activities. Here everyone was friendly, helpful, and not pushy. 
The shuttle is run by Bermuda and has a set cost of $7 per person. They only take cash (they'll take the US dollar or Bermuda dollar). You pay once you get off. 
Tip: Do not book Royal Caribbean Horseshoe Bay excursion. It's a complete rip-off. For our sailing, it cost between $32 and $39. For this fee, they would drop you off and pick you up at a set time. With the shuttle, you could come or go as you wanted, and it was much cheaper. 
Our driver told us about Bermuda as we made the trip. Within 25 minutes, we arrived at Horseshoe Bay. He told us when we were done to return to where we got off, and there'd be a line of shuttles waiting to take us back.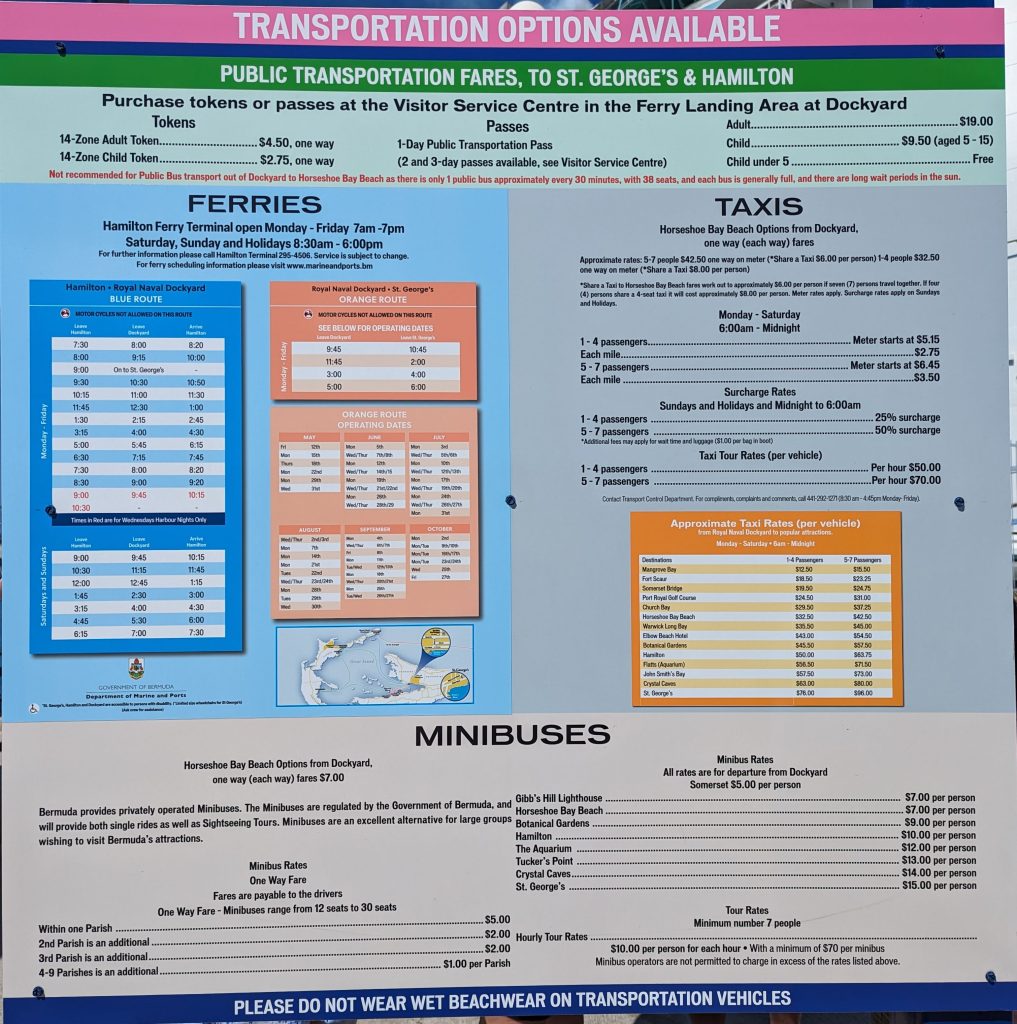 While we took the shuttle to Horseshoe Bay, the local bus was also an option. My sister's family of six used this method because they'd be using public transit the next day to visit some attractions, and it was cheaper to get a book of tickets for her family. If she were just going to Horseshoe Bay, the cost would have been $3.50 per person, and the ride would have taken around 40 minutes, so there's a tradeoff between cost and time. Also, the public bus drops you off at the street, which is a bit of a walk, compared to the shuttle that drops you right off at the entrance. 
Bermuda's public transit system is excellent, though, and makes it easy to get around the island. The only hiccup was that my sister wanted to buy a book of tickets, but they couldn't do that at the Royal Naval Dockyard. She had to take the water shuttle to Hamilton and buy the tickets there. It added some time to her journey and wasn't the most convenient, but the staff was helpful in figuring out how to do it. 
Enjoying the beauty of Horseshoe Bay
We got off the shuttle at around 10:30 AM and started walking down the path to the beach. On the way, we passed two large restrooms equipped with showers and changing rooms. The facilities were in good condition and very clean.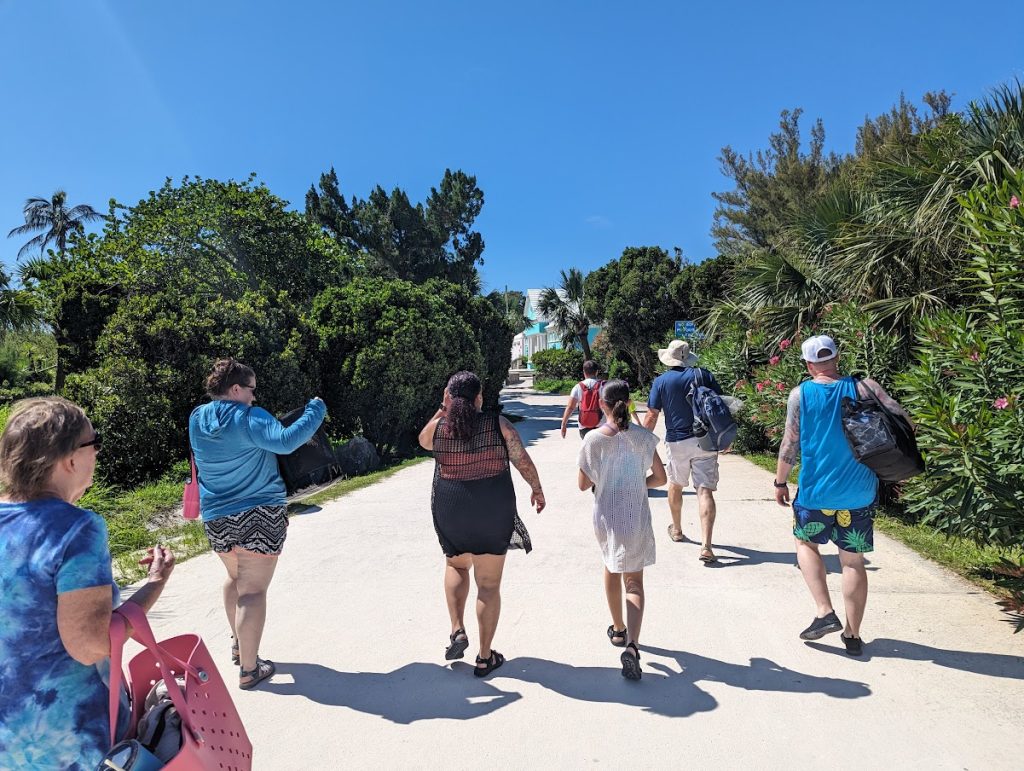 Right after the entrance was a stand where you could rent chairs, umbrellas, and tents. A few people were in front of us in line, but it moved quickly. At this point, they said they were out of umbrellas, but they had plenty of chairs and tents. We ended up getting 6 chairs and 2 tents for our group. They took cash or card. Once we ordered it, we walked to the beach, where the attendants set up our equipment. 
I didn't know what they meant by "tent," but it was a 10′ x 10′ pop-up gazebo. It provided a great amount of shade and gave us an excellent space for our group. The beach was definitely full, but we weren't on top of other people. I've felt much more crowded on beaches in NJ and FL.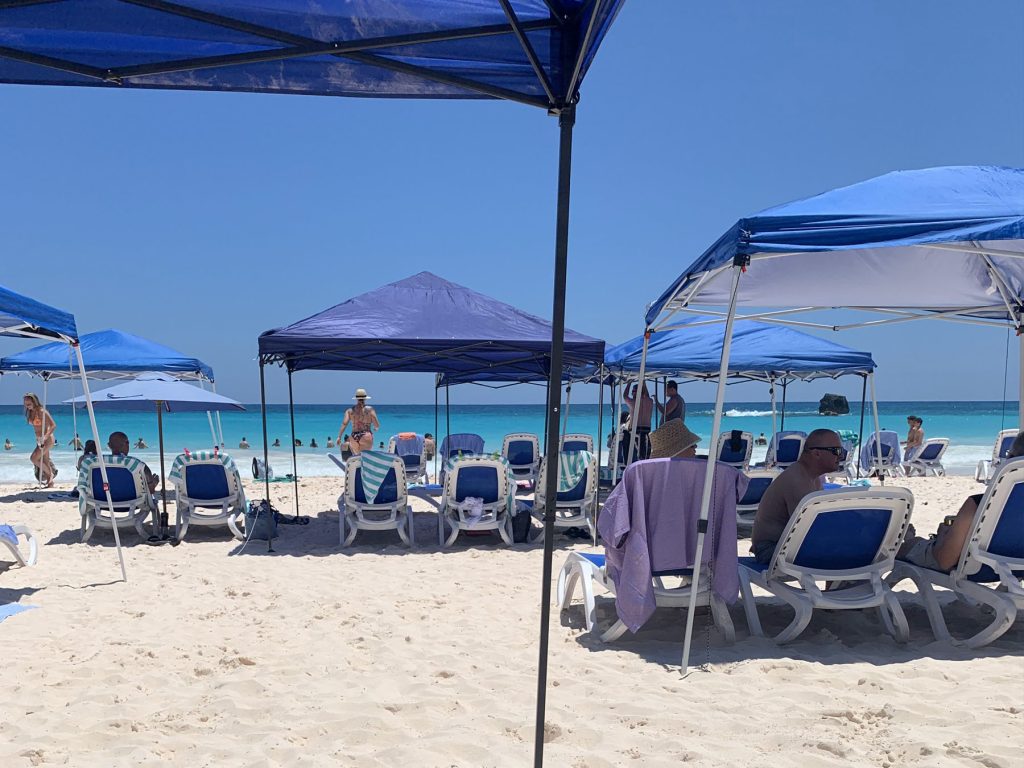 The cost was $15 per chair and $40 per pop-up tent. They didn't have any umbrellas when we arrived, and I saw very few on the beach. They had a limited supply, or they only offered pop-up tents on our day. 
We dropped off our stuff, and I looked around. The water was so beautiful, and the sun sparkled off the surface. Bermuda is known for its pink sand beaches, but it really was just a hint of pink. The pink comes from bits of coral and can vary depending on the day. If it's a day or two after a major storm, the beach will likely be more pink. The sand was really soft and fine though; the kids loved playing in it. We brought these collapsible buckets from Amazon, they folded up nicely to fit in our luggage and were easy to bring to the beach (they come with a carrying bag).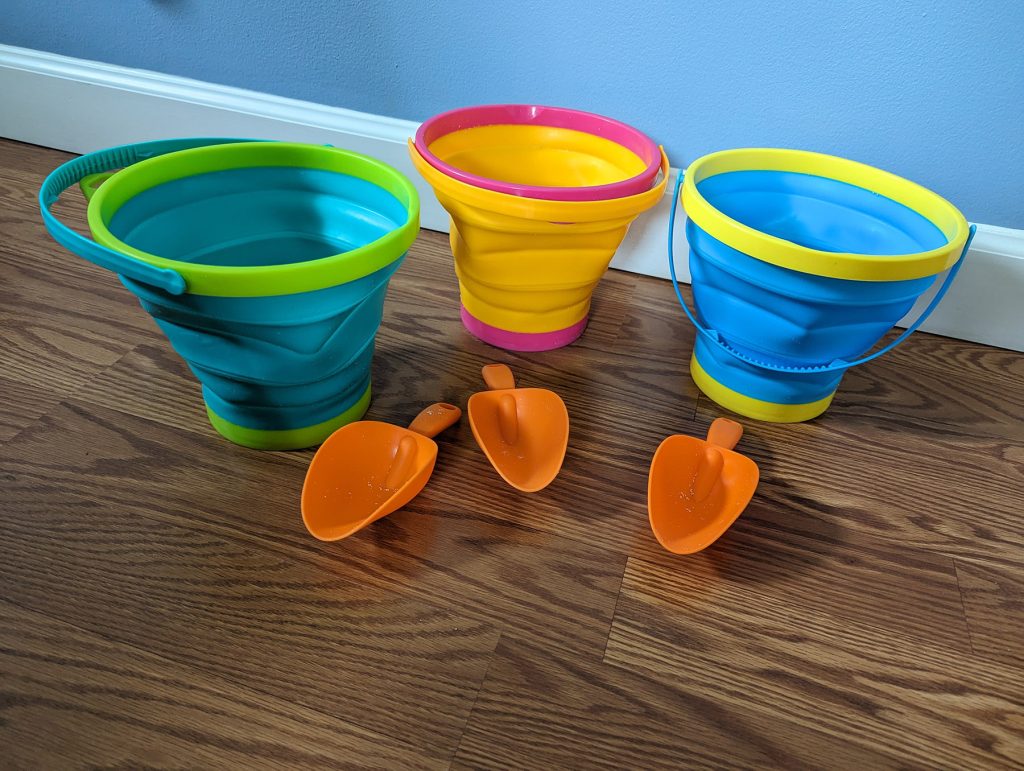 Swimming in the ocean
The sun was shining in full force, and it was 85 degrees out—a perfect beach day. We lathered up in sunscreen and headed out to the beach. Some flags indicated a strong rip tide today, and lifeguards directed us to a safe section. Since we had six children with us, it was nice to be on a beach with professional lifeguards monitoring the water.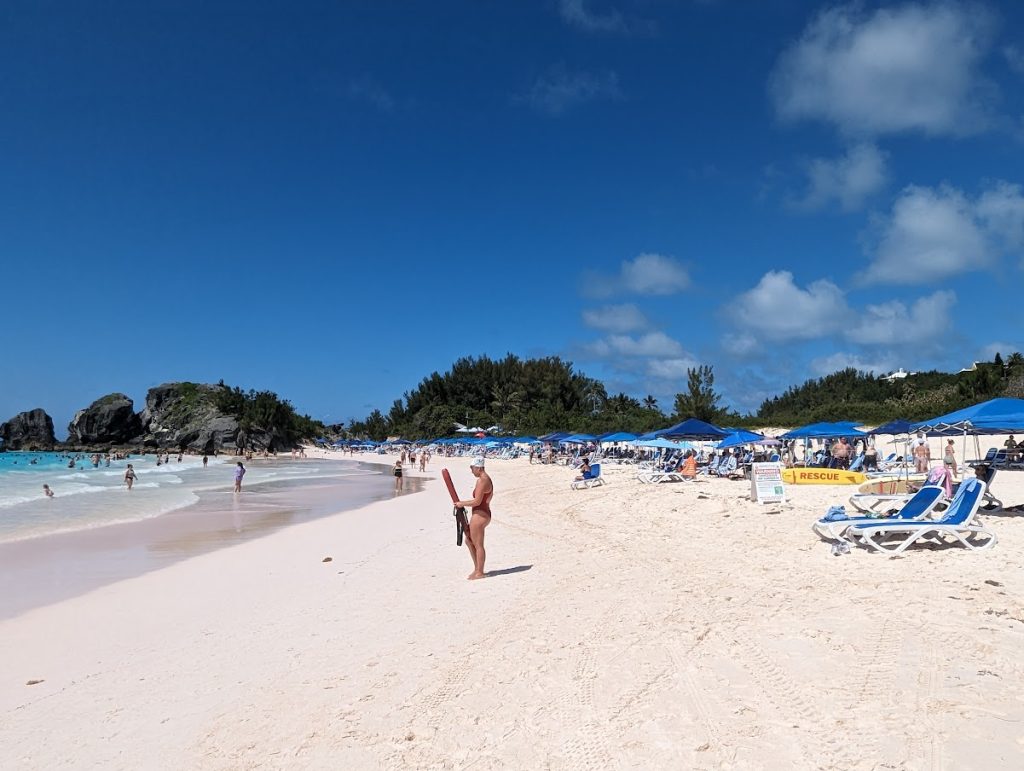 I stepped into the water and it was instantly refreshing. I've read about the water in Bermuda being cold, but today it was reported to be 76 degrees which felt terrific. The beach had a nice slow incline with no sudden drops. It made it easy to get in and for the kids to play. At this point, the waves were pretty small, just a foot or so tall. 
Exploring nature in Horseshoe Bay
After we played in the water, some of us decided to explore the beach more. Horseshoe Bay doesn't have any definitive boundaries, and you can wander up and down the shoreline. We headed to the leftmost portion of the beach, where large rock formations lined the side. 
Tip: If you want to explore the scenic areas at Horseshoe Bay, I'd recommend bringing flip-flops or water shoes. It can get rocky, and the sand can get hot. 
As we walked through the first rock formation, the atmosphere totally changed. The rocks created little caves and walkways you could explore. At one of the first tall rocks, a large group of people were lined up to try jumping from the cliff into the water. No one in my group was adventurous enough to try it, but it attracted about 15 – 20 people.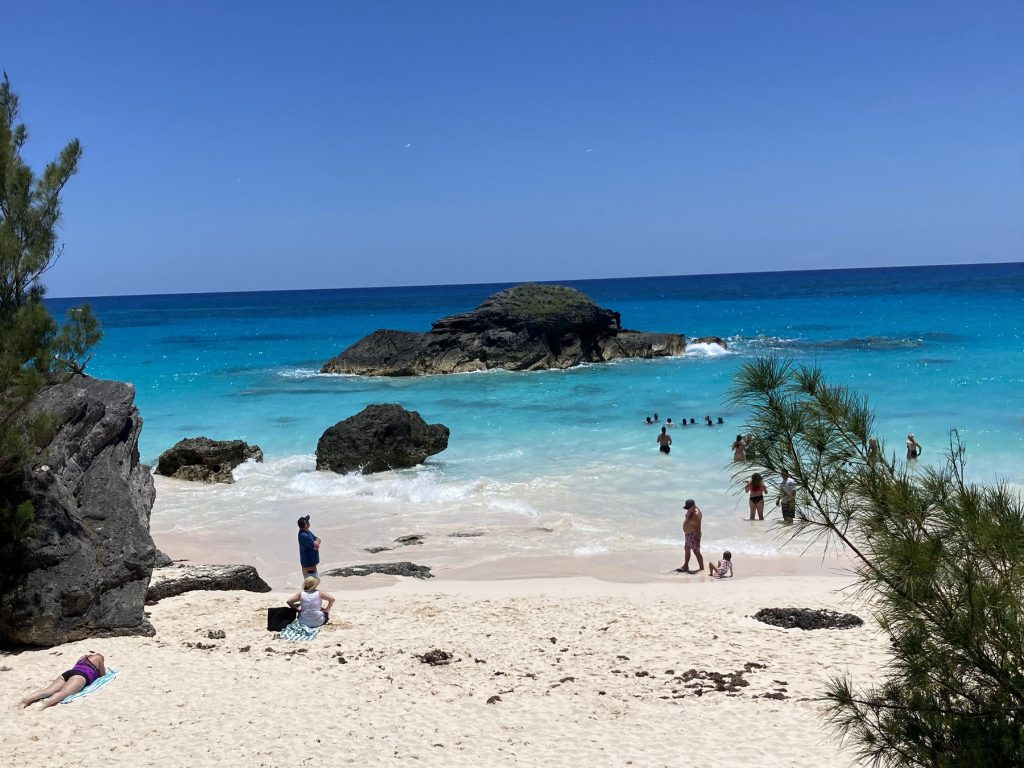 The further we got into the area, the more the crowds disappeared, and it felt more like a secluded private island. The touristy feel melted away, replaced by a beautiful open ocean and beach. We'd pass a handful of people as we ventured out, some just walking like we were, others brought towels and set up in this private area.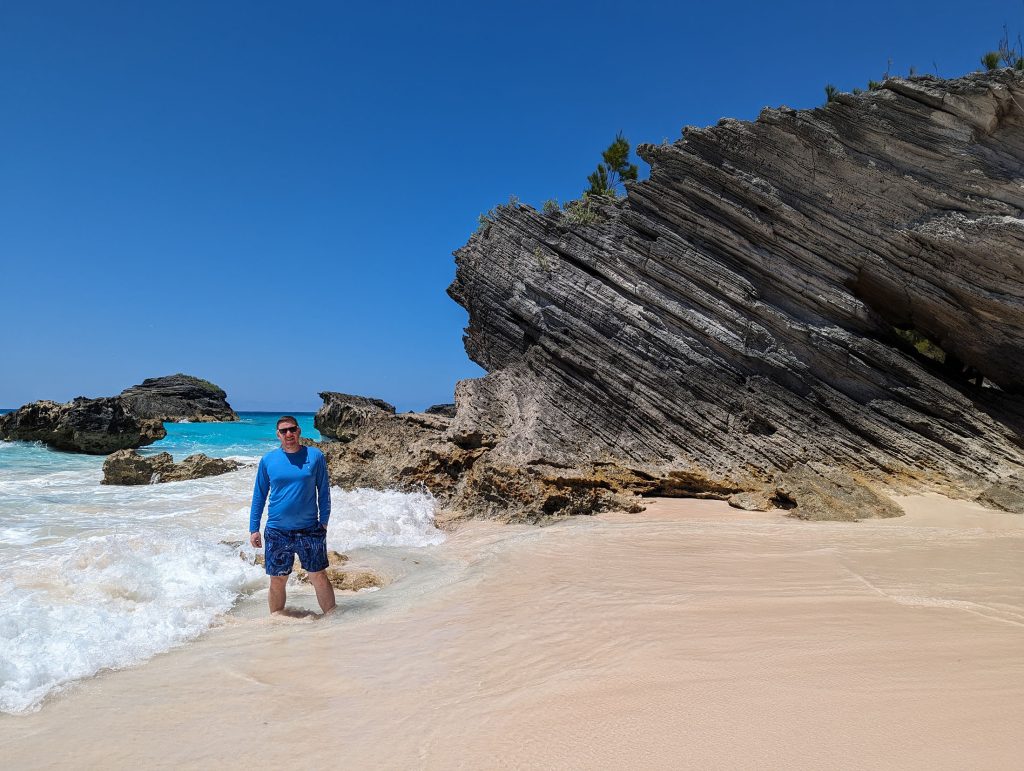 Definitely venture out towards the left when you visit if you want to see this place's beauty. I've been to beaches all around the world, and this was one of the best I've ever seen. 
Lunch and drinks at Horseshoe Bay
Around 11 AM, they started offering food and beverages for sale. You could either go back to the main entrance or visit a few golf carts that were stationed along the beach.
I'll warn you; it's expensive. A cocktail here, pre-mixed and poured from a jug, cost $15 each. Fried fish with cole slaw and fries was $24. A soda was $5. It definitely wasn't worth the money; we couldn't even get them to bring us a fork to eat the cole slaw with, but convenience is king. If possible, I'd suggest bringing your own food and beverages; just remember bringing fruits, vegetables, and prepared food off the cruise ship is prohibited. 
Swimming in Horseshoe Bay Cove
After lunch, we took the kids over to an area called "Horseshoe Bay Cove." It was located to the right when you walk in the entrance and is a small nature cove protected from waves. Steep walls of natural rock create naturally calm water that almost feels like a pool. 
Since we were stationed about 3/4 of the way down the beach, it took a few minutes to get there, but it was worth it. The beach area in the cove is much smaller, so I'd recommend not setting up chairs/towels here because of the limited space. It's better to get chairs on the main beach and walk over.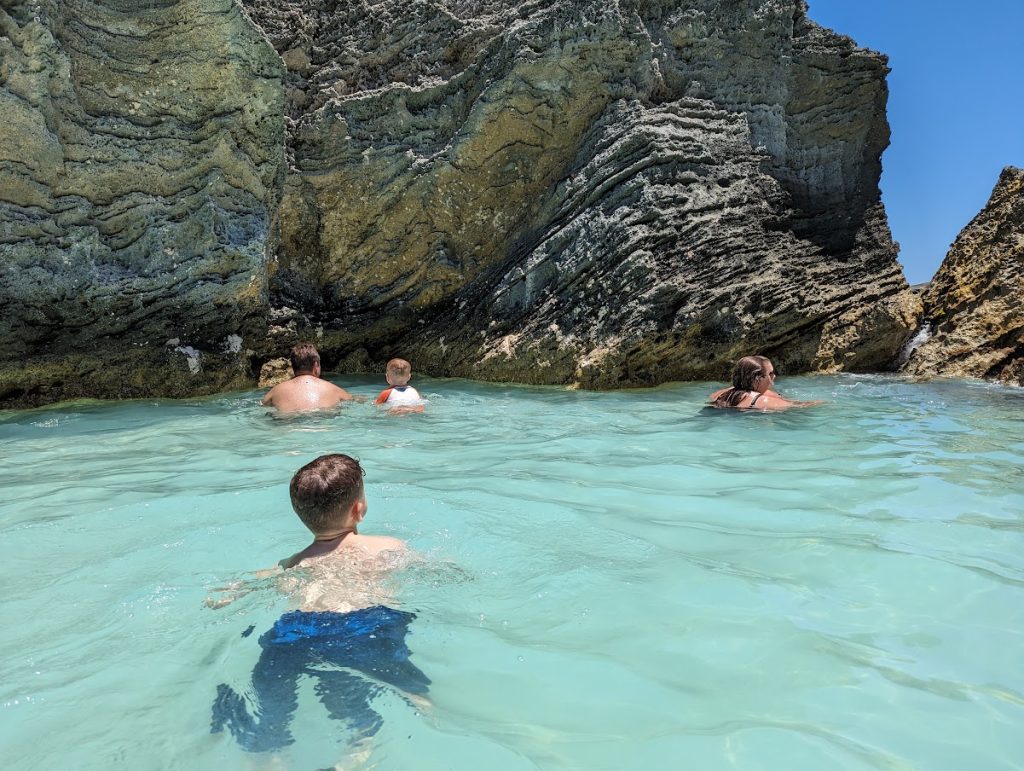 The kids loved the water. Since the ocean was getting pretty rough at this point in the day, it was the first time they got to actually swim. Most of the water was only waist deep until I got further out near the opening to the ocean. Waves would crash upon the rocks and slowly seep in. The kids were amazed to see the fish swimming in the water and miniature crabs living in the rocks. 
Heading back to Royal Naval Dockyard
Around 3:30, we decided to head back to the ship. We packed up all our beach toys, towels, and bags and headed back towards the entrance. At the front, several of the white mini-buses were lined up to take guests back. We only had to wait one minute for an opening and jumped right in. I was amazed at how well this cheap transfer system worked. It took a bit longer to get back, about 30 minutes. 
Windjammer Buffet for Dinner
We returned to the ship and went our separate ways for the evening. Since the ship would be docked overnight, we had all night to explore what Bermuda had to offer. I decided to skip the main dining room and go to the Windjammer Buffet for dinner instead. That saved us a lot of time so we could head back out. 
Tip: Food in Bermuda is expensive! To save money, try to eat as many meals as possible on the ship. If it's off-hours, stop by Cafe Promenade for premade sandwiches or Sorrento's for pizza.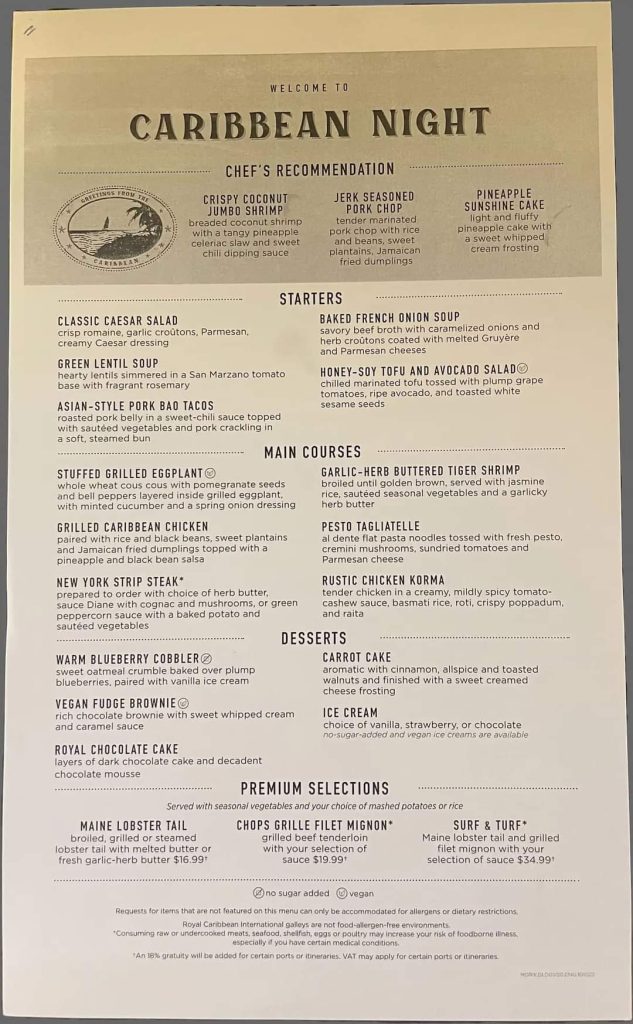 Like this morning, the buffet was much less crowded, making it more enjoyable. You can appreciate the views and food much more when the place isn't mobbed. Dinner was mostly what you'd expect from a buffet, hamburgers, hot dogs, and pasta. Towards the front, the buffet had a large selection of Indian and Thai food (this station was here most days for lunch and dinner). At the main buffet stations, they had some food that reflected the dinner in the Main Dining Room. Tonight was Caribbean Night, so they had jerk chicken, plantains, and other Caribbean fare. 
Back to Bermuda at Dockyard Brewing Company
After lunch, we headed off the ship again. It was nice walking on and off the ship as we pleased. While we had to go through security each time, the lines were practically non-existent because there was no mad rush of people. 
The Royal Naval Dockyard is full of historic buildings, and many have been converted for modern use. It's easy to walk around, the furthest part not taking more than 15 minutes to reach.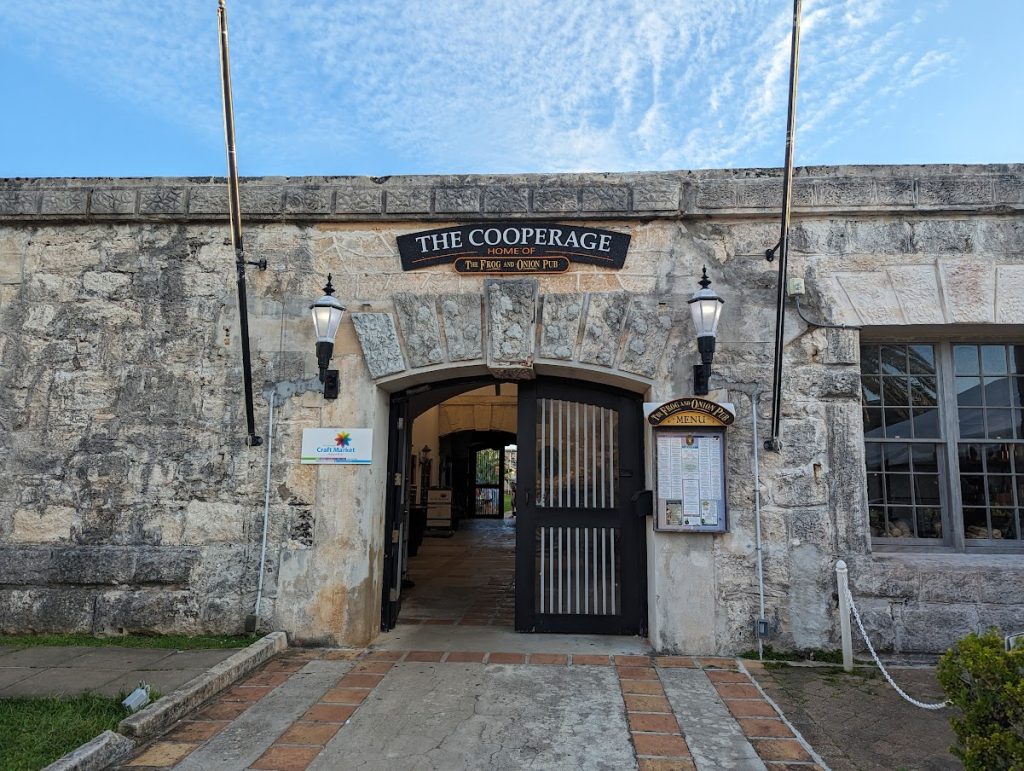 We decided to check out the local beers at the Dockyard Brewing Company. For $57, we could have done a Brewery Tour and Tasting through Royal Caribbean, but it was so much cheaper and easier to do it on our own. Dockyard Brewing was located in the heart of the Dockyard in an old building. Technically it was located in The Frog and Onion Pub. The place was dark and cool, which was nice, considering I got way too much sun at the beach and felt a sunburn coming on.
Since we ate on the ship, we didn't need a table and instead grabbed two seats at the bar. Dockyard Brewing brews their beers on-site and had eight beers to choose from. We got a flight so we could taste them all. The pours were heavy, much larger than you'd typically see in a flight. The price is similar to what I'd see at home in NJ for craft beer. They were all solid beers, although nothing stuck out as "unique." 
I also tried a Rum Swizzle, the national drink of Bermuda. Every place seems to have their own Rum Swizzle recipe, and each calls it "authentic." It's usually a mix of rums and tropical juices like pineapple, orange, and lemon juice, and bitters. At Dockyard Brewing, they used Gosling's Black Seal and Gold Seal rums and then a premade blend of juices they prepared. 
Snorkel Park Beach Nightclub
It was around 8 PM when we finished our drinks, and we walked around the Dockyard some more. At this point, all of the shops were closed. It was just a couple of bars and restaurants that remained open. It was eerily quiet, considering two cruise ships with around 6,000 people between the two of them were parked not far away. 
Earlier in the day, I saw signs saying that at night there was a beach club that opens at night in the Dockyard. The signage said it opened at 7, so we headed over, hoping to grab drinks and take in the sunset. 
Snorkel Park Beach is a privately owned beach club in Royal Naval Dockyard. I read a lot of places that it was the most convenient beach to the port, about a 10-minute walk, but there is an entry fee.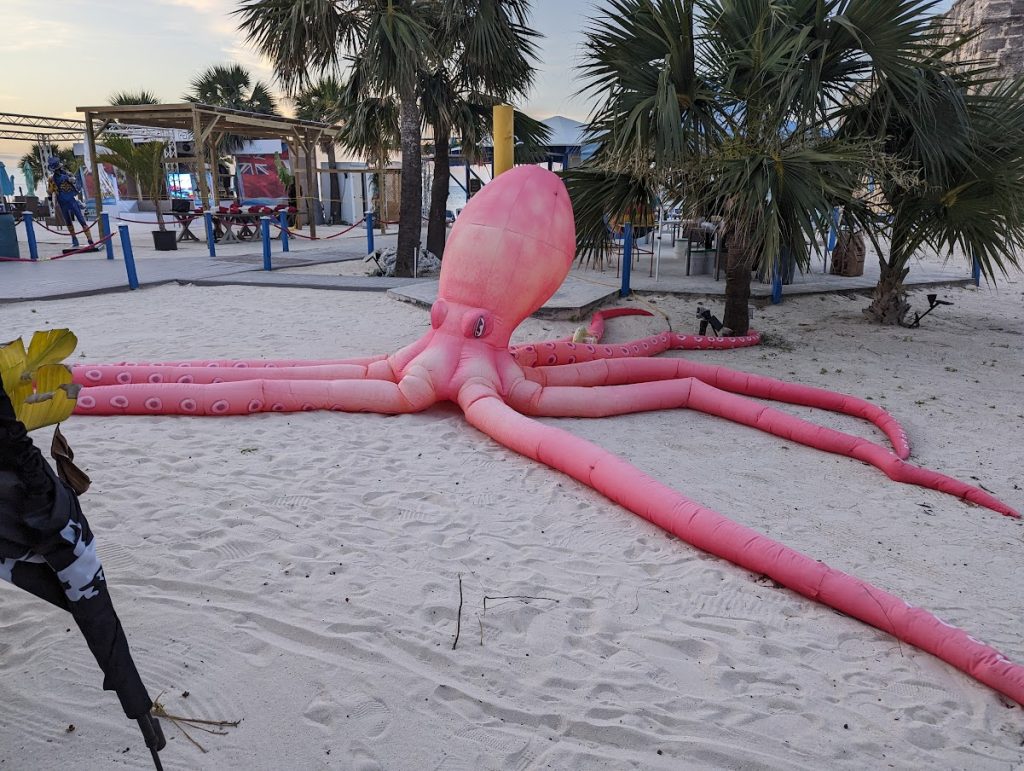 We got there around 8:15, and the place was completely empty. Workers were busy setting up a giant inflatable octopus and the sound systems. Someone at the front told us it wasn't open yet. It would be open from 9 PM to 2 AM, with a $15 cover charge. She was nice enough to let us in and walk around for a bit before they had to kick everyone out and start their "nightclub."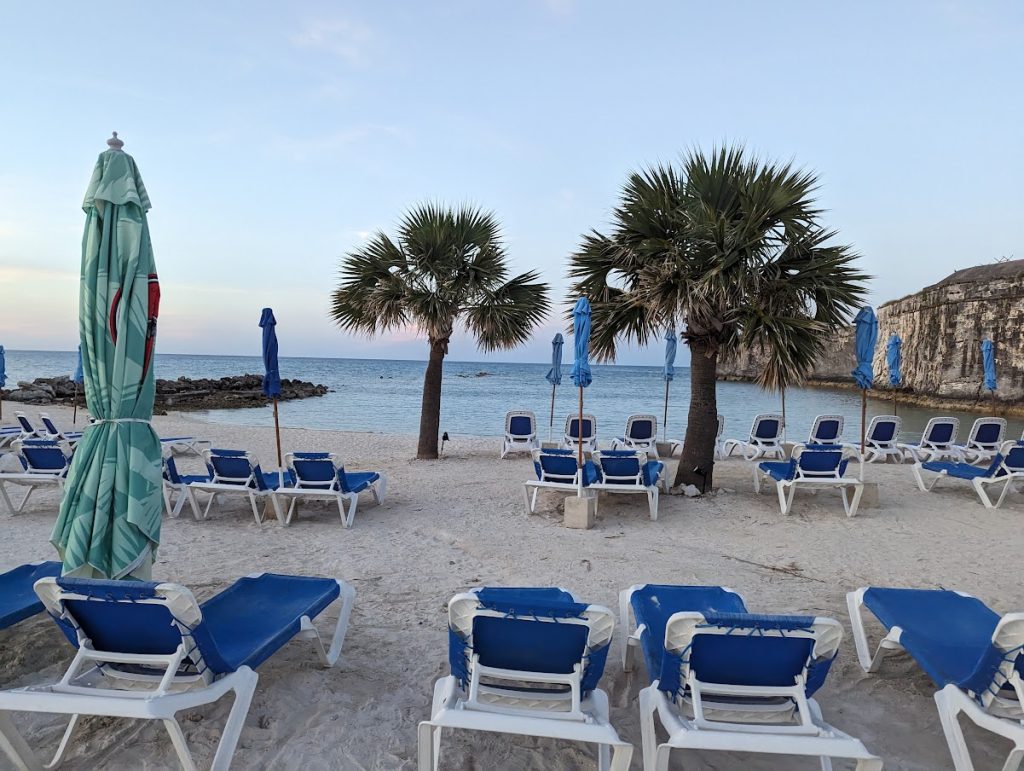 I could see the place being a good ocean-side nightclub; the sunset view was beautiful from here. But I didn't see the appeal of the place during the day. The beach didn't hold a candle to the magnificent Horseshoe Bay beach. I guess their audience during the day is families that don't want to make the 30-minute drive to the big beaches. It's a pretty small area packed with chairs. But they had toys for kids and minigolf nearby. It's probably meant as a two-hour activity rather than a full day at the beach. That said, if I were a family, I'd rather stick to the pools on the ship than pay for this small beach.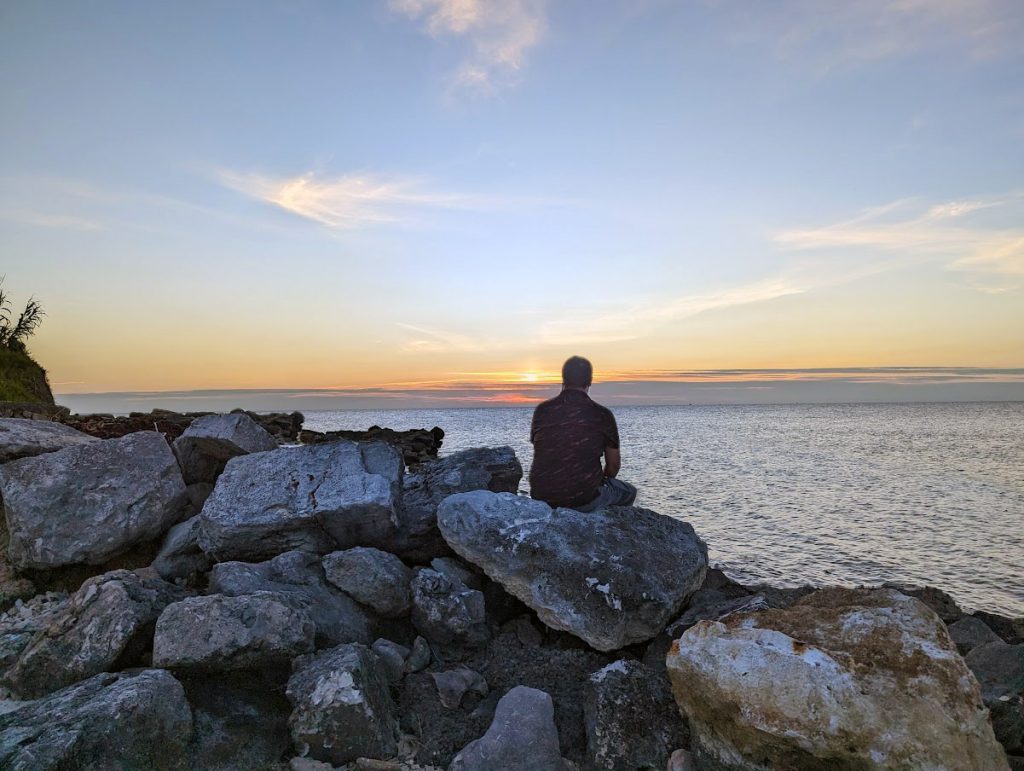 Like other places in Bermuda, the drink prices were similar to the cruise ship, and the food was very expensive. We ended up leaving and not returning for the nightclub portion; it didn't seem worthwhile.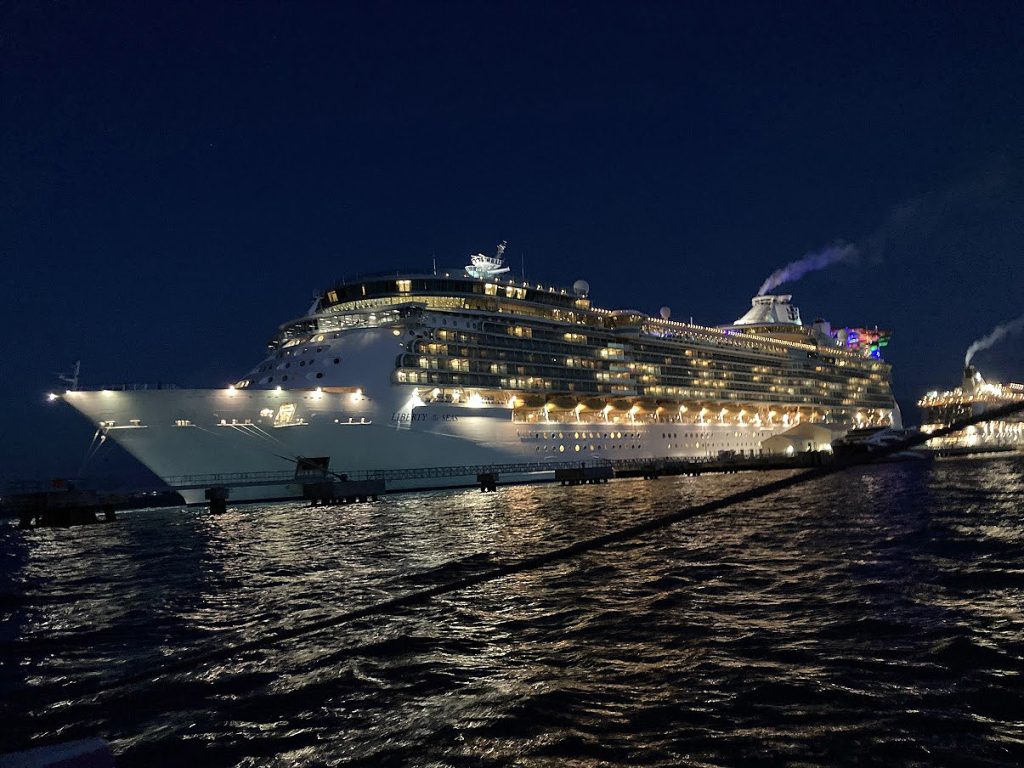 Ben and Jerry's Ice Cream on Liberty of the Seas
After we got back on the ship, we decided it'd be good to get a snack, ice cream in particular. At this point in the evening, the free soft-serve ice cream was closed (it usually closed around 5 PM). My family enjoyed the complimentary soft serve throughout the day, with the kids (and some adults) stopping every time we passed the ice cream machine, which was conveniently located in a mobile cart near the kid's pool. But at this time, it wasn't an option.
Luckily, Liberty of the Seas is one of the few Royal Caribbean ships that has a dedicated Ben and Jerry's ice cream shop on board. If you're walking along the Royal Promenade, it's hard to miss; you'll notice it by the large cows over the sign. It's an extra-fee ice cream shop, and when I first read that, I was adamant I would not go there this sailing. There's so much free ice cream on a cruise; why would I pay for it?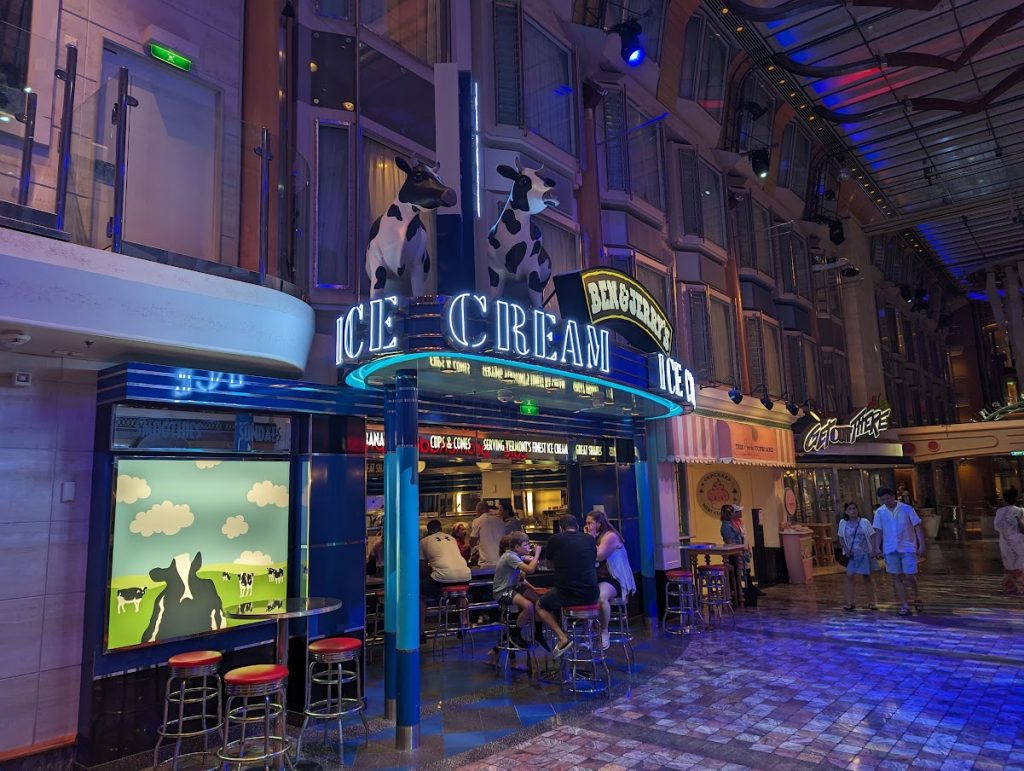 Fast forward to today, where I'd been on a beach all day with sunburn setting in and really craving a sweet ice cream treat. We headed down to Deck 5 to check out the ice cream shop. The Royal Promenade was eerily quiet. Few people were around; I suspect they were either at the late seating for dinner, still in Bermuda, or napping.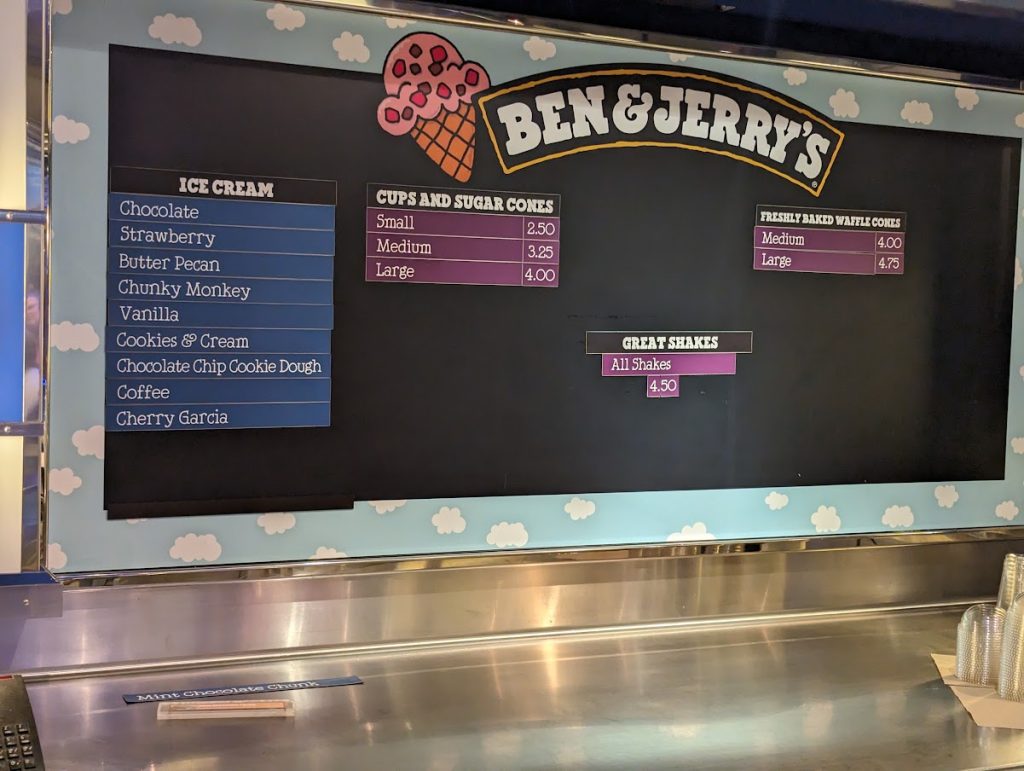 We had the shop to ourselves when we walked in. I was surprised that the cost of the ice cream was quite reasonable. I usually find Royal Caribbean's extra charges for food to be too high in most cases, but $2.50 for two scoops of Ben and Jerry's is a good deal.
The main feature here is Ben and Jerry's ice cream; you won't find a crazy number of toppings or banana splits. Luckily, they had my favorite flavor, Chunky Monkey. I rarely buy Ben and Jerry's at home, but if I do, that's my go-to flavor partially because it's so unique. Ben and Jerry's describes it as "a sort of combination of banana nutbread and frozen chocolate banana flavors."
Because the weather was beautiful, we took our ice cream to the pool deck.
Dancing on Deck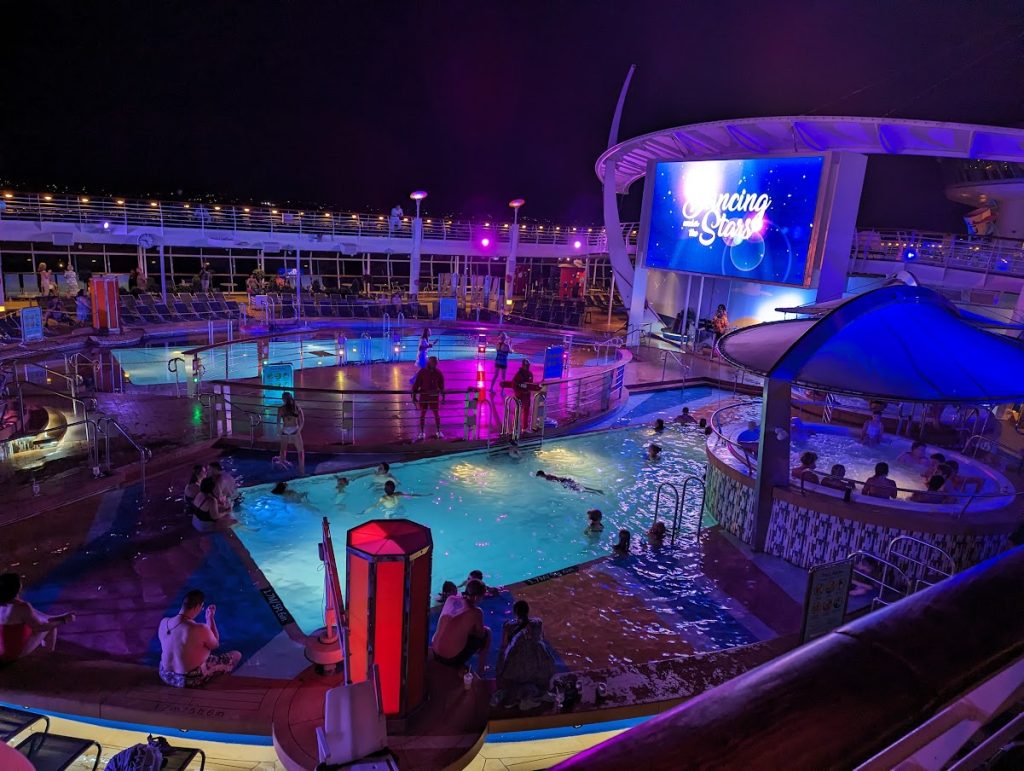 We headed up to Deck 12 and found a spot in two loungers on the jogging track. Near the main pools, a band was playing lively Caribbean music. It was an event called 'Dancing on Deck" according to the large graphic on the movie screen. Not many people were dancing, but the deck itself (both the pool area on Deck 11 and the upper deck on Deck 12) had a good amount of people lounging around and socializing.
I always wonder why cruise ships don't do more nighttime activities on deck, especially now that they light the areas with colorful LEDs to create a fantastic atmosphere. It was the perfect way to relax outside and enjoy the beautiful weather. 
By 9:30, I was wiped, though. It felt like a waste to get to bed so early, but I was so tired, and we had a whole day ahead of us in Bermuda the next day, so I turned in. Literally as I was getting into bed, my brother messaged me using the Royal Caribbean app, asking if we were going out. He and his wife were going to check out the Snorkel Park Beach Bar party. Ah, to be young again.
Follow along on the rest of our Liberty of the Seas cruise
Liberty of the Seas – Cruise Blog - Day 1 – Bayonne
Liberty of the Seas – Cruise Blog - Day 2 – Sea Day
Liberty of the Seas – Cruise Blog - Day 3 – Bermuda
Liberty of the Seas – Cruise Blog - Day 4 – Bermuda Still
Liberty of the Seas – Cruise Blog - Day 5 – Final Sea Day
5 Hits and Misses on Royal Caribbean Liberty of the Seas
If you want to stay up to date with what we publish, sign up for our monthly newsletter
CruiseSpotlight is an Amazon Associate. We may earn a commission when you click links to retailers and purchase goods.