Liberty of the Seas – Cruise Blog – Day 4 – Bermuda Still
Today was the 4th day of a 5-day cruise aboard Royal Caribbean's Liberty of the Seas. It was our second day in Bermuda, so we explored different adventures on the island before returning to the ship for more fun. 
Liberty of the Seas Day 4 Overview
Waking up in Bermuda again…deja vu
This was our second day in Bermuda. The ship stayed in port overnight, and guests could come and leave as they wanted over the two days. I'd never done something like that on a cruise before, and I really liked it. On the second day in Bermuda, we didn't have to wait for the ship to dock or customs to clear us; we could leave as soon as we wanted. It gave us time to explore the island at our own pace and use the Liberty of the Seas more like a hotel.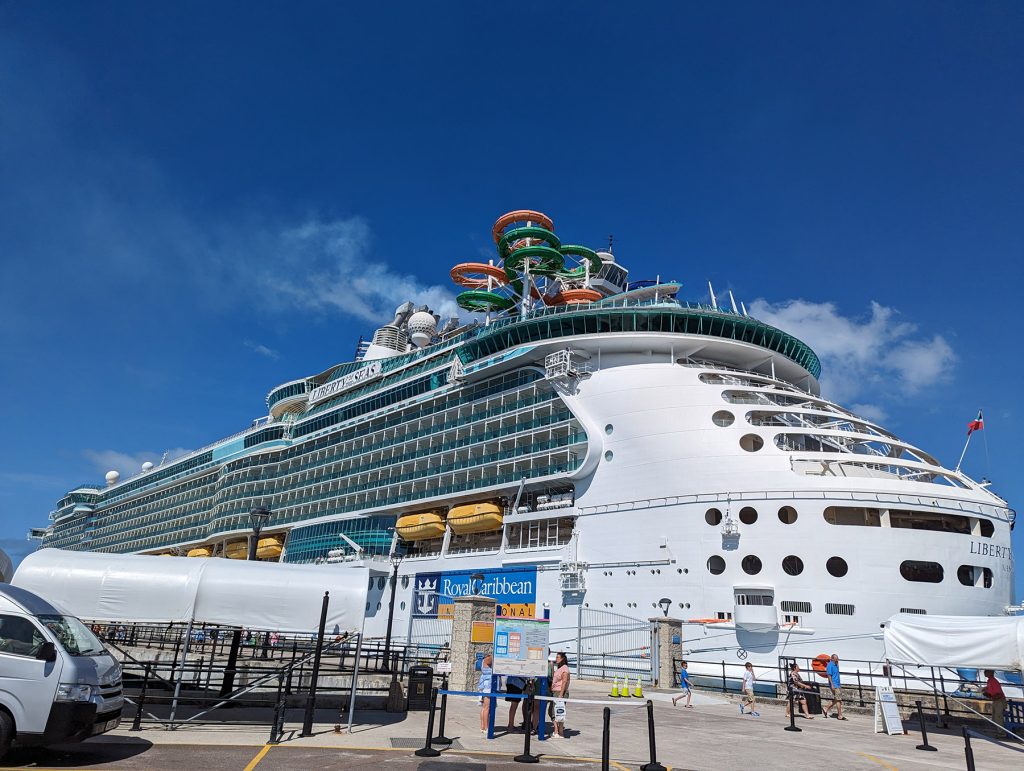 I wish they would have multi-day stays in more ports. One of the main reasons cruise lines don't typically do multi-day stays is that they can't do things like have duty-free sales and open the casinos while docked. Apparently, they have an exception with Bermuda; the casino opened at 9 PM our first night there. 
Snorkeling from a luxury catamaran
The previous day, our whole group of 15 explored the beautiful Horseshoe Bay Beach. Today, we split into smaller groups to explore different parts of the island. My parents rented a scooter and drove out to Hamilton to explore. My sister's family of six went to the Aquarium and Zoo. The rest of the family wanted to do something a bit more adventurous. 
Leading up to the cruise, we had many discussions about what to do on day two. My brother wanted to "wing it," but I preferred having something more scheduled. Unlike some other cruise ports, you won't have many people waiting at the pier offering activities. There might be a few, but you really should either book ahead or plan to do it on your own. 
Tip: If you want to do the Aquarium, Crystal Caves, or a museum, it's MUCH cheaper to do it yourself than to book through Royal Caribbean. Public transit in Bermuda is safe, easy to use, and inexpensive. I highly recommend it rather than paying nearly double to book through the cruise line. 
Booking a Bermuda excursion through Viator
When selecting excursions for my cruise, sometimes I book through the cruise line; sometimes, I do something on my own; other times, I book through a third party. It's a complete toss-up depending on several factors, such as cost, language barriers, safety of the area, and availability. 
Tip: Book Bermuda excursions early if you have a "must-do" activity. They fill up quickly. By three months before the cruise, most activities had very limited seats, and prices increased significantly.
In this case, we couldn't book through Royal Caribbean because most of the excursions were already fully booked by the time we were ready to decide (about six weeks out). Instead, we looked at third-party excursion providers. I looked through several websites but found something that interested us and had availability on Viator (see Viator website here). I have used Viator to book several excursions in the past, and it's always worked well, so we gave them a shot.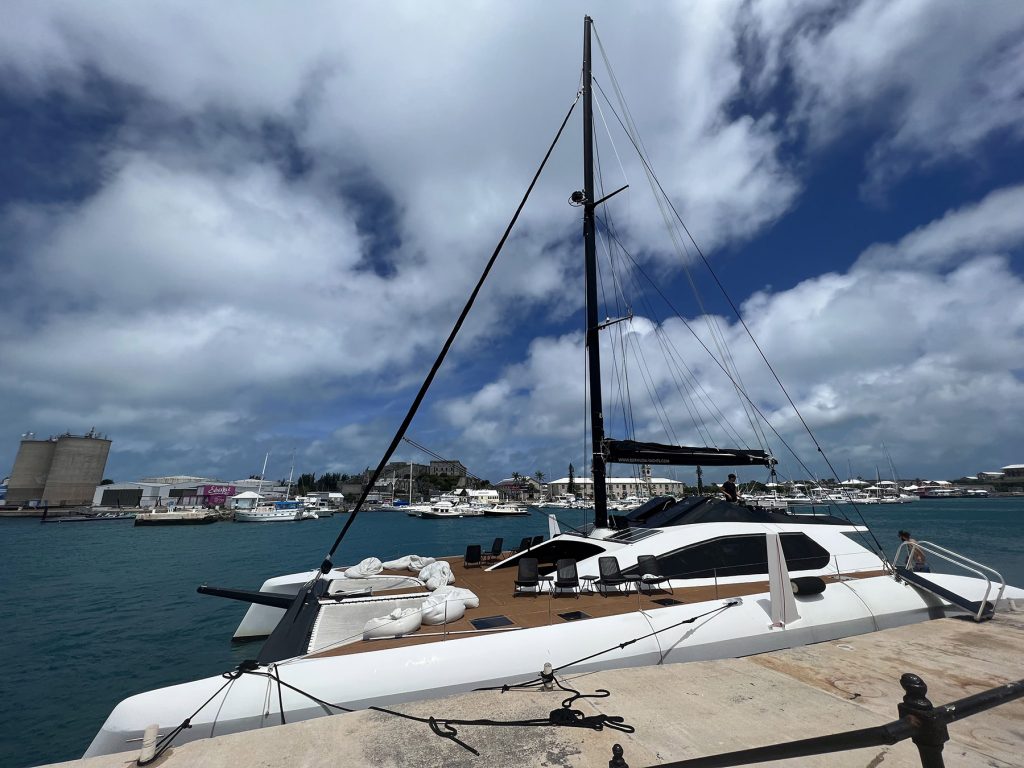 We ended up picking a luxury catamaran and snorkel called "Zara Luxury Catamaran Excursion." The description said, "Join us for a half day VIP experience on our custom-made Catamaran. Enjoy a leisurely sail to anchorage, before finding the best place on deck for sun, views, and cocktails. Dive into crystal-clear water to cool off and play with the variety of water activities on board. Don't miss out on the memorable addition to your Bermuda holiday." It was exactly what we wanted, and it was a good deal at $85 a person. 
 Zara Luxury Catamaran Excursion
We boarded the Zara in the dock area just a few minutes walk from the ship. The provider sent us a map ahead of time so we could find the meeting point. Viator sent us electronic tickets, and since some in our party didn't have cell phone reception in Bermuda, I told them to take screenshots. When we arrived, they just looked us up by name, so it wasn't a necessary step, but better safe than sorry.
The Zara was beautiful, with a sleek black exterior with warm wood tones on the inside. Zara had a variety of seating all over the boat, both inside and outside. On the inside, there was also a restroom and a small bar. I was so used to being packed like a sardine on cruise line excursions that I wasn't prepared for how luxurious this felt.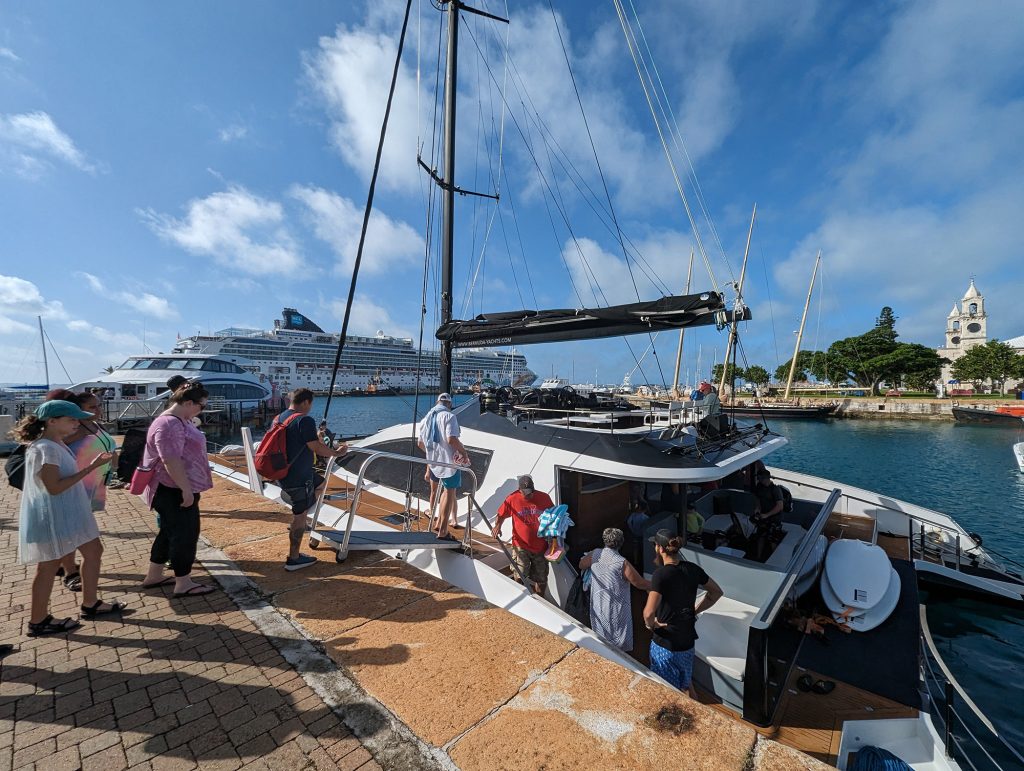 The boat was rated for 75 people, including staff, but only 40 were on board for our sailing. The groups were all spread out, so we barely saw other people. My family put our bags inside and then found a spot on the front of the boat where they had bean bag chairs and nets to sit on. 
We left at precisely 9:15 and made our way out. The staff told us it'd be a 45-minute ride to the destination, we'd spend an hour and a half there, and then it'd be 45 minutes back. While there, we'd have a chance to snorkel with the provided equipment. 
The weather was beautiful, and everyone enjoyed the fresh air as we headed toward Long Island, a small island in the middle of Bermuda. On the way, we passed several beautiful and expensive houses, including the private Hawkins Island.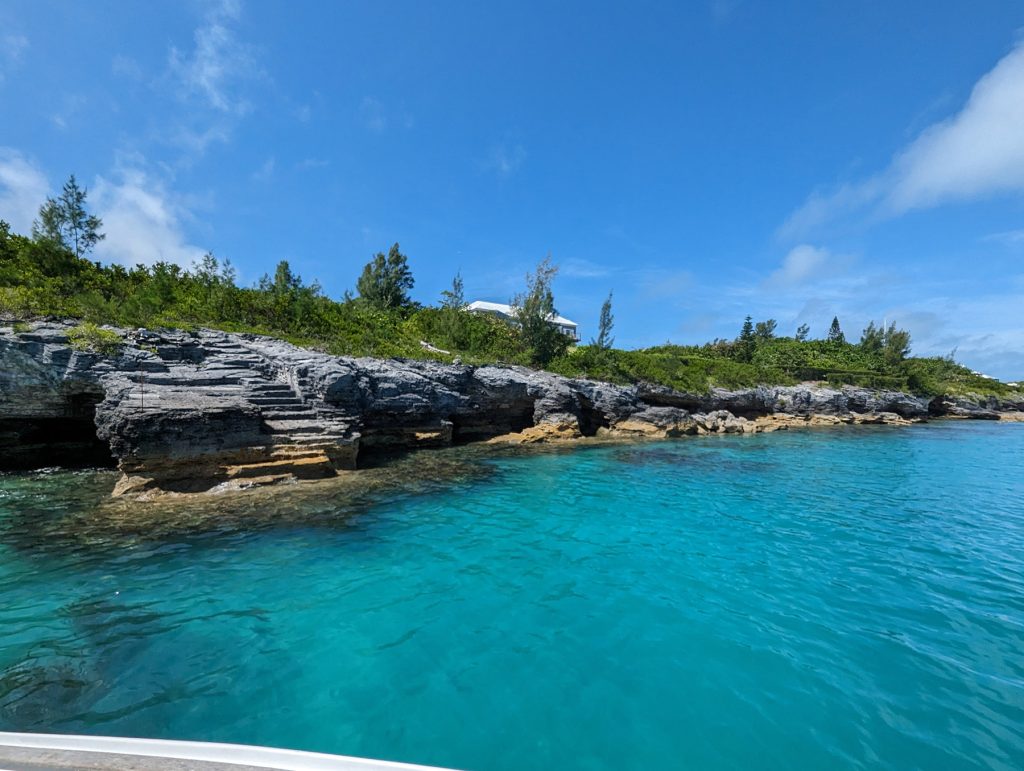 We arrived at some rocky cliffs, and the boat made anchor. We could still see the cruise ship in the distance, but we were a fair distance away. There was no beach or anywhere to stop once in the water; it was just us, cliffs, and the boat. 
The staff provided us with snorkels, and we jumped into the water to look around. Unlike other snorkeling I've done before, this one didn't make us wear life vests and didn't have fins. They did have tons of foam pool noodles to use, though. At first, I just tried swimming, but it's much more work without fins. I ended up grabbing a pool noodle to make it easier. 
The area the ship was anchored in pretty deep water. I put on the snorkel and searched for fish among the underwater formations. The water was a little silt-heavy and cloudly, but after looking enough, it'd come into focus, and I could see lots of fish swimming around the plant life. It was like those Magic Eye books; I was looking underwater, and then suddenly, it came into focus. They weren't overly colorful fish, more muted tones and stripped.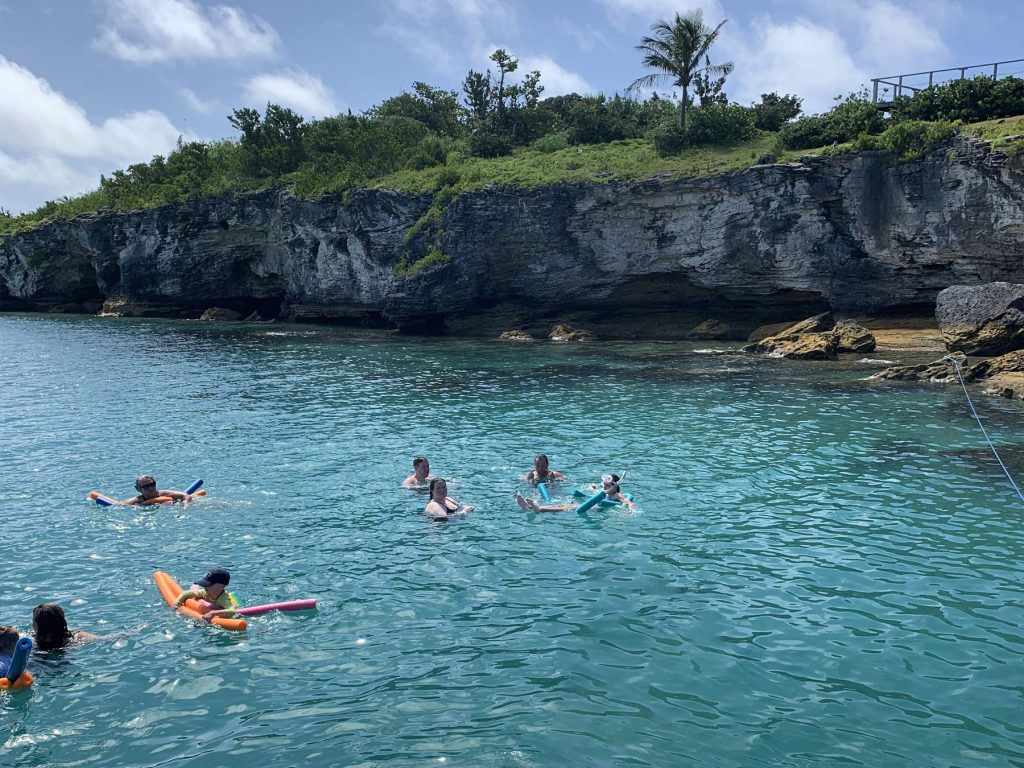 After my family saw all we could while snorkeling, we relaxed in the water. The Zara provided paddle boards, so my niece, nephew, and brother all gave them a chance. My sister-in-law isn't a strong swimmer, so after a quick dip, she stayed on the Zara and watched us. Quite a few people were on the deck enjoying the beautiful weather while "yacht rock" played in the background; it was a lot of fun. 
The staff said we could jump off the boat if we wanted to, so several people were having fun doing that. My seven-year-old nephew loved doing "flips," which, in reality, were like falling sideways into the water, but he had a blast.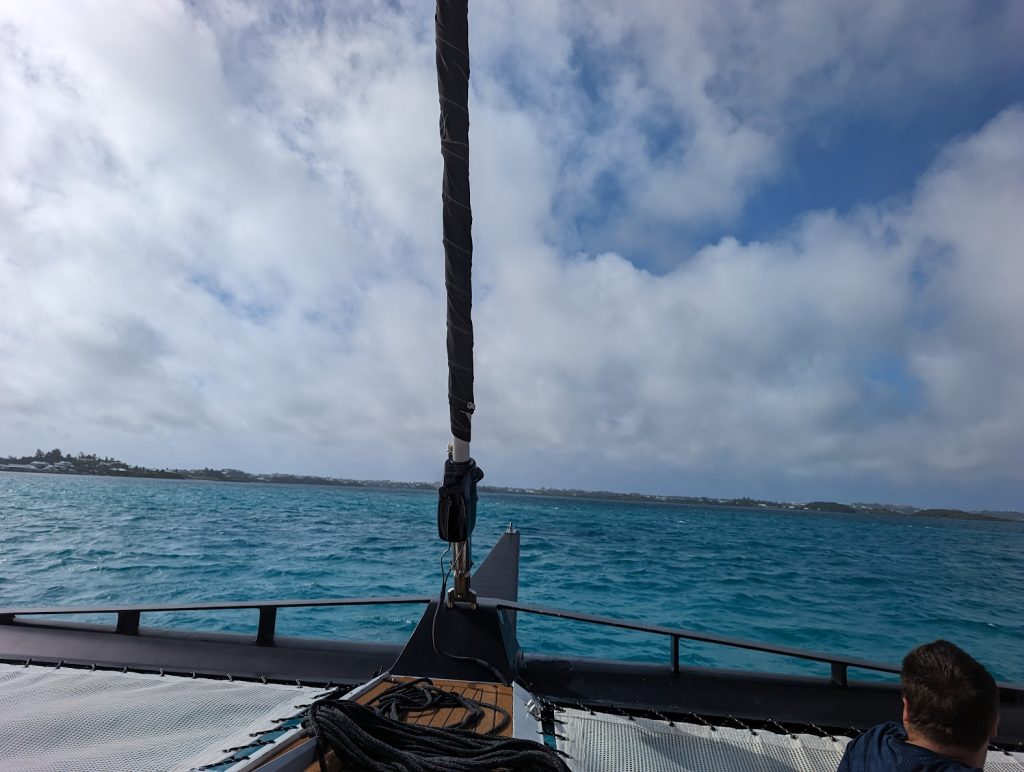 After an hour and a half, they called us back onto the boat. We decided to get a drink. Each guest receives one drink ticket. It's good for one rum swizzle, or half a ticket can get a soda or juice (for the kids or non-drinkers). The sweetness of the rum swizzle hit the spot after all that time treading water. Other alcoholic beverages and beer were available to purchase with cash or card. Soda was $3 for a can. I didn't see how much alcoholic drinks were.
To get back, the staff unveiled the massive sail, and we used wind power to sail to the Royal Naval Dockyard. Everyone relaxed and enjoyed the music and sun as we glided back. It was a relaxing excursion, and I highly recommend it. 
Shopping for souvenirs in Royal Naval Dockyard, Bermuda
After we got off, we made the short walk to The Clocktower Mall to see what kind of souvenirs were for sale. It's conveniently located not far from the ship and in the heart of the Royal Naval Dockyard. A variety of small shops lined this mini-mall.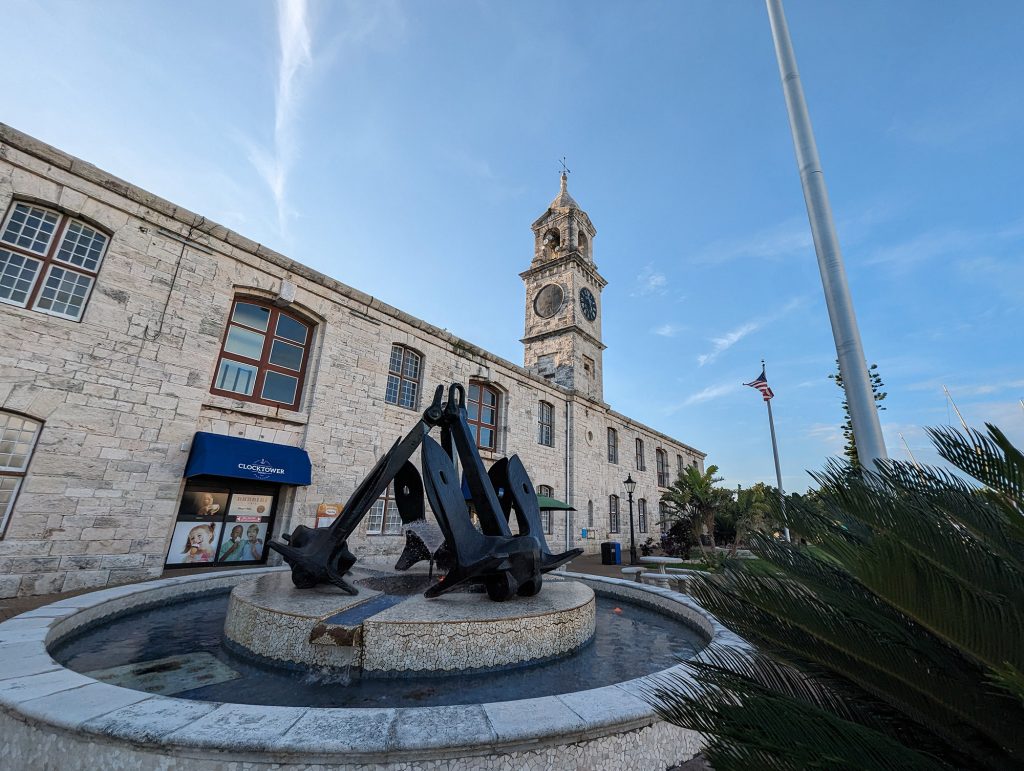 It was warm in there, with no air conditioning and fans blowing around stuffy air. I'm not a huge shopper, but they seemed to have a good amount of local goods. Nothing really stuck out as THE thing to get in Bermuda, though.
Windjammer for lunch to save money
As I mentioned the previous day (read more here), food is expensive in Bermuda. Rather than spend $20 per person on standard food, we returned to Liberty of the Seas for lunch. Again, it made me realize how much I liked having a ship stationed in one place and being able to come and go as we pleased.
While the Windjammer buffet hasn't blown me away this cruise, I noticed today that the Liberty of the Seas had the best buffet staff I'd ever experienced. People constantly cleaned the tables, removed empty dishes, and offered beverages. Everyone was incredibly friendly and helpful. It didn't fix the fact that the buffet was too small for this number of passengers or that the food was very repetitive, but it made the experience much more enjoyable. 
Inflatable park in Bermuda's Royal Naval Dockyard 
For the afternoon, we were going to check out Longtail Floating Fun Park. The kids first noticed it on day one when Liberty of the Seas docked. It was hard to miss; Longtail Floating Fun Park is a long, bright-pink structure tied to a 3-story boat with slides and diving platforms on the side. We weren't sure we would do it, but since we had the afternoon free, we decided to give it a shot.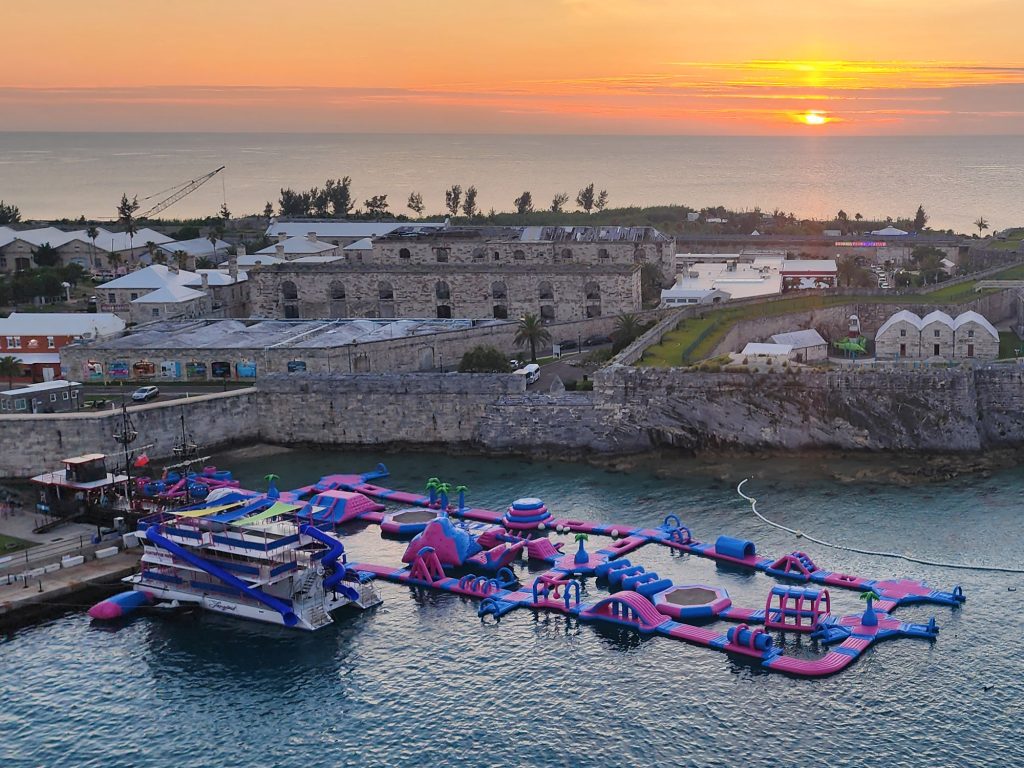 It was a quick walk from the cruise ship, taking less than 5 minutes. As we approached, an attendant told us the cost was $30 per person for a wristband that gave access all day. For non-swimmers, it was free to enter the boat to watch (although on their Facebook page, it said it was a $5 charge). We then boarded, signed a waiver, and paid.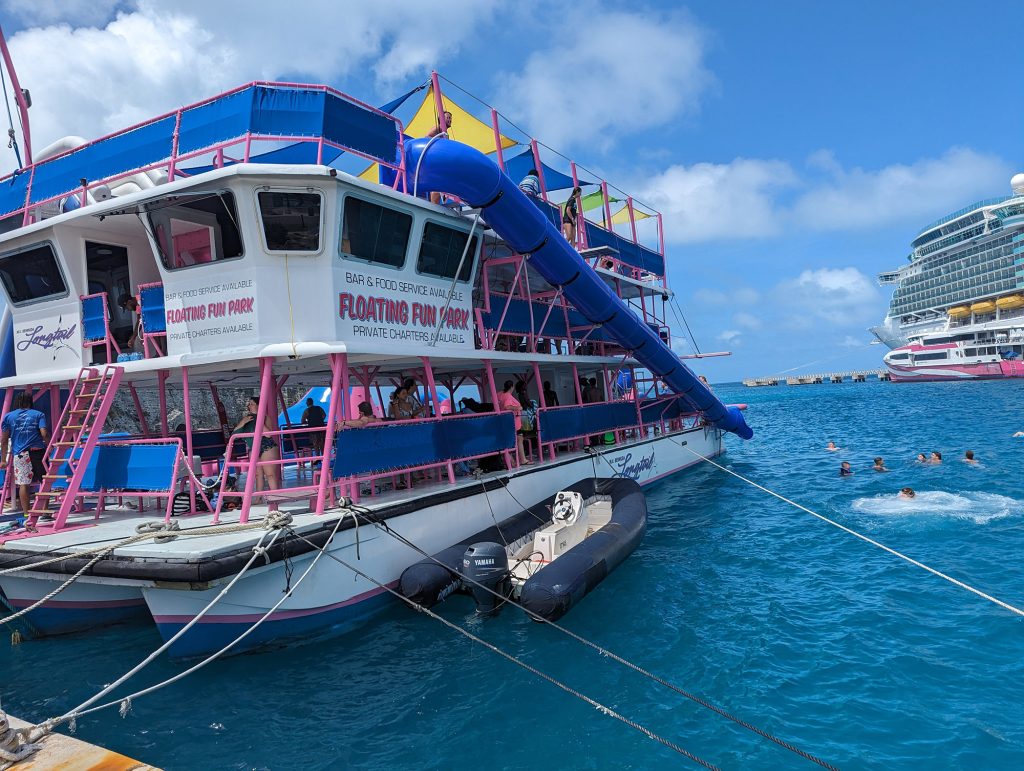 The boat had three levels. The first level was mostly used to sign up. The second level had a bar/snack stand and bench seating all around, where many people left their towels and bags. This level was where most non-swimmers would relax and watch. The second level also had a jumping platform off the side. The third floor was open-air, with three water slides and a jumping platform. 
The slides from the boat were fun. A giant inflatable slide sent you flying at top speed into the cool water and delivered you to the inflatable obstacle course. On the end of the boat was a twister slide. And on the other side of the boat was a long straight slide that managed to turn your body as you exited and would send you into a corkscrew.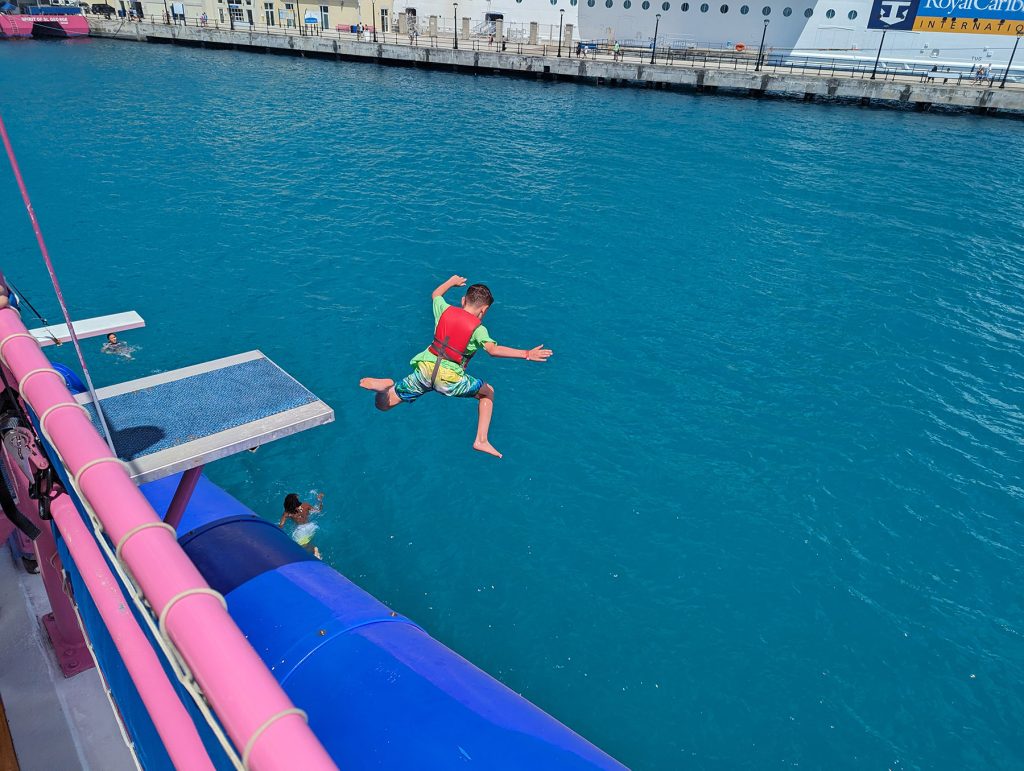 The two jumping platforms provided a rush. I started with the one on the second level and then proceeded to the one on the third level. Staring down at the water was intimidating, but worse was how long I had between when I left the platform and when I hit the water. It gave me plenty of time to think to myself, "what the hell did I just do?"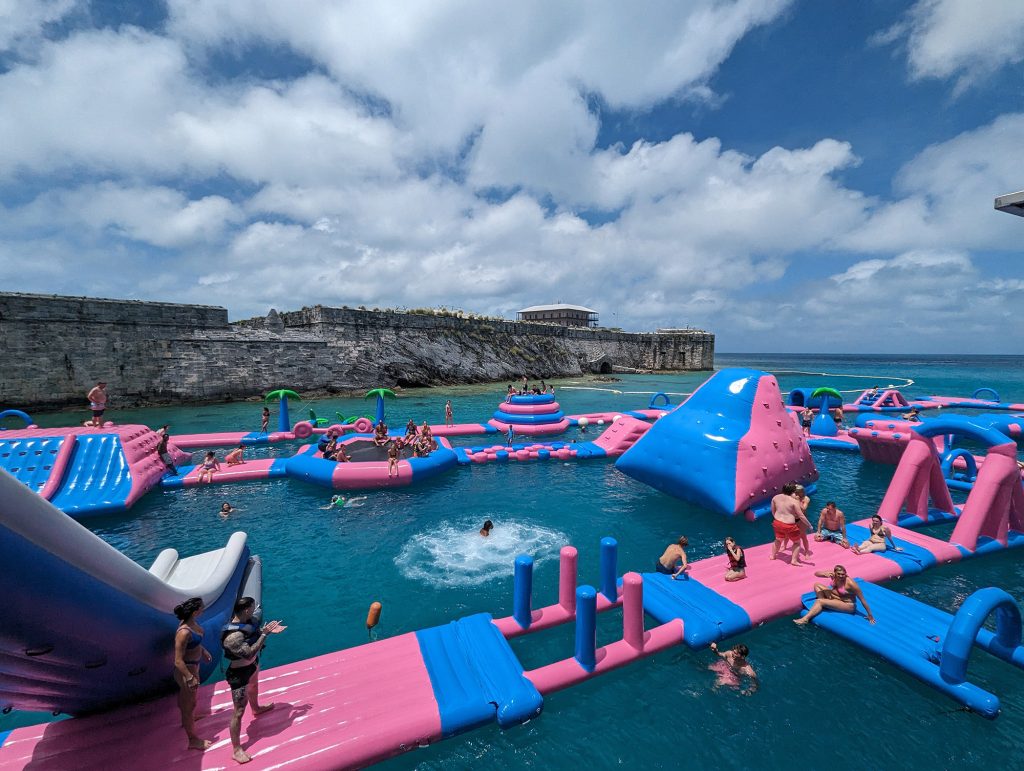 The obstacle course was hard and looked much bigger once I got onto it than it appeared from the ship. It also required a lot more skill than I thought. The platforms were relatively firm but slippery, and many of the challenges were tough (some nearly impossible). It was a fun challenge, though. 
Tip: Make your kids wear a life jacket! It's incredibly difficult to pull yourself onto the obstacles if you fall off, and the kids were quickly getting tired after treading water and struggling to get out. As soon as we saw how hard it was to get out, we forced the kids to put on life jackets. I was tempted to get one for myself. 
Tidal Wave slide on Liberty of the Seas
After two hours, we had our fill of the water park and headed back to the Liberty of the Seas. Since we were already wet, we decided to check out the Tidal Wave slide on the ship. 
We tried the Perfect Storm water slides earlier this week (read more here), but the Tidal Wave slide wasn't open because it was too windy. Now we had a chance to try it out. The Wave Slide is a boomerang water slide that shoots you down and then up a steep incline where you experience near zero-g. Then you slide back down to the finish.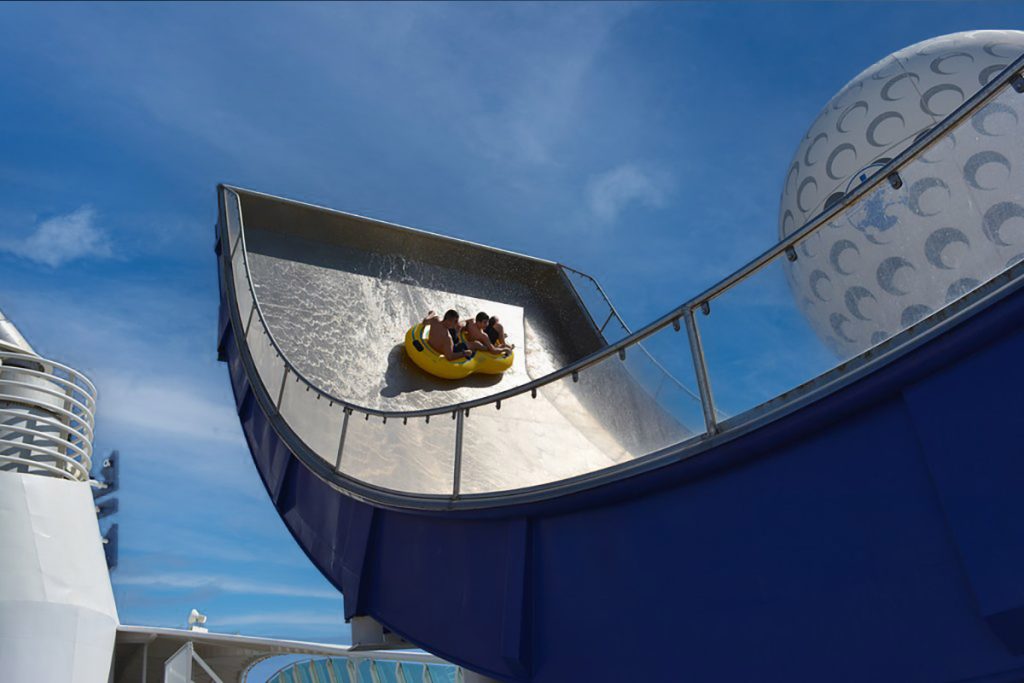 The Tidal Wave slide has some strict requirements for riding; if a tube is too light or heavy, it can be dangerous.
Each raft must have two people.
Each rider must be at least 75 pounds or under 280 pounds.
All riders must be at least 52 inches.
Combined, you must be at least 200 pounds and less than 450 pounds.
They weigh and measure you before your ride (but only the attendant sees the weight). 
Because it was a port day, the line was short. Getting a tube and walking up the stairs was a 5-minute wait. Since the delay was to get a tube, there was no line on the stairs, and we could walk right up. We sat down, and the attendant told us to cross our legs. I scooted the tube down the chute until gravity took over. The first part is an enclosed tube that shoots you down, and then we start up the steep incline. We got incredibly close to the top, within inches, as we felt a moment of zero gravity. Then we slid backward to the slide exit. We didn't get wet on the slide until we had to hop off the tube to get out of the slide.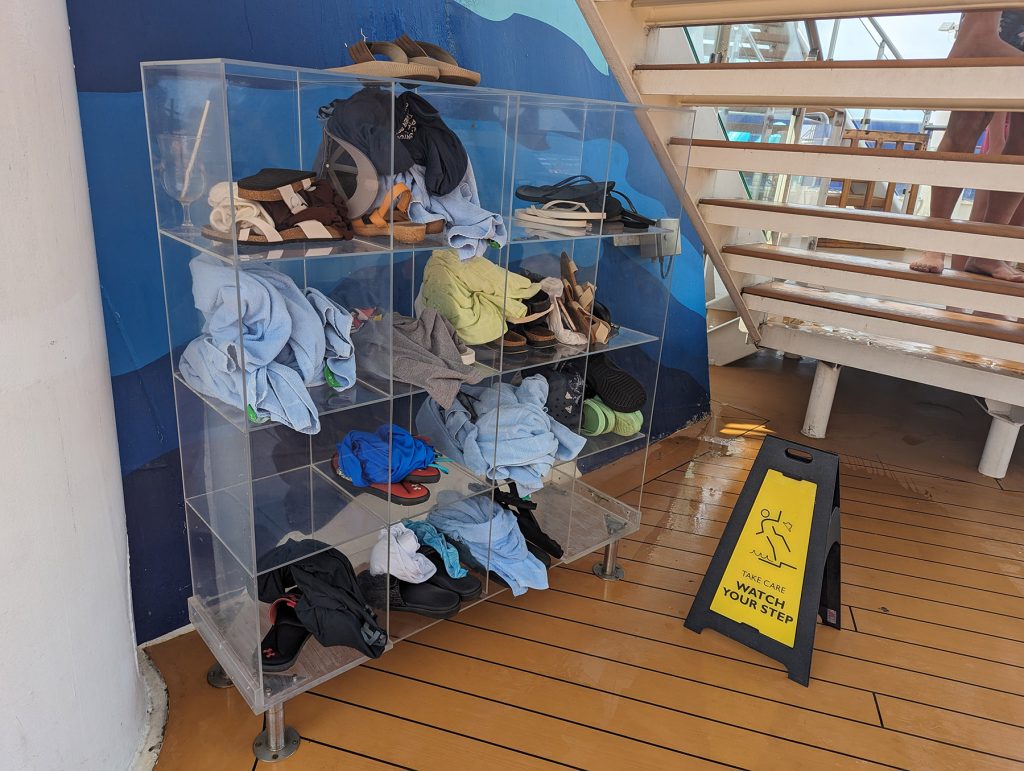 Shout out to Liberty of the Seas for these awesome cubbies in the area. I've long said that if they put cubbies like this by a pool, chair hogging would decrease significantly. Sometimes you need a place to put your stuff while you go in the water or on a slide, and you don't want to take up a valuable chair. 
Dinner in the main dining room
We all got showered and headed to our 5:30 dinner. Tonight's theme was "A Taste of the USA" which seemed like a waste of a theme night on a 5-day cruise menu. Royal Caribbean has a lot of other themes on their longer ships and it was disappointing that the "USA" menu was in rotation on a short 5-day sailing. For example, I heard multiple people complain that this sailing had no Mexican food at all.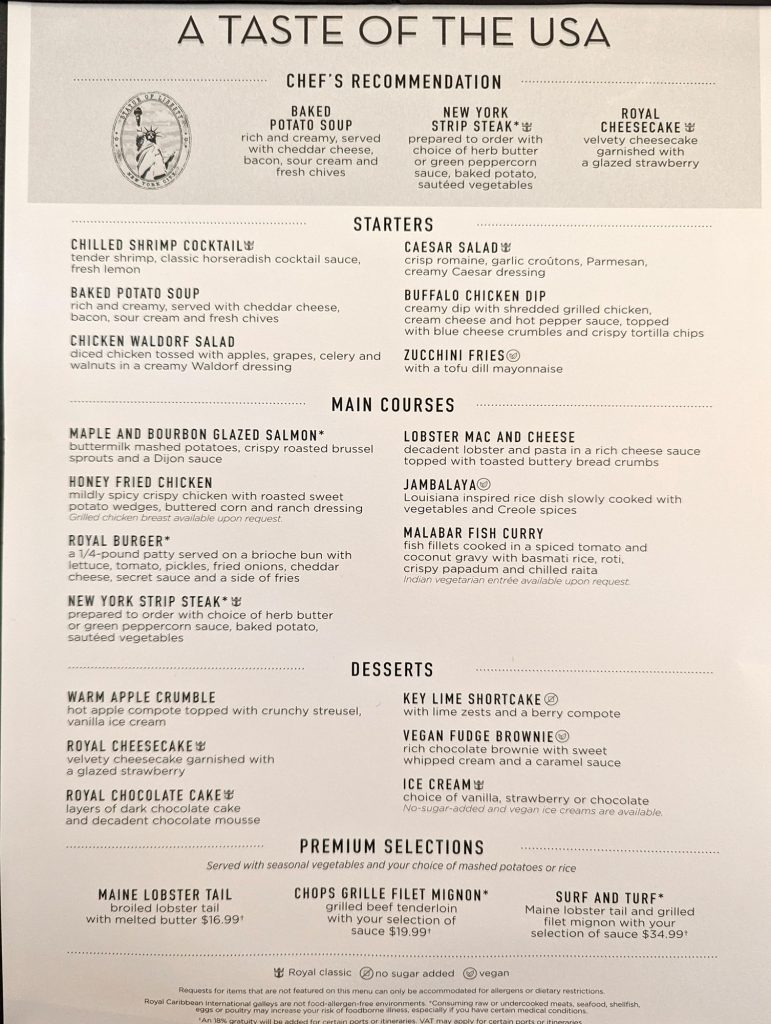 But the menu offering were solid and everyone in my group found something they were interested in. I got the baked potato soup, the New York Strip Steak, and Warm Apple Crumble. All of the dishes were very good. My favorite was the apple crumble, which was really good and the closest thing I could find to Royal Caribbean's old staple, the Apple Blossom (which they inexplicably removed when they redid the menus).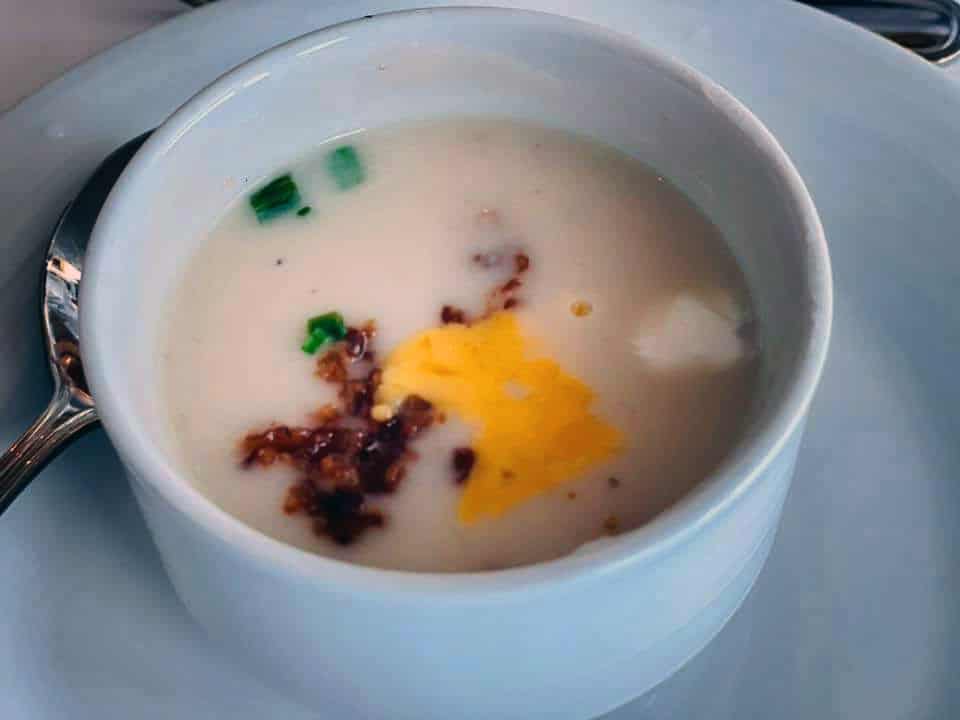 Again, the service was spectacular. Both our waiter Ida and assistant water, Sagar, were constantly checking in on us, and our drinks were always topped up (it's possible I had more Diet Coke on this cruise than any other cruise I'd been on). At one point, my brother ordered a Hennessy on the rocks. The cocktail wasn't right, it was a different type of liquor, and he mentioned it to the waiter. My brother didn't care because he had the drink package and didn't pay for the drink, so he'd get another one. But the waiter was incredibly apologetic and brought over a brand new bottle of Hennesy, opened it, and poured it right in front of him to make sure it was right. 
Overall, the meal took an hour and 20 minutes. Close to the end, music came on, and the crowd spun their napkins around in the air, which the kids loved. At the end of the meal, my nephew said goodbye to Ida and Sagar and said, "I'm going to miss them when we're done. They're so nice to me." 
Rock climbing on Liberty of the Seas
After dinner, we decided to try out the rock climbing wall. We changed from our dinner attire into something more comfortable and headed out. 
We got there right as the activity opened at 8 PM, and there was a bit of a line. The biggest backup was getting into the equipment and suited up. Because there was a line, most of the adults opted out, but the three children who were old enough gave it a try (children must be at least six years old to climb).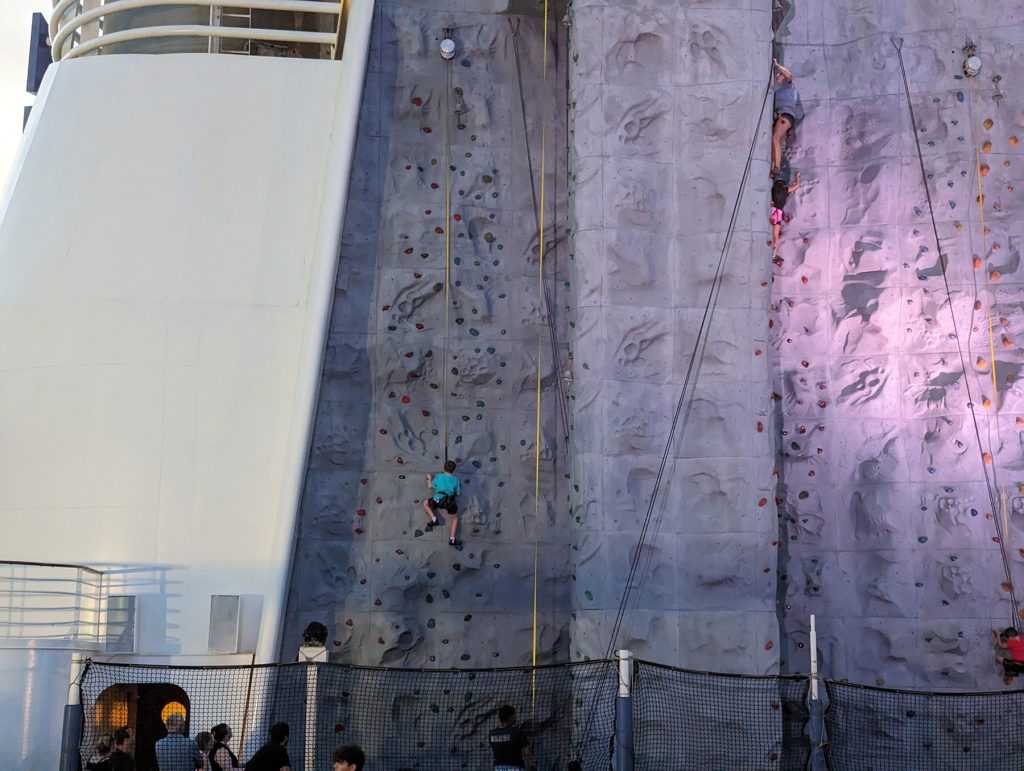 You don't realize how tall the wall is until you're standing right underneath it. It's a 44-foot wall and looking up, it's intimidating. The climbing wall had six different auto-belay systems, which would lower you automatically if you fell off the wall. With that many systems, the line moved quickly once you had the equipment on. 
The kids from my family, aged 6, 7, and 11, tried the wall. One kid made it almost to the top, the other two about halfway, which was all very impressive for their ages. Overall, it took 25 minutes for all kids to go.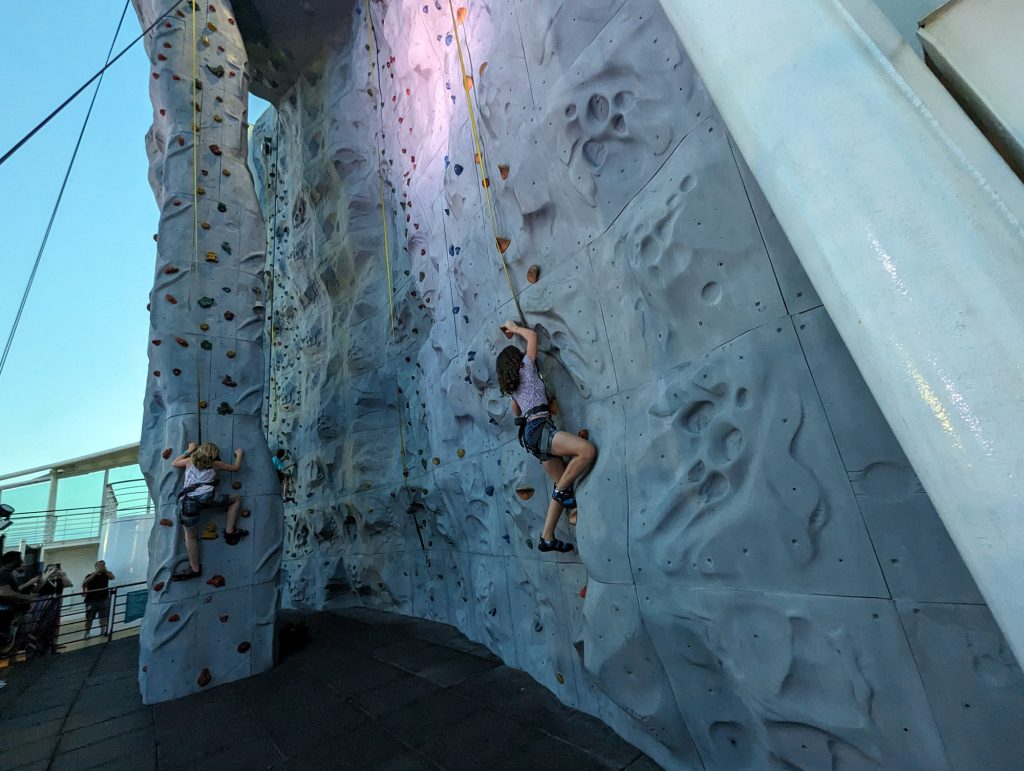 They could have returned to the line to try again when they were done, but I think it was tiring for them, so they were done (I know when I did it last cruise, it was physically exhausting). 
On Air Karaoke Bar
After the climbing wall, we decided to go check out some karaoke. It's a staple on a cruise ship and almost always has a good crowd.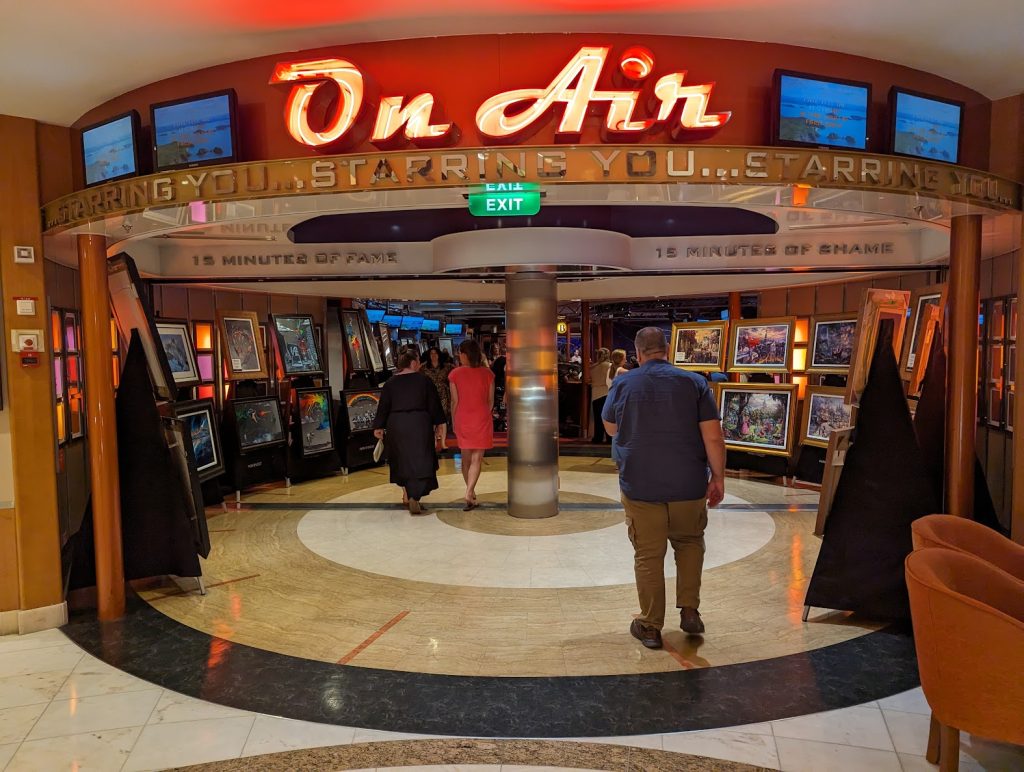 Liberty of the Seas has a dedicated karaoke bar called On Air. It has a sizeable stage, a good amount of seating, and a dedicated bar. It's in an odd spot that's in a hallway leading up to Studio B ice skating rink. Leading up to it is Park West, the cruise ship art vendor. They had art stationed everywhere, clogging the walkways and making the corridor feel very cramped. The hallway next to it had harsh flood lights that produced a horrible glare and a lot of heat. It makes the whole space feel like an afterthought and very low-end.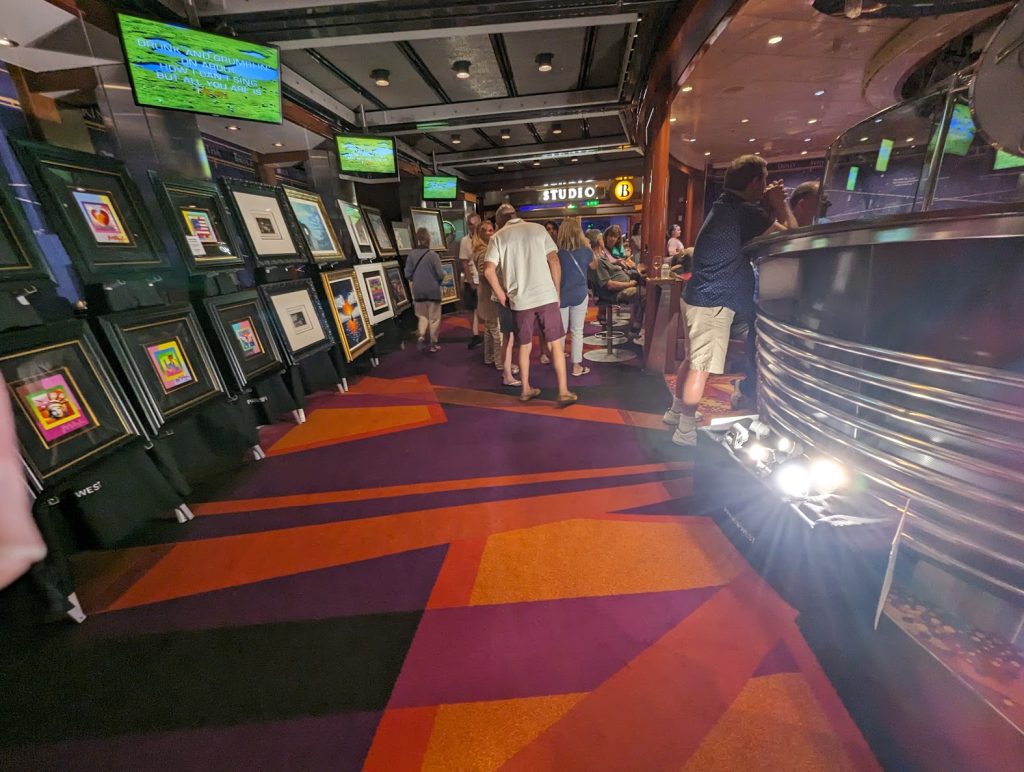 But it was better once we were out of the hallway and into the On Air area. The place was packed, with most chairs and the bar being totally full. We watched as our fellow cruisers did their best renditions of their favorite songs, some impressively so and some that just hurt to watch.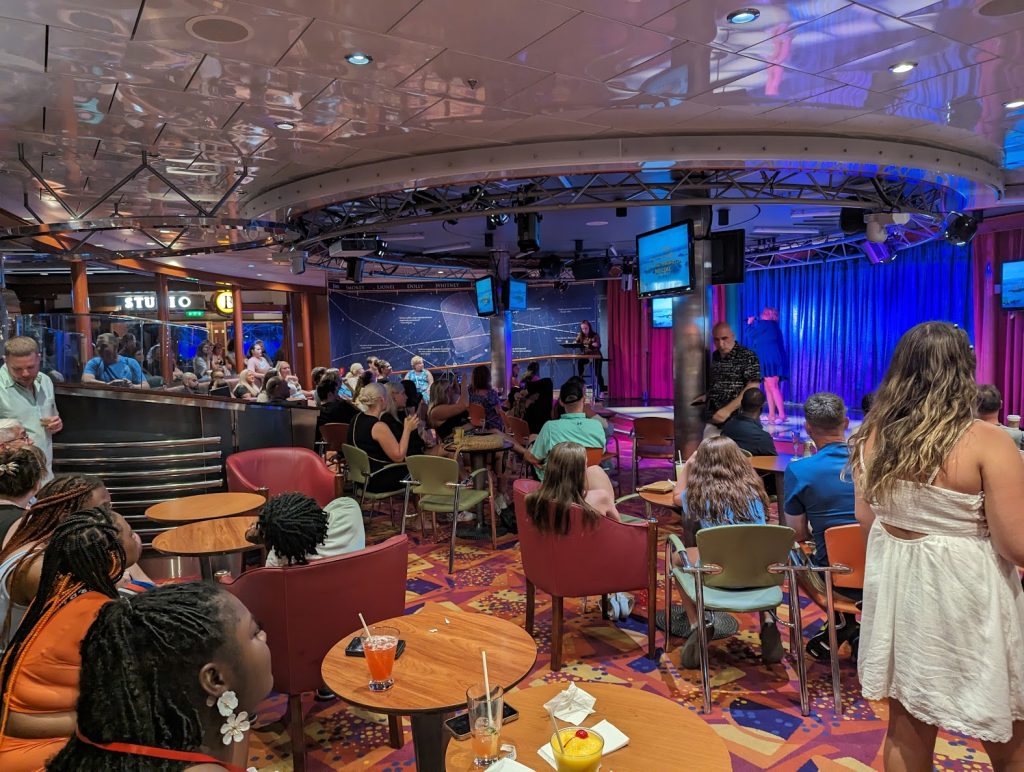 The karaoke host herself was nearly invisible. She had no presence. She would call out a name and then disappear behind a curtain to load the karaoke, which took a few minutes. They were no transitions or flow to it. Royal Caribbean's entertainment staff never seem trained or polished to me; this event was just another example. Nevertheless, the crowd loved it, and it was clear some regulars were there every night. 
Late night snacking on Liberty of the Seas
After some time in the karaoke, I got the munchies, so I went to grab a late snack. At that point, the only things open were Cafe Promenade and Sorrento's Pizza. 
The layout of these restaurants on the Liberty of the Seas was frustrating. On the newer Quantum- and Oasis-class ships, these two restaurants are near each other so that you can grab some pizza and a cookie or a sandwich. On Liberty of the Seas, they were on opposite ends of the Royal Promenade. That made it really annoying if everyone wasn't in a pizza or a sandwich mood.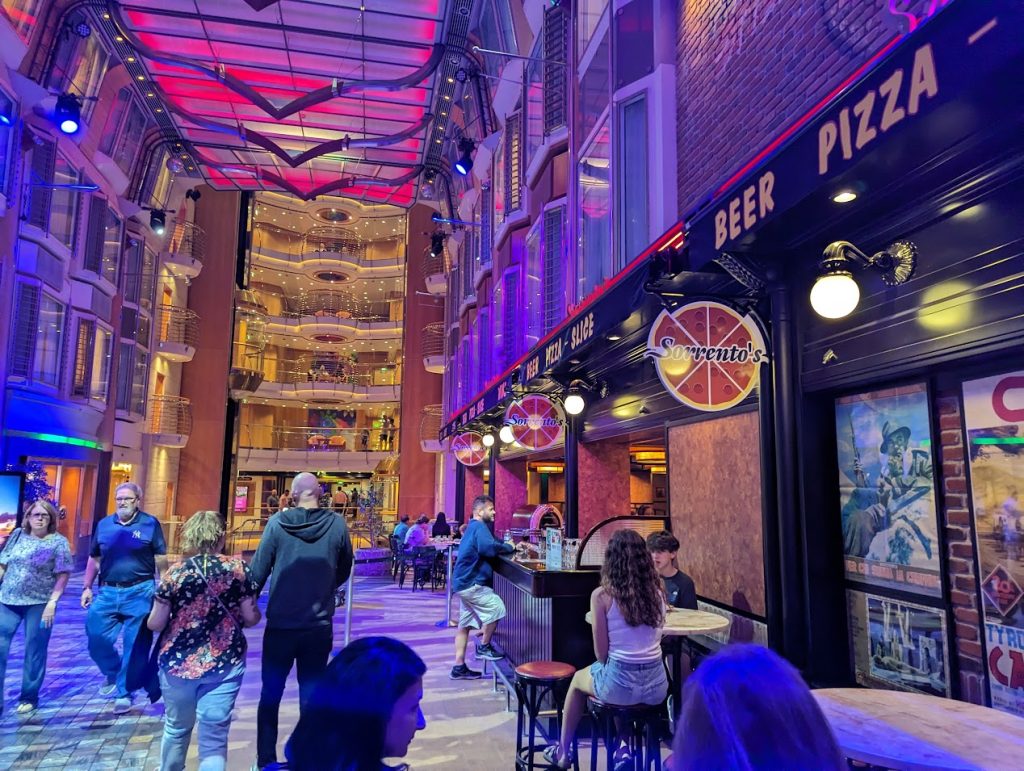 But the food was tasty. I liked the pizza at Sorrento's. It wasn't the best pizza I ever had, but it was delicious. It was disappointing that they only had three varieties, unlike the newer ships that have five every day. 
The sandwiches and desserts at the Royal Promenade also hit the spot late at night. Again, they didn't blow me away, but they were solid offerings. 
Comedy show in the Royal Theater
After our snack, we headed to the Royal Theater to watch an adult comedy show. It was the only adult comedy show on this sailing, which felt very odd compared to other cruises I'd been on. Because it was the only showing, the entire theater was packed about 5 minutes before it started. While the theater was large and could hold 1,300 people, it wasn't enough to accommodate everyone who wanted to go.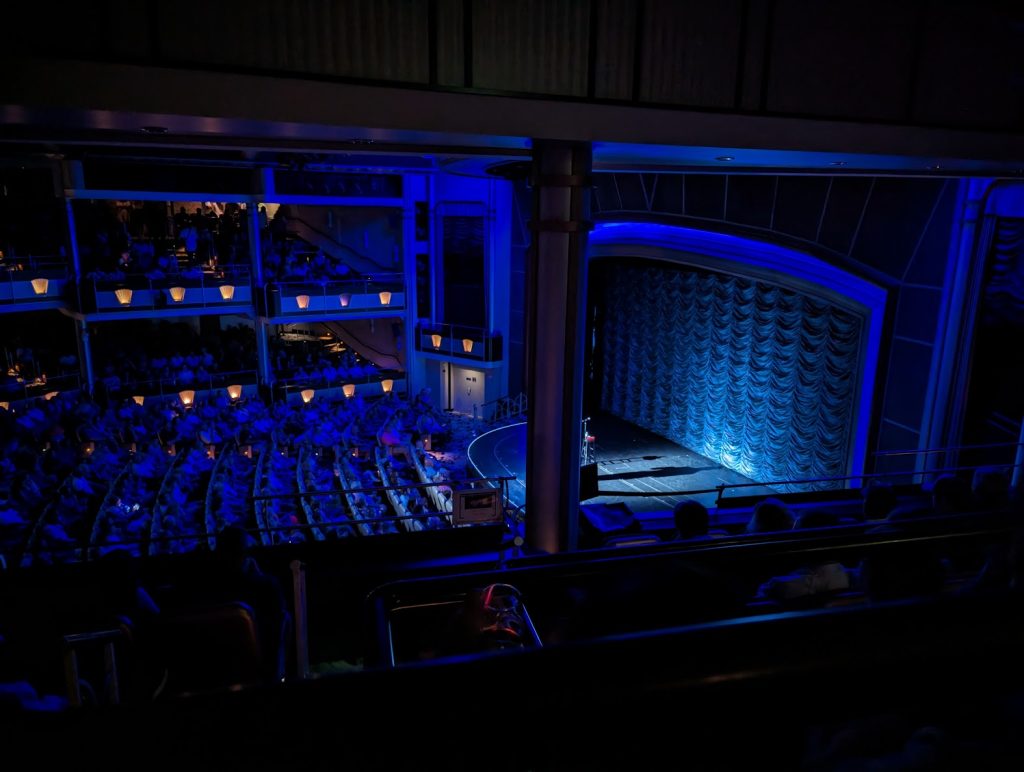 As for the show itself, it was mediocre at best. I usually keep an open mind, and even if it's not my type of comedy, I usually can appreciate that it's funny to others. This time was not one of those. The comedian had awkward pauses and weird transitions. He couldn't establish a flow or rhyme. It was very amateurish. 
Also seeming to throw off the comedian was the fact that there was a 16-year-old in the first row. Apparently, they don't card guests entering for the adult shows on Liberty of the Seas (on recent Norwegian and Carnival cruises I had taken, they have carded every guest for their adult shows). 
Late night with little to do
The show let out at 11:15, and now 1,300 people were looking for something to do. Unfortunately, the options were very limited. At that hour, there was only the nightclub in the Olive or Twist bar and the casino. The Schooner, Boleros, and Star Lounge had no entertainment scheduled this evening. Having so little to do on the night before a sea day was very odd as that's when people want to be out late. It was pretty disappointing. 
We decided just to turn in for the night. Walking back to our room, I saw some rooms had notes on the door saying we'd set our clocks back to Eastern Standard Time. We didn't have one on our room, but thankfully, at least now I knew so I wouldn't be thrown off the next day like I was on day 1 (read more here). 
CruiseSpotlight is an Amazon Associate. We may earn a commission when you click links to retailers and purchase goods.