Liberty of the Seas – Cruise Blog – Day 5 – Final Sea Day
It was the last day of our 5-day sailing to Bermuda on Royal Caribbean's Liberty of the Seas. The ship was sailing back from Royal Naval Dockyard in Bermuda to Port Liberty in NJ. See how we spent the final day. 
Liberty of the Seas – Day 5 – Bermuda Overview
Liberty of the Seas – Day 5 Cruise Compass
Windjammer for breakfast
We woke up around 9 AM and headed to the Windjammer buffet for breakfast. Along the way, I noticed sporadic patches of humidity in the halls. In fact, this issue persisted throughout the cruise. While none of the venues or rooms I had visited had the problem, certain hallways felt rather uncomfortable. It was one of the few times the ship showed its age.
The buffet area was quite crowded, much like the other days. It became evident that this buffet wasn't adequately sized to accommodate the ship at full capacity. To exacerbate matters, the furniture in this space was bulky and occupied a significant amount of room. Royal Caribbean could significantly enhance the area by introducing new, streamlined furniture and reconfiguring the seating arrangement.
To alleviate the dining room's congestion, the staff opened up Giovanni's Table for additional seating (Chops was also available for suite guests). Conveniently located adjacent to the buffet, the two specialty restaurants provided an easy option to take your food there. The staff still circulated through the area, delivering beverages and clearing away used dishes.
We decided to take our breakfast into Giovanni's Table, where many tables awaited. The décor in the space leaned toward darker tones, which felt a bit gloomy for a morning meal on a beautiful day at sea. It also didn't strike me as a suitable setting for lunch or dinner. For the Voyager- and Freedom-class ships, Royal Caribbean placed the two high-end specialty restaurants right within the buffet area. Accessible by passing through the hand-washing buffet line and navigating through the crowds, it doesn't exactly provide an elevated start to the dining experience.
Room steward relationships
After a hearty breakfast, we all headed back to our cabins to grab our pool gear. While we were there, my 7-year-old nephew spotted a delightful surprise left by our room steward, Patrick – a cute towel animal! Every day, Patrick would add these adorable mini-towels to the bigger towel sculptures.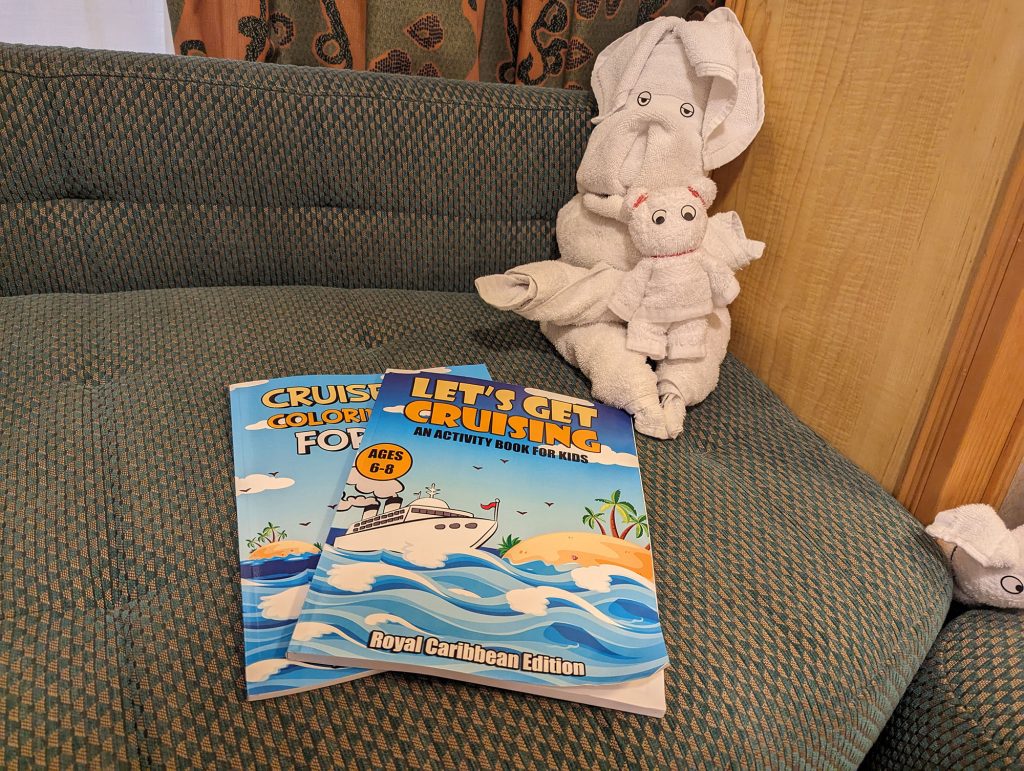 My nephew's eyes lit up with curiosity. He rushed out into the hallway and asked Patrick about his craft. With a big smile, Patrick showed him the ropes, letting him try to make a few towel animals. You should've seen my nephew's excitement – it was adorable.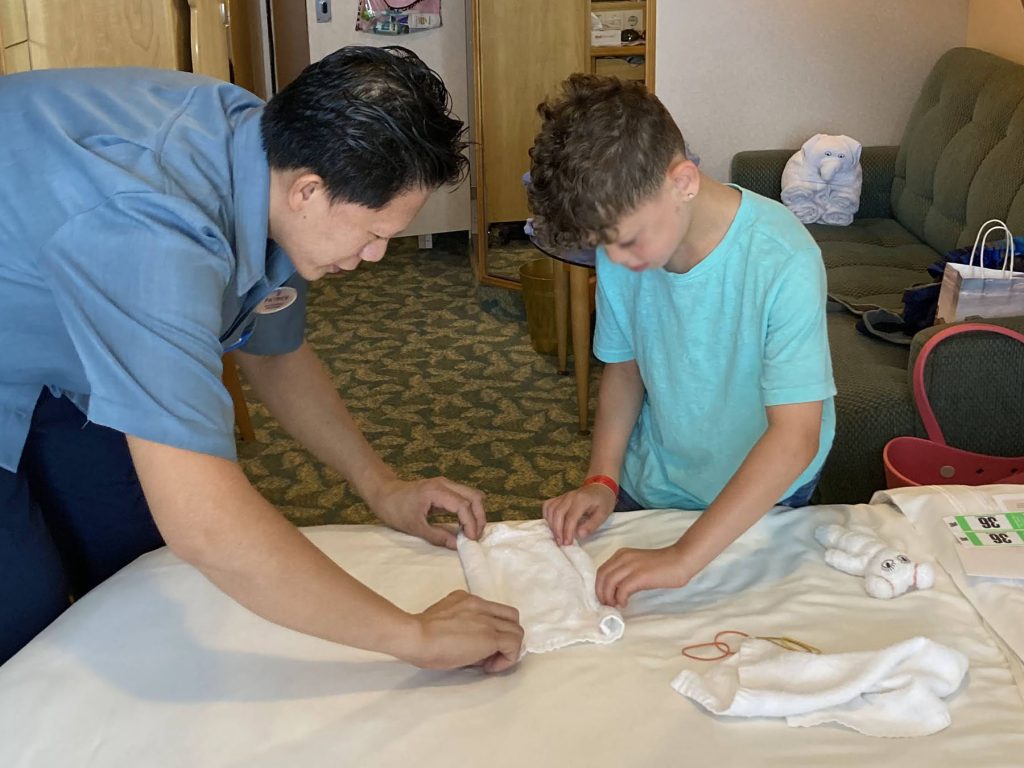 Before the whole pandemic, this kind of personalized service was standard. Back then, room stewards would visit the rooms in the morning to tidy them up, and in the evening, they'd work their magic to create a cozy bedtime atmosphere. But things have changed a bit. Nowadays, the room service has been scaled back to just once a day – you can choose between morning or evening.
You'd think this change would give the room stewards more time to shine, but instead, Royal Caribbean cut staff and, according to some reports, doubled the number of cabins they have to take care of. 
This situation can affect the level of service you get. It might not be as excellent as what you remember from your previous cruises and might not be consistent across the board. My sister's family, for example, had a bit of a letdown. They were on Deck 2, and their room steward wasn't exactly a superstar. She barely introduced herself, made just one towel animal during the entire cruise, and rolled her eyes when my sister required extra bedding. 
Luckily, the rest of us hit the jackpot. Our rooms were on Deck 8, where Patrick made sure we felt like VIPs.
Lounging in some quiet space
On a sea day, finding peace and quiet can be challenging on Liberty of the Seas, especially if you want shade. While there are plenty of loungers on Deck 12, the deck above the main pool deck, nearly all of them are in full sun. Luckily, I found a quiet little space few seemed to know about. Towards the back of deck 12, a bunch of loungers sit right before the entrance to Johnny Rockets. These chairs had a large metal overhang over the top of them, giving plenty of shade, and two glass partitions helped break the wind. It was a perfect space to catch up on the book I brought on my Kindle.
Milkshake at Johnny Rockets
Since Johnny Rockets was right next door to where I was sitting, I decided to try one of their shakes. If you still have a mall in your area, you've probably seen a Johnny Rockets before. They serve hamburgers, fries, onion rings, and milkshakes in an old-school 50's atmosphere. On Liberty of the Seas, Johnny Rockets is a full restaurant (some ships have Johnny Rockets Express grab-and-go windows). There's seating both inside and outside, offering a beautiful view of the water. A meal here costs $12.95 per person and includes an appetizer, entree, soda, and dessert.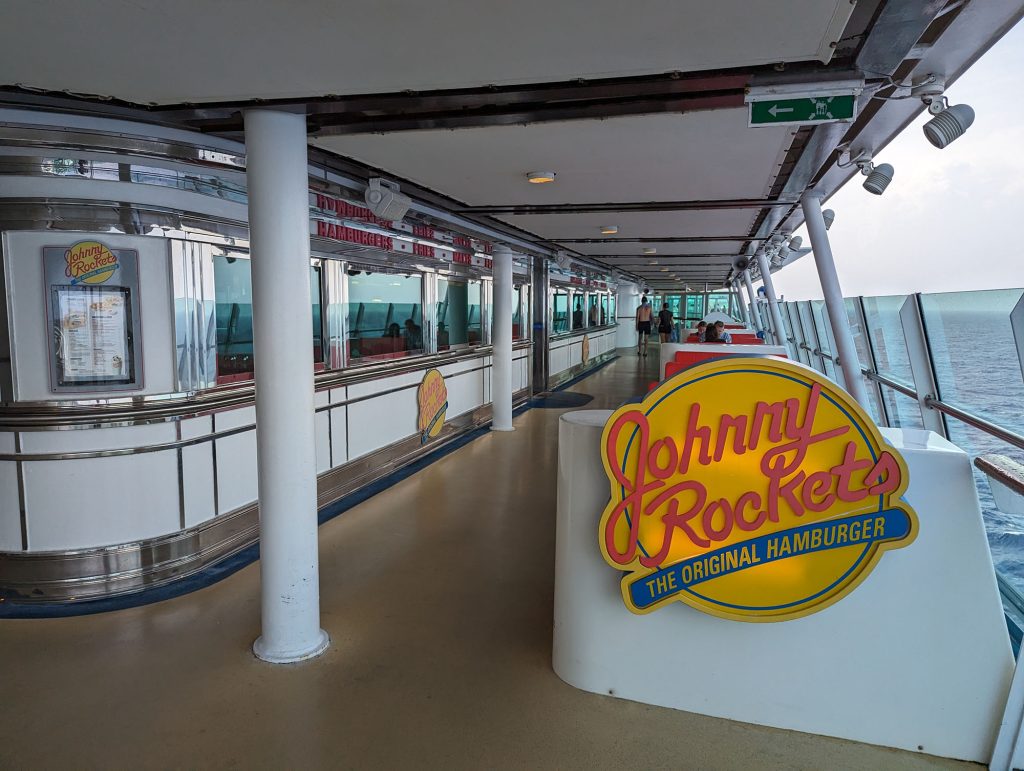 Personally, I refuse to pay $12.95 for a hamburger when other cruise lines offer far superior burgers at no charge (Guy's Burgers on Carnival are some of the best burgers I've ever had). But I thought about going for a milkshake since it was a hot day.
Even though this Johnny Rockets was a sit-down location, you could still go in and order a milkshake to go. The options were chocolate, vanilla, strawberry, and Oreo cookies and cream. My go-to milkshake is strawberry, so I ordered one to go.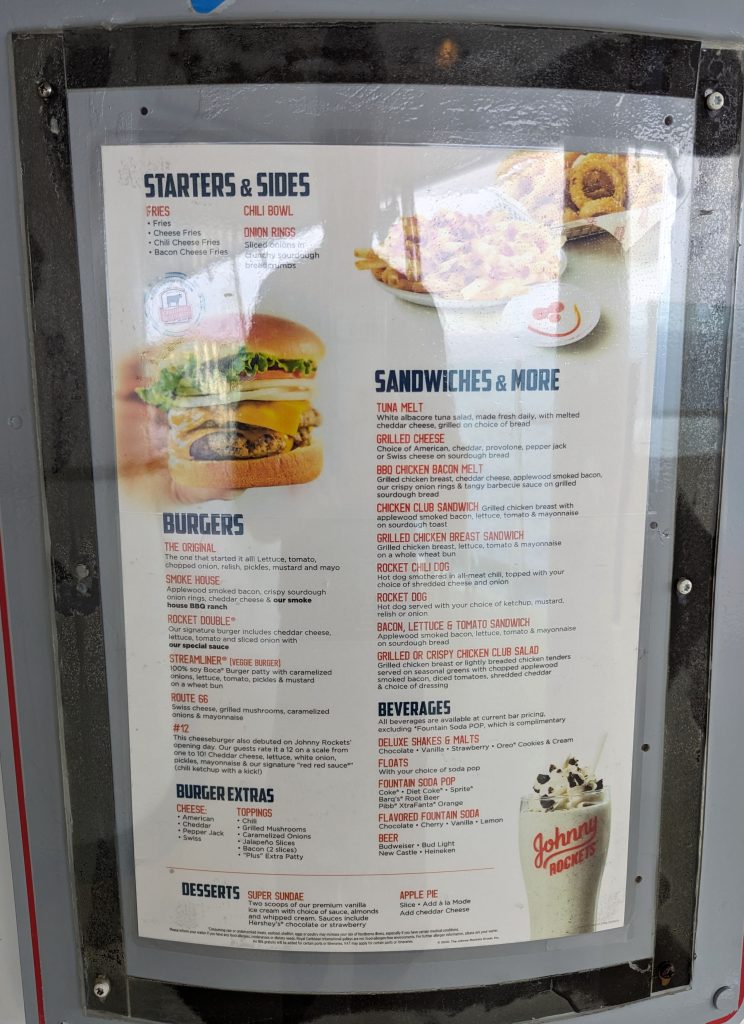 Immediately, they started making my shake. I saw them dump scoop after scoop of vanilla ice cream into a tin and then top it up with whole milk and strawberry flavoring. I knew this was not going to be a healthy snack. It took about 4 minutes and cost $5.00 plus 18% gratuity, so $5.90 in total. 
I took the sizeable milkshake back to my lounger and tried it out. It was decent but not out of this world. I prefer when places make strawberry milkshakes with strawberry ice cream versus vanilla ice cream and flavoring. It was also very dense and heavy. 
Tip: If you've sailed Royal Caribbean before, check for any offers they save to your account. When I ordered this milkshake, the waitress asked if I wanted to use my 50% off coupon. I didn't even know I had a coupon. Royal Caribbean used to leave a paper in your room saying what offers were loaded to your card, but on my last two cruises, they haven't done it, which is frustrating. It's just another example of their poor communication with guests onboard. 
Royal's Messaging App to the rescue
Throughout the cruise, my family communicated using Royal Caribbean's chat function in the app. The functionality lets you talk to other guests aboard the ship without purchasing an internet package. Royal Caribbean used to charge $1.99 per guest per day, but in a surprising move, they made it free to all guests as of January 2023. 
While we were relaxing by Johnny Rockets, we got a message saying my sister's 4-year-old was missing, and she wanted to see if anyone had eyes on her. We all got the message and quickly walked to the pool deck. Thankfully we instantly found her (note: the bathrooms by the kids' area have two exits; if your kid goes out the wrong door, they can get lost easily). If we didn't have the app, it could have been 15 – 20 minutes of panic.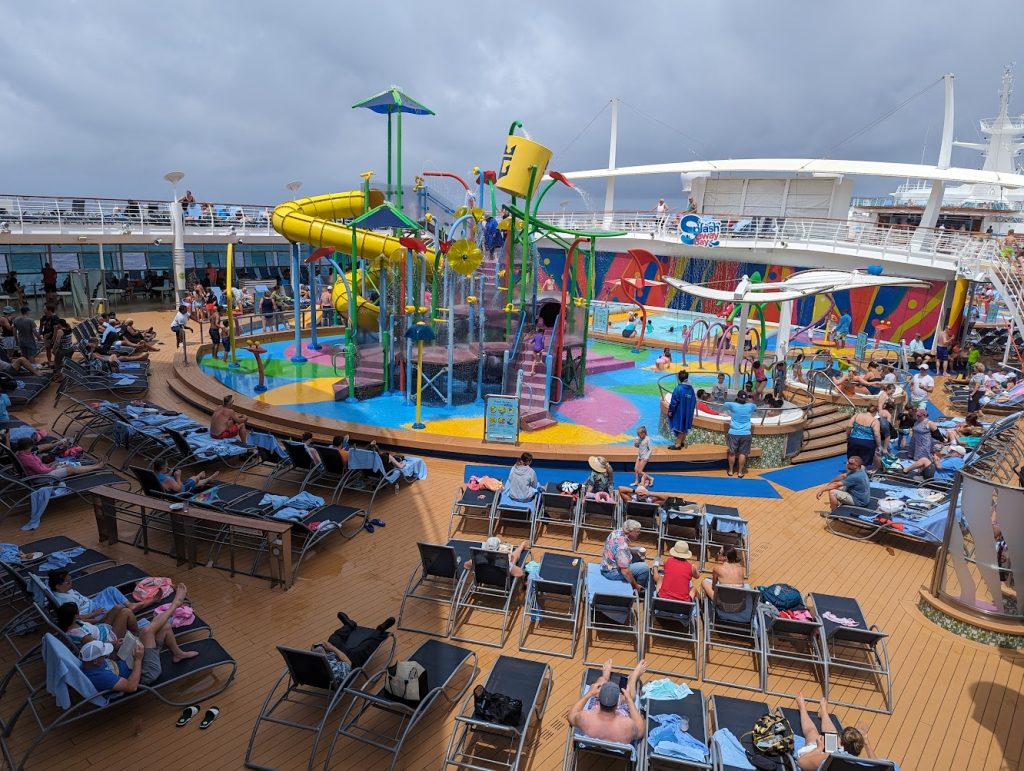 That being said, the app isn't perfect. I have an Android phone, and the notifications didn't get pushed to me if I wasn't in the app. If I was in the app, I saw notifications, but if I wasn't, I didn't see anything. Other family members got notifications instantly. There didn't seem to be rhyme or reason to it; several iPhone users in our group got instant notifications whiles others didn't. Still, the tool was handy, especially for free. 
Tip: Another quirk about the app is that you manually have to add everyone in your group in order to message them, and they have to accept it. For our large group, that took some time, and some people didn't realize they needed to do that. If you're traveling with a group, I suggest as soon as you do the muster drill as a group, get everyone's phone out and connect everyone so you're set for the rest of the cruise. 
Love and Marriage Show
Following a satisfying lunch, our next stop was the Platinum Theater for the Love and Marriage show. Now, you might recognize this type of entertainment as a regular feature on almost every cruise (though the title might differ depending on the cruise line). Think of it as a spin on the classic Newlywed game, where three couples take the stage and answer amusing questions about each other. I've caught this show on nearly every cruise I've embarked on, and it's always a blast.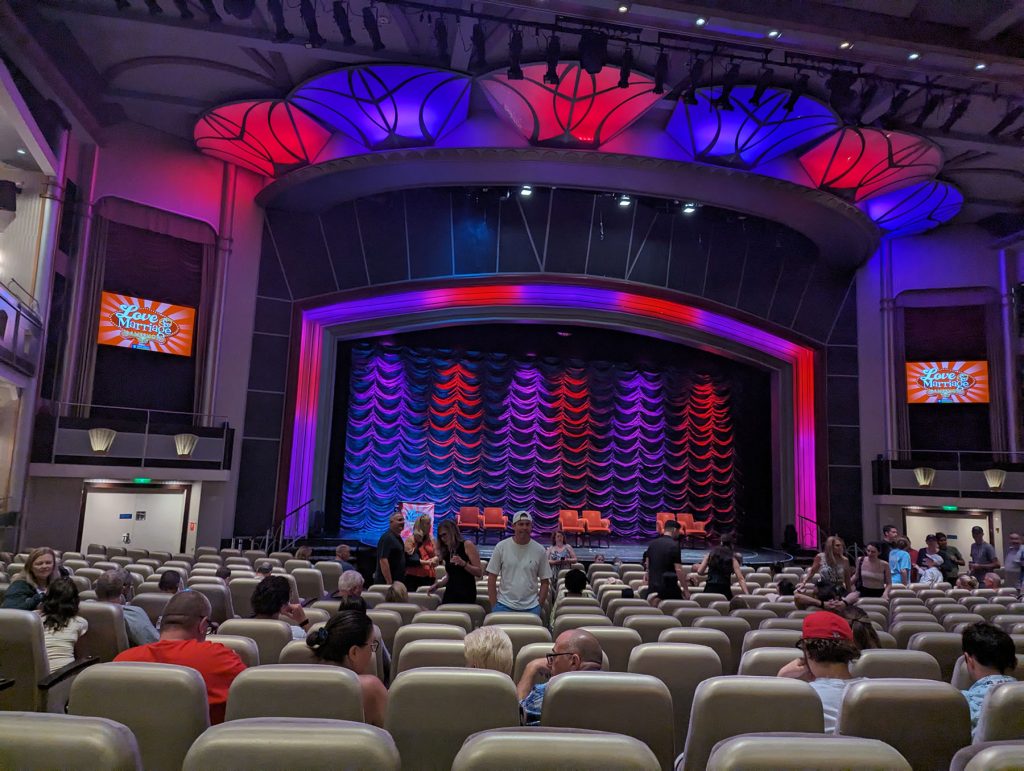 Usually, this entertaining event takes place in the evening, but this time around, it was scheduled for 2:30 PM. It felt a bit out of the ordinary to be in a dimly lit theater in mid-afternoon, especially when the sun was shining so brightly outside. These shows typically draw quite a crowd, but only about 1/3 of the seats were occupied due to the unusual timing.
As we waited for it to start, they had a kiss cam zooming in around the theater, which I never enjoy. Then the assistant cruise director comes out to pick the contestants. I don't like how Royal Caribbean does this. First, they have the assistant cruise director come out to do it as if it's below the Cruise Director to interact with passengers. Then they make the contestants audition, a scenario where the woman yells, "Tarzan. Tarzan. Where is My Tarzan?" and then the guy yells like Tarzan. It's rarely funny. 
Then the cruise director Mario came out to start with the questions. Mario had a good presence and was probably one of the better Royal Caribbean cruise directors I've seen. He had a good personality and good rapport with the contestants. Still, the fact that this was a "family" show at 2:30 PM took away from the show a bit, as he had to remove any "spicy" questions. 
Cupcake Cupboard on Liberty of the Seas
After the show, we headed to the Cupcake Cupboard on the Royal Promenade. We noticed this peculiar little shop on day one, and while we stopped by a few times, today was the day to get a cupcake.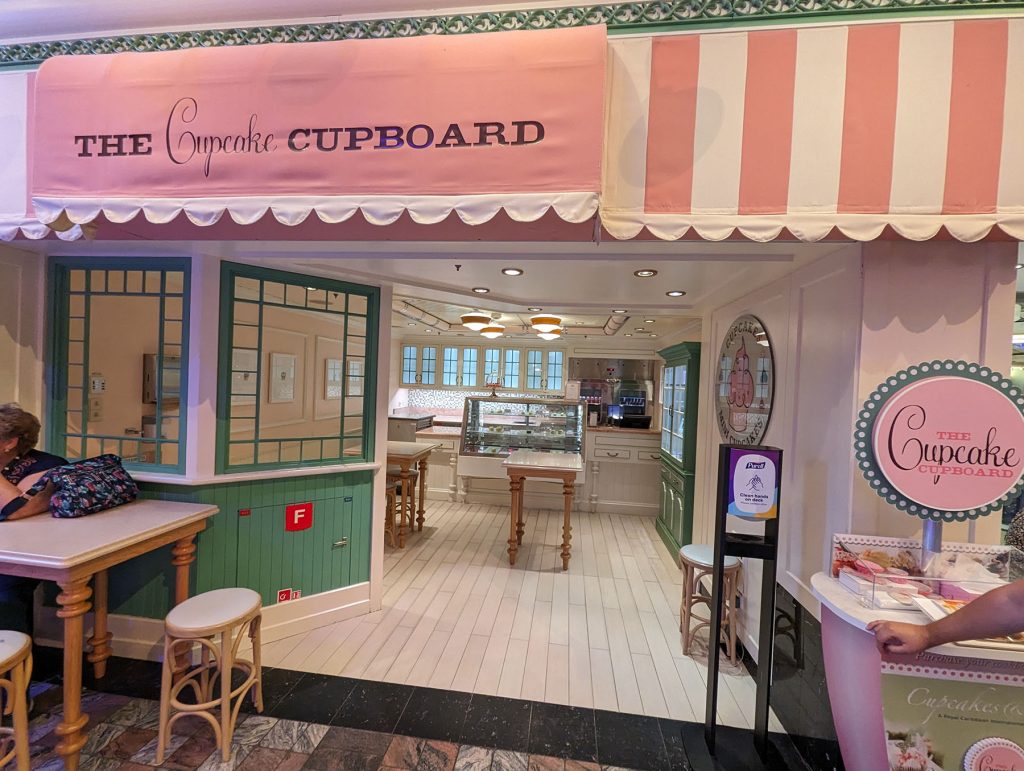 The Cupcake Cupboard is bright pink and always hot for some reason. Some days, they offered cupcake decorating classes here you could pay for, but other than that, the place was usually empty. You could walk in, and eventually, someone would come out if you wanted to purchase a cupcake. The store was oddly stark, with just a handful of cupcakes on display that didn't look more elevated than the typical cruise ship desserts. They weren't bad at $3 a piece, but I have a feeling this place will be gone if/when Liberty of the Seas finally gets its makeover.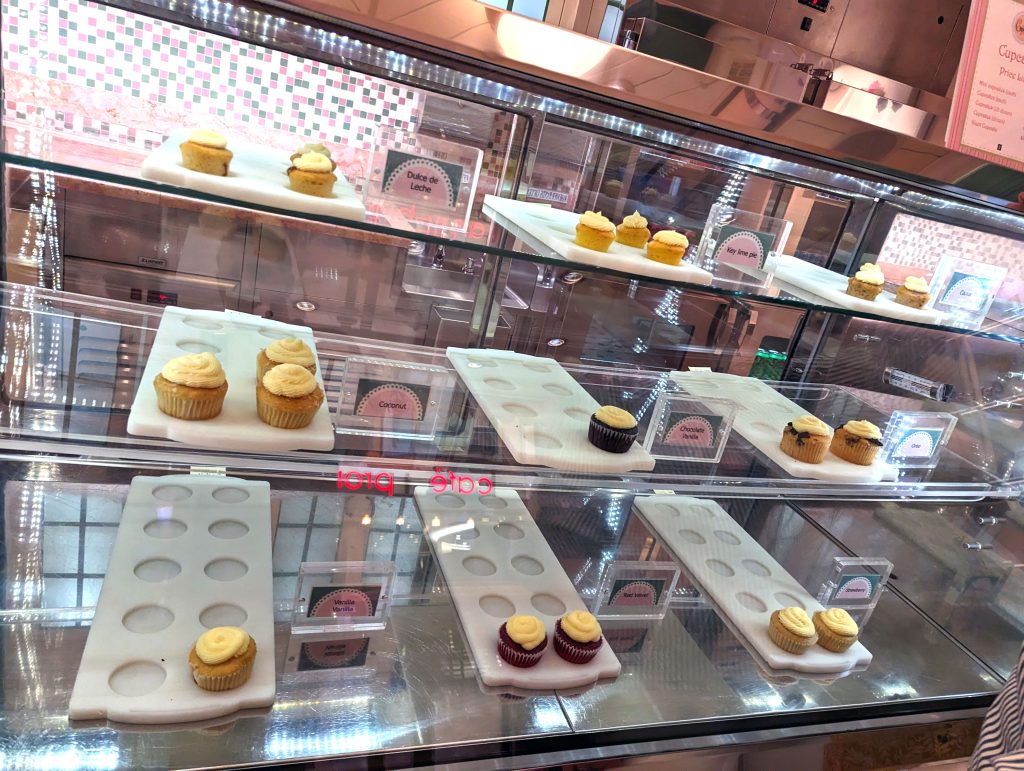 Liberty Dunes Minigolf
With the beautiful weather, we took the kids over to Liberty Dunes, the minigolf course at the front of Deck 13. At this point in the day, the area was empty, although the sun loungers were mostly full earlier in the day.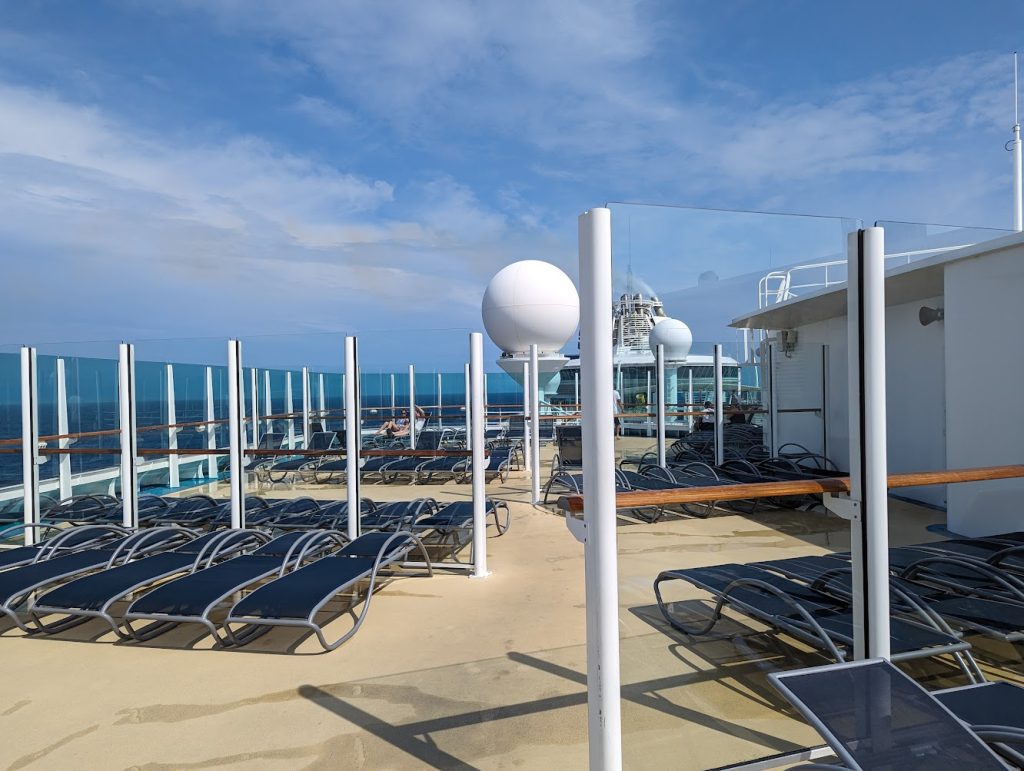 The kids grabbed putters and balls and started through the 9-hole course. Thankfully, the kids were all still pretty young, so we didn't have to worry about following official rules and keeping track of strokes. The course extends across the front of the ship, with gorgeous views of the water and a gentle breeze blowing. It's a great way to keep kids or adults busy while enjoying the weather. 
Final dinner in the Main Dining Room
At 5:30, we headed to our final dinner in the main dining room. Tonight was "A Taste of Italy." I started with the golden polenta fries, which were ok but a bit soggy. I ordered the Lasagna Al Forno for my entree, which was really delicious and probably one of my favorite dishes this cruise. I finished the meal with the crumbly oat and berry bar. I was surprised by how much I enjoyed it; it was a cross between a berry cobbler and a granola bar.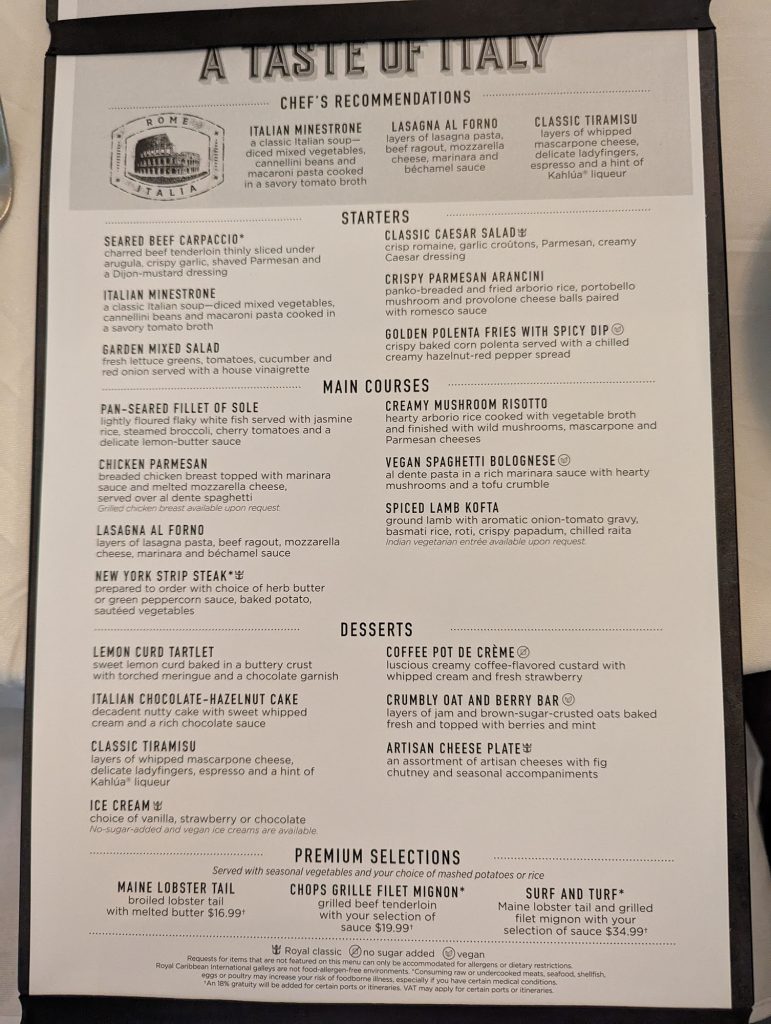 The entire dinner took 1 hour and 10 minutes, just the right amount of time. At the end of the meal, one of the managers came through and asked us how everything was this sailing with the food and if we had any critiques. My brother said he also had an in-person survey in the Windjammer earlier that day. Apparently, Royal Caribbean is taking the bad comments going around about food seriously. 
Overall, I really enjoyed the main dining room on this cruise. It was my first time trying Royal Caribbean's new menus, and, for the most part, they were solid. The biggest complaint was that they got rid of the "classics." These dishes were available every day and helped when you had picky or restrictive eaters. On a few nights, at least one person in our party couldn't find something they could eat. I don't understand why they got rid of the classics. Does it take that long to grill a chicken breast or steak?
I also really enjoyed the set-time dining. While 5:30 seemed early to eat, it was nice that the whole group knew what time dinner was, and we could meet at the table every night. We had no waiting in lines or debating over where to go. It was perfect for a large group of 15 people. 
Purchasing photos in the Photo Gallery
Throughout the cruise, photographers offered the opportunity to take pictures. Typically you'd see them when you board the ship, when you got off in port, in the Royal Promenade before dinner, and at dinner. Taking a picture cost nothing, so our group took several throughout the cruise. 
Unlike other cruise lines, Royal Caribbean doesn't let you see the pictures in the app (they are currently testing this feature on some ships). You must go to the Photo Studio to pull them up on a computer and see which you want to purchase. After dinner, we all headed down to Deck 4, next to the casino, to see the photos. 
We scanned our room keys at the kiosk, and the photos popped up. They're mapped to the room number you gave when the photographer took your picture. While many of the photos look cheesy and overly posed, some came out cute, so we wanted to buy some.
The photos cost $25 each, the same price for printed or digital versions. They had a buy 4 get one free (5 photos for $100), but you had to be in all the photos; they wouldn't let us combine from different members in the group. Overall, the price was way too steep. We still ended up buying two good group photos, but we would have purchased more if the prices were more reasonable. I know Royal Caribbean employs lots of "revenue optimization" models to maximize the onboard spend of guests. I find it hard to believe they wouldn't increase the total sales of photos if the prices were more reasonable. 
Uncoordinated departure plans
After dinner, we went back to our cabins to pack up our stuff. When we arrived at our cabin, we had a sheet of paper explaining the departure details. We also had tags for our bags. The tag had a number that determined what time you'd leave. 
We had two options…
Self-assist Departure: You are one of the first people off the ship. You have to carry all your bags off with you in the morning. This method is best if you need to get off fast. 
Regular Departure: You leave your bags outside your room by 10 PM the night before. They're taken off the ship, and then you pick them up in the terminal. This method is best if you have a lot of luggage or are in no rush to get off the ship.
Frustratingly, everyone in our group had different departure tags and times. It made no sense, our reservations/arrival times were all linked, and almost all the rooms were right next to each other. Why would Royal Caribbean give us different times to get off the ship and different places to wait? It's a huge oversight. 
Perfect Couple gameshow
After we put our bags out, we headed to the Star Lounge to see the "Perfect Couple" game show. There wasn't a great description of what it was, but we thought it was more of an adult version of the Love and Marriage game we just saw.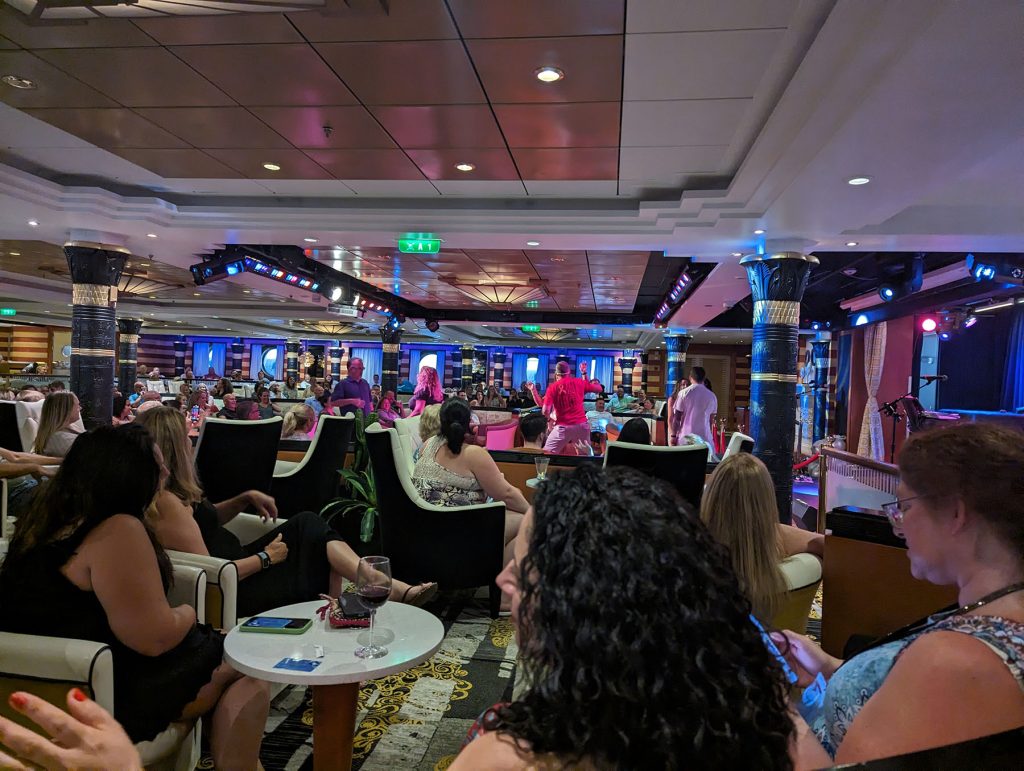 The Star Lounge was full, but we could get a seat in the corner. The hostess came out and had people compete to be on the game by dancing to YMCA and the Chicken Dance. She didn't explain the game well, and there seemed to be confusion about what was happening. The first "competition" she had for the three couples she selected was to have the woman roll a ping pong ball up the guy's pants and down the other side. It would have been amusing to watch, but the Star Lounge doesn't have a raised stage, so you couldn't see what they were doing. 
We ended up leaving after the first event. It really hit home how much better the activities and entertainment staff are on Carnival ships than Royal Caribbean. 
Schooner Bar
Since the game was a bust, we decided to go to the Schooner Bar and get a cocktail while listening to the music. The Schooner Bar is a staple on every Royal Caribbean ship. This one had a good location where the piano music would waft into the large atrium, and people on all floors could hear the music.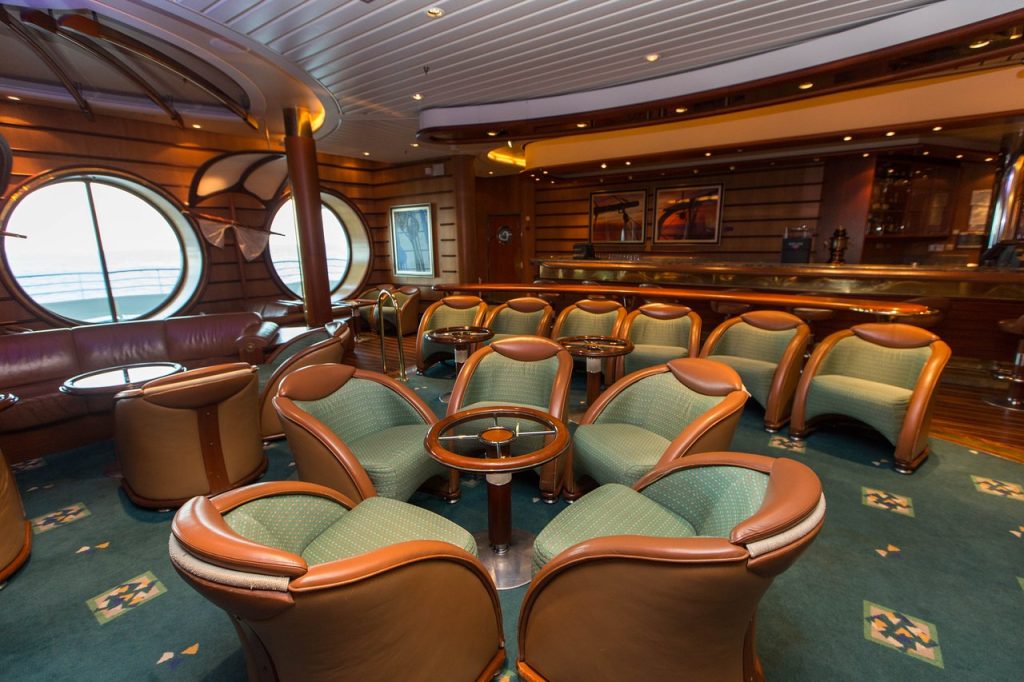 The bar itself was a bit small, though. There weren't many stools along the bar and only one waiter was circulating the venue taking orders. The selection wasn't huge at the Schooner Bar, with lots of takes on Old Fashioneds and more classic drinks. There was a whole page in the menu they couldn't make during this sailing, although the bartender didn't say why.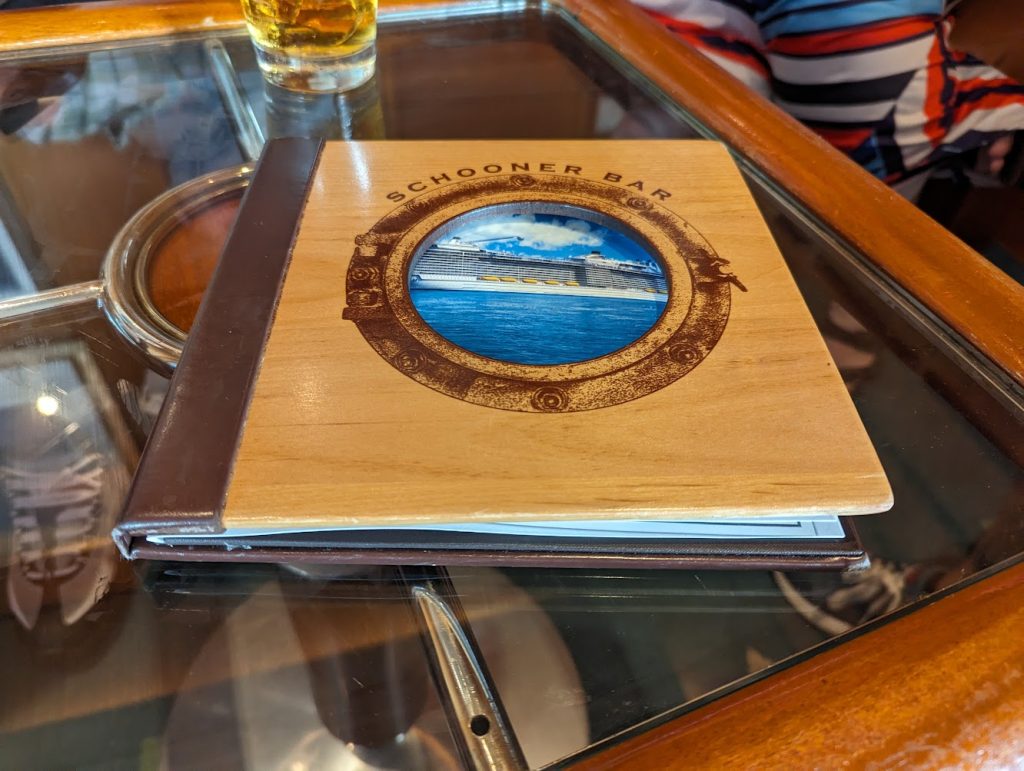 In the Air production show
At 8:45 PM, we headed to the Platinum Theater for the "In the Air" production show. The Liberty of Seas only has two big shows, "Saturday Night Fever" and this show. From what I pieced together, it seemed like an acrobatic show. 
We arrived about 30 minutes early to ensure we could get a seat. Most of the first floor was already taken, but we could get good seats on the second floor.
Tip: For "In the Air," get a first-floor seat. The performers do some impressive acrobatics while suspended mid-air, but it's more impactful if you're on the floor to appreciate how high they are. 
The theater was completely full as the lights went down. The show had lots of impressive acrobatics, with performers dancing, swinging, and flying through the air. It was visually impressive, and I found myself stunned at several points. Still, the song choice was puzzling. I don't know if they were original songs or just not well-known, but no one in the audience seemed to know any of the songs. On top of that, the lead singers struggled with the material and almost seemed to phone it in. It put a damper on the energy and took away from an otherwise impressive show. 
Crazy Quest in Studio B
After "In the Air," several of us decided to check out Crazy Quest in Studio B. Crazy Quest has a reputation for being rowdy fun, but I never had a chance to check it out on Royal Caribbean because it was discontinued after COVID. Thankfully, it was back on the Liberty of the Seas, so we went to check it out. 
Crazy Quest kicked off with some cheesy B-roll footage that made me wonder if we'd be leaving this event early as well. The entertainment staff came out, dressed in all black (even their uniforms were boring), and Cruise Director Mario kicked off the event. They warned the audience that it was an adult game and if you were a person who was easily offended, you should leave.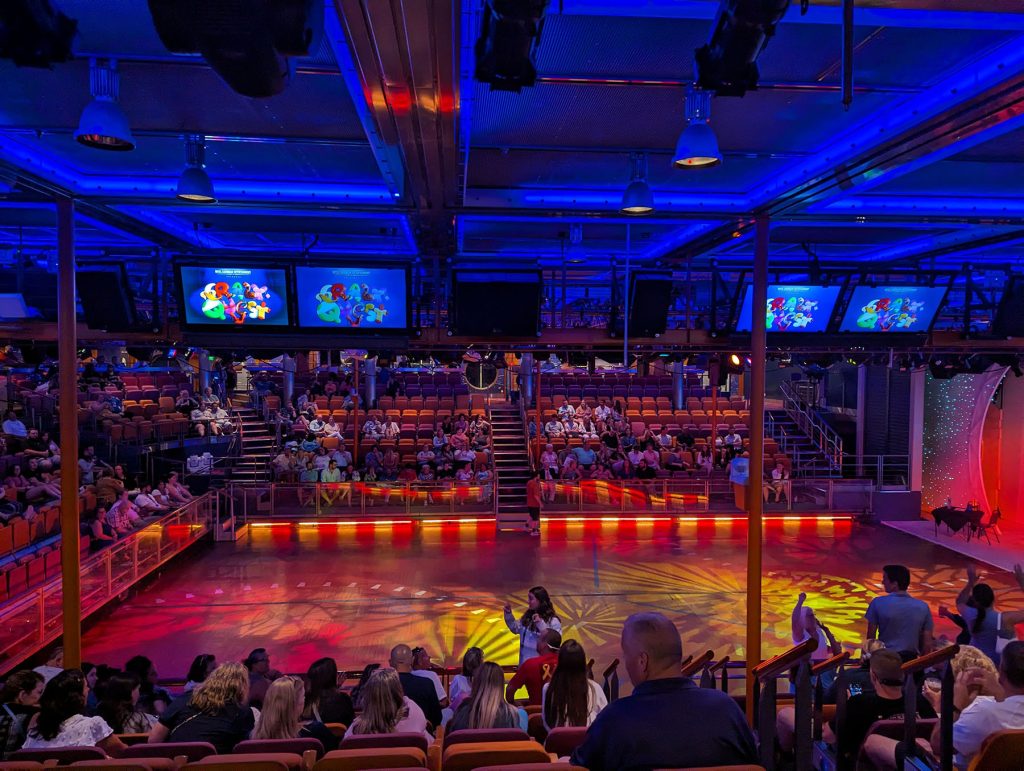 For this event, they split the sizeable Studio B space into five different teams. Each team had to select one male and one female as captains. They put a metal floor over the ice in Studio B for this event, so the captains would go onto the main floor to participate. 
The cruise director would ask for a specific scenario, and then the captains would have to put it together using the team. They repeatedly told the audience, "No running and no jumping" throughout the instructions; I'm guessing this game gets a little rowdy on some sailings. 
The game started and immediately the energy took off. Some of the first challenges were to bring five men's t-shirts not being worn, five belts linked, and a coin not from the US. Then they had some more risque tasks as well, like showing a hidden piercing or naughty tattoo. Each time your team completed the challenge, you got a point.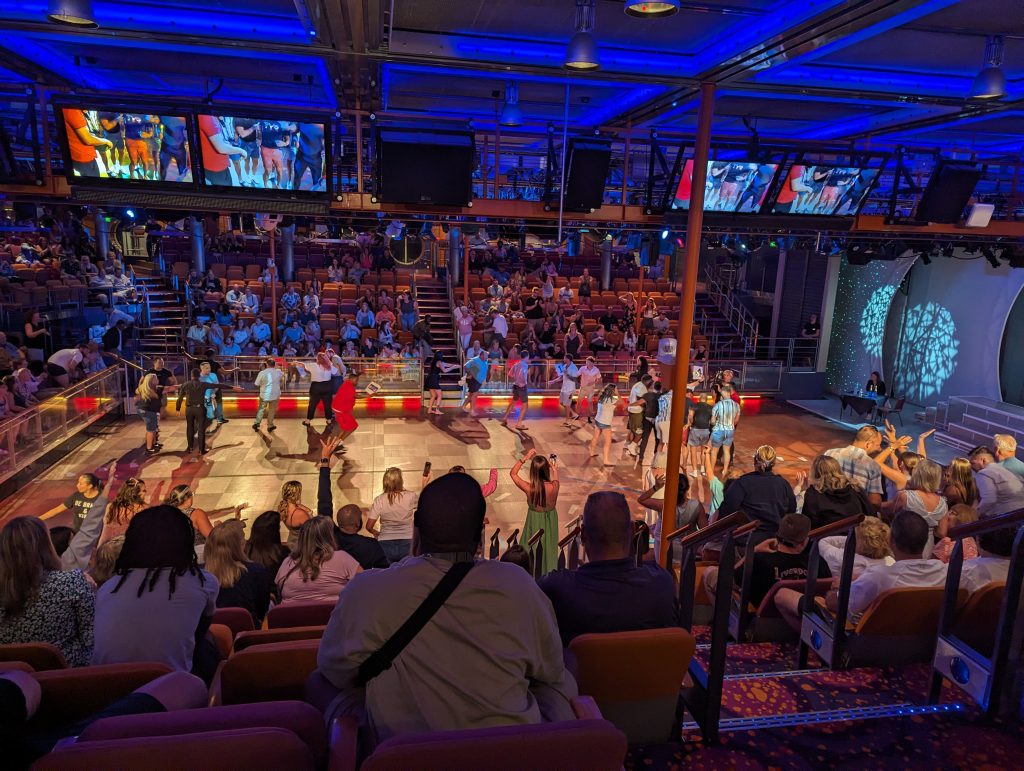 A cameraman was on the floor recording everything for instant playback after the round finished. That way, even people in the back of the auditorium could see what was going on. The energy was really high and people were having a lot of fun.
I think Royal Caribbean did really well with this event. The way it was structured, having five large teams, meant you could participate as little or as much as you wanted. Everyone seemed to have a good time, and the energy was contagious. I know some ships don't do Crazy Quest because there are too many people, but that's a shame because it's one of Royal Caribbean's better games. It was also frustrating that this was the final night of the cruise. This event would have been a good activity to set the tone for the sailing on one of the first days. 
Leaving Liberty of the Seas
We went to bed after the Crazy Quest and got up early the next day to debark. The Liberty of the Seas docked at 7 AM, and at 7:45 AM, customs cleared the ship, and people were allowed to start leaving. 
Because we had high tag numbers, we weren't scheduled to be called until 9:50 AM, so we headed to the Windjammer for breakfast. Surprisingly, there were tons of tables available. Most people on the trip tried to get off the ship as soon as possible. Since we had no flights and lived only 30 minutes away, we would rather wait and have no lines. 
After breakfast, we headed to our designated waiting areas. For most of us, it was the theater, but my sister's family of six was assigned Studio B. Because my family members are sticklers for the rules, they abided by this, and my sister and brother-in-law struggled to get her young kids and luggage to her car on their own. They should have just sat with us in the theater, as no one was checking. 
As we waited in the theater, there were no announcements or staff on hand to tell us what to do. We just waited and waited. At 9 AM, someone came in and said, "All tags have been called. You can leave." It was not organized well, and another example of bad communication on Liberty of the Seas. On previous sailings on other Royal Caribbean ships, the process was must more well-structured and communicated.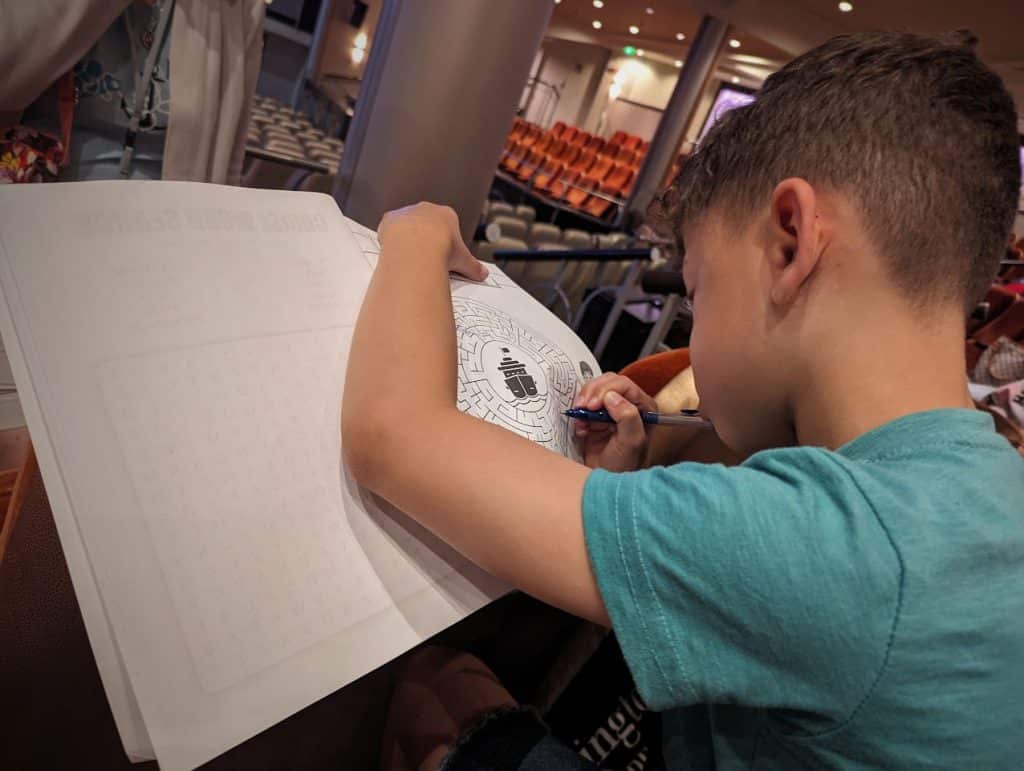 Once we left the theater, it took us 23 minutes to get off the ship and through customs. The port used photo technology, so we didn't need to show our passports. A kiosk took our picture and then gave us a green light to go. It took longer if you had birth certificates, rather than passports, because they can't use the photo process.
We were some of the last people off the ship and were on our way home by 9:40 AM.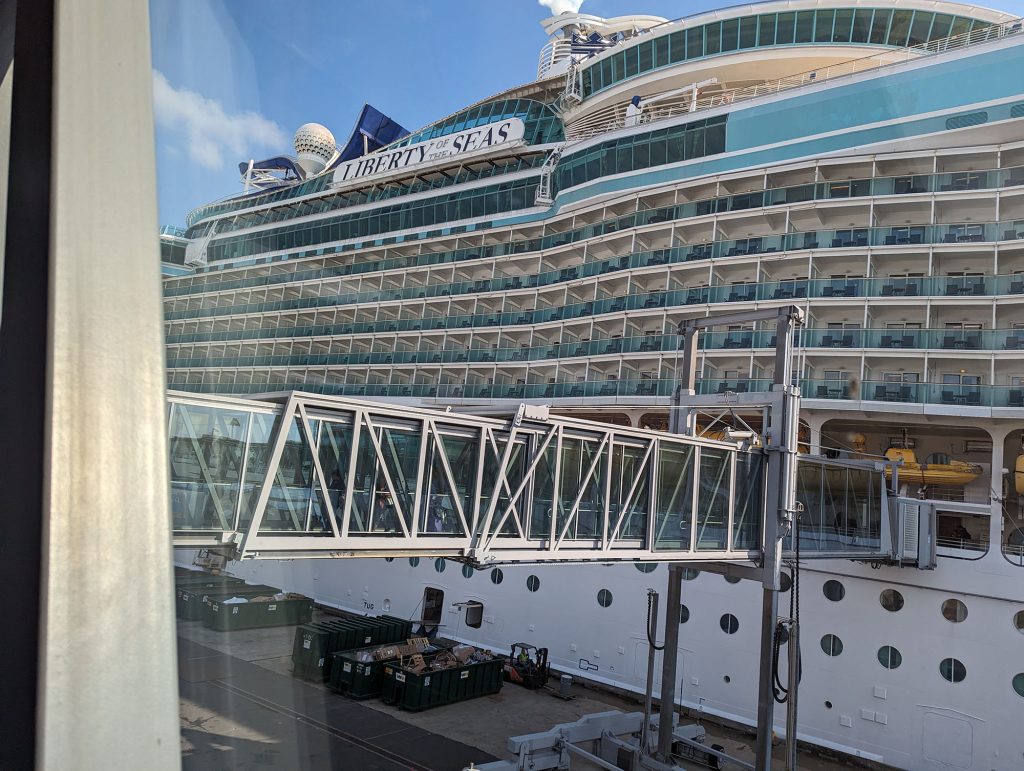 Liberty of the Seas wrap up
Overall, it was a fantastic family cruise on Liberty of the Seas for the 15 of us. After several exhausting family vacations in Disney, the Liberty of the Seas provided us with a very relaxing vacation. It was bittersweet as we left, as the whole family had a good time. There was no fighting over where to eat, no one getting lost and ending up at the wrong theme park, and no excessive planning; it was perfect for us.
Also, as a cruise blogger, it made me realize that sometimes, we can get a little jaded. The Liberty of the Seas is not a new ship…it's quite dated and in need of a face-lift, and I was apprehensive about planning a vacation for all of us on what I deemed a "lesser" ship. We all had an amazing time, though. 
It made me realize it's not always about the latest and greatest. There are tons of solid ships providing great vacations to thousands of families each year. These ships might be more convenient in terms of departure ports, sail dates, and considerably cheaper, so make sure not to limit yourself to just the latest and greatest. That being said, the onboard advertising did a number on my 8-year-old nephew, who said as we were leaving, "Next time, let's go on that new Icon of the Seas." 
Follow along on the rest of our Liberty of the Seas cruise
Liberty of the Seas – Cruise Blog - Day 1 – Bayonne
Liberty of the Seas – Cruise Blog - Day 2 – Sea Day
Liberty of the Seas – Cruise Blog - Day 3 – Bermuda
Liberty of the Seas – Cruise Blog - Day 4 – Bermuda Still
Liberty of the Seas – Cruise Blog - Day 5 – Final Sea Day
5 Hits and Misses on Royal Caribbean Liberty of the Seas
If you want to stay up to date with what we publish, sign up for our monthly newsletter
CruiseSpotlight is an Amazon Associate. We may earn a commission when you click links to retailers and purchase goods.