Miss Cruising? Make Carnival's Cucumber Sunrise from the Alchemy Bar
Last Updated on July 24, 2021
When you're on a cruise, there's no shortage of drinks available; from standard pina coladas and daiquiris, to exotic flavored drinks cocktails martinis. If you have a drink package, see how much a drink package might cost you, then you can try them all out to find what you like, but if you're paying by the drink, you might want to be a little more selective. You might feel inclined to try stick to the standards, but if you're on a Carnival Cruise Ship with an Alchemy Bar, I'd highly recommend a Cucumber Sunrise. It's one of my favorite drinks I've ever had and one of the most popular drinks at the Alchemy Bar. (You can also check out the recipe for my second favorite drink, the Spicy Chipotle Pineapple martini here)
If you haven't been on a Carnival cruise with an Alchemy Bar, it's a bar with specialty cocktails and martinis. Decorated like an apothecary shop of yore, the bartenders wear lab coats to look like pharmacists and mix concoctions to cure what ails you. It's great for pre- or post-dinner drinks and usually has a good energy until 11 pm or so. The drinks are $10.95 and usually completely worth it.
Cruising Tip: Want to try a few of the flavors without going broke? Look in your Fun Times schedule for the "Alchemy Martini Tasting" times. There are usually at least 2 per cruise, and they let you try 4 mini versions of the drinks for $20.
The first time I tried the Cucumber Sunrise, I was on the Carnival Pride, and I was blown away. It had a light fruity sweetness that is well balanced with the lime, and the cucumber gave it a refreshing finish. As soon as I got home, I had to look into how I could make it at home.
Some notes about the ingredients
Carnival's full recipe is below, but I just wanted to make a few notes about the ingredients to help you make the best drink.
Cucumbers – the best ones to use for this are seedless or English Cucumbers, that way, you have to strain less and don't have a cloudy, seeded drink. The easiest way to identify seedless cucumbers is that they come plastic-wrapped at the grocery store (compared to regular cucumbers which are just sold on their own). One regular size cucumber can make between 4 and 6 drinks.
Watermelon Syrup – this is one of the key ingredients in the drink and yet I've tried to substitute it many times because it is hard to find in stores (here's a link for it on Amazon). Before I bit the bullet and purchased the syrup from Amazon, I tried watermelon soda syrup, actual watermelon juice, watermelon crystal light; none of them came close. If you do need a substitute, the closest and easiest is to use watermelon flavored vodka.
Lime Juice – Are you thinking ,"Ugh, I don't want to juice a lime, can't I just use this bottle of lime juice?" Well, STOP because you're about to ruin your cocktail. The taste is way different using bottled lime juice. I've tried several times using it and it just made the drink taste really bad. It's worth it to use real limes and juice them yourself. Pick up one lime for each drink you want to make (1 oz of lime juice is usually about 1 lime).
The Recipe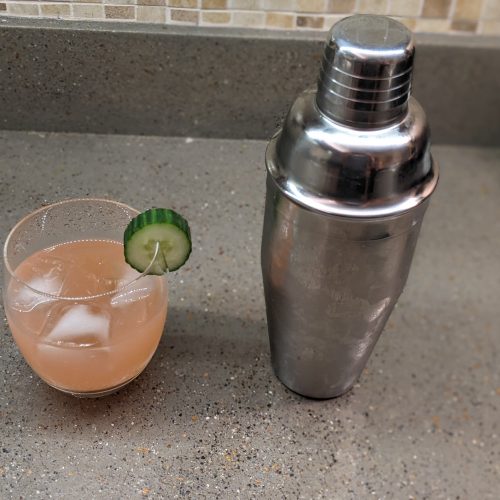 Alchemy Bar's Cucumber Sunrise Recipe
A deliciously refreshing drink from Carnival Cruise Line.
Ingredients  
2

oz

vodka

1

oz

fresh lime juice

1

oz

Monin watermelon syrup Amazon Link

2

english cucumber wheels

3/4

oz

orange juice
Instructions 
Drop 2 cucumber wheels into a cocktail shaker or pint glass and muddle them. If you don't have a muddler, you can use a wooden spoon

Add the rest of the ingredients and ice.

Cover and shake well (about 5 seconds)

Strain into a glass (I use the cocktail shakers strainer and then a mesh strainer to get it really clear)

Garnish the glass with a wheel of cucumber. This is key, it gives you that fresh scent every time you take a sip
Want to try taste it yourself? The Cucumber Sunrise is available in the Alchemy Bar on the following ships:
CruiseSpotlight is an Amazon Associate. We may earn a commission when you click links to retailers and purchase goods.