Make Carnival's Melting Chocolate Cake at Home
Last Updated on March 11, 2021
One of the foods I look forward to on every Carnival cruise is their famous melting chocolate cake at dinner. If you haven't had one, you're missing out. It's on the menu every night in the main dining room so there are plenty of opportunities to try it. For some reason, on some menus, it's labeled as "For the table" but it's individual serving sizes.
The chocolate melting cake is a rich, souffle-like dessert topped with a sprinkling of powdered sugar and a side of vanilla ice cream. A lot of people call it a chocolate lava cake, but that's not technically true. Most lava cakes stand on their own (without a dish) and the fudgey inside pours out as you cut into it. The melting chocolate cake is different; it's served in a ramekin and the inside consistency is closer to a pudding than hot fudge sauce. Either way, it's delicious.
Cruising tip: When you're on the cruise, ask your waiter for a side of peanut butter with it. It's amazing. You can also change up the ice cream, sometimes I like it with strawberry ice cream for a little more fruity flavor.
Been having cruise withdrawal during the COVID pandemic? Well you can make your very own version of the cake. While I've had this recipe for years, I never attempted to try it, but now it fit in perfectly with my quarantine baking. It really was super easy to make and it's all ingredients I had around the house. I didn't have any ice cream though, so I was missing a little something.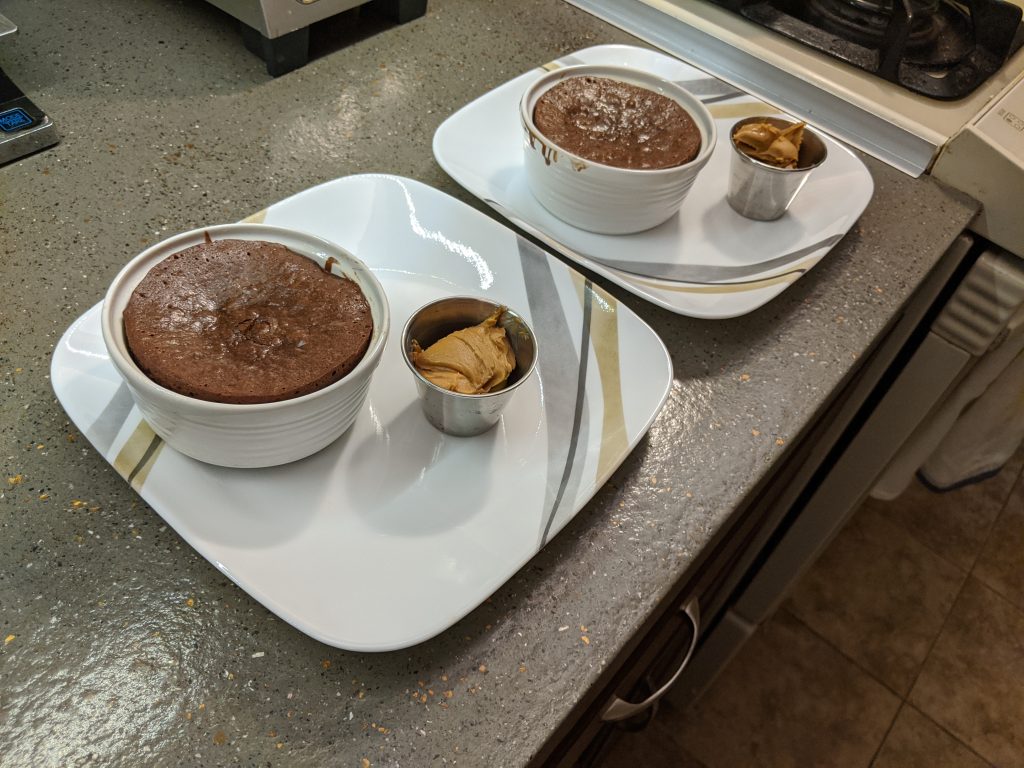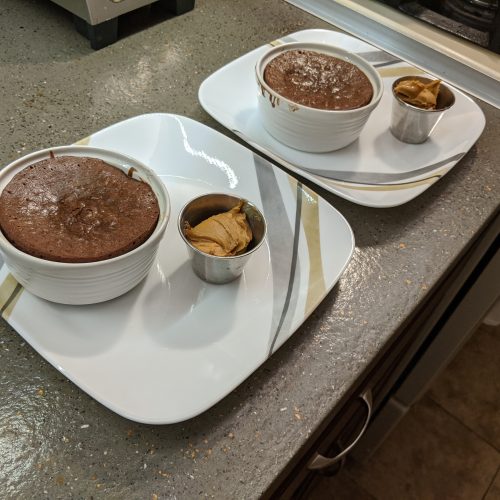 Carnival's Melting Chocolate Cake Recipe
Enjoy the famous Carnival Cruise dessert at home. It takes less than 15 minutes and comes out tasting just like the real thing.
Ingredients  
6

oz

dark chocolate

6

oz

butter

3/4 cup or 12 tablespoons

4

eggs

3

oz

sugar

roughly 1/3 a cup

2

oz

flour

a little less than 1/3 a cup
Instructions 
Preheat oven to 390 degrees.

Melt the chocolate and the butter. You can either do this in a small saucepan or in the microwave. If using the microwave, reduce power to 50% and check every 30 or so seconds.

In a separate bowl, mix eggs and sugar and whisk for a few minutes. You want to have it nice and light with lots of air on it.

Add the flour to the egg and sugar mixture and gently stir

Add the egg mix to the melted chocolate mix and stir gently to incorporate (don't over-mix, you don't want to knock the air out of it).

Pour the mix into the 4 greased molds, dishes or ramekins

Bake for 14 minutes. Try not to open the oven while baking.
Notes
For best results, use eggs at room temperature. Also, make sure your chocolate mixture is warm enough to stir easily. 
If you have a problem with the bottom of your cake getting too cooked (and not "melting"), try putting the ramekins in a pan that has water on the bottom. This will help accommodate for oven's with uneven temperatures. 
Want to try taste it yourself?
The Melting Chocolate Cake is available in the main dining room on these Carnival ships:
Please follow and like us: