Make Carnival's Strawberry Bisque At Home
It's not an understatement to say my mind was blown the first time I tried Carnival's famous Strawberry Bisque. It was my first cruise, and we were onboard the original Carnival Celebration (not to be confused with the upcoming ship). My family piled into the main dining room on the first formal night, dressed up in our finest attire, and after a long session of family picture taking, I was starving. I looked at the menu, and an appetizer immediately stuck out to me "Chilled Strawberry Soup." At the time, I didn't understand what it was supposed to be, but it sounded tasty, so I gave it a shot. It was like a bowl of melted strawberry ice cream, a personal favorite, but it wasn't too sweet. I was hooked.
Every Carnival cruise I've taken since then, I've looked forward to the soup. Over the years, it was renamed to "Strawberry Bisque," to sound more refined, I'm sure, but it still tastes amazing. Originally, it came with some whole strawberry pieces in the middle for presentation, but on my last cruise on the Horizon, they had a strawberry gelee in the center along with a single mint leaf. The waiter put the plate in front of me and then poured my individual serving of soup into the bowl.
Back when Carnival used to do free galley tours of the kitchens, I was lucky enough to get their Strawberry Bisque recipe while I was on the Carnival Legend so I could make it at home. It's really easy to make, has no hard to find ingredients, and tastes just like you'd have on board. I've seen several versions of this recipe over the years, some from Carnival itself. I'm not sure if they've changed it over the years, but the recipe below is a tried and true recipe that is sure to be a hit.
Traditionally, it's served in flat, chilled white bowls, but you can change it up based on what you have. I've even served it in shot glasses with a strawberry piece on the rim at a party last year, and it was a hit.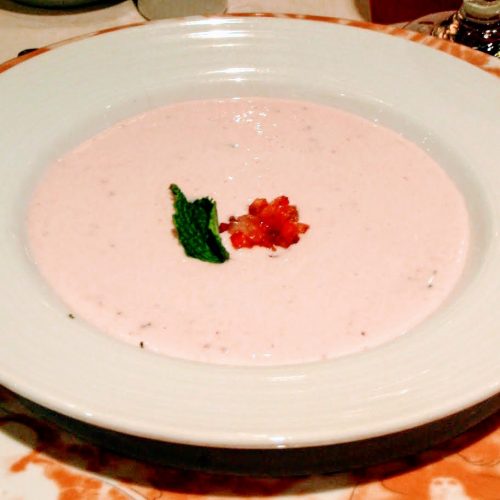 Carnival's Strawberry Bisque
A delicious soup served as an appetizer in the Main Dining Room of every Carnival ship.
Ingredients  
2

cups

frozen strawberries

2

cups

milk

(whole milk is richest but any will work)

1

cup

heavy cream

1/2

cup

sour cream

2

tbsp

sugar

4

fresh mint leaves

for garnish (optional)
Instructions 
Place all the ingredients (except mint) into a blender

Blend on high until perfectly smooth

Chill overnight in the fridge (although it also tastes pretty good if you have no patience and eat it immediately).

For best effect, serve in chilled bowls and put a slice of fresh strawberry in the middle of the bowl
Want to try taste it yourself? It's available in the main dining room on the following ships:
CruiseSpotlight is an Amazon Associate. We may earn a commission when you click links to retailers and purchase goods.