Make the Alchemy Bar's Spicy Chipotle Pineapple Martini at Home
Last Updated on September 17, 2023
The Alchemy Bar is a staple on any Carnival Cruise Ship. This specialty bar makes high-end concoctions and beverages that are great for pre- or post-dinner drinks. The bartenders here, dressed as alchemists (or old-school pharmacists), whip up some delicious cocktails.
Cruising Tip: Want to try a few of the flavors without going broke? Look in your Fun Times schedule for the "Alchemy Martini Tasting" times. There are usually at least 2 per cruise, and they let you try 4 mini versions of the drinks for $20.
My favorite is the Cucumber Sunrise (see the recipe here), but my second favorite is the Spicy Chipotle Pineapple Martini. It's a delicious drink with a little sweetness from the pineapple and a little heat from the chipotle syrup and the pepper-infused vodka. 
Now, you can make the drink at home to enjoy. While meant to be prepared fresh for each drink, you could easily batch it and make a pitcher for your next party. 
Here are the ingredients you'll need to whip one up for yourself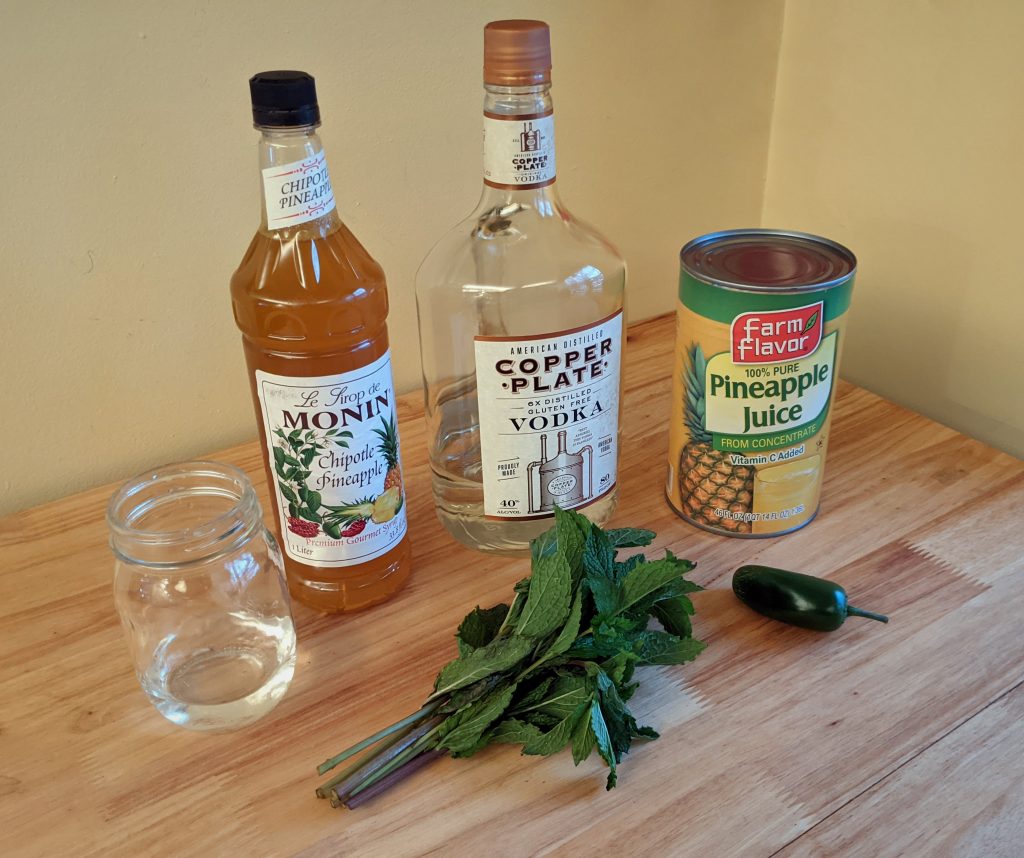 Vodka
This ingredient is key for making an authentic Alchemy Bar version of the Spicy Chipotle Martini. Carnival also has a Spicy Chipotle Martini at their Atrium Bar on the ship, but it doesn't taste anywhere as good. If you look at the ingredients on the menu, the only difference seems to be that the Alchemy Bar lists Belvedere Vodka and the Atrium Bar lists Tito's. 
That couldn't be the difference though; the one at Atrium Bar lacked the complexity and depth of flavor of the Alchemy Bar's version (always opt for the Alchemy Bar versions, it's only $0.50 more but it tastes a lot better).  If you have the Cheers package, try both yourself and see if you can see the difference.
After digging around some more, I found out that the Alchemy Bar uses infused vodka in many of their cocktails. In this case, it's a habanero infused vodka (likely Belevedere). It makes a huge difference in how the drink comes out; it will be good if you just use plain vodka, but the infused vodka takes it to the next level. I tried to find flavored vodka with jalapeno or habanero to make things easier, but none of my local stores carried them. (Pinnacle, Stoli, and Ballast Point Brewing make some).
How do you make infused vodka?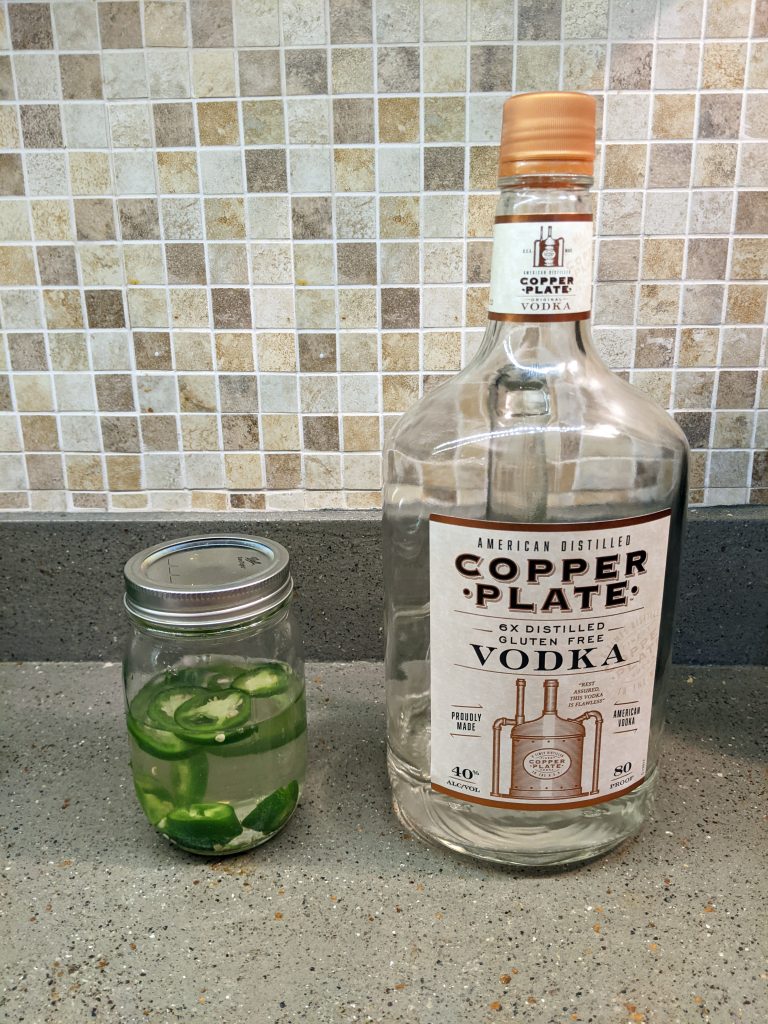 Here's an easy way to make jalapeno-infused vodka. While Carnival uses habanero infused vodka, jalapeno is easier to make on a small scale. This will make enough infused vodka for 4 drinks.
Pour 8 oz (1 cup) of vodka into a container.
Add 1 jalapeno, sliced into coins.
Let sit for 30 minutes
The longer it sits, the spicier it gets, so it depends on your preference. Also, if you like the flavor but not the heat as much, remove some seeds.
Simple Syrup
You can buy this from any grocery store, liquor store, or Amazon (see the link), but it's also really easy to make it yourself. It's just sugar water that's been cooled, basically. To make it, put 1/4 cup sugar and 1/4 cup water in a microwave-safe container (glass is better). Microwave until it just starts to boil (usually 2 minutes). Carefully remove from microwave and stir well until it's all dissolved and then refrigerate. Once it's cooled, it's ready to use. This will be enough for 4 drinks. 
Monin Chipotle Pineapple Syrup
Many of the cocktails at the Alchemy Bar use syrups from Monin. I'm not sure if it was a partnership with them or if they had the best selection of syrups, so Carnival went with them. I haven't been able to find these syrups in any nearby store, but you can purchase them through Amazon (click here for link) or the Monin website. You only need 1 ounce of syrup, so 1 bottle will make 32 drinks.
Mint
I was surprised when I saw mint listed on the ingredients list; I didn't remember any mint flavoring when I tried it on the Pride or Horizon. At first, I considered skipping the mint because I'm not a fan of mint in desserts or drinks (it makes everything taste like toothpaste to me). Ultimately I decided to try it, though, and I'm glad I didn't skip it. After I made a batch, I realized it wasn't really the mint flavor you were going for; it was the cooling effect to tone down the jalapeno vodka and chipotle pineapple syrup. If you really don't like mint, I suggest still using it in the drink, but don't garnish the drink with it (if the leaf is on top, it'll have more of a mint smell to it). 
Pineapple Juice
I usually prefer Dole's little cans of pineapple juice when I make drinks, so I don't end up wasting a lot. Unfortunately, the store was out when I went, so I bought a full 46 oz can. I had a LOT leftover. 
Ice
Usually, you don't serve martinis with ice, but at home, it might take me a while to finish a cocktail, and this one is best when it's super cold. You can just skip the ice and drink it straight, but I love using my ice spheres. They cool down the drink quickly and last a very long time, so they don't water down the drink too much. They're also a hit at parties or get-togethers. Here's the ice sphere mold I used.
Let's make the drink!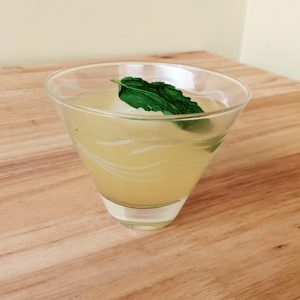 Alchemy Bar's Spicy Chipotle Pineapple Martini
The Spicy Chipotle Pineapple Martin is a delicious drink with a little sweetness from the pineapple and a little heat from the chipotle syrup and the pepper-infused vodka. It's served at Carnival's popular Alchemy Bar and is a favorite of many.
Ingredients  
2

oz

Vodka

1

oz

Chipotle Pineapple Syrup

1

oz

Pineapple Juice

1/2

oz

Simple Syrup

6 to 8

Mint Leaves
Instructions 
Fill a cocktail shaker halfway with ice cubes

Add all the ingredients into the shaker (save one mint leaf for garnish)

Strain into martini glass
Want to taste it yourself? The Cucumber Sunrise is available in the Alchemy Bar on the following ships:
CruiseSpotlight is an Amazon Associate. We may earn a commission when you click links to retailers and purchase goods.