Make Trash Can Nachos from Carnival's Pig & Anchor Smokehouse
Last Updated on November 28, 2023
There's something about nachos that make them the ultimate junk food. Crisp tortilla chips topped with gooey melted cheese and sprinkled with fresh Pico de Gallo and cilantro…it doesn't get much better than that. But the presentation always looks a bit messy, and there are always those chips at the bottom of the pile that never get any of the toppings on them. Celebrity chef Guy Fieri has his own take on this dish called Trashcan Nachos that solves this problem.
Guy's unique take on nachos stacks the chips high, making sure every chip gets some topping. It also switches up the flavor profile, swapping traditional Mexican flavors for BBQ-inspired flavors. It's a massive pile of nacho deliciousness. You can top them with black beans, pulled pork, or BBQ brisket.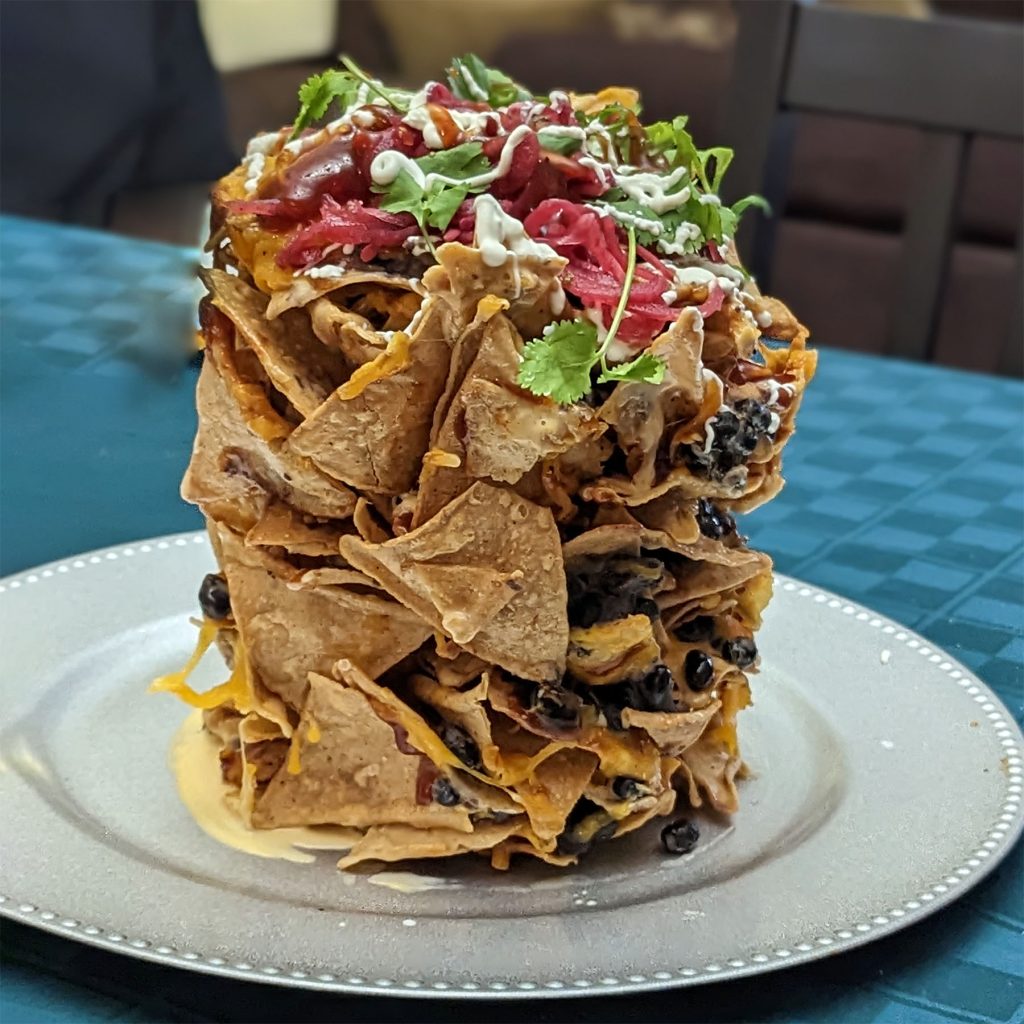 You can try it yourself at Guy's Pig and Anchor Smokehouse, but only on the Carnival Horizon and Carnival Panorama. They're also available at some of Guy Fieri's restaurants on land, like his Tequila Cocina in Boston.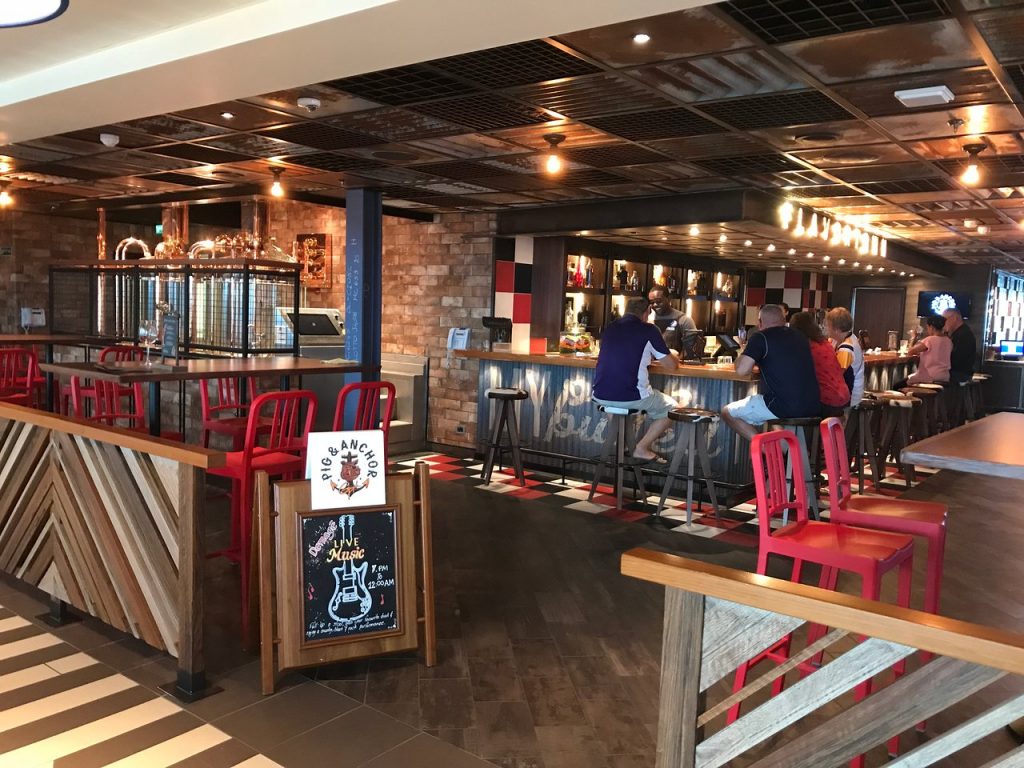 But why wait until you're onboard one of the Carnival ships? Now you can make them at home. They're great for impressing your friends at a party or get-together. I was lucky enough to receive a kit from Goldbelly as a Christmas gift, and it was surprisingly easy to make. It was a hit at the holiday party I served it at. 
There are two ways to make Trash Can Nachos.
1) The Easy Way – Guy's Trash Can Nacho Kits from Goldbelly
The easiest and most faithful to the original way to make Trash Can Nachos yourself is to order a kit through Goldbelly. The kit comes with everything you need to make the nachos with precise, pre-measured portions. It's just like those meal prep kits that Blue Apron sells. You don't have to go to the grocery store or deal with any food waste.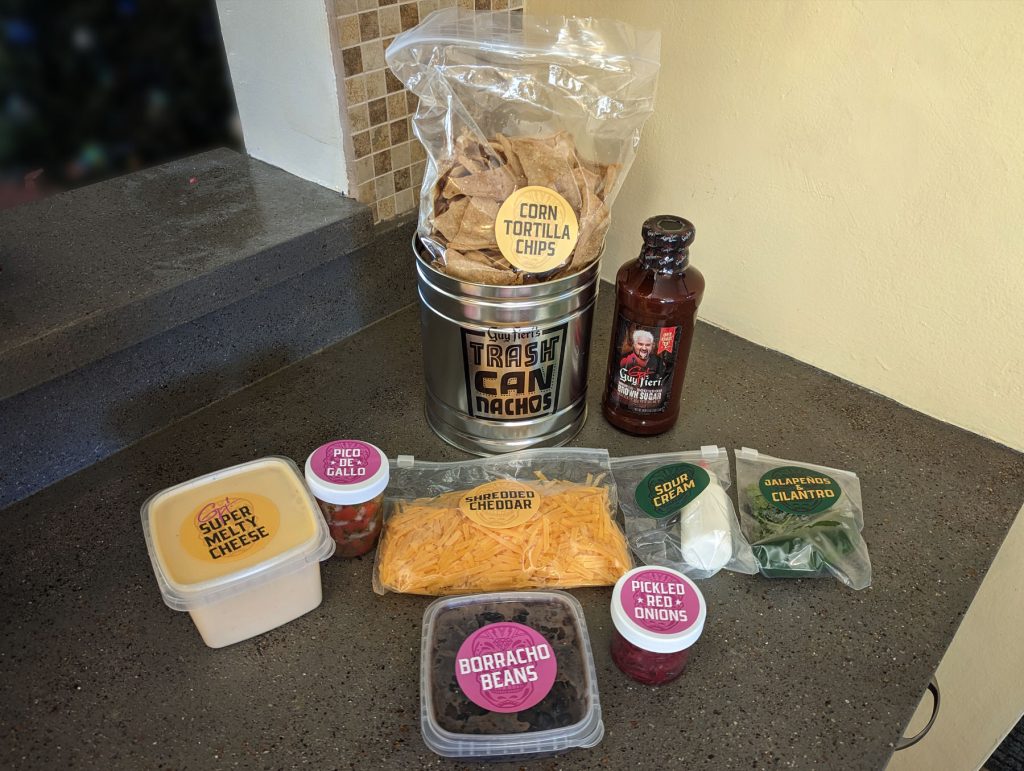 Typically, I'm a "from scratch" kind of guy, but I got the Trash Can Nachos kit as a gift and was amazed at how easy it was. Just be prepared; this kit makes a lot of nachos. It says it serves 4-6 people, but if it's just one of many dishes at a party, it'll go much further. 
Gold Belly options for Trash Can Nachos
Gold Belly has four different versions available:
Guy's BBQ Black Bean Trash Can Nachos
Guy's BBQ Pulled Pork Trash Can Nachos
Guy's BBQ Beef Brisket Trash Can Nachos
Guy's Dessert Trash Can Nachos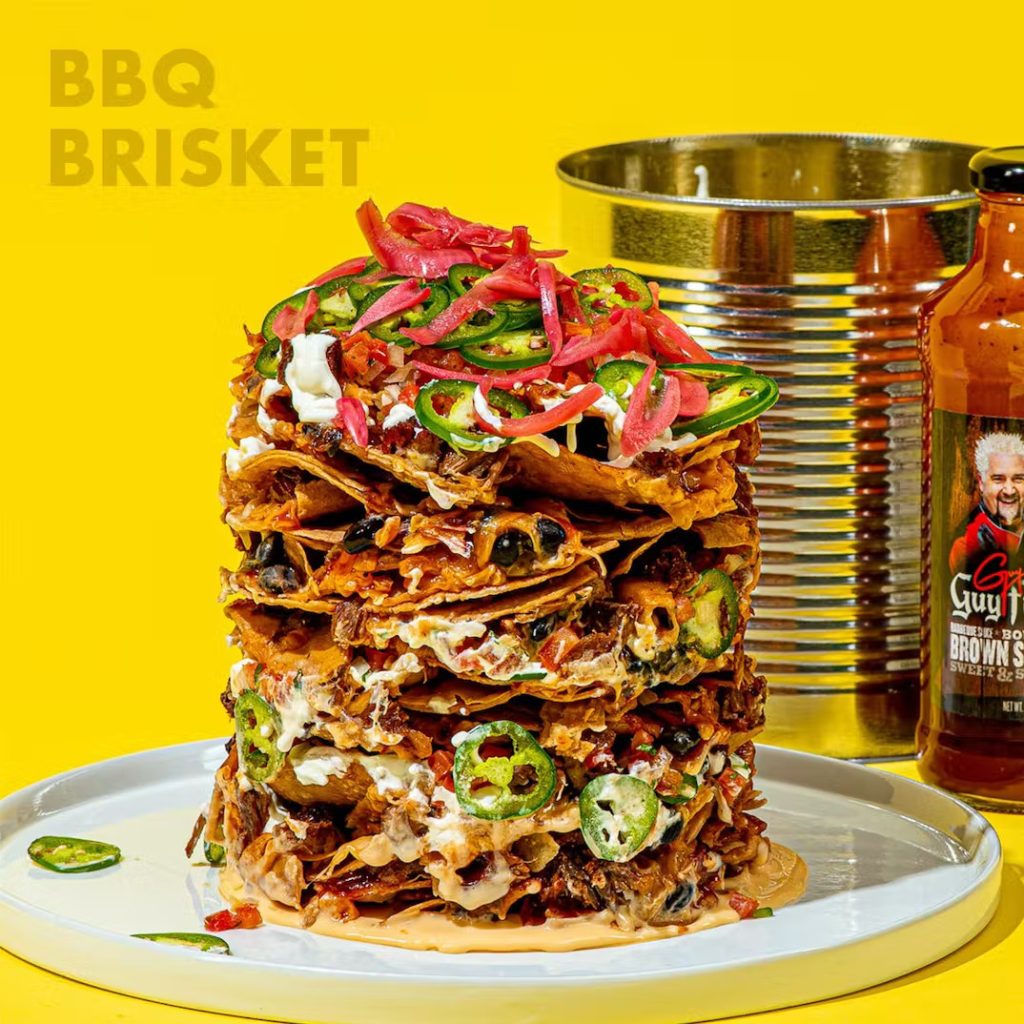 2) The Hard Way – Making Trash Can Nachos from scratch
You can also make these nachos yourself without the kit. The main appeal of trash can nachos is more about "how" it's assembled than what's in it, so you can be creative with what you top them with. Add or take away ingredients as you please. The one thing that is a must is the "super melty cheese." It's the glue that holds this massive tower together; without it, I highly doubt you'd be successful.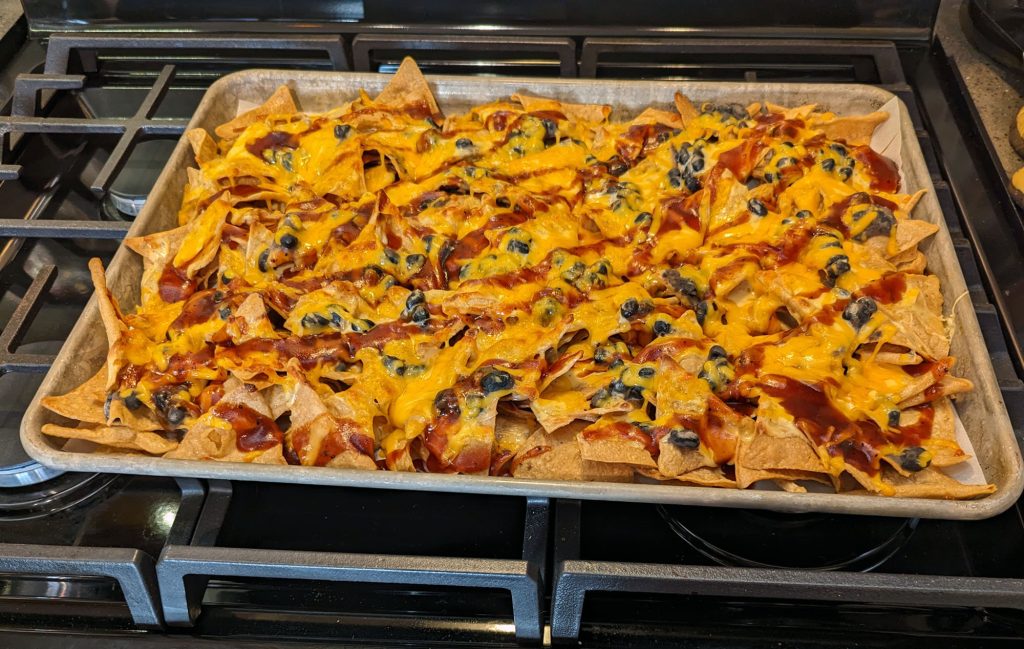 To make the tower, you first spread all the chips on a sheet pan and then top them with the toppings. This is the key as it makes sure each chip is properly coated. Once they're all topped, you put the sheet pan under the broiler for a few minutes until the cheese is melted and chips are toasty.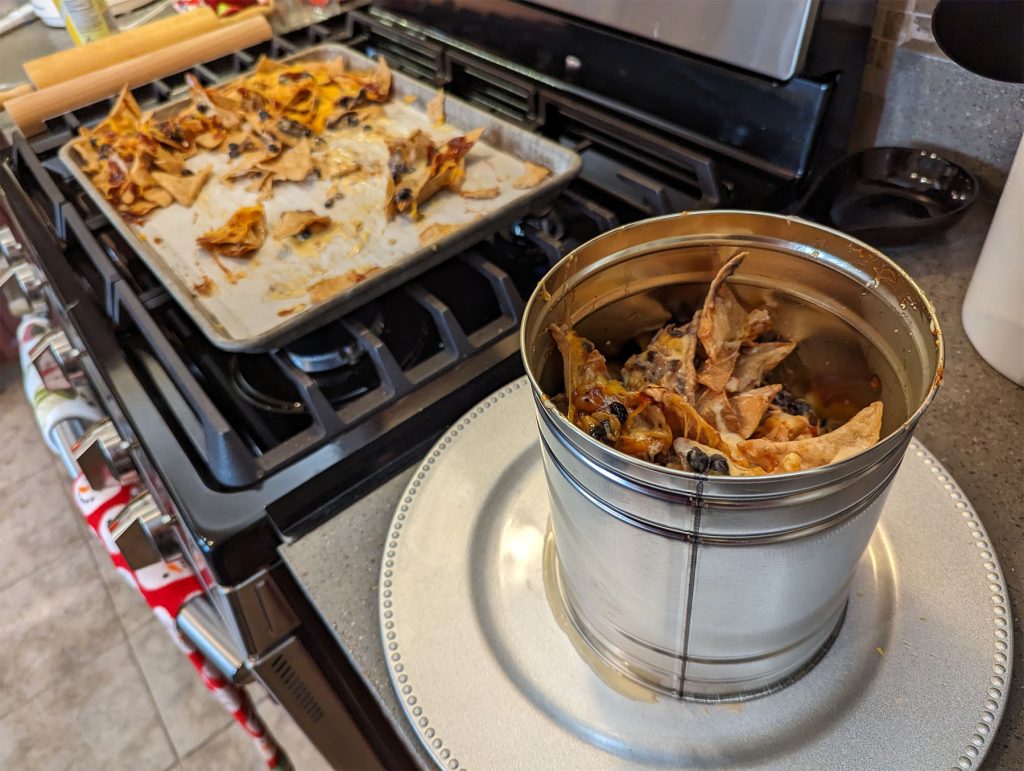 Next, you layer the chips in the can before finally revealing your masterpiece.
Trash Can Nachos Ingredient Notes
If you're going to attempt your recipe on your own, here are a few notes about the ingredients.
Tortilla Chips
You'll want mid-sized, sturdy chips for this recipe. Tostitos are too big and the "bite-size" dippers are too small. You also want to stay away from "Cantina-style" or thin chips. These chips are a good example of what you want, solid and compact.
"Trash Can"
The "trash can" is also key to making this recipe. You'll need a container that's open at both the top and bottom. The trash can provided by Goldbelly is 6″ wide and 6.5″ high. Your can doesn't have to have those exact dimensions though. You can try a large coffee can that's been opened on top and bottom. Because the can is never actually put in the oven, you can even try poster board to make a cylinder.
BBQ Sauce
Something that makes these nachos stick out from others is that it doesn't use traditional Tex-Mex flavors. Instead, Guy's Trash Can Nachos has more of a BBQ flavor. To achieve that, you use BBQ sauce instead of salsa. The Goldbelly Kit comes with the Brown Sugar Bourbon flavor of Guy's BBQ Sauce. Guy has a few other flavors you can use as well, but you can also use your favorite brand of BBQ sauce.
Super Melty Cheese (SMC)
The Super Melty Cheese (SMC) is literally the glue that holds the tower of chips together. It's a key to the success of the recipe and probably takes the most work to replicate. The sauce has to be sufficiently sticky but also flavorful at the same time. A jar of canned queso is usually too runny to do the trick.
Guy's official recipe is:
2 ½ cups half-and-half
1 teaspoon Worcestershire sauce
1 teaspoon hot sauce
10 ounces easy melt cheese (such as Velveeta), shredded
5 ounces provolone cheese, shredded
5 ounces cheddar cheese, shredded
5 ounces smoked gouda cheese, rind removed, shredded
In a 2 quart saucepan, bring ½ cup water and the half-and-half to a simmer over medium heat.
Add the Worcestershire and hot sauce. 
Using a whisk, mix in the Velveeta a handful at a time until fully incorporated
Gradually add the remaining cheese.
Mix until the cheese has melted and the sauce is smooth.
Guy's Trash Can Nachos Recipe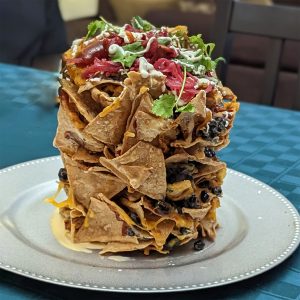 Carnival Pig & Anchor Trash Can Nachos by Guy Fieri
Enjoy this massive stack of nachos with a BBQ twist. You'll find them at Guy's Pig & Anchor Smokehouse on the Carnival Horizon and Panorama but now you can make them at home. It's perfect for a party.
Equipment
1 "Trash Can"

A container that's 6" wide by 6.5" tall with both ends open
Ingredients  
1/2

bag

Tortilla chips

8

oz

black beans, pulled pork, or brisket

1

cup

shredded cheddar cheese

1

cup

super melty cheese (SMC)

(see above)

1/2

bottle

Guy's BBQ Sauce

1/2

cup

pico de gallo

3

spigs

cilantro

2

tbsp

pickled onion

1

jalapeno (sliced)

(optional)
Instructions 
Turn on your oven's broiler (or 400 degrees if you don't have a broiler)

Spread tortilla chips evenly over a roasting pan

Sprinkle black beans, pulled pork, or brisket evenly over the chips.

Drizzle SMC cheese sauce over chips so they're all coated

Drizzle BBQ sauce across chips

Place in oven for 4-5 minutes until cheese is melted and chip edges are browned

Remove from oven and set aside

Place a small amount of SMC on a plate. This will hold the tower to the plate.

Place the "trash can" in the middle of the plate

Use a spatula or tongs to pile the chips in the "trash can." Do 1/3 of the tray at a time. Press down gently between layers to "glue" them together (don't break the chips).

Drizzle sour cream on top of the tower, and top with pico de gallo and cilantro sprigs.

Move the plate to where you will be serving and gently lift the can off to reveal your trash can nachos.
CruiseSpotlight is an Amazon Associate. We may earn a commission when you click links to retailers and purchase goods.