New Details on the NYC-based Carnival Venezia
Today, Carnival Cruise Line released some additional details about the Carnival Venezia, a "new" ship that will be sailing from New York City in 2023. 
The Venezia is actually a ship that has been sailing for sister cruise line Costa Cruise Lines since 2019. Costa built the ship for the Chinese market, but due to COVID restrictions, it can't sail there, and instead, it's being brought to the US to sail for Carnival. 
The ship will be part of their Costa by Carnival initiative and will have a unique style and feel that is entirely different from the rest of the Carnival Fleet. 
What can you expect if you're sailing on the Carnival Venezia? How is it different from the Vista-class ships? We go into the differences below. 
Carnival Venezia is a new "Venice-class" of ship
The Carnival Venezia is technically a Vista-class ship, meaning it'll be a similar size and layout to the Carnival Vista, Carnival Horizon, and Carnival Panorama. It's different enough though, that Carnival is calling it a new Venice-class of ship.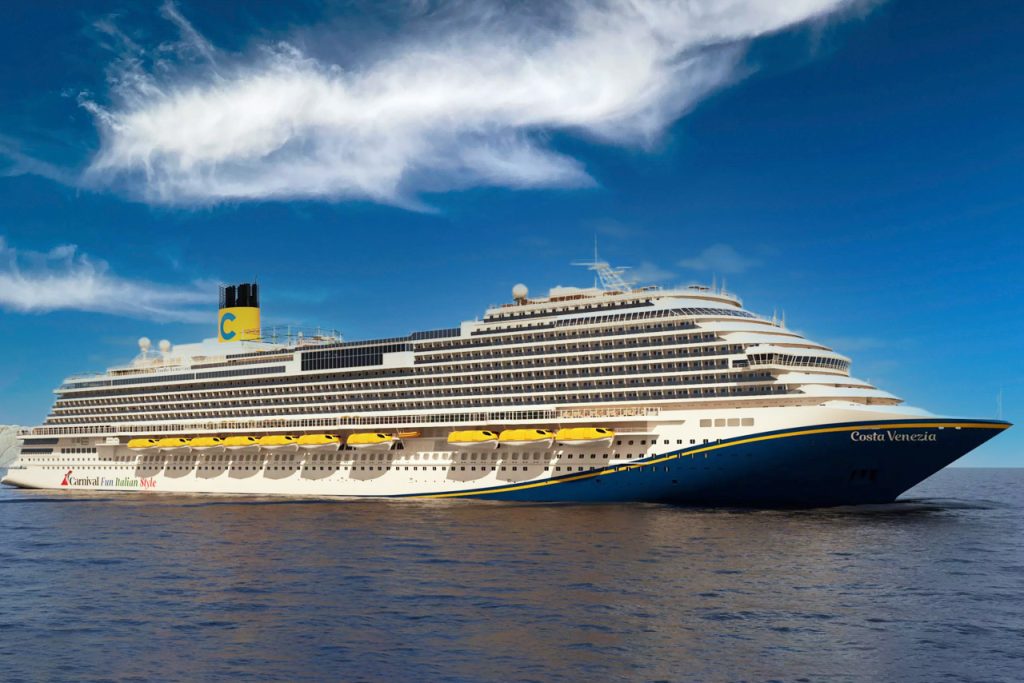 These ships will appear as Costa ships from the outside with their signature blue and yellow colors and a unique Italian design on the inside. Carnival staff will be running the ship, though. Carnival also made a bunch of changes to help it remain consistent with the brand. 
An enclosed pool on Lido deck
Sailing from NYC in the winter is rough, with much of the pool deck being useless in the cold weather. The Venezia has a pool with a moveable large glass dome that makes the Lido Pool useable year-round. It makes this ship perfect for North East sailings.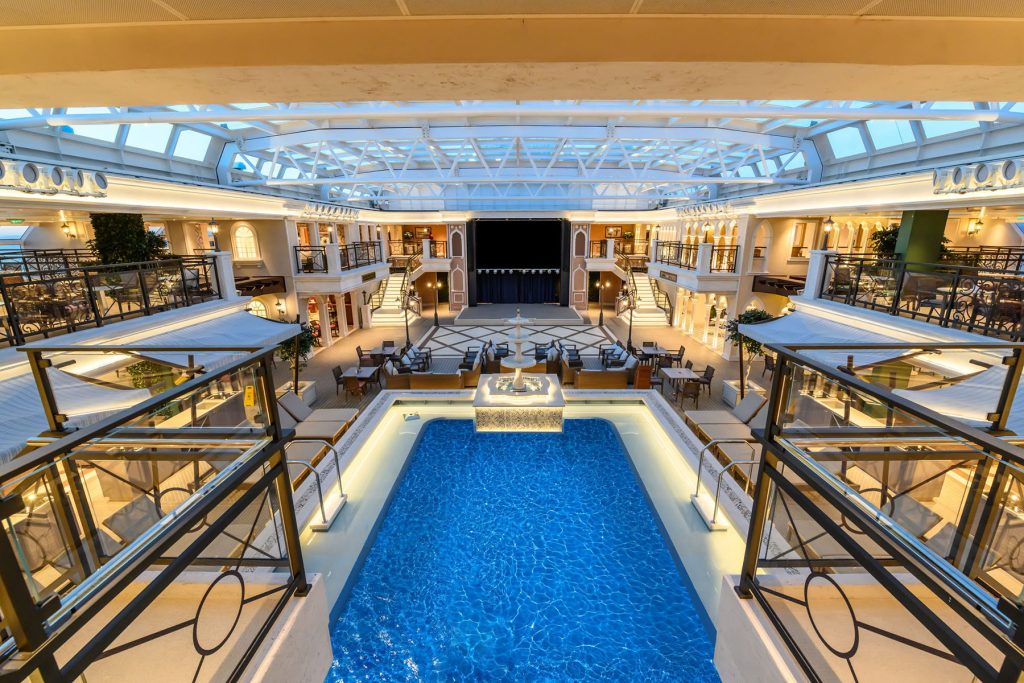 Returning and new dining favorites on Carnival Venezia
When Carnival first announced this unusual initiative, they provided little information about what Carnival staples were coming to the fleet. However, now we know some of the new dining venues available to guests. 
Guy's Burger Joint goes Italian
It's not a Carnival ship without a Guy's Burger, and thankfully they realized that and will be bringing Guy's Burget Joint to the new ship. The restaurant looks completely different from any other ship in the fleet, with a complete Italian makeover. 
Guests can also order some new options like a pepperoni burger, or an Italian-style burger called the Big Mozz; a burger smothered in melted mozzarella cheese. 
La Strada Grill replaces Pig & Anchor BBQ
This venue is located on the Lanai and replaces the Guy's Pig and Anchor BBQ that's open for free lunch on sea days on the Carnival Vista-class ships. It'll serve Italian street food and sandwiches. 
Tomodoro replaces Blue Iguana 
Tomodoro is a new fast-casual dining venue that's in the Lido deck area. It's pretty much if you took Carnival's Blue Iguana Cantina and gave it an Italian twist. The restaurant has standard staples like burritos and tacos but also some new fusion dishes that combine Italian ingredients with Mexican dishes. They call it "Mexitalian fusion."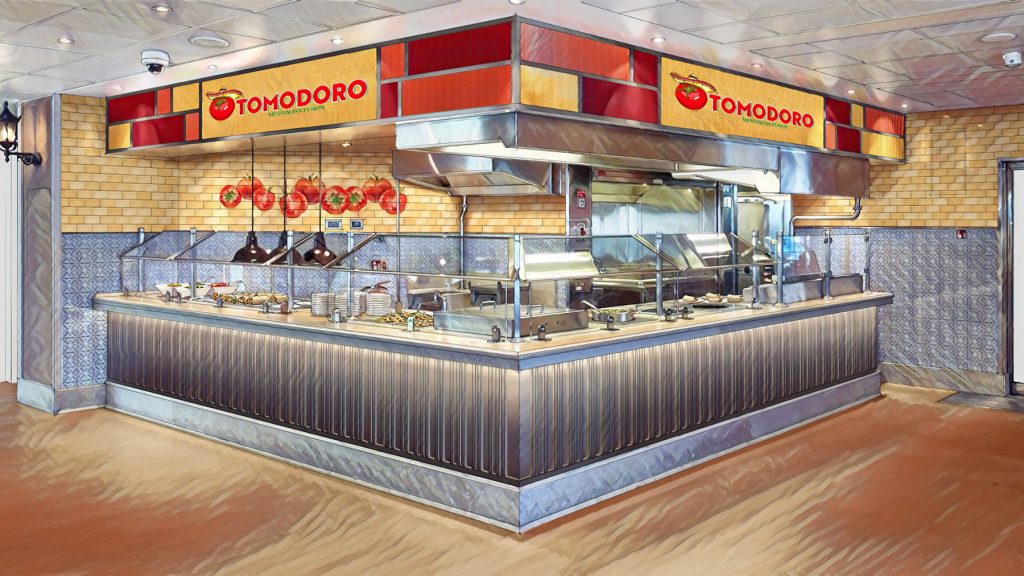 Spectacular Main Dining Rooms
The Carnival Venezia will have two main dining rooms styled in Italian opulence. The Canal Grande is a multi-story venue with an actual gondola in the middle, while the Marco Polo restaurant is just one story.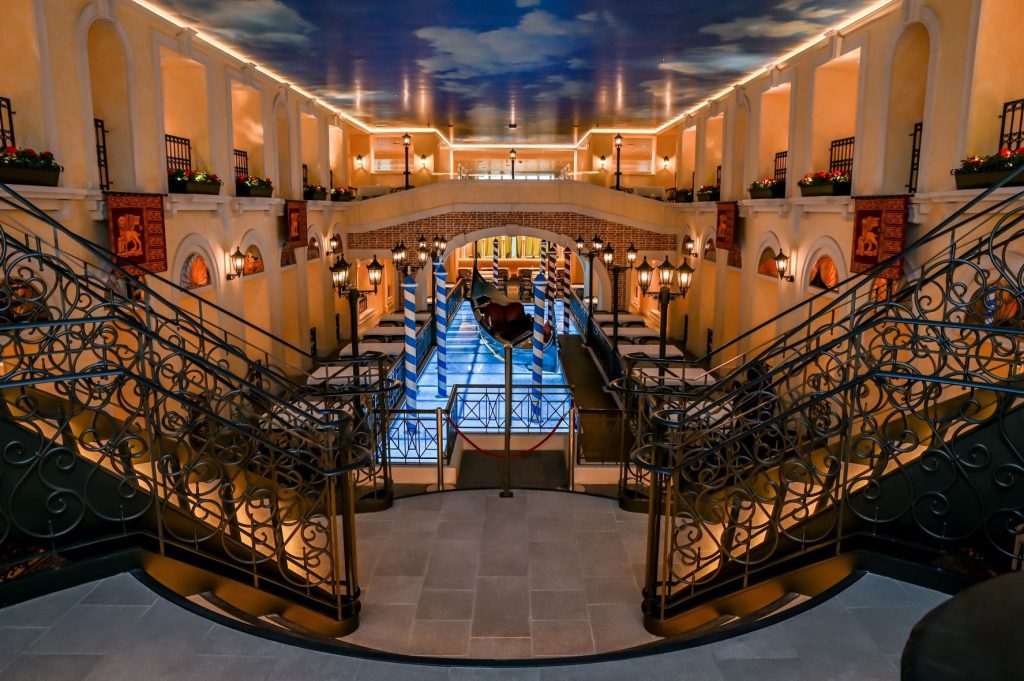 Both dining rooms will offer a three-course dinner menu. While it will be similar to the menu the rest of the fleet offers, there will also be Italian dishes available each night, including some favorites from Cucina Del Capitano. 
New Specialty Italian Restaurant
In another odd choice, Carnival's signature Italian restaurant, Cucina del Capitano, will not be on this Italian-style ship. Instead, they created a new specialty restaurant that they'll tell us more about later. It'll take the place of Guy's Pig & Anchor Smokehouse and Brewhouse on Deck 5. It'll offer both inside and outside seating and an oven that makes fresh baked focaccia. 
New bars on the Venezia
While the Venezia will have staples like the Heros Tribute Lounge and Piano Bar 88, it'll also have some new Carnival bars. It gives guests plenty of options to use their Cheers drink packages. 
Amari Bar replaces Alchemy Bar
In a surprising twist, Carnival will not add the Alchemy Bar that many know and love on this ship. Instead, they're introducing the Amari Bar. It's similar in concept to the Alchemy Bar, with expert mixologists and an interactive cocktail experience, but it'll feature drinks such as a negroni or Amalfi martini. While Carnival has indicated that some Alchemy favorites will be on this menu, it's confusing why Carnival would get rid of something that's on literally every other ship in the fleet.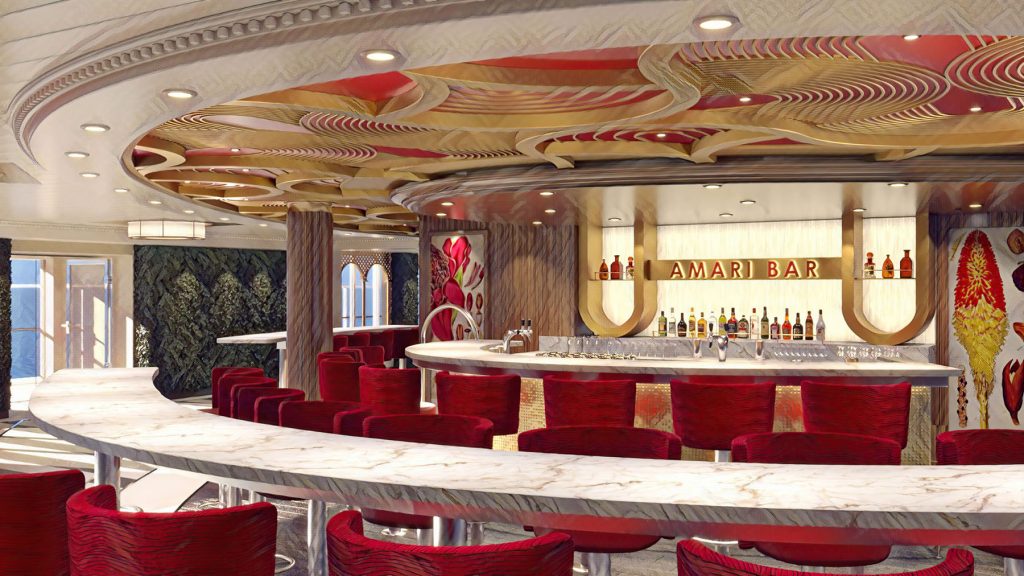 Frizzante replaces Guy's Pig and Anchor Brewhouse
Frizzante is the new bar that specializes in bubble drinks and beverages. It'll be located outside the new specialty restaurant and around the corner from the Gondola Lounge (Ocean Plaza on Vista-class ships). It'll offer bubbles, spritzes, and draft beers. Throughout the day, it'll also offer specialty coffees and biscotti.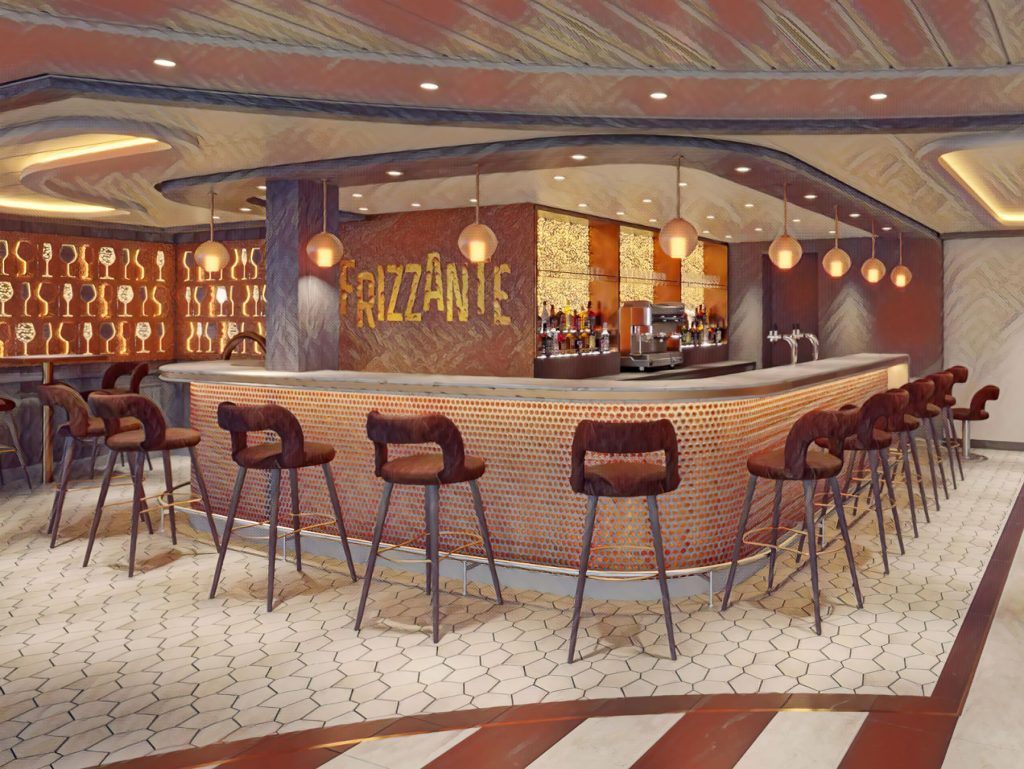 Javablue Cafe returns but in a new area
Coffee lovers on Carnival know that Javablue Cafe is the place to get their caffeine fix on a cruise. For the Venezia, Java Blue moves up to the Lido Deck so you can grab a cocktail and sit outside in the Lido Plaza area. Don't worry; if you're on a lower deck, you can still get your coffee fix at both the Atrium Bar and the new bar Frizzante.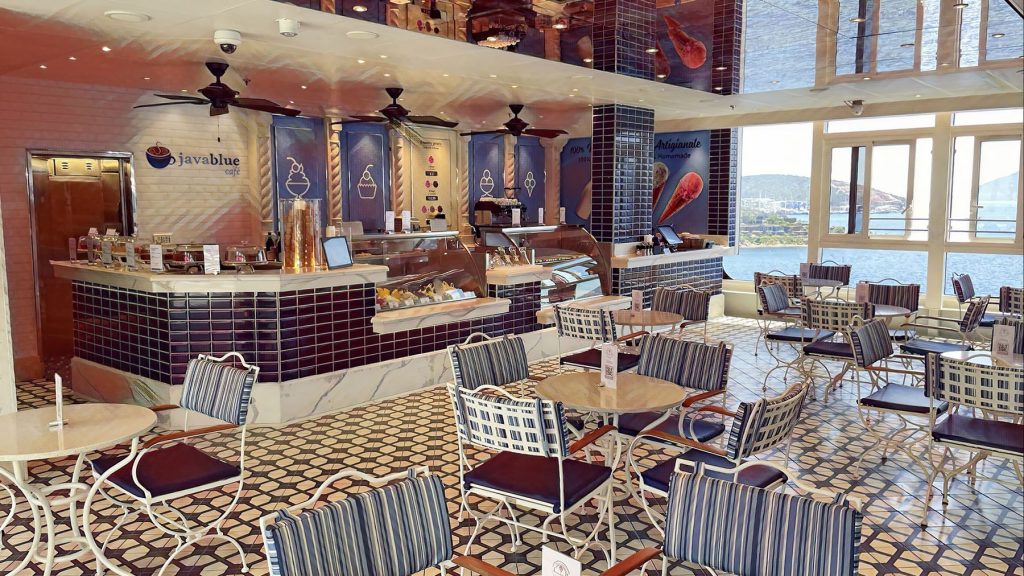 Carnevale Bar & Lounge replaces Havana Bar
A new concept called the Carnevale Bar & Lounge will replace the Havana Bar found on the Vista-class ships. It's inspired by the Carnevale di Venezia, an annual festival held in Venice. Guests will find live music and fine Italian wines and cocktails. Carnival says it has a "relaxing atmosphere with a cool vibe," so it'll be quite different from the energetic Latin theme seen in the Havana bar.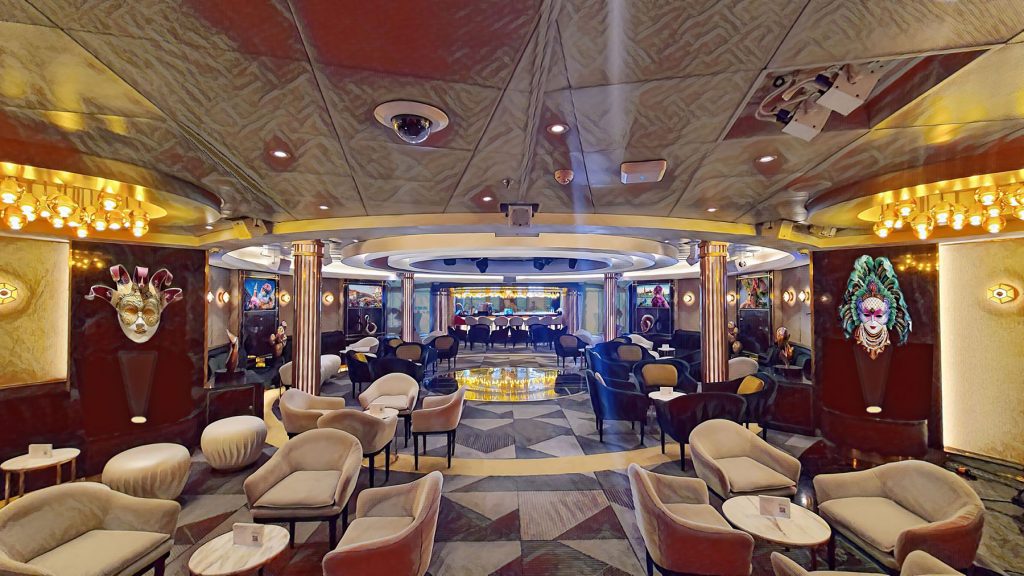 Serenity Area with a splash of Spritz
The Venezia will still offer the Carnival's Serenity Adults-only lounge area. For the most part, it will be similar to the space found on Vista-class ships, with tons of comfy seating and nooks and crannies to relax in. It's located at the front of the ship, so it will likely be a bit windy, but it'll be a nice place to get away.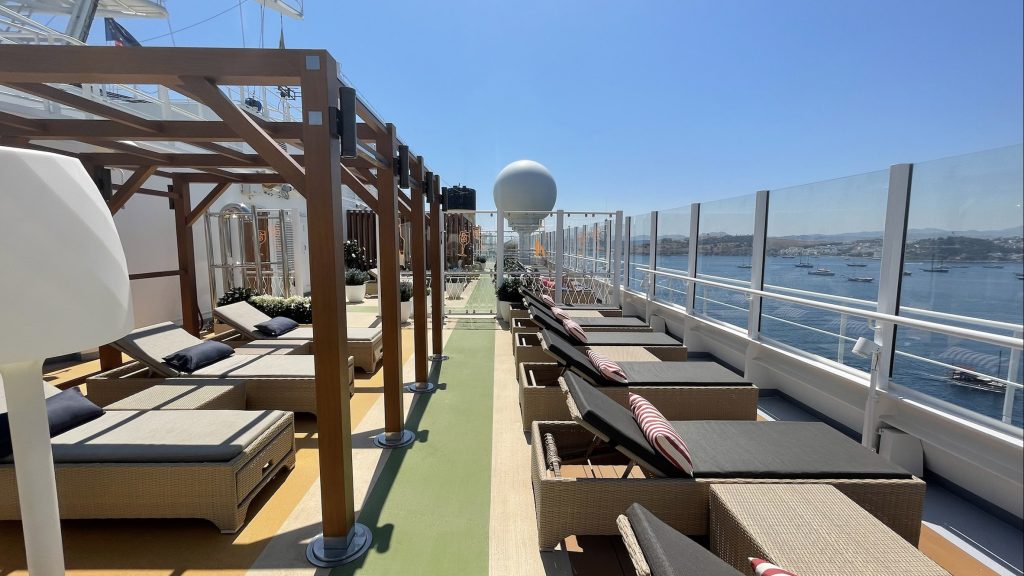 The Serenity Bar is being replaced by Spritz, another bar dedicated to bubbly cocktails. 
Rococo replaces Red Frog Rum Bar
Since the Caribbean-themed Red Frog Rum Bar would stick out like a sore thumb on this ship, Carnival will introduce the new Rococo bar. It'll have familiar frozen cocktails for poolside relaxing as well as Italian-themed drinks like limoncello and bellinis.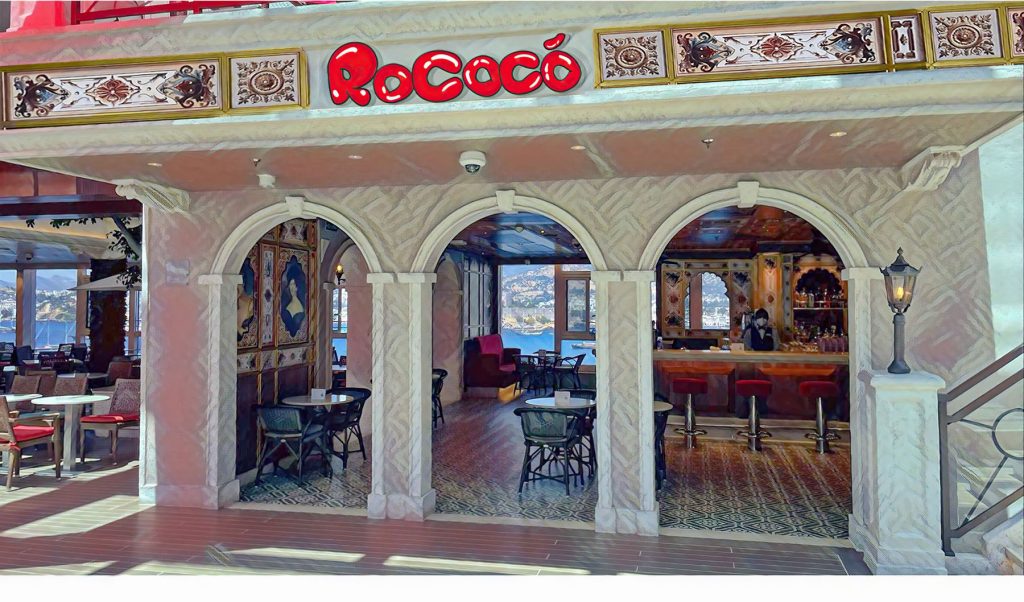 Kid-friendly entertainment on Venezia
The Carnival Venezia offers many of the kid-friendly activities found on other Carnival ships. This ship has a large Waterworks play area, a ropes course, bocci ball, and a mini golf course. Unlike the Vista-class ships, it will not have a SkyRide.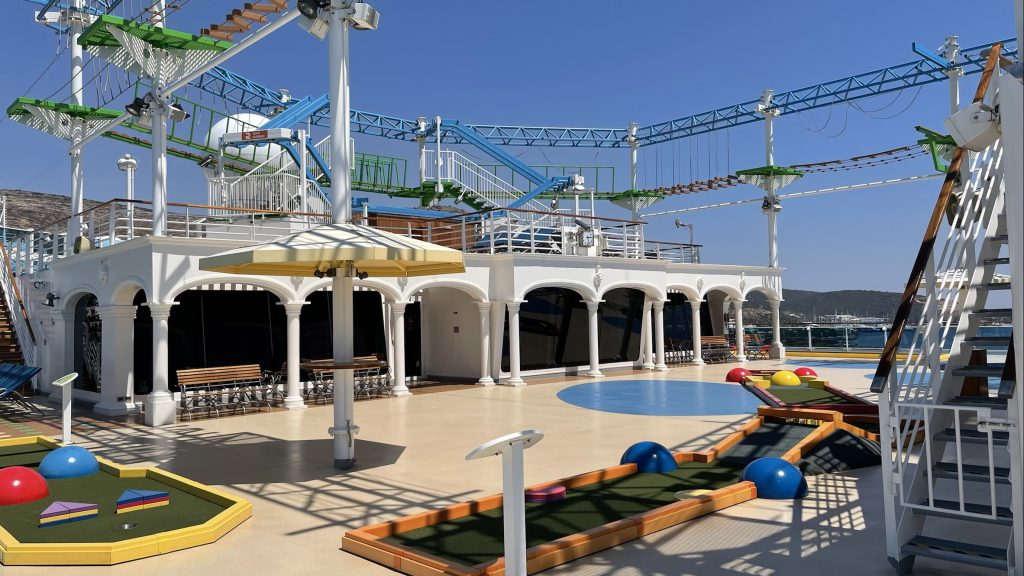 The standard Camp Ocean kid's club programs will also get a bit of an Italian twist. They'll have activities like gondola racing and futbol. 
Ocean Plaza is now Gondola Lounge
Ocean Plaza is typically a hub of activity and fun on Vista-class ships. On the Venice-class ships, Carnival changed the name to the Gondola Lounge, but it'll still serve the same function. It'll have water-themed decor and a stage and dance floor that will be busy throughout the day. It also maintains access to the outdoor promenade called the Lanai, which offers excellent seating and views around the ship. 
Teatro Rosso replaces Liquid Lounge
When Costa Cruises designed the Venezia, they were smart and didn't implement the poorly designed Liquid Lounge that Carnival put on the Vista, Horizon, and Panorama. Instead, on Venezia, they have the Teatre Rosso, a traditional-style theater with elegance and class.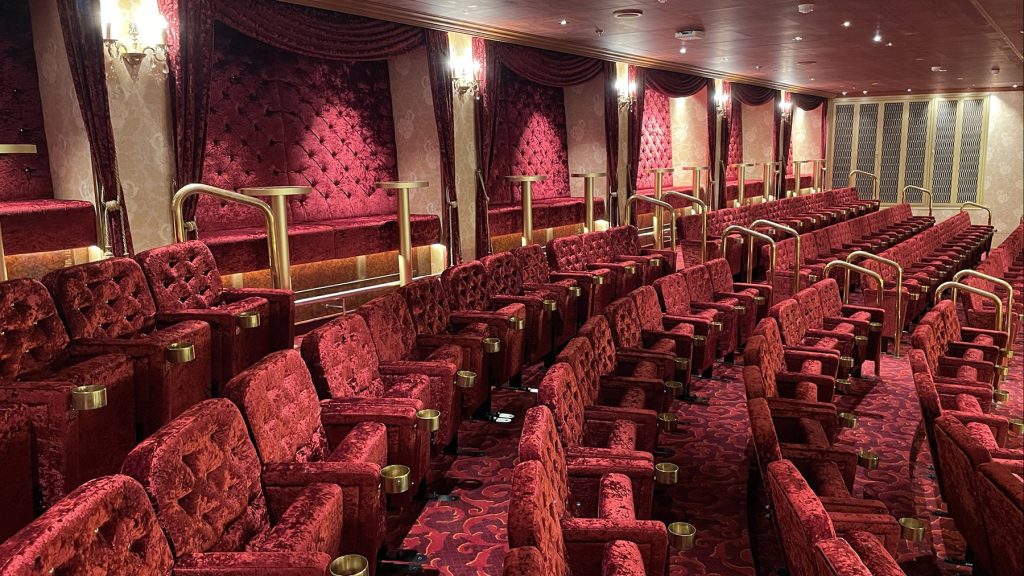 The Venezia will get a new show, "Color My World," which debuted to rave reviews on the Carnival Celebration. It'll also have Epic Rock, Broadway Beats, and Vintage Pop. 
Guests can also participate in Family Feud Live, which Carnival President Christine Duffy indicated will eventually come to every fleet ship. 
Cabins on Carnival Venezia
The cabins on the Carnival Venezia will be very similar to the size and layout of its Carnival siblings. They're decorated in an Italian style, though. Also, in a nice upgrade, the showers feature glass doors rather than a flimsy curtain.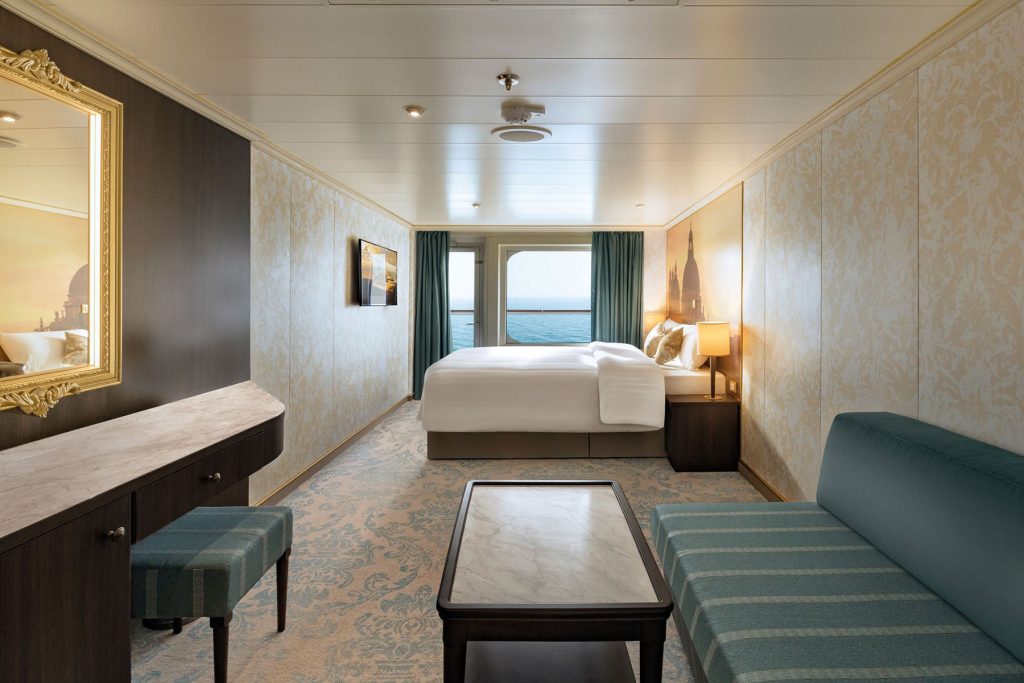 Havana Cabins become Terazza Staterooms
Havana Cabins are Carnival's exclusive cabins that typically have elevated features, higher finishes, and unique access to certain facilities. On Vista-class ships, the Havana area is in a prime location at the back of the ship and has a beautiful pool and two hot tubs. Carnival replaces this with the Terazza on the Venezia. 
The Terrazza staterooms receive exclusive perks like:
Exclusive access to Carnevale Lounge in the morning with complimentary continental breakfast
Terrazza-branded robes and towels
Specially-curated brunch on select sea days with a complimentary Spritz or Mimosa
An exclusive sail-away event in Terrazza Carnevale with live music so guests can watch the NYC skyline as it sails away.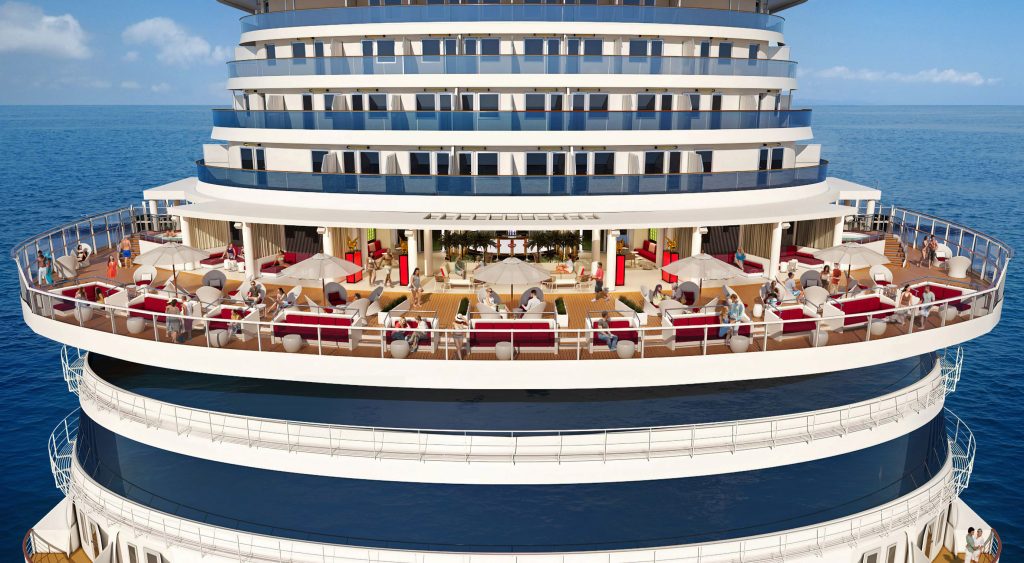 Terrazza guests also have daytime exclusive access to Terrazza Carnevale. It's a terraced lounge with lots of comfy seating and beautiful views off the back of the ship. Unfortunately, this area doesn't have a pool, but Carnival added two whirlpools. 
Carnival went all out for its Italian-styled cruises
It's clear Carnival went through a lot of trouble to find out how to combine Costa's unique design and feel with things that Carnival cruisers love. After seeing all the details, there is little that Carnival's hard-core fans will miss from this new ship. That being said, it relies a lot on the Italian style. Will there be enough for guests who might not care about Italian food, bubbly drinks, or coffee?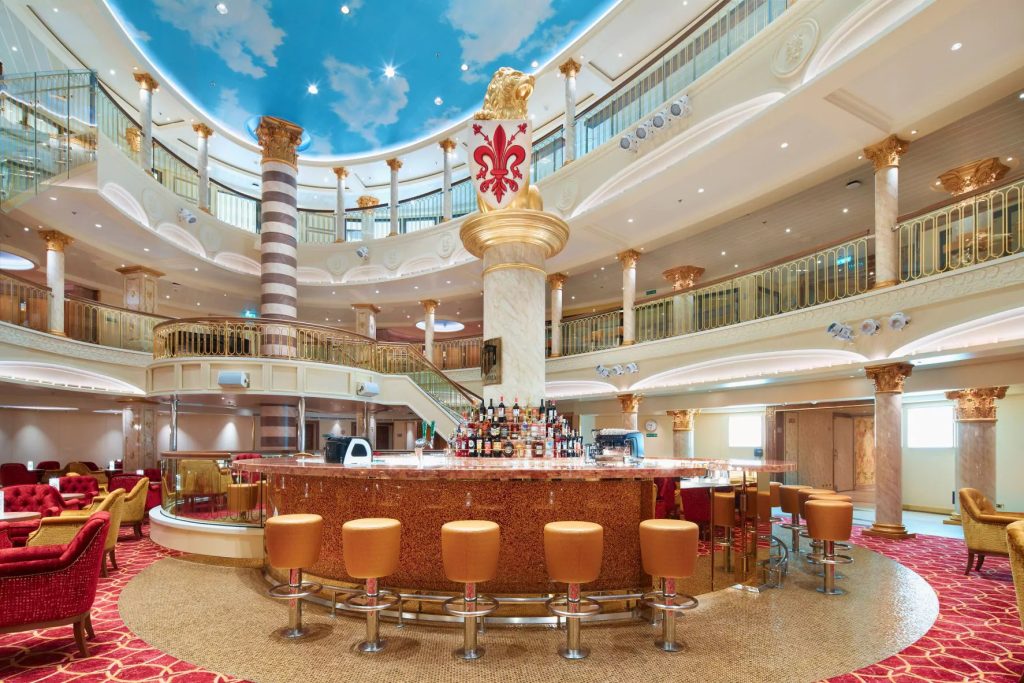 We'll see when the ship sails its first cruise from New York City to Bermuda on June 15th. 
Later in 2024, the Venezia's sister ship, the Firenze, will come to Long Beach, CA, and is expected to offer many of the same upgrades. 
CruiseSpotlight is an Amazon Associate. We may earn a commission when you click links to retailers and purchase goods.