Norwegian to Introduce Free at Sea Plus Option
Last Updated on August 1, 2022
If you've watched TV or YouTube in the past year, you've likely heard "I want to break free" by Queen play during a commercial break. It's the jingle Norwegian Cruise Line uses to advertise their "Free at Sea" program. Free at Sea is a signature of Norwegian, where guests who book a cruise can get "free" offers like drink packages, wifi, and specialty dining. Now, thanks to a leak on social media, we see that Norwegian is offering a new "Free at Sea Plus" program. 
Free at Sea Plus gets leaked
Norwegian Cruise Line hasn't officially announced this program yet. However, these Free at Sea Plus details have been leaked across social media and message boards. The details are below: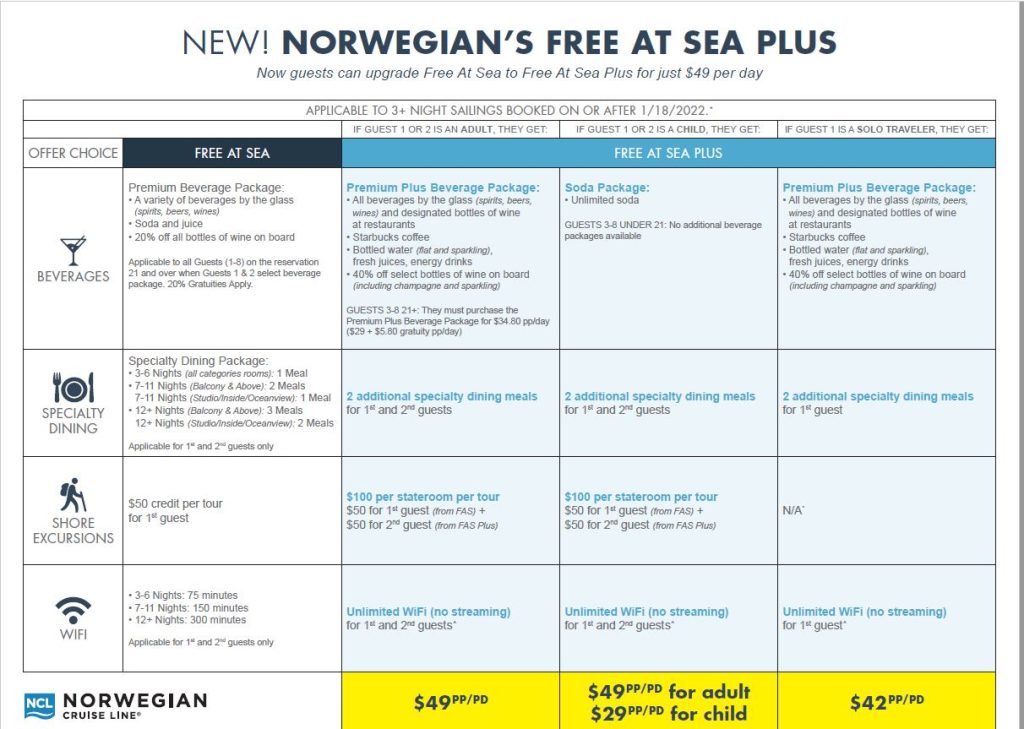 Guests can add the Free at Sea Plus onto their cruise to enhance their existing Free at Sea offers. The cost is $49 per person per day for an adult and $29 per person per day for a child. 
Free at Sea Plus – beverage package enhancements
Guests who choose Free at Sea Plus will be upgraded from the Premium Beverage Package to the Premium Plus Beverage Package. 
The standard drink package, officially called the Premium Beverage Package and also referred to as "Open Bar" in the past, is already comprehensive. It covers alcoholic drinks up to $15 along with a selection of "standard" liquors and wines.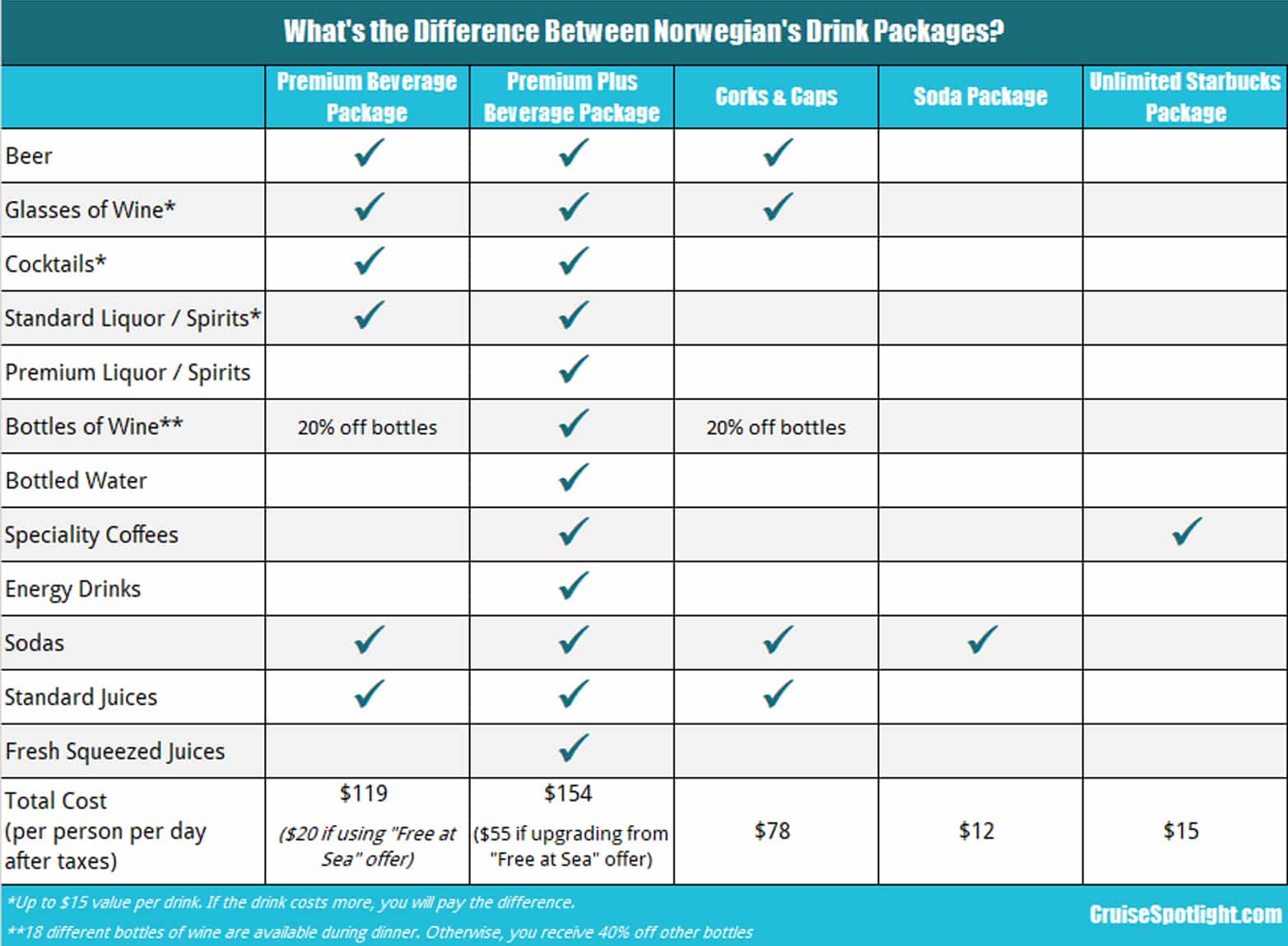 Guests who upgrade to the Premium Plus Beverage Package see a few added benefits. The biggest is the inclusion of Starbucks coffees, bottles of water, premium liquors, and bottles of wine. 
Normally, this upgrade costs $29 per person per day (plus 20% gratuity). 
Free at Sea Plus – shore excursions
The "free" excursions that Norwegian offers as part of their Free at Sea package is probably the most deceptive of the offers. Guests don't actually receive a free excursion. Instead the first guest in a cabin gets $50 towards an excursion for each port.
The Free at Sea Plus upgrade gives both the first AND second guests $50 towards their excursions.
Free at Sea Plus – specialty dining
Norwegian is known for its specialty, or extra-charge, dining venues on their ships. In fact, they have more extra-fee restaurants than any other North American cruise line (on their newest ships, less than 30% of all the restaurants are included in the base cruise fare). Unfortunately, that means eating at these venues can get pricey.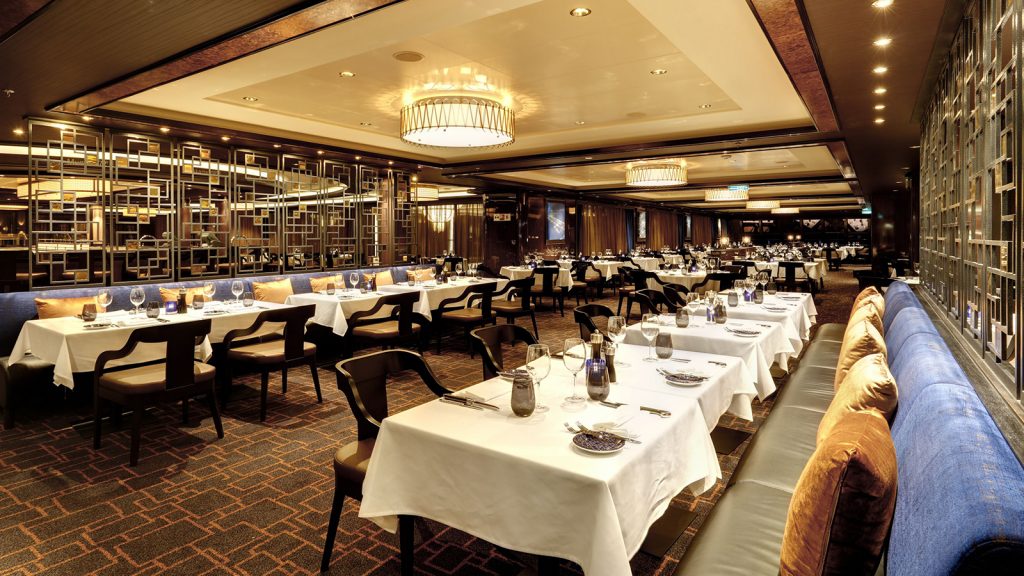 The standard Free at Sea package includes 1 – 3 meals at specialty restaurants during the cruise. The number of free meals will vary depending on the length of your cruise and the cabin type. 
The Free at Sea Plus upgrade allows for an additional 2 meals at specialty restaurants for the first and second guests. This upgrade usually costs $89 per person, so it'd save $178 for two people. 
Free at Sea Plus – wifi package
Under the newest revision to the Free at Sea program, guests receive 75 – 300 minutes of internet depending on the length of the cruise. This benefit applies to the first and second guests in a cabin. Each guest gets an equal number of minutes rather than having to share. This benefit is pretty meager, especially for longer sailings. For example, on a 10-day sailing, guests would only get 15 minutes of internet a day. 
Guests who upgrade to the Free at Sea Plus package get rid of the time limits. Their program offers unlimited wifi but at the base speed. That means no streaming video or music, but you'll still have access to email, websites, apps, and wifi texting. Normally this upgrade costs $19.99 per person per day. 
Is Free at Sea Plus worth it?
Whether or not Norwegian's Free at Sea Plus plan is worth it depends on which upgrades you would normally get.  
Here's a breakdown comparing the upgrade cost of a 7-day cruise versus the Free at Sea Plus cost. We ran the numbers based on two adults in a cabin.
Cost for a 7-day cruise with 2 adults
Cost to Upgrade 2 people
Free at Sea Plus
Beverage Package
$406
($29 pp/pd)
Excursions
$200
($50 for 1 guest per port)
Specialty Dining
$178
($89 pp)
Wifi
$280
($20 pp/pd)
Total
$1,064
$686
If you were going to use ALL the offers, you'd save 36%
As you can see, if you were going to buy all the upgrades separately, you'd save 36% using the Free at Sea Plus Package. That being said, most of the savings come from the upgrade to the Premium Plus Beverage Package. If you don't care about top-shelf liquor, bottles of wine, or premium coffees, then you'd be paying 4% more by going with this package. 
Also, the numbers will vary depending on if you have 3rd or 4th guests, or if a child is in the cabin.
You should note that gratuities will also be added, but we don't yet know if that additional 20% will be over the entire $49 daily charge or just the portion with services (food and liquor). 
How to book the Free at Sea Plus program
Since the program isn't yet announced, you can't book their package on the Norwegian website. However, people online have indicated that they have been able to book this promotion by calling Norwegian or using the chat function. According to reports, people booking new sailings and adjusting existing sailings were able to add this promotion.
Once Norwegian officially releases details, we'll update this page. To stay up to date, follow us on Facebook, Twitter, or , sign up for our monthly newsletter. 
CruiseSpotlight is an Amazon Associate. We may earn a commission when you click links to retailers and purchase goods.