Norwegian Introduces Unlimited Starbucks Package
Coffee lovers rejoice. Norwegian Cruise Line recently introduced a new beverage package offering guests unlimited Starbucks drinks during their cruise. That means all the Frappuccinos, Matcha Green Tea Lattes, and Nitro Cold Brews you can drink. Hope you're ready to be overly caffeinated.
Isn't coffee already included on Norwegian Cruises?
On a Norwegian cruise, you can get standard drip coffee in the buffet and other restaurants for no additional charge. But some people prefer more premium drink selections like iced coffee, cappuccinos, or espresso. So for those guests, Norwegian has premium coffee offerings available to purchase.
Which Norwegian ships have Starbucks?
In August 2021, Norwegian announced they would add Starbucks locations to all their ships and private islands. Some ships, like the upcoming Prima and Viva, even have two separate Starbucks locations, so you're never far from some caffeine. These locations offer many of the same selections you'd find in your local neighborhood Starbucks, including seasonal offerings. In addition, guests can also order Starbucks espresso beverages in all the main dining rooms and specialty restaurants.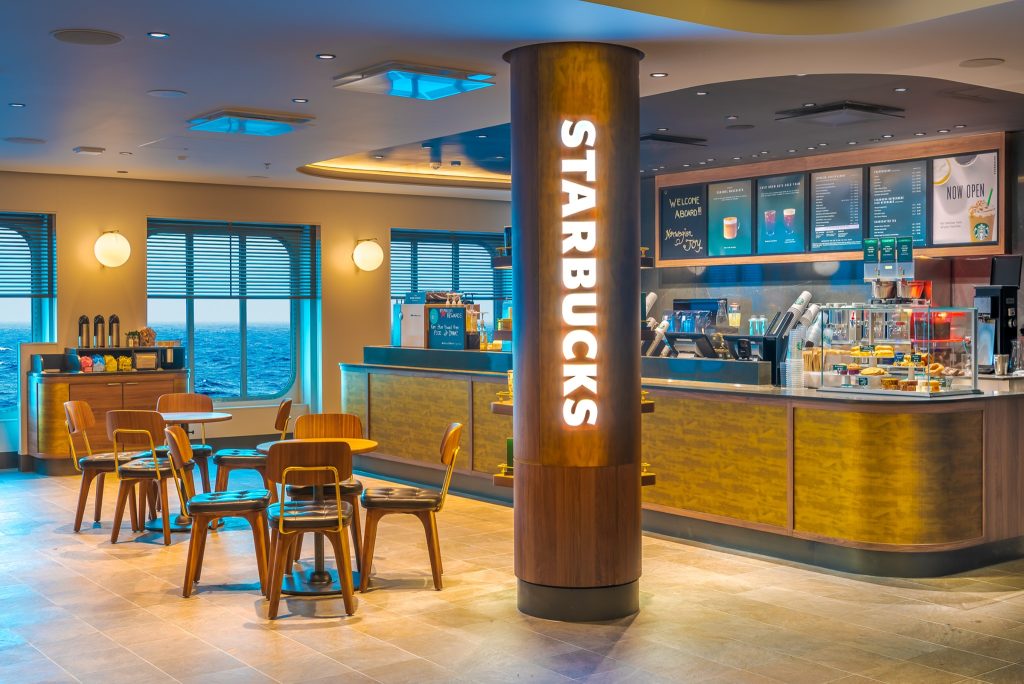 A better package for those who like coffee but don't care about high-end liquor
The standard "Deluxe Beverage Package" that comes as part of Norwegian's "Free at Sea" program does NOT include premium coffees. In the past, guests who wanted Starbucks onboard either had to pay per drink or purchase the Premium Plus Beverage Package. That plan is an additional $29 per day (plus 20% gratuity). While it also includes bottles of wine and high-end liquor, it was a bit pricey if you were just doing it for the unlimited coffees. 
What does the Unlimited Starbucks Package include?
The Unlimited Starbucks Package includes all the made-to-order drinks you can get from a Starbucks, including classic coffees, teas, and Frappuccinos. It does NOT include canned or bottled drinks, food, and merchandise. This package works at any Starbucks on a Norwegian ship as well as on Great Stirrup Cay.
Here you can see some of the offerings onboard.
What does Norwegian's Unlimited Starbucks Package cost?
Norwegian's Unlimited Starbucks Package costs $12.95 per person per day plus 20% gratuity. That means you'd spend $15.54 per day for all the Frappuccinos and Starbucks Refreshers you can drink.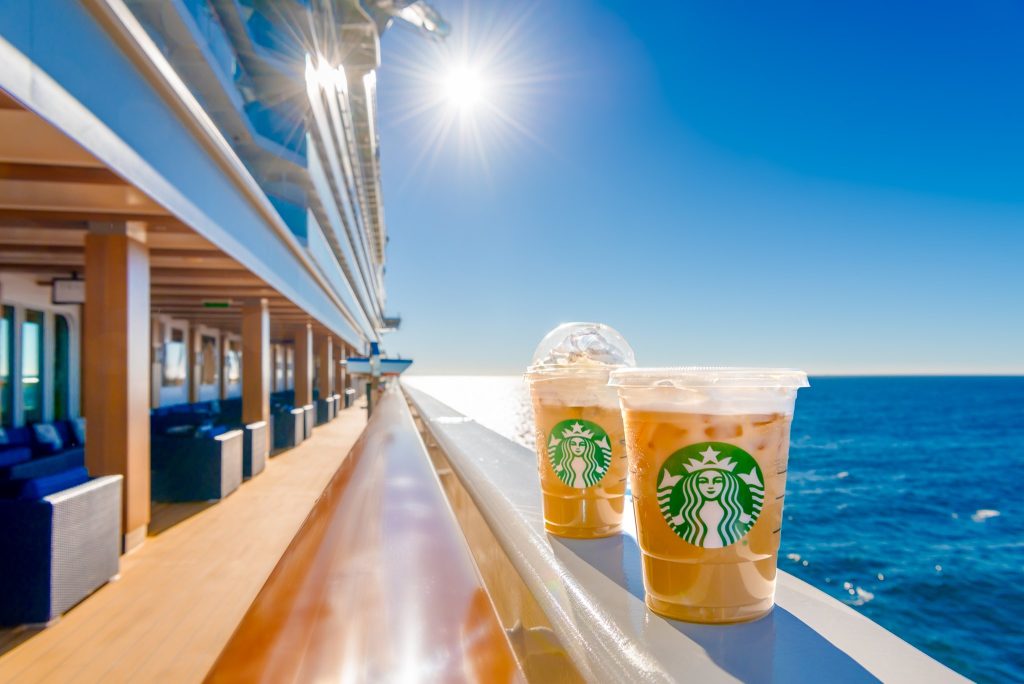 What are the Unlimited Starbucks Package restrictions?
Norwegian's Unlimited Starbucks Package has a few restrictions. First, guests must be at least 18 years old at the time of sailing to purchase this package. Also, all guests in the same cabin over 18 must purchase this package. Sharing is explicitly prohibited. The package does NOT work at Harvest Caye. 
You can see the full terms and conditions here. 
Is Norwegian's Unlimited Starbucks Package a good deal?
If you're a coffee or tea fan, Norwegian's Unlimited Starbucks Package is a pretty good deal. Below you'll see the average pricing for Starbucks beverages on a Norwegian ship and the breakeven point. As you can see, if you plan on having three Starbucks beverages a day, you'll more than break even. 
| Item | Cost on a Norwegian Ship | Number of Drinks to Breakeven |
| --- | --- | --- |
| Frappuccino | $5.75 | 2.3 |
| Iced Tea | $4.75 | 2.7 |
| Nitro Cold Brew | $5.45 | 2.4 |
| Caffe Latte | $4.65 | 2.8 |
| Cappuccino | $4.65 | 2.8 |
That being said, it's Starbucks coffees and teas, which not everyone is a fan of. If you don't like Starbucks blends or are okay with standard drip coffee, you can save yourself some money and not go with the package. You can still buy a coffee or tea individually if you want one occasionally. 
CruiseSpotlight is an Amazon Associate. We may earn a commission when you click links to retailers and purchase goods.