Norwegian Joy is Getting Some Upgrades and Downgrades
The Norwegian Joy will be getting a bit of a makeover early next year. In January 2024, the Norwegian Joy will start a 3-week dry dock that will add and remove several areas of the ship. 
The Norwegian Joy isn't a stranger to redesigns; it underwent a significant renovation just one year after its debut. Norwegian cruise line originally built the ship for the Chinese market, but after a change in strategy, they repositioned it to North America. To better suit that market, the Joy underwent a $50 million renovation to change the layout and public spaces. 
Now the ship is getting some more enhancements, although not everyone will consider them an "upgrade." 
Norwegian Joy finally gets a thermal suite
The Norwegian Joy is the only Breakaway or Breakaway-Plus class ship without a thermal suite. These suites are very popular with guests who love a little pampering while on vacation. Guests can purchase daily or cruise-long passes to the thermal suites to access a variety of facilities.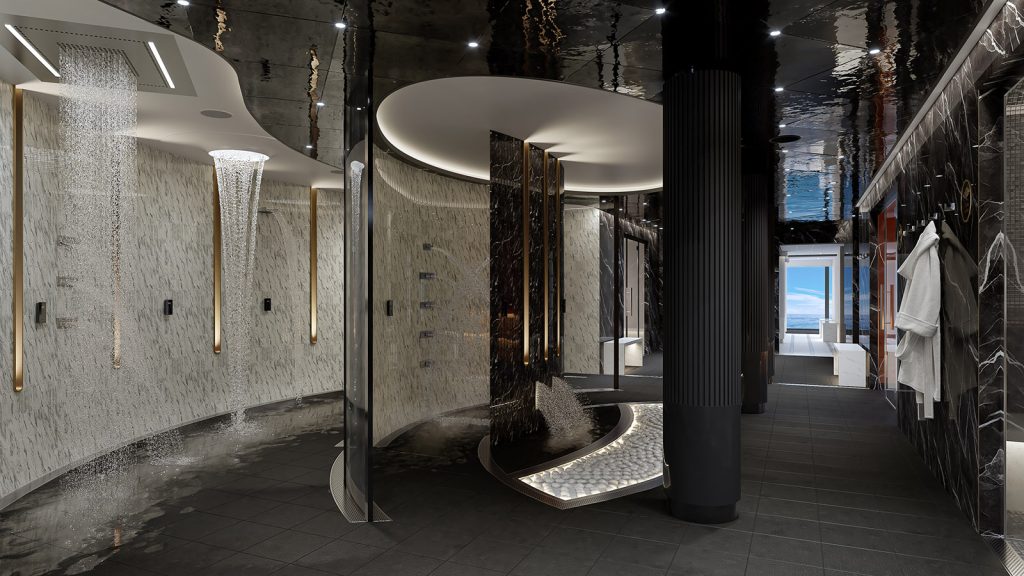 Norwegian said the new Thermal Suite in the Mandara Spa will have a "more centralized layout with an unparalleled arrival experience featuring elegant sculptures and an entrance corridor encompassed with waterfalls." Do you want to try one of those hot tile loungers you see in all the pictures of spas on cruise ships? The Norwegian Joy's Thermal Suite will have three times as many of those popular chairs in a separate lounge area.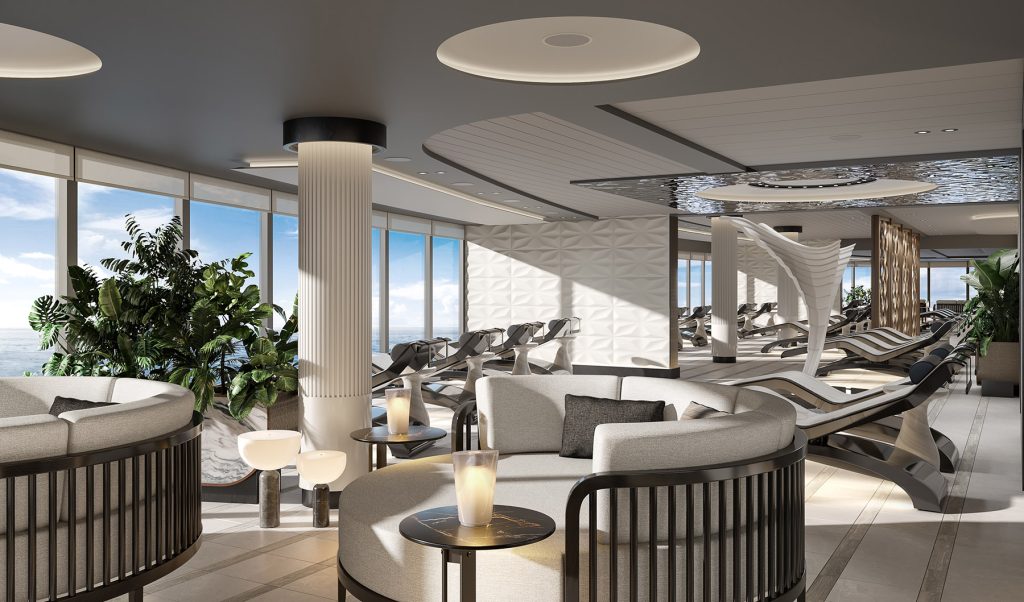 The space will also have some new areas, such as: 
A Biostation with IV Drip Therapy.
Four-senses loungers which Norwegian says provide "the ultimate sensory experience for deep relaxation."
Kneipp haptic foot therapy, which massages your feet as you walk across a pebbled moving stream that alternates between hot and cold foot baths. 
Norwegian will remove the Galaxy Pavilion virtual reality arcade to install this new space. They will be adding a smaller, more traditional video arcade in its place. Norwegian is also adding an enclosed smoking area on Deck 16, helpful for those cold Alaska sailings.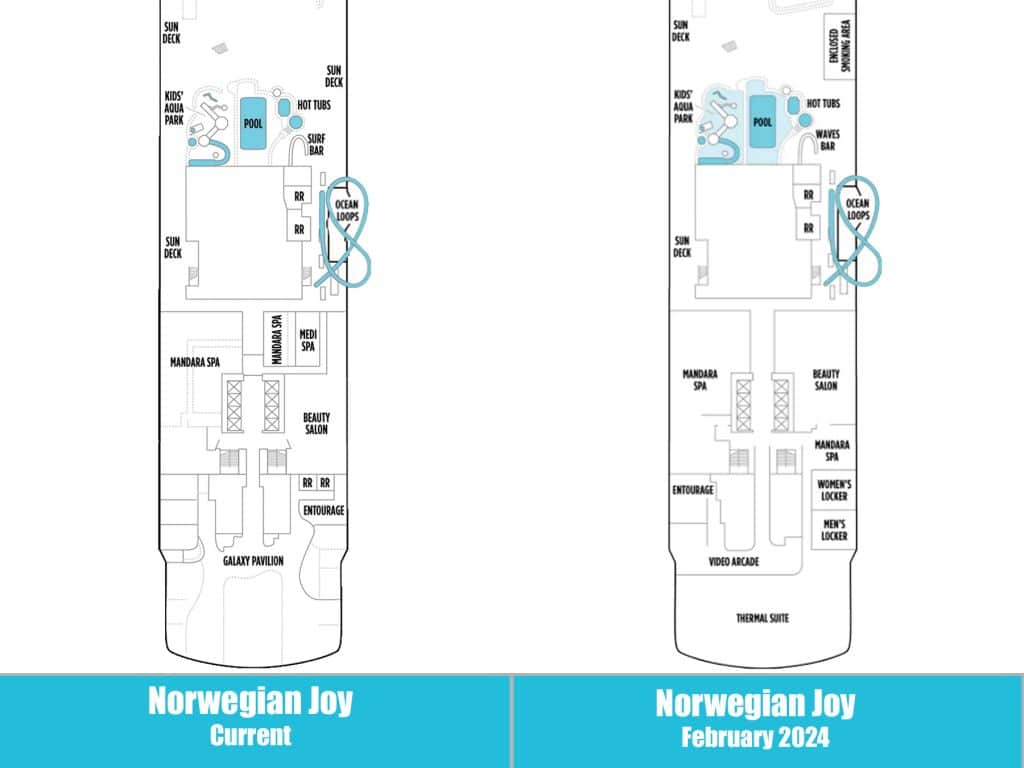 Observation Lounge gets downsized for more cabins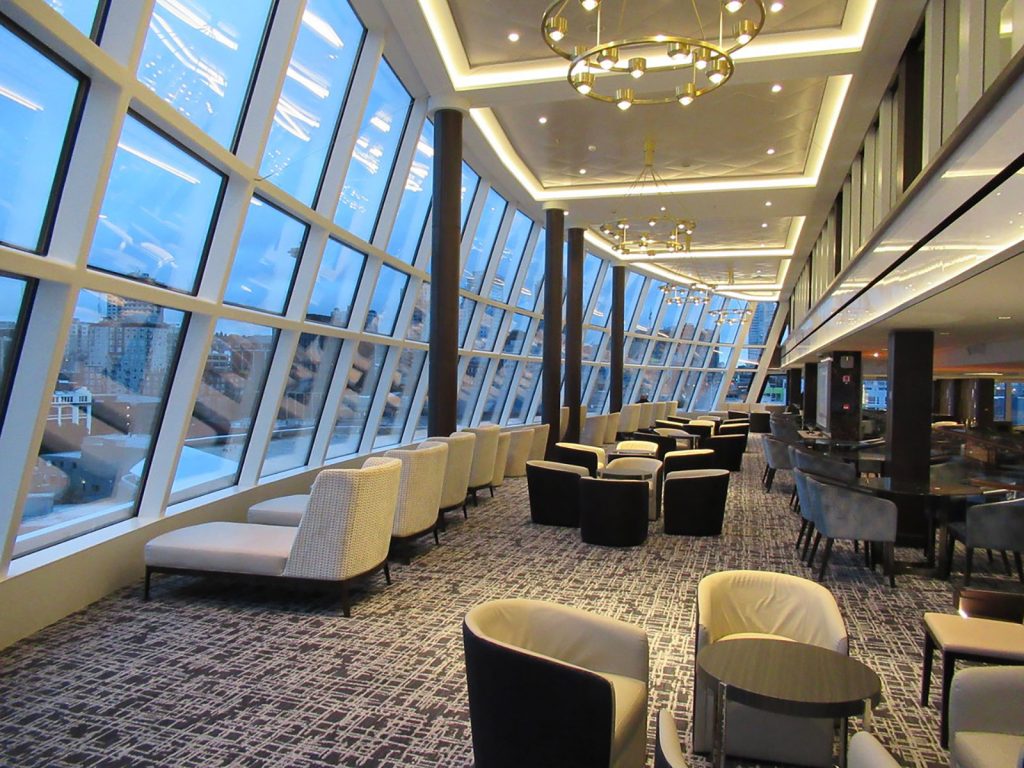 The Norwegian Joy sports a beautiful Observation Lounge at the front of Deck 15 that provides gorgeous panoramic views during the day. Unfortunately, as part of these new plans, Norwegian will be downsizing this space in order to add 24 balcony staterooms. Looking at the deck plans, the Observation Lounge will now be half the size of its sister-ships.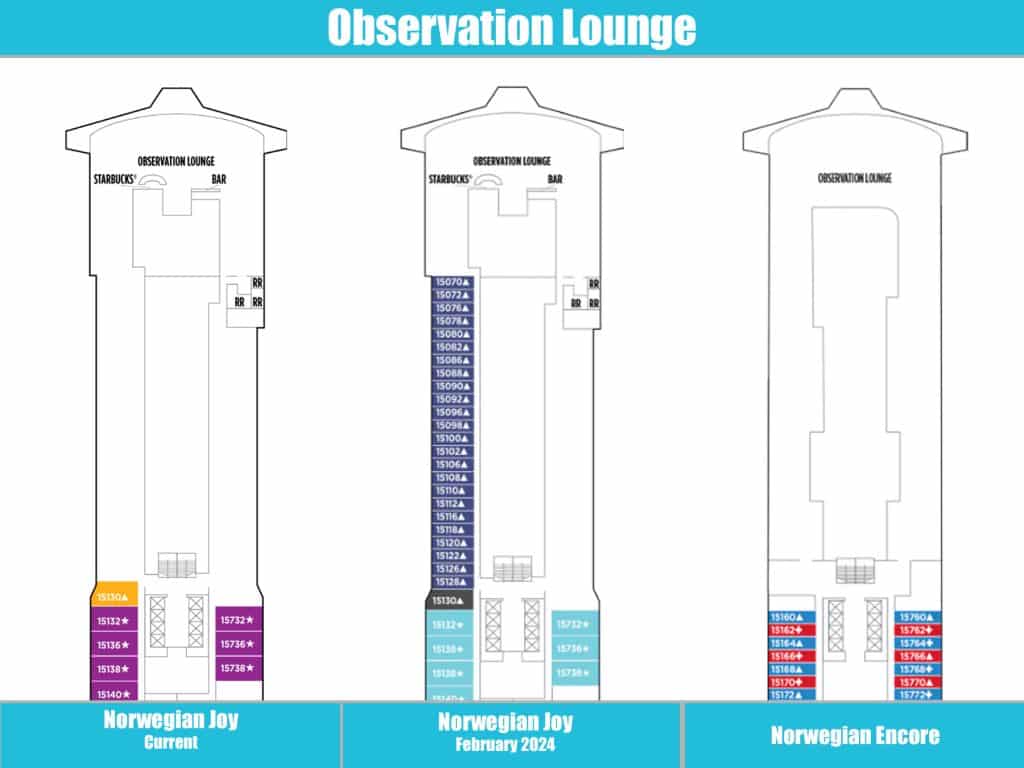 Norwegian has not provided any other enhancements or features that will be coming to the Observation Lounge.
Haven Suite gets an upgrade
If you're a fan of Norwegian's high-end, ship-within-a-ship concept called The Haven, you'll have some new options on the Joy. The two Premier Owner's Suites with Large Balcony will be expanded to 3 bedrooms with a completely renovated living room, bedrooms, and balcony furniture. They are also adding a dining room that overlooks The Haven Horizon Lounge, offering similar panoramic views seen in the Observation Lounge. It is great news for those who love high-end suites.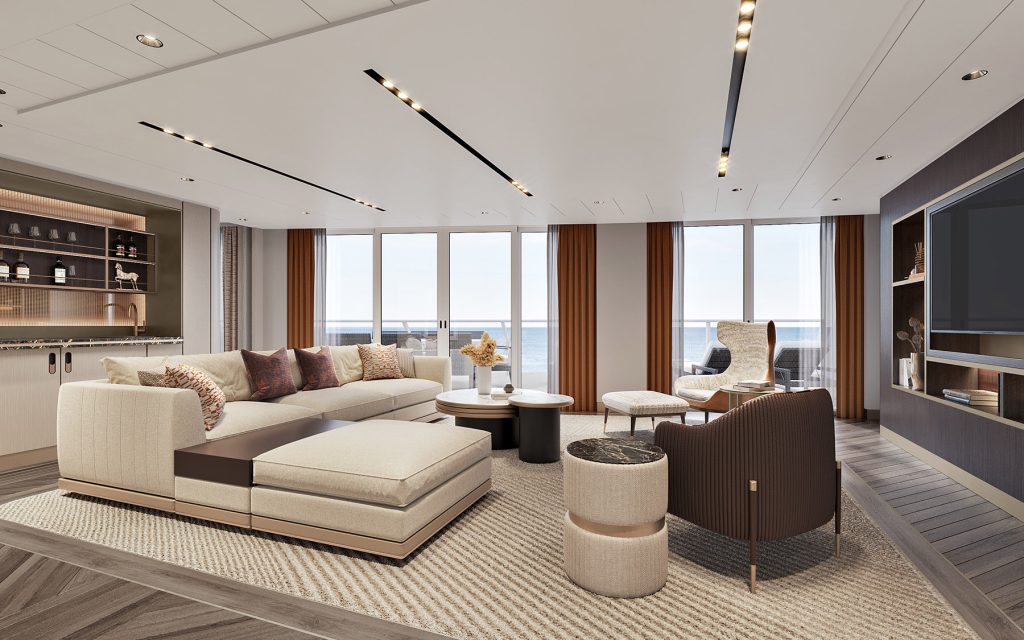 Laser Tag Arena becomes super-sized Vibe Beach Club
The Vibe Beach Club is Norwegian's extra-free adult-only area. It's a very popular area on the ship that has a dedicated bar, upgraded loungers, and an exclusive feel. The Vibe Beach Club on the Norwegian Joy frequently sold out, so they're expanding it as part of the renovations.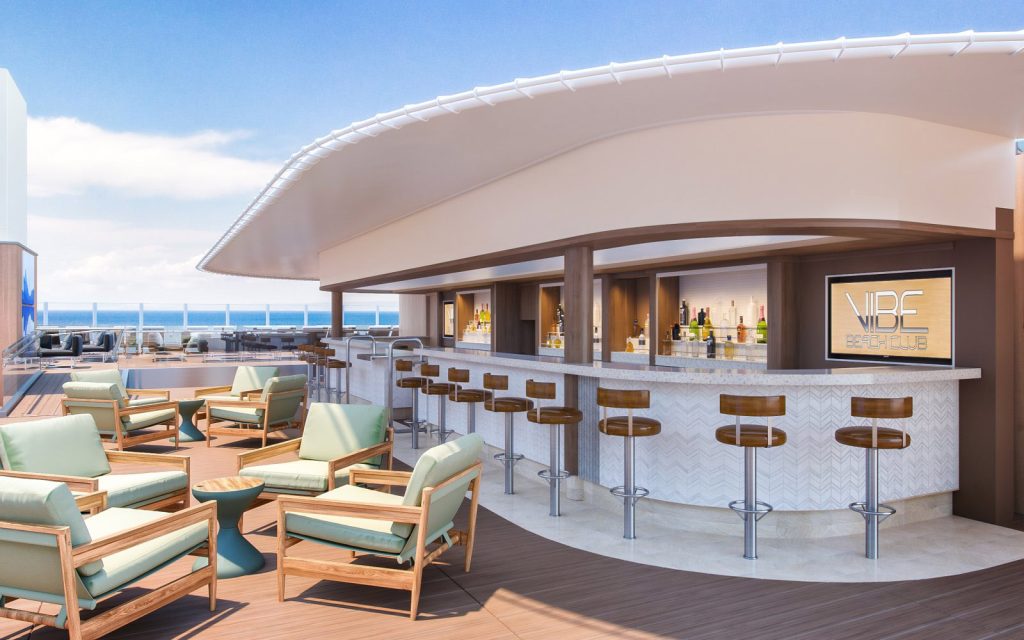 The existing Vibe Beach Club will remain, but they'll add a new Vive Beach Club Sun Deck on Deck 20. This change will significantly expand the size of the area and give it a layout similar to that on the Encore and Bliss. They'll also be adding new private luxe cabanas.
In order to expand this area, though, they will be removing the Laser Tag Arena. Thankfully, for guests who would like an adult-only part of the ship without paying extra, the Joy will keep their free Spice H2O area. 
Are the Norwegian Joy changes upgrades?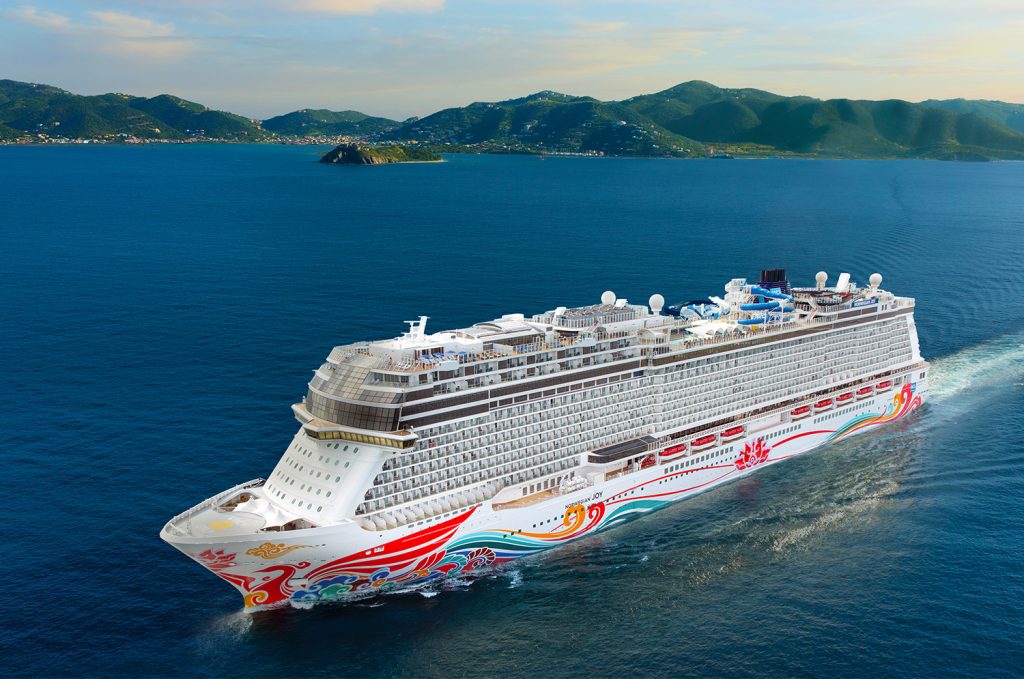 The renovated Norwegian Joy will debut in February 13, 2024. Whether or not these changes are an upgrade depends on how you cruise. Guests who don't mind paying more for luxury, like Norwegian's Haven suites, thermal spas, or Vibe Beach Club, will be happy. Families might not be as excited, as these renovations will eliminate the Galaxy Pavilion virtual reality arcade and the laser tag arena. The downsizing of the Observation Lounge is also very disappointing and surprising. Hopefully, Norwegian doesn't continue this trend on the other Breakaway and Breakaway-Plus class ships. 
CruiseSpotlight is an Amazon Associate. We may earn a commission when you click links to retailers and purchase goods.