Norwegian Prima – North American Debut – Day 1 NYC
Last Updated on November 4, 2022
I just returned from a 4-day sailing on the North American debut of the Prima, Norwegian Cruise Line's newest ship. It's a brand new class of cruise ship, of which Norwegian will be getting five more over the next five years. It's the first new class of ship since they debuted the Norwegian Breakaway over ten years ago. It represents how Norwegian sees the future of cruising. 
Full disclosure, this was a special cruise for media and travel professionals only. I was invited by Norwegian Cruise Line to attend. Norwegian had no say on any of the reporting you'll see on the ship, and I did not have to submit anything for review. All articles will still be my unbiased opinions; the good, the bad, and the ugly. But because of the type of cruise, this won't be a standard cruise blog. You won't see a daily schedule, and I won't be reviewing things that are done specially for this cruise. But I will explore the ship's potential and if it's worth booking for your next cruise.
Norwegian Prima Day 1 Overview
Boarding the Norwegian Prima
The ship left from Manhattan Cruise Terminal in New York City. Looking at the Prima from 12th Ave in Manhattan, I could immediately see its beauty. The artistic hull art is much more understated than some of Norwegian's older ships and adds sophistication. In addition, the fluid, blue design feels like an extension of the ocean itself, giving it an impressive profile from the shore.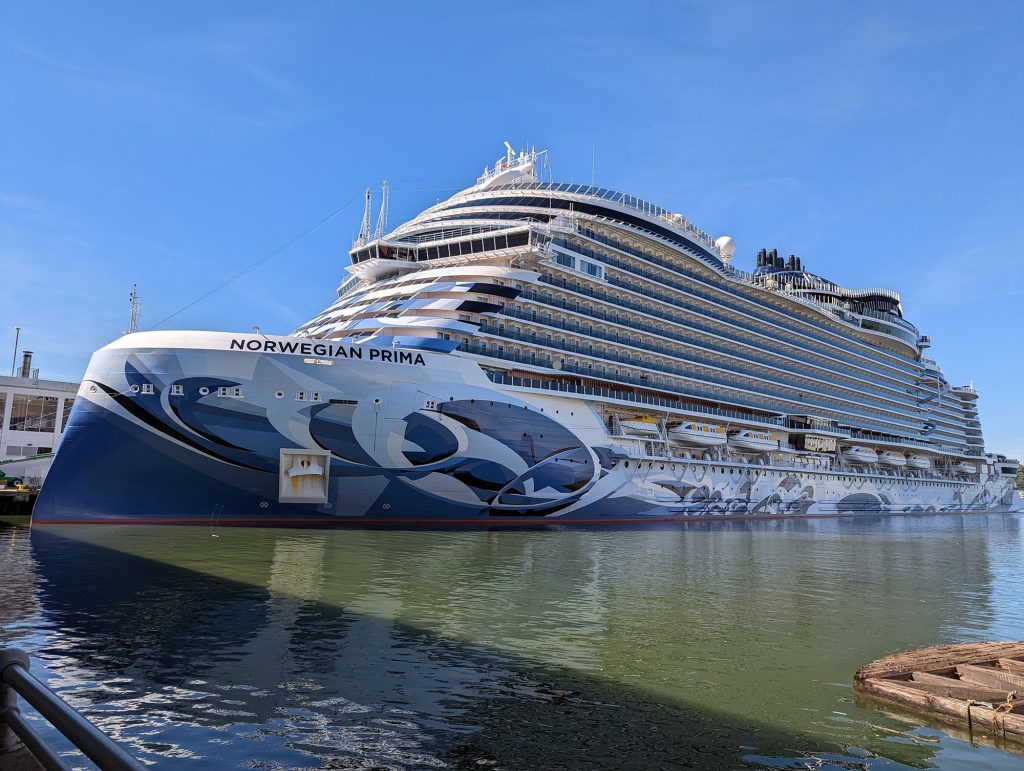 Walking up to the ship, though, I couldn't help but notice it looked noticeably smaller, and that's because it was. Unlike all the other cruise lines that have been going bigger and bigger with each ship, the Norwegian Prima is actually 15% smaller than their last ship, the Encore. However, it's still not a "small" ship; it's in the same size category as ships like the Royal Caribbean Mariner of the Seas, Norwegian Breakaway, and Celebrity Edge.
The ship also holds 20% fewer passengers than the Encore, meaning that while smaller, it should feel roomier. Norwegian reports that Prima has up to 36% more space per guest than any other contemporary cruise line. 
Exploring the balcony cabin on Prima
The first thing I did was go to my cabin to drop off my luggage. I walked over to the mid-ship elevators and hit the button. The first and last days are always the true test of a ship's elevators since everyone has to use them to move luggage to their room. I was concerned because the Prima only has two elevator shafts available to guests (the 3rd elevator shaft in the aft of the ship is only for guests staying in Norwegian's exclusive Haven area). Norwegian made the intelligent choice of spitting the elevators into port and starboard side elevator banks. That design divided the crowds and helped reduce lines. Overall, this ship's elevator wait times were pretty good throughout the sailing. 
The elevator doors opened on deck 15, and I wandered around to find my room. The smell of "new cruise ship" still lingered in the air of the hallways. The hallways are decorated in neutral colors and are relatively wide, so they don't feel claustrophobic.
My room was near the elevator lobby, and it was just a short walk until I got to my room, cabin 15138. It was a family balcony cabin which seems like a misleading name. The cabin is the same size as a traditional oceanview balcony cabin, but the couch pulls out into a double bed allowing the room to sleep four guests. So technically, you could fit a family of four in the cabin, but it would be a tight fit.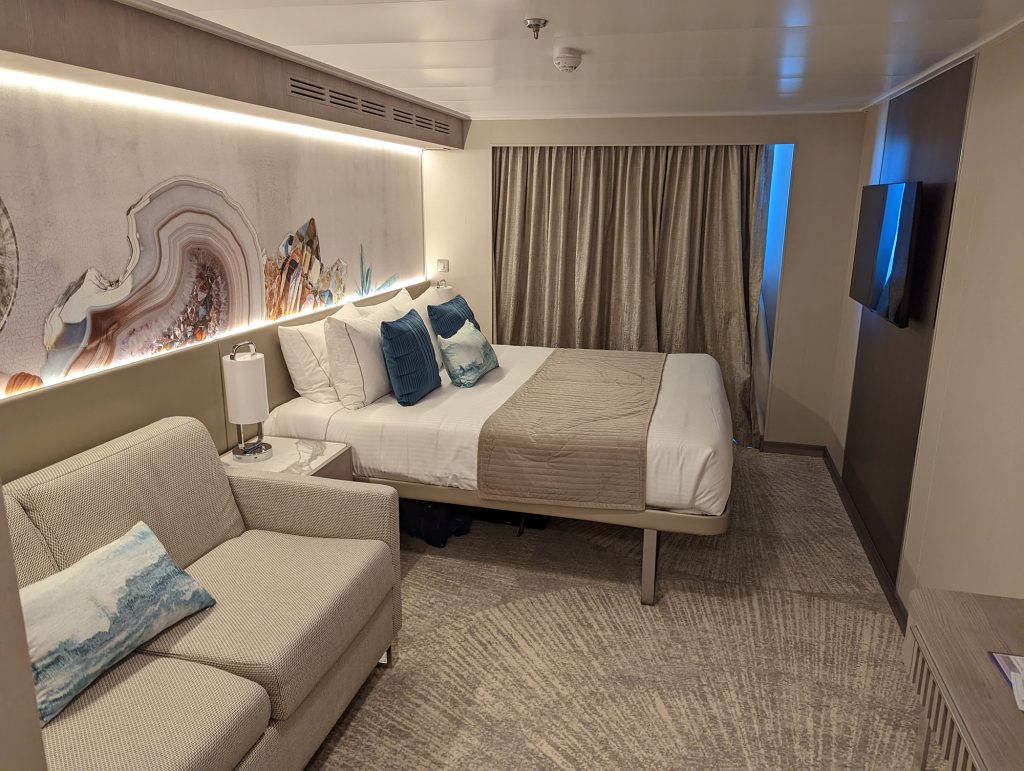 Norwegian Prima cabin size
If you've been on a Norwegian cruise ship before, you'll find the cabins on the Prima to be much larger than before. The Prima balcony cabins are 20 – 35% larger than the cabins on the Breakaway, and the balcony is 50% larger. The new cabins are also larger than the standard balcony cabins on Norwegian's competitors' latest ships. They're 28% larger than the Wonder of the Seas and 15% larger than Mardi Gras.
Interior cabins are also noticeably bigger than other Norwegian ships, coming in at 19 – 70% larger than its siblings. That being said, the difference is less drastic if you compare it to other cruise lines. For example, the interior cabins are the same size you'd find on Carnival Mardi Gras and 20% smaller than Royal Caribbean's Wonder of the Seas. 
Prima cabin decor
My first impression of the cabin was that it had a quiet sophistication. The room was light and airy, with lots of beiges and subtle textures used throughout the space.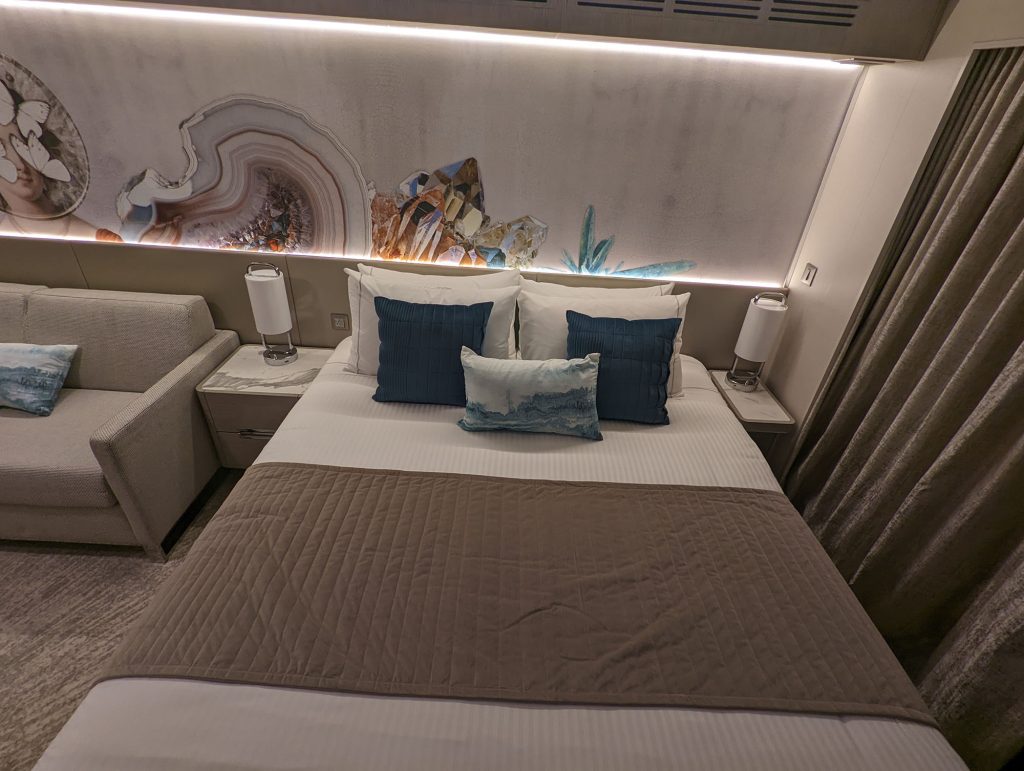 The back wall of each cabin has a painting that spans the entire wall, giving an immersive feeling you don't get from simply hanging framed artwork on a wall. While the art might not be to everyone's taste, they're certainly different and unique. Norwegian commissioned 6 of these paintings, which are rotated throughout the cabins.
Balcony cabin setup
While the room is spacious, the entrance is a little narrow, and it could be difficult for larger guests to maneuver through with luggage. Here, you'll find two closets that slide to open, meaning you can only access one at a time. They light up when you open them, which is a nice touch, but it's not the smoothest opening mechanism. If all the drawers or the safe inside the closet aren't perfectly closed, the doors will get jammed. At the bottom of the closet are two wire baskets that function as drawers. They're not very deep, though, and only slide out if the closet door is 100% fully open.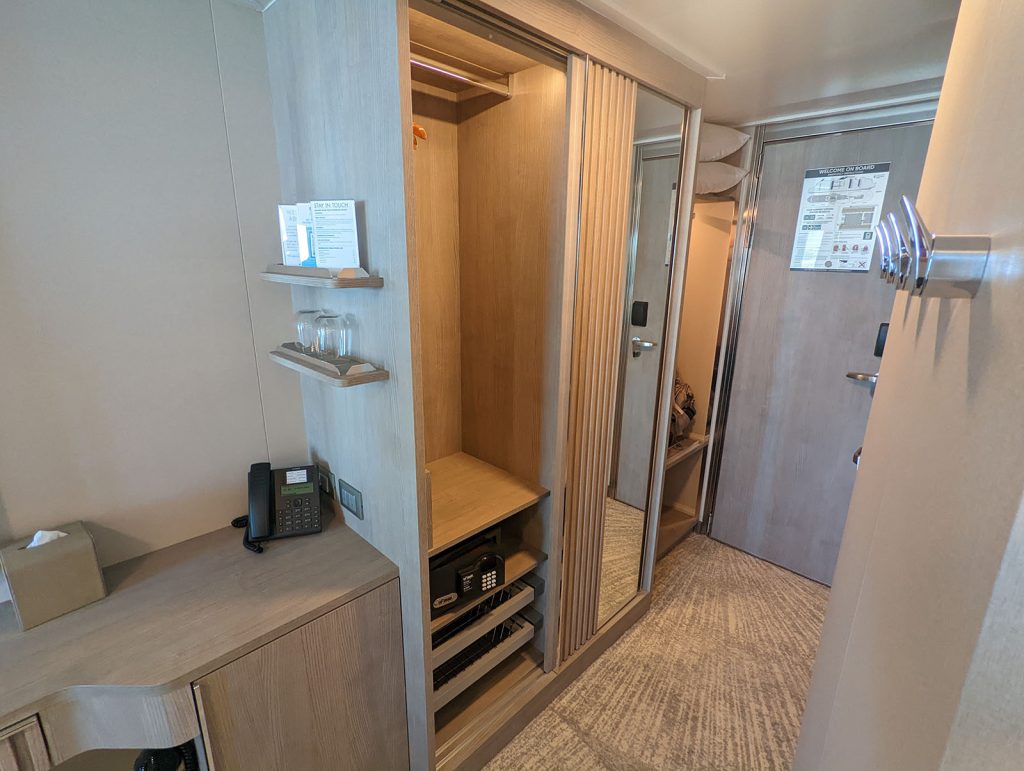 The room has a queen-sized bed that can be converted into twins if needed and a couch. Norwegian has tons of outlets in the cabin, which is basically a requirement for all modern cruise ships now. You'll find a standard USB socket built into the lamps on either side of the bed. There's also a standard US plug in the middle of the wall next to the bed. Then, in the desk area, there are both standard USB and USB-C outlets and a US and European outlet. The desk also has a full-size hair dryer built into a holder in the stand, which was a nice touch. 
The storage in the room is a bit lacking, though. There's no dresser with drawers, and most of the storage is relegated to the closets in the narrow entry.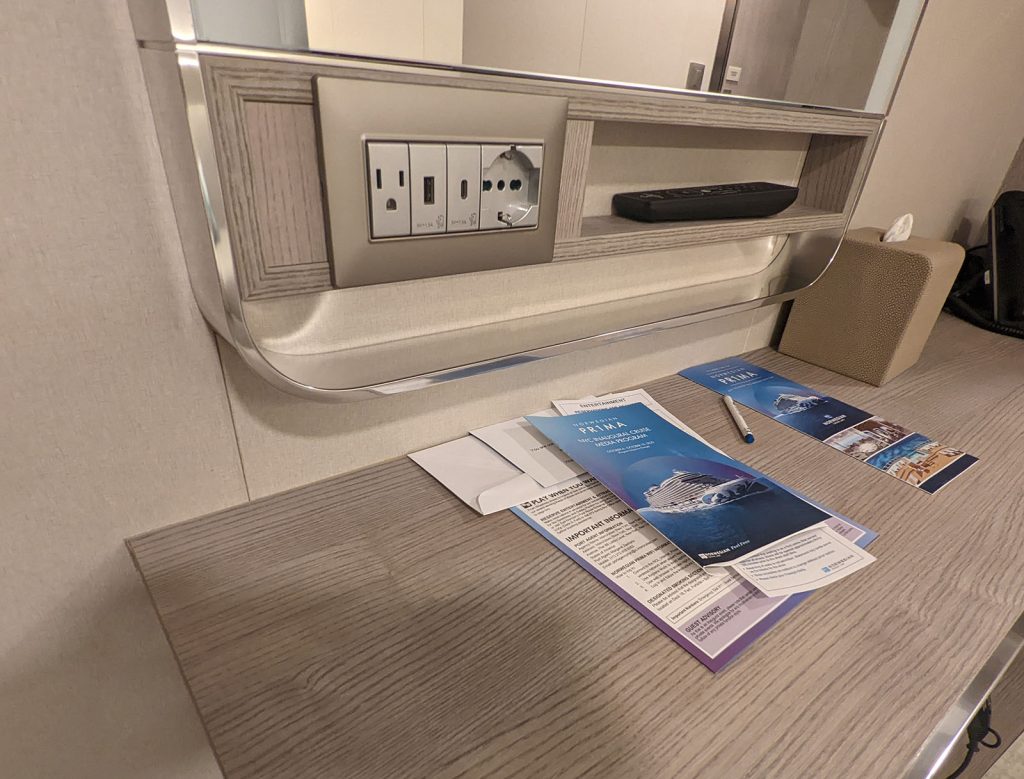 Spacious bathroom design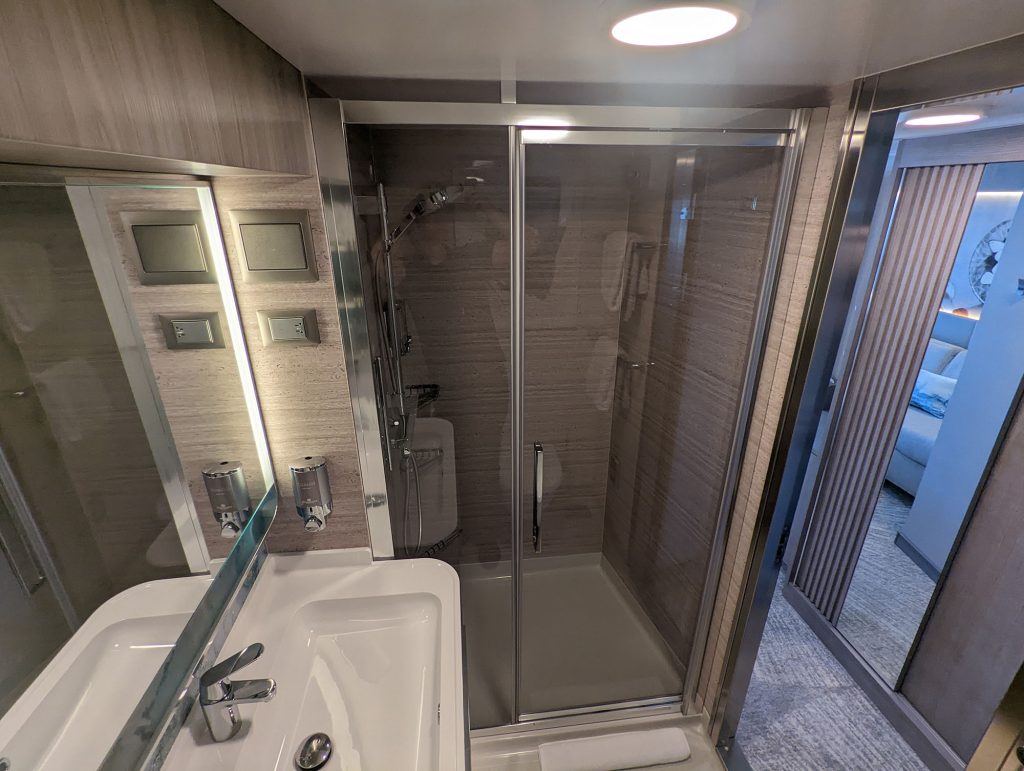 The bathrooms in all the rooms on the Prima are very spacious for a standard room on a mainstream cruise line. It's probably the first time I ever experienced a full-size sink, not a half-version, on a cruise ship. It's clear they spent a lot of time thinking about the design here. For example, the shower has full-length glass doors, but they designed it so the exhaust vent is in the shower itself so that you can take a hot shower and the rest of the bathroom is fog free. It doesn't sound like much, but it was quite the problem on my last cruise on Ovation of the Seas. There's also a foot holder for shaving your legs and two racks in the shower to hold toiletries from home. The rest of the bathroom has a good amount of counter space and storage.
Private balcony with great furniture
Out on the balcony, the furniture is really high-end for a standard cabin on a mainstream cruise line. The dark wicker chairs can recline and have thick padding, and are very comfortable. The balcony itself also offers a nice degree of privacy. It's a nice change from some of the other newer ship designs, with all balconies exposed to each other.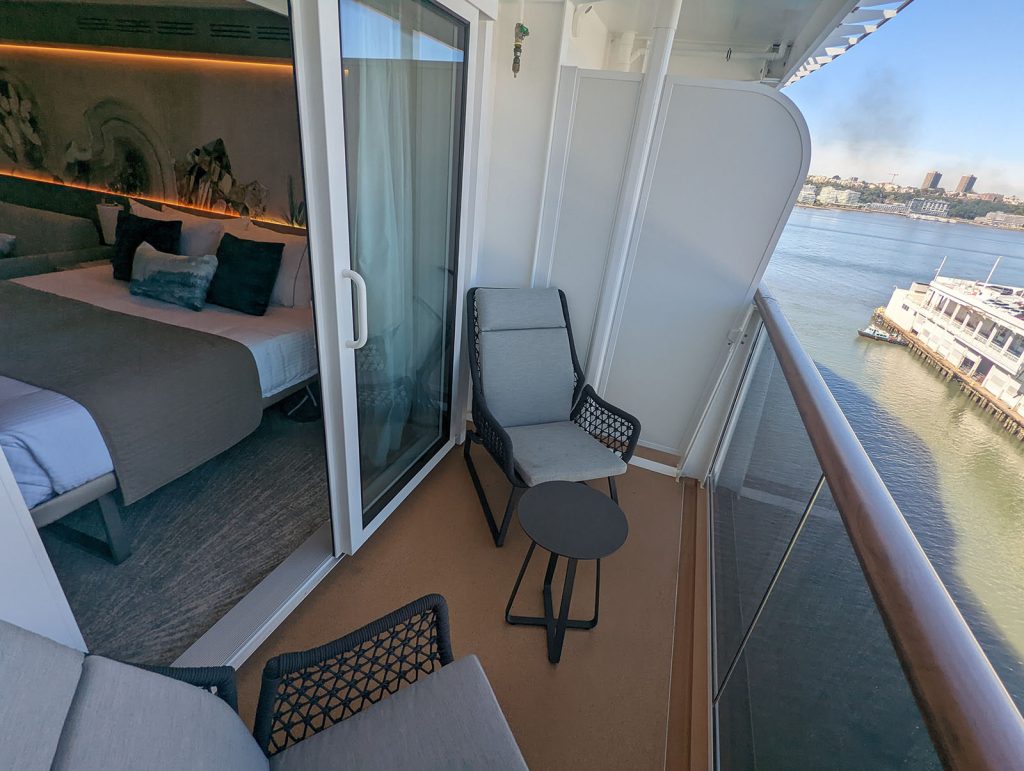 Lunch at Indulge Food Hall
It was lunchtime, so we decided to try one of the Prima's newest food concepts, Indulge Food Hall. This venue is one area of the Prima where I felt Norwegian hit it out of the park. 
Indulge is located at the rear of the ship and is an indoor/outdoor space. In the area, you can select dishes from 11 different restaurants/concepts. It's great for a small bite to eat or a complete meal. It's open for breakfast, lunch, and dinner. The breakfast is primarily grab-and-go options, and you'll find different menus for each restaurant for lunch and dinner.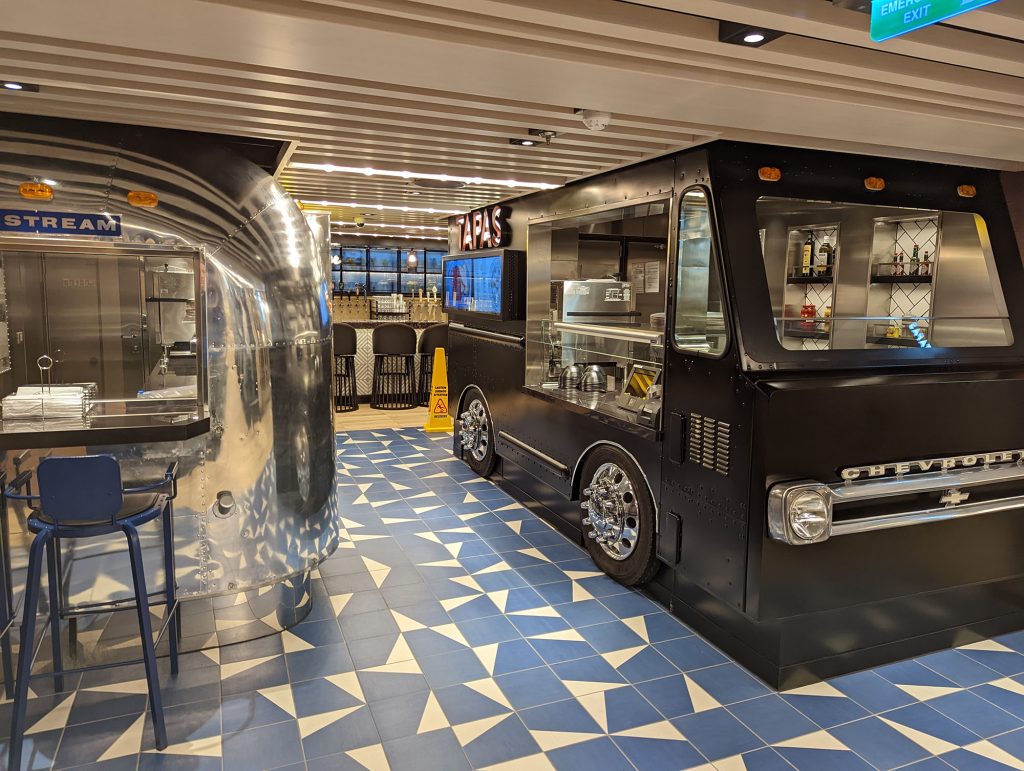 Norwegian introduced Indulge as a "food hall," which in my mind translated to a kind of mall food court, but I was completely wrong. You won't find any large cafeteria-style seating in Indulge. Instead, they have many different seating options; standard tables, counter height, and booths tucked away in nooks and crannies. It's a neat idea that prompts you to explore the area fully on your own, and it worked well when the place was empty. However, when it got full, it was nearly impossible to quickly find a table since you couldn't get an overall feel for what seating was open. During a busy lunch, we saw servers on radios telling each other where seating was to help guests. The Indulge seating also continues outside, offering al fresco dining options. 
When Norwegian first announced this concept, I thought you would walk up to each area and get your food. Instead, you place your order for food using tablets located on the tables or bars around the hall (if you're outside, you'll order through your server). Guests who sit at one of the restaurant's countertops can only order options from that specific venue. Otherwise, any of the tables allows you to order from any of the 11 restaurants. You click on the options you want and click order, and then a server will bring the dishes over as they're ready. If you're outdoors, a waiter will come around and take your order.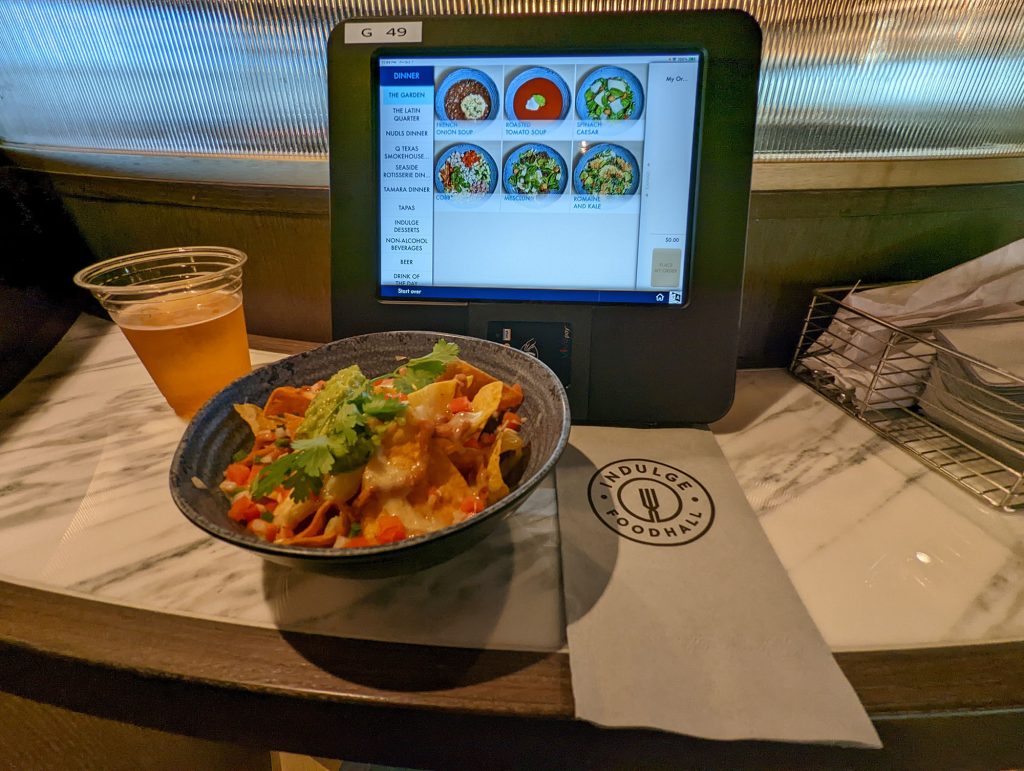 The speed is impressive. Every time I ordered from the Food Hall (5 times during my four-day cruise), a dish came out in less than 3 minutes. This wasn't fast food style food that was sitting in a warmer. Instead, it was very high quality and tasted fresh. Also, portions were smaller, so you could sample a bunch of options without filling up too much. It also allows you to try new things. For example, I tried several types of cuisine I had never tried before and enjoyed most of them.
Indulge also has a basic coffee station, juices, iced tea, one of the two Coke fountains found on the ship, and 2 bars, one indoors and one outdoors. The bar service took longer than the food just due to the demand. Anytime the sun was out, the exterior bar was packed because it offered a beautiful view of the ship's wake. To help speed up the service, both bars have several cocktails and wines on tap, so bartenders just had to pour and go.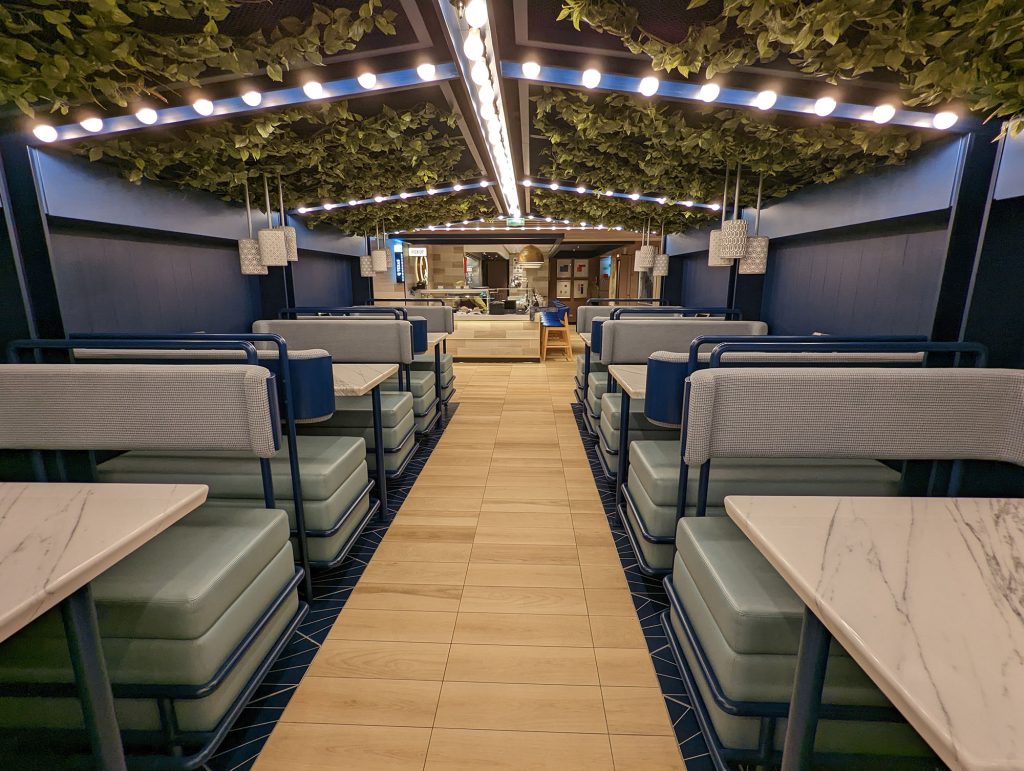 When Norwegian first announced Indulge Food Hall, they said it would have complementary and extra-fee options. Thankfully they changed their mind, and now almost everything in the venue is free except for Starbucks and some high-end dessert options at Coco's. It was smart because if I had to pay for each dish I ordered, I wouldn't have gotten the full experience and would have been much less impressed. 
Prima transforms The Waterfront into Ocean Boulevard  
After lunch, we walked around Ocean Boulevard, an evolution of the Waterfront area found on Norwegian's Breakaway-class ships. Ocean Boulevard is double the size of the Waterfront and wraps around the entire ship at Deck 8. It is part of the increased focus Norwegian put on outdoor spaces on the Prima. 
Along the whole area, you'll find comfy seating options to enjoy with your friends or family. Ocean Boulevard also has outdoor seating for the Los Lobos, Onda by Scarpetta, and The Local. Many of the outdoor restaurant seating areas had heaters built into the ceiling to make them more all-weather. Of course, it won't protect against rain or high winds, but it helped on a few evenings.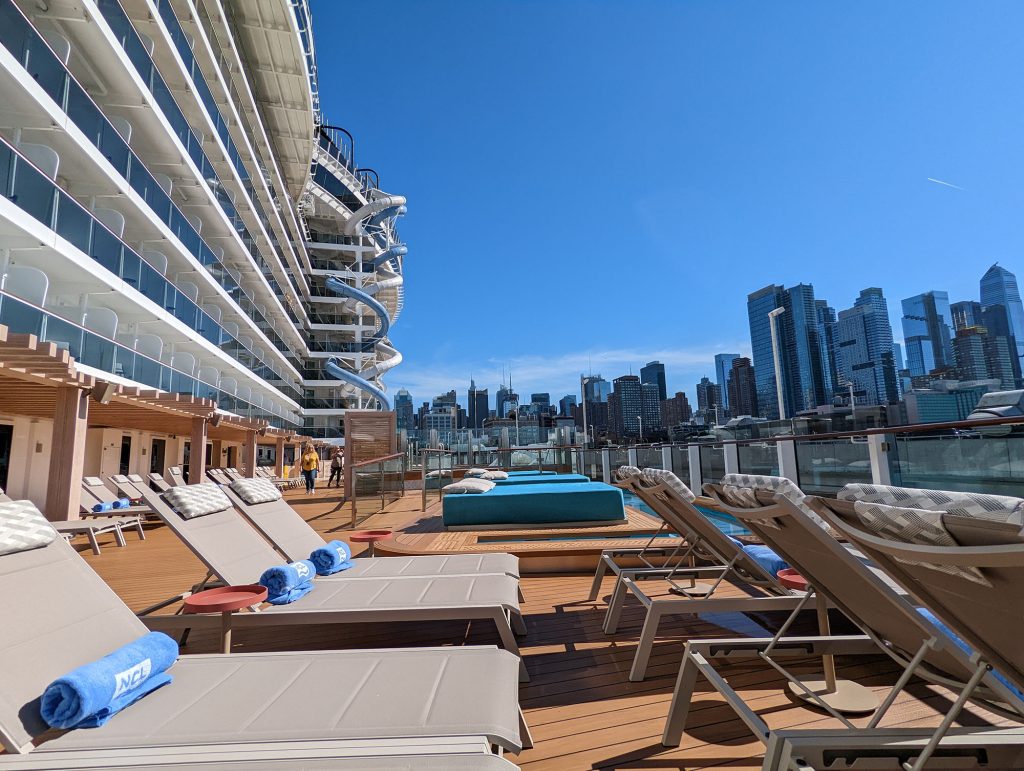 Halfway through the boulevard, we stumbled upon the Concourse, an outdoor art walk on the ship's side. Here we strolled past several sculptures, part of the $6 million of art aboard the ship. The art is primarily large-scale sculptures that you'd see in a modern art museum. 
It's impressive, but the space wasn't overly popular. Perhaps on warmer weather sailings, people would stroll along it more at sunset. There were some plain benches, but no cozy seating encouraged you to stay. It felt like the space was designed to just walk through it. If they added some comfy seating and soft music, it could really go a long way to make it a more functional space.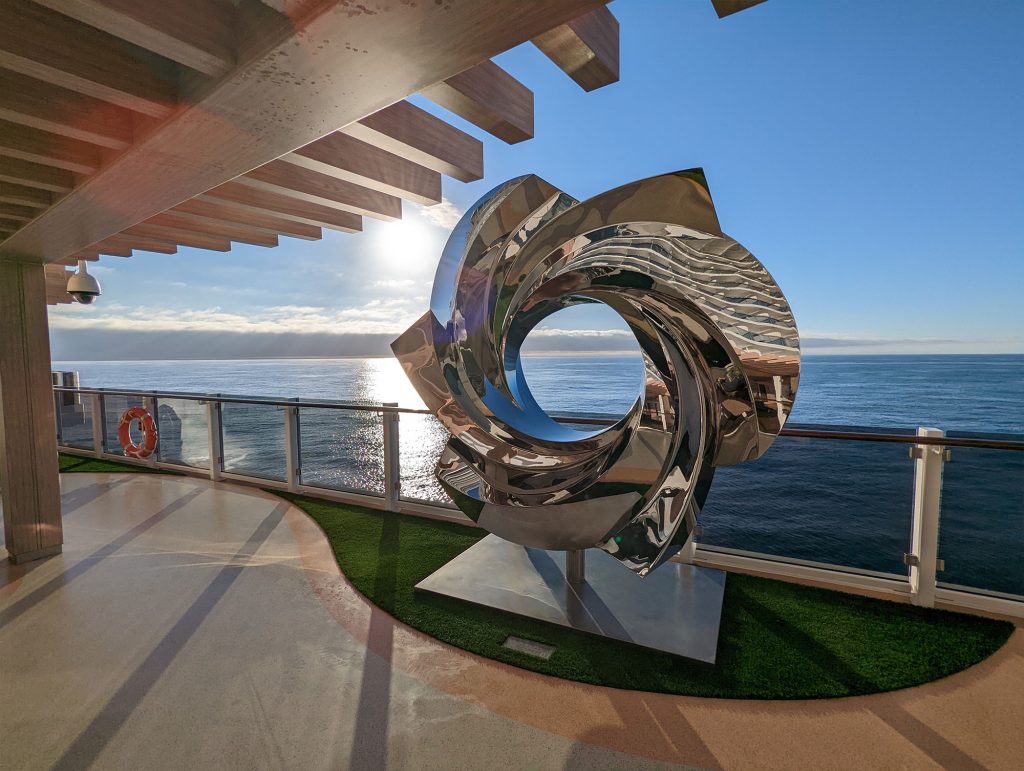 I can also see this area being a problem in the future. Because this was a trade and media sailing, few kids were on the ship, but even then, I saw several children climbing on the artwork. I predict it will be a common occurrence on summer sailings as there isn't much for kids to do (more about that later).
The Waterfront also has two glass walkways over the middle of the ship. The glass isn't perfectly clear, but when the ship is moving, it gives you the thrill while walking over the rushing sea below.
Prima Speedway
As soon as we boarded, we used one of the onboard kiosks to book a time for the Prima Speedway. Norwegian introduced the racetrack concept on the Joy, and each time, they've improved on it. For the Prima Speedway, they added an extra story making it 3-stories, and widened some of the track to allow overtaking. They even added a special game where guests who are not riding can shoot the cars with lasers to give racers a speed boost. There are single and double cars, each at a different time, so if you want to ride if your kid, look for the double session.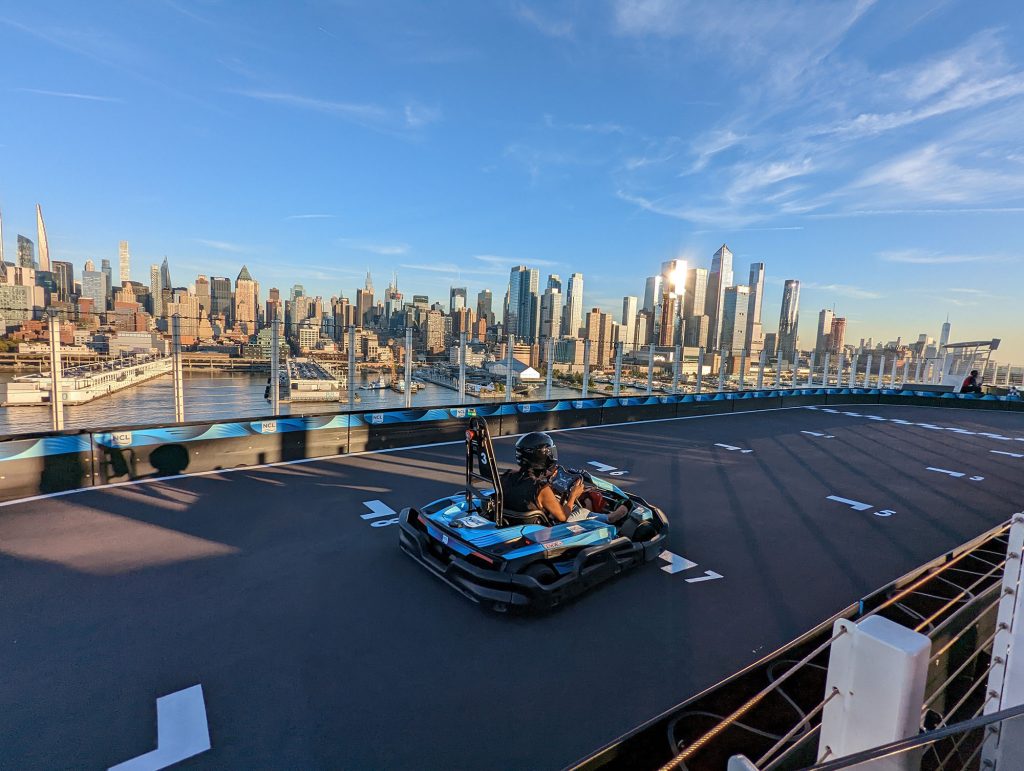 We started by standing in a line to check-in. Before we were allowed into the area, the attendant weighed us to ensure we were within the weight limits. Our weight was clearly displayed for us and any guests around us to see. It's something Norwegian needs to address quickly. Most other attractions with weight limits either only display your weight to the operator or give a red or green light to say it's ok. It was something that many people remarked on not liking.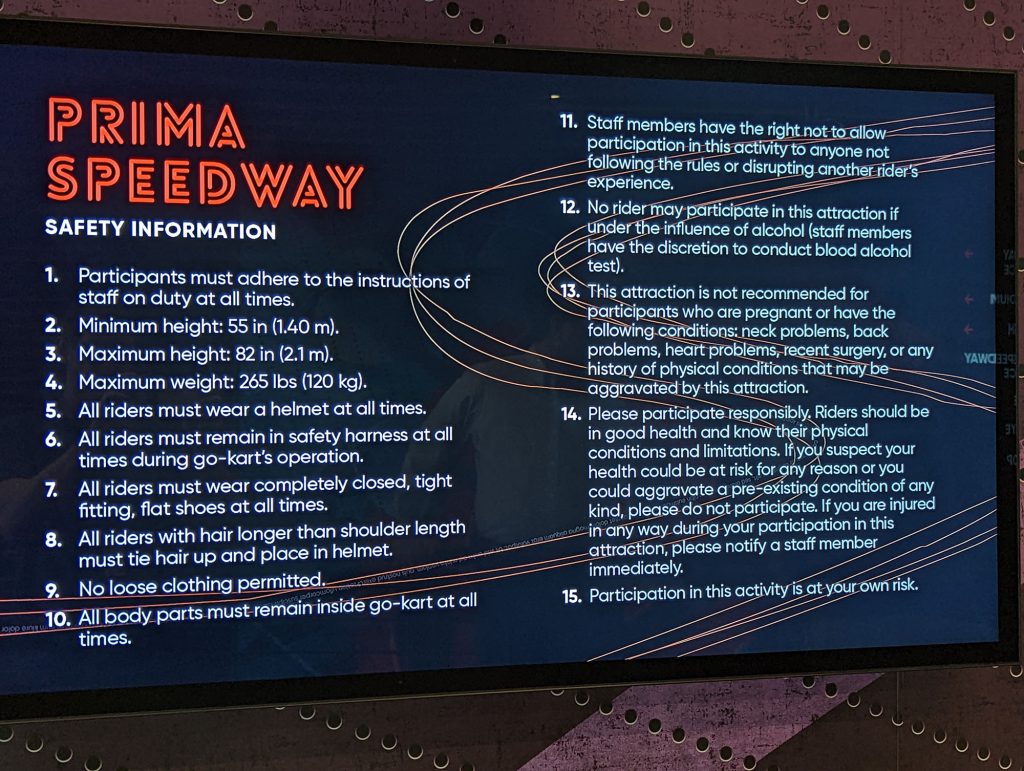 After we were cleared, we headed up the stairs to watch an instructional video. The video wasn't very clear, and the audio either wasn't working or too low to hear, but we figured it out. You put a sock over your head to keep the helmets sanitary and then load until the cars. The pre-show and preparation portion took about 10 minutes.
It was my first time on the go-karts, and I wasn't sure what to expect. During the first lap or so, your speed is regulated so you can get a feel for the course. Then, suddenly, the limiters come off, and you can fly around the track. The speed was impressive, they can go up to 40 mph, but you're so focused on the road you don't take in the fact that you're in the middle of the ocean. 
There were a couple of things to improve, though. For one, they widened the track on this ship so you can overtake others, but there are no mirrors, so you can't see if someone's behind you. Another problem was that the 3-story track had a large ramp, and as a grown-adult man, the car struggled to get a good speed on that hill. 
Overall, we got about 8 minutes of drive time. It was a fun experience, and I can see doing it once on a cruise, but at $15 a ride, I would not do it again on the same sailing. 
Trying out the new restaurant Nama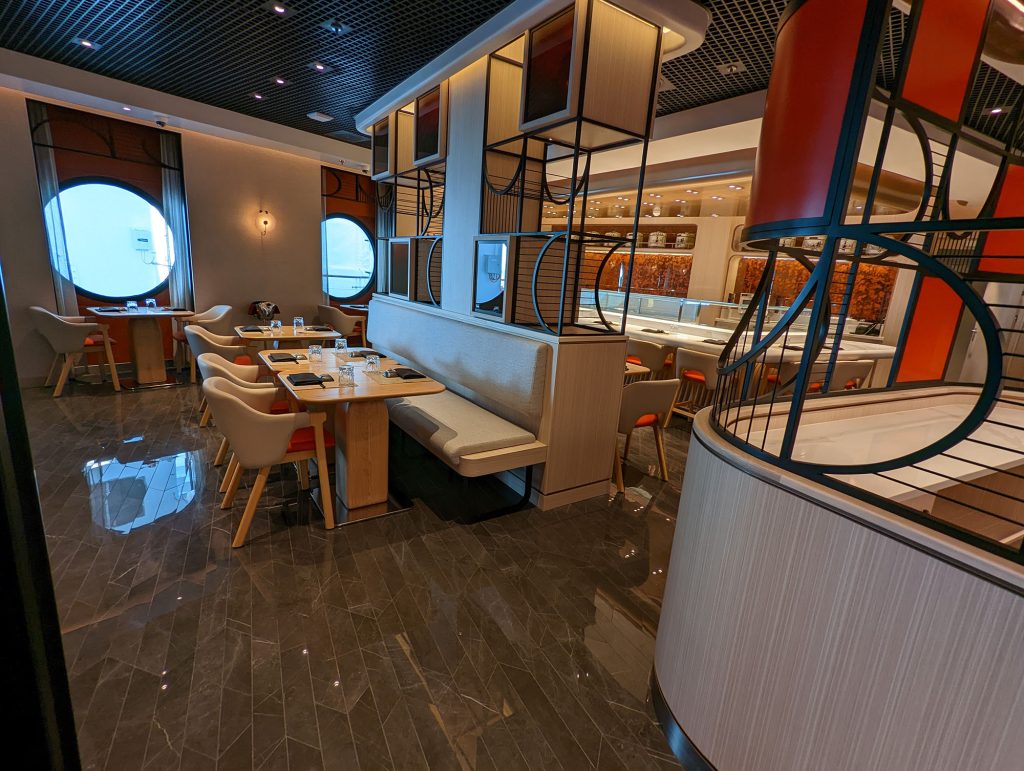 For dinner we were invited to dinner at Nama, a new concept for the Prima. It takes the place of the Sushi Bar found on other Norwegian ships and adds a lot of standard seating, making it both a restaurant and sushi bar. Menu pricing is a la carte and not cheap, but if you're using your dining package (either Free at Sea or one you purchased beforehand), you can choose four items. It's a lot of food and a much better value than paying for each dish. The food was terrific here, probably some of the best sushi I've ever had onboard a cruise ship. My favorite was the crispy salmon roll and tuna pizza. The space wasn't overly popular, though; throughout the sailing, I never saw the restaurant more than half full. 
Summer: Donna Summer the Musical
We were lucky enough to score tickets to the first performance of Summer: The Donna Summer Musical. It's based on the 2018 Tony-nominated show of the same name. In fact, Norwegian worked directly with the original Broadway producers, lighting designers, and choreographers to bring the show to the Prima. There were a couple of differences, though, one being its length. The show has an 85-minute runtime with no intermission, 20 minutes shorter than the Broadway version.
The show is basically a musical version of a biopic for Disco Queen Donna Summer. It takes you through Donna Summer's life, with three different actresses playing her over the years. There's Diva Donna, played by American Idol runner-up Kimberley Locke, Disco Donna played by Valerie Curlingford, and Duckling Donna played by D'Nasya Jordan. Their voices were spectacular, and they brought Donna Summer's hit catalog to life with songs like "Hot Stuff," "Bad Girls," and "Last Dance."
Production values on this show were also high. The sets, stage, and choreography rivaled anything I've seen on Broadway. I would definitely not call this a "cruise ship production." The venue is also much more intimate than any Broadway theater, making it feel like a personal performance.
That being said, I personally didn't love Summer: Donna Summer the Musical, but that's nothing on Norwegian and more likely a problem with the show itself. You'll notice above I wrote it was "Tony Nominated" and not "Tony Winning." The show itself feels a tad disjointed and hard to follow at times. One actress plays both Donna Summer and her mother, while another plays Donna Summer and her daughter. Even after seeing the show, I couldn't clearly tell you about Donna Summer's life. I know she married and had kids, but at which ages and how many? I couldn't really tell you. Whether or not that's because Norwegian cut out 20 minutes of the show, I don't know, but it does reflect feedback I heard from the original NY run. That being said, the audience seemed to love it. 
Prima Theater
You can't talk about the show without discussing the new Prima Theater. This 3-story convertible space is where all the big production shows take place on board. We've seen a lot of convertible entertainment spaces on cruise ships done to varying levels of success. One of the worst examples is Carnival's Liquid Lounge, found on its Vista-class ships. It was a step down from their old theater designs with poor sight lines, uncomfortable seats, and low ceilings. It was so bad that they scrapped the concept entirely from their newer Excel-class ships.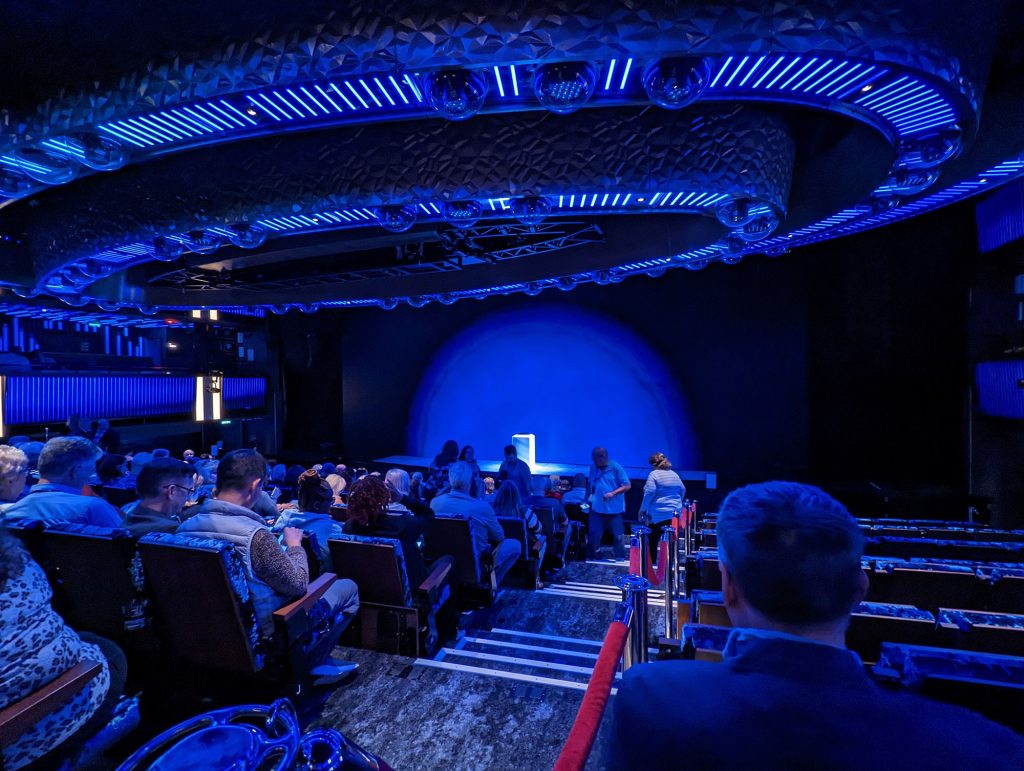 Norwegian did a much better job on this one. The seats were like regular theater seats, comfy and spacious, and each seat had a cup holder, which was a nice touch. In fact, many guests didn't even realize this was a convertible space. 
Sight lines from most of the first two decks were excellent, although the balcony of the 3rd deck had some blockages from overhead fixtures. 
Even though it's the largest space on the ship, the Prima Theater feels very intimate. The theater seats roughly 750 people, or 23% of the ship's double-occupancy capacity. While there have already been complaints that it's too small to accommodate the number of guests, it's on par with theaters on competing cruise lines Carnival and Royal Caribbean. Of course, that means that not everyone can see every show, but all shows are run multiple times, so guests on a 7-day cruise should have a chance to see every show they want. People don't like being told they can't do something, so they complain when a show is completely booked up. So make sure to book the show you want using the app or the onboard kiosks as soon as you can to guarantee your seat. 
Prima Theater Transformation
Was the Donna Summer show was over, they invited guests onto the stage to dance to disco tunes while the stadium-style theater seating retracted to form a Studio 54-type nightclub. Theater techs rush to push all the seats down into the floor and then slide them back. Then garage doors on the sides of the theater go up, and large, bench-style club seating pivots out into the room. Two bar carts roll out onto the dance floor as well. At the same time, a massive chandelier (that takes up most of the entire ceiling) descends to give the space a more intimate feel.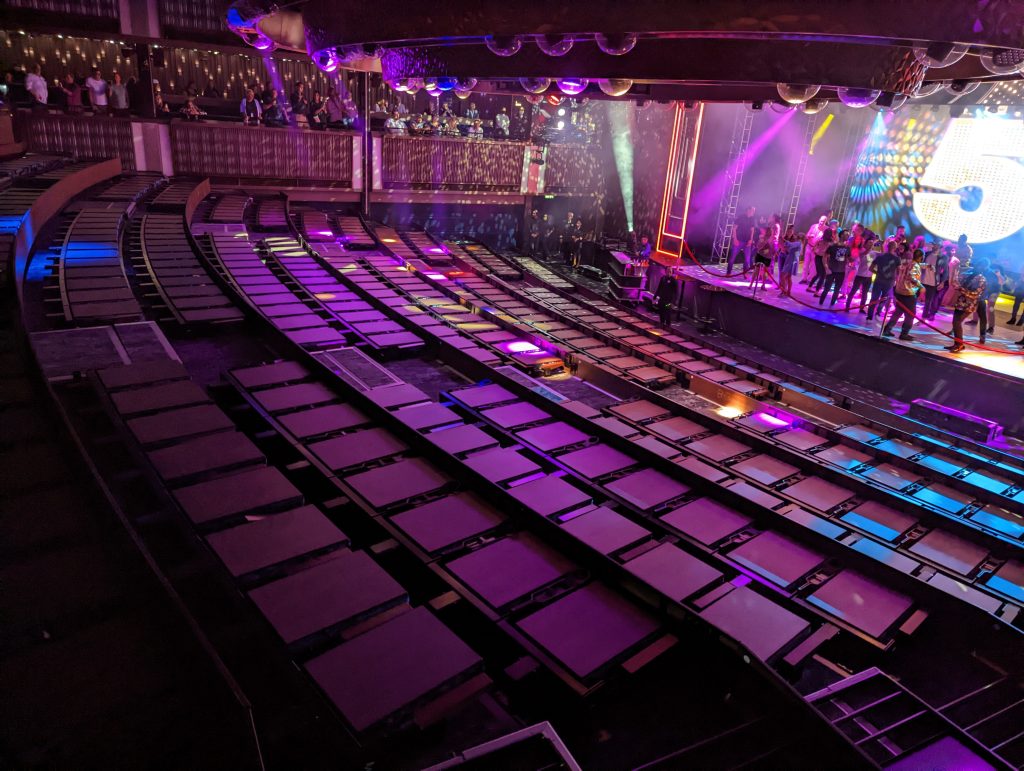 Conceptually, I believe it's supposed to be a seamless transition. However, in reality, it took a team of at least ten people around 20 minutes to convert it over. I tried to take a time-lapse video but even at high speed, it looked slow. It seems like a lot of work, and part of me fears this conversion will eventually go away as they find it too time intensive for the payoff (like they did on the aforementioned Liquid Lounge on Carnival).
Day 1 Overview
After some time at the disco, I decided to turn in. I knew I'd have a long day ahead of me tomorrow, where I'd get to explore many of the different amenities and features of the new Prima. 
Follow along on the rest of our Norwegian Prima cruise
Norwegian Prima – Cruise Blog - Day 1 – NYC
Norwegian Prima – Cruise Blog - Day 2 – Sea Day
Norwegian Prima – Cruise Blog - Day 3 - Halifax
Norwegian Prima – Cruise Blog - Day 4 - Final Sea Day
5 Hits and Misses on the Norwegian Prima
If you want to stay up to date with what we publish, sign up for our monthly newsletter
CruiseSpotlight is an Amazon Associate. We may earn a commission when you click links to retailers and purchase goods.