Norwegian Prima – North American Debut – Day 2 Sea Day
The first sea day on a cruise ship is its first true test. Thousands of passengers roam the ship, exploring everything it has to offer. Guests will push dining venues, pools, and hot tubs to their limits, and you quickly see places where crowding is an issue. So naturally, I was interested in how the Norwegian Prima would stack up against this onslaught. 
Day 2 Overview
Leaning into the intimacy and luxury of the Prima
I got an early start to the day as I wanted to get some breakfast and walk around the ship before the various press events started. It was 7 am and it felt like I had the ship to myself. The sun was inching its way up into the beautiful blue sky, and the light reflected beautifully across the water. It was an ideal, relaxing morning.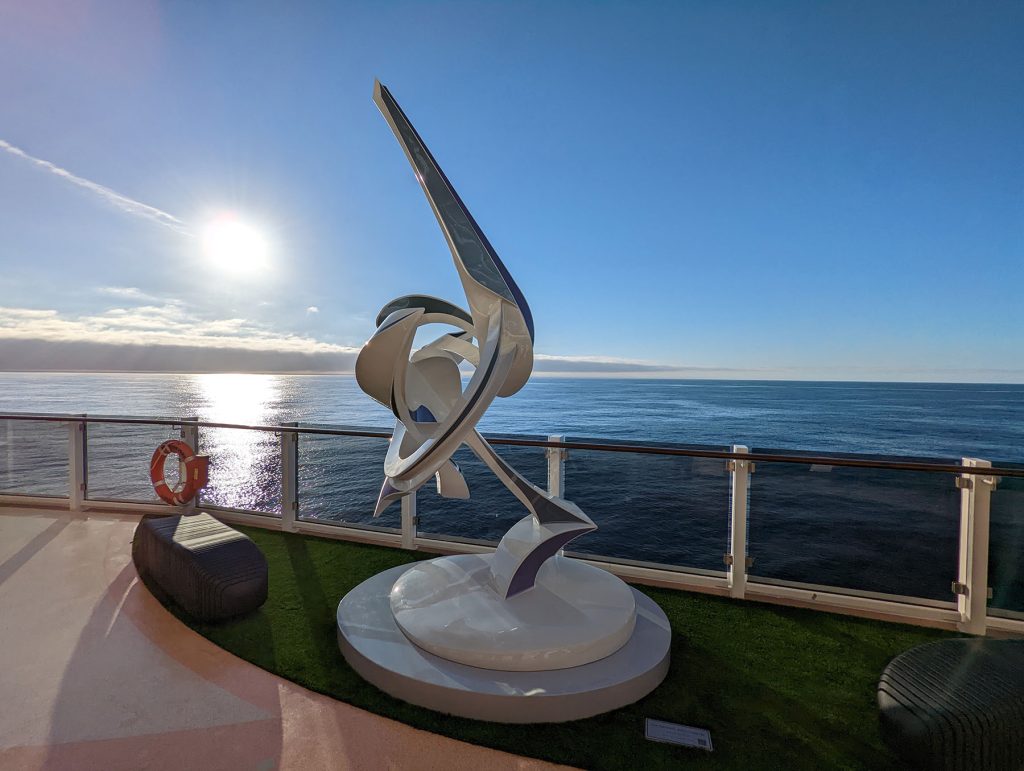 The quiet and solitude gave me time to think about the Prima. Walking around the ship the previous day, I couldn't help but notice how beautiful it was, but at no point did I go, "Wow!" It wasn't until wandering around in the morning that I understood why. 
With the ships increasing over time and everyone trying to one-up their competitor, you're also looking for bigger and better. And the Prima really didn't have that.
What it did have was tons of smaller venues and intimate spaces. With the ship quiet and empty, I could appreciate the incredible attention to detail and function that Norwegian put into the ship. For example, the Observation Lounge had shelves filled with decor and books to make it feel like an area of your own home. The Atrium had many seats and tables tucked into corners or out of the way for quiet conversations. In fact, almost everywhere you looked, you could find a comfortable nook or seating area.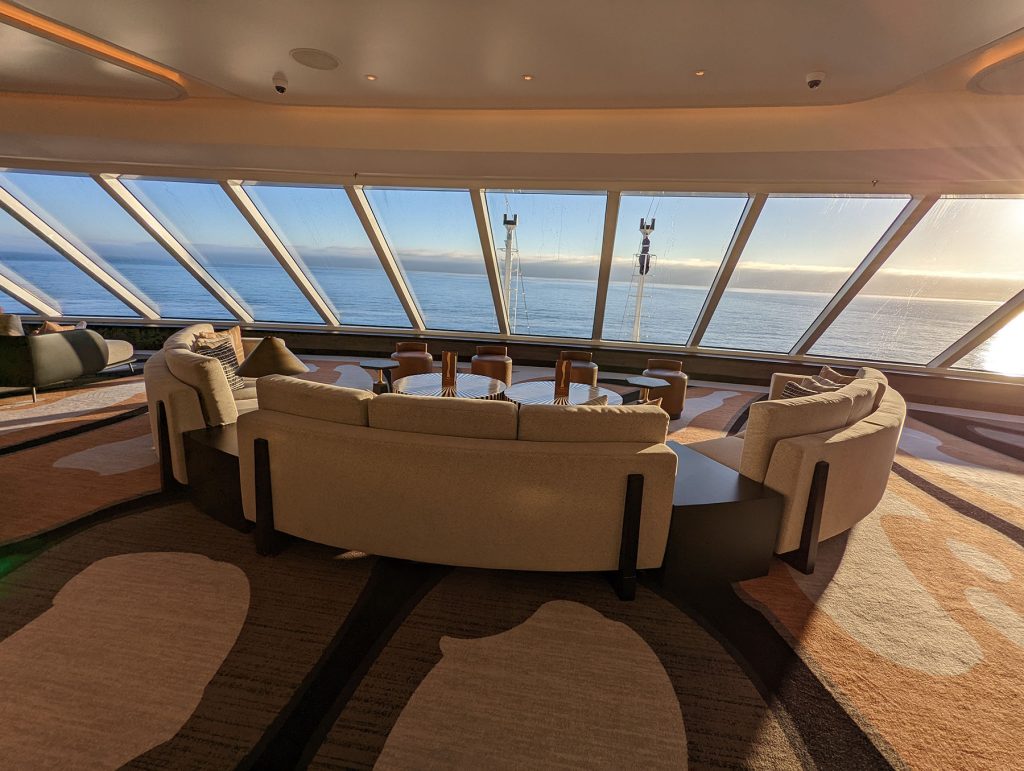 Once that sunk in, I understood what Prima was. It was later confirmed during the panels we had with the leadership at Norwegian and some of the ship designers from Studio Dado. The ship wasn't supposed to feel like a cruise ship. They wanted it to feel homey and intimate; something you wouldn't expect at sea. And they accomplished it nicely. In doing that, they did create a few problems, but I'll get to that later. 
Getting around Norwegian Prima
For all the attention and planning to detail they did, I found navigating Prima to be a bit of a challenge. I've been on plenty of cruise ships, but I didn't get the hang of Prima until day four. 
One issue is that a lot of the spaces and decor blended together. Sure, it makes for a great overall feel and flow, but it also makes it hard to remember where things were or how to get there. For example, on my last cruise on Ovation of the Seas, I knew when I saw a cat with a cowboy hat picture in the stairwell, that it was my floor. It's harder to do that with high-end, abstract art. 
Also, the layout had a lot of places where you had to walk through one venue to get to another. For example, are you at the main pool and want to go to the racetrack? You're going to have to walk through the buffet. Want to get to the Indulge Food Hall? You have to go through the long bar at The Local. There weren't many barriers or dead ends, but the lack of signage was noticeable.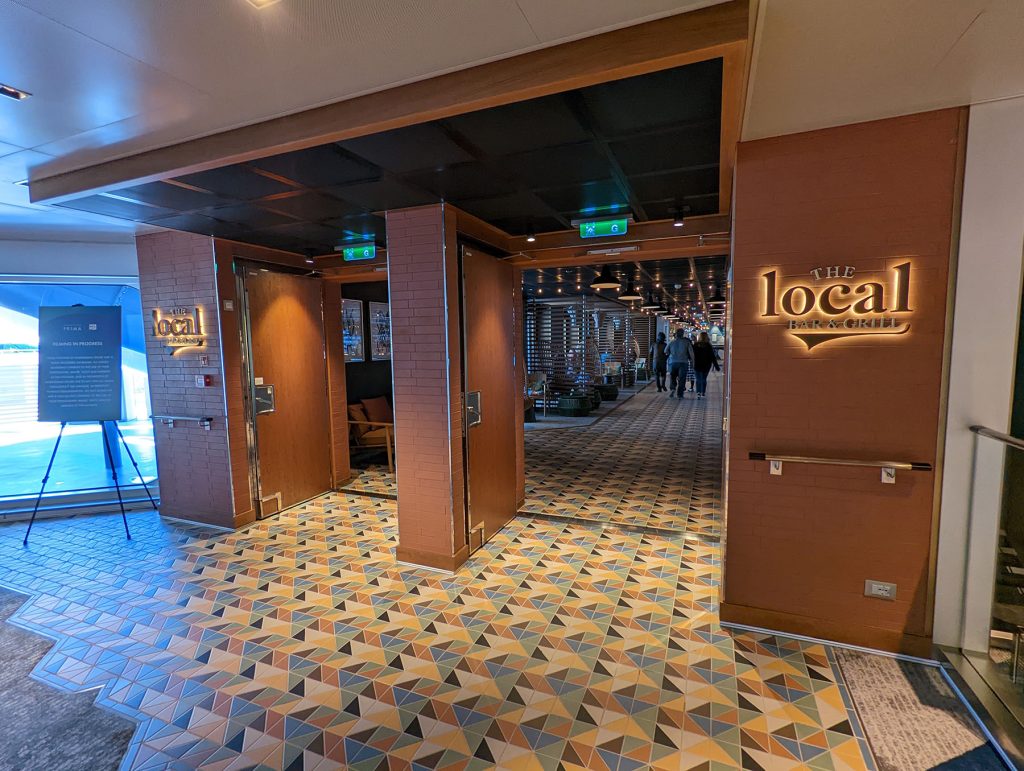 Even the elevator lobbies made it hard to know where to go. They all looked very similar and didn't stick out. Norwegian places some signs and wayfinders in their public spaces, but in their attempt to go so subtle and sophisticated, they were easily overlooked. 
Breakfast at Indulge Food Hall
After wandering the ship and enjoying the beautiful views, I decided to grab some food in Indulge Food Hall. For breakfast, it offers grab-and-go offerings. You simply roam the marketplace, see what you like, and take it to a table. The space was pretty much deserted; most people seemed to go to the buffet upstairs. It was almost like I had the place to myself.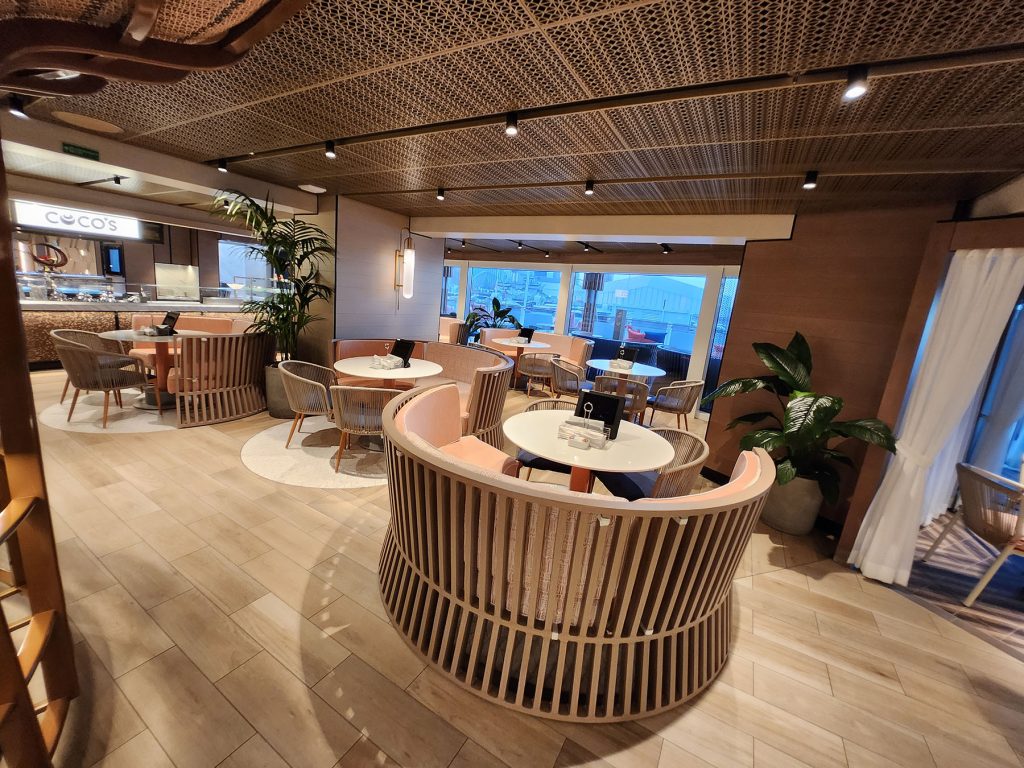 It took a bit of exploring to find the options available. There were hot sandwiches, cereal, pastries, and fresh fruit. With seemingly no rhyme or reason to the food placement, you had to explore to find your options. I actually liked that feeling, but it could be a pain if it were actually crowded or if I was in a rush. Towards the end of the week, I noticed this diagram on the TVs that helped me see the options.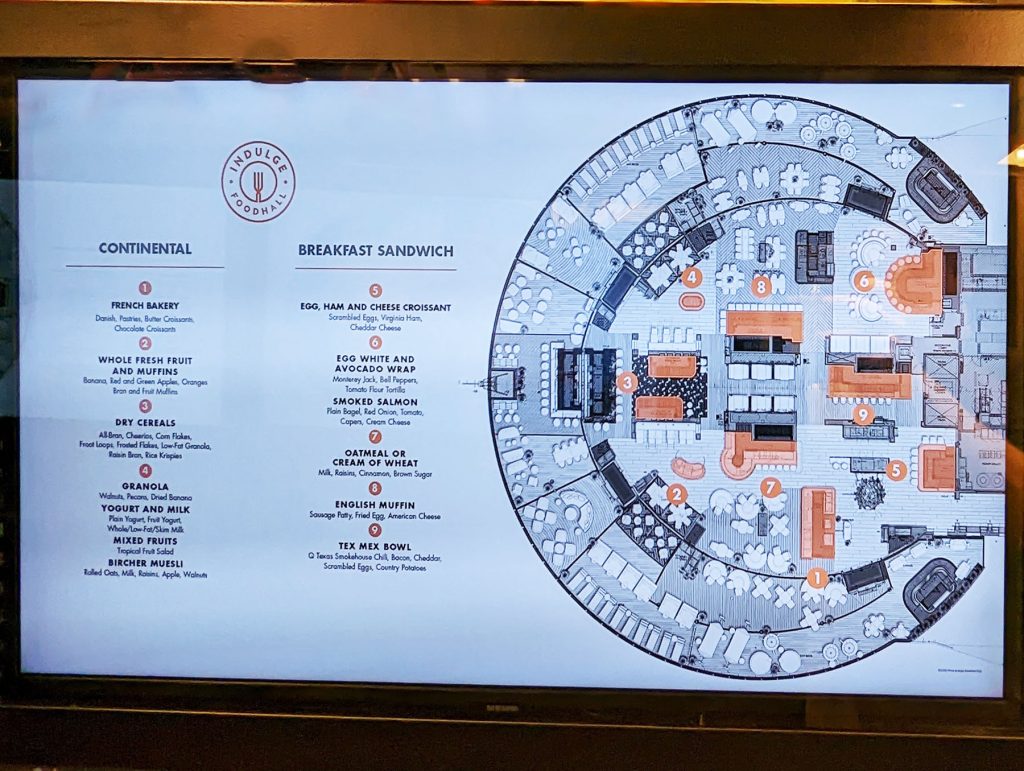 I grabbed a fresh fruit cup and a bagel with smoked salmon. It's not a choice I'd usually make, but the poor woman working the Seaside Rotisserie was tucked away in the corner and looked so bored because no one came to her area. The dish was quite good. Again, I love that the food hall gets you to try new things. That's one of my favorite parts of a cruise, and it's done well here. 
Exploring The Haven
One of the first points of order this morning was to check out "The Haven." If you're unfamiliar with The Haven, it's an exclusive area on the ship where guests have a private 5-star retreat. It's often referred to as a "ship within a ship" concept. These guests can live in their own little world; an exclusive dining room, lounge, bar, and pool. Cabins in this area can go for 6 to 10 times the price of a standard balcony. 
Full disclosure: I'm against The Haven concept
I will be as neutral as possible here, but I want to preface this section by saying that I hate the idea of The Haven. It feels like it creates two classes of people on the ship. Even when touring the area, we were told we had to be quick and quiet because we couldn't disturb the "VIPs." When you have VIPs, you are explicitly saying there are very important people on the ship, and you're not one of them. Both comedians on this cruise joked about The Haven, with one calling it "vacation segregation," which elicited cheers from the audience. 
That being said, I expect The Haven creates a lot of revenue for Norwegian Cruise Line, and I know some people will exclusively sail in that area. So I'll cover it as non-biased as possible, but let it be known, I'm not a "Havener."
Biggest Haven space yet
Norwegian made some significant changes in The Haven on Prima. First, they doubled the size with 106 luxury cabins available. They also relocated it to the aft of the ship. To access it, you use your keycard to enter private elevators, which will take you to the main Haven lounge.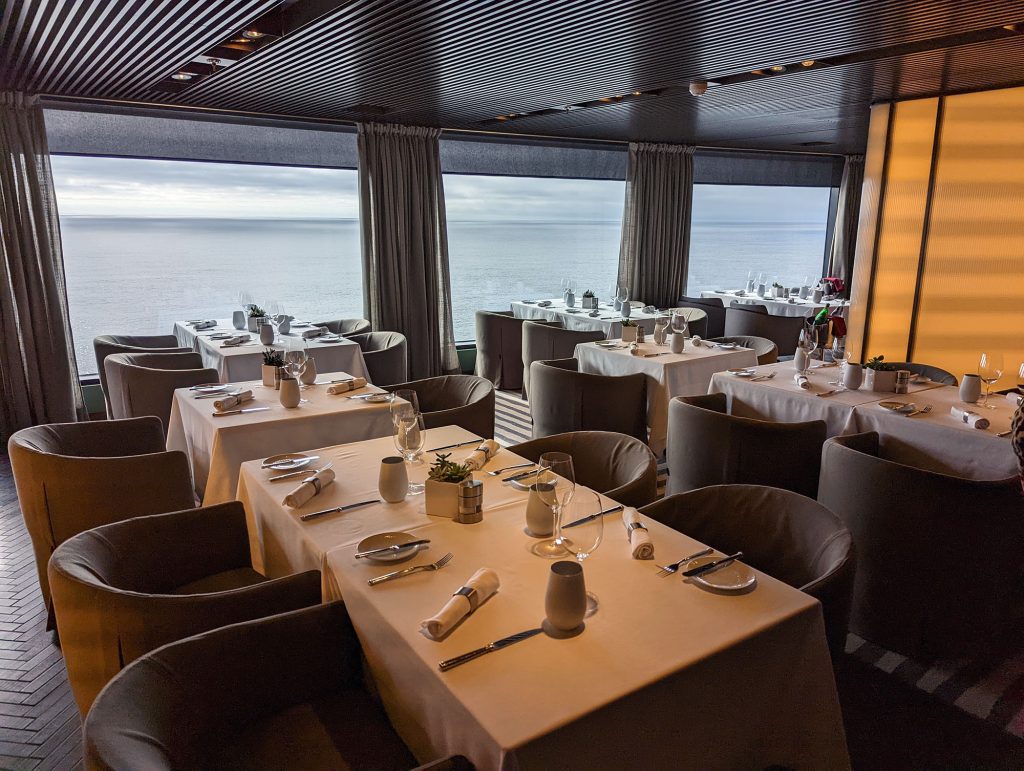 The Haven guests also have access to two levels on the top rear of the ship. It was brilliant to put them here because the average guest can't see them and won't know what they're missing. Deck 16 has a good size infinity pool off the back of the ship and plenty of upgraded loungers. On Deck 17, there are more loungers and two hot tubs. We were told Deck 17 is for guests 16 and up, while Deck 16 is open to all Haven guests.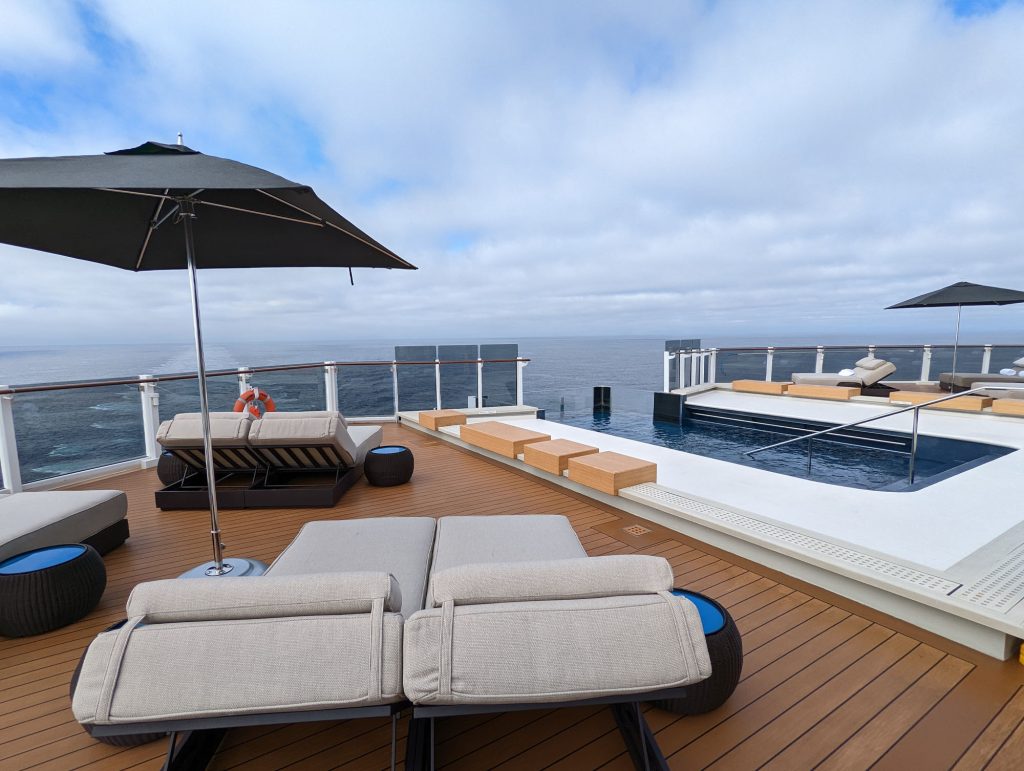 The Haven Area feels very high-end, but because the whole ship is already elevated, it doesn't feel noticeably different. Our tour guide described it as "subtle elegance," and I think that fits it well. There weren't any elaborate decorations or unruly amounts of golf trim; it just had a very high-end feel.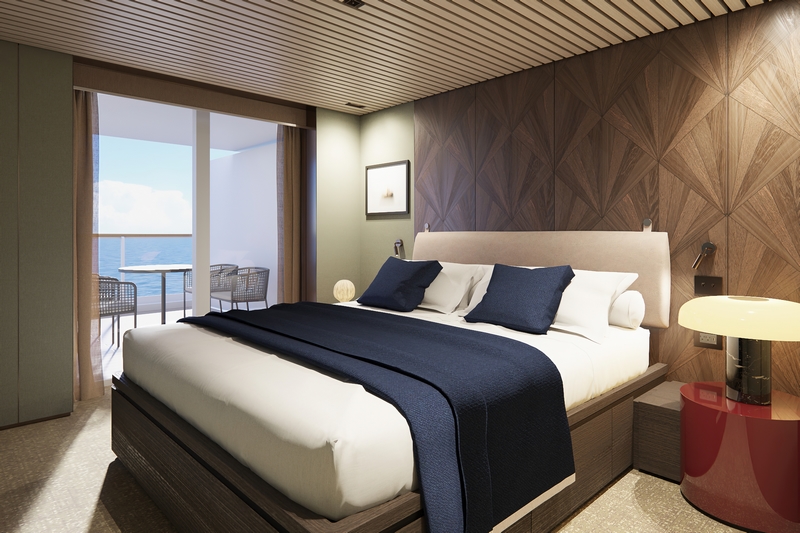 Of course, it's not just the common areas that are upgraded. The rooms themselves are elevated as well. Even the smallest cabin in The Haven is double the size of a standard balcony cabin. You'll find elevated furnishings, full bathtubs, and roomy balconies. Most also come with tables to enjoy meals at as well. They have a very old-world resort feel, and you could imagine these rooms belonging in any 5-star resort. 
Trying The Local for Lunch
After the tour, I headed to The Local for lunch. It's an included restaurant that serves diner or pub-style food 24/7. I had never tried it before, but I loved the ability to order food whenever I wanted. Unfortunately, too many cruise lines limit the dining options between mealtimes or late at night. The Local is a way better option than the 24/7 pizza other lines force you to have if you're hungry late at night. 
On the Prima, there are two parts to The Local. First, on the ship's starboard side, there's a long corridor connecting the Atrium and Shops to the Indulge Food Hall. You'll find a long bar, some swinging chairs, and other comfy seating options in this part. There's also a huge TV that's great for watching a game. Initially, they weren't serving food in this portion, but I occasionally saw people eating at the bar. 
On the other side of the ship is the actual restaurant. It has seating both indoors and outdoors, which is nice. The décor in the space is not as elevated as other parts of the ship, which suits the purpose of the venue. It's perfect for a quick, no-fuss bite.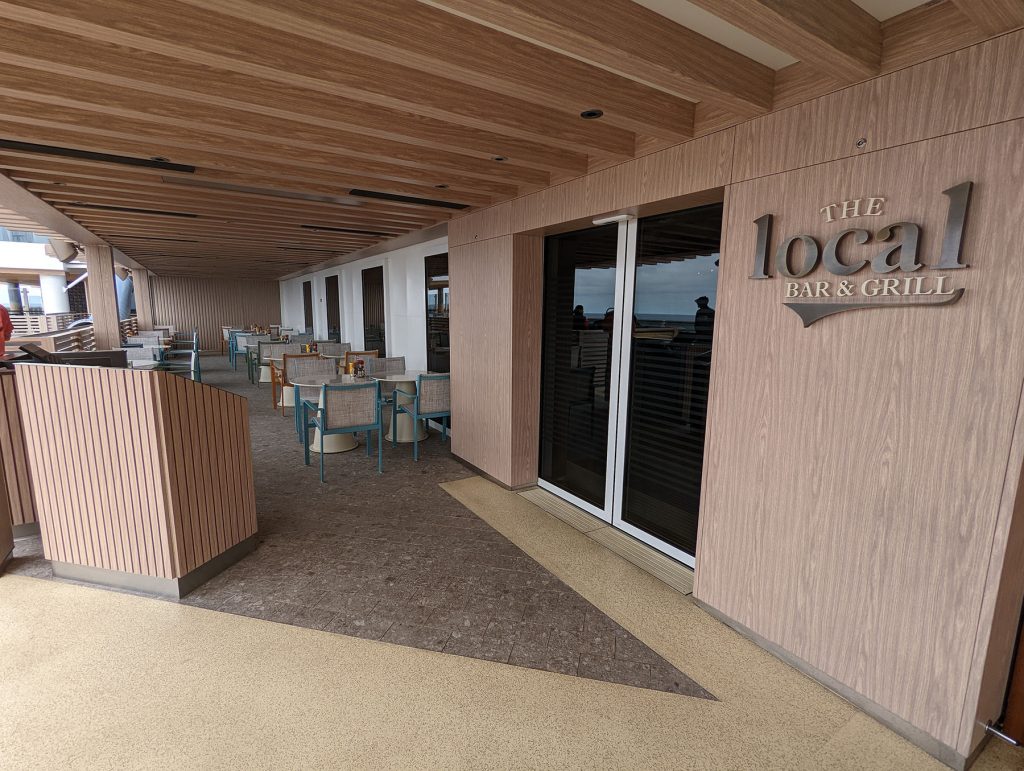 It was 12:30, and we had about a 10-minute wait to grab a table. The place was hopping and all the tables were full. The server struggled to get to everyone, but you could tell the staff there was working hard. 
I loved the variety of options here. There were many "comfort" foods to choose from…the type of food you might get at home when hanging with your friends. The casual feel didn't mean lesser quality food. You could tell the food was all cooked to order and portion sizes were generous. 
Attempting to slide down the thrill slides
One of the first things people notice about Prima is one of the 10-deck dry slides located on both sides of the ship. Many people wrongly assume these are waterslides, but they're really dry slides. It's a first for Norwegian (although Royal Caribbean has had multi-story slides since they installed two on the Harmony of the Seas in 2015). 
The Prima has two different variations, the Rush and the Drop. Both are complimentary and included in your cruise fare. Each slide begins on Deck 18 and shoots riders down a curved metal tube that spits them out at a landing area 10 decks below. 
The Drop
Dubbed the "world's first free-fall dry slide" to be offered by a cruise line, it's a 10-story plunge slide that takes passengers rushing down the side of the ship, "experiencing the highest G-force of any comparable experience in the cruise industry," according to Norwegian. 
That's right; the floor drops out right from underneath you. This slide had the most attention from guests. When I arrived, there were 11 people in front of me. The ride loaded quickly, and it took about 15 minutes until it was my turn. 
One of the best parts was seeing the look on the guest's faces when they saw the loading area. You start the ride by getting into what's best described as a vertical coffin. Next, you step into a cloth mat that wraps around you like a taco tortilla, and you hold it in place. Finally, the clear plastic door slowly closes, and the ride counts down. 
4….3….2….1
Next thing you know, the floor is gone, and you're descending into the slide. If you've done a waterslide with a dropping floor, this version is not as intense. You feel gravity pull you, but you don't quite feel like you're in free fall. Then, as you enter the darkness, you hear a scream echo through the tube. That's right; they pipe in the screams that people hear in line just to scare them more.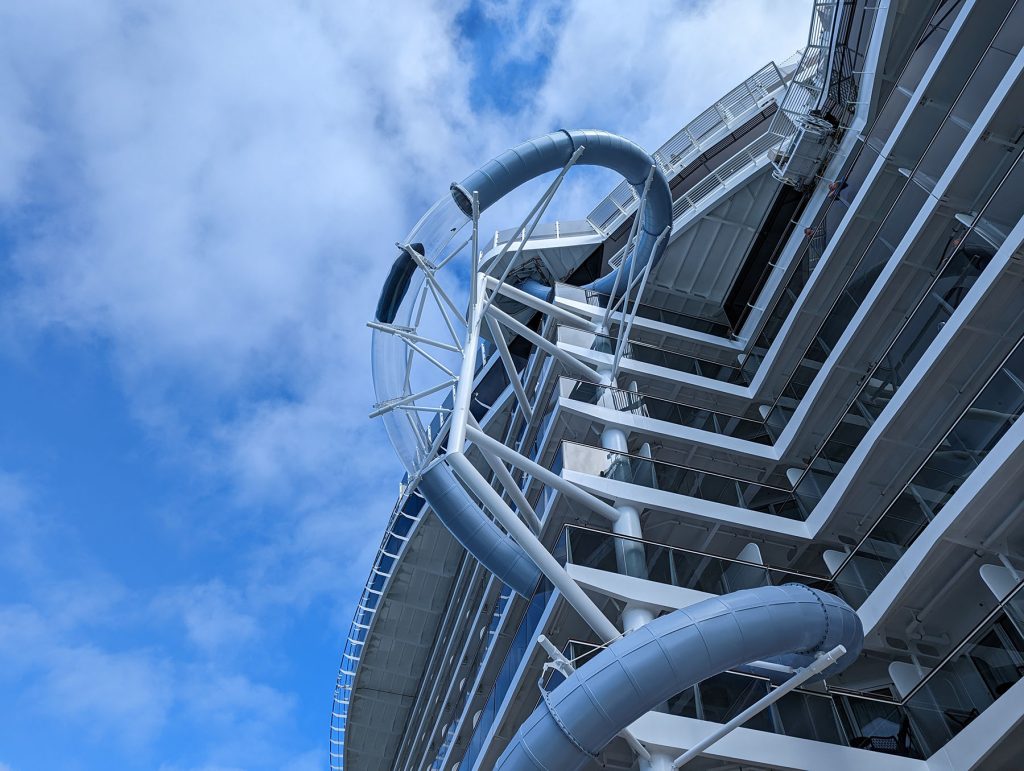 After about 15 feet or so, you enter the clear part of the slide that extends over the water. The slide slows you down so you can glimpse the horizon. Then as you enter the dark again, the speed picks up. It wasn't super fast, but I felt the g-force. 
You land next to The Local outdoors eating area and step out. Overall, the biggest component of the ride is anticipation. From watching people getting anxious while in line, to the look of terror as the countdown starts, it really gets your heart racing, probably more than the slide itself. 
The Rush
The Rush is a set of two, dueling dry sides on the other side of the ship. Guests sit down on a cloth mat and then race down the slides. There was no line when we walked over to give it a shot. We approached the entrance and saw only one was open at the time, so we couldn't race each other.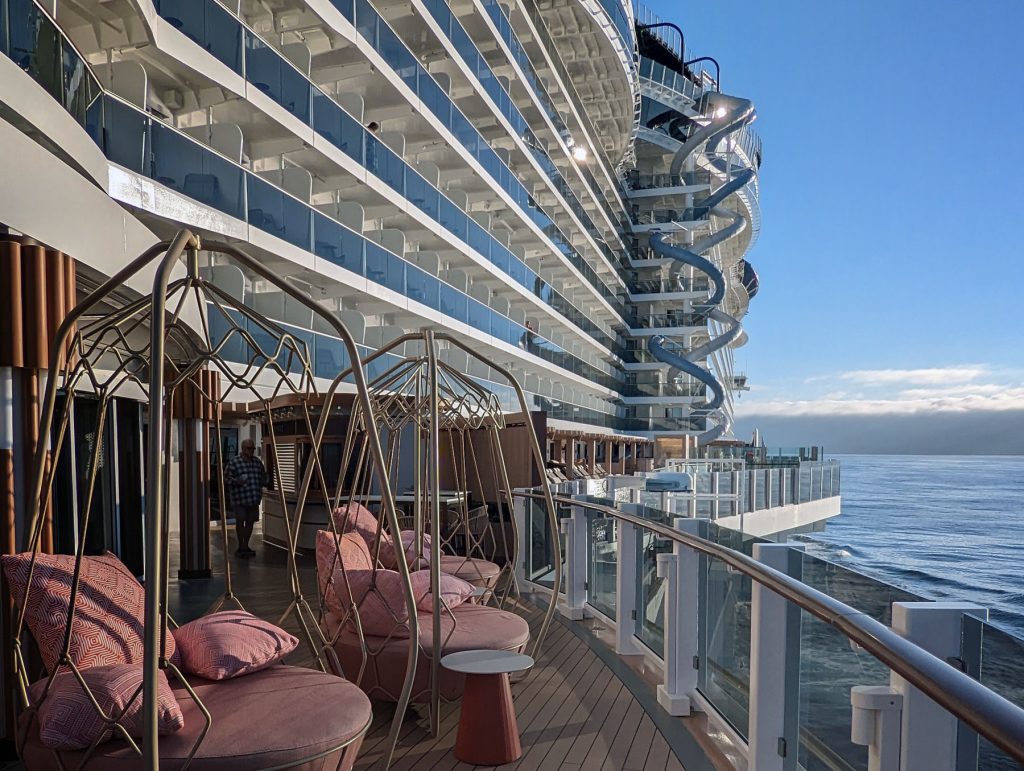 I stepped up to the podium and got into the mat. The attendant gave me the green light, and I was off….almost. I wasn't going anywhere. There wasn't much of a slope on the slide entrance so I couldn't get going. I had to grab the top of the tube to get started.
Once I finally got into the tube, I slowly made my way down. And I mean slowly. I was actually bored on the way down. There's little speed or thrill involved at all. When I finally reached the bottom, I was still in the tube and had to shimmy out. 
I asked the attendant about it, and he said it could be heavily dependent on the weather; too much or little humidity and it might not work. So they were going to close the slide I used and then open the other one to see if it was better. I know Royal Caribbean greases their slide, so maybe Norwegian had to do that. I can't be sure, but I do know that The Rush was completely underwhelming. 
Multi-generational ship
So why did Norwegian put slides on a ship to begin with? It was in an effort to make the ships more "multi-generational," according to CEO Harry Sommer. So a couple in their sixty's can book The Haven and enjoy peace and quiet, and can invite their kids and grandkids along who can zoom around on the race track and slide down a 10-deck slide.
It also gives people a chance to try something new. I saw a perfect example of this when I got off The Rush. There was a couple, who was likely in their 70s, waiting at the bottom. The husband asked me how intense it was and how long it took. He wanted to try it out, to push his boundaries. His wife had no desire at all, but he went on The Rush and had a great time. 
Tee Time Mini Golf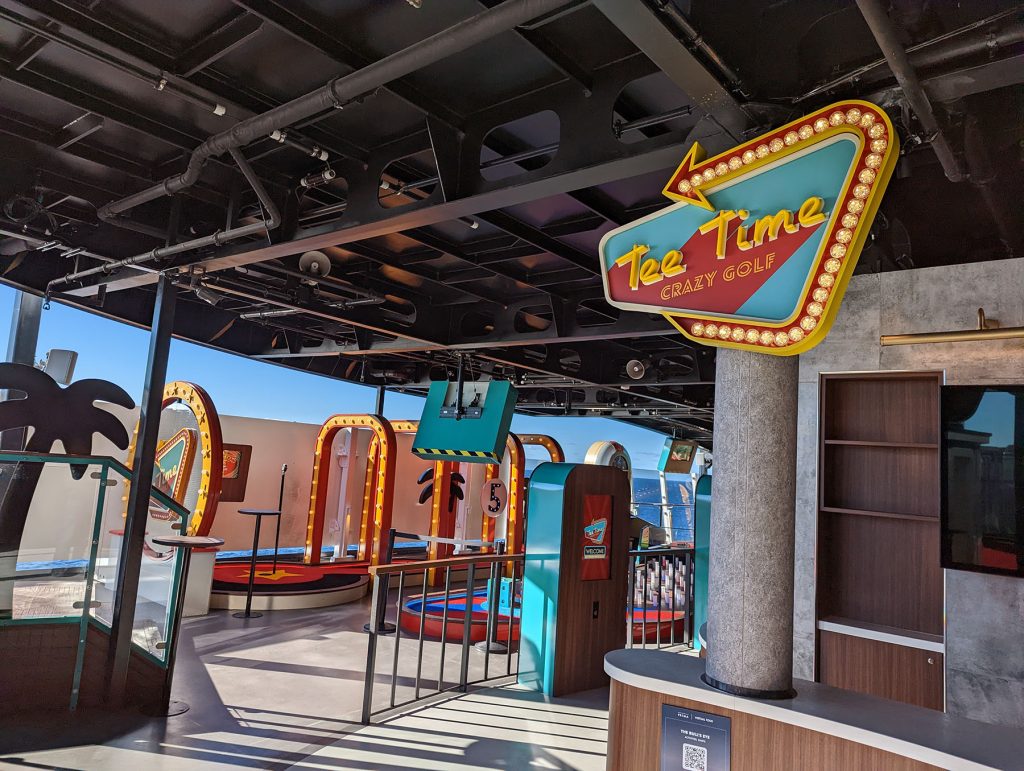 After the slides, we checked out Tee Time Mini Golf, another new activity on the Prima. Mini-golf on a cruise ship is nothing new, but Norwegian tried to change it up. They call this 9-hole course "Vegas-style mini golf." It's not the patch of AstroTurf with a windmill you'd find at your local boardwalk. Walking into the area, you can tell it's supposed to be an attraction, not just a way to fill time with lights and sounds all over the place. 
You start by signing up at a kiosk. Since this was a special cruise, there was no charge, but there's usually a $15 per person fee. Once you sign up, you get a ball with a microchip inside that knows it's yours. It's tracked through all the holes to keep score (and keep everyone honest). 
TV's and graphics around the course interact with the ball. The last hold is a giant slot machine. Before you play, you press a button and it tells you the prize you may win. There's a variety of prizes like free games of golf, a round on the racetrack, and even a free cruise. You win the prize if you get a hole-in-one on that last hole. 
Overall the attractions are very well designed, and the personalization/technology aspect is unique. That being said, $15 per person seems very overpriced. Maybe it's fine if it's a group of adults, but I would never pay that much for a 5-year-old to play nine holes of mini golf, especially since they couldn't care less about the prizes.  
Belvedere Bar for pre-dinner drinks
The Belvedere Bar is one of the new bars debuting on Prima. It's a dark space with low lighting and plush finishes. It almost felt like a VIP section in a trendy nightclub (although there's no live music here). Even though the space was nice, it felt a bit disjointed from the rest of the Prima.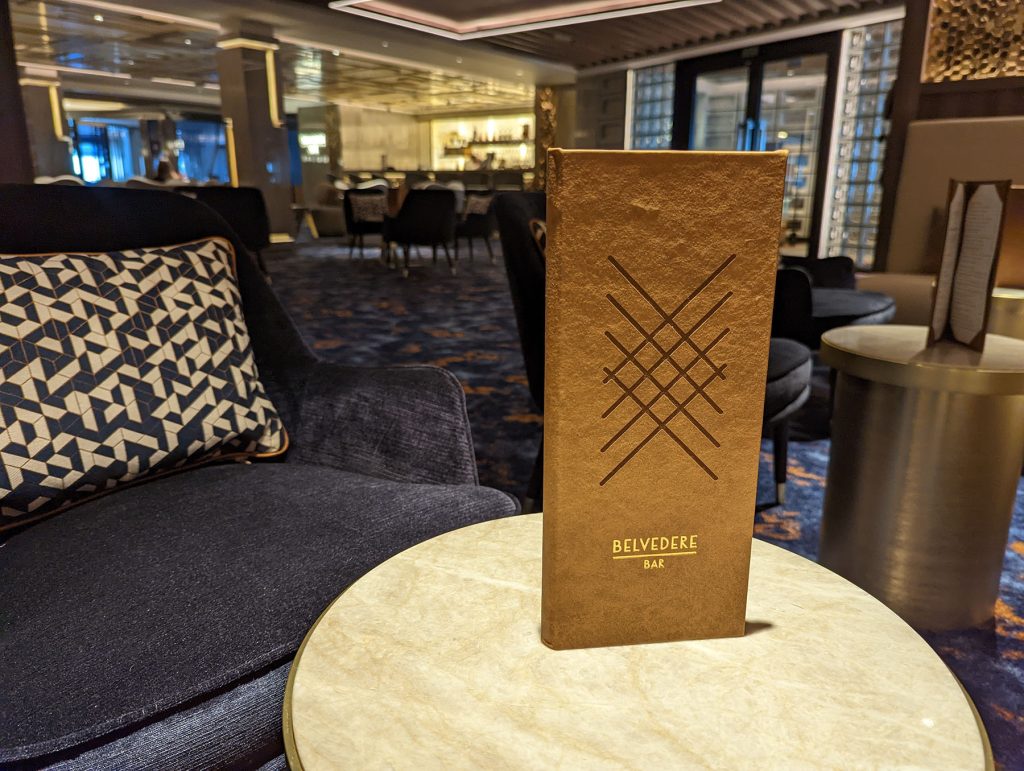 Belvedere Bar is also so tucked away that I didn't know it existed. It's located on six between the Commodore Room dining room and Cagney's Steakhouse. The only way to access it is through the casino of via the aft elevators. 
If you go during the day, it's all but abandoned (A great place if you need somewhere quiet to do work). I was shocked to see how crowded it was at night, though. It was a full room at 7 pm and again at 10 pm as people got their pre- and post- dinner cocktails. Even with a full room, the seating and wall decor absorbed the sound so you could have a conversation without being drowned out.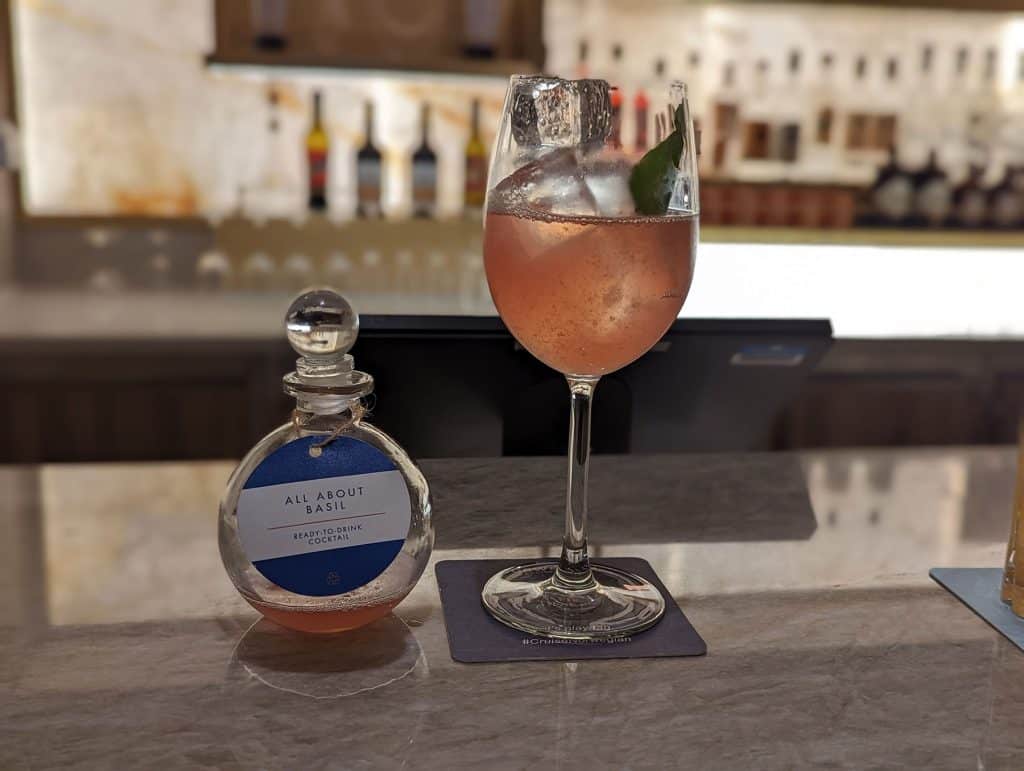 The bar had a dedicated menu with a nice selection of custom cocktails. I tried "All About Basil" and was surprised to see it came in a bottle. I asked the bartender, and he said he made a batch of 100 of those that morning. They premix and bottle them to make service more efficient. Little things like that really helped with service. Over the whole course of the cruise, I never waited for more than a few minutes for a cocktail which is impressive considering everyone on this sailing had the drink package.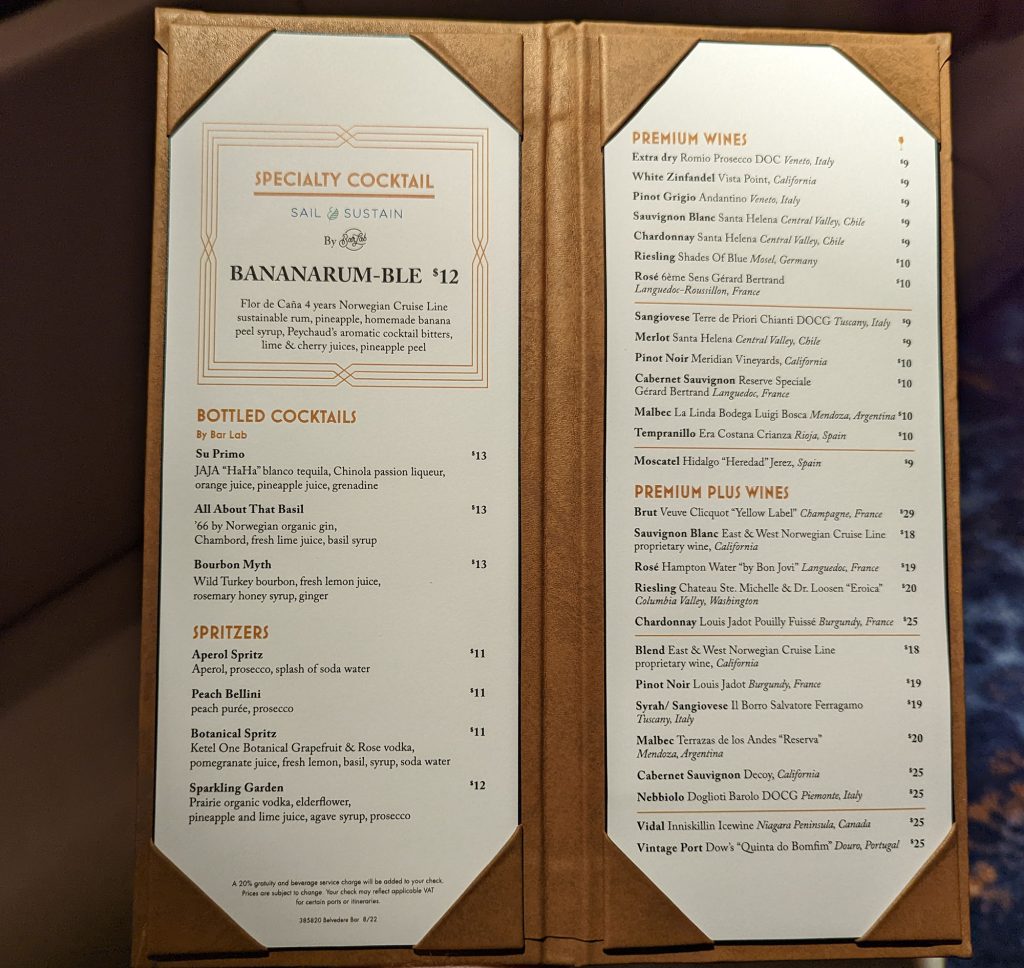 Food Republic for dinner
For dinner, we tried Food Republic as our free "specialty dining" that came with the cruise. Traditionally this venue costs extra, either paying a la carte or using one of your "Free as Sea" included meals. 
Food Republic is on a few Norwegian ships, but it has a whole new look on the Prima. It has beautiful floor-to-ceiling windows looking over the ocean. Even though it was dark by the time we ate, we got the enjoy the moon shimmering on the water. 
Our waiter came by and explained the concept to us. It's tapas-style plates of varying cuisines. As our included meal, each of us got four dishes to order. He recommended ordering four at a time to avoid the table being inundated with dishes. 
The selection was pretty varied, and there were a lot of options, but I would have a hard time believing people would ever pay the a la carte prices for the dishes. It was more than you'd see at a tapas restaurant in NYC, and if we paid a la carte, it would have come out to around $75 per person for the dishes we selected.
The food was delicious, though, and again, I got to try new things I hadn't tried before. But I was left pretty confused. How is this different than the free Indulge Food Hall? Sure, there were different types of food, and I guess more elevated (like lamb kabobs), but it's literally the same tablet to order and pretty much the same experience. I really enjoyed the restaurant and, on another ship, might go again, but on the Prima, I'd stick to the included Indulge Food Hall. 
Another odd thing was that the restaurant was really shaking. I didn't hear feedback from guests who dined at other times, so maybe it was a fluke, but the floor was constantly moving. It didn't feel like the ship itself was shaking, but the restaurant. We were on a cantilevered portion of the restaurant overlooking the water, and right under the racetrack, so I'm not sure if that was the issue, but it was noticeable and border-line annoying. 
Trying out Prima Casino
To finish the night off, I tried my hand at the casino. As I walked down the long corridor of slot machines, I immediately realized something was missing…the smoke. A majority of the Prima Casino was smoke-free. There was a smoking section, but it was enclosed in glass and I was shocked at how small the smoking section was. As a non-smoker, I appreciated it, but I could see people who like to smoke and gamble not enjoying this ship.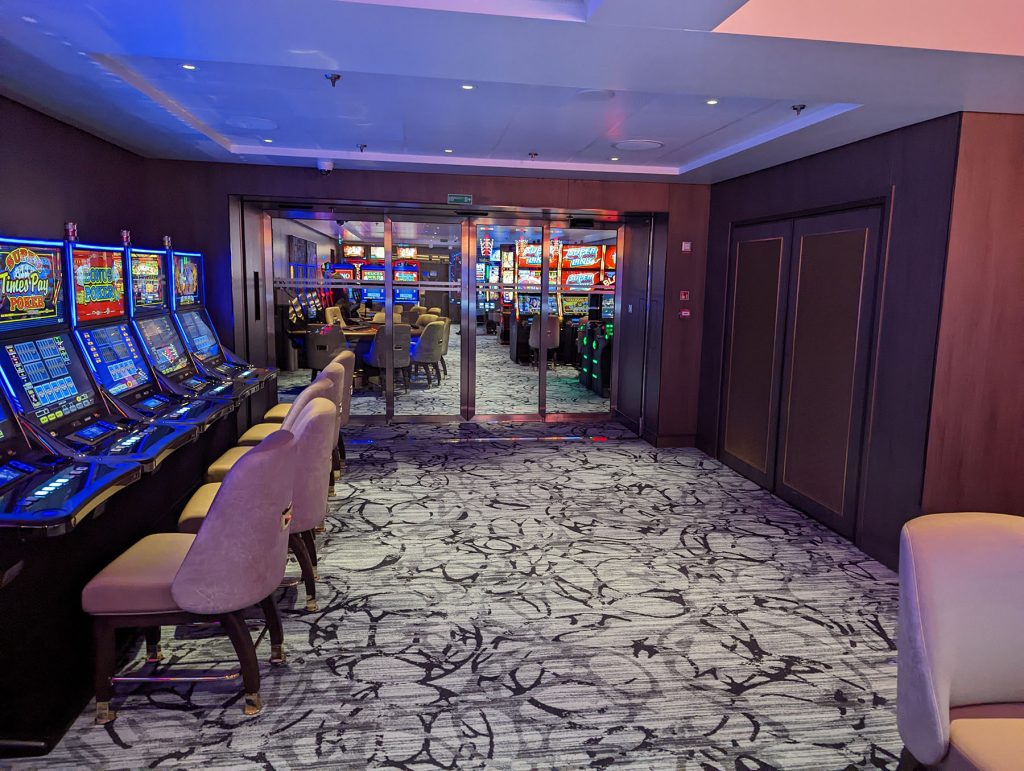 For this sailing, the casino wasn't very hopping since most people were working on catching up with colleagues. There were a good amount of slot machines and what seemed to be a decent amount of tables. It's hard to judge how they'd hold up to a regular sailing but I didn't see any glaring problems. 
The casino doesn't have a dedicated bar, but it uses the Primrose Bar on the ground floor of the Atrium. It's quite a walk to get there from the tables, but luckily there were quite a few cocktail servers coming around. 
Sea day recap
After I lost $40 (I'm not a high roller), I headed back to the cabin. We'd have an early start the next day as the ship arrived in Halifax. 
Overall, it was another jam-packed day aboard the Prima. The ship was really starting to grow on me, and it held its capacity fairly well. I had been told the ship was "near full capacity" but couldn't get a exact number. Except for a few poorly designed spaces though, the ship never felt overly crowded or congested (we'll get into those spaces in our day 3 review). 
Follow along on the rest of our Norwegian Prima cruise
Norwegian Prima – Cruise Blog - Day 1 – NYC
Norwegian Prima – Cruise Blog - Day 2 – Sea Day
Norwegian Prima – Cruise Blog - Day 3 - Halifax
Norwegian Prima – Cruise Blog - Day 4 - Final Sea Day
5 Hits and Misses on the Norwegian Prima
If you want to stay up to date with what we publish, sign up for our monthly newsletter
CruiseSpotlight is an Amazon Associate. We may earn a commission when you click links to retailers and purchase goods.