Norwegian's New Dining Room Experiment May Have Failed
For decades, the main dining rooms on most cruise lines have followed the same model, a menu that rotated each night of the sailing. However, times have changed, and cruise lines have tried to adapt to adjust to the changing expectations. That includes the introduction of alternate dining venues and additional fee specialty restaurants. In one of the experiments, Norwegian Cruise Line decided to change how their main dining rooms work on their newest ship, the Prima, and it seems that the experiment may have failed.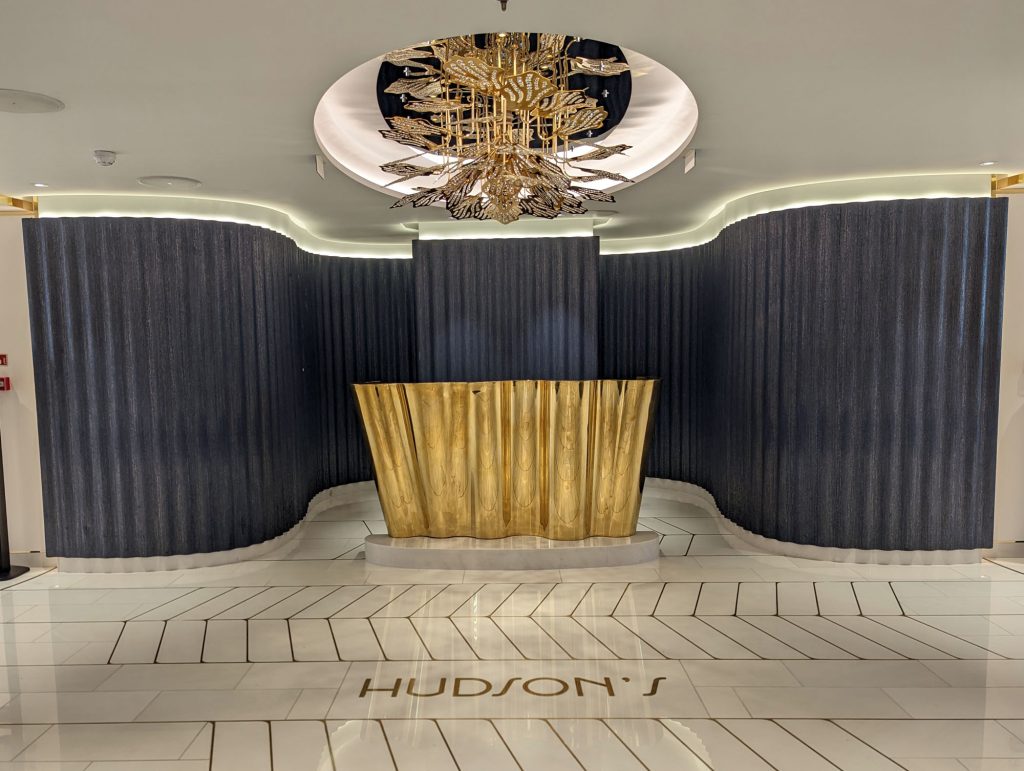 Main dining room change on Norwegian Prima
When Norwegian Cruise Line announced the Prima dining options in March 2022, they highlighted that the two main dining rooms, Hudsons and the Commodore Room, would feature "Main Dining Modernization." That meant those restaurants would no longer feature the 14-day rotating menu seen across the fleet but instead have fixed menus that would be the same every night.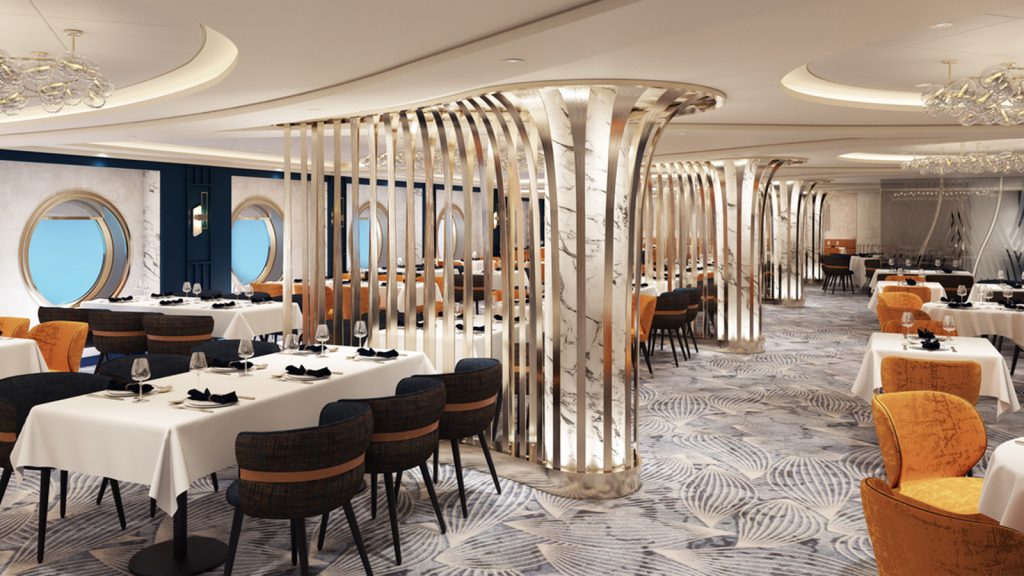 CEO Harry Sommer defended this strategy in a press event aboard the North American inaugural sailing of the Prima. He mentioned that no restaurant on land has a rotating menu every night, and focusing on a smaller number of dishes would help the chefs elevate the quality of the food. Sommer wants guests to "think of it not as a main dining room but as the largest specialty dining room at sea."
In an earlier press release, Norwegian said…" In addition to offering travelers consistent high-quality dishes to choose from, the new menu will also boast a build-your-own-pasta section where guests can request a tailormade Italian classic pasta dish by selecting their choice of pasta, sauce, and topping, providing more than 24 meal combinations. The menu will also include a 'Specialties' section where cruise goers can select a dish from one of the ship's specialty dining eateries."
They also indicated that the revamped menu would roll out to the rest of NCL's fleet through 2023.
You can see the original menus from the Norwegian Prima's inaugural sailing below (follow along on the sailing's cruise blog here).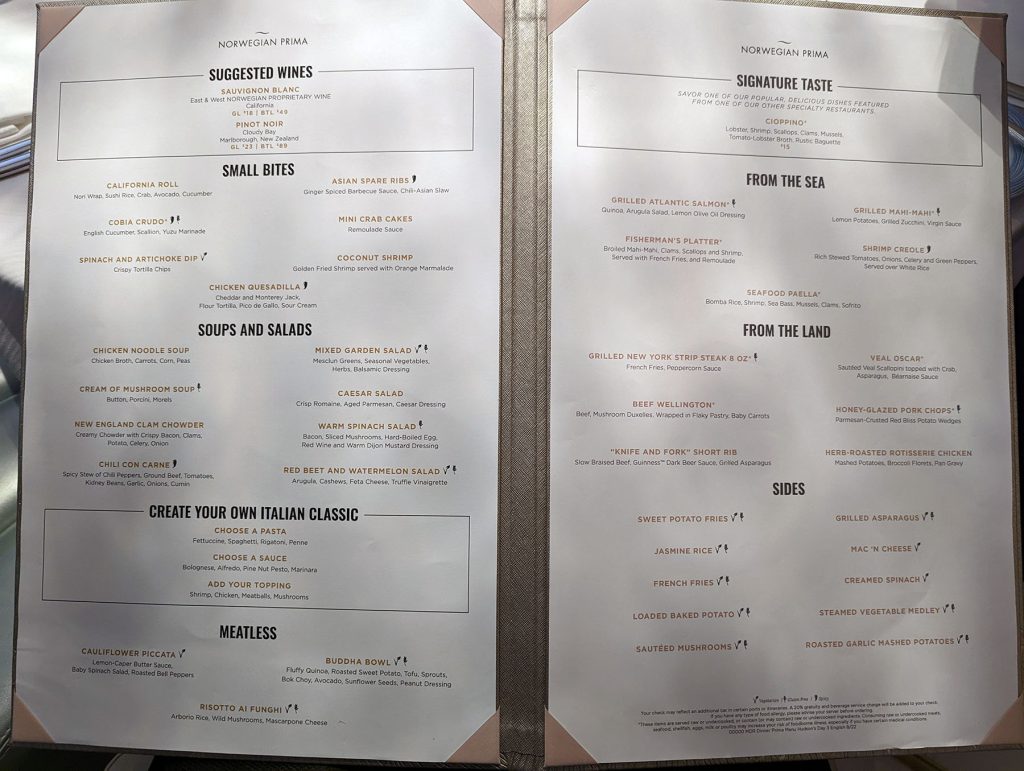 Rotating menu seen on Norwegian Prima April 30th sailing
Guests from the April 30th sailing on the Prima have reported they've seen a rotating menu in both dining rooms. The previous sailing had a fixed menu, so it's clear this is a new rollout.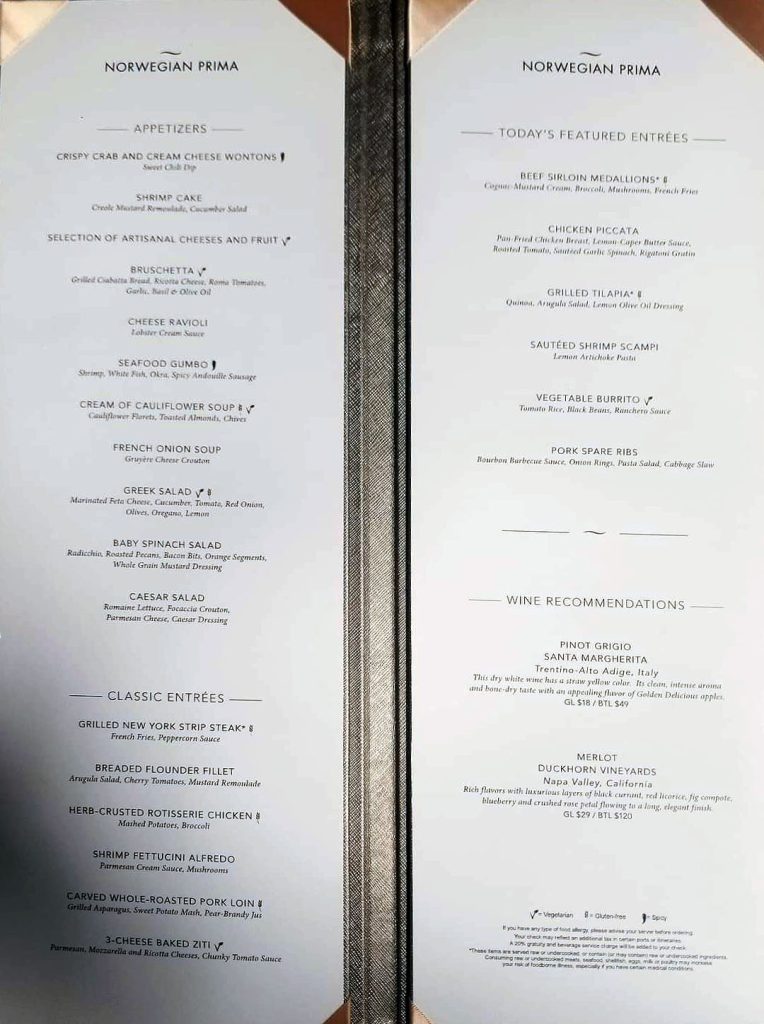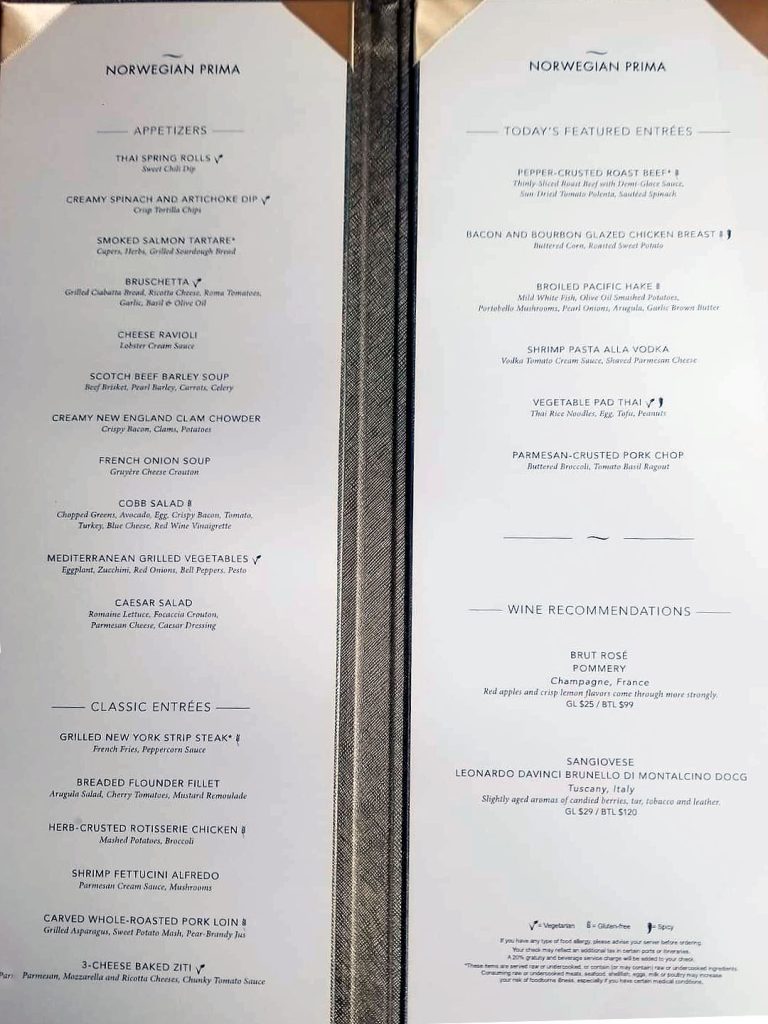 So far, only two days of menus are available. It looks like half of the appetizers will be swapped out each day, with staples like French Onion Soup and Bruschetta staying on each day. The menu will also feature six "classic entrees" that will remain the same and six new entrees that will rotate out. 
It doesn't seem like extra-fee signature dishes from specialty restaurants are available anymore either. That's not surprising, as I don't know why someone would spend $15 to get a dish from Palomar when they could go to that restaurant instead. 
Is this the end of a fixed main dining room menu for Norweigan?
At this time, it's not known if this is a test or a permanent change to the dining room structure on Prima. Cruise lines are known to experiment and test new concepts before making final decisions. If I hear anything official from Norwegian, I'll update this article.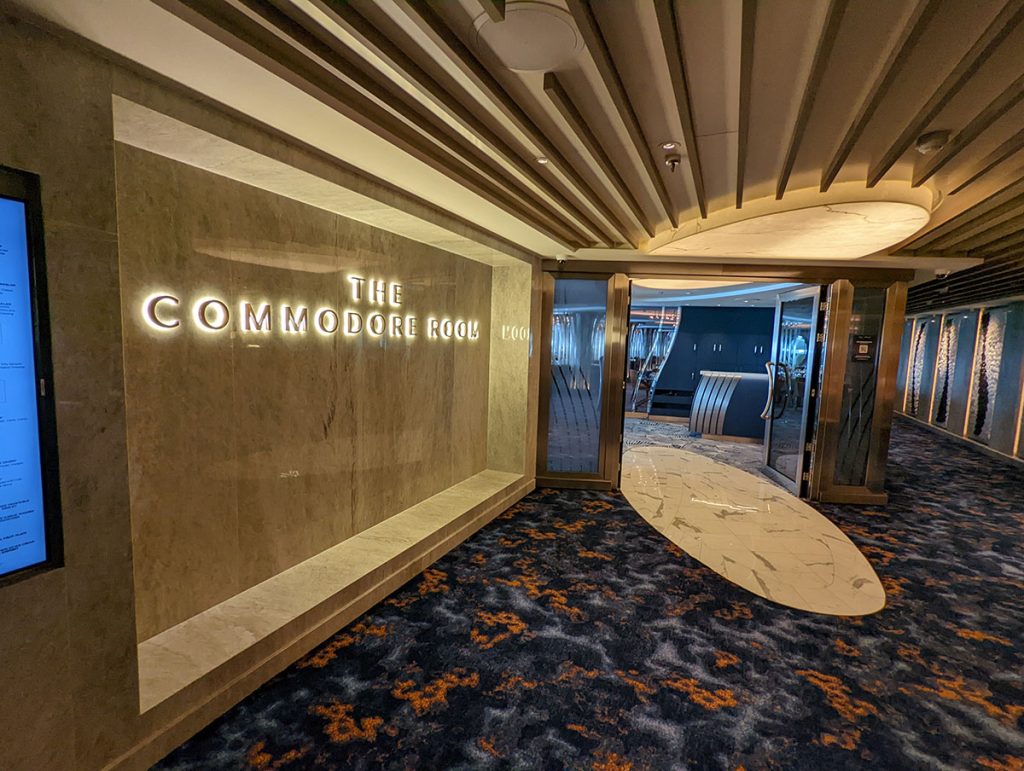 Our take: a needed change
Cruise lines have seemed to struggle to accommodate the demands of newer cruisers. Cruisers are no longer willing to sit around for two full hours to experience the multi-course meals that used to be standard. On top of that, they expect high-quality food that's unique. 
Almost all cruise lines have tried some kind of change since the cruise industry's restart, and so far, many don't seem to be going well. For example, Royal Caribbean's new daily menus and the main dining room food quality have been widely panned by guests since their launch a few months ago.  
I appreciate what Norwegian was trying to do. Still, with only limited free options available for dinner, it came off as more of a cash grab than anything else, trying to get guests into the additional fee restaurants on the ship. If they had tried different fixed menus in Hudsons and the Commodore Room, it would have helped this feeling. 
While the earlier statement by the CEO was true, most restaurants on land don't change their menu every day; it's also true that most guests don't eat at the same restaurant for seven days straight. Even though the food in the main dining room was excellent when I sailed in October (see the blog here), I would find it boring on a 10-day sailing like I'll be doing on the sister ship, the Viva, in May 2024. 
CruiseSpotlight is an Amazon Associate. We may earn a commission when you click links to retailers and purchase goods.