Ovation of the Seas – Cruise Blog – Day 1 – Seattle
Last Updated on September 3, 2022
We just returned from a fantastic 7-night Alaskan Cruise onboard Royal Caribbean's Ovation of the Seas. I'll take you through our trip day by day and share our experience: the highlights, low lights, and some helpful tips and tricks for going on an Alaskan cruise. Long story short, it's awe-inspiring and an experience that everyone should do once in their lifetime.
Overview of Day 1 on Ovation of the Seas
"Alaska Experience" Cruise
This cruise started in Seattle on May 27, 2022, then stopped at Juneau, Skagway, Sitka, and Victoria, British Columbia. It's called an "Alaska Experience" cruise because it doesn't sail to any glaciers directly like Glacier Bay or Tracy Arm Fjord. Instead, it typically has an extra port day in the itinerary. So while you will get some magnificent views from the Inside Passage while sailing to Juneau, those who really want to see huge ice walls right next to the ship should look for a cruise that says it's a "glacier" cruise. 
Arriving in Seattle
Our trip started by flying into Seattle-Tacoma International Airport (SEA) from Newark, New Jersey. Flights from the North East were quite pricey; in this case, they were half the cost of the cruise. We flew in two days early, so we had time to explore the city and adjust to the time difference before boarding. This extra time also gave us some wiggle room if flights were canceled or changed.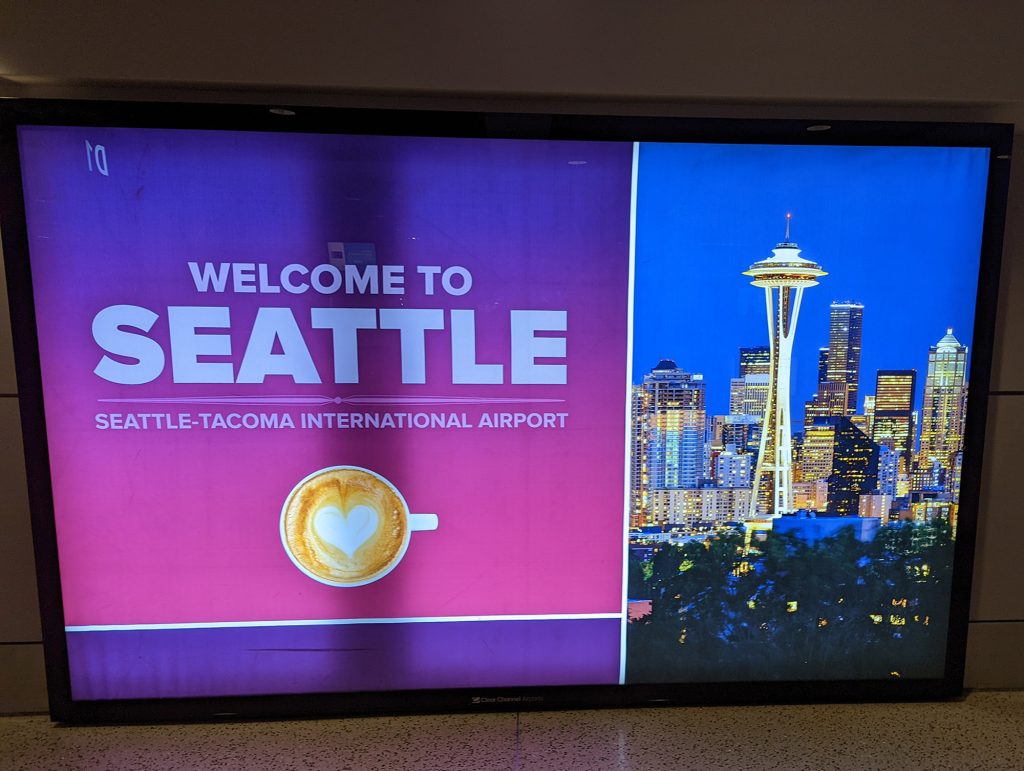 Getting from the airport to the hotel
We stayed at the Hyatt Place Seattle Downtown, which is a short 5-minute walk from major tourist attractions like the Seattle Space Needle and Museum of Pop Culture. 
To get to the hotel from the airport, we opted for an Uber. We didn't want to wait for a shared shuttle or train; we just wanted to get to the hotel and settle in. Seattle-Tacoma Airport has a dedicated Rideshare App pick-up spot on the 3rd floor of the parking garage, right by the baggage claim. It was easy to get to and had lots of stalls, so your Uber or Lyft could pull right up to a space and then text you the number once they arrive. It was convenient and a much better implementation than I've seen at other airports where it's just a free for all. 
Because of lengthy flight delays from Alaska Airlines, we arrived at 11 pm. At that time, it took less than 5 minutes to get an Uber. The ride from the airport to our downtown hotel cost $50 and took about 20 minutes. It was pretty simple and painless. 
Getting to the Pier 91 to start the cruise
One of the most puzzling things to me is that cruise lines don't do a better job of telling you where to actually go for your cruise. It's been the same way my last three cruises, all with different ports and cruise lines. Seattle has two different cruise terminals which aren't near each other. Royal Caribbean's ships leave from Smith Cove Cruise Terminal, located at Pier 91 and north of the downtown and main tourist destinations. You really wouldn't want to walk there with all your luggage, so you'd probably want a shuttle, taxi, or Uber. 
We selected 11 am for our check-in time, so at around 10:30, we called an Uber to take us from the hotel to the cruise ship. It only took a minute for Uber to connect us to a driver, and we were off. It was a quick and painless trip, a 15-minute drive from the hotel costing us $20.
Tip: consider where your cruise advice comes from
I sought out a lot of advice for this cruise since I had never cruised Alaska before. Now that I've completed it, I realize I really need to consider the source of the advice. Alaskan cruises historically have a much older demographic (although that has changed in recent times), and I found much of the advice came from that perspective. For example, look at the Uber drop-off location at the cruise terminal. Online, there were tons of complaints and warnings about how the Uber drop-off is so far from the terminal, and you have to wait in a long line for a shuttle or walk this treacherous path. In reality, this walk took 5 minutes and was a quarter-mile. That being said, I'm a guy in his 30's in good health. I could see how this could be a problem for people with mobility issues, but for me, it was nothing. Keeping that in mind, while documenting this cruise, I will try to stick to facts and figures (like minutes and miles) as much as possible so you can determine how it would apply to you. 
Embarking a ship in Seattle is messy
If you're used to the efficiency and speed of boarding a cruise ship in a port like Miami, you will be sorely disappointed at Pier 91. It took us 1 hour and 15 minutes from the drop-off in the Uber until we stepped foot on board the Ovation. 
On the one hand, that doesn't seem that bad. That's the same amount of time it took us to get through security in Newark Airport, so all things considered, it's not awful. But if I compare it to the last cruise I took out of Miami, which took 15 minutes, it's four times longer.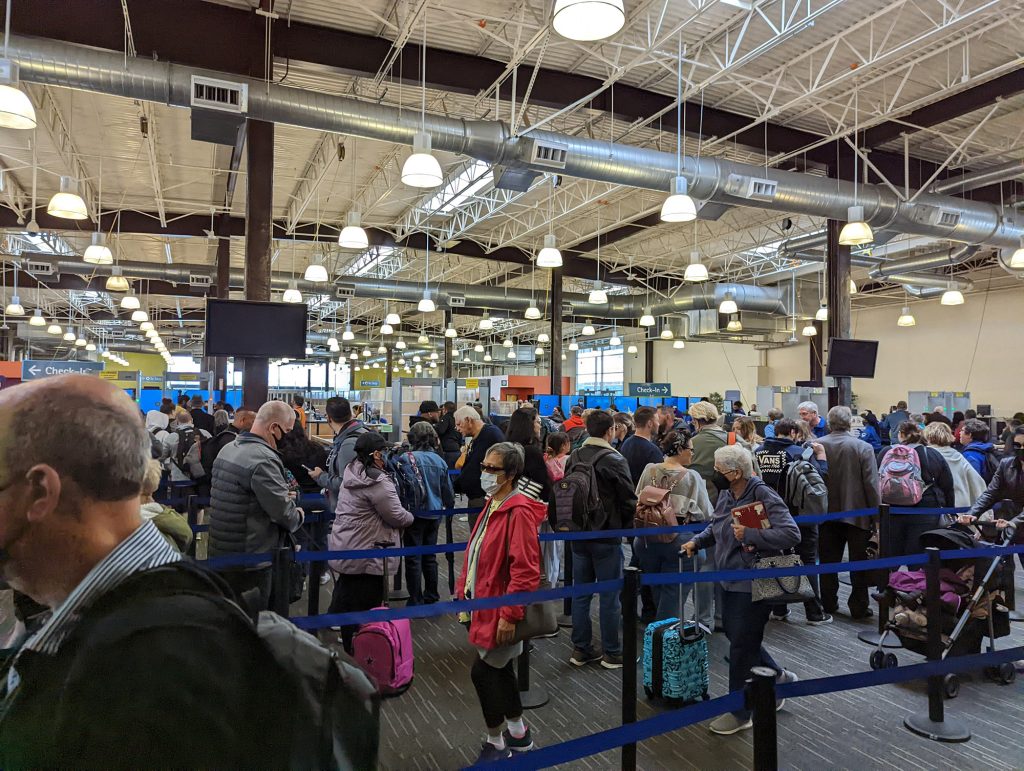 Smith Cove Cruise Terminal is on the smaller side and can't accommodate massive amounts of people at once. They try to stagger everyone to ease the process by setting arrival times, but some people feel they can just get there whenever they want. I saw several people from the Facebook group for this sailing post that they were there an hour earlier than they were supposed to be, and it was a mess. I'm sure it was, probably because people were trying to get off the ship at that point, and these early people were in their way, slowing things down. So please do everyone a favor and get to the cruise terminal when you're assigned.
Overall, it felt much more chaotic and less organized than other ports. Signage was poor when you first arrived, and there wasn't a clear indication of where to drop your bags, where to get in line, what was happening next, etc. Also, about one-third of the line is outdoors; there's an overhang, but it would not be pleasant to stand there in really rainy weather.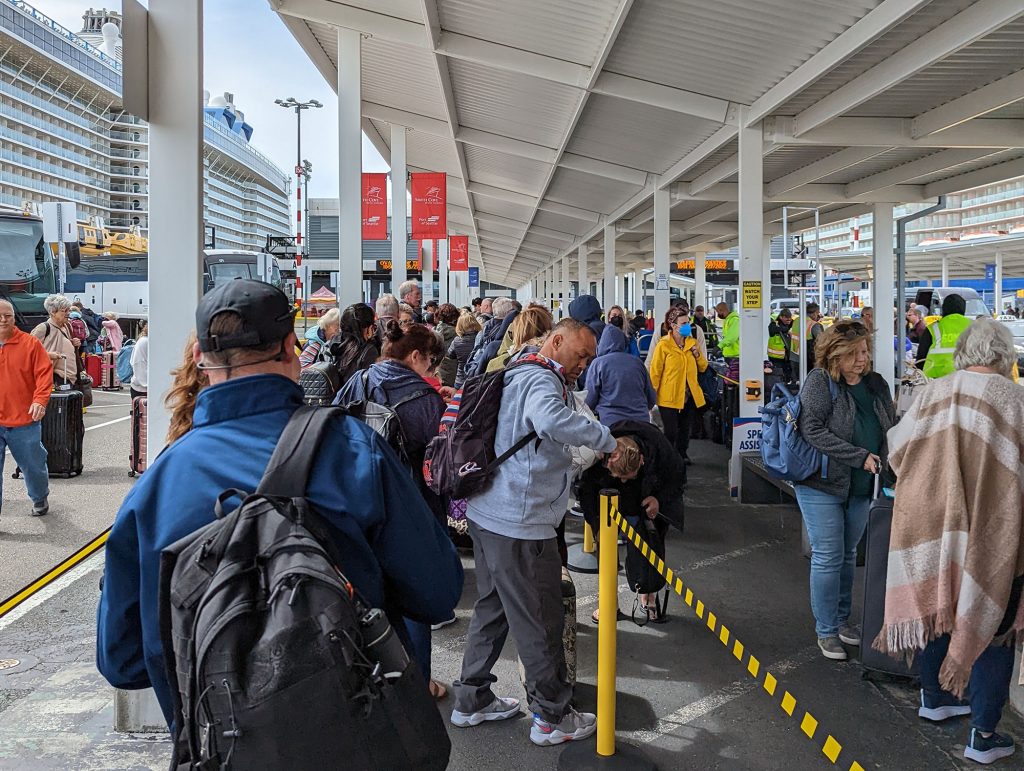 Tip: book activities on the Royal Caribbean App early 
While on the final line to board the ship, we were able to connect to the ship's wifi and book activities. We immediately booked the complimentary iFly for later that day and the Pixels show in the Two70 Lounge for later that week. You do NOT need an internet, or Voom, plan to access the app. Access is free to everyone, just connect to the "Ovation" wifi network.
Entering Ovation of the Seas
You enter Ovation of the Seas through a non-descript door mid-ship on Deck 5. Personally, I like the feeling of awe when you step foot on a cruise ship and see a vast lobby or atrium that sets the tone for your whole adventure. Royal Caribbean ships typically don't have that. Instead, you enter a hallway and start on your way. You snake your way through people and try to find some direction of where to go. On Ovation of the Seas, there was very limited staff available to welcome us to help people find their way.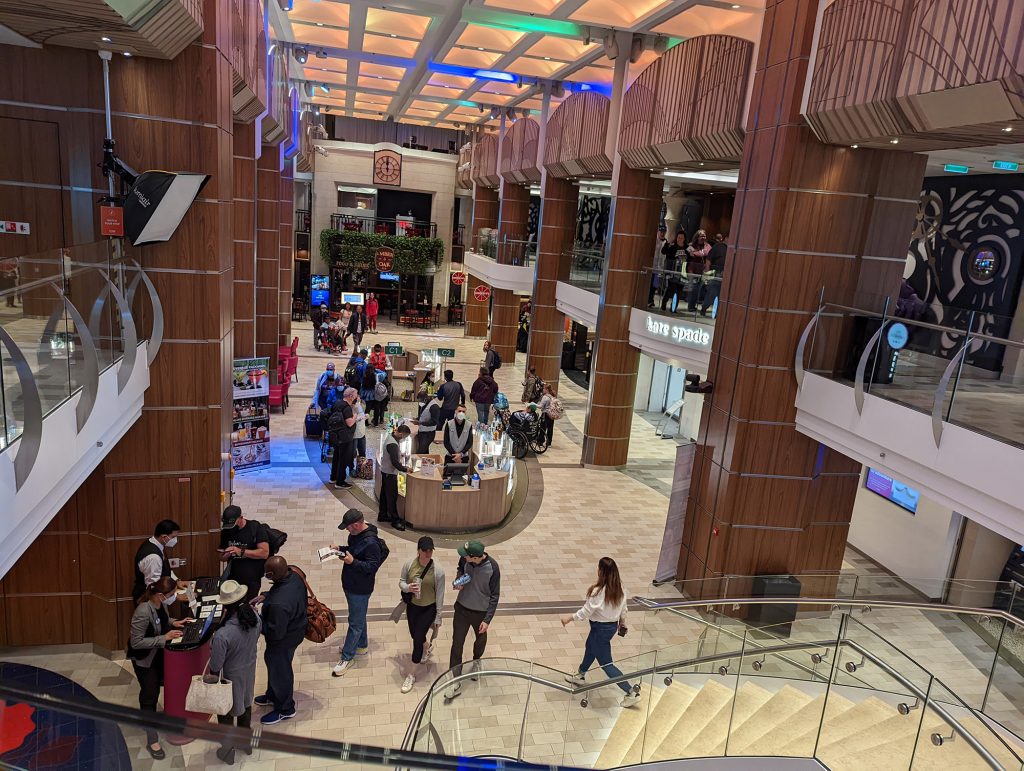 The heart of the Ovation of the Seas is the Royal Esplanade, and it's one of the first things you come across. It's a two-deck-high corridor that snakes its way down decks 4 and 5 of the ship. It's modern and contemporary, like if you took a high-end shopping mall and combined it with a downtown street. Here you'll find several popular venues, like Sorrento's Pizza, Cafe Promenade, Boleros, and Amber and Oak Pub. There is some seating directly on the Esplanade, but on this ship, most of the seating is inside the venues. You'll also find stores that sell duty-free liquor, Royal Caribbean merchandise, clothing, jewelry, and more. 
If you've cruised on other Royal Caribbean ships, The Royal Esplanade is very similar to the Royal Promenade on those ships but downsized. It's more narrow, and you won't see cabins that overlook it. Also, you won't find any parades or events on the Royal Esplanade like you would on the Promenade.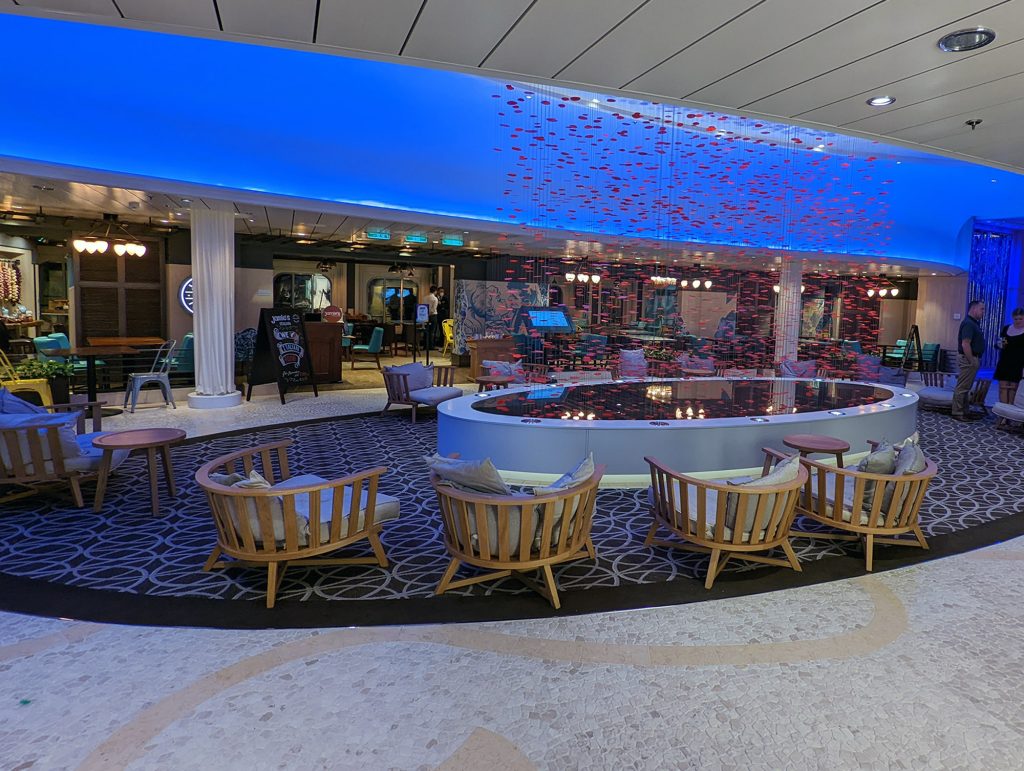 If you continue walking, you hit "The Via," which is a fancy name for a corridor that leads to elevator banks and a few more venues. It's a relaxing space with several art installations. One is a walkway that feels like you're traveling through a forest with metal trees. Another is an art installation with red petals suspended in the air. The Via also is where Jamie's Italian and Vintages Wine Bar are located.
Lunch-time snack at Fish and Ships
It was a little after noon, and although we weren't starving due to a breakfast of delicious donuts at Top Pot Doughnuts, we figured we should get some food. We stumbled across a solid lunch option called Fish and Ships while walking across the main pool deck. It's a fast-casual, semi-outdoor dining venue with an open front and glass windows sides. They serve a variety of fried foods like Fish and Chips, Fried Shrimp, and an Alaskan Pollock sandwich. Fish and Ships also has a few menu options you can choose for an additional fee, like a fried candy bar and lobster tail (see the menu here).
At Fish and Ships, you order the food at the counter, and they give you a pager for when your order is ready. When we arrived, there was no line, and we ordered fish and chips and chicken tenders. Unfortunately, they were out of chicken tenders, so we tried the fried shrimp instead. After a quick two-minute wait, our buzzer started vibrating, indicating our food was ready. We grabbed a table in the dining area. Many of the tables had infrared heating lamps overhead to make them more comfortable in the cold weather. The food was hot and fresh. The french fries were a bit too "potato-y" for my taste, but they weren't bad.
Muster Drill
If you've cruised before COVID times, you know what a pain the muster drill could be. The whole ship stops, and everyone has to report to an assigned meeting place and learn the emergency procedures. It was even worse a few years ago, where you'd have to go to your cabin first, get your life vest, and then put it on while standing in the hot summer sun listening to a presentation for 10 minutes. Thankfully, thanks to a new electronic muster check-in, that whole headache is gone now. Royal Caribbean first debuted this process to stop guests from having to huddle together in one area, potentially spreading COVID, but it also spared a lot of time and hassle.
For the new electronic muster, you just watch a video on your phone, then once onboard, report to your muster station and check-in. The whole process takes less than 5 minutes and is really easy. We were able to watch the videos in the Uber on the way over to the port. Then, once onboard, we completed the process by checking into our muster station on the ship. 
Beating the crowd to the Solarium
We were on board by noon, but our cabin wouldn't be available until 2 pm, so we continued to explore the ship. We decided to check out the Solarium at the front of Deck 14. The Solarium is an adult's only (which Royal Caribbean defines as 16 and up) space that's out of this world. It's fully enclosed with glass panels and has tons of comfy seating options. Tall palm trees and greenery give the space a beautiful relaxing feel.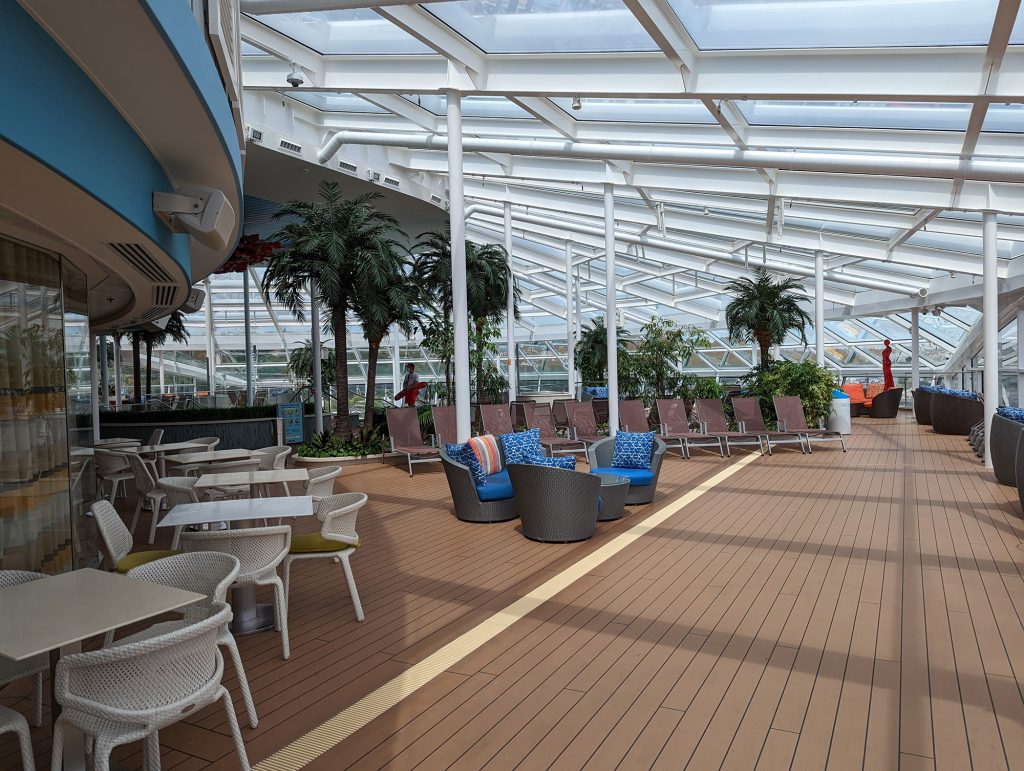 The Solarium has two massive hot tubs as well as several cascading pools in the middle, all overlooking the front of the ship with a fantastic view. This space is why we initially chose this ship; a room like this is perfect for cold weather sailings. 
TIP: Pack your swimsuit in your carry on and change in one of the bathrooms when you arrive. Most people won't get their luggage until 2pm – 8pm so you'll have the pools to yourself for hours.
Knowing we wouldn't have our luggage until later in the day after we got to our cabin, we brought our bathing suits in our backpacks and changed in the bathroom. The Solarium was completely empty at this point, and we had it to ourselves. We stopped by the dedicated Solarium bar and got two signature Royal Caribbean cocktails, the Goombay Smash, and the Kentucky Summer. My jaw nearly dropped as the bartender passed the receipt over. The drink cost $13, then there was an 18% gratuity, and since we were still in Seattle, their sales tax was added in for a total of $16.67. That would quickly run up a very pricey bar tab. Future signature drinks out at sea, without the Seattle tax, were $15.34 and drinks like Rum and Coke were closer to $12 after gratuity.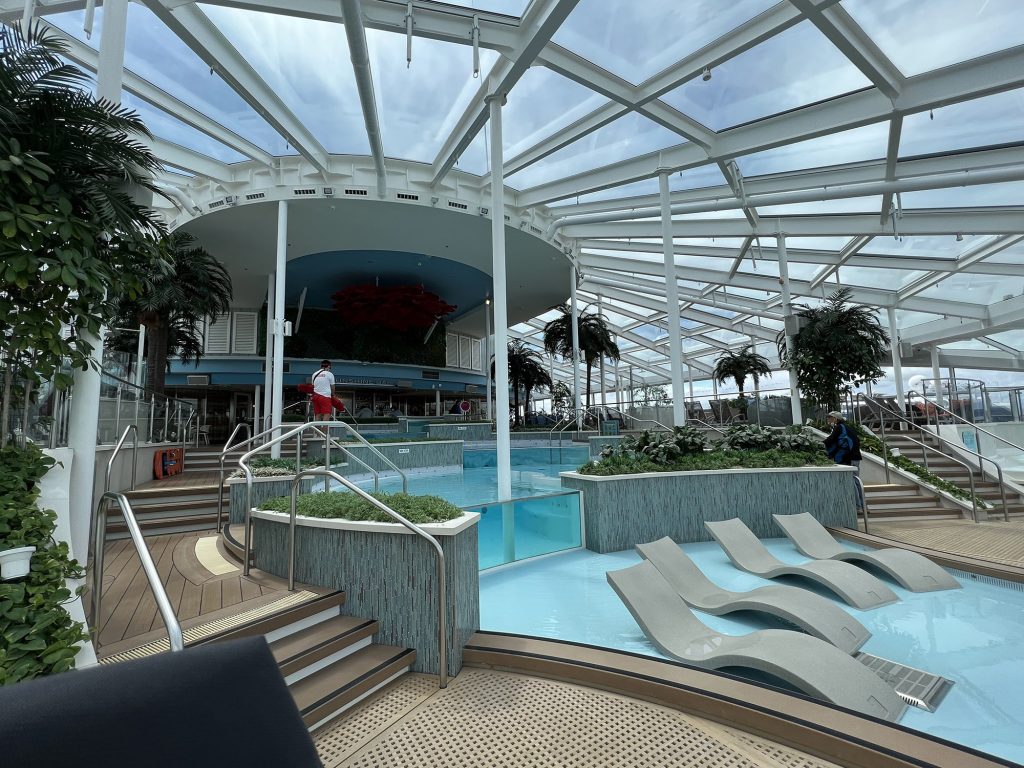 After we got our drinks, we headed to the Solarium pools. The cascading plunge pools in the middle were nice and cool, with lots of seating available. The middle pools have water heated to a comfortable pool temperature. The palm trees and shrubs really make it feel like a tropical paradise. After a bit, we went into the large hot tubs at the bottom part of the Solarium. They were bubbling and frothing with piping hot water. One odd design choice is that each side of the Solarium has two hot tubs, but they're connected, so you have to walk through one to get to the other. The design wastes valuable seating room, but even with the weird layout, there is a good amount of room in them. 
Our cabin on Ovation of the Seas
At 2 pm, we left the Solarium and made our way down to our cabin. All the stairwell landings had unique and interesting artwork, which not only looked nice but also made it easier to find our way later in the cruise. The hallway leading to our cabin had a warm feel thanks to beautiful dark wood-toned walls and neutral brown carpeting.
We were in Cabin 7122, an ocean-view balcony room (category 4D). Royal Caribbean says these cabins are approximately 198 sq ft with a 65 sq ft balcony which is pretty standard for a mainstream cruise line (like Royal Caribbean, Carnival, or Norwegian). Our cabin was on the front, port side (or left if you're looking forward on a ship). This cabin had a relatively good location, although later we found that this cabin could hear a lot of noise from shows in the main theater. Luckily these shows were earlier, so it wasn't a big problem, but if you are an early sleeper or have kids, I'd go a few decks higher. 
I touched my RFID-enabled key to the door and went to open it. The first thing I noticed was that this door opened outward, into the hall, not into the room. I never noticed it before, but every other ship I've been on opened into the room. Having the door open into the hall created a much larger feeling space inside. The doors are all recessed from the main hallway, so you don't accidentally hit someone while opening the door. It was a smart design. 
The Oceanview Balcony Cabin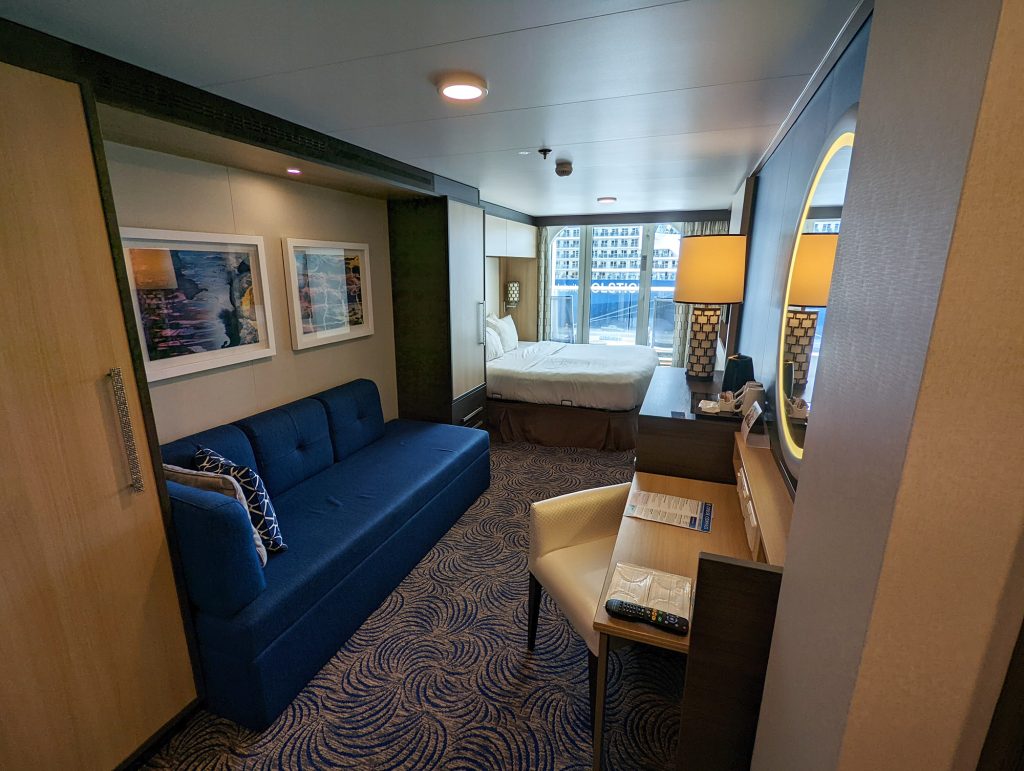 My first impression of the room was that it felt warm and spacious. The decor was modern and sleek, and the blue accent wall and light wood tones made it feel homey and comfortable. The cabin has tons of storage room, with two full closets, lots of drawers, and storage over the bed as well. Unlike some other ships, the closets here are split, so each person can have their own closet and get into them at the same time without running into each other.
These cabins have two twin beds which convert into a Queen/King and a couch. You typically select the bed configuration when booking your cruise, but your cabin steward can easily change it for you if it's not right. 
In this room, the couch is closer to the main door and the bed closer to the balcony. On this ship, that layout varies for each room; others may have the couch by the balcony. I preferred having the bed near the window, but honestly, either way would be acceptable.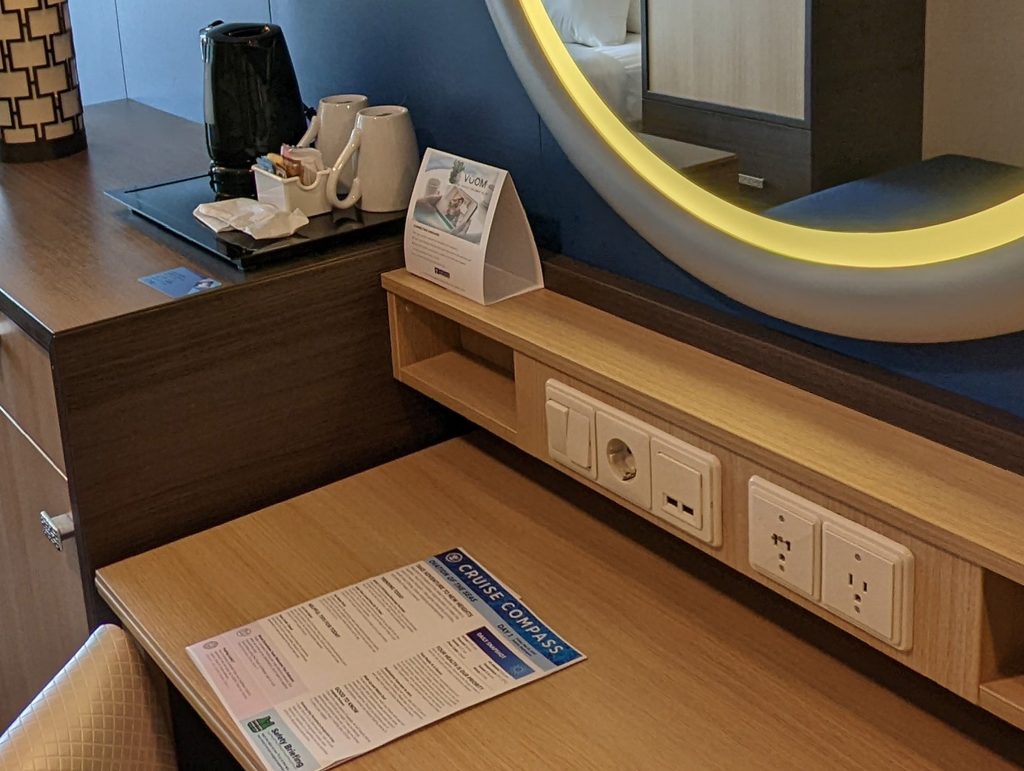 The Ovation of the Seas cabins have three US power outlets, two USB outlets, and one European outlet. One of the outlets is by the bed; the rest are in the desk area. The room also comes with a hairdryer and mini-fridge/cooler. On Alaskan sailings of Oasis of the Seas, each cabin also came with a tea kettle (this isn't found on all ships). 
A decent-sized flat panel TV hangs on the wall across from the bed. It's a shame it doesn't swivel as it meant you could only watch TV from the bed and not from the couch. The deep navy couch was comfortable and would fit two people. Unlike some other cruise ships, which use a vinyl-like material on their couches, this one was a more plush fabric that you might see at home. 
The Bathroom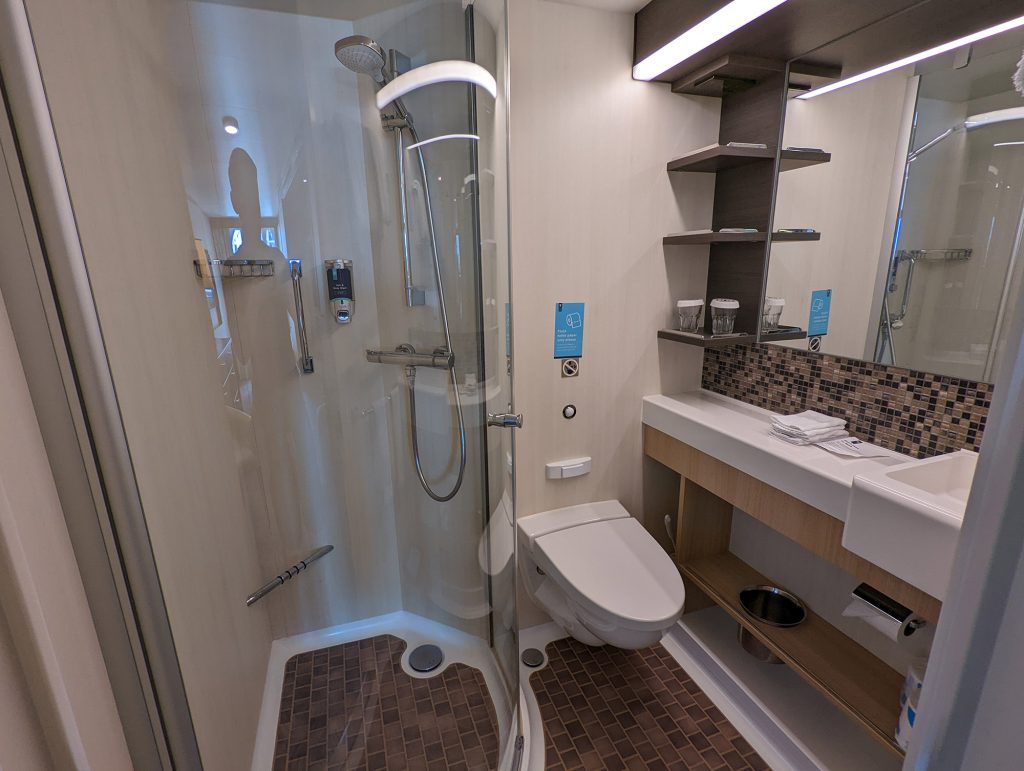 Standard bathrooms on cruise ships are always on the small side; there's just no way around it. This bathroom was not remarkably larger or smaller than other ships we've been on. The enclosed glass shower door really made the space feel bigger and was easy to maneuver in. The water pressure was excellent, with three settings to choose from on the showerhead, and the temperature had no problem getting hot. The bathroom also has tons of storage space which made it easier to have everything out in the open when getting ready. Another feature that I loved was the built-in nightlight. A small section of the main lighting in the bathroom stays on at all times, making it easy to use the restroom at night without stumbling or burning your eyes.
The Balcony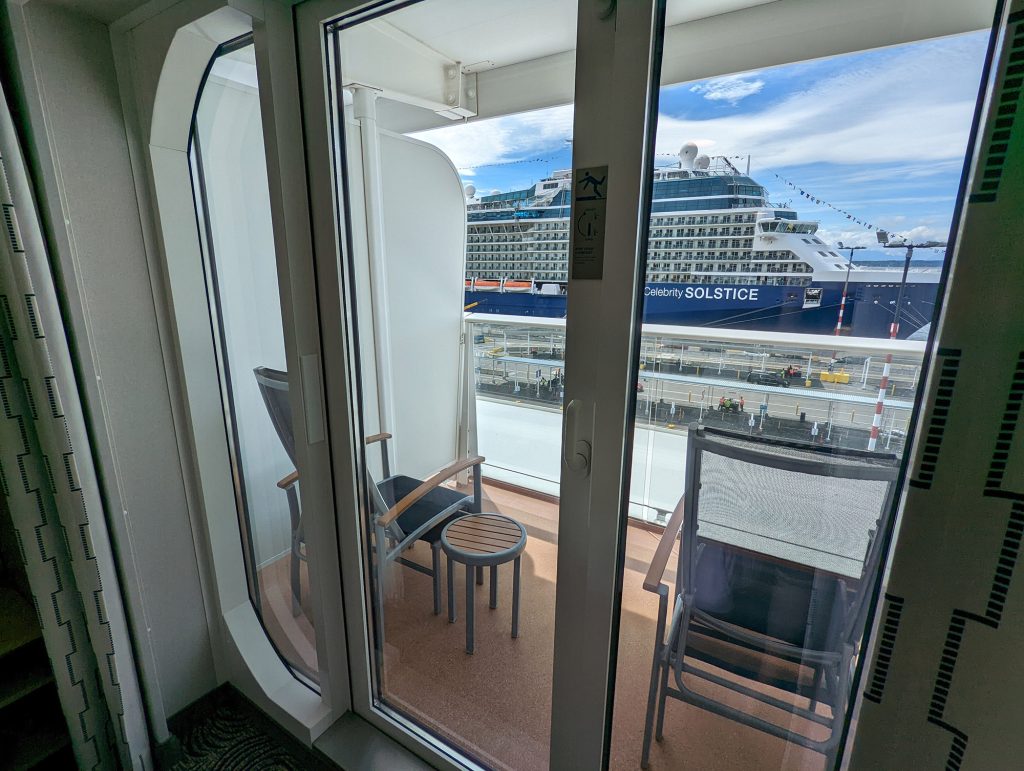 The balcony design on this ship is also very well done. It's a sliding door that locks shut very firmly, almost like an airlock, which keeps air from hissing during high winds. Also, using a sliding door instead of a standard door that swings open, stops you from constantly having to hear people's balcony doors slamming shut. In fact, we heard very few slamming doors this cruise. This door also had a great feature to help protect kids. At the top of the door, there was a lock to keep children from getting out onto the balcony unattended.
The balcony itself was pretty spacious, with two chairs, two footstools, and a little table that's great for snacks or drinks. You could hear neighbors if they were out on their balcony, but it felt very private otherwise. Even when we weren't on the balcony, the large sliding door and bordering glass let in tons of natural light and provided amazing Alaskan views throughout the week. One thing about this specific balcony is that there was a weird 5-foot white extension off the balcony. It stopped you from looking directly down at the water line, but it just disappeared once you got used to it. 
Day 1 Cruise Compass
My Time Dining for Dinner
On a Royal Caribbean cruise ship, you typically have three options for dinner. Set Time Dining, My Time Dining, and the buffet. 
For Set Time Dining, you pick a specific time when you book the cruise, and every night, that's when you can eat in the main dining room. You have the same waiter, the same table, and a set schedule. For this cruise, the times were 5:15 and 7:45. I usually prefer the Set Time Dining because it gives structure to the day and, personally, I find it improves the experience. However, for this specific sailing, there were several days we'd be in port until 9 or 10 pm, so we went with My Time Dining instead.
With My Time Dining, you can select a time between 6:45 and 9:00 pm each night. You reserve your time using the Royal Caribbean app. Then you show up at the main dining room at that time and wait to be seated. 
The last option is the Windjammer buffet which is just a self-serve, casual-style meal. 
On Ovation of the Seas, there are four main dining rooms instead of one big one like on other Royal Caribbean ships. The two dining rooms on Deck 3 are for Set Time Dining, and the two dining rooms on Deck 4 are for My Time Dining. The menus are identical; the only difference is the restaurant's decor.  
Earlier that day, we made a reservation for an 8:30 dinner using the app. We walked to the Deck 4 dining rooms at that time, and there were crowds of people in the vestibule. It was clear there was a lot of confusion as many people didn't seem to know what was going on. While the lines looked bad, we only waited 12 minutes to be seated at a table for two. 
We were sat in the American Icon Grill, which is bright, using neutral grays and pops of color. The tables are close together but not directly next to each other. Typically, the dining room has a "smart casual" or "cruise casual" dress code, but diners were in all levels of dress: some in shorts with baseball hats, others with button-down shirts and trousers. It seemed to be all over the place. 
Our waiter was prompt and very attentive. The first thing he did was immediately ask if there were any allergies or restrictions they had to be aware of. Each night, every waiter asked this question at the start. I've always heard cruises were great options for those with dietary restrictions, and this action proved that point.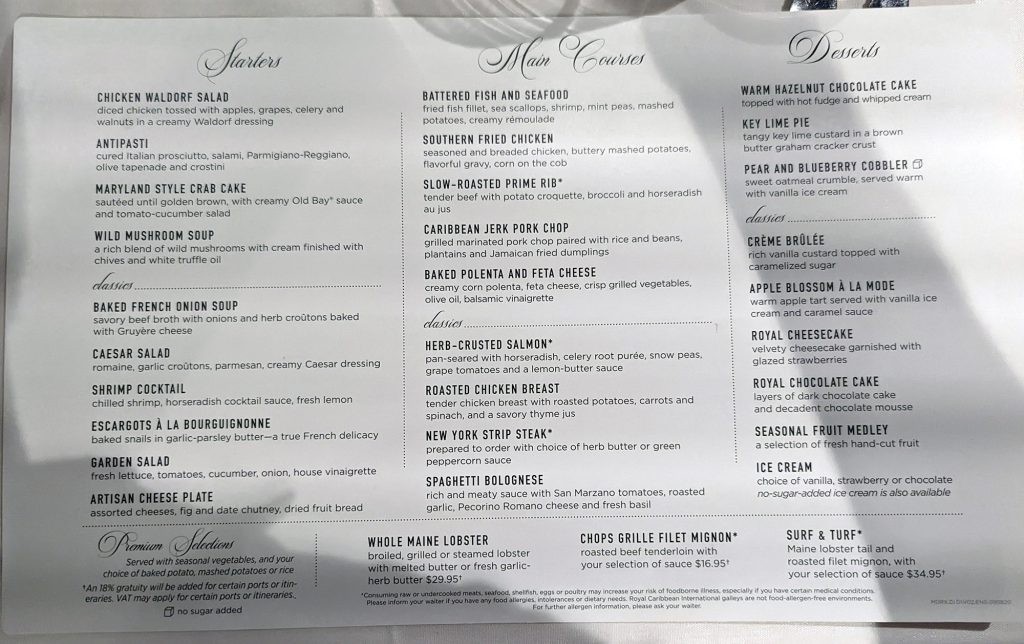 Service was prompt throughout dinner. It only took 10 minutes until we had had food on our table, and the whole 3-course meal took 45 minutes. Overall, the food was decent enough. I don't like to review the food in-depth because everyone has their own preferences in terms of food and what's important to them. For me, the menu just wasn't very exciting. Don't get me wrong, the food was not bad at all, but I don't think there was anything where I thought, "I wish I had that again." the whole cruise. I heard other people saying the food was "not up to par" and other people raving about it, so again, it's hard to make a judgment based on that. 
Checking out the Ovation of the Seas casino
After dinner, we decided to check out the casino, which was down on Deck 3. Unlike some other cruise ships, Royal Caribbean doesn't force you to walk through the casino to get to other parts of the ship. That means you don't have to suffocate while walking through dense clouds of smoke to get to dinner. Instead, the casino is down from the Royal Esplanade, easily accessible but not something you are forced to pass through.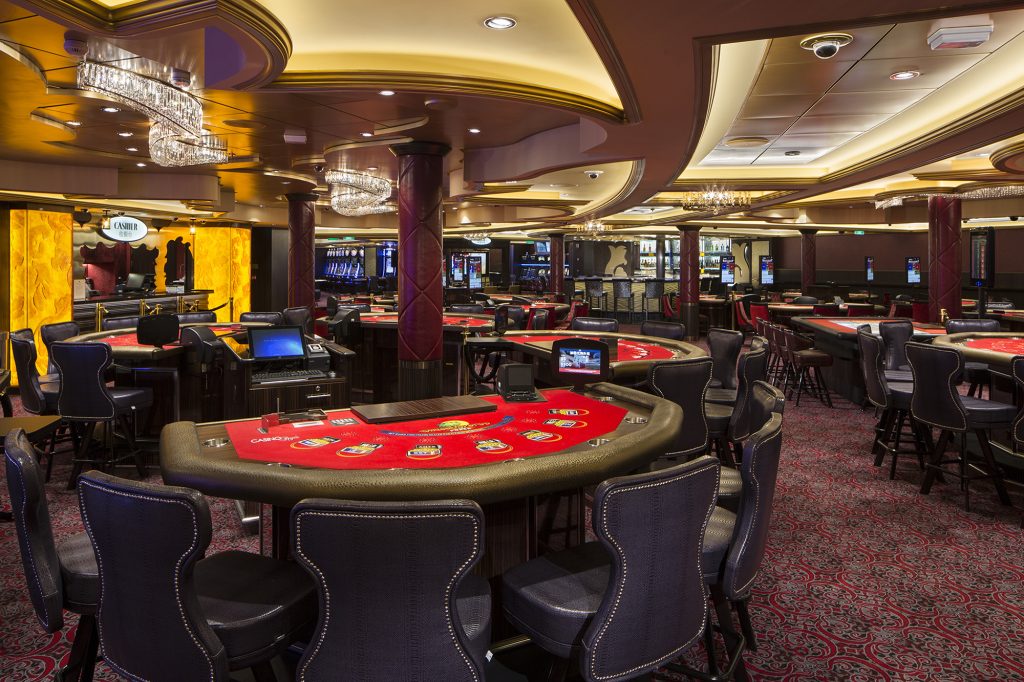 The casino here was on the smaller side for a ship with 4,000 plus guests on board. This evening, the casino floor was a buzz with action and activity. It was remarkably less smokey than other ships I have been on. It was divided into smoking and non-smoking, although I couldn't figure out where the boundaries were. Several times, I noticed attendants stopping a smoker and redirecting them to the correct section. This casino also had vents built directly into the floor, recirculating and filtering air. By no means was this a smoke-free casino, but it was the most tolerable one I have ever been in on a cruise ship. 
A quiet night onboard
We headed back to the cabin around 10:30. As we passed through the bars and lounges, almost all were pretty empty, with maybe 5 to 10 people in each. The casino had a healthy crowd, but the rest of the ship was pretty quiet. The guests were all settling in their rooms and relaxing, recovering from the hustle and bustle of getting to the ship.
Follow along on the rest of our Alaskan cruise on Ovation of the Seas
Ovation of the Seas – Cruise Blog - Day 1 – Seattle
Ovation of the Seas – Cruise Blog - Day 2 – Sea Day
Ovation of the Seas – Cruise Blog - Day 3 – Juneau
Ovation of the Seas – Cruise Blog - Day 4 – Skagway
Ovation of the Seas – Cruise Blog - Day 5 – Sitka
Ovation of the Seas – Cruise Blog - Day 6 – Sea Day
Ovation of the Seas – Cruise Blog - Day 7 – Victoria
Ovation of the Seas – Cruise Blog - Day 8 – Debarking in Seattle
6 Hits & Misses of Ovation of the Seas
If you want to stay up to date with what we publish, sign up for our monthly newsletter
CruiseSpotlight is an Amazon Associate. We may earn a commission when you click links to retailers and purchase goods.