Ovation of the Seas – Cruise Blog – Day 3 – Juneau
Last Updated on June 18, 2022
Day 3 of our Alaskan Cruise was a port day. We'd be visiting Juneau from 12 pm until 10 pm. Even though it's the state capital, it's a small city with only 30,000 full-time residents. Juneau's also a relatively isolated city, and, as the guides told us, there are only three ways to get to Juneau: plane, boat, or birth canal. 
We wouldn't arrive until noon, so we had the morning to relax and enjoy the trip through the Inside Passage. I opened the curtains, and the bright sun poured into the cabin, even though it was just after 6:30 am. Once our eyes adjusted, we immediately saw the difference in scenery. The previous day, we really saw nothing but an open ocean. This morning, though, we were greeted by our first peeks at the breathtaking Alaskan scenery. At first, it was just thick, white fog rolling down distant mountains. 
Overview of day 3 on Ovation of the Seas – Juneau
Breakfast with a view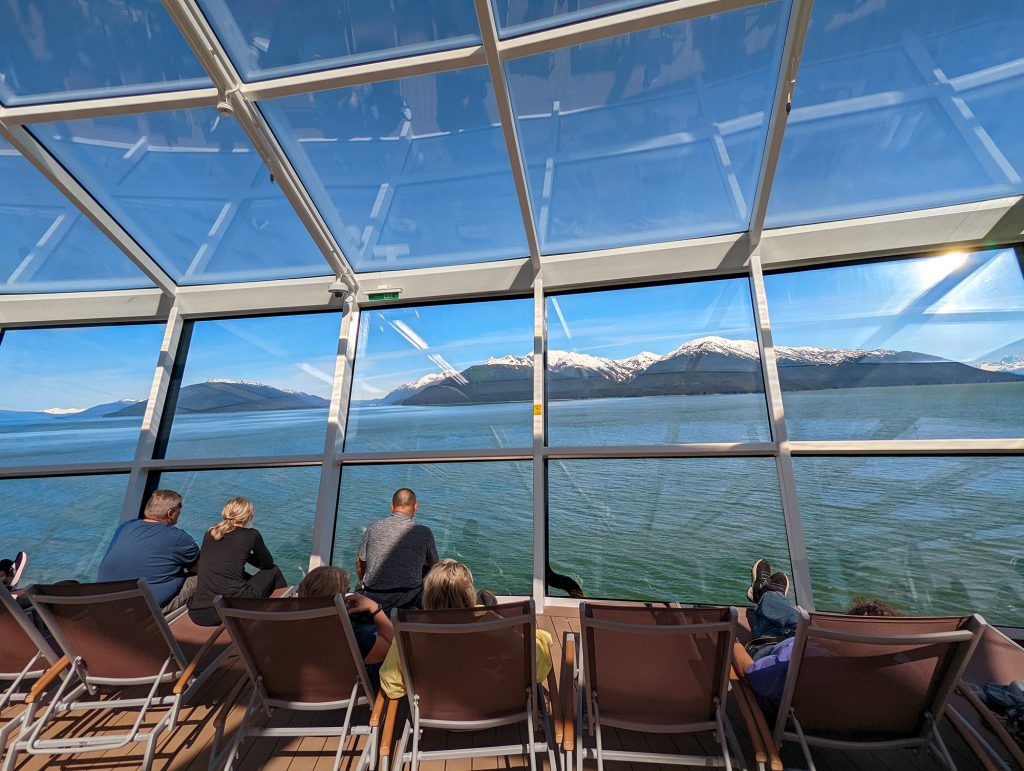 We headed to breakfast at the Solarium Bistro again. While it was definitely busier than the previous day, we still had no wait for food and no problems finding seats. I was glad because I was worried that people would catch on to our quiet breakfast place. 
The glass walls of the Solarium made for breathtaking views during breakfast. The fog lifted, revealing magnificent and expansive views as the day went on. It was awe-inspiring. The Solarium was getting busier as people came in to check out the view from the front of the ship. It's really the perfect place to take in the scenery. 
The Solarium also has two wings that extend over the sides of the ship (right over the bridge) that offer really great views. Not many people knew about them; to find them, you have to walk all the way to the front of the Solarium and then walk past the hot tubs on either side to get to the door that led to the wings. It's one of the hidden gems of the Ovation of the Seas. 
Hot apple cider on our balcony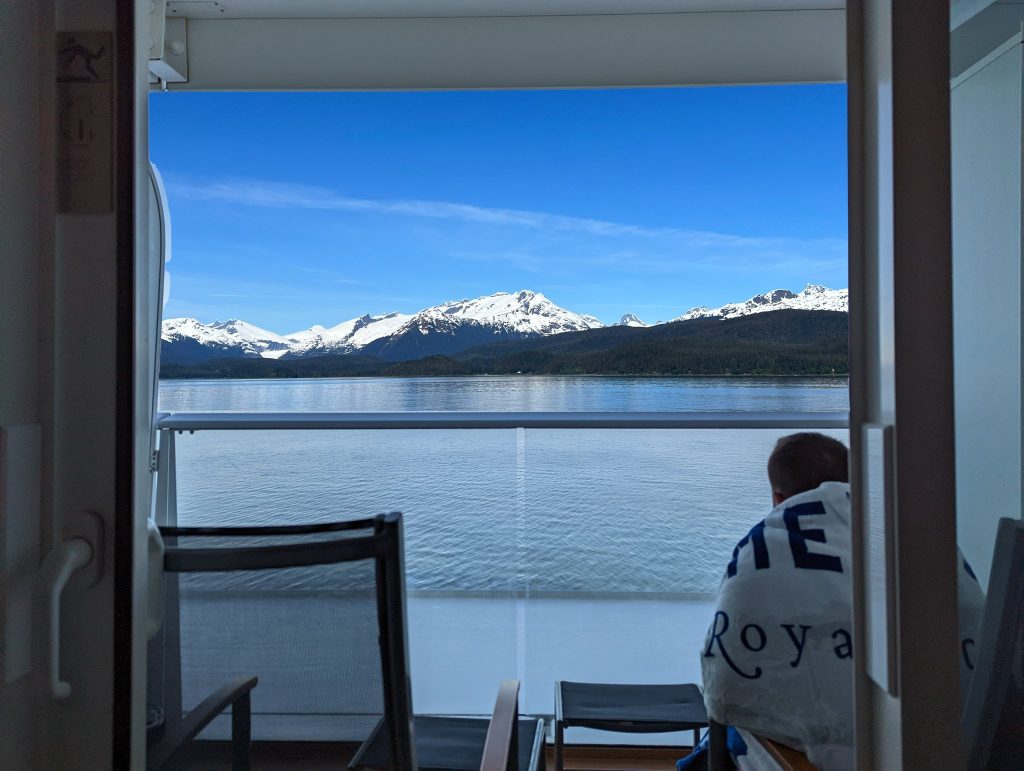 After breakfast, we returned to our cabin to enjoy the views from our balcony. It was around 50 degrees outside, so it was chilly out there, but we ordered a Royal Caribbean fleece blanket that really came in handy. We were comfortable on our balcony with just a t-shirt, some pants, and the blanket.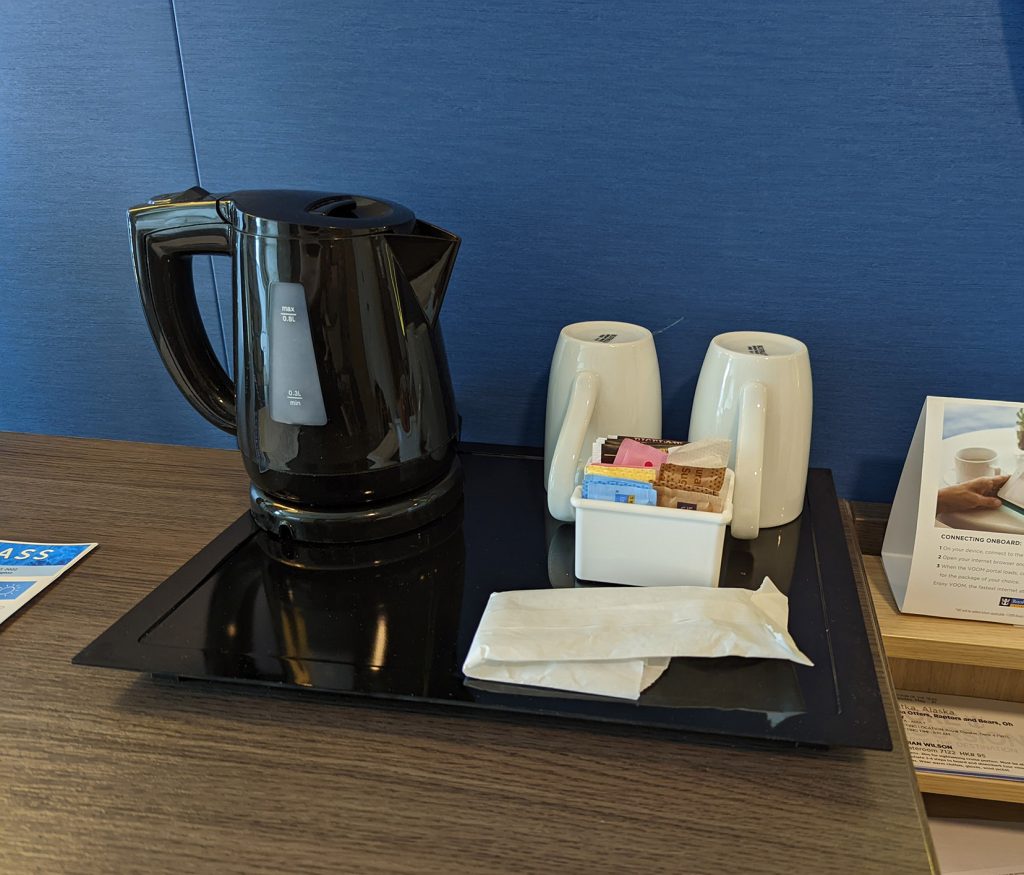 We knew the rooms on the Ovations of the Seas had tea kettles, so we brought some instant apple cider packets with us to have a hot beverage while watching the landscape go by. As we took in the scenery, we saw a pod of whales and some dolphins nearby. It really was the perfect morning.
Tip: We booked a balcony cabin on this cruise specifically because we wanted to enjoy the beautiful Alaskan views from our room. The cabins were twice the price of an interior cabin. The Ovation of the Seas had tons of interior lounges like the Solarium, Two70, the main indoor pool, and even the Windjammer, where you could enjoy the amazing views. While a balcony was great to have, and we used it a lot, if you're on the Ovation of the Seas (or its sister, the Quantum) and want to save money, you can go with an interior cabin, and you won't miss the views. 
Cruise Compass for Day 3 on Ovation of the Seas – Juneau
Swedish Massage at Vitality Spa
We booked this cruise through Costco Travel, and one of the perks of doing that was receiving a free massage. The only downside was that the massage had to be scheduled on a port day. We didn't want to miss valuable time in a port just for a massage, but we went to talk to the Spa Manager on the first day to see the options. She informed us that it had to be a port day, but not while we were in port, so we could get a massage at 9:30 am and still be done in time for the ship's noon arrival. I was pleased she suggested that option as it wouldn't have occurred to me. The cost would have been $104 per person without the Costco perk. 
This experience was going to be a first for me. I've never had a massage and never stepped foot in any of the spas on any cruise ship I've been on. When we arrived, the spa manager sent us to a "relaxation room" to fill out forms and wait to be called. Maybe I've just seen too many shows on TV or photos of high-end cruise ships, but I was expecting more than this waiting room. No windows, low ceilings, fluorescent lighting. They tried to make it more relaxing with comfortable seating, decorative flourishes, and soft music, but it didn't feel all that different from a waiting lounge for a doctor's office. 
We had a 50-minute Swedish massage. It was relaxing, but personally, I don't think massages are my thing. I'm sure the masseuse was very good; I just didn't find it overly relaxing. I've heard horror stories of pushy upsells at spas on cruise ships, but there was none of that at all. As part of the package through Costco, we still had to pay the gratuity on the massage (roughly $20 in this case). That wasn't a bad deal and all, and I was even prepared to tip extra, but they didn't even give me an option to leave an extra tip on the receipt. The receipts were all finalized, and I just had to sign.  
Scrambling for lunch before Juneau
We were on track to arrive in Juneau at noon, so we wanted to run and get lunch before our long excursion and day on the town. It was a popular sentiment as everyone seemed to be looking for food. The only problem was that no food venue was open until 11:30. Thousands of people were looking for food before they got off the ship, and there was nothing available until a half hour before we started debarking. It was incredibly frustrating and something we noticed across the whole sailing; they don't adjust the times of restaurants to correspond with port times. 
Thankfully, once 11:30 rolled around, the pizza place, Sorrento's, opened up. At that time, the line was about 30 people deep, but they were ready to go, and the line moved quickly. Even with a bunch of hungry and grumpy passengers on the line, the workers at Sorrento's still managed to smile, be incredibly polite, and they really got the food out quickly.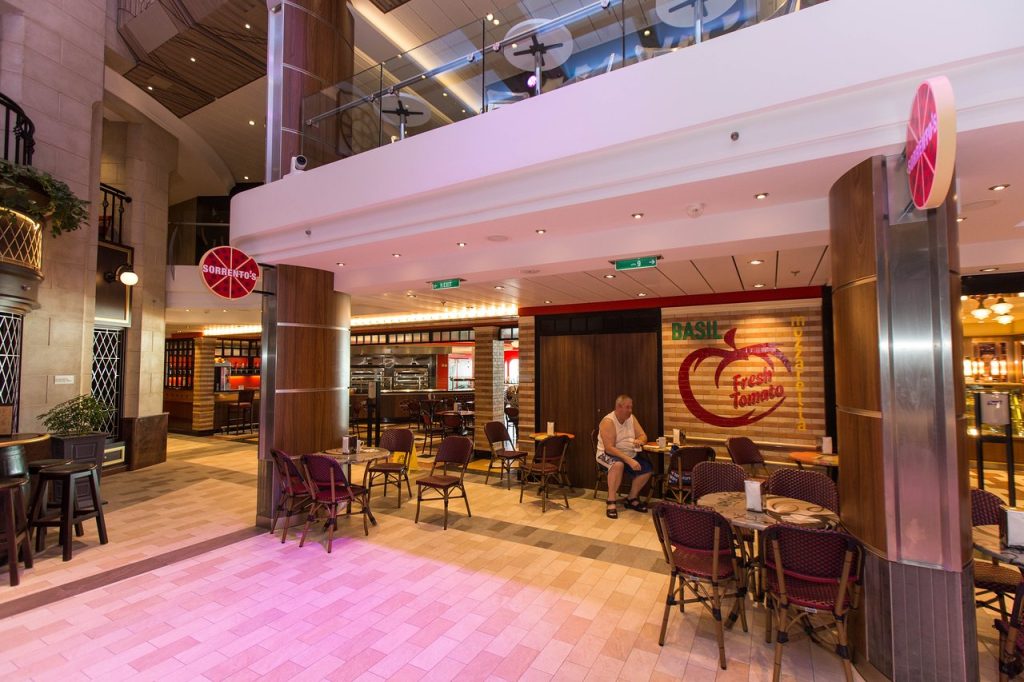 In terms of quality, the pizza was hot out of the oven, fresh, and I could see that they made it from scratch. Was it good? Well, pizza has a wide variety of interpretations, from Chicago deep-dish to New York thin crust, and everyone has their own preferences. Personally, the pizza here tasted like a fancy Ellios frozen pizza to me. I have no idea why, maybe the type of cheese, perhaps the sweetness of the sauce? I don't know, but it was a bit of a letdown. Don't get me wrong, I still had quite a few slices throughout the cruise, but I usually have double that on a Carnival cruise, whose pizza I prefer a lot more. 
Juneau Excursion: Mendenhall Glacier Whale Watching & Wildlife Quest
For Juneau, we booked an excursion through Royal Caribbean. The "Mendenhall Glacier Whale Watching & Wildlife Quest" excursion was a 5-hour adventure that included whale watching, spotting wildlife, and going to the Mendenhall Glacier visitor center. Royal Caribbean changes the prices of their excursions very frequently. I monitored the price for the entire year before we sailed, and this specific excursion cost between $171 – $284 (we booked it at the lowest price). 
Tip: book Alaska excursions early and keep checking back. Many of the excursions on our sailing sold out early on. Also, keep checking back for better pricing. If you see better pricing, cancel and rebook. We saved $500 each doing by monitoring the prices for these excursions.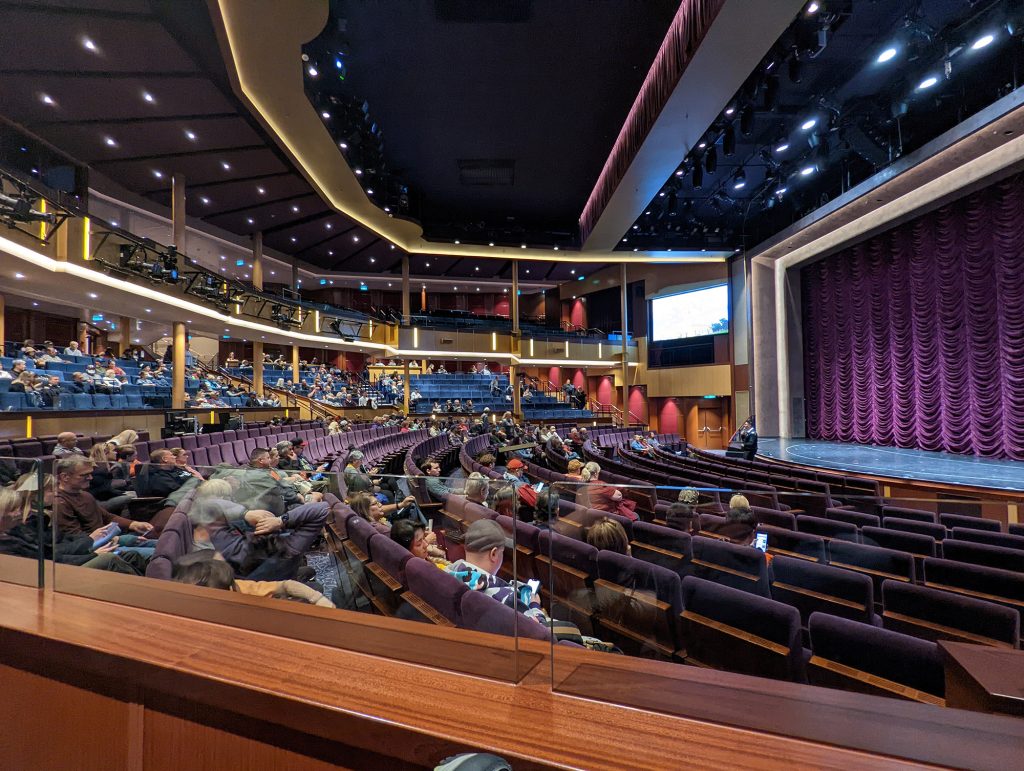 Because we had an excursion booked through Royal Caribbean, we met in the Royal Theater for priority departure. That meant we would leave the ship before guests who didn't have tours booked through Royal Caribbean. I'm not sure how beneficial priority departure was for this port. Debarking the ship in Juneau was really easy and quick.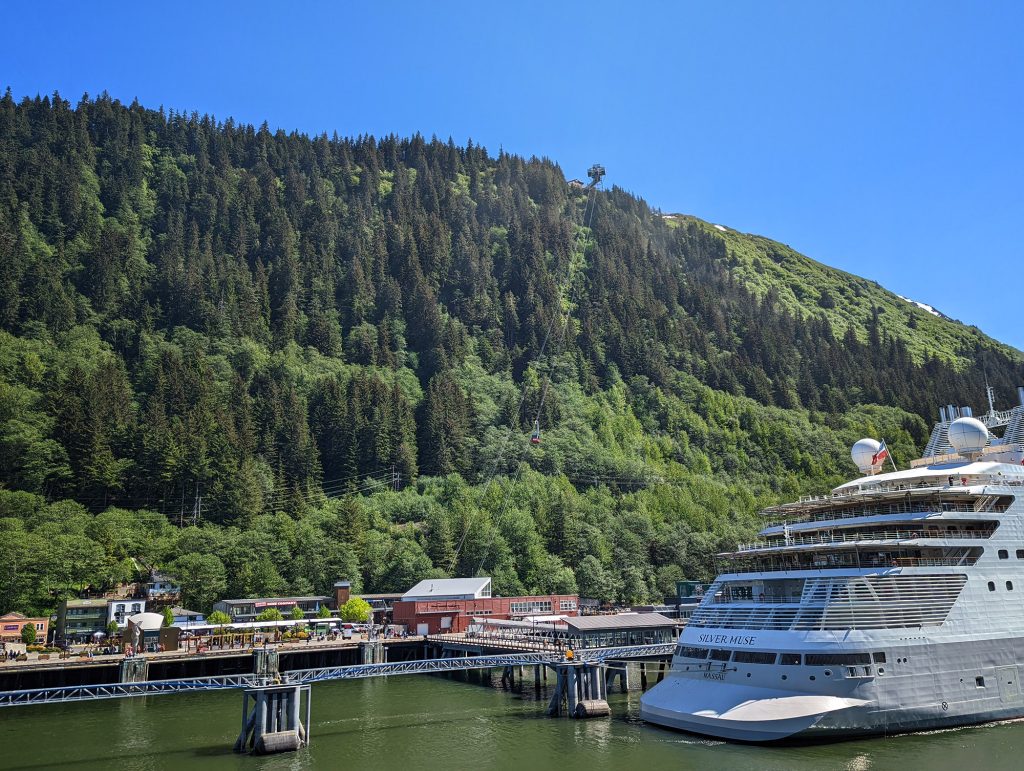 The ship docked at the South Cruise Ship berth, just off downtown Juneau. Towering mountains filled with evergreens surrounded the area, and you could see the Goldbelt Tram making its way up and down the mountain. The weather was beautiful. The sun was out in full force, and no cloud was in the sky. It was around 70 degrees when we left the ship, and it would be a beautiful day.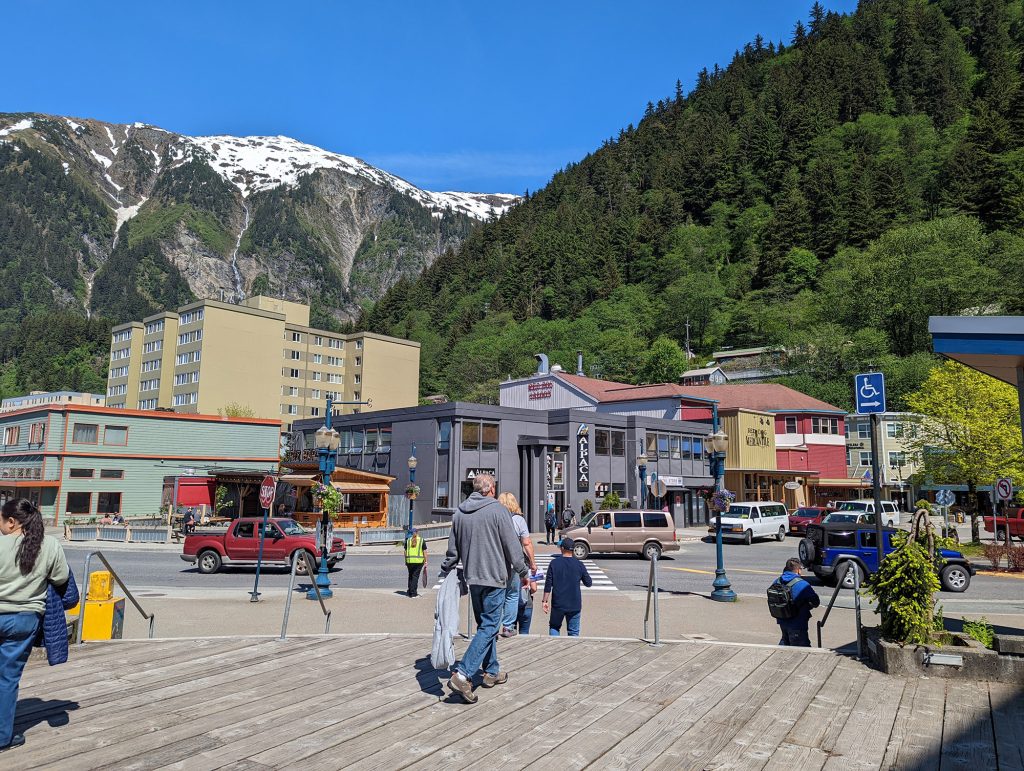 Our tour group met at the end of the pier at someone holding a sign with our excursion name. Once we found them, they directed us to wait under a tent for our bus to be ready. This part was a bit of a mess, as many excursions left from that area and buses were zooming around. Eventually, it was straightened out, and we got to our bus. 
Our excursion group was split into two, and we boarded two standard motorcoaches that held around 50 people each. The bus was stuffy and hot from the unexpectedly warm day, and the air conditioning struggled to keep up. 
Our tour guide was a recent college graduate from Utah and was here for the summer to work in the tourism industry. In fact, all of the guides we had on this trip were not native Alaskans; instead, they were from the "lower 48." She took us on a quick 20-minute drive over to the dock where our boat was waiting. 
Whale watching in Juneau
The two busses of passengers filed onto one boat. It was a two-level boat with plenty of room for the group. The first level was fully enclosed with lots of bench-style seating. This level also had three restrooms and a snack station. The excursion description said it came with a snack; in this case, it was a pile of donut holes and complimentary hot chocolate. They have a variety of snacks you could purchase including soda for $2 and local beer for $6.
The top floor of the boat was semi-enclosed, with the first half having similar bench seating and glass windows as the downstairs. The back was open air. Since it was such a beautiful day, most people were outside on the open-air part of the deck. There was plenty of space, although if it was pouring rain and everyone was stuck on the inside parts of the boat, I could see it feeling a bit more cramped.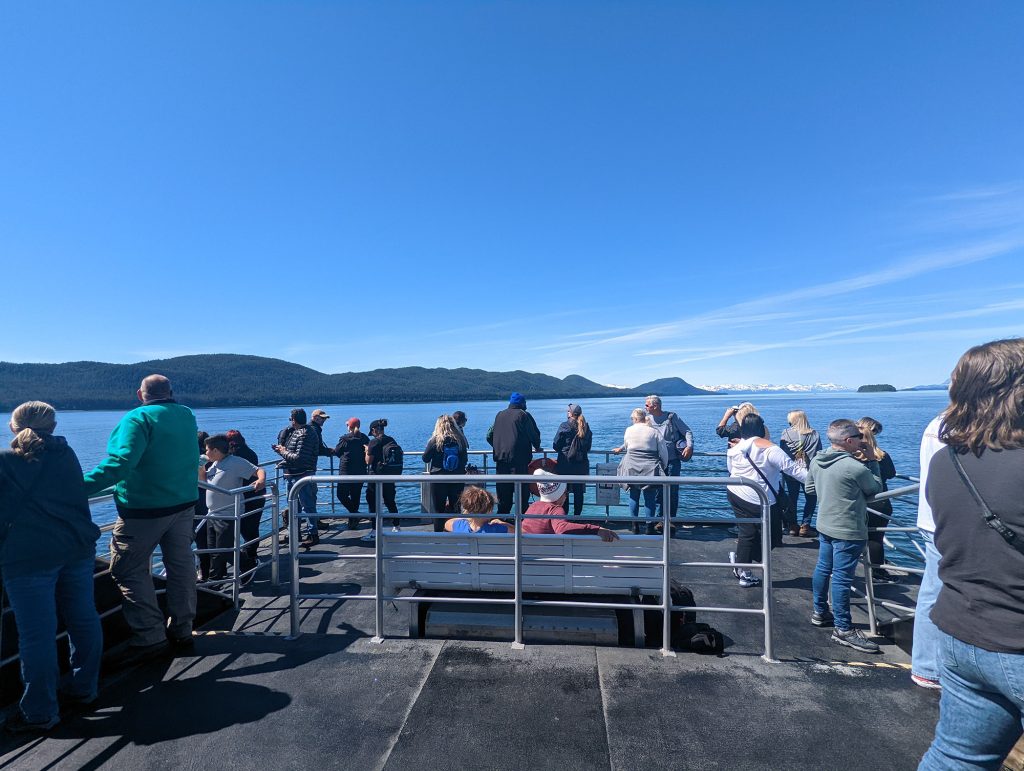 The crew gave their safety lessons, and then we were off. The boat could move surprisingly fast, zipping along the waters of the Auke Bay. Throughout the trip, a naturalist and the captain would share information about the wildlife in the area over the loudspeaker. While it was warm when we got on the boat, being on the water and moving at high speed definitely dropped the temperature. Thankfully we brought hoodies and windbreakers in our backpacks. 
Tip: Don't bring a heavy coat or bulky sweaters; bring a lot of layers you can easily add or remove throughout the day and a lightweight backpack to carry them.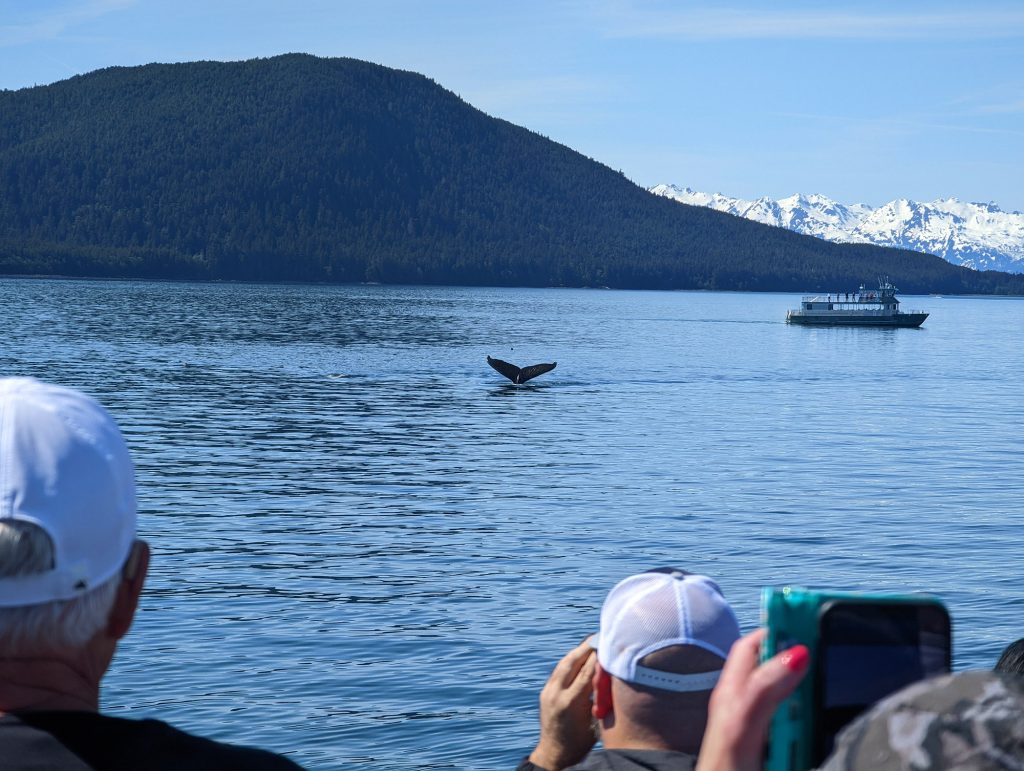 We ended up seeing several humpback whales during our trip. We didn't see any of them do a full breach (where they jump out of the water), but we saw many whale spouts and tails. I learned that when you witness a whale tail, it's because they're doing a deep dive for a feeding. That meant you could expect the whale to disappear for 6 – 8 minutes. So we'd get about 4 or 5 whale spouts where they'd catch their breath, and then they'd do a dive. Once we saw a whale tail, we'd know we could relax for a while. It was a natural rhythm that never occurred to me.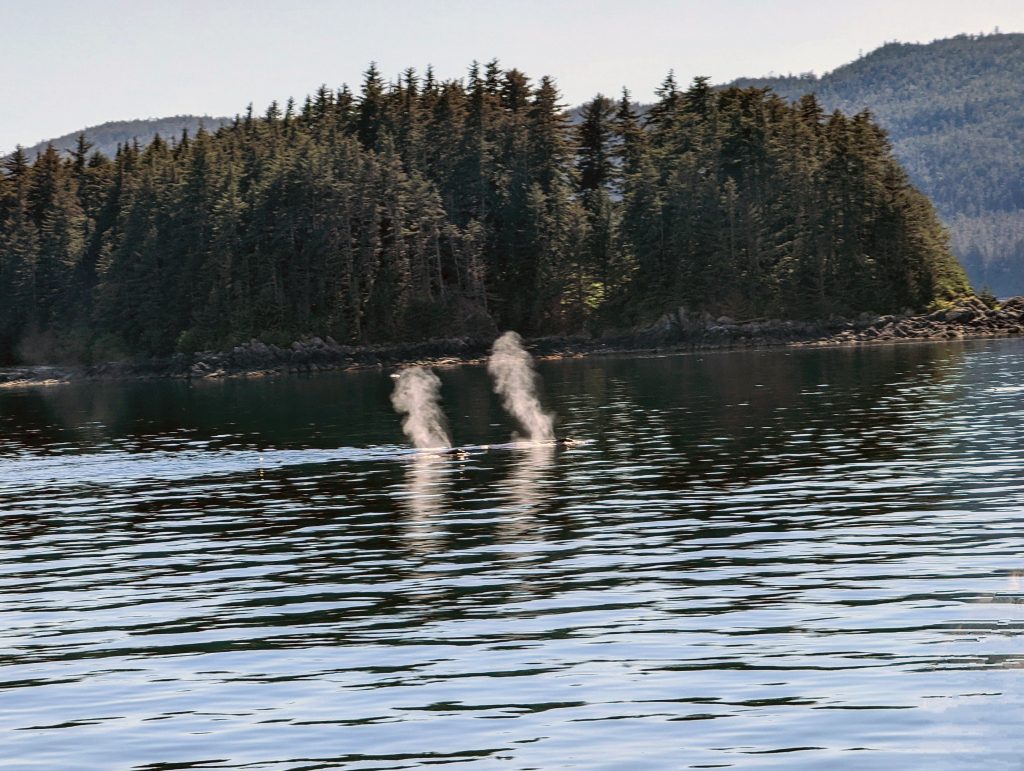 This waiting seemed to be a little tiring for kids. You might think whale watching is a fun, action-packed adventure for kids, but its nature means there's lots of waiting for the right moment, and the kids were getting a little antsy in the end. It's like taking kids fishing, they'll have fun for a few minutes, but it'll get old fast. 
We were relatively close to the whales, but binoculars were still handy to have with us. It was amazing that we could actually hear the whales exhaling after their dives. When they surface, you just got a peek at their hump back, so you didn't get an impression of how large these animals truly are. 
After 2 hours and 30 minutes, the boat turned around and headed back to its dock so we could continue on our adventure.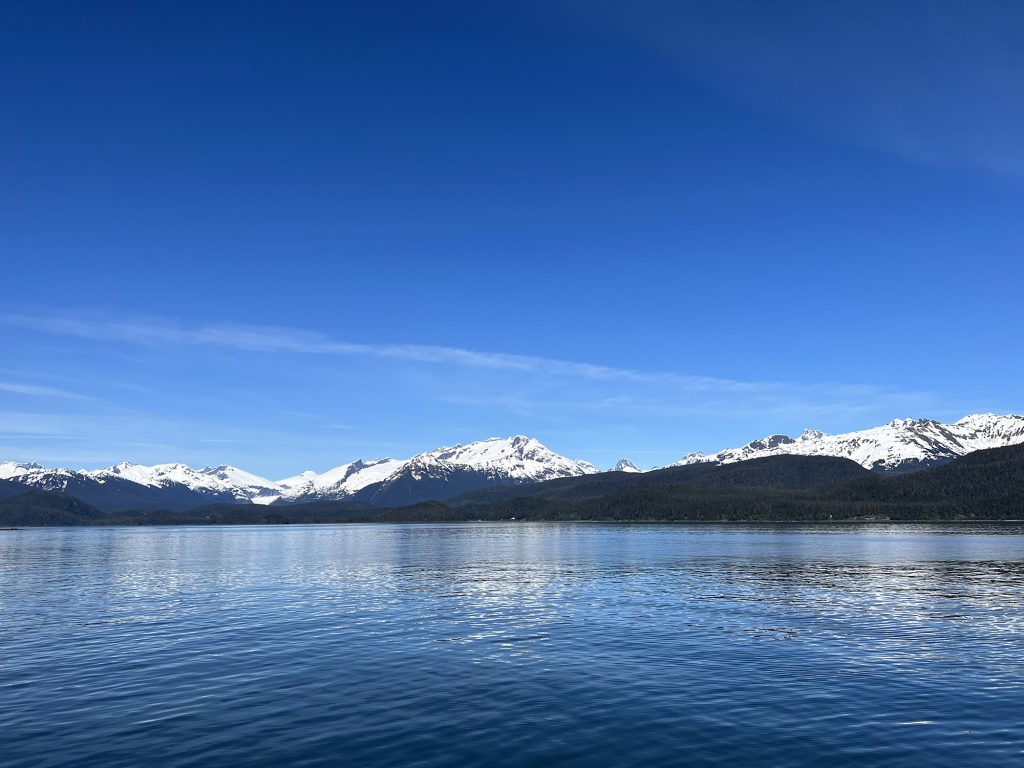 Visiting Mendenhall Glacier and Nugget Falls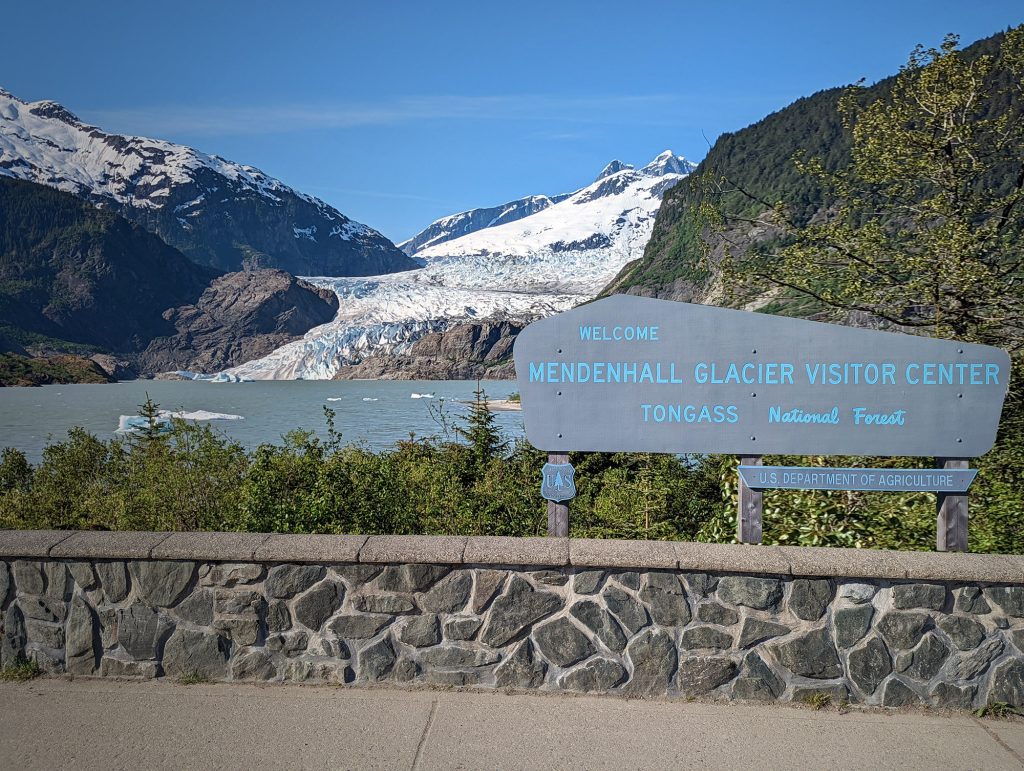 The busses left the dock, and took us on a 20-minute drive to Mendenhall Glacier. It's a slow-moving wall of ice that's 2 miles wide and over 100 feet high at the most prominent part. For this excursion, you don't step foot on the glacier, but instead, visit Mendenhall Glacier Visitor Center, which offers impressive views of this natural wonder. 
The park's visitor center building is elevated and offers some great views of the glacier as well as some informative videos. To get to the visitor center, you had to wait for an elevator or walk up a lot of stairs, so we skipped this part.
The park also has a variety of hiking trails you can use to explore. On this site is a waterfall called Nugget Falls. It's a 377-foot natural waterfall that comes from melt running off the glacier. Even from a distance, it looked incredibly powerful.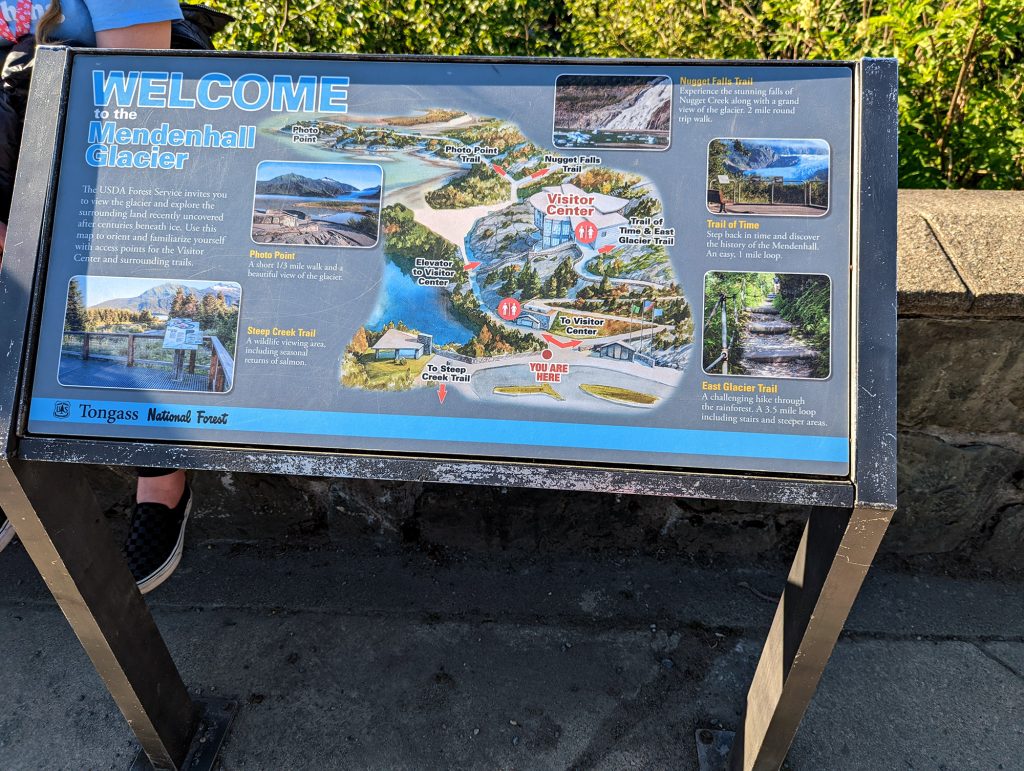 The Nugget Falls trail is an easy 2-mile round-trip hike. It took us 18 minutes each way and was relatively flat. It wasn't strenuous or challenging at all, and it was totally worth the views. You can walk right up to the base of this towering 37-story waterfall and feel the powerful spray of water splash you in the face. The view of the glacier wasn't as good from this vantage point, so on the way back, we stopped at the photo point on the other trail and took some more pictures.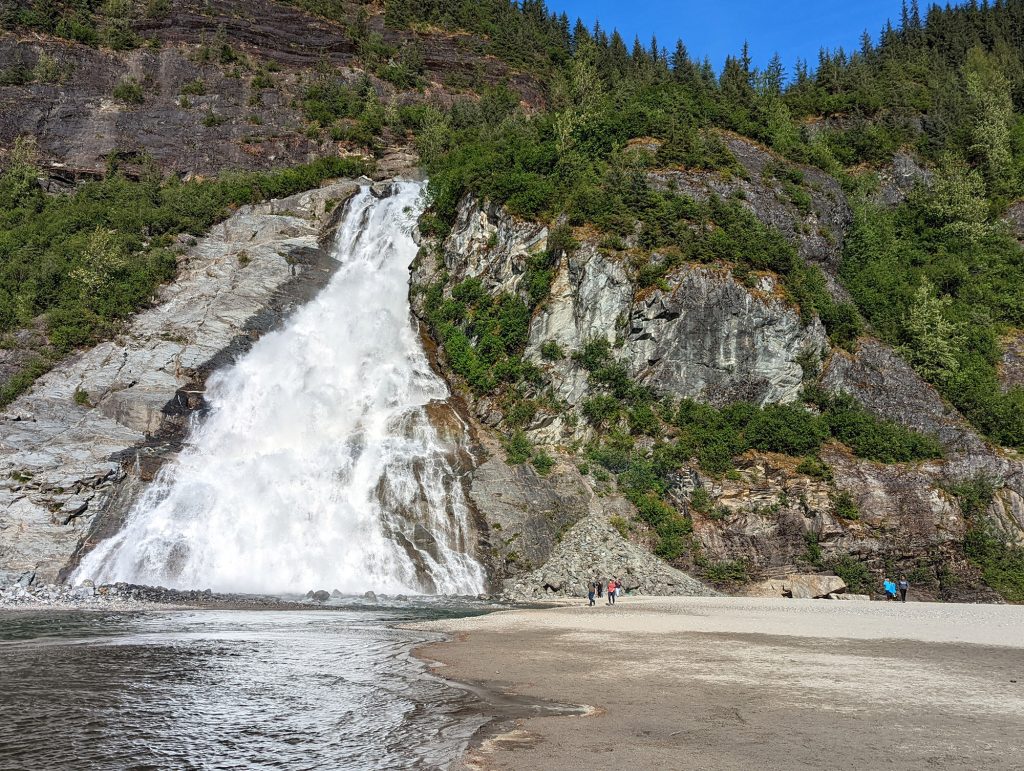 As I mentioned in the Day 1 blog, always take people's advice with a grain of salt. In all my research about this place, most of the feedback was that it wasn't possible to hike out to the base of the Nugget Falls and be back in the allotted time (we had 1 hour at the site). That initially disappointed me because I'm a sucker for a good waterfall. Then when we arrived, our tour guide mentioned things we could do at the park, and she said the Nugget Falls trail was easily doable in the allotted time. In fact, we had time to do the waterfall hike, go to the photo point, and still have extra time to spare. Just keep in mind that a lot of advice for Alaska might not be geared to the more active or younger community.  
Searching for Dinner in Juneau
Our tour guide drove us back to downtown Juneau, a quick 15-minute trip. It was around 6 o'clock, and we wanted to explore the city before we had to be back on board at 9:30.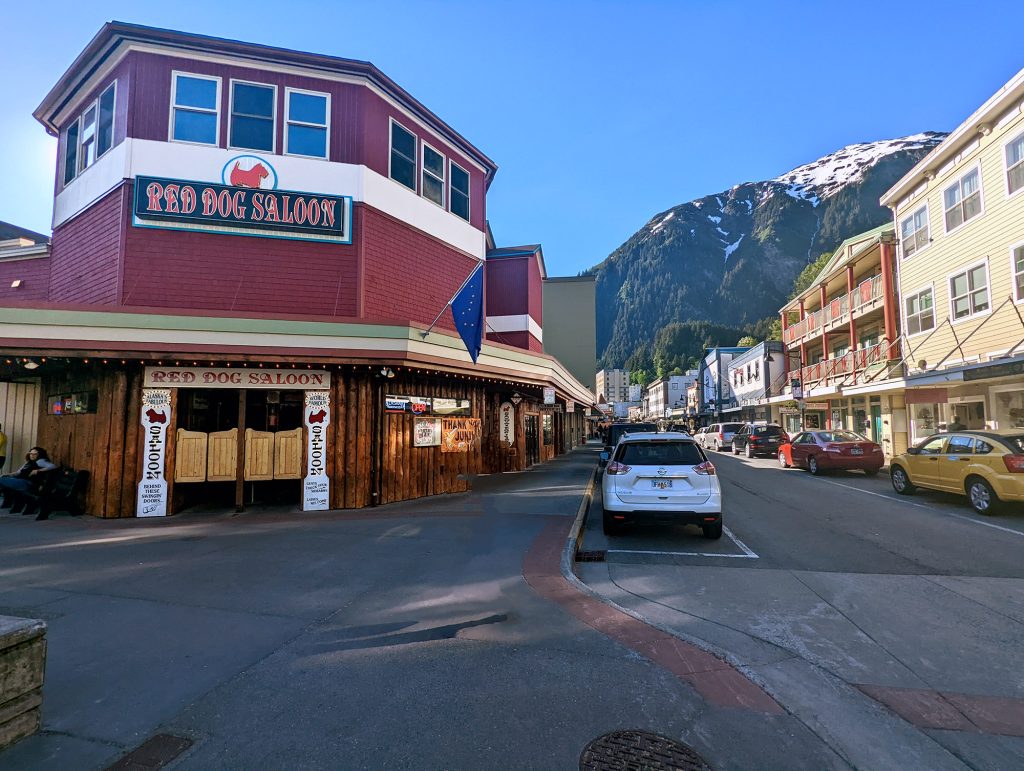 The downtown Juneau area is a small, relatively compact city for a state capital. Most tourist attractions in the town are on one or two streets and are easy to walk to. Popular tourist destinations were the Red Dog Saloon and Tracy's Crab Shack, but there were lots of attractions and museums you could check out if you had the time. 
We wanted a quick bite to eat and to try out some of the breweries in downtown Juneau. Unfortunately, finding food was much trickier than we planned. Our original plan was to grab some food at the first brewery we went to, Devil's Club Brewing Company. Once we arrived there, we saw signs that they weren't serving food due to a lack of workers. They had plenty of beers though with 8 beers on tap, so we got two flights of their beers.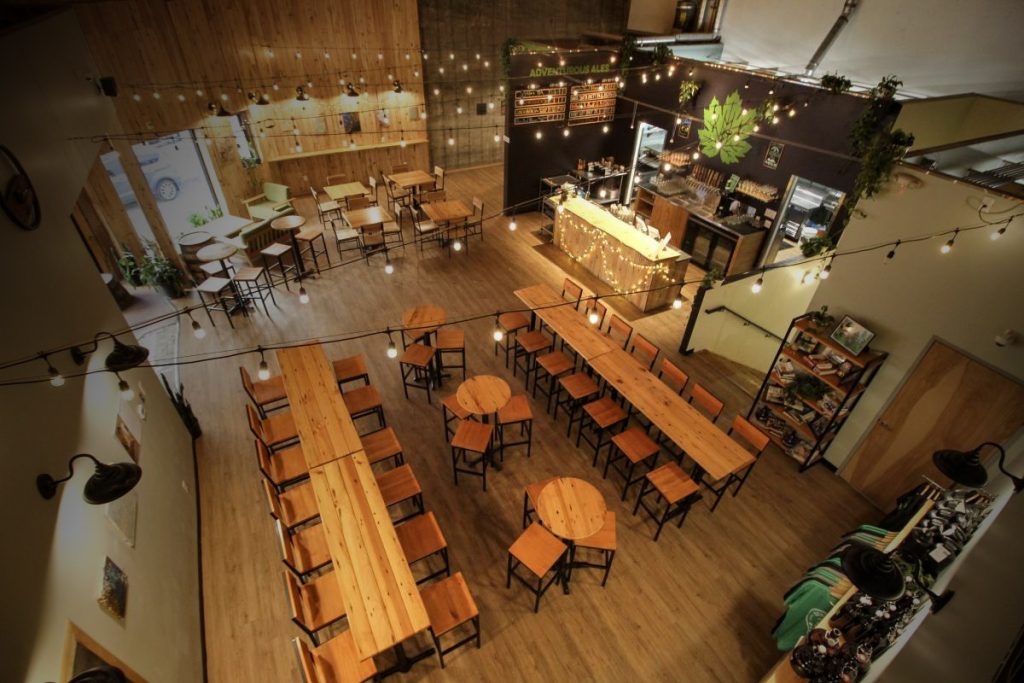 Once we were done with our flights, we went to search for food. We were looking for a grab and go, type-option but most places seemed to be sit-down restaurants. Also, most had crowds that would have taken us too long. We found a few food trucks near Devil's Club Brewing, but the lines were long and probably a 20-minute wait. Most things in Juneau close at 9, so it was getting too dangerous to get food and do everything else we wanted to do.
Instead, we headed to another brewery downtown, Barnaby Brewing Company. It was a quiet little establishment off the main tourist path. I was surprised by the number of beers they had to try, and they had some interesting varieties. We each got a flight of 4 beers. My favorite, possibly one of my favorites from the trip, was "OMG, I Love Trees." It's an imperial spruce tip blond made with local spruce tips. I was caught off guard by how sweet it was and how it didn't taste too piney at all. I would have brought some home if it wasn't so early on the cruise. 
Visiting the Tahku and The Whale Project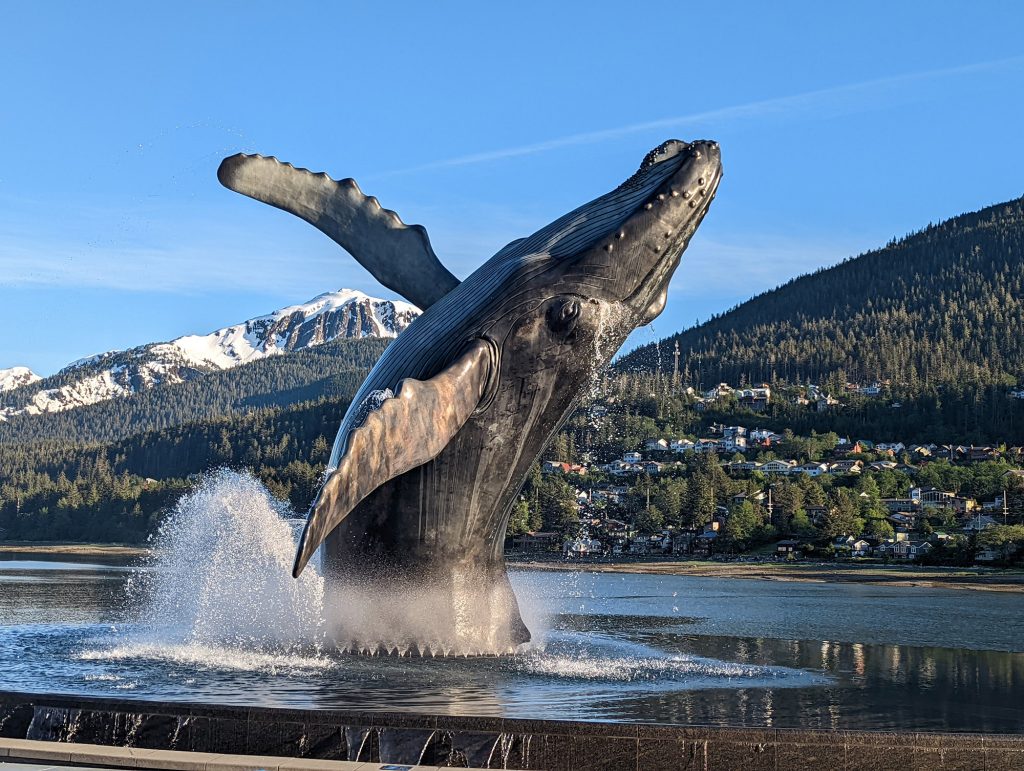 At this point, it was 8 pm, and we gave up and finding any food. We decided we'd find something back on the Ovation of the Seas later. Before we returned, we wanted to check out a sculpture called Tahku (also called The Whale Project on Google). I saw pictures of it on Facebook and was amazed by the detail. Built in 2016, Tahku is a life-scale bronze whale located in a park right off the water. It was about a 20-minute walk from downtown, so we made our way there. 
The statue was impressive, towering over a reflecting pool with the ocean water in the background. It depicted a humpback whale breaching the water in a full jump. On this trip, we didn't see any actual whale breaches, but this gave me a good idea of the scale and power of these beautiful creatures. There were only four other people around at that point, so it was the perfect time of day to take it in. Then, as we were about to leave, water started to come out of it. I had no idea it could even do that. Now it really looked like a real-life whale. We snapped a bunch of photos, which people on Facebook thought were real. 
Dinner on the Ovation of the Seas
After that, we walked back to the ship, another 20-minute, relatively flat walk. At this point, most people were on board the ship, so there were no lines. We showed our SeaPass cards (room keys) and our photo IDs to get through the security checkpoint.
It was 8:40 by the time we arrived on the Royal Esplanade, and dinner options were slim. If the all-aboard time wasn't until 9:30, I don't know why almost all the food options closed at 9. We ended up going to the Windjammer Marketplace before they closed. In all the cruises I've done, this is the first time I skipped the main dining room for dinner and went to the buffet instead. The main dining rooms are always such a great experience for me, so going to the buffet feels like a bit of a letdown. In this case, though, we just wanted some food and were fine with anything.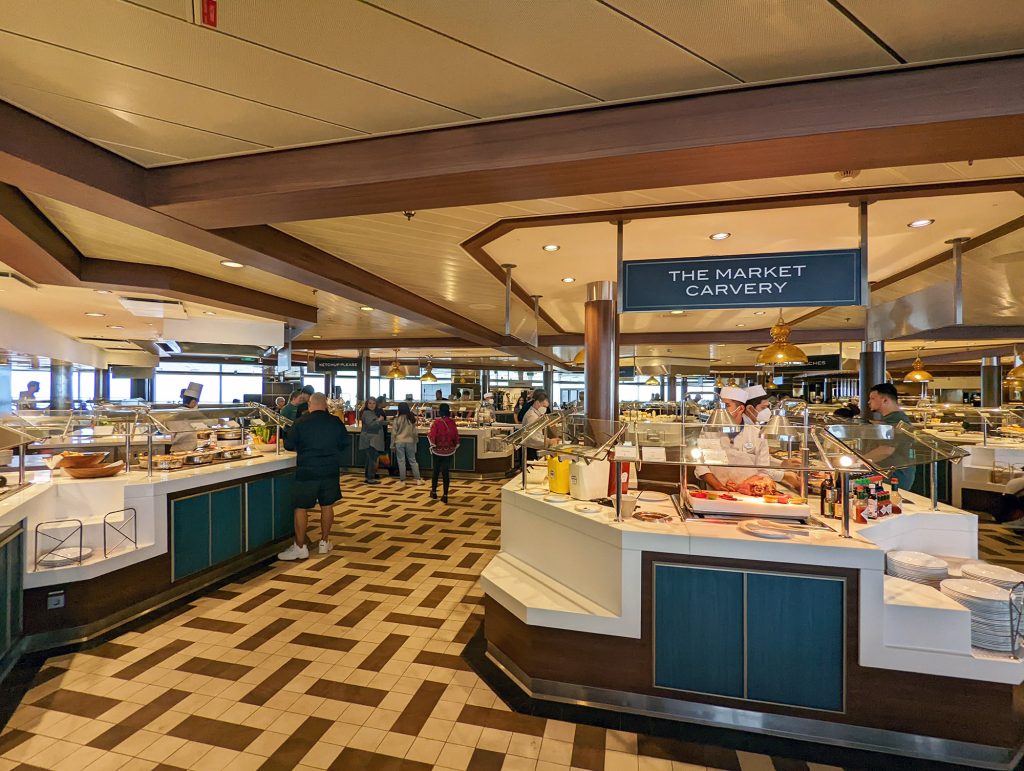 The front of the Windjammer still had some crowds, but we walked to the back, and it thinned out quite a bit. 
TIP: always walk to the back of Windjammer. Very few people make it back there, and there are usually more seating options and food available. 
The food was just ok; nothing really stuck out to me. The hamburgers were a bit overcooked and rubbery. I tried their seafood chowder in a bread bowl, but it was rather disappointing. They had a variety of Italian food out, but I found the spaghetti was just too sweet. We grabbed our food and sat outside at the back of Windjammer, where they had twenty or so tables available. 
A relatively early night in Juneau
After that, we headed back to our cabin. Between the 8 miles we walked during the day and the two flights of beers we had on empty stomachs, we were wiped. So we just took it easy and read some books in our cabin before turning in. While relaxing, we heard Journey blaring through the floors and walls. Apparently, that night in the Royal Theater was a Journey tribute band. I was surprised how loud it was, considering we were 2 decks away from the theater. It didn't bother us too much since it was over by 10:45, but the noise levels could have been an issue if you had kids trying to sleep. 
Ovation of the Seas – Day 3 wrap-up
Even with a relaxing massage thrown in, day 3 was packed with so much to do. The views of the inside passage were breathtaking. Juneau was a fantastic port, and even though we spent almost the full 10 hours on land, there was still so much we didn't do. There were local eateries to check out, museums to visit, plenty of hiking trails, and the Mount Roberts Tramway, as well as some excursions that looked interesting. My advice is to understand that you won't be able to do everything in one trip and focus on your top attractions. 
Follow along on the rest of our Alaskan cruise on Ovation of the Seas
Ovation of the Seas – Cruise Blog - Day 1 – Seattle
Ovation of the Seas – Cruise Blog - Day 2 – Sea Day
Ovation of the Seas – Cruise Blog - Day 3 – Juneau
Ovation of the Seas – Cruise Blog - Day 4 – Skagway
Ovation of the Seas – Cruise Blog - Day 5 – Sitka
Ovation of the Seas – Cruise Blog - Day 6 – Sea Day
Ovation of the Seas – Cruise Blog - Day 7 – Victoria
Ovation of the Seas – Cruise Blog - Day 8 – Debarking in Seattle
6 Hits & Misses of Ovation of the Seas
If you want to stay up to date with what we publish, sign up for our monthly newsletter
CruiseSpotlight is an Amazon Associate. We may earn a commission when you click links to retailers and purchase goods.