Ovation of the Seas – Cruise Blog – Day 5 – Sitka
Day 5 of our Alaskan Experience cruise on Ovation of the Seas started early with a loud fog horn blast. At first, I thought it was just a dream, but there was another blast, and another. I rolled over and looked at my phone; it was only 5 am. I tried my best to at least get another hour of sleep. The ship was supposed to dock in Sitka, Alaska at 8 am, so I planned to get at least another hour's sleep. 
Overview of Day 5 in Sitka, Alaska
Cruise Compass for Day 5 – Sitka
Breakfast with a foggy view
At 7 am, I got up and started preparing for the day. The fog horn had continued to bellow over the last hour, so I was a bit groggy. We got dressed and headed up for breakfast in the Solarium Bistro.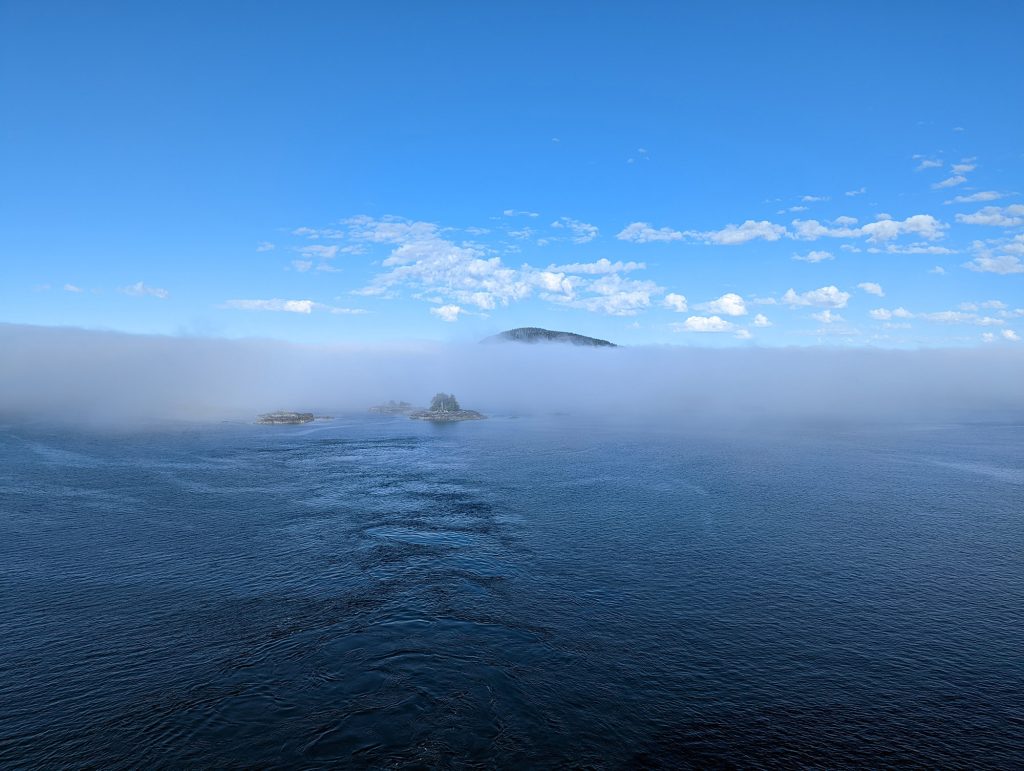 We walked into the Solarium and noticed the landscape here was once again completely different from the previous days. Through the large glass windows, I could see the thick fog rolling through the mountains, hovering over the ocean, almost frozen in place.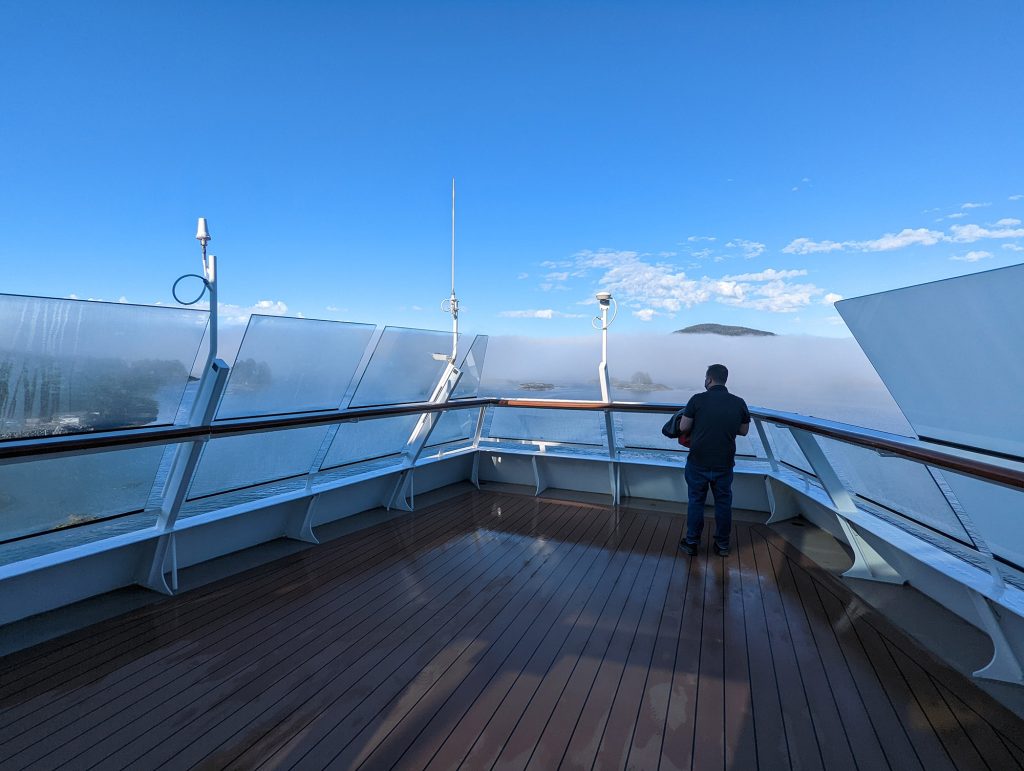 As we went to enter the Solarium Bistro, we were stopped by staff and instructed to "washy, washy." This reminder to wash your hands before entering a buffet is pretty typical on a Royal Caribbean cruise. We'd experienced it before this sailing in the Windjammer, but this was the first time in the Solarium Bistro. A singular sink was right by the entrance, and people lined up to wash their hands. I couldn't help but wonder if the sudden change was due to an outbreak of COVID or some other illness. 
Sitka Cruise Terminal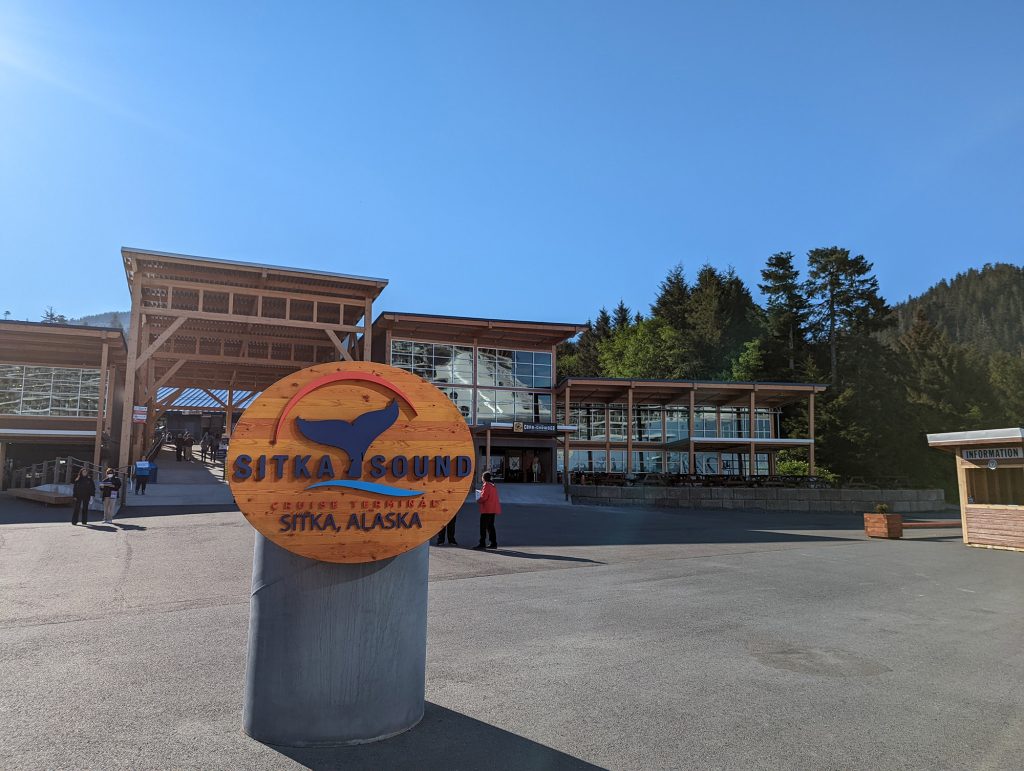 The Sitka cruise terminal is in a complex about a 12-minute drive from the downtown area. It's much more industrial-looking than our previous ports were, and there was little to see or do right off the ship; the terminal had a souvenir shop, a restaurant, and a bar, but that was about it. A free shuttle would get people back at forth to downtown Sitka, but if you were taking an excursion, you would meet them right at the terminal instead of going downtown first.
Sea Otters, Raptors & Bears…Oh My!
We walked off the boat and found someone holding a sign for our Excursion "Sea Otters, Raptors & Bears…Oh My." The 5-hour excursion would let us see lots of different types of wildlife. We monitored the price for this excursion and scored it for the lowest possible cost; it ranged from $178 – $299 per person in the year leading up to the cruise.
Tip: Royal Caribbean uses dynamic pricing for many of its onboard experiences and excursions. That means the price can change based on demand. Usually, it'll change every few weeks. So if you book an excursion, keep checking back. If you see it cheaper, just cancel online and rebook it at the new lower price. You can save a lot of money that way.
Since the ship docked 15 minutes early, the boat we were taking to start our adventure wasn't there yet. We waited for about 20 minutes until the tour boat arrived, and then our guides let us on. We watched as people kept trickling down. The excursion was set to start at 8 am, and at 8:25, we started pulling away. One large group was rudely trying to hold up the boat because their friends weren't there yet. Don't force 100 people to wait because your friend couldn't get up on time. 
Wildlife spotting on Sitka Sound
The boat was very similar to the one we were on for whale watching on day 3. It was a roomy 2-story boat. The downstairs was enclosed and equipped with bench seating, restrooms, and snacks. The upstairs was half-enclosed with bench seating, and the rest was open for standing. There were about 100 people on this boat, and it didn't feel crowded. The company that ran the tour was Allen Marine, and they did a great job. Unfortunately, it doesn't look like you can book through them directly; you'll have to book through the cruise line. The price per cruise line can vary; the Carnival version was only $174, almost half of what Royal Caribbean was charging for the same excursion.
The excursion description said this tour came with snacks; in this case, they were donut holes, hot chocolate, and coffee. In the snack area, you could purchase a can of soda for $3 or a local Alaskan Brewing beer for $6. They also had chips and candy bars available for purchase. Later in the trip, they offered samples of local snacks they were selling, like jams, hot sauces, and smoked salmon.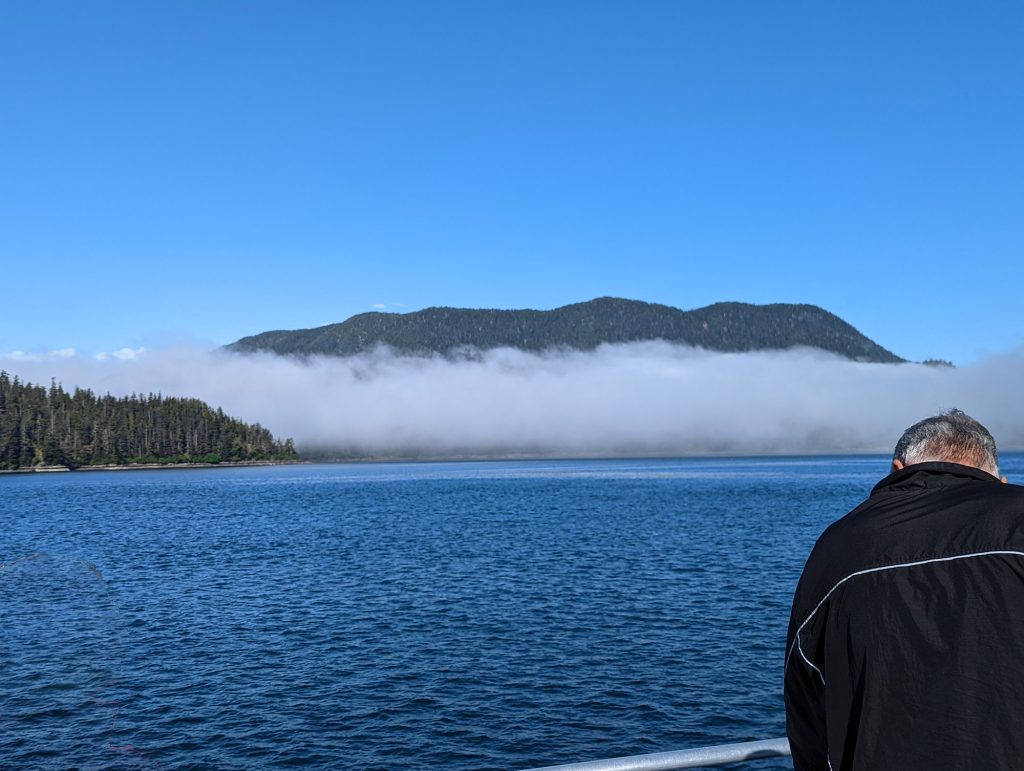 The ship took off from the cruise terminal and started on its way. The fog appeared as a cloud suspended mid-air. Thick and bright white from the hint of sun trying to shine down, it almost felt like it was solid. Objects quickly sunk into the fog and disappeared once just a few feet away. It was surreal, almost something out of a movie, like "The Mist." And then, in a minute, it'd be gone, and you could see the beautiful, tree-filled mountains reaching up to the bright blue, cloudless sky. It was an other-worldly experience. 
The captain took us around various islands and shorelines. With the heavy fog that day, actual wildlife spottings were few and far between for the first half of the trip. At one point, we saw a group of bald eagles on the bank, picking on the remains of an animal. Apparently, bald eagles are very solitary, and it's unusual to find a grouping of 4 or 5 together, so we were lucky.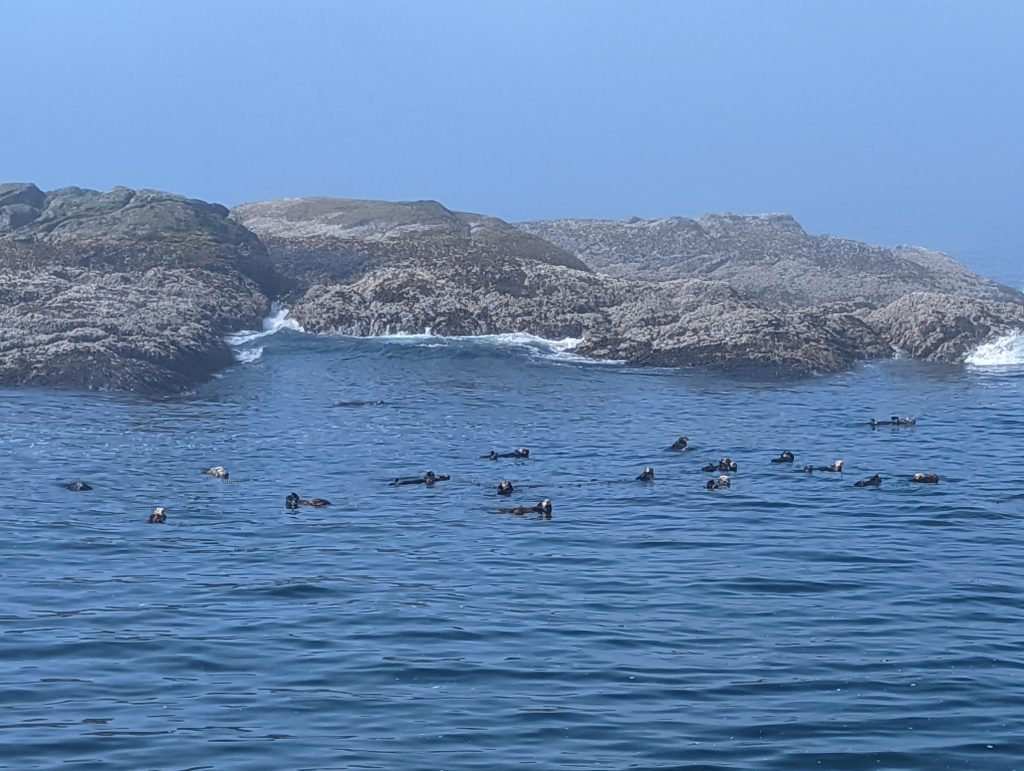 About halfway through our journey, the wildlife picked up. The captain came on the speaker and announced some sea otters were coming up. As we turned the corner, the crowd onboard shuffled to the port side of the boat. Five sea otters were sitting in the water, floating on their backs and playfully interacting. A hush fell over the crowd, trying not to scare them. Then, about 50 feet away, we spotted another larger group of 10 to 15 otters. 
Otters seem like such playful creatures, like puppies of the ocean. The boat got close enough to really see them clearly. I realized I had only really seen river otters before in zoos. Sea otters are much bigger. They can be up to 4 feet long and 50 pounds; about the size of a medium dog. They were floating on their backs and seemingly relaxing in the water.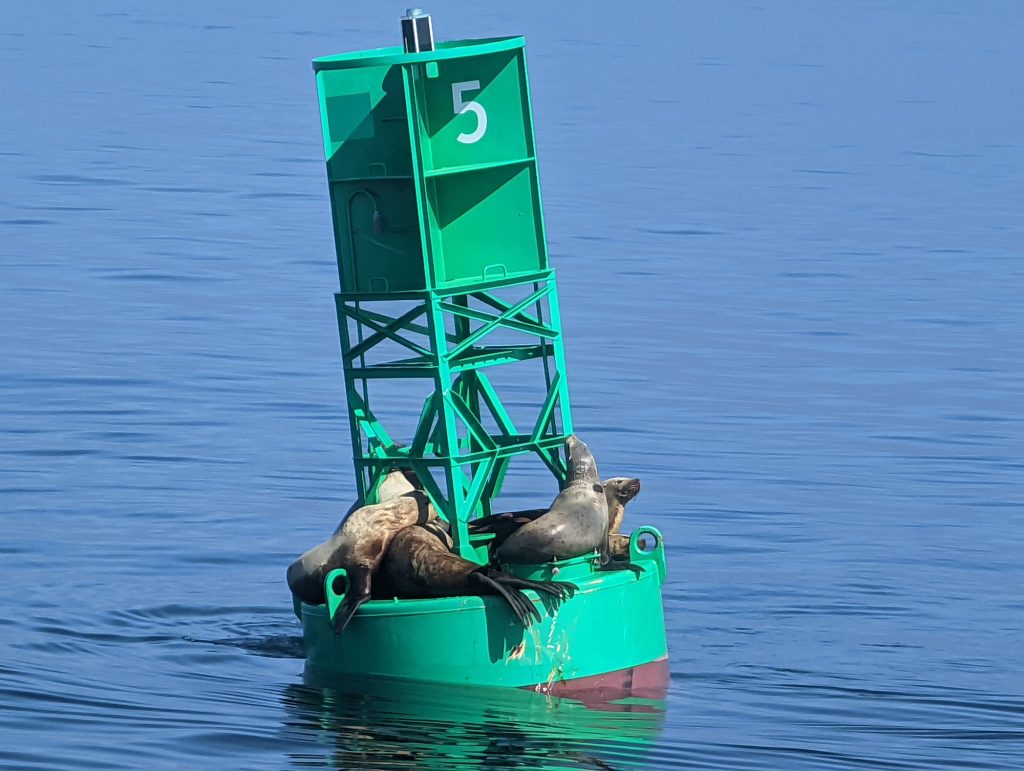 We continued our journey to downtown Sitka and slowed down as we passed a buoy bobbing up and down in the water. Sea lions covered the base, several hopping on and off, causing it to sway even more. 
As the 3-hour boat ride portion of our tour ended, we were lucky enough to see a humpback whale. This excursion didn't officially say you would see whales, but we were lucky enough to pass by one. It started with just a spout of water drifting across the ocean surface. Then the captain aimed us better, so we could see it lazily taking deep breaths before diving beneath the surface to feed. The boat was a buzz from the activity. A father standing near me, who had been grumpy the whole trip, lit up. "This was so amazing. It made this whole trip worth it," he said he his wife. 
After we watched two dives from the humpback, the boat headed back towards downtown Sitka. We arrived at 11:30, and the group was split up and loaded into two motorcoaches for the next part of our excursion. 
Fortress of the Bear in Sitka
It was about a 30-minute ride from the dock to our next stop, Fortress of the Bear. Along the way, our guide tried to give us information about the area, but it was clear she was a little new. She wasn't as engaging as other tour drivers we had this trip. 
Fortress of the Bear is a rescue that gives sanctuary to bears that have become accustomed to humans. These bears learned to feed on people's trash cans and would continue to go into the town and be a threat to humans even if they've been relocated to the forest. Typically, these bears would be shot, but this rescue takes them in and gives them a home.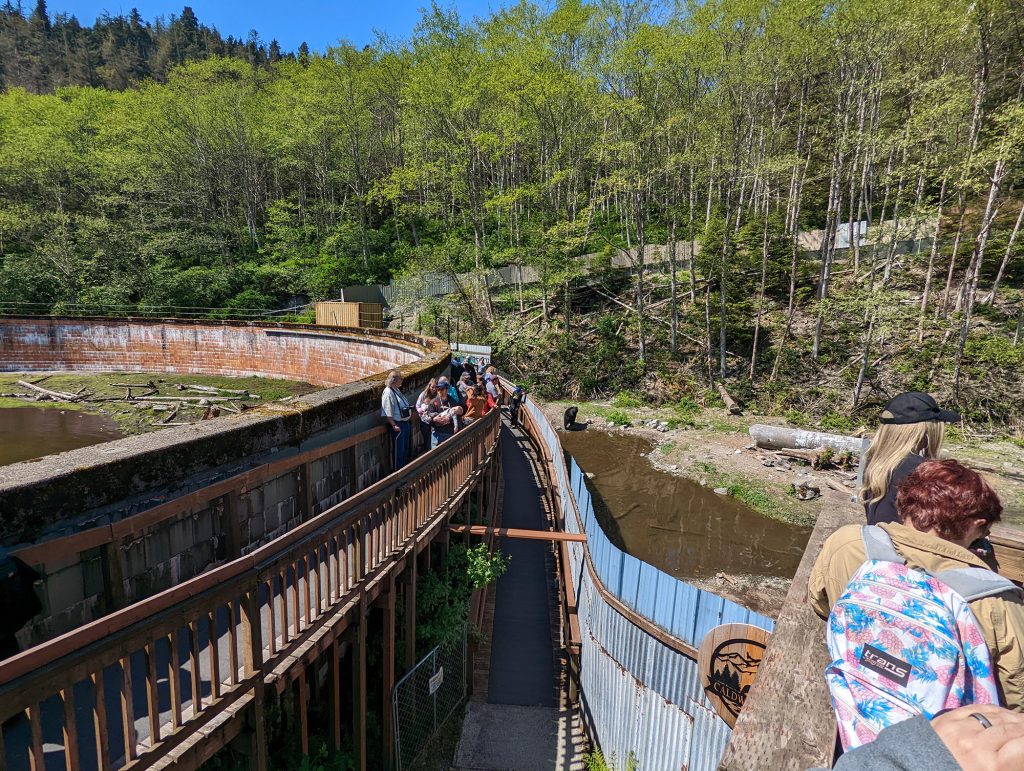 Fortress of the Bear inhabits an old paper mill, so it has a very industrial feel. It doesn't look like a zoo you've seen at home. It has a wooden walkway that winds along the large enclosures to provide overhead viewing. Then inside, there were massive windows where you could really see the bears up close from ground level. 
I've seen plenty of bears in zoos, but these were the most active ones I'd ever seen. In one area, two brown bears played with each other in the water. In another place, two bears were chasing after mangos that were thrown in as a snack. One stood up tall, and you could really appreciate the size and danger of these bears with long, sharp claws dangling in the air. 
Overall, we spent roughly 30 minutes at the Fortress of the Bear, and it was just enough time.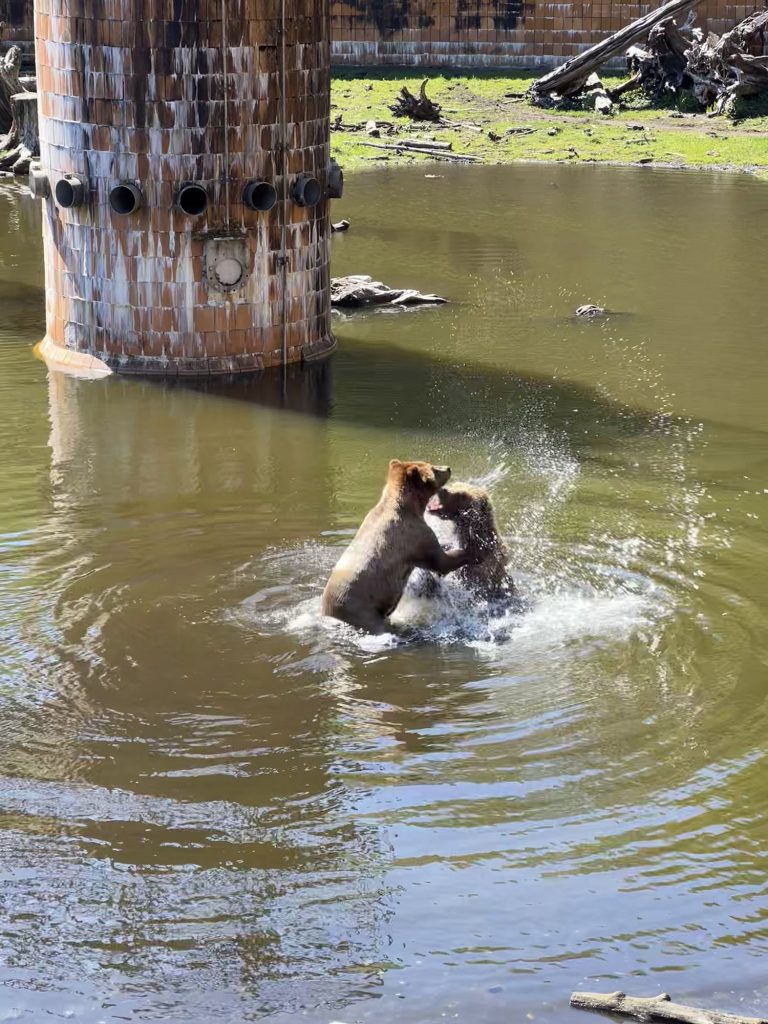 Alaska Raptor Center in Sitka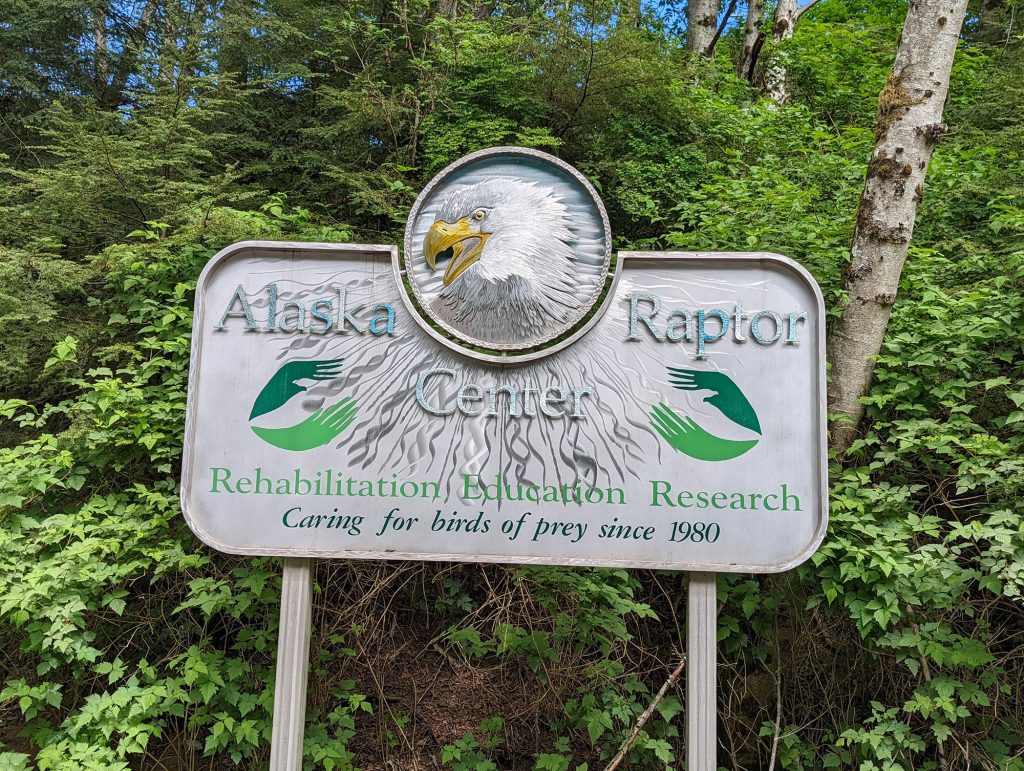 Our next and final stop was the Alaska Raptor Center. This isn't some rip-off on Jurassic Park, but a bird rescue center. A raptor is a general term that can describe any bird of prey, such as eagles, hawks, owls, etc. We had one hour at the Alaska Raptor Center, which included a look at the Bald Eagle Rehab area, a short presentation with Q&A, and then we could walk around the facility. 
By the end of our time in Alaska, eagle sightings became commonplace, much like if I saw a robin or crow in the North East. But here, we saw them much closer. Watching them soar through the air would send chills down your spine. I never understood why the eagle was chosen as our national bird, especially because it's limited to just a part of the US, but now I do. 
Seeing these eagles was also a great reminder of how we, as a species, can overcome our destructive actions. In 1963, only 417 nesting eagle pairs were counted in the wild in the US. They were near extinction due to the loss of habitat and the pesticide DDT. After extensive conservation measures and awareness campaigns, over 71,400 nesting pairs are now estimated to be in the wild. It gives hope that we can overcome some of the detrimental things we've done to this beautiful planet. 
There was a notice on Alaska Raptor Center's website saying that some birds were being removed from public exhibit due to the increased rate of Avian Influenza (HPAI) in Alaska. However, this did not impact the experience at all, as only a couple of exhibits were closed, and it didn't really change the experience.
Walk to Sitka Historical National Park
Once we were done with the Raptor Center, we decided to check out Sitka Historical National Park. This park is known for its re-creations of totem poles. While it's easily walkable from downtown Sitka, it was even closer to the Raptor Center, so we just told our driver we were walking back instead of taking the bus. 
It was an easy half-mile walk to the park from the center. If you enter from this direction, you're technically entering the back of the park. Unfortunately, there wasn't much signage or maps that helped when coming in from the rear. We ended up going park's website and downloading a map. We were most interested in the totem poles, which mainly lined the many trails in the park. The trails were paved and clear of brush, making them easy to navigate. After a short walk, we went to the front of the park where the polls were.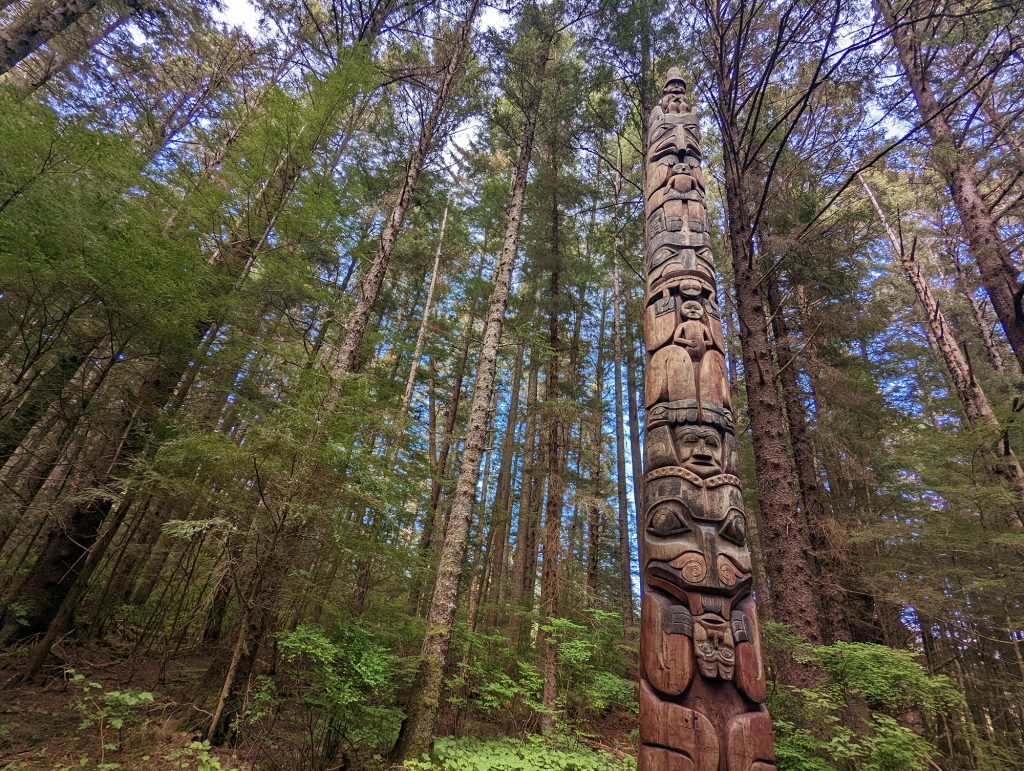 The poles were all beautiful, with intricate carvings; some with vivid colors, others with more muted tones. The sizes were impressive, spanning anywhere from 20′ to what seemed like 40′. These weren't original poles, they were re-created from original ones, but some have been there since the 70s. 
Right as we were about to leave, a bald eagle flew and landed perfectly on top of one. It was the perfect photo, and you could see the commotion of the people nearby trying to capture it.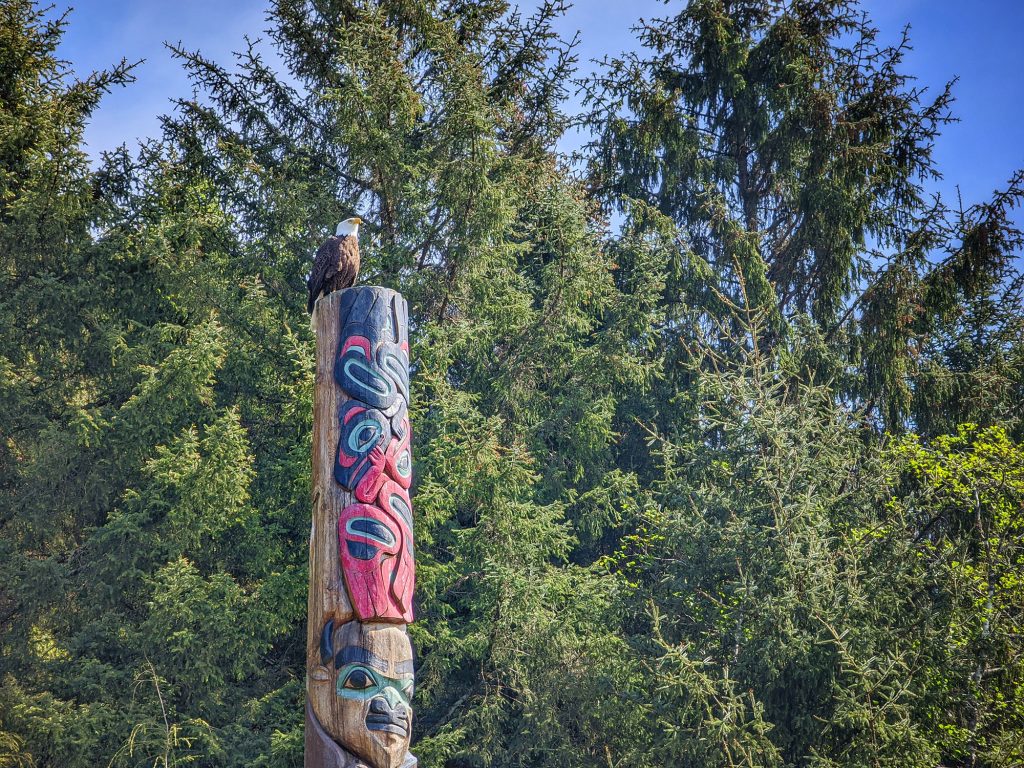 Getting back to the ship from Sitka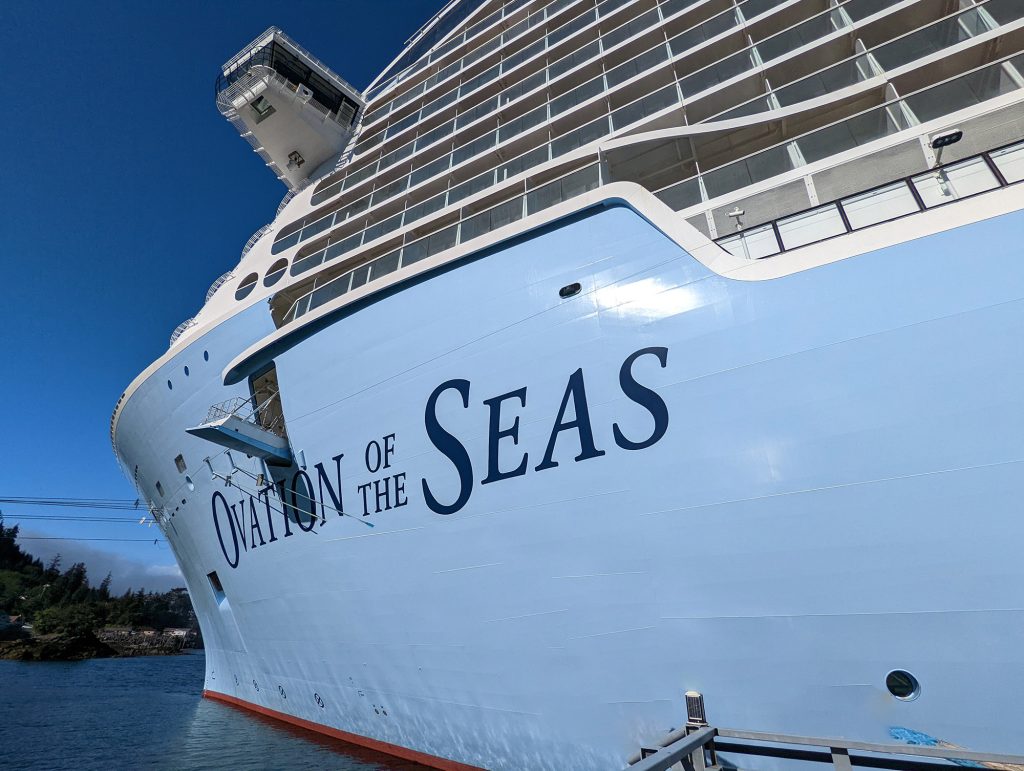 It's a 15-minute, half-mile walk from the park back to downtown Sitka. First, we went to a few shops to look for Alaska souvenirs. Then we headed back to Centennial Hall, where the shuttle would take guests back to the cruise ship. 
All aboard was at 4:30, with the last shuttle running at 4:00. We got to the shuttle stop at 3:15. While there looked to be a long line, it moved quickly. Within 5 minutes, we were on a bus. The ride was 12 minutes, and there was no wait to get back on the ship. 
Rock climbing 150′ over the sea
The weather was still gorgeous when we arrived back on Ovation of the Seas. So we decided to try the climbing wall on Deck 15. A climbing wall is a staple of Royal Caribbean ships, but I've never had a chance to try one. This wall towered 40′ over the deck (roughly 150′ over sea level, making it feel even taller.)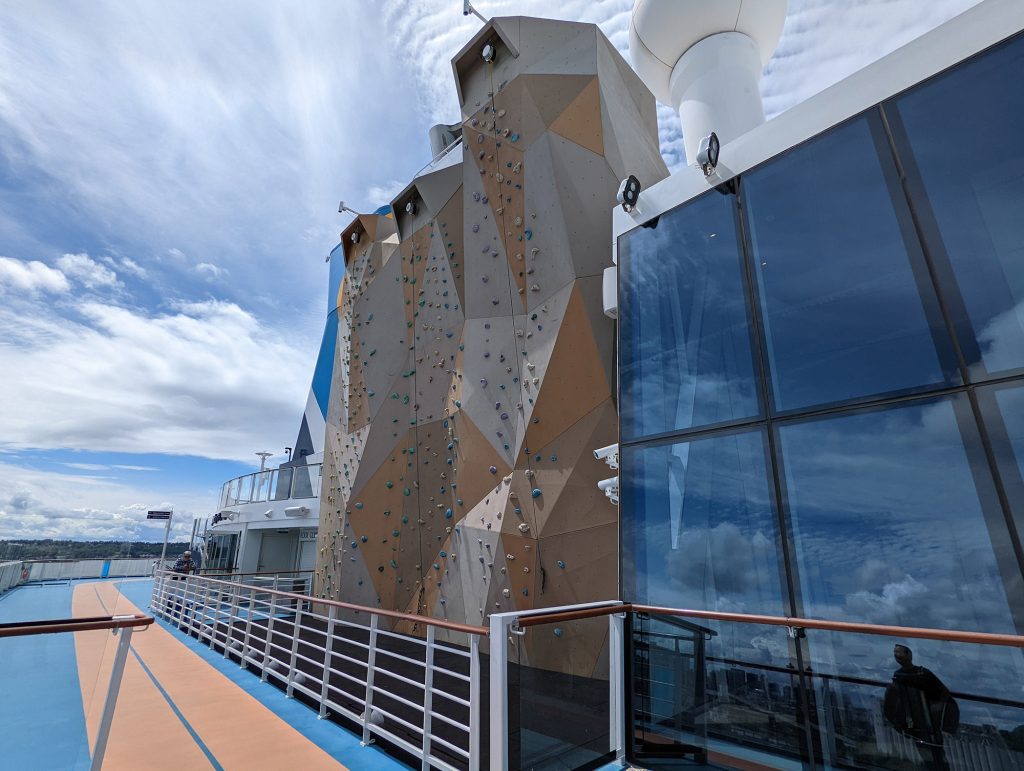 No reservations or even waivers are required to participate. We just showed up at the desk by the climbing wall. They gave us climbing shoes, and then the supervisor helped us put on the harness. Three people could climb at once, and each area had several paths to take. 
Since it was my first time, the instructor gave me some pointers. First, each course had several colors of hand holds indicating different difficulty levels. Since I had never climbed before, I just decided to grab on to whatever I could. He also said this wall used an auto belay system, which meant you don't have a person holding you up, but the equipment does. If you slip or make it to the top, the machinery automatically lowers you slowly down to the ground. His last pointer was to use your legs for all the work and just use your hands to keep you close to the wall. 
The instructor hooked me in, and I was off. The hand and footholds were surprisingly easy to grab, I always thought that would be one of the hardest parts, but between the sizeable holds and flexible climbing shoes they gave you, that wasn't too bad. It was more challenging to decide where to put your hands and feet. It's like a game of Twister, trying to figure out how to put a limb someplace without losing your stability. By the time I was halfway up, I had forgotten the advice about using my legs more than my arms. About 10 feet from the top, I struggled to find the next handhold. My heart was pounding as I realized I was high up and could fall at any minute. Nevertheless, I was determined to make it to the top.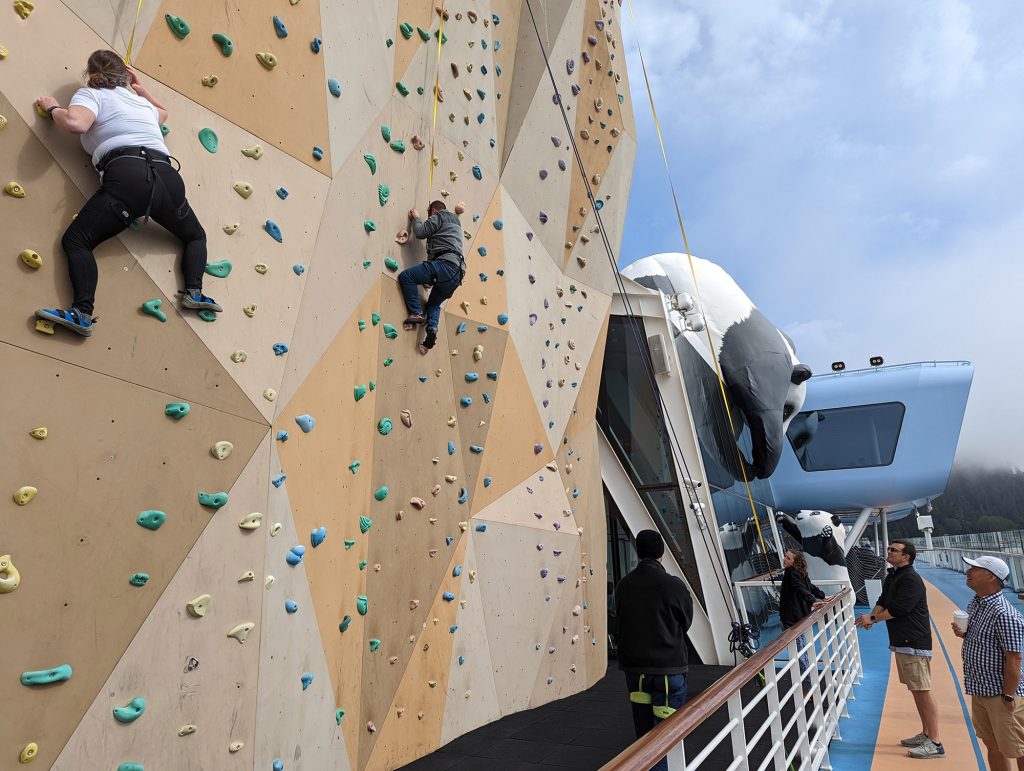 I pushed through and made it to the top-most handhold, only to realize there's no natural "end." I expected to have some bell at the top to ring, but no, I just had to go down. The instructor told me to lean back, which would lower me when I was done, but it was still nerve-racking. I tried to lean back to rappel down the wall, but I couldn't get the mechanics down, and I ended up just spinning in circles as it lowered me down. The descent was faster than I thought, and I wasn't ready when I landed, so my legs gave out, and I ended up on the floor. I wouldn't have minded, except the 10-year-old girl next to me landed right after with perfect beauty and grace. 
The instructor asked if I wanted to give it another go, but my arms and chest were burning from the workout (and poor technique). It was a fantastic feeling to make it to the top, though, and quite an accomplishment for me. I look forward to trying it again to perfect my technique.
Before we headed back to the room to change to dinner, we took in some beautiful views from the back of the ship. This area was technically a running track, but it was rarely used and instead made a great place to just stand and take in the vista.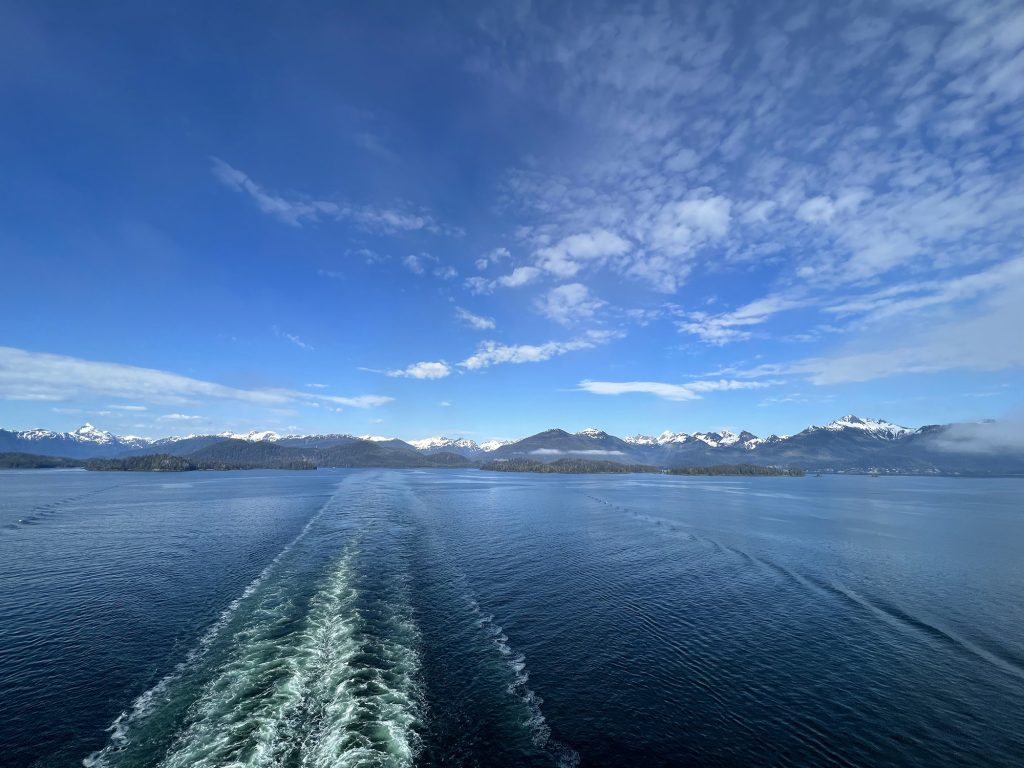 Specialty Dining at Chops Grille
As one of the perks of booking this cruise through Costco Travel, we received a free dinner at a specialty restaurant. The Ovation of the Seas had four options: Chops Grille, Jamie's Italian, Izumi, and Wonderland. Looking at the menus, we were most excited by Chops Grille, so on day 2 of the cruise, we stopped in and made a reservation for this evening. I was surprised there were plenty of times available still; in fact, we basically could have any day or time we wanted.
Now, I'm not a fan of specialty dining that costs extra. I already paid for a cruise with all the meals included, so why should I pay more? One of the things I like about a cruise is that once I'm on board, I don't constantly have to worry about how much things cost or look at prices. And on Royal Caribbean, it wasn't just a small supplement or upcharge for these places, it was $55 per person for the experience, and that didn't include alcohol. Since it was free, though, I figured I'd give it a shot. 
Tip: If you're planning to go to Specialty Dining, you can save 15% by buying it before the cruise using the Cruise Planner. Some sailing may offer some "deals" during the cruise, but you can't rely on those, so if you really want to try a place, book ahead of time.  
We arrived at Chops Grille at 7 pm for our reservation. Unlike some other dining venues, Chops was completely closed off from the rest of the ship with a solid door. In fact, you probably wouldn't notice what it was if you weren't looking for it. I'm sure this aims to ensure a more private, intimate experience.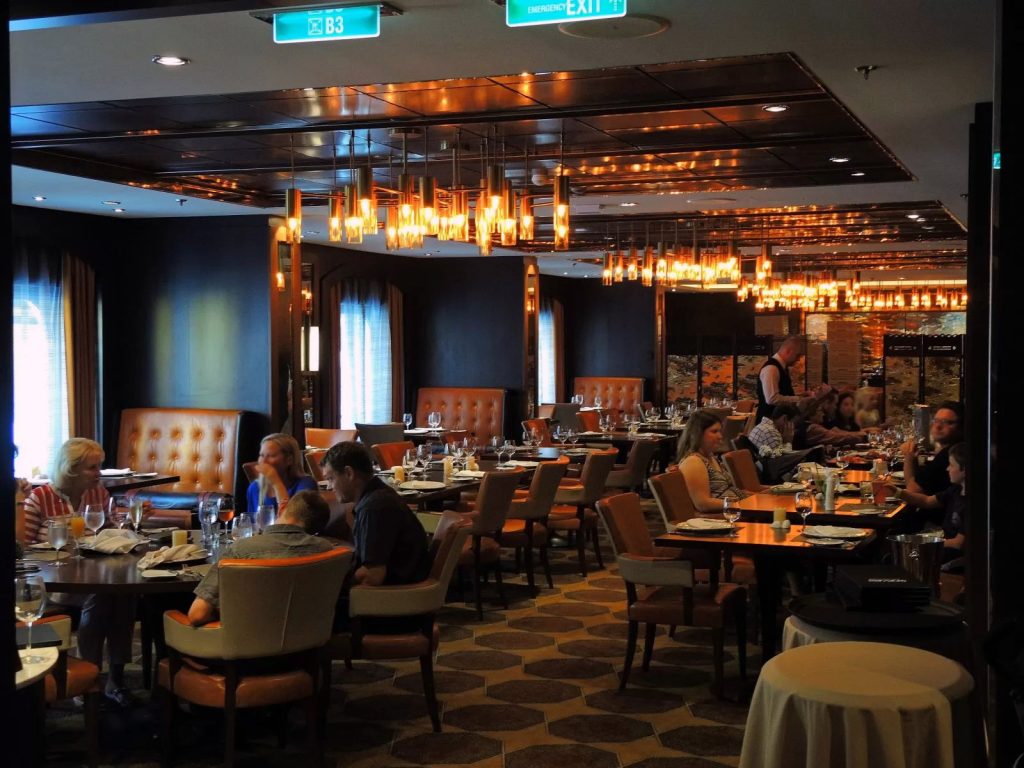 The restaurant was reminiscent of a traditional upscale steakhouse you'd see on land with dark furniture, dim lighting, and comfy seating. The venue was a long and narrow room, with seating for up to 100 people. It was only about 1/3 full when we went, and the emptiness, combined with the lack of music, made the place feel a little cold and almost deserted. Windows lined one of the restaurant's sides, offering amazing views of…the lifeboats. I don't understand how they decided that the most expensive restaurant on the ship would have windows that look directly onto bright orange lifeboats. 
One of the few things I like about specialty restaurants is the more intimate feel compared to the main dining rooms. It makes it much more appropriate for a date night or celebration. On the Ovation of the Seas, the main dining rooms aren't huge, 3-story massive spaces like you see on other cruise ships. Instead, four single-story restaurants are much more intimate by default. So while Chops definitely felt cozier, it wasn't as big a difference as I'd experienced on other ships. 
Our waiter promptly greeted us and walked us through the menu options. The service level was definitely elevated compared to the main dining rooms. Our waiter only had a handful of tables, so he was very attentive. We both ordered glasses of wine to go with our meal (one of the perks of being gold level on this cruise was two 50% off glasses of wine coupons), but it was a shame this restaurant didn't have a dedicated cocktail menu. 
The waiter brought out some delicious pretzel bread sticks, one of our favorite parts of the meal. When he took our order, he kept asking if we wanted to order more. Typically they'll let you order an additional appetizer or dessert if something strikes your fancy (unlike the main dining room, you couldn't order two entrees). 
We started the meal with the Grilled Black Pepper Bacon and Jumbo Lump Crab Cake. Both were tasty; the bacon was a large slab of pork with a sweet and spicy glaze. If you're a bacon lover, this dish is for you. The crab cake was a good size for a starter with large chunks of crab in it. It also wasn't too saucy or creamy like some crab cakes can be.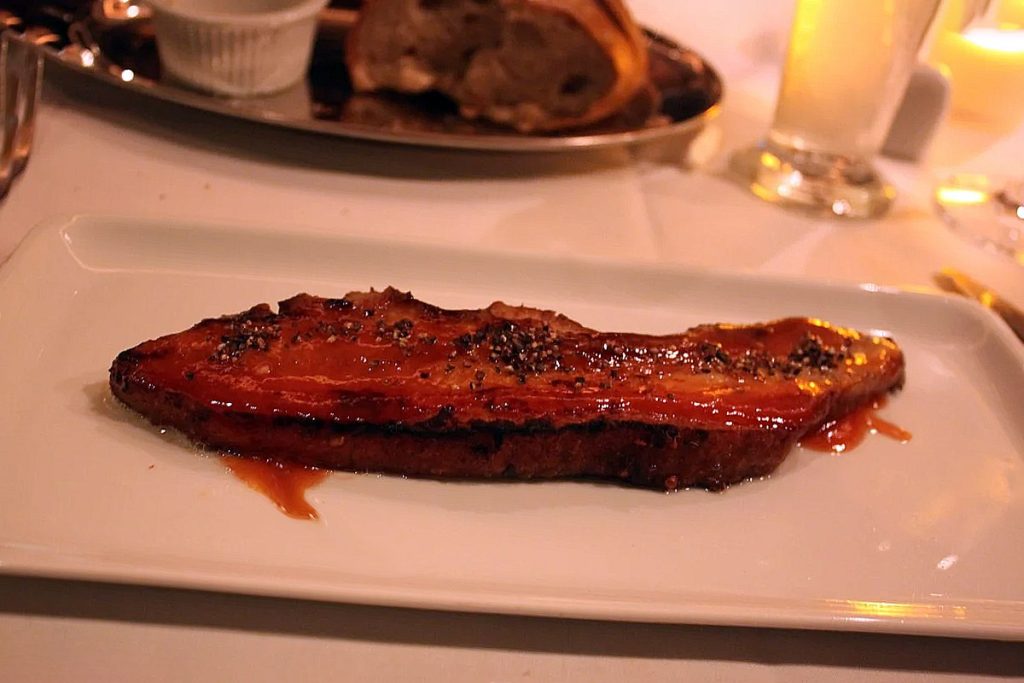 We had the Lobster Bisque and the Caesar Salad for the second course. The Caesar Salad was good, but I've had better at other steakhouses, both on land and sea. The Lobster Bisque was a solid choice, creamy with hints of tarragon and brandy. 
Even though it's a steakhouse, they also had lamb, chicken, and seafood for the main entrees. We got the Filet and Rack of Lamb. Both were cooked perfectly and good size portions. We added on sides of gruyere cheese tater tots, creamed spinach, and french fries (we skipped the truffle oil on them). The sides were meant to share but on the smaller side, so don't be afraid to order a few for the table. 
The dinner ended strong with a delicious dessert course. We went with the warm chocolate cake and the warm apple pie. The chocolate cake was an individual, ramekin-sized, soft sponge cake. The bitter chocolate kept it from being too sweet, and it was complemented by the sweet berry compote. If you've ever been on a Carnival cruise, it was very similar to their melting chocolate cake (which is free, by the way). It was by far the best dessert I had on this cruise. The Apple Pie was also delicious, with a soft, tender crust and huge chunks of apple. 
Was Chops Grille a good experience? Yes, the food was delicious, the service was on point, and as much as I didn't want to like it, I really enjoyed the experience. But was it worth the $55 per person they were charging for it? That's really up to you, but in my view, it's too high. There are not enough differences to warrant that kind of charge. Apparently, I wasn't the only one who had that thought since there were plenty of empty tables. 
Majority Rules in Music Hall
We were looking for some onboard activities for the evening, but unfortunately, there wasn't a ton available this evening that we hadn't already done.
On the Cruise Compass, we saw "Majority Rules," which described it as a "game show with no right or wrong answer. The audience decides, by a show of hands, who wins. Come along and join a team." We hoped it would be like "The Quest," a Royal Caribbean adult semi-scavenger hunt. 
The game took place in the Music Hall, a really awesome space unique to Quantum-class ships. It's a 2-story concert hall where live music, karaoke, and contests would be held throughout the cruise. They have a dedicated bar on each level and four pool tables on the top level. The bar on the bottom level bordered a hallway of the casino and made a great place to get a drink if you were gambling and didn't want to go to the Casino Bar, which was in the middle of the smoking section.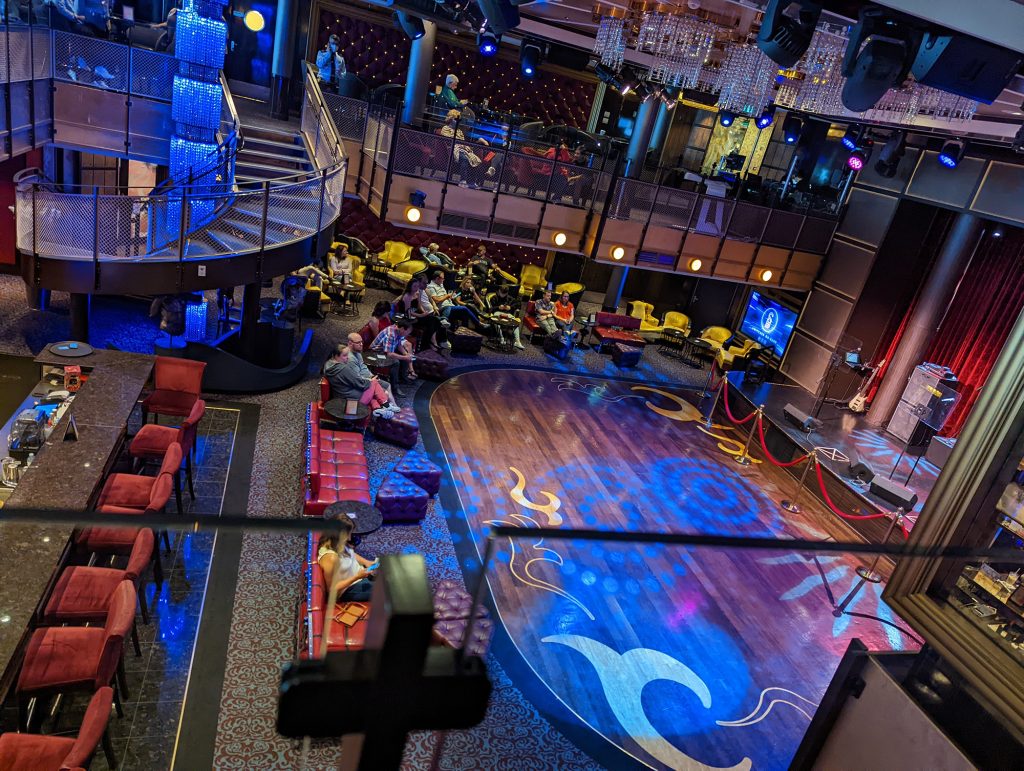 The game itself was like the popular "Apples to Apples" game. The host would ask a question, and you'd have to give an answer to it. It could be straightforward or racy, but the point of the game was to have the same answer as others, so having a funny answer actually worked against you. It seemed like a very poorly thought-out game, and the audience wasn't engaged. We ended up leaving early and finding some live music to listen to. If you've followed along, we've had very few complaints about this cruise so far, but the entertainment staff really seemed to be one of the weakest points.
Follow along on the rest of our Alaskan cruise on Ovation of the Seas
Ovation of the Seas – Cruise Blog - Day 1 – Seattle
Ovation of the Seas – Cruise Blog - Day 2 – Sea Day
Ovation of the Seas – Cruise Blog - Day 3 – Juneau
Ovation of the Seas – Cruise Blog - Day 4 – Skagway
Ovation of the Seas – Cruise Blog - Day 5 – Sitka
Ovation of the Seas – Cruise Blog - Day 6 – Sea Day
Ovation of the Seas – Cruise Blog - Day 7 – Victoria
Ovation of the Seas – Cruise Blog - Day 8 – Debarking in Seattle
6 Hits & Misses of Ovation of the Seas
If you want to stay up to date with what we publish, sign up for our monthly newsletter
CruiseSpotlight is an Amazon Associate. We may earn a commission when you click links to retailers and purchase goods.