Ovation of the Seas – Cruise Blog – Day 6 – Sea Day
Day 6 of our 7-day Alaskan cruise on Ovation of the Seas was a sea day. We were in the open ocean as the ship sailed from Sitka, Alaska to Victoria, British Columbia, for our final stop of the cruise. 
Day 6 – Sea Day – Overview
Cruise Compass – Day 6
Off to a a late start
At 9 am, we were just starting to wake up. The non-stop pace had caught up to us. We had been going non-stop since we arrived in Seattle almost a week ago. The days had been jam-packed with back-to-back activities and walking 5 – 12 miles each day. So we thought today would be a good day to take it easy and recover.
Fall back one hour
To be fair, it was really more like 8 am. On this cruise, the time changed twice. We gained an hour as we sailed from Seattle to Alaska and lost an hour as we sailed back to Victoria. It was odd to me, as most cruises I've taken in the Caribbean kept the time zone the same as the departure port, even if we switched time zones. 
Royal Caribbean did an excellent job of communicating the change. It was posted on the front page of the Cruise Compass and mentioned at all the shows and activities the evening prior. They even went so far as to put separate slips of paper on our pillow to ensure we knew.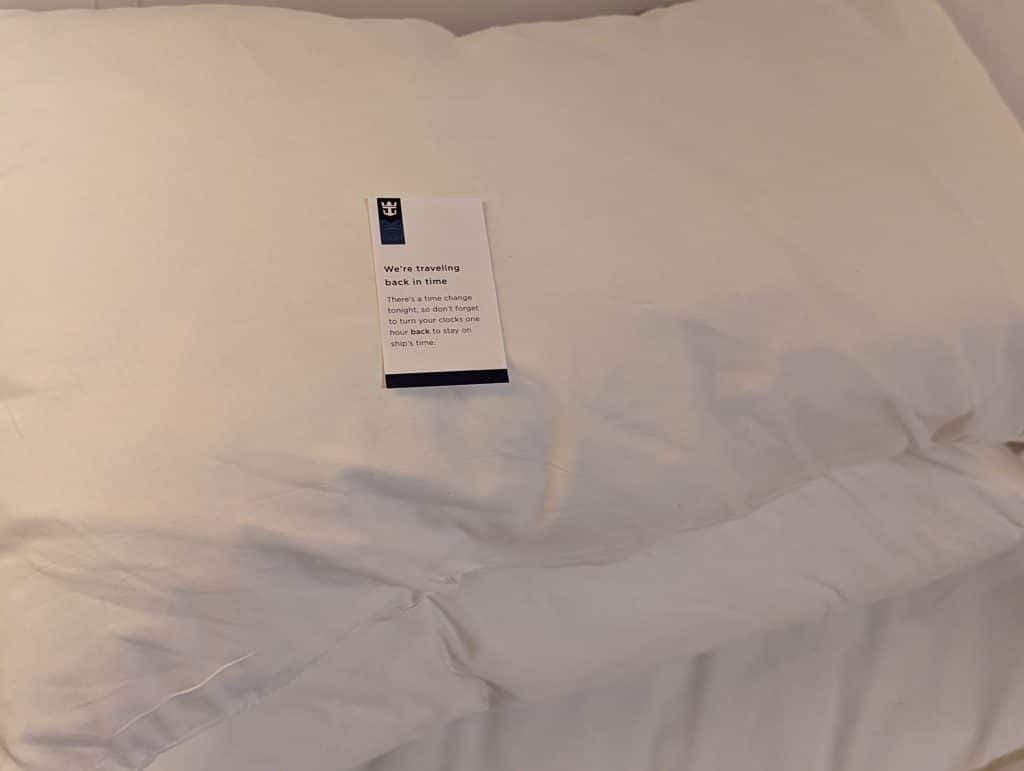 That being said, it was hard to determine the time when we first woke up. Many people use their cell phones for clocks, which wouldn't update until they reconnected to a cell phone signal on land. You could open the Royal Caribbean app and see the ship time, but for someone reason, it didn't update when they said it would. It took a few hours to update on our phones. 
Another breakfast in the Solarium
We finally got up and moving and headed to the Solarium Bistro for breakfast again. If it's not clear by now, I loved the Solarium and the Solarium Bistro for breakfast. If you're doing an Alaskan Cruise, I would highly recommend, and almost insist, that you choose a ship with an enclosed Solarium like this. It made a huge difference in the cruise experience for a cold-weather cruise. If you have kids, it's probably not as impactful or important to you, but it's a great space if you don't.
The line for breakfast at the Solarium Bistro was non-existent, so we helped ourselves to eggs, bacon, pancakes, waffles, and pastries. Breakfast was always solid here. We had a leisurely breakfast in the Solarium, which was still quiet as many people seemed to have the same idea. 
Shops on Ovation of the Seas
We'd been on the ship for six days and realized we hadn't even set foot inside any of the stores. We're not big shoppers, so that's not surprising, but we thought we'd check them out and see what they had to offer.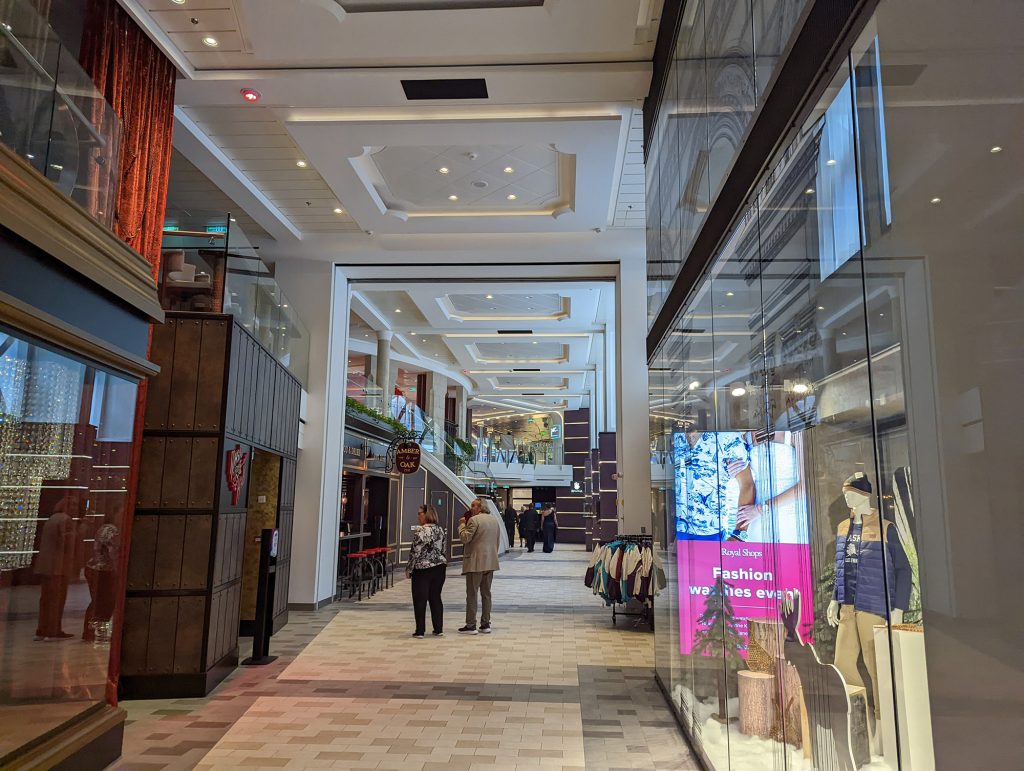 Most of the shops on the ship are located along the Royal Esplanade on Deck 4, which gives the space a bit of a mall feel. During the evenings, they even have kiosks in the center of the Esplanade set up for sales and specials like you might see at a mall. From the outside, it looks like there are so many shops, but once you step inside, you realize they're all connected. It's smart on their part; you step into one small storefront and aimlessly browse from one store to the next without realizing it. 
The stores on Ovation of the Seas have various things you're used to seeing on cruise ships, like perfumes, colognes, watches, and jewelry. All duty-free, of course. You'll find names like Swarovski, Michael Kors, and Kate Spade.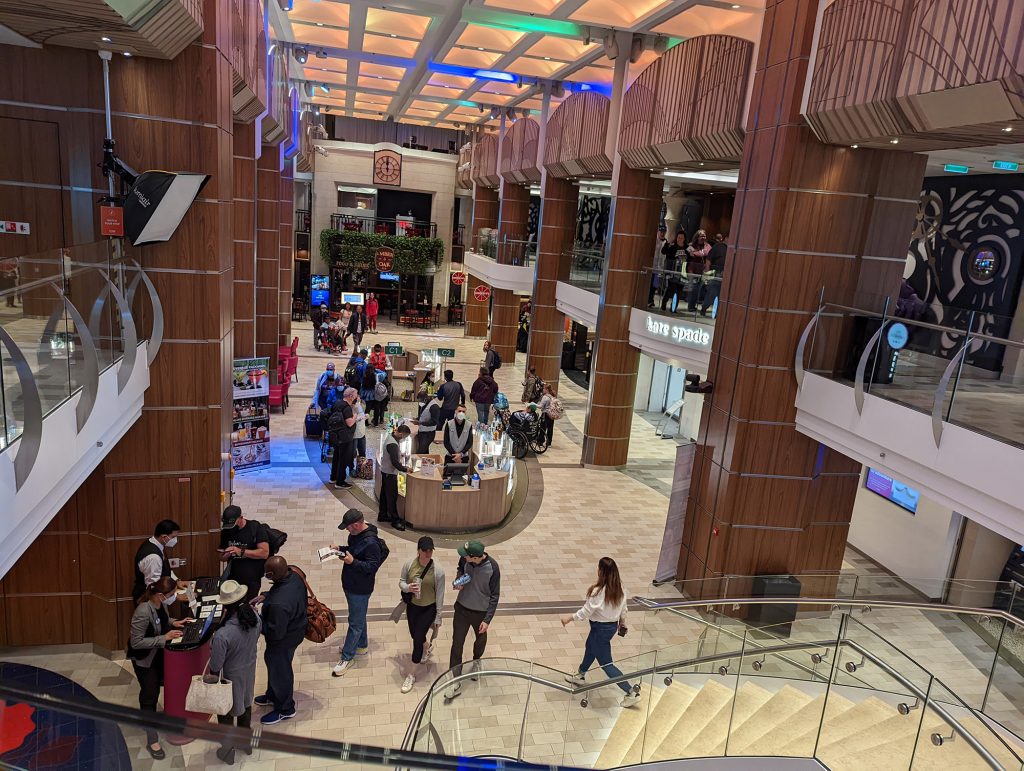 There was also a store dedicated to Royal Caribbean merchandise. It had T-shirts, bathing suits, ship models, and postcards to commemorate your cruise. Another store had merchandise representing local ports of call. That was the first time I ever noticed that on a cruise ship. If you forgot to pick up a souvenir for a loved one or co-worker, it was easy to get something that looked more "local."
Two more shops, Omega and Cartier, were also on board but located on Deck 5 in "The Via." We didn't bother stopping in those stores.
How duty-free liquor prices compare to land prices
Oddly, it was hard to find the store selling liquor, tobacco, and necessities you might have forgotten (like deodorant, sunscreen, etc.). The store, called Port Merchants, was tucked away between La Patisserie and Boleros Bar. So if you weren't looking for it, you could easily miss it. 
Tip: Always compare prices from home. Duty-free doesn't always mean a great deal. For liquor, most bottles sold are 1 liter, which is right between the two main sizes sold in the US, 750 mL and 1.75 L. That makes it a bit more work to do the math to see if it's really a good deal. 
We compared the prices for a few different types of liquor based on the cost per milliliter (mL). As you can see, you usually save, but not always. In this sample, most were good deals and would save you money. When compared to purchasing the largest bottles at home, though, the duty-free pricing was more expensive. But, again, it will vary depending on your store and your state's sales tax.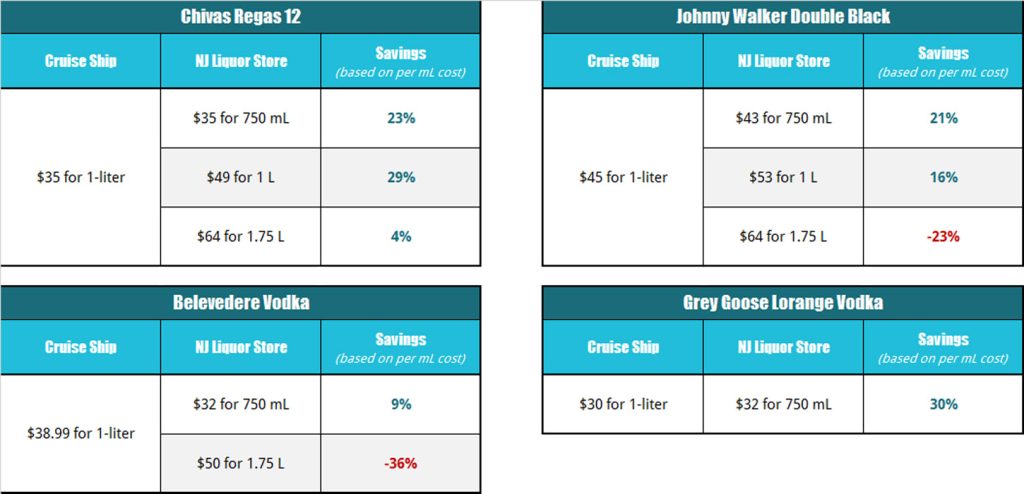 Last day at the casino
Our last two stops, Victoria and Seattle, are relatively close together, so the ship won't spend much time in international waters as it travels between them. That means the casino won't be open on the last day. The Cruise Compass said to make sure to cash in all tickets and chips before the casino closed for that evening. 
At that point, I was up $50, so I figured I'd put it in a slot and play some more. The casino was much less crowded this time of the day. Oddly, with fewer people, you noticed the stale smell of cigarette smoke more. I don't know if it's because fewer people are moving around or because the people who gamble at 11 am are more likely to smoke. Still, in the non-smoking section, it was better, and the floor vents that recirculate the air really helped. 
I bounced between a few slots and ended up losing that $50 and breaking even for the trip, so I decided to call it a day. Overall, I wasn't overly impressed by their slot selection, but there was enough to kill some time. 
While I was there, a blackjack tournament was going on. It was run by Chris Wong, the casino host on this ship, who also happened to have a YouTube channel about the crew experience onboard a ship. I'd watched a bunch of his videos at the beginning of the cruise industry shutdown, and he was every bit as relatable on board as he was in the videos. I'm not very good at blackjack, so I passed on the tournament, but it seemed like it had good turnout. They only used one table for it, so the rest of the tables were open for regular play. 
Lunch at Fish & Ships and Windjammer
Since we had a late breakfast, lunch was running late for us as well. When we finally did get hungry, we went to Fish & Ships again. There was no line, and plenty of open tables were open. Unlike the first day, this time they had chicken tenders and I also ordered the fish sandwich. Before the cruise, I kept saying I wanted to try the deep-fried candy bar for $1, but I wasn't in the mood for it then. 
They gave us a buzzer, and 4 minutes later, our food was ready. It was piping hot and fried to a nice golden brown. I wouldn't say it was anything out of this world, but I enjoyed it. I liked this alternate venue where you could get a small bite to eat and not deal with the chaos of the buffet. That being said, the portions are more snack-size than lunch-size, so we headed to the Windjammer Marketplace anyway. 
It was 2 pm, and the Windjammer was only half full. We headed towards the back and found much more food and table options. The buffet has a lot of different foods, but nothing was really grabbing my attention that day. I really was disappointed by the burger yet again. I should have learned my lesson last time; it'll never be a Guy's Burger. 
Trying the North Star experience
At 3 o'clock, we had a reservation to try out the North Star experience. North Star is a moving arm with a glass pod at the end that can extend over 300′ over sea level. It can also pivot and go over the sides of the ship. It's a staple of any Quantum-class ship and can provide impressive views of the ship and the surrounding area.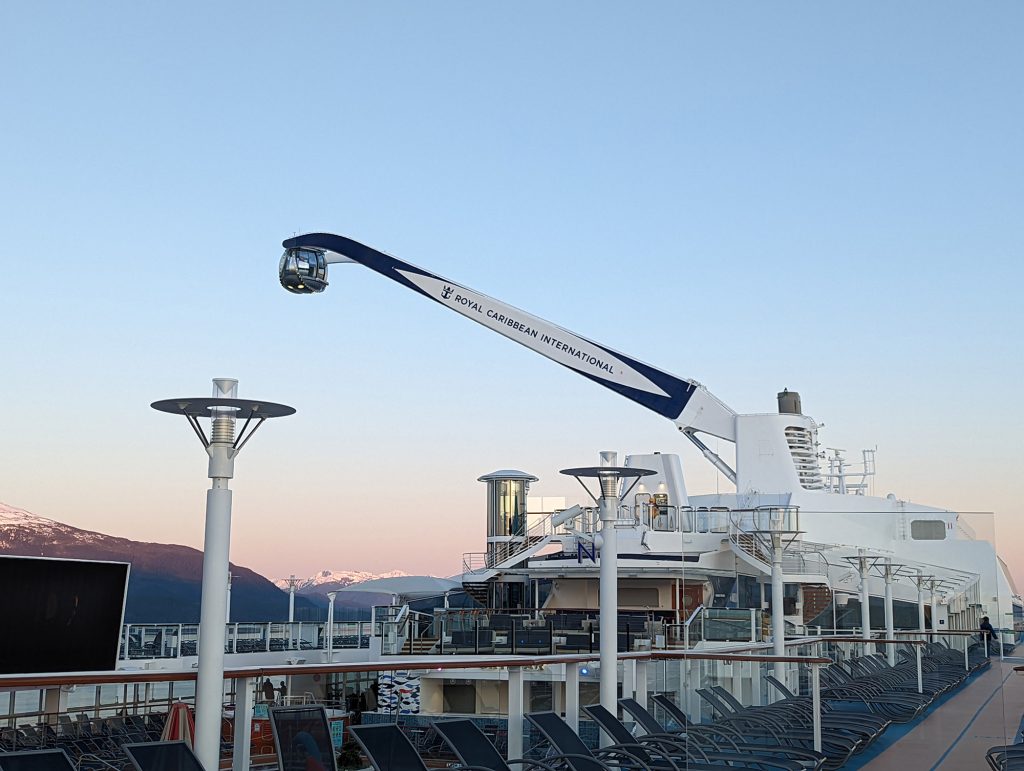 North Star Options on Ovation of the Seas
You book the North Star ahead of time using the Royal Caribbean app. For our sailing, there were three options:
North Star Basic Experience: 15 minutes – Complimentary
North Star Extended Experience: 16 minutes – $19 per person
North Star Premium Experience: 20 minutes, $69 per person 
The main difference between the three options is when you could take them. The complimentary/basic experience was typically only offered when the ship was in port. New slots would open up every morning, and you could try to grab on for that day. The extended experience was slightly longer and had many more times available. You were able to book this one several days out if you wanted. For the "Premium" experience, you're really paying for the time slot. These times are typically when you're in the Inside Passage or Glacier areas where you'd get amazing views.
We tried several times to get the basic experience but could never find an available time slot that worked for us. Since this was the last sea day, we ended up spending $19 per person for the extended experience. 
Riding on North Star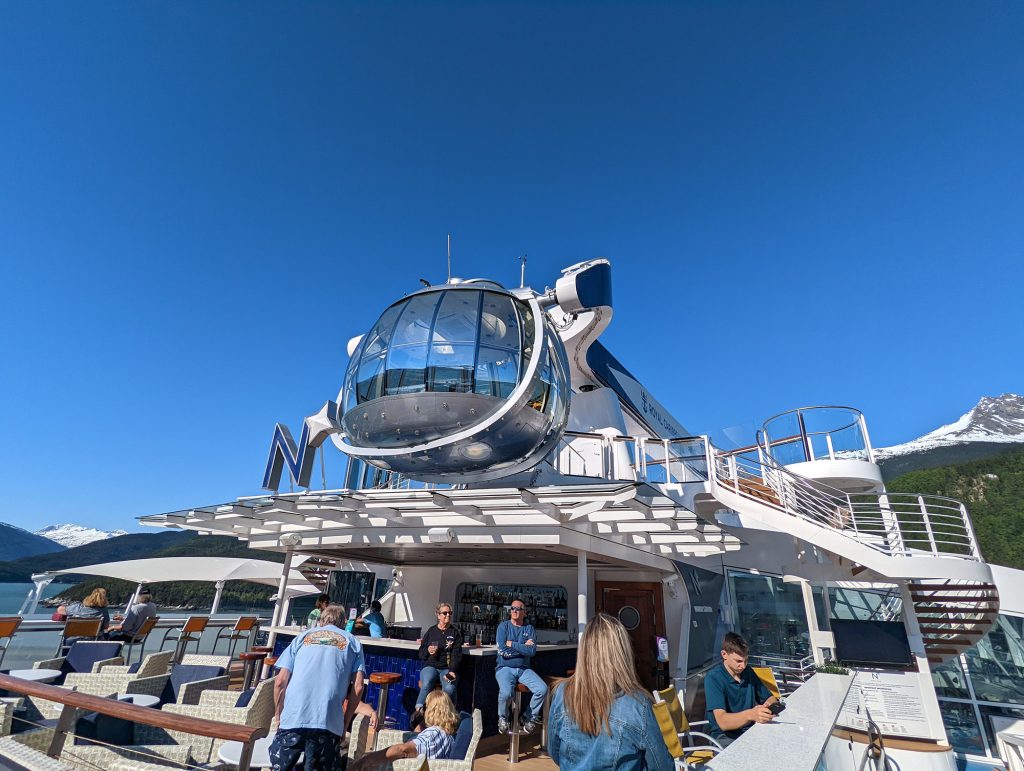 We arrived at the North Star Bar 15-minutes before our time as requested and checked in. One of the people in our group was planning on bringing his daughter, but unfortunately, she didn't meet the height requirement. Riders must be at least 3 feet 6 inches tall and no more than 300 pounds. The parent understood, and they were refunded the cost. I looked up and saw the North Star towering over me and slowly lowering down while finishing its current run.  
Personal confession time…I hate heights. But I also hate the fact that I hate heights, and I refuse to let that stop me. Sure, I might be frozen with terror hanging onto a handrail at the top of a tower, complaining that I feel the structure shaking (which has happened a couple of times too many), but I eventually get over it. On this trip alone, we went up in the Seattle Space Needle, stood on 80′ platforms to zipline, and scaled a 40′ climbing wall. Still, it gets my heart pumping each and every time. 
North Star was no different. It looked colossal standing right underneath it. On top of that, it's just a little pod on a mechanical arm mounted on a cruise ship that's always swaying and bobbing in the breeze. My pulse revved as they guided us to the spiral staircase leading to the North Star Pod.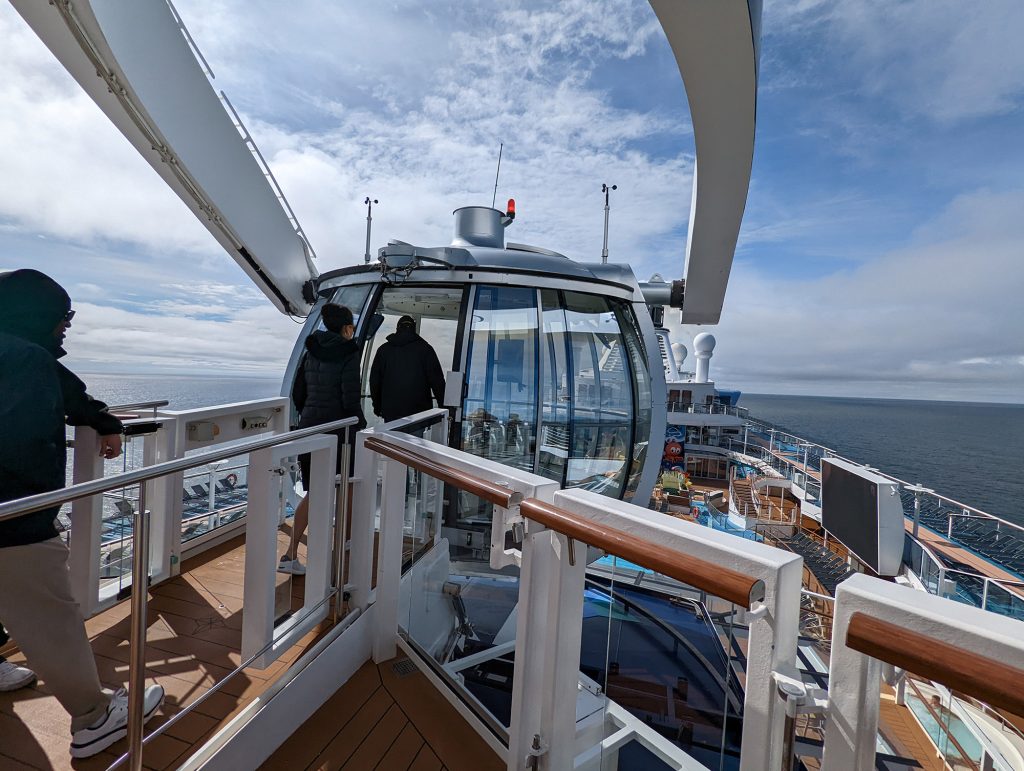 North Star can hold 14 passengers at once, including one in a wheelchair, but our group was just 8 people. The operator closed a door and hit a button that released the pod from the dock, causing the pod, and my heart, to drop. 
Slowly and smoothly, the North Star arm raised the pod straight in the air. For this experience, the pod would go up, over to the ship's left, up to the center again, and finally to the right. My grip on the handrail tightened as we moved up. Surprisingly the pod felt solid. I hate the feeling of swaying and unsteadiness you can experience on a Ferris Wheel or sky ride, but this was really stable. I actually was able to let go and enjoy the view early on.
The pod itself was inspired by the cars of the London Eye. It's a large sphere-like shape with windows all around. There was plenty of room for all of us to walk around and take pictures while up there.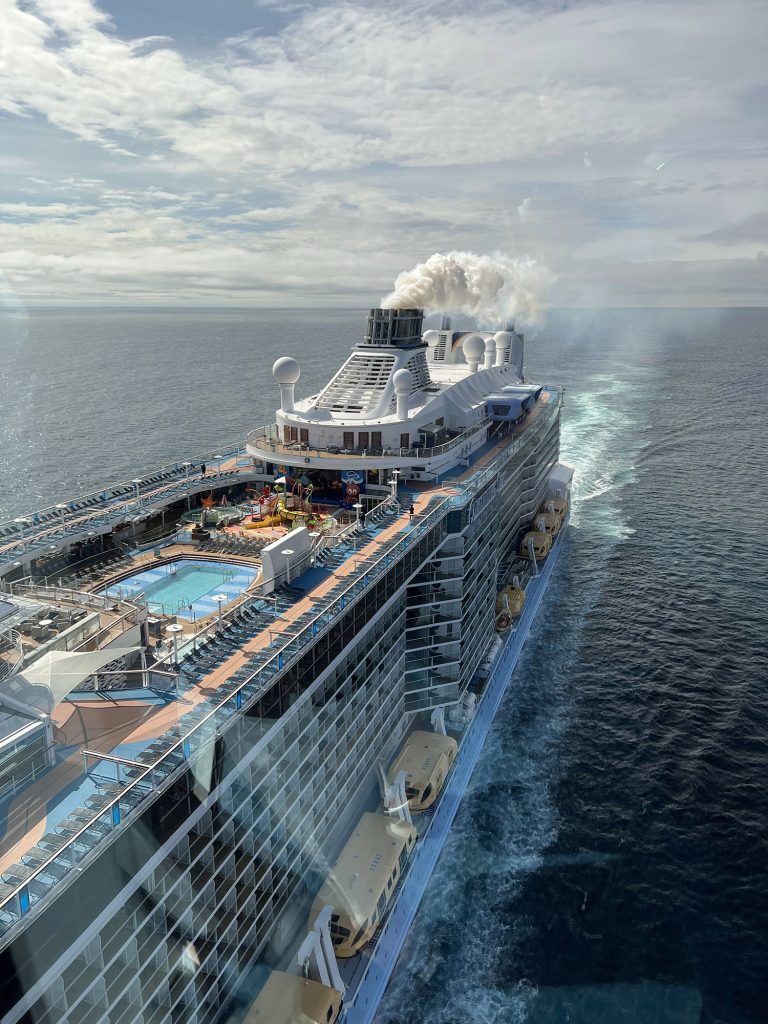 The views were amazing. We were in the open water, so we didn't get impressive views of land, but seeing the Ovation of the Seas from this perspective was enough for me. As the arm extended over the starboard side, we actually saw a whale in the water underneath us. There's no way we would have seen that if we were just on the ship. It swam along with the ship for a few minutes and then took a dive and swam away. 
Was North Star worth it?
North Star was a really cool experience, and I'd recommend it at least once. Was it worth $19? I'm not so sure. We had a bunch of onboard credit left, so we didn't mind, but I don't think I'd ever pay again, although I'd definitely do it for free. I can't imagine spending the $69, even in the middle of Glacier Bay. Then again, it can only hold a few people at a time, so they have to do something to limit the demand. 
Bagpipe Music Trivia
We headed to "Live Bagpipe Name That Tune to fill some time before dinner." It was hosted by one of the entertainment staff, Graeme, who mentioned it a few nights earlier during one of the trivia's he was hosting. Basically, it's a "name that tune" song, but all the songs are played on the bagpipes.
The trivia was hosted in the Two70 lounge, which is much larger than Boleros or the Schooner Bar, where trivia is usually hosted. I assume it was in Two70 because it was the only place that could accommodate the loud volume of the bagpipes. On day 2, I complained that trivia in the Schooner Bar was too crowded, and they needed a different venue. Now that we were in a much larger venue, the trivia felt like it lost some intimacy by being in such a big space. I guess there's a fine line you have to walk between too full and too spaced out.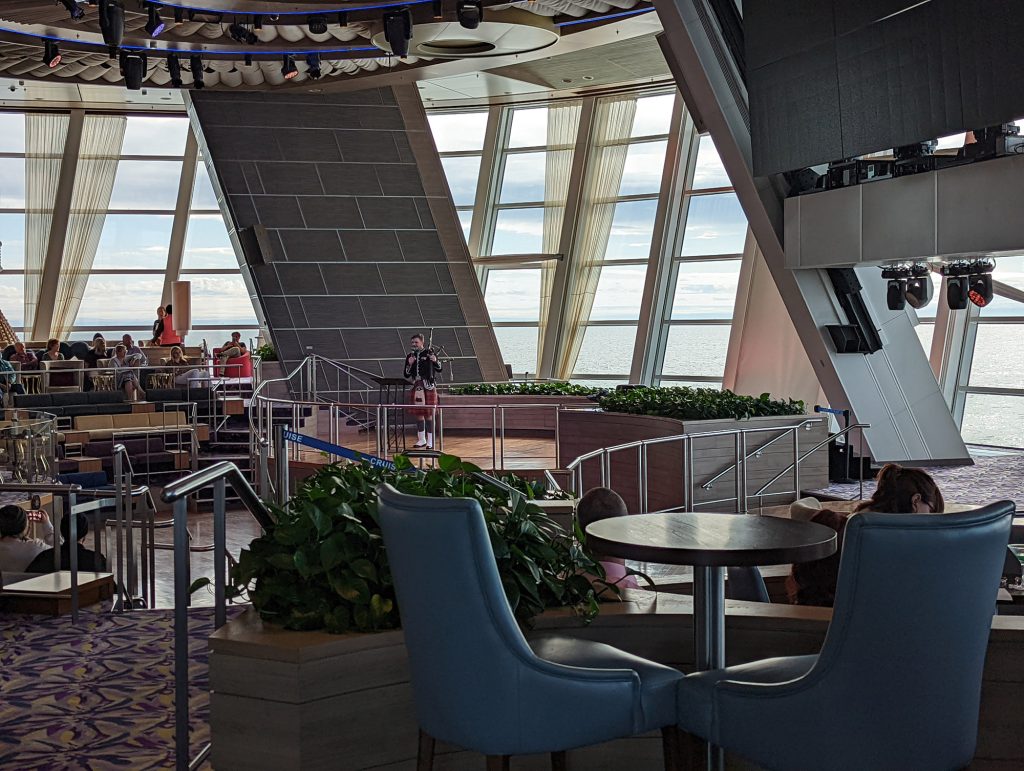 Overall, it was a fun activity and more challenging than I thought it'd be. I've said that the entertainment staff on this sailing weren't up to par, and I have to say Graeme was the exception. He was entertaining, funny, and talented. He had a great personality, but I wish they had let him shine. I don't know what it is, but there was just something that seemed to keep the staff at a distance from the guests. 
Pre-dinner music with Switched On
The beginning of the cruise was so packed full of activities we didn't have a chance to take advantage of all the live music on this ship. Each evening at least four different acts were playing all types of music. 
We headed to the Music Hall to check out a band called "Switched On." The Music Hall was perfect for them as they were a full band and took up the whole stage. They had lots of energy and sounded fantastic. The lead singer, Thalia Ramirez, has such power behind her voice, and her energy was electric. This wasn't just musicians playing elevator music; it was a band putting on an actual show. During some songs, people would dance or sing along.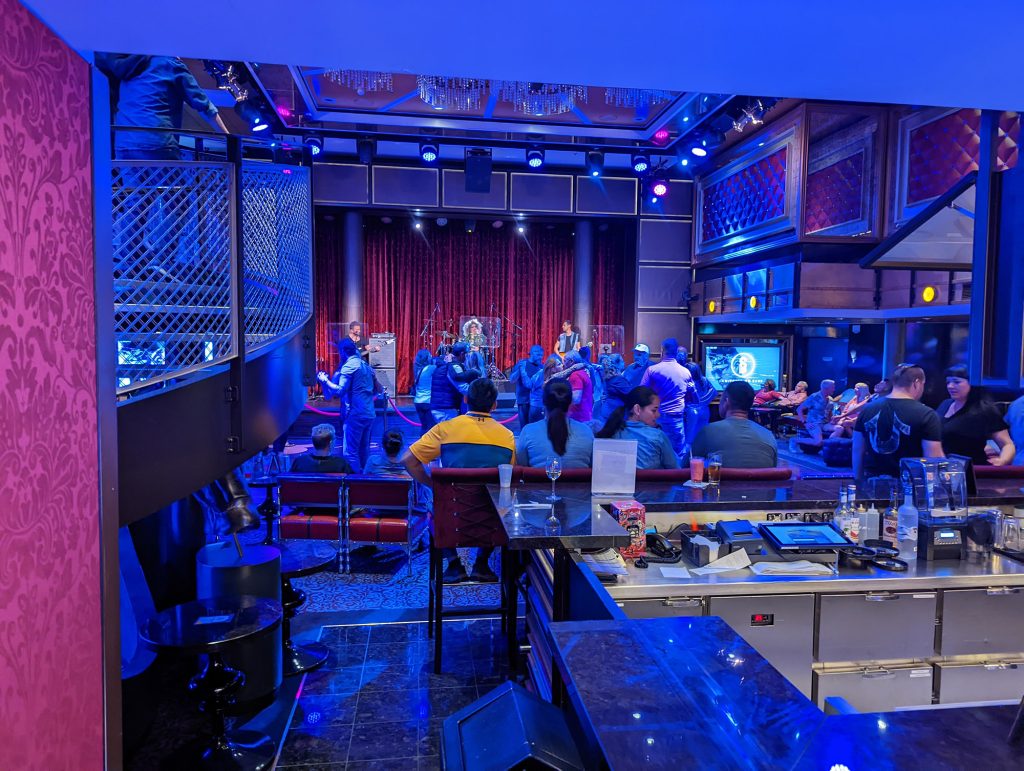 In the past, musicians wouldn't really promote themselves on cruises. They were just background noise to entertain you while onboard. With the increased exposure of the internet, nowadays, bands can really promote themselves; you're not there to see some cruise act, you're there to see a band. Switched On had an official band name, graphics, and posters. They were even selling CDs. 
Dress Your Best Night in the Main Dining Room
Tonight was "Dress To Impress" night in the main dining room. I honestly don't understand what that means. Is it supposed to be less dressy than an elegant night but more dressy than a regular night? I have no idea. Personally, I'm never a fan of the second formal night. The first time, it felts like a special occasion, like a treat. The second time, you're bloated from cruise food and alcohol and have to try to shove yourself into dress clothes again for a meal that's marginally better than the one the night before. As with Elegant Night, participation in this evening's theme was mixed, although plenty of pictures were taken on the Esplanade.
We had an 8:15 My Time Dinner reservation, the earliest available, and we showed up at 8:10. We had a 5-minute wait as they found a table for us. That evening, I noticed how much skill the hostess, Abegail, had in working that desk. All cruise long, she worked non-stop to accommodate people and get them as seated as quickly as possible. Over the cruise, I saw people hassle her or be downright rude to her, but she was nothing but polite and professional. It can't be easy finding seating for thousands of people in a 2-hour window, especially when short-staffed, but she made it look like an art and was always so friendly.
Tip: If you receive exceptional service from a Royal Caribbean staff member, make a note of their name and where they are working. You'll receive a survey at the end of the cruise, and you can mention them specifically. Giving their name in these reviews gives them things like bonuses and extra time off. Of course, tipping them is also appreciated, but it's something else you can do to show them you appreciate their hard work. 
Even though it was a more fancy dinner, the dining room was much more empty. The server this evening was much less attentive. It seemed he just did not want to be there. He made little conversation at all. Even when he took our order, he did it for all the tables in the row at once, even though we weren't together. He didn't check back either.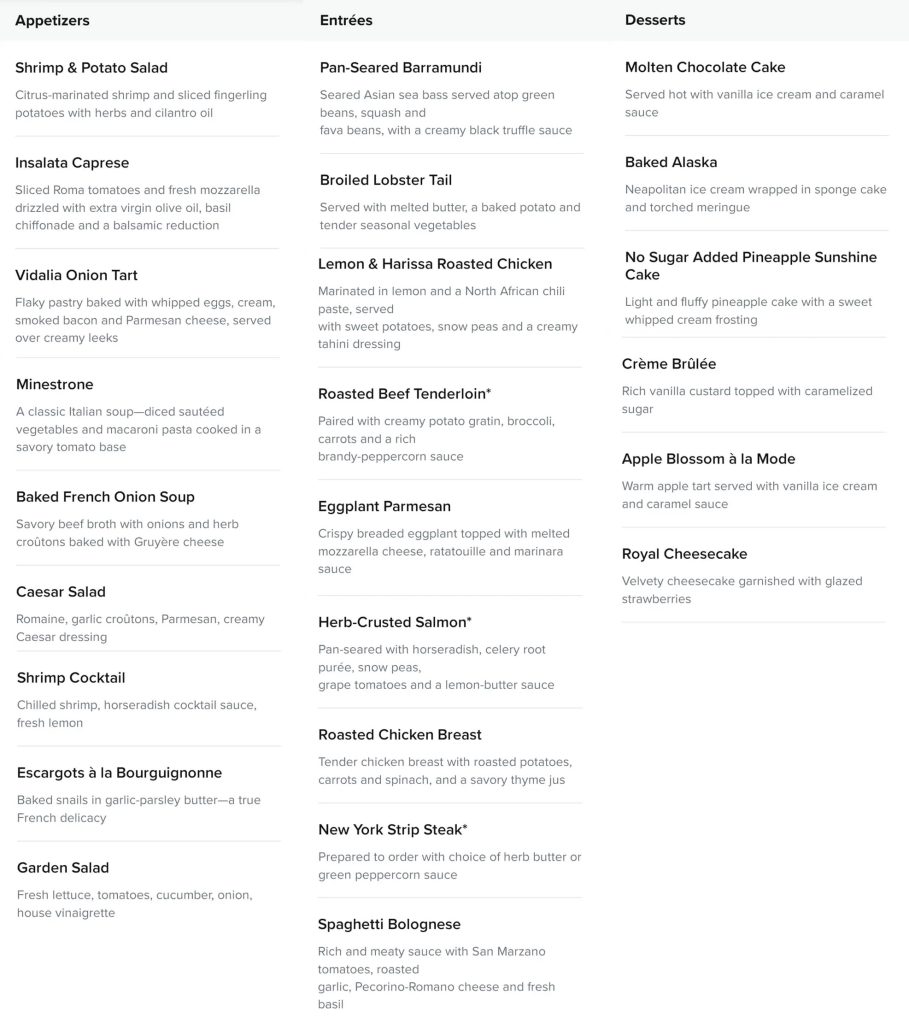 The food was ok. On this night, they had lobster, which always seems to be what people think they want on a cruise ship for some reason. So, of course, I got it because, why not? I knew the lobster tail would be small, so I also ordered the go barramundi. The lobster was rubbery, but the fish was quite good.
"Live. Love. Legs." Show
I had been avoiding the Live. Love. Legs. show the whole sailing. I've seen some awful "Vegas-style" shows in all my cruises, and from the description, that's just what it sounded like it'd be. And after the less-than-stellar Pixels Cabaret show, I was wary, but we thought we'd check it out since we had nothing else to do.
Live. Love. Legs. was in the Royal Theater, and you did not need a reservation. We just showed up a few minutes before and could easily find a seat. All the seats had pretty decent views, unlike Two70. 
I'll always admit when I'm wrong, and I was totally wrong in this case. The show was good…really good. Probably one of the top ones I've seen on a cruise ship. Amazing special effects. Tight choreography. The performers gave so much energy.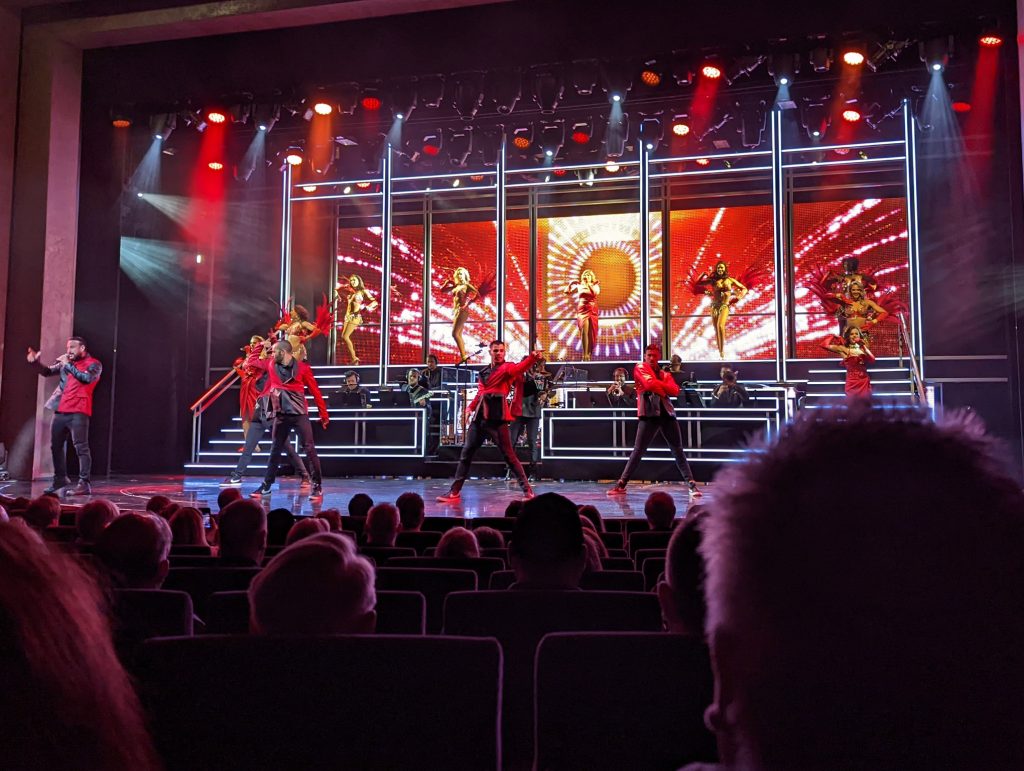 Still, the production or concept of the show worked against it. Rather than stick to hit songs that everyone knows, they used several deep cuts and lesser-known songs. Of course, there were still popular songs mixed in, but trying to go too niche on a cruise ship with 4,000 people is risky. 
The Cruise Compass listed that the show was "recommended for mature audiences. Parental guidance advised." That was a bit puzzling, but I'm sure they had some complaints from some parents at some point. There didn't seem to be any foul language. In terms of dress, the performers wore showgirl outfits at times, and perhaps there was some suggestive dancing, but overall, I'd say the show would get a PG-13 show at most. 
Live music and snacks at Amber and Oak Pub
After the show, we headed to the Amber and Oak Pub. Located in the middle of Royal Esplanade, it's a bar styled after a traditional English Pub. It's also a quasi-sports bar, as they have some TVs showing games, but it's not the main feature. 
Most evenings, when we walked by Amber and Oak, we'd hear a woman playing the guitar and singing, so tonight was the first night we stopped by to listen to a whole set. Originally from Argentina, Ana Alvaredo had a very singer/songwriter vibe. She'd do effortless covers of some well-known female guitarists like Alanis Morsette and Jewel. She also took crowd requests which came up with songs by Jimmy Buffet, Journey, and more. She had a pretty diverse catalog of songs, and if she didn't know one, she always made a point of writing it down to see if it's some she should add to her list.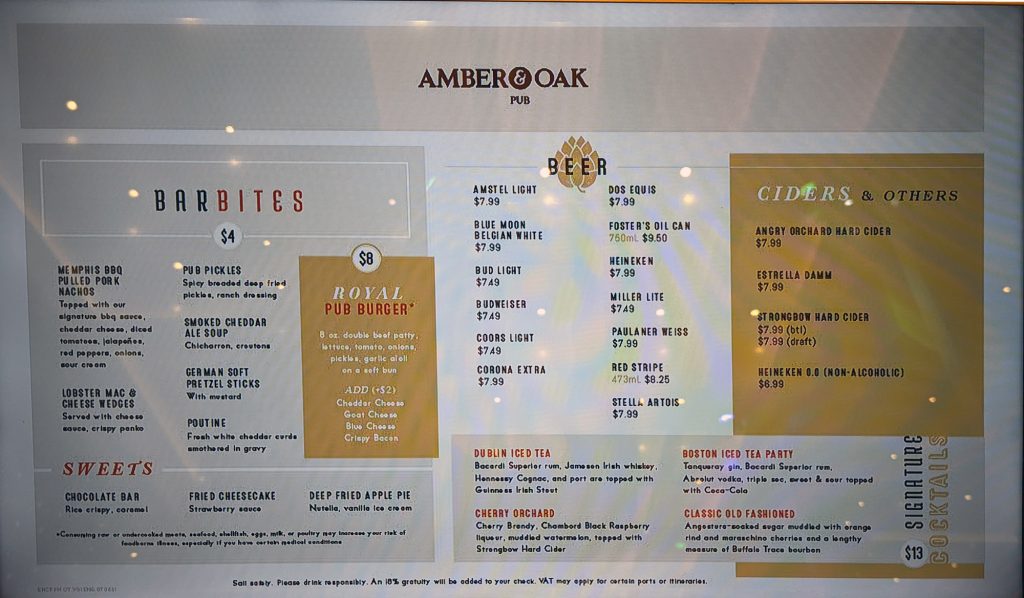 While we were there listening, we decided to get some munchies. Unlike many other bars on the ship, The Amber and Oak had pub food available to order. They were an additional charge, but it was very reasonable. $4 for most appetizers and $8 if you wanted a full-size burger. We ordered the Pub Pickles and German Soft Pretzel Sticks. They came out quickly and were hot and tasty. While the pretzel sticks weren't as good as the ones we got in Chops Grille, they were a solid choice for a snack. 
We also got some drinks while we were there, although choosing them was difficult. Royal Caribbean is still shying away from having paper menus and making you look at the app instead. In this case, they had some "featured" drinks and the QR code for the rest of the menu on each table. 
I love technology, I mean, my entire home is computer-controlled, but for some reason, an online menu just doesn't do it for me. Especially Royal Caribbean's, which is just a list of drinks. Traditional menus are designed and optimized to help you find what you're looking for (and usually to upsell you). In all the restaurants, they've reverted back to paper menus, but not the bars for some reason. Because of that, most people would just order their usual like a "rum and coke" or "pina colada" instead of a signature cocktail from a bar. That said, it probably saved them money as a plain cocktail was typically a few dollars cheaper than a signature drink. 
The crowd was thinning out a bit as the evening was wrapping up. Then, Ana noticed Thalia from the band Switched On was sitting in the audience. She asked if she wanted to come up. At first, Thalia was reluctant but eventually gave in, and they did a few songs together. Both women had powerful voices, and together, they really complimented each other beautifully. It's unscripted, organic moments like these that can make live music shine. People walking by on the Royal Esplanade were stopping in their tracks when they heard it. It was like the scene in Sister Act when the nuns in the choir perform with Whoopi Goldberg for the first time and random people from the street hear the lively music come into the church. 
Closing out our last day at sea on Ovation of the Seas
Overall, it was a mostly relaxing day at sea as we recovered from the action-packed week. Still, because Ovation of the Seas is so big, we walked 4 miles over the day. Tomorrow would be our final day in Victoria, BC before we docked back in Seattle and headed home. 
Follow along on the rest of our Alaskan cruise on Ovation of the Seas
Ovation of the Seas – Cruise Blog - Day 1 – Seattle
Ovation of the Seas – Cruise Blog - Day 2 – Sea Day
Ovation of the Seas – Cruise Blog - Day 3 – Juneau
Ovation of the Seas – Cruise Blog - Day 4 – Skagway
Ovation of the Seas – Cruise Blog - Day 5 – Sitka
Ovation of the Seas – Cruise Blog - Day 6 – Sea Day
Ovation of the Seas – Cruise Blog - Day 7 – Victoria
Ovation of the Seas – Cruise Blog - Day 8 – Debarking in Seattle
6 Hits & Misses of Ovation of the Seas
If you want to stay up to date with what we publish, sign up for our monthly newsletter
CruiseSpotlight is an Amazon Associate. We may earn a commission when you click links to retailers and purchase goods.