Ovation of the Seas – Cruise Blog – Day 7 – Victoria
Last Updated on August 2, 2023
It was another foggy morning on the Ovation of the Seas as we approached Victoria, Canada. I got up and opened the curtain to the balcony. The fog was so thick I couldn't even see past the balcony. It was a dreary and misty day. The weather was supposed to improve later, but it wouldn't be as beautiful as we experienced the past few days.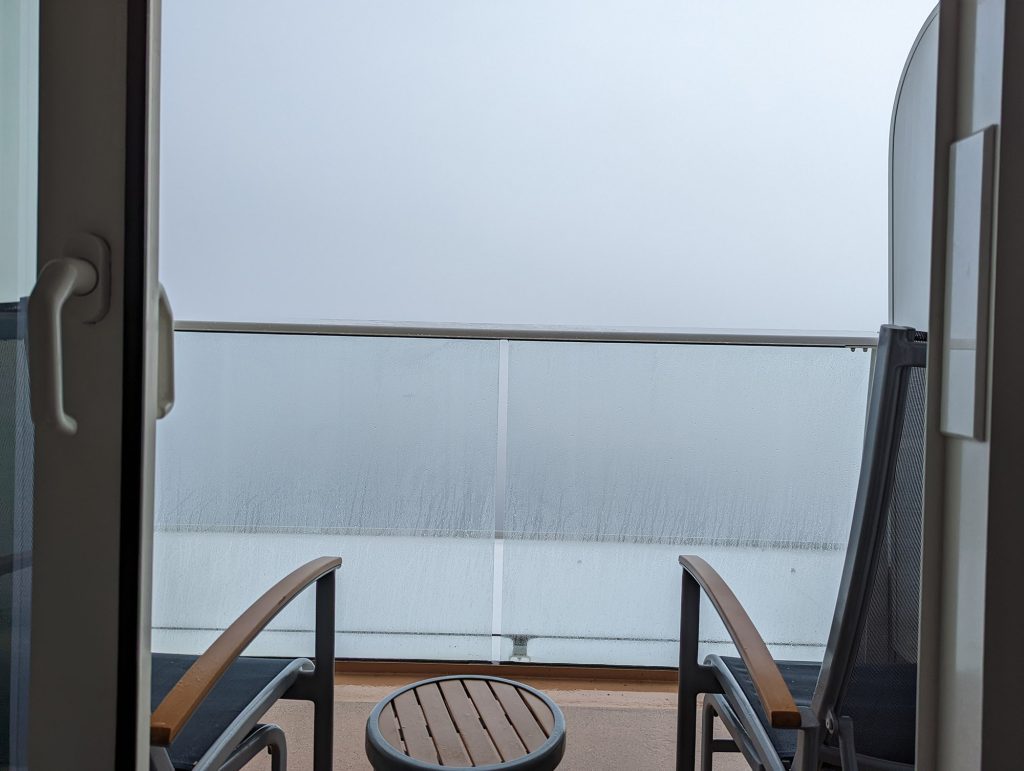 Day 7 – Victoria Overview
Cruise Compass – Day 7 – Victoria
Rainy breakfast in the Solarium
On a day like today, you appreciated the completed enclosed Solarium, as opposed to the Solariums on most Oasis-class ships which have openings. On the Ovation of the Seas, the Solarium provided complete protection from all the elements. This feature was great in case it was cold, windy, or rainy.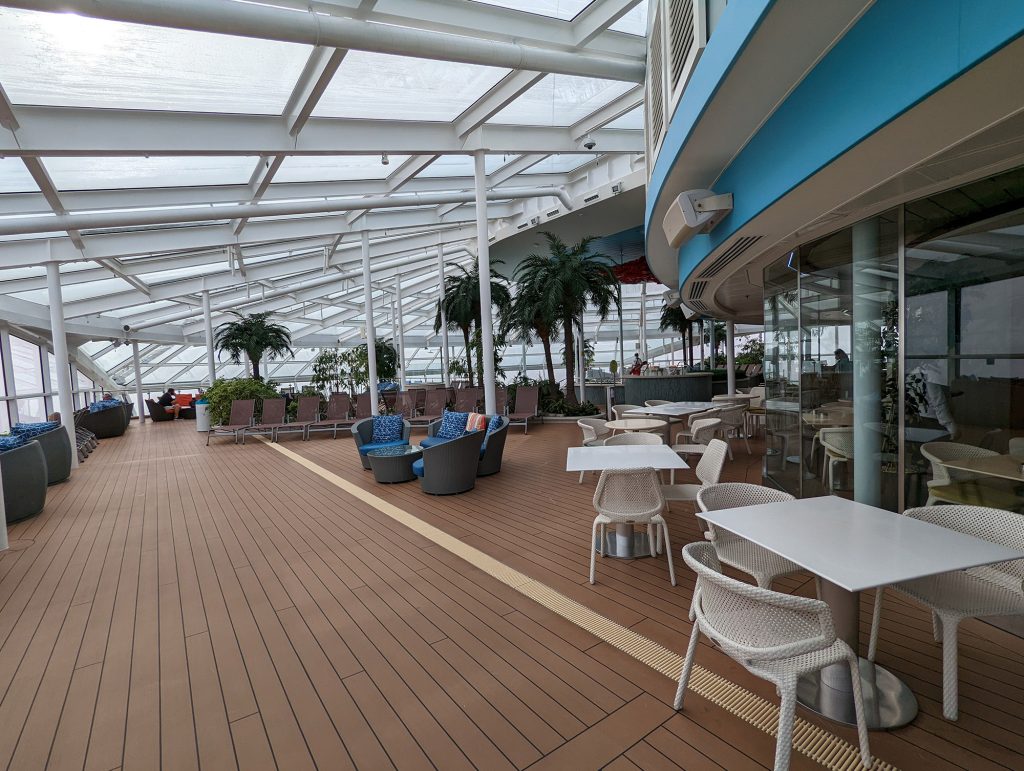 We went to breakfast at 9:30 again, and the Solarium was quiet and virtually empty. The ship wouldn't dock until noon, so people took the morning to recover. 
Delayed debarkation and crazy lines in Victoria
The Ovation of the Seas pulled up to the Victoria cruise dock early. The ship was scheduled to arrive at noon, and our excursion was at 1:30 pm. Since our excursion wasn't booked through Royal Caribbean, we'd have to wait in the general departure line (no priority debarkation like before). We had plenty of time, so we didn't bother lining up early, figured we'd let the rush settle down. Noon rolled around. Then 12:15. Then 12:30. We still didn't have the all-clear to leave the ship yet. We eventually went down to Deck 4 to get on the line and were immediately greeted by a mass of people. The line was huge, snaking from the front to the back of the ship, along the entire Royal Esplanade, and looping back again. 
Canada's ArriveCAN creates headaches
The delay was because the Canadian government hadn't cleared our ship yet. To travel into Canada, all guests must have completed an ArriveCAN application which is a COVID precaution. You put in your vaccines, date of entry, and confirm you're not actively sick. To do this, you'd have to download an app or go to a website, both of which aren't possible if you don't have an internet plan (or if the internet plan isn't working well). Before the cruise, Royal Caribbean emailed guests about this requirement several times, saying it had to be completed before we boarded. At the terminal in Seattle, they had signs reminding people about it. They were supposed to check it before you even got on the ship (they didn't check ours). Everyone on the ship had to have this application completed, even if they weren't getting off in Canada. 
Even though the process and requirement were clear, everyone didn't do it, holding us up. People were getting angry and antsy as we waited in line. It was 1pm at that point, and not a single person had left the ship. Those who didn't have excursions went for lunch in the Windjammer and figured they would just wait until the line was moving. Many people were worried about missing tours, and people were mad.  
Royal Caribbean lack of communication was frustrating
Now, this delay was out of Royal Caribbean's control; they were at the mercy of the Canadian Government. At the same time, though, Royal Caribbean's communication was awful. The cruise director made maybe two or three announcements. Even once the line was moving, he never announced that we were successfully docked and allowed to leave. Only one or two crew members were stationed along the Esplanade. They didn't really explain what was happening or why. While waiting, some good samaritan guests went to Cafe Promenade and got snacks and walked around passing them out to people; why wasn't Royal Caribbean's staff doing that? Why didn't Royal Caribbean announce that you'd be fine if you had a Royal Caribbean excursion, and the busses would be waiting? It would have prevented the confusion and anxiety many were experiencing. 
The line finally moves
Finally, the line started moving at 1:30 pm. Even though the line was long, probably about 1,000 people deep at that point, it moved quickly. The staff really worked hard to try to get people off as quickly as possible. They kept making sure their SeaPass cards, photo ID, and ArriveCan QR codes were out and ready. As we got closer, the older couple who had been standing in front of us for an hour got stopped because they didn't have their ArriveCAN codes. Just another example of how hard it is to get people to follow simple directions. Finally, we made it off the ship around 1:45. After all the wait, no one even checked our ArriveCAN (there were rumors that the port agreed to randomly select guests). 
Victoria Cruise Terminal to Downtown
So we finally got off the ship and had to make our way to Victoria Harbor, where our excursion would leave. Our original plan was to walk. The Victoria Cruise Terminal isn't overly close to anything, and it'd be a 1.3-mile, 30-minute walk, but originally, we had time to do that.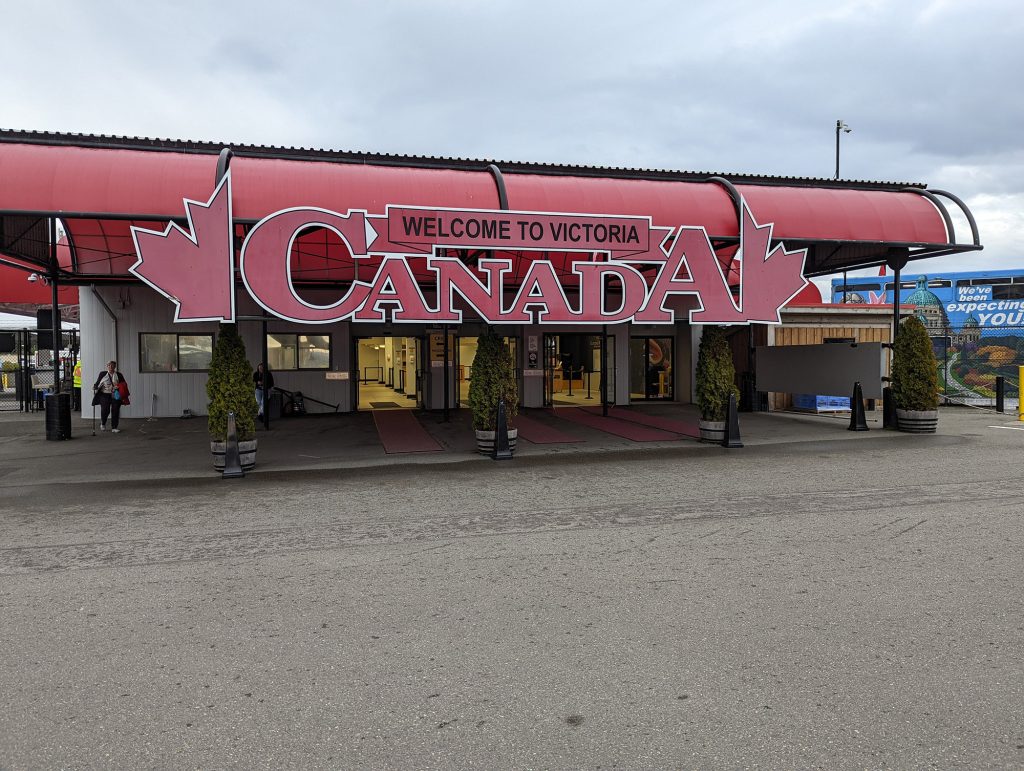 Now that we were late, we had to look into alternative options. The cruise ship lets you off in a massive parking lot. If you had a Royal Caribbean excursion, or even some booked through third parties, you'd meet your excursions there. For ours, though, we had to go downtown. 
You had three choices to get to downtown Victoria. You could use a cruise shuttle, book a private shuttle, or take a cab. Because we were so late, we tried to get a taxi. The taxi line was already 20 people deep by the time we arrived, and the woman at the front of the line said that it'd actually be much faster taking a shuttle. She was correct; only one or two taxis would show up at a time, and the line was slow-moving. Unfortunately, Uber and Lyft aren't allowed in Victoria, so that wasn't an option. 
We walked over to the shuttle area, where they had plenty of two-story busses lined up and ready to go. There were no lines to get on, but you did have to wait until they filled a bus before it would leave. The cost was $8 per person one-way or $13 for a round-trip pass. The ride took about 15 minutes and would take you to the heart of downtown Victoria. It let us off by the Roots store on Government Street. 
Victoria is a small-sized city, roughly 1/10 of the size and population of a city like San Francisco. It was pretty developed, with lots of buildings, stores, and restaurants. We quickly walked from the Roots store to the Harbor, which was a 5-minute walk.
Tip: If your cell phone plan doesn't cover Canada (not every US plan does), use the Maps app on your phone to download the Victoria area before you leave. This will let you use your GPS to find your way around the town, even if you don't have cell phone reception or a wifi connection. 
Prince of Whales Zodiac Whale Watching Excursion
For our excursion in Victoria, we choose another whale watching trip. This one was on a small, 12-person zodiac boat. It's much closer to the water and can get much closer to whales than the larger ships. In my research, one provider, Prince of Whales, had stellar reviews and was highly recommended. Royal Caribbean didn't offer that excursion, so we booked directly from their website. The cost was $159 per person after taxes and fees. 
We finally arrived at our excursion 45 minutes late. Thankfully they were very accommodating. We called them from the ship several times to inform them about the issues and kept them updated. Because everyone from the ship was late, they just pushed us to the next possible departure at 2:30. Their customer service was excellent and really took a lot of the headache and anxiety out of the day. 
Tip: If booking your own excursion, always look at the cancellation policy. Maybe your ship skips the ports because of bad weather. Perhaps you get sick and don't even go on the cruise. Most excursion providers have clear guidelines of their policies, so read up on them. Schedule changes are one of the inherent dangers of booking your own excursion. If we had a Royal Caribbean excursion, it would have been automatically adjusted because of the cruise ship, or we would have received an automatic refund. Because we booked this excursion ourselves, we were responsible for reaching out to the vendor and working with them.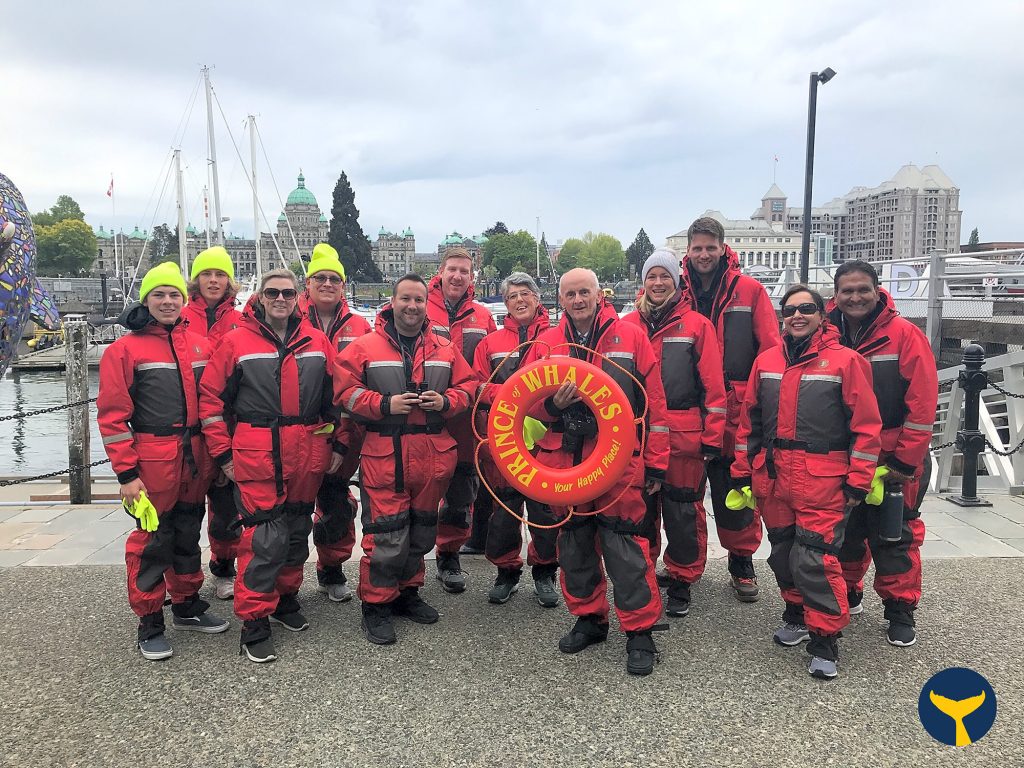 We got suited up in red jumpsuits that would keep us warm and act as life jackets if we fell off the zodiac. They also gave us gloves and hats to use. It wasn't cold out, but on the water, we definitely needed them. Our captain greeted us in the lobby, and we loaded in.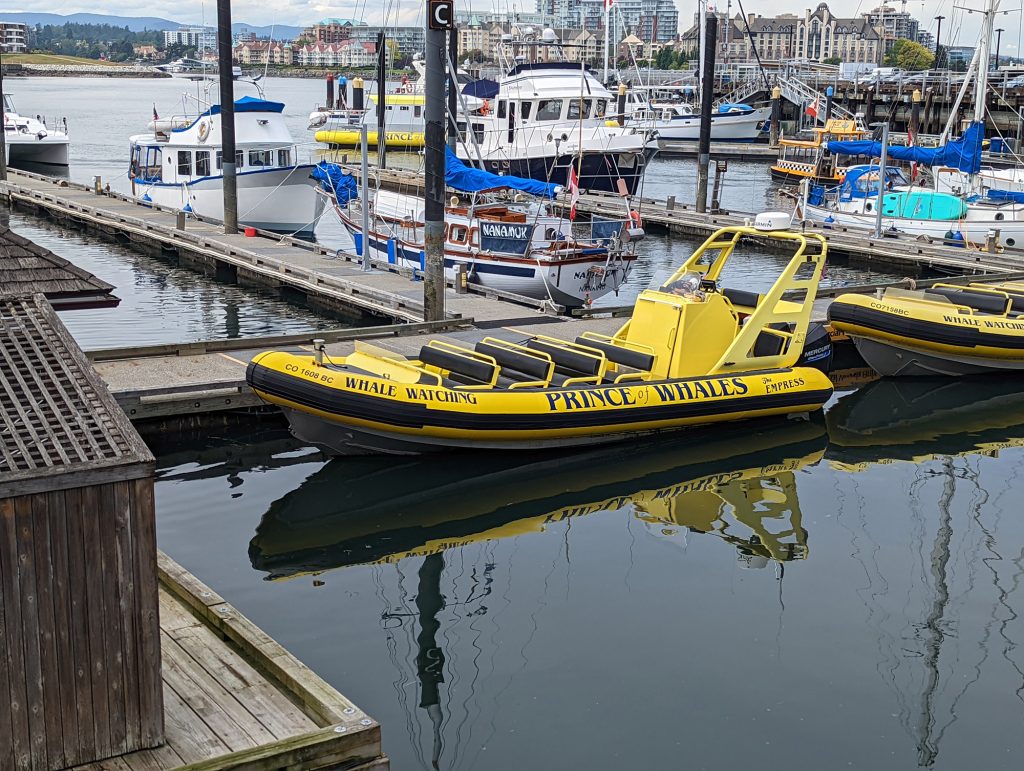 The zodiac was 4 rows of 3 people with the captain riding in the back. We slowly made our way out of the Harbor, and then he hit the gas. The boat quickly skipped over the surface of the water, almost flying. The sea breeze was cold and damp; luckily, the suits they gave us kept us relatively warm.
It took about an hour to get to the area where we might see whales. One of the downsides of a zodiac is that it's so loud that the captain can't talk to you much or give a tour while you're at high speed. So that meant the hour getting out into the water was just basically for transport.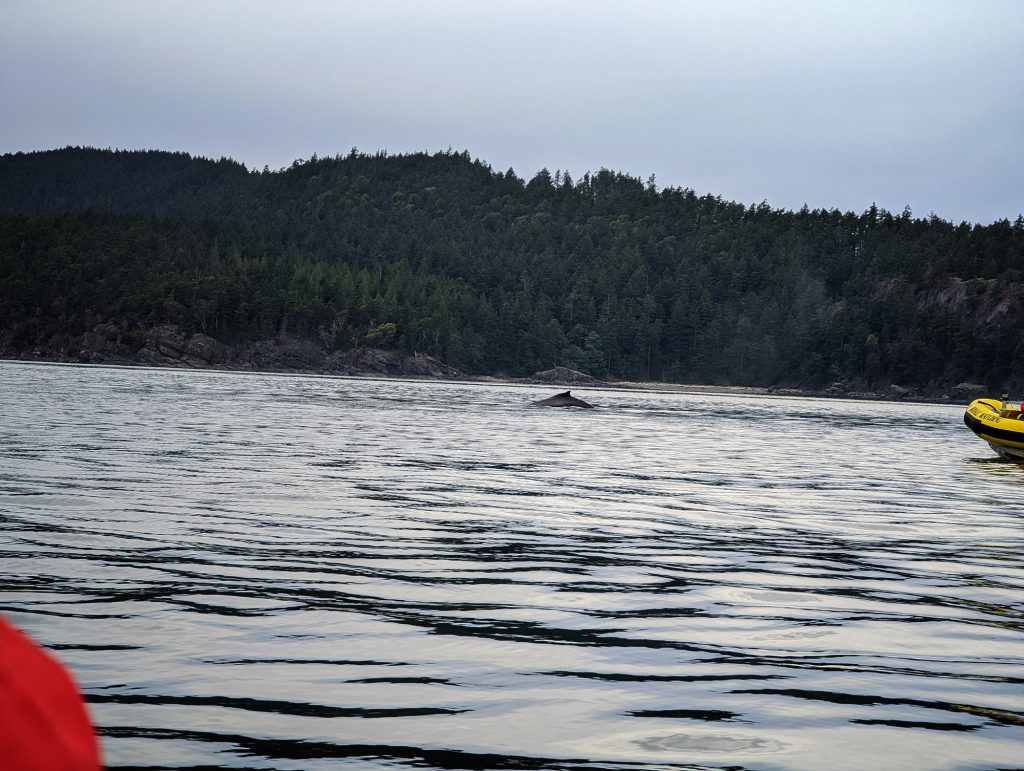 Once we arrived, the captain radioed the other ships and found a humpback. We spotted it from a distance, and the boat zipped closer. Although we'd already seen humpbacks on this trip, seeing them from sea level was very different. They looked much more impressive, and you could appreciate how high their spouts went into the air. The humpback was slowly swimming along, taking some breaths, and then it did a dive. We knew that meant we had 6 – 8 minutes waiting for it to come back up. We scanned the horizon to see where it would pop up, and then the boat would follow along.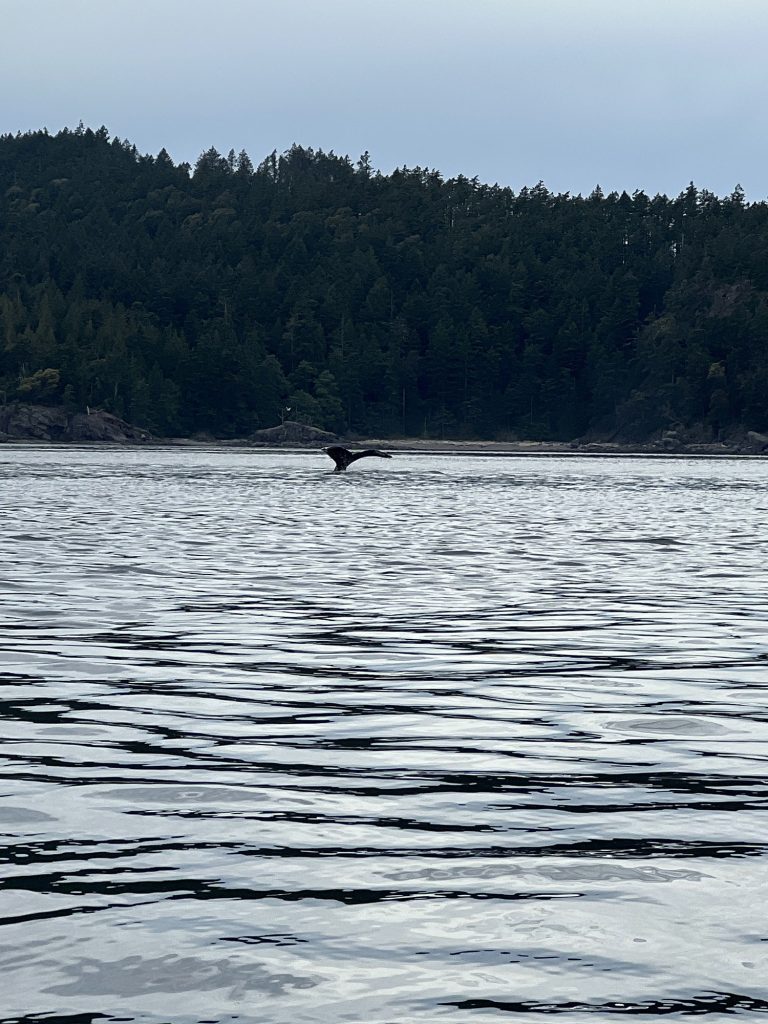 The total excursion lasted 3.5 hours, and overall, we saw two humpback whales and a rare gray whale. We were really hoping to see orcas on this tour. Orcas are supposed to be more common in this area and are in all the literature for Prince of Whales. Unfortunately, we didn't get to see any. That's the nature of whale watching; you can't guarantee anything. The domestic orca population in Victoria has been struggling, and they've enacted some new measures to protect them. I initially thought that's why we didn't see any, but I saw on Facebook on other excursions a few days later that people saw them. It really is just the luck of the draw. 
Overall, it was a solid tour. The smaller boat did have a much different experience than the larger boats we had been on previously and provided some great views. That being said, three whale-watching trips in one week might have been a bit much. It was a lot of waiting. 
Phillips Brewery
We had 2 hours left in Victoria and didn't have much left on our "must-see" list, so we decided to visit two breweries while we were there. 
The first was Phillips Brewery. Located a 15-minute walk from the downtown area, Phillips Brewery felt quite a bit removed from the hustle and bustle. It was a great place with lots of inside seating and some patio seating as well. Unlike the other breweries we visited on this trip, this wasn't for tourists. It was mostly locals here.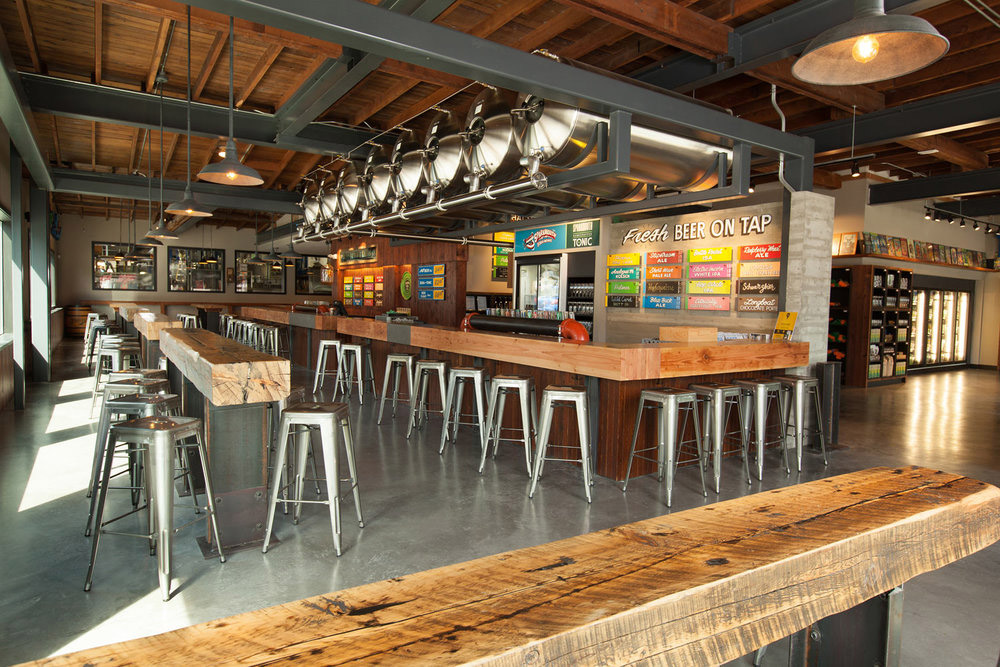 They had 16 different beers on top, and some of the seasonal ones were really unique. We got two flights so we could try most of them. They were very reasonably priced at $9 per flight for 4, 4 oz samples. My favorites were Solaris White Peach Ale, Dinosaur Pink Lemonade Sour Sale, and Dinosaur Stone Fruit Sour Ale. If you like interesting and different beers, this is definitely a place you must try out.
Phillips Brewery also had some snacks available. We went with two rather large pretzels. They're baked at a local bakery and aren't a traditional German style (with thick, brown skin). Instead, they're more soft and doughy. They really hit the spot. 
Whistle Buoy Brewing Company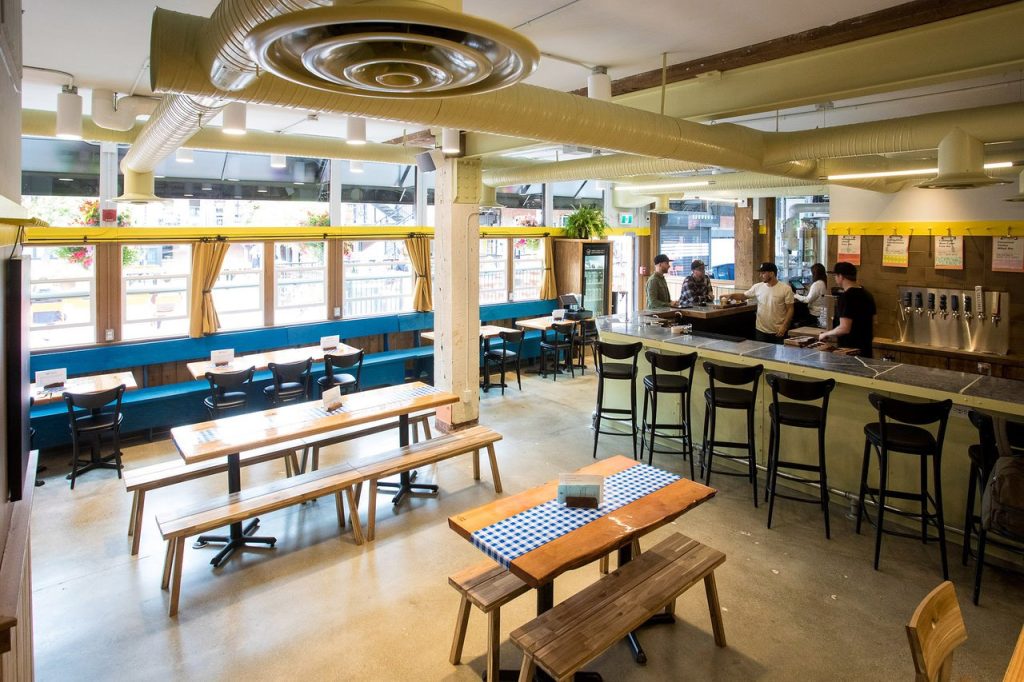 After that, we headed to Whistle Buoy Brewing Company which was close to the shuttle stop. This venue was in the downtown area and was much more crowded with primarily locals. We both got flights there as well, $12 each this time. The most visually impressive beer was the Undersea Gose. The vibrant blue-green color came from spirulina, a type of algae with antioxidant effects.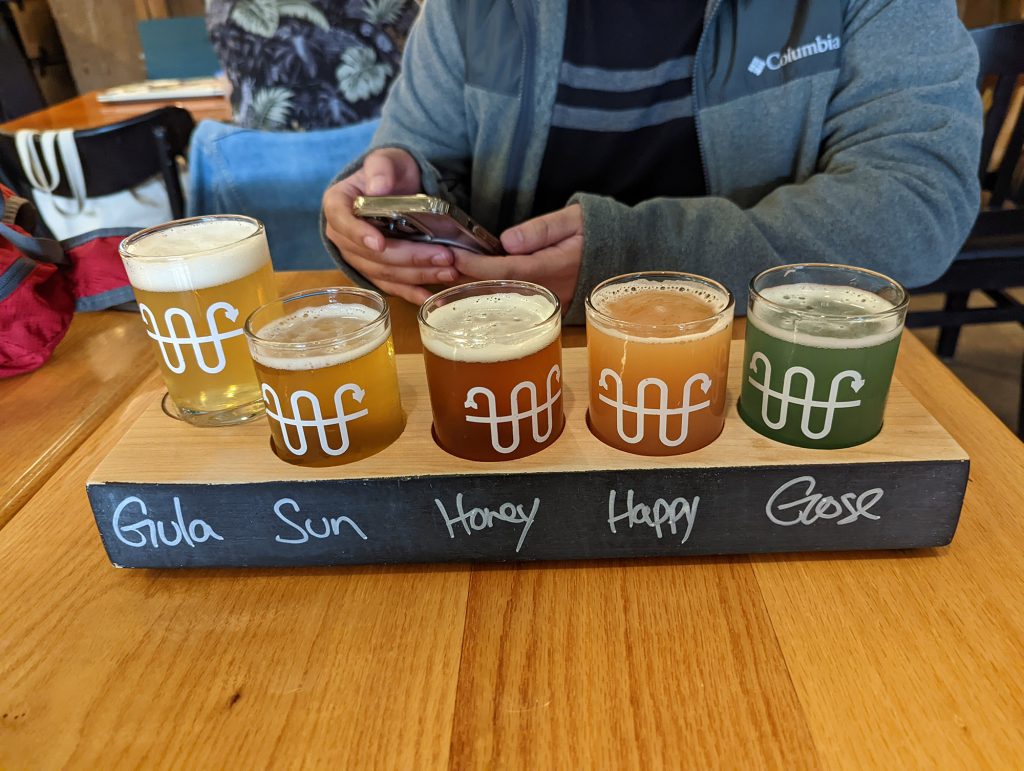 Getting back to the ship from Victoria
We finished our drinks and then decided to head back to the ship. It was 7pm, and although we didn't have to be back until 8:30, we accomplished what we set out to do in Victoria.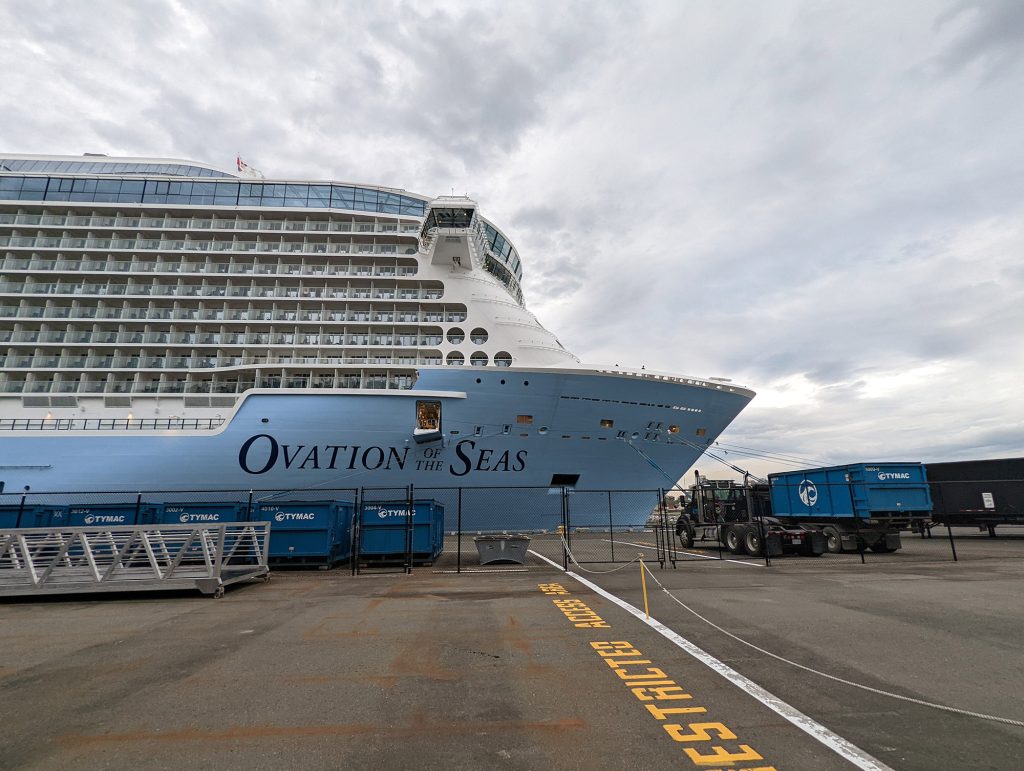 We walked over to the Roots store, and a shuttle was waiting. There was no line, and the bus only had a handful of people on it. It took us back to the ship, and we got right back on. It seemed most people were already on board at that point. 
Packing our bags for Port Valet
We went to our room and started packing our bags. If you weren't taking your bags off the ship yourself, you'd have to leave them outside your door by 9 pm for the staff to take them off the ship. For this cruise, we were using Port Valet, a free service that will take your bags right from the ship, check them onto your flight, and then they're waiting for you at your home airport. Using this service, we were free to explore Seattle since our flight didn't leave until 9 pm.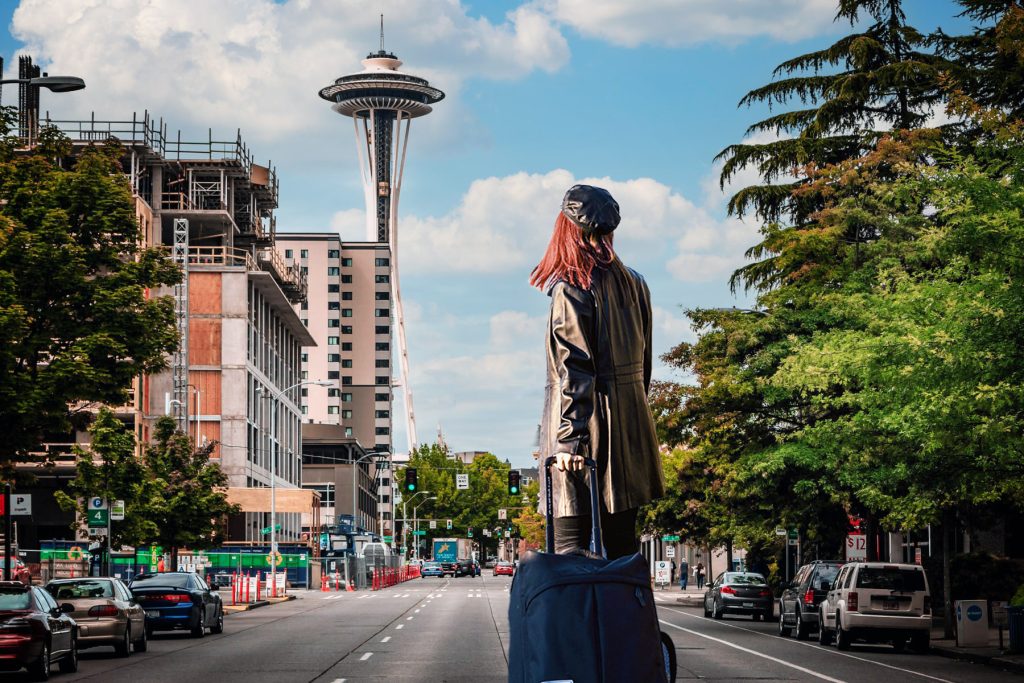 Our Port Valet tags and boarding passes for the plane were waiting for us when we arrived at our cabin. We were relieved. We originally booked Port Valet before leaving for the cruise using the website. About halfway through the cruise, we received a long email that made it sound like we wouldn't be able to use the service. It was incredibly confusing and wasn't clear, but it would totally throw off our plans for Seattle. We went to Guest Services to see if they could help.
As we arrived at guest services, a representative at the front of the line was acting as a pre-screener before you got in the queue. It was a really great idea and saved lots of time. I had to visit a couple times during the cruise, and the person in the front was quickly able to answer my question, saving me from waiting in a long line. This time though, I had to go up to the desk for my question. 
The representative looked at my reservation for Port Valet and said it wasn't rejected, and he didn't understand my email. I learned that apparently, guests can be rejected by the program. The ship just receives a list of who gets denied. They usually get no reason why it's rejected, but it's not Royal Caribbean or Port Valet who makes the decision; it's the airlines. 
After all that, we were happy to see our boarding passes and tags. We packed up all our bags, leaving out just when we needed for the next day, which we'd carry in our backpacks. I slipped a Tile Bluetooth tracker, similar to an Apple AirTag, in our bags so we could see where they were and make sure the program worked. The next morning, I used the Tile app and saw our bags were already at the airport as we were leaving the ship.
Last dinner in the American Icon Grill Dining Room
It was our last dinner on board, and we were seated in the American Icon Grill Dining Room. We made a late reservation since we planned to be in Victoria all day. We showed up at 8:45 pm, and there were no lines.
This evening, we had another stellar waiter named Sri. Again, she felt like the kind of waiter I'd usually experience at set time dinner. She greeted us by name, made recommendations, and was incredibly attentive. The service was superb. I guess that's one of the trade-offs of having My Time Dining, you can really get anyone, and it can be all over the place like it was this cruise.
Tip: If you're on My Time Dining, you can request the same table or waiter every night, and they will try to accommodate you. This may mean you have to wait for a seat to open in their section, though. 
The dinner options weren't terribly exciting this evening. One of the items was Fish & Chips, which doesn't feel very main dining room-like. We ended up getting the Prime Rib and Braised Lamb Shank. Both were cooked well and of good quality, but they just weren't exciting to me.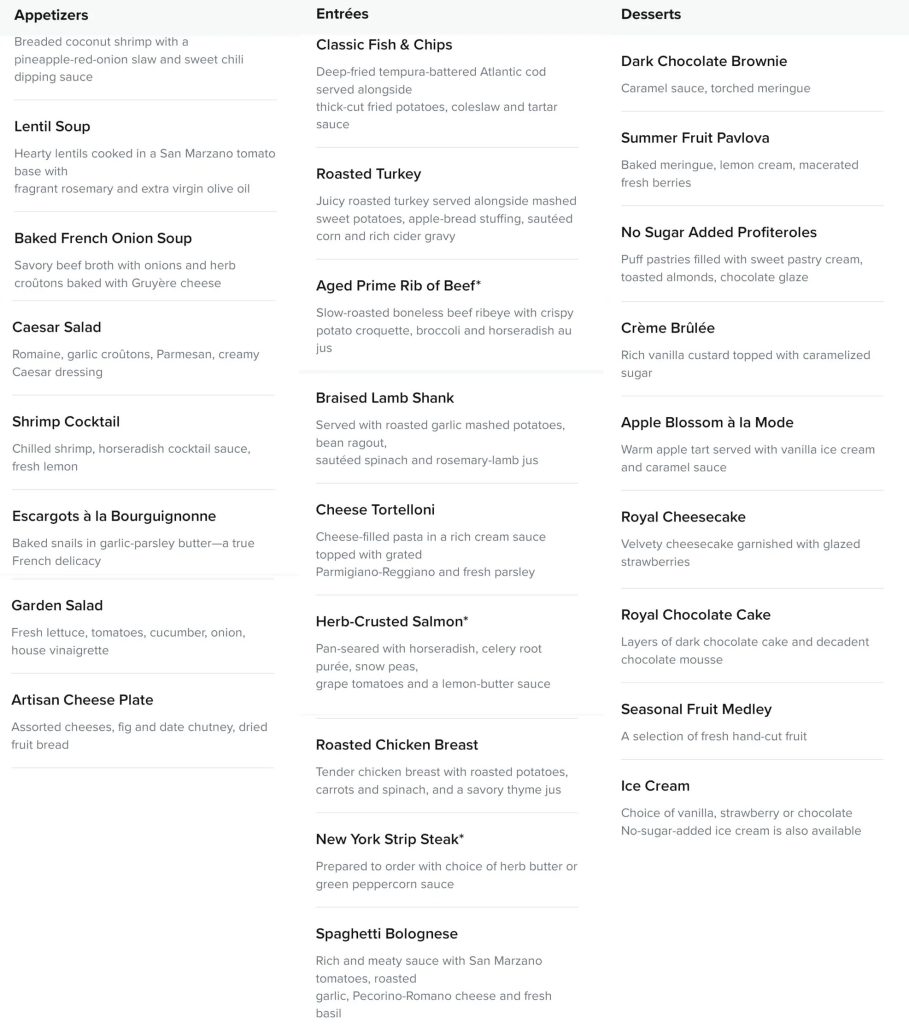 For dessert, I got the "dark chocolate brownie," which sounded delicious. But, in reality, it was a mousse with a few pieces of brownie and toasted meringue. They really do love their mousses on this ship. Every day they had a different one at dinner and in the Cafe Promenade. They were delicious, but if you call the dessert a "brownie," it shouldn't be just a few bits of brownie on a mousse. 
Final night of activities on Ovation of the Seas
We considered going to one final trivia in the Schooner Bar, but our dinner ran long, so we missed it. We ended up walking by, and they had repeated questions we heard earlier on the cruise. It was just general trivia, which means there are literally an infinite number of questions you could ask, and they had to repeate one? Disappointing.
We ended up going back to Amber and Oak again for some more performances by Ana. You could see the "regulars" who were there listening to her all cruise and had a rapport with her. At one point, they asked her to do a song in Spanish since she was from Argentina and it was her native language. She played one of her favorites; even though I wasn't familiar with it, it sounded beautiful. 
The bar started thinning out as the night went on, and we decided to head to bed during her last break. Even though we'd be getting off the ship the next day, we'd still have a full day of activities in Seattle, so we needed to be well-rested. 
Follow along on the rest of our Alaskan cruise on Ovation of the Seas
Ovation of the Seas – Cruise Blog - Day 1 – Seattle
Ovation of the Seas – Cruise Blog - Day 2 – Sea Day
Ovation of the Seas – Cruise Blog - Day 3 – Juneau
Ovation of the Seas – Cruise Blog - Day 4 – Skagway
Ovation of the Seas – Cruise Blog - Day 5 – Sitka
Ovation of the Seas – Cruise Blog - Day 6 – Sea Day
Ovation of the Seas – Cruise Blog - Day 7 – Victoria
Ovation of the Seas – Cruise Blog - Day 8 – Debarking in Seattle
6 Hits & Misses of Ovation of the Seas
If you want to stay up to date with what we publish, sign up for our monthly newsletter
CruiseSpotlight is an Amazon Associate. We may earn a commission when you click links to retailers and purchase goods.