Princess Reveals Next Generation Ship
It's a fantastic time for people who love cruise ships. Most of the North American cruise lines have debuted brand-new classes of ships that represent how they see the future. These ships have unique innovations and features never seen on a cruise ship before. We've already seen the next generation of ships from Carnival (Mardi Gras) and Norwegian (Prima), and an announcement about Royal Caribbean's (Icon of the Seas) is just around the corner. Yesterday, Princess Cruises announced their next generation of ship, the Sun Princess, and it's quite different from what you've seen before.
Introducing the Sphere-class of ship
The Sun Princess will fall under the Sphere-class; Princess' first new class of ship since they debuted the Royal-class in 2013. These ships feature expansive views, multiple dining and bar options, and unique entertainment spaces. Sun Princess is the first of two scheduled Sphere-class ships, with a second expected to debut in 2025. They'll be powered by Liquified Natural Gas (LNG), a cleaner burner fossil fuel.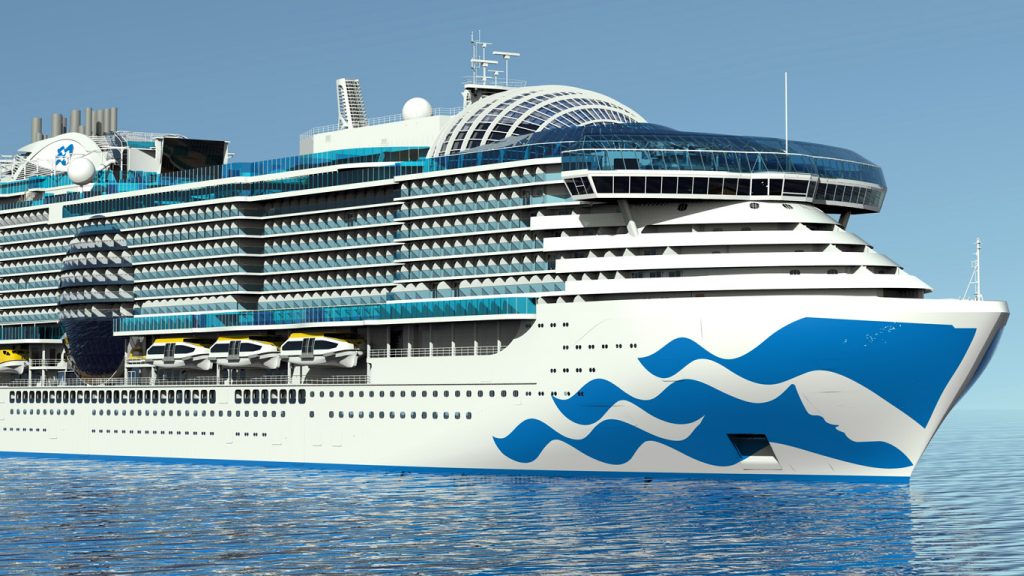 Looking at the ship, you'll see where the "sphere" names come from, as circles, domes, and bubbles play a large part in the design. 
Sun Princess name returns
The newest ship from Princess will debut in 2024 and will sport the name Sun Princess. It might sound familiar because it's the third time Princess Cruises has used the name.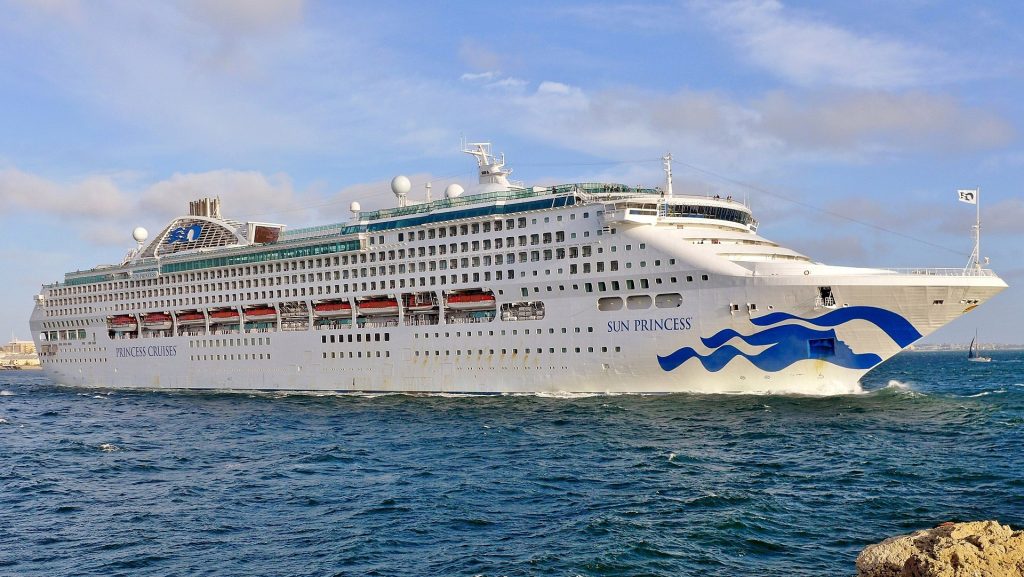 The original Sun Princess sailed from 1974 to 1989. Then, in 1995 a new Sun-class ship was introduced with the Sun Princess name. It was sold off during the pandemic shutdown of 2020 and is now sailing under the name Pacific World. Now, they bring back the name for this flagship vessel. 
Princess Cruises' biggest ship yet
Weighing in at 175,500 gross tons, the Sun Princess will be the line's biggest ship ever. It's 20% larger than their current newest ship, the Discovery Princess, which launched in January 2022. It'll hold around 4,300 guests. That puts it around the size of Carnival's Mardi Gras or Royal Caribbeans Odyssey of the Seas. At 1,133 feet and 21 decks, it's a big ship, something that seasoned Princess cruisers might find a bit off-putting. 
Domes are all the rage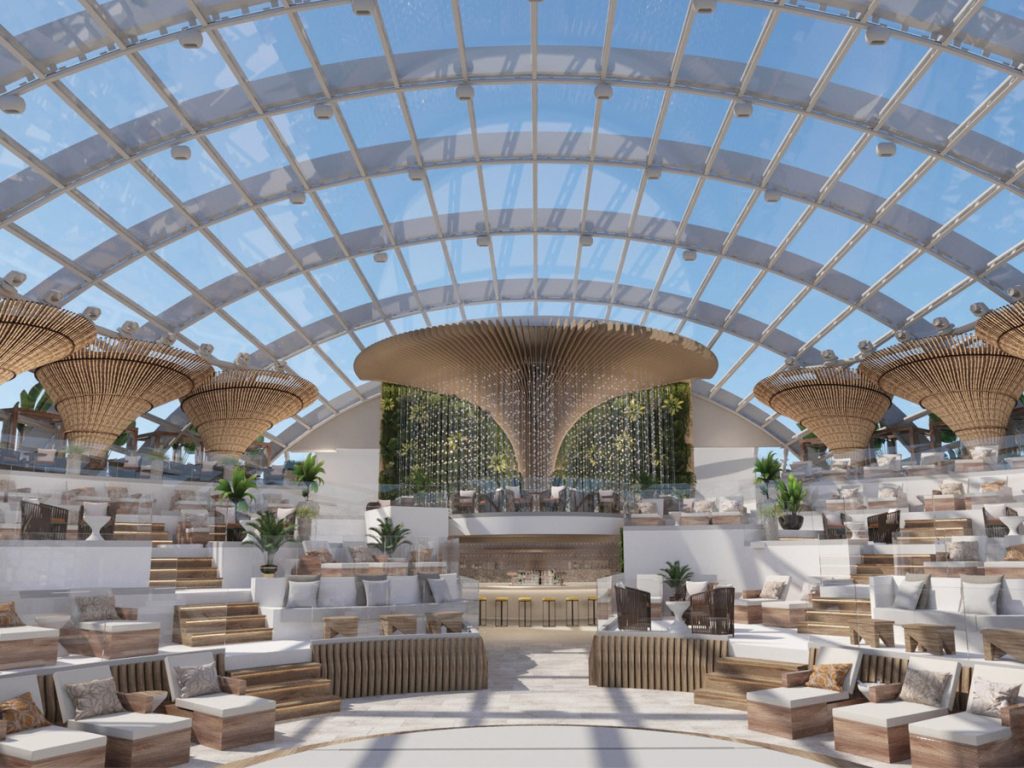 One of the most prominent new features of the Sun Princess is "The Dome." Located near the front of the ship, it's a huge space with a glass dome covering it. Inside, there's an indoor-outdoor pool and a "water feature," although it's hard to tell what that is from the renderings. It will transform into an entertainment space at night with LED lighting and ariel performances.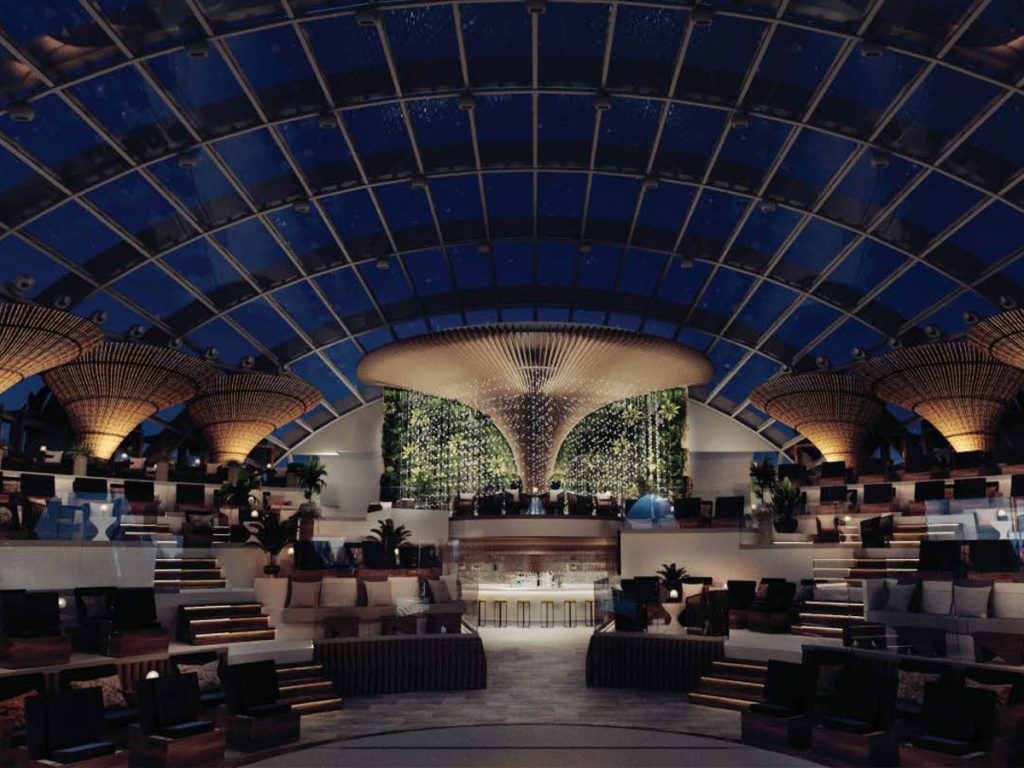 Sound familiar? Royal Caribbean's new Icon of the Seas is rumored to have a very similar design in their new Solarium / Aquatheater. Royal Caribbean has even gone so far as to trademark the term AquaDome. Unfortunately, it seems like Princess beat Royal Caribbean to the punch here. 
The Piazza Atrium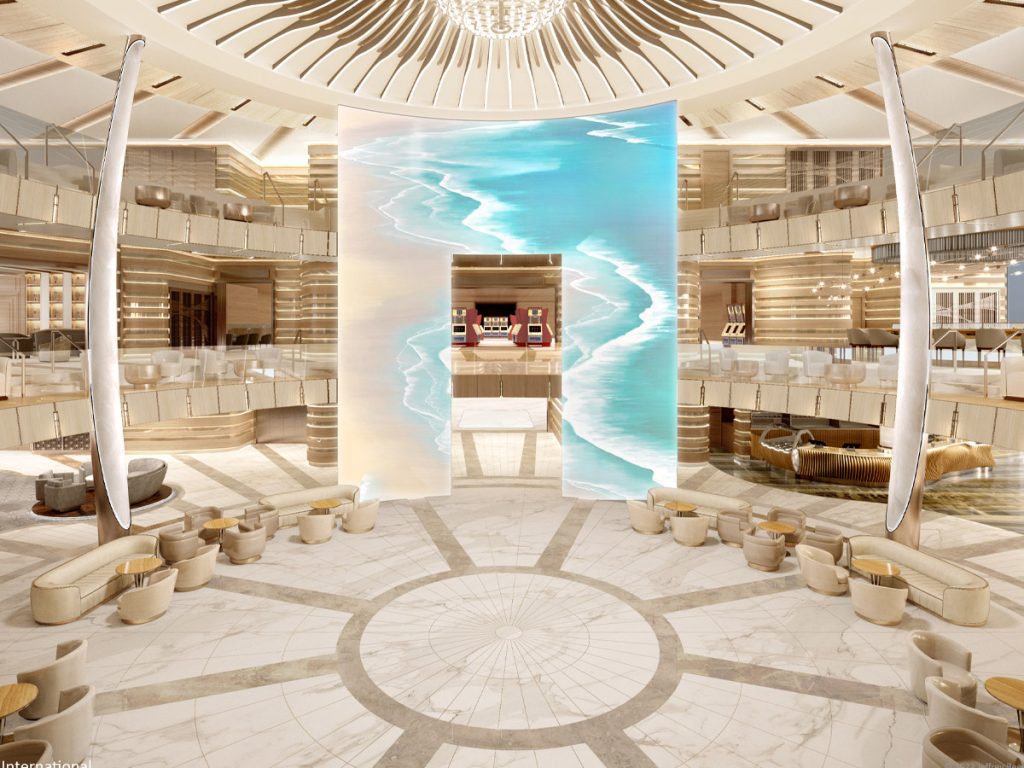 Almost every new design of cruise ship that has come out recently has a large 3-story atrium with floor-to-ceiling windows. The Sun Princess is no different. Called the Piazza, this space features a dome-like feel with gentle curves and sloping ceilings. It's filled with natural light and light-colored finishes to give it an airy and peaceful feeling. The center features a large LED screen that can move around and be used for entertainment programming throughout the cruise.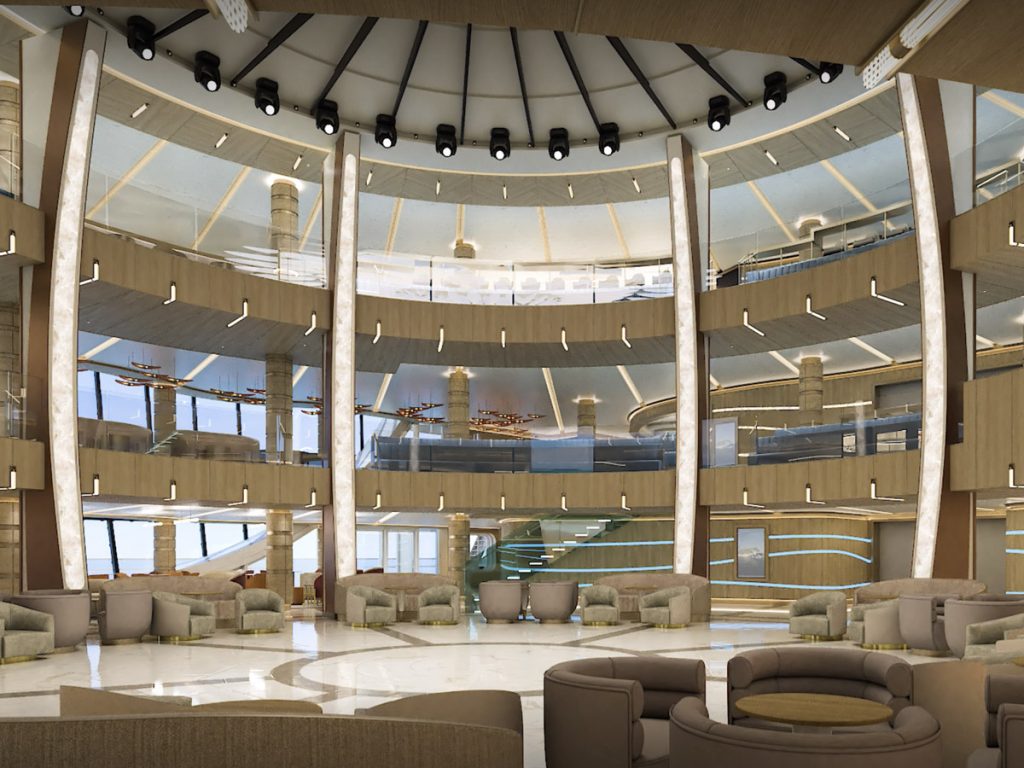 70% of Sun Princess cabins have balconies
Every cruiser loves ocean views, and the Sun Princess doubles down on that, with over 1,500 balcony cabins, the most of any Princess ship. The Sun Princess will also see some new categories of rooms.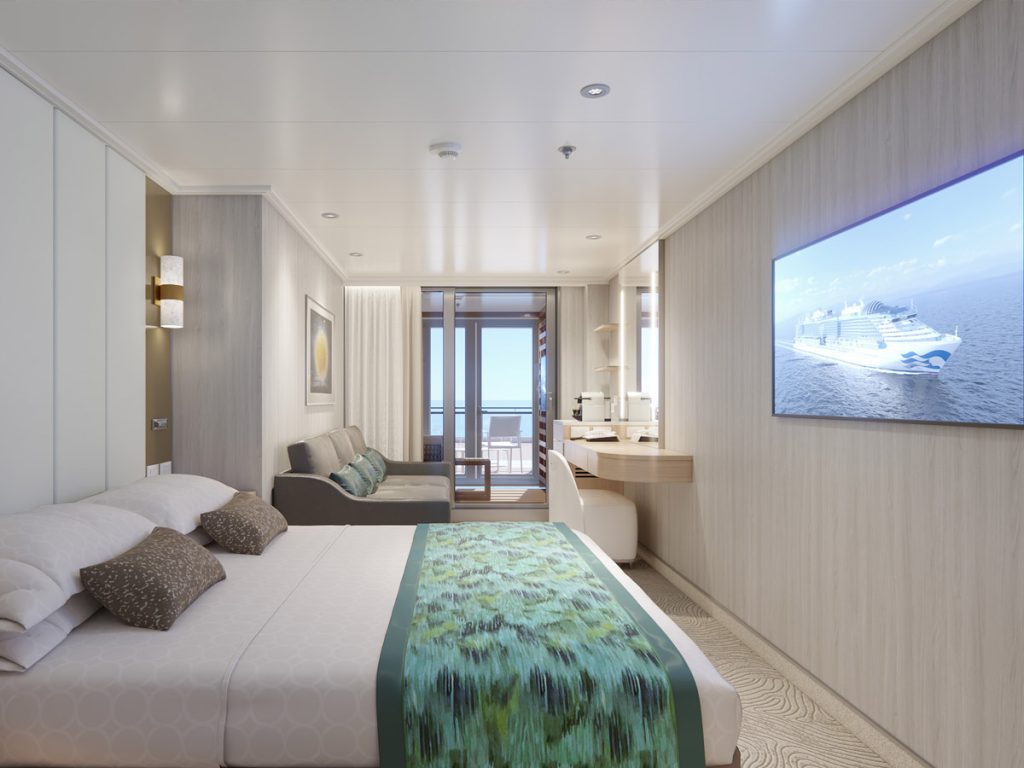 The Reserve Collection is the new term for "Club Class" accommodations found on other ships. They are mini-suites and cabanas located in a "premium location." In addition, they'll have access to a private Reserve Collection restaurant and "other luxuries," according to Princess. 
The Sun princess also introduces "The Signature Collection" cabins. These offer premium stateroom amenities and include access to the Signature restaurant, Signature Lounge, a private Signature Sun Deck and a private area of the Sanctuary. 
Sun Princess is coming in 2024
The Sun Princess' first sailings will be in the spring/summer of 2024 through the Mediterranean. It will then reposition to Port Everglades, Florida, to sail Western and Eastern Caribbean sailings in the fall of that year. 
Learn more about Sun Princess on the Princess Cruises website
CruiseSpotlight is an Amazon Associate. We may earn a commission when you click links to retailers and purchase goods.