Pushing Your Limits On A Cruise Ship's Ropes Course
Last Updated on October 1, 2023
Tip-toeing across a 6-inch beam is scary enough, but imagine doing it 120 feet over the ocean with sea breezes pushing you around and the boat rocking beneath you. It gets the adrenaline pumping and heart pounding. That's what you'll experience when you try a ropes course on a cruise ship. 
A ropes course is similar to an obstacle course, but you're usually anywhere from 20 to 30 feet in the air. You'll find rope bridges, swinging steps, and narrow platforms that you have to wind your way through. These courses challenge you both physically and mentally as you try to figure out the best way to complete each obstacle. Throughout the course, you're attached to a harness that travels along with you, so if you fall, you can climb right back up. You've probably seen some of these on TV or movies, and maybe even tried a few land-based ropes courses, but doing it at sea brings a whole new level of complexity. 
The First Ropes Course at Sea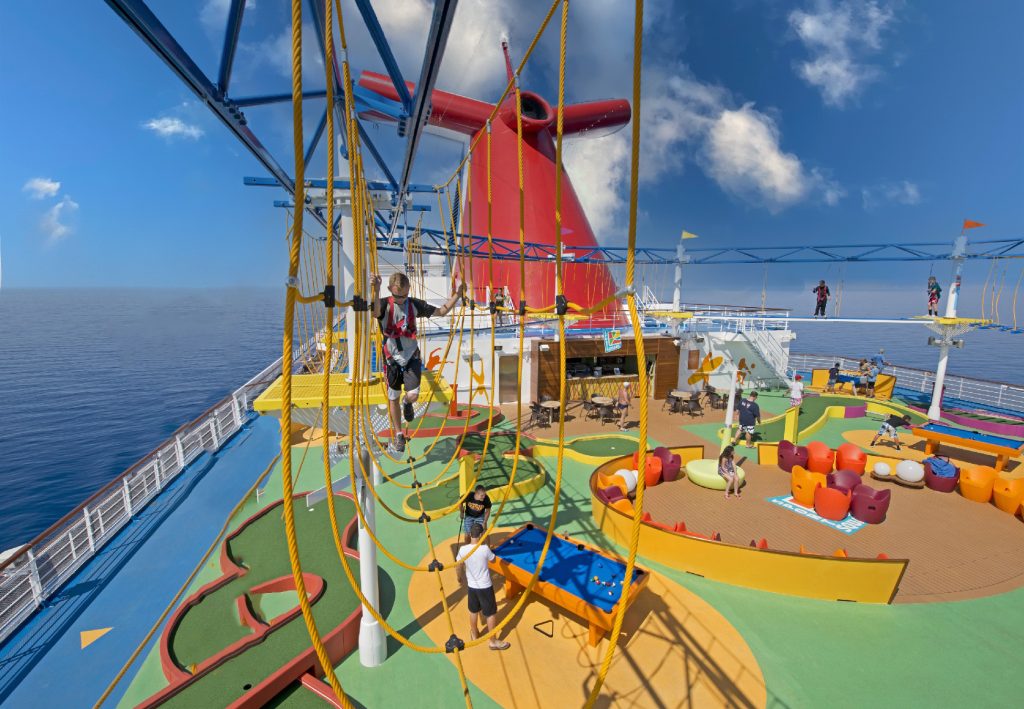 When the Carnival Magic debuted in 2011, it brought the first ropes course at sea. It had over 230 feet of obstacles suspended over the Sports Square on Deck 12. The course was directly over the mini-golf area, making it especially thrilling.
It was an immediate hit, and now over 12 different cruise ships offer a ropes course of some kind (see the list below). 
Carnival's Sky Course
Carnival has their Sky Course on many of their ships. Typically these have around 20 obstacles, and the course itself is suspended above their Sports Square. For each obstacle you reach, you can choose the beginner or intermediate challenge. That means you can do the course twice and have it be completely different.  
Carnival's newest ship, the Mardi Gras, takes the thrill to the next level by adding a zip line portion to the course. You take a step of a plant and literally fly over the side of the ship, gliding to another plank. It looks absolutely terrifying (or thrilling depending on how you look at it).
Norwegian Ropes Course
Some Norwegian Cruise ships also have ropes courses (see a full list below). Norwegian's courses are bigger than the Carnival ones, with between 40 and 100 obstacles available. In fact, the longest ropes course at seas is on the Escape.
Norwegian's course is known for "The Plank," where you walk out on an 8-foot beam right off the side of the ship, literally standing 120 feet over the waves below.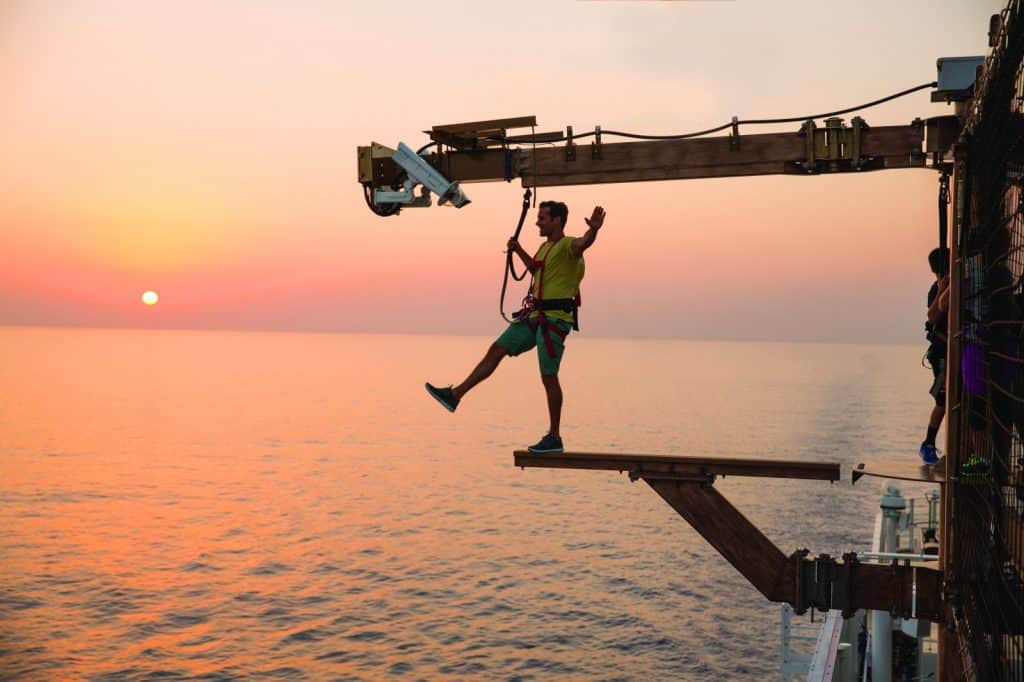 Cost for Ship Ropes Courses
One nice thing about ropes courses on a cruise ship is that they're free! A ropes course on land can vary between $20 and $100 depending on the course's length and complexity, so it's great to have access to one for free. Why not try it for free on your next cruise and see what all the fuss is about? It's another way to make your cruise a memorable experience.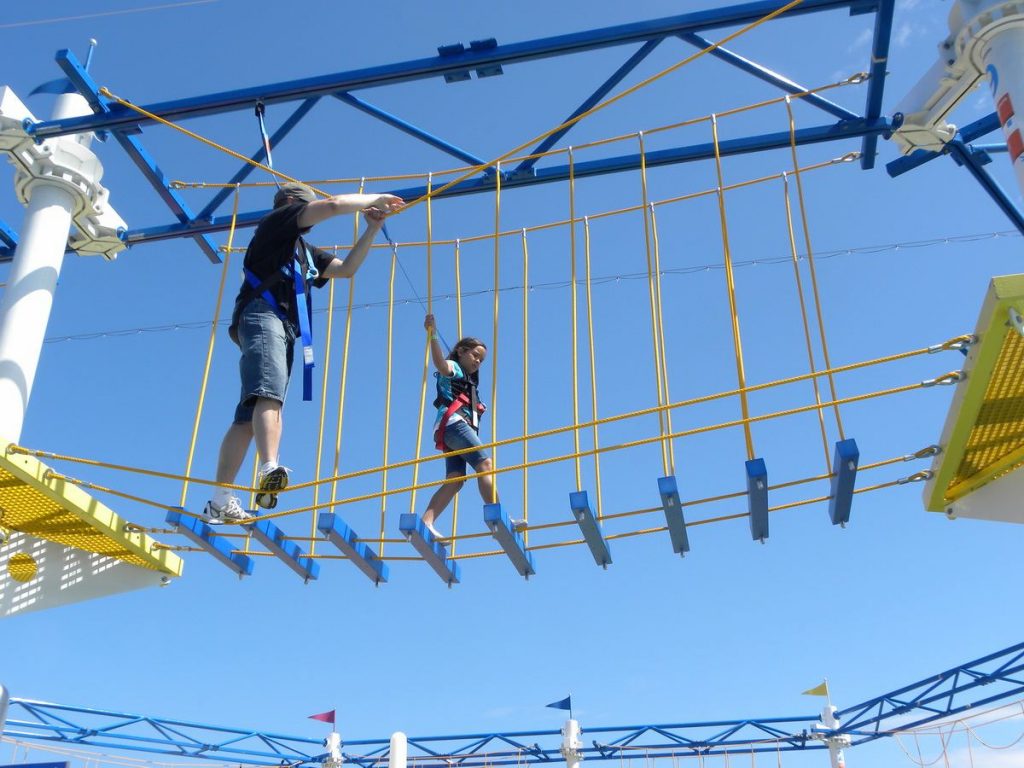 Requirements for Cruise Ship Ropes Courses
You must be at least 48″ to go on the Carnival or Norwegian ropes courses. For Carnival, there is a 300 pound weight limit (275 lbs on the Carnival Vista).
Closed-toe shoes are also required. It's highly recommended you wear a t-shirt to avoid rope burn.
Also, no cameras or phones are allowed on the course, so station a friend or family member nearby to take pictures of your daring experience. 
First-hand Experience on the Horizon's Ropes Course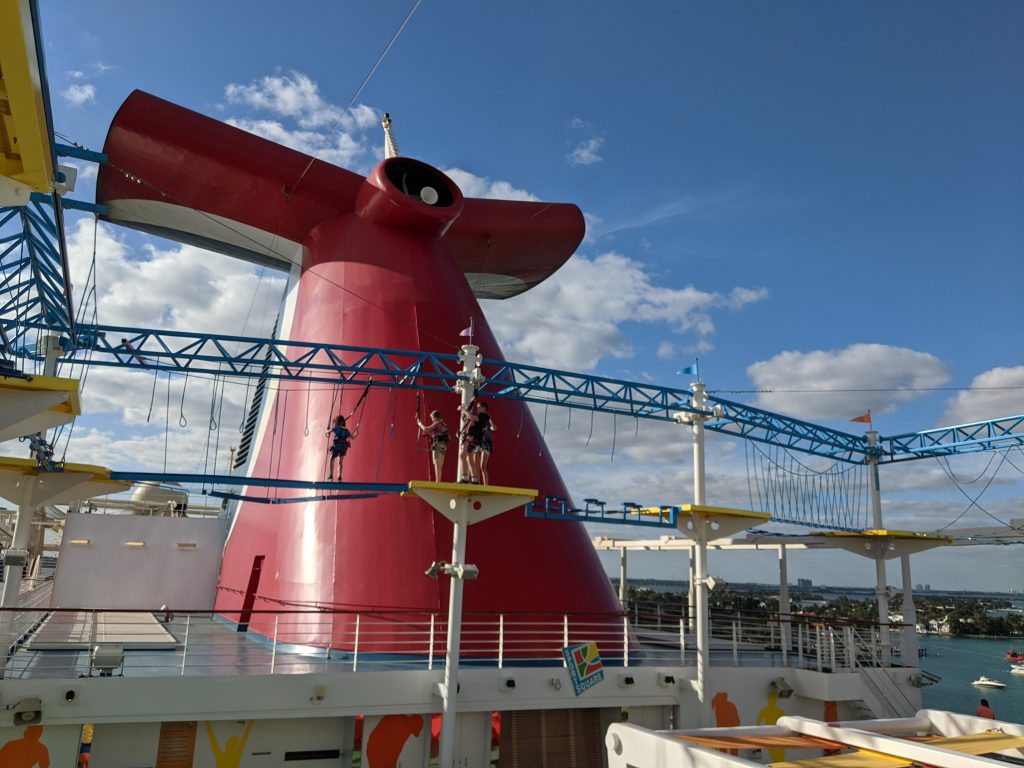 I've tried the Sky Course on the Carnival Horizon (see the cruise blog here), and it definitely pushed me to my limits. While it's much shorter and less complicated than some I've tried on land, it has the added complexity of the ship swaying and the ocean breeze pushing you. I tried it on day 1 on the cruise, shortly after the muster drill, and there was no line at all. On other sea days, you could see a bit of a wait, but nothing more than maybe 10 or 15 minutes. 
The course itself took about 15 to 20 minutes. The area has lockers you can use to keep all your loose belongings, which was really helpful, so you didn't have to run back to the cabin. 
One of the great benefits of a ropes course at sea is you get some spectacular views while you're up there trying to make your way through the obstacles. The most humbling part was when my heart was pounding, standing on a platform, getting ready to try to traverse an obstacle, while a 10-year-old just flew right over it with no problem. 
Where can you find a cruise ropes course?
Try a ropes course for yourself on any of these ships:
CruiseSpotlight is an Amazon Associate. We may earn a commission when you click links to retailers and purchase goods.