Ride Bumper Cars on Your Next Cruise
As cruise ships get bigger and bigger, they also introduce newer and more innovative attractions. From zip lines and climbing walls to ice skating rinks and go-kart tracks, the latest cruise ships are jam-packed with things to do. One of the newer activities found on some ships is bumper cars. 
First bumper cars at sea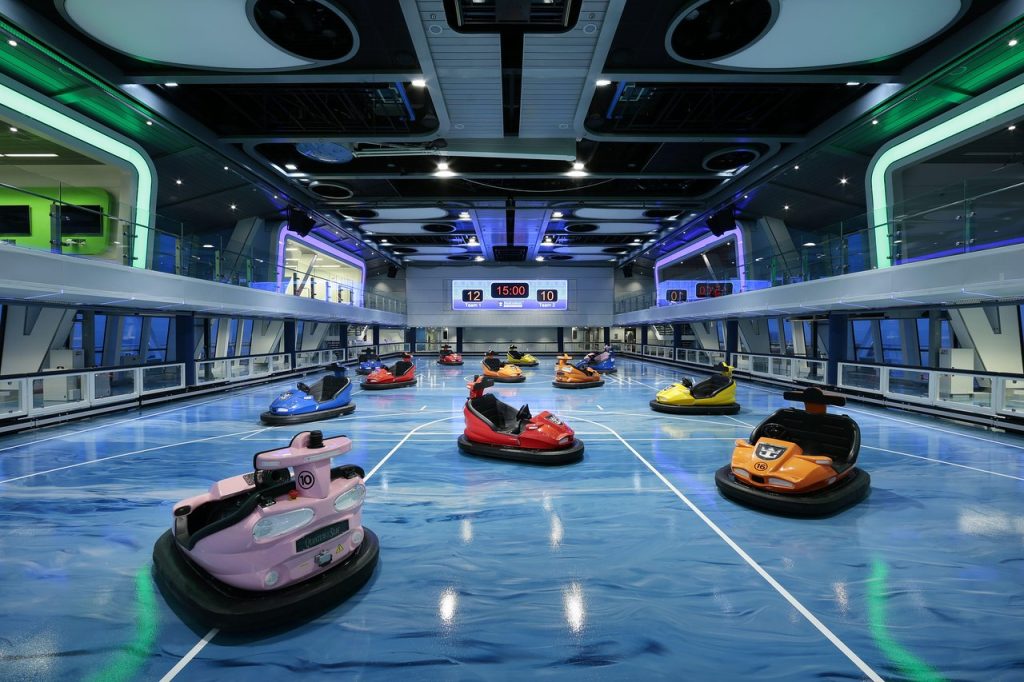 Royal Caribbean introduced bumper cars on the Quantum of the Seas in 2014. When they designed that ship, they removed the popular Studio B Ice Skating Rink and instead put a large, multi-story indoor sports complex called SeaPlex. This place was designed to be the home for various activities like roller skating, basketball, pickleball, and dancing.
But why bumper cars? They have always been a staple or local amusement parks. First debuting in 1920, they've entertained the public for over 100 years. Both the young, and the young at heart, enjoy the feeling of ramming into a loved one's car at top speed and sending them flying. It'd be a great, one-of-a-kind attraction on a cruise ship. 
Royal Caribbean evolves the concept
Experienced riders (i.e., those born before the year 1990) will remember the smell of burnt metal in the air and the sound of metal dragging when they first rode. The first bumper cars used an "over head system," where poles on each car would touch a metal mesh ceiling above to provide power. As the cars drove around, sparks would fly as dust would oxidize.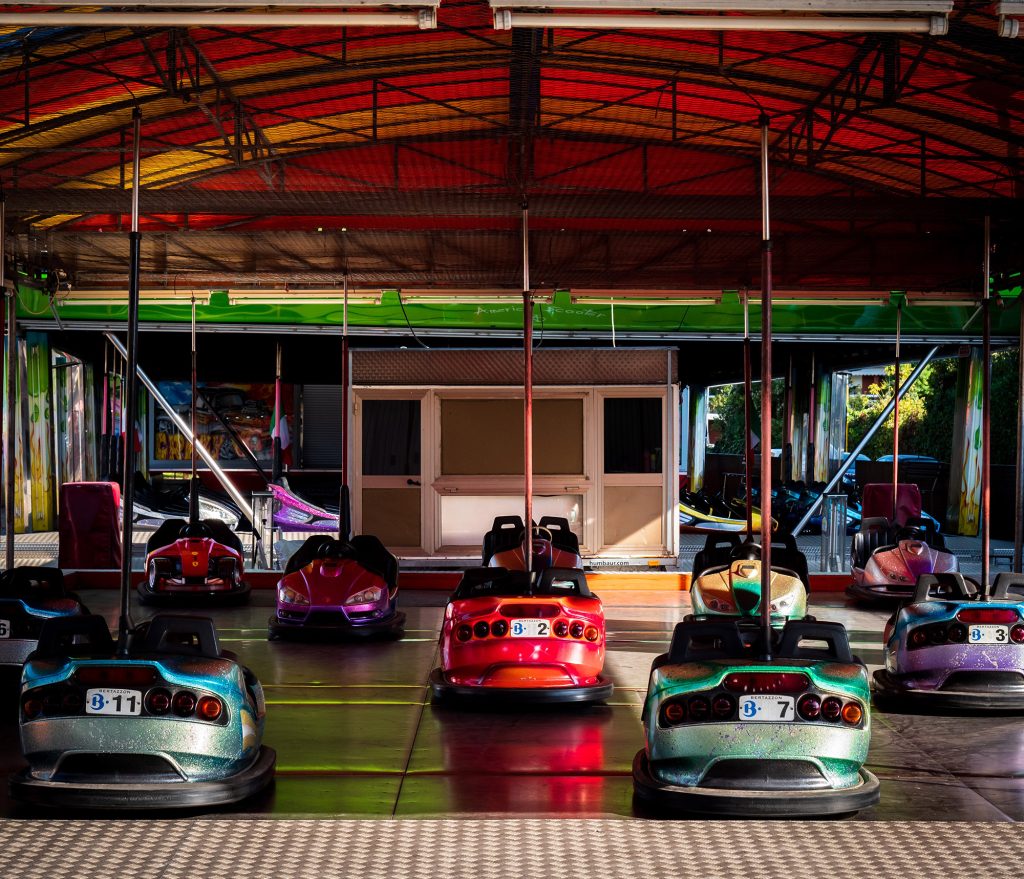 Then, bumper cars evolved with a new system for power called a "Floor Pick-Up (FPU)." First patented in 1974, this system got the power directly from the floor. It got rid of the poles and the need to have a fully powered ceiling across the whole arena. It also provided a much quieter experience since there was no metal dragging across the ceiling. 
Neither of these solutions would work well on a cruise ship though. Both options required a large amount of space with a powered floor (or ceiling) that would only be able to be used by bumper cars. So when Royal Caribbean went to add this attraction to a cruise ship, they went with another method, battery-power.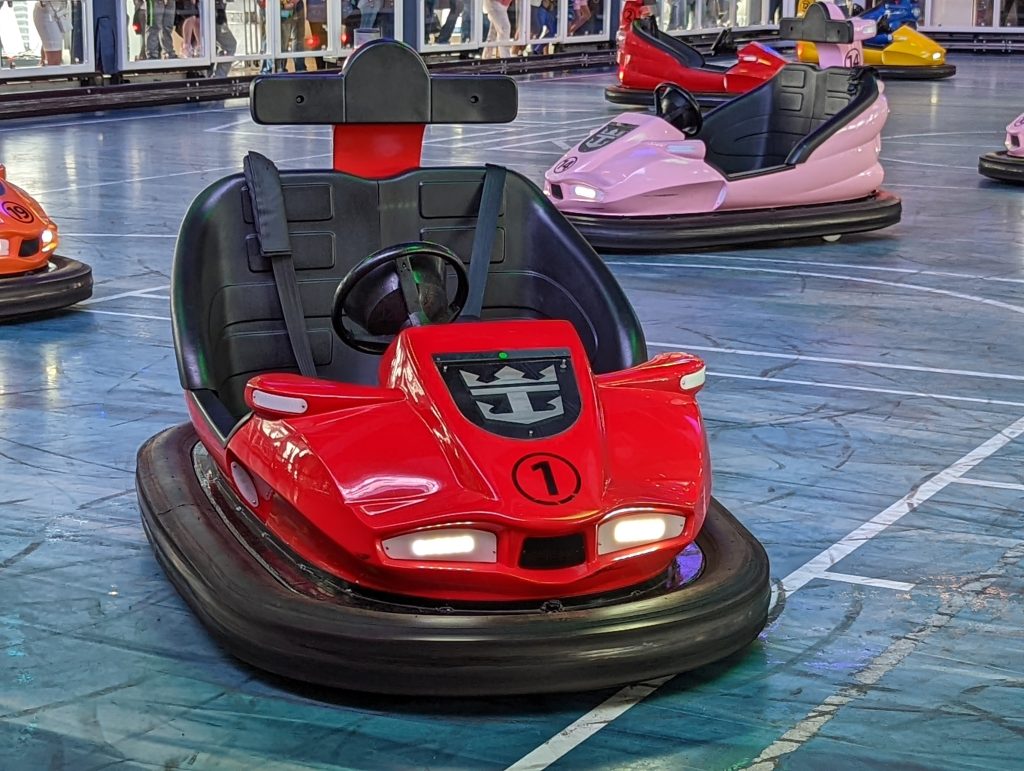 With battery-powered cars, there was no need to run high voltage systems across the floor or ceiling. They could also easily store the cars away when not in use so the space could be utilized for activities like basketball and roller skating. The one downside is that the cars have to charge. That's why when you're on a Royal Caribbean ship, you'll notice the bumper car times are limited to 2 hours and always spread out. This spacing is because the cars need time to charge between sessions.
How to sign up for bumper cars?
Riding the bumper cars on a Royal Caribbean ship is easy. You don't need to book ahead of time or reserve weeks in advance. Instead, you just show up during the bumper car time on the ship. You'll find the schedule in your Cruise Compass or in the Royal Caribbean app. 
Arrive early as the line can get along, especially on the first day at sea. For a frame of reference, if the line is wrapped around the entire Seaplex, the wait will be about 45 minutes. 
Riding the bumper cars on Royal Caribbean
Sessions typically run for 2 hours and happen a couple of times a day. Each round lasts approximately 2.5 minutes. Riders can either go alone or ride with one other person. 
The crowd is usually a mixture of kids with parents, teenagers, and adults who just want to have fun. Riders must be at least 5 years old and 42 inches tall to ride with a guardian or 8 years and 48 inches tall to ride by themselves.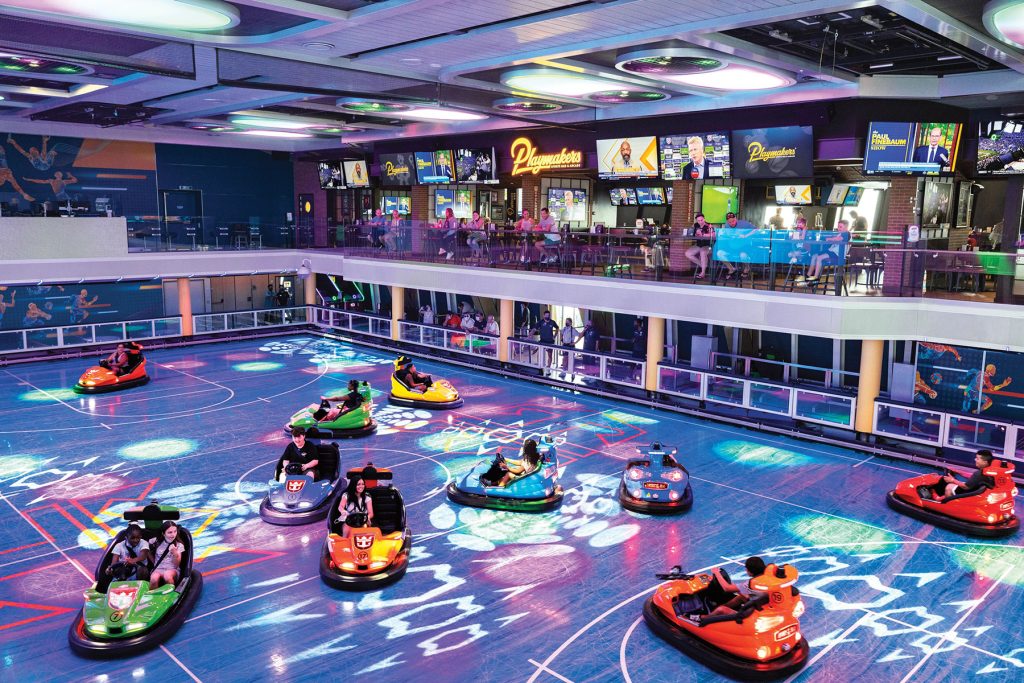 How much does it cost to ride Royal Caribbean's bumper cars?
There is no additional cost to ride bumper cars on a Royal Caribbean ship; it's included in the cost of the cruise.
Which Royal Caribbean ships have bumper cars?
Bumper cars are a signature feature of Quantum and Quantum Ultra class ships. 
You can try them yourself on the following ships:
CruiseSpotlight is an Amazon Associate. We may earn a commission when you click links to retailers and purchase goods.