Royal Caribbean Doubles Down on Grab-and-Go Food Concepts on Icon of the Seas
Royal Caribbean released the new restaurants and food concepts that will be coming to its new ship, the Icon of the Seas, when it debuts in 2024. We already knew what tried-and-true venues were going to make an appearance on the ship, but now we get a better idea of the new options. Most of the new venues are grab-and-go restaurants helping in a space where they have been lagging compared to the competition. 
Lots of Grab-and-Go options on Icon of the Seas
Icon of the Seas doubles down on grab-and-go restaurnts. It makes sense because the ship will offer some amazing views, so these convenient food windows let people take their food to enjoy wherever they want. 
Royal Caribbean's take on a food hall
Royal Caribean is taking on one of the newer trends in cruises, a food hall. Virgin Voyages has one, and so does Norwegian; now Royal Caribbean will throw their hat in the ring.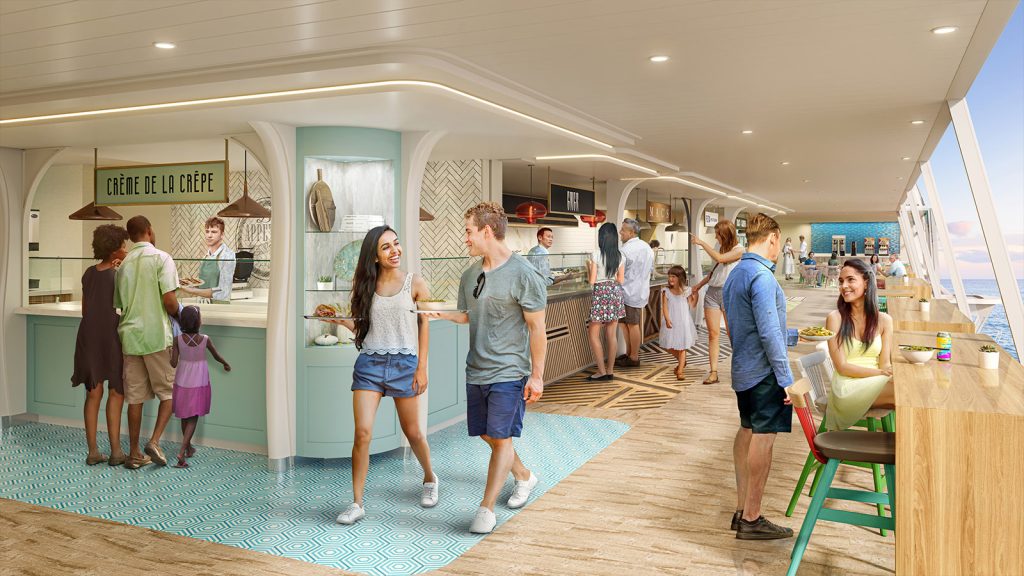 Located in the AquaDome, the Aquadome Market will feature five distinct food stalls guests can choose from. It's a much smaller amount than seen in other food halls (which have closer to ten options). The venue will have seating that takes advantage of the amazing panoramic views the glass dome offers. 
The four stalls are:
Feta Mediterranean – gyros, pitas, and Greek-inspired foods
Mac's – custom mac and cheese bowls
Toast and Garden – custom sandwiches and salads
GNGR – Asian cuisine
Creme de la Crepe – sweet and savory crepes
The AquaDome market is complimentary and will be open for breakfast, lunch, and dinner. 
Izumi in the Park
Royal Caribbean is putting a new concept called Izumi in the Park right next to the traditional Izumi restaurant, which is now located in Central Park. Guests can get boxed snacks to take wherever they want throughout the ship. 
This restaurant will have a la carte pricing and offer sushi, sashimi, and seaweed salads. Guests needing something sweet can stop by for a Taiyaki vanilla ice cream in a bubble cone. 
It'll be open from 11:30 am to 10:30 pm, so it's great for a quick snack.  
Surfside Bites
This new eatery is located in the Surfside neighborhood, right by all the kids' attractions. It makes it easy to grab a quick bite without wrestling your child into a chair for a sit-down experience. Here you'll find staples like popcorn chicken, hotdogs, and hamburgers. For a sugar pick-me-up, you can get some cookies or cinnamon sugar donut holes.   
This venue is complimentary and will be open from 11 am to 5 pm. 
Pearl Cafe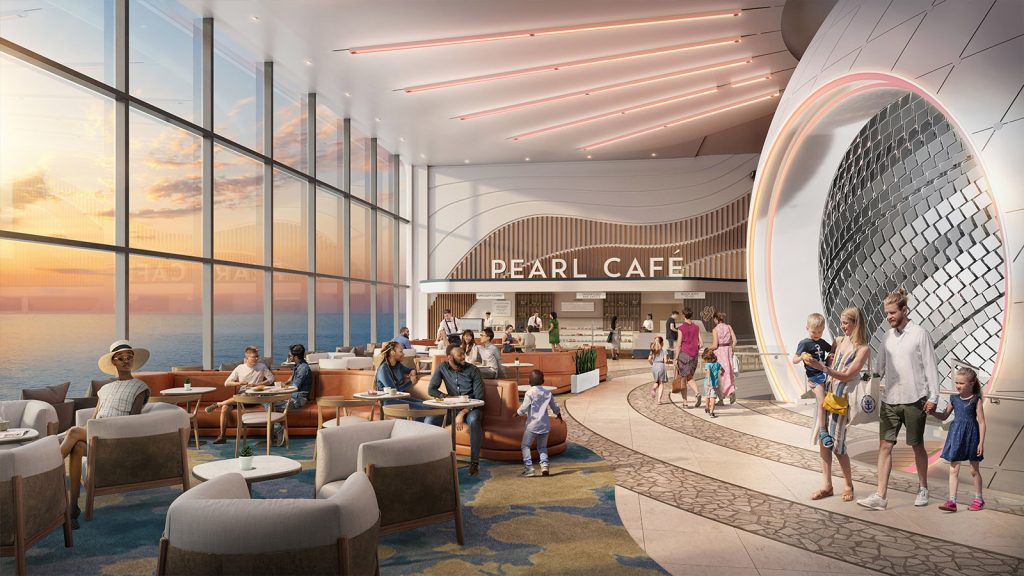 The Pearl Cafe replaces the popular Cafe Promenade found on many other Royal Caribbean ships. A big difference is the look of this space. It's located next to "The Pearl" and offers beautiful ocean views with floor-to-ceiling windows. 
The Pearl Cafe will offer ready-made salads, sandwiches, sweets, and more. It's complimentary and will be open 24/7.  
Basecamp
Located at the heart of the new Thrill Island neighborhood, Basecamp offers a place to get a quick pick-me-up after trying the climbing wall or a round of mini-golf.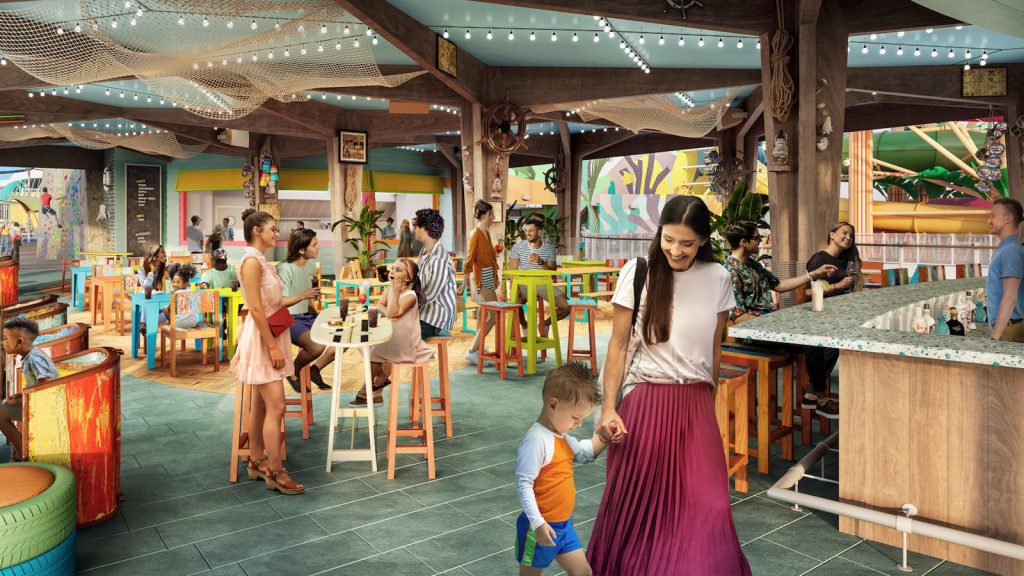 Basecamp offers a mixture of complimentary and additional fee options. While we haven't seen the full menu yet, Royal Caribbean gave the example of complimentary pretzel nuggets with cheese dipping sauce and the extra-fee crispy shrimp bao buns. 
Basecamp will be open from 11:00 am to 10:00 pm.
Two new casual options to try in Surfside
It's not all grab-and-go style food on Icon of the Seas. Royal Caribbean also announced a couple of new casual eateries found in Surfside.  
Surfside Eatery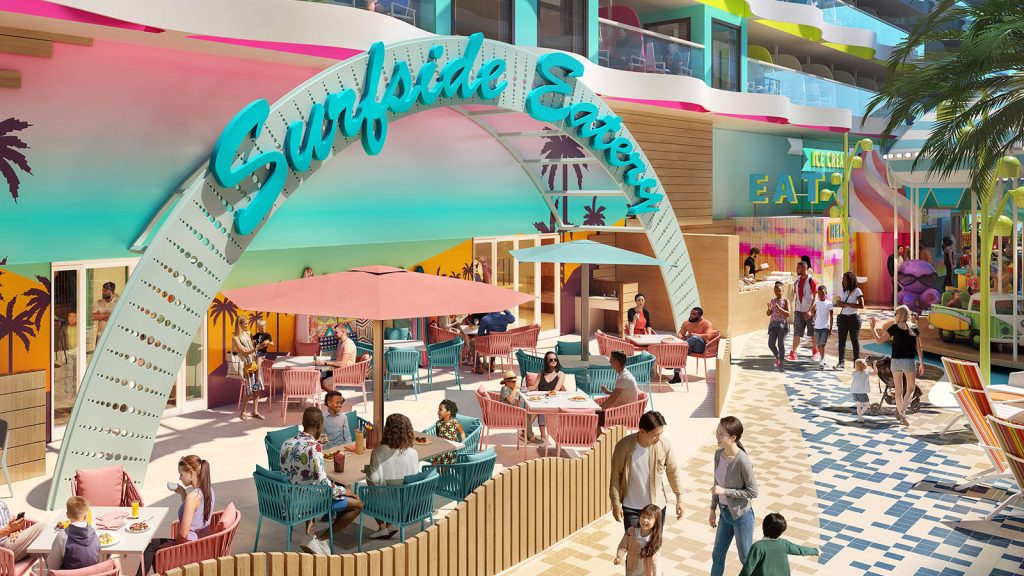 Surfside Eatery seems to be a kid-focused version of the Windjammer. It's located in the Surfside Neighborhood, so it's close to the kid's clubs, the Playscape, and Splashaway Bay. It will make it easy to get kids meals without wandering all over the ship. 
Pier 7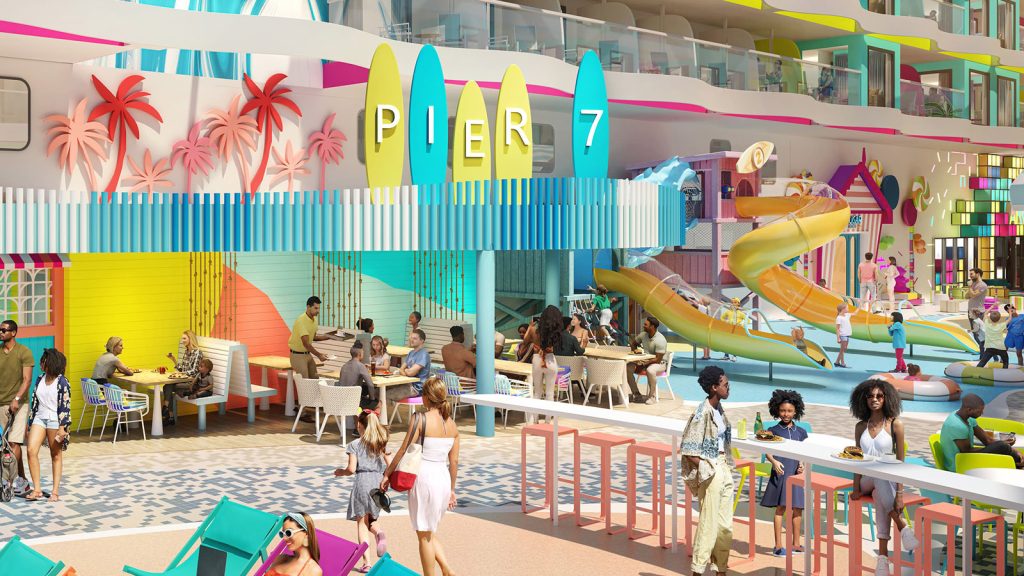 Pier 7 is a specialty, extra-fee restaurant also located in the Surfside neighborhood. It'll feature "California cuisine." You'll find dishes like mango lime shrimp tostadas and surf and turf tacos. 
You can also stop by for an all-day brunch with dishes like smoked salmon benedicts or pancakes.   
Two new high-end options as well
Royal Caribbean is also introducing two new high-end options to round out the offerings on Icon of the Seas.
Empire Supper Club
Empire Supper Club essentially takes the place of 150 Central Park on the Oasis-class ships. It takes you back to the '30s and '40s with an evening of extravagance and elegance.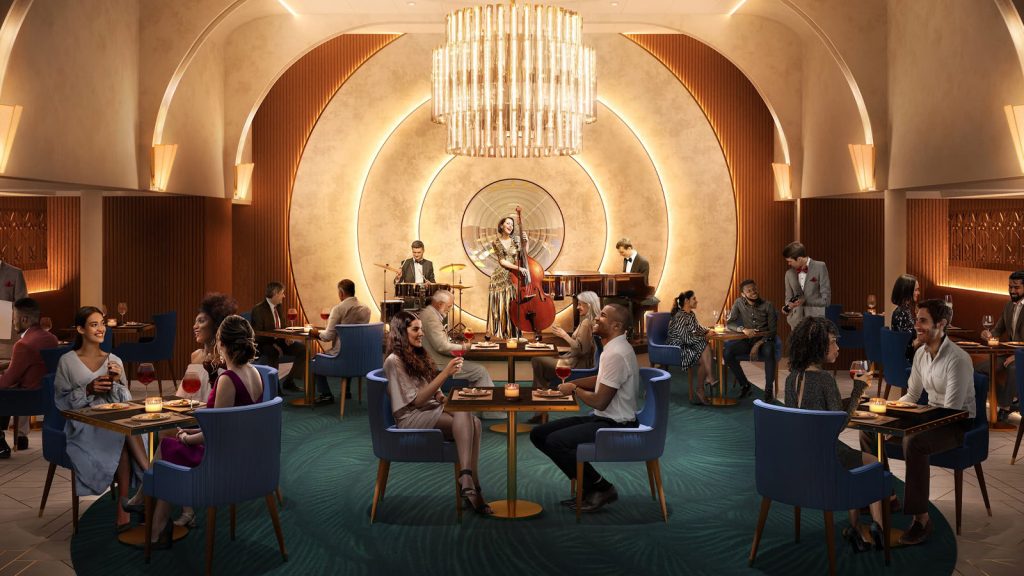 Located in the Central Park neighborhood, Empire Supper Club brings a feel of old "New York" with live performances and high-end food offerings. 
Guests can experience an eight-course menu of premium American cuisine paired with exquisite beverages. This extra-fee specialty restaurant will have two seatings; 6:00 pm and 8:30 pm.   
Celebration Table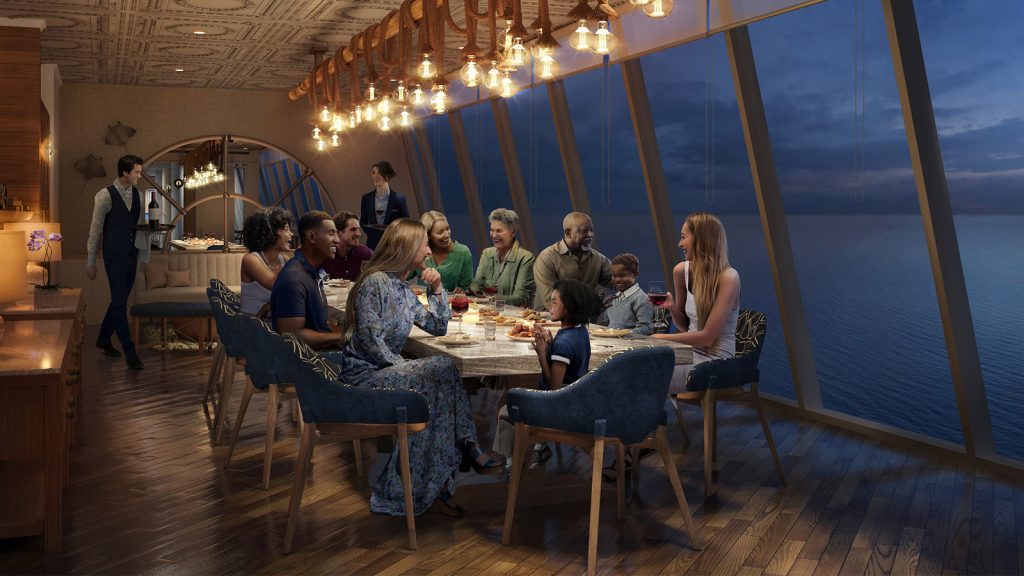 The Celebration Table is located off Hooked Seafood in the AquaDome and is basically a private dining room. Guests can book this space to celebrate special occasions and will get access to a private lounge beforehand. 
The Celebration Table will only hold twelve guests, and when booking, you can choose from a set of four family-style menus: American, Italian, Asian, and seafood. 
Lots of options for food on Icon of the Seas
With the new announcements, there are now more than twenty different places to get food on Icon of the Seas. These new additions really round out the offerings and help Royal Caribbean improve in the casual food category, where other cruise lines have been making huge strides. 
It's amazing just how many food options are available in all the different neighborhoods. We'll keep you updated once we see the official menus and the pricing for these new restaurants. 
Stay up-to-date on all things Icon of the Seas by subscribing to our monthly newsletter
CruiseSpotlight is an Amazon Associate. We may earn a commission when you click links to retailers and purchase goods.