Royal Caribbean Drink Menus for 2023
Last Updated on September 6, 2023
Royal Caribbean has some of the largest cruise ships in the world that can have 15 – 20 different places to get drinks while on board. Their offerings range from classics like a mojito to daiquiri to new takes on traditional cocktails, like a New Fashioned at the Schooner Bar.
Unlike other cruise lines, Royal Caribbean does provide their bar menus ahead of time, but only if you have a cruise booked. Once you add your reservation to your Royal Caribbean account, you can use the Royal Caribbean app to see all the bars available on your ship and their respective menus. However, for those who haven't booked yet, or if you want an overview of everything in one place, we've gathered some of their menus.
Below you'll find the drink menus for many of Royal Caribbean's bars. For drinks offered at multiple venues, the prices are consistent (i.e., a Coors Light and the Lime and Coconut will cost the same as a Coors Light at Playmakers Sports Bar). When looking at prices, remember that Royal Caribbean automatically adds an 18% gratuity (tip) for any drink purchase.
In 2022, Royal Caribbean raised the drink prices twice, the last time being a 10% increase on cocktails and liquors in October. Thankfully, the 2023 pricing remains consistent, at least for now.
Royal Caribbean also offers an unlimited drink package called the "Deluxe Beverage Package." If you want to see if it's worth it to get the drink package, try our Drink Package Calculator.
Royal Caribbean Drink Menus
Royal Caribbean Fleetwide Drink Menu
For the most part, Royal Caribbean has a pretty similar menu at each bar. They might have a few signature cocktails at a few of their bars, but the drinks below are mostly available through the ship. Individual liquor selection will vary per ship and bar.
Boleros Bar Menu
Boleros is a lively bar usually featuring live Latin-music in the evenings.
Casino Royale Bar Menu
The Lime And Coconut Bar Menu
These menus have not been updated with the Oct 2022 price increase, add $1 for cocktails and mixed drinks.
Mason Jar Drink Menu
The Mason Jar is a new restaurant that's available only on the Wonder of the Seas. They specialize in Southern food and cocktails. (These menus have not been updated with the Oct 2022 price increase, add $1 for cocktails and mixed drinks)
Playmakers Drink Menu
This menu was spotted on the Oasis of the Seas Sept 2023.
Schooner Bar
The Schooner Bar is a staple on nearly every Royal Caribbean ship. This nautically-themed bar is has a piano player throughout the day. The menu of the Schooner has been transitioning since the summer. Depending on the ship, you might see the old or the new menus.
Schooner Bar New Menu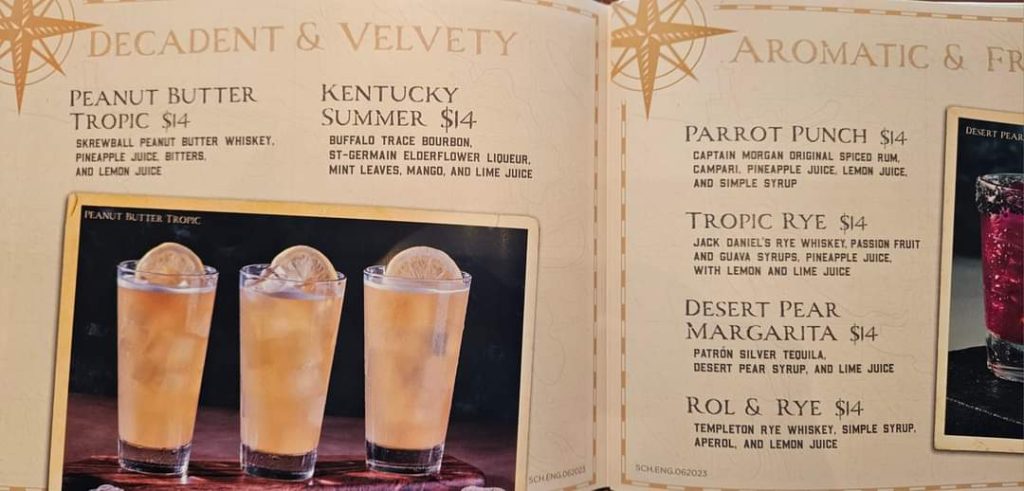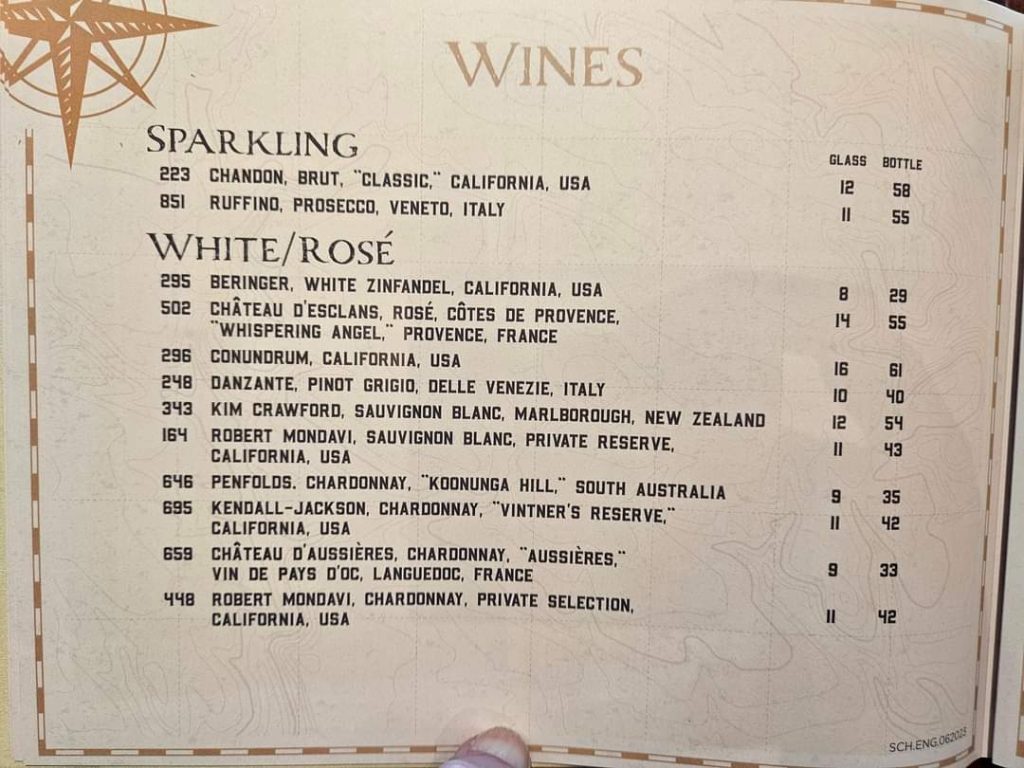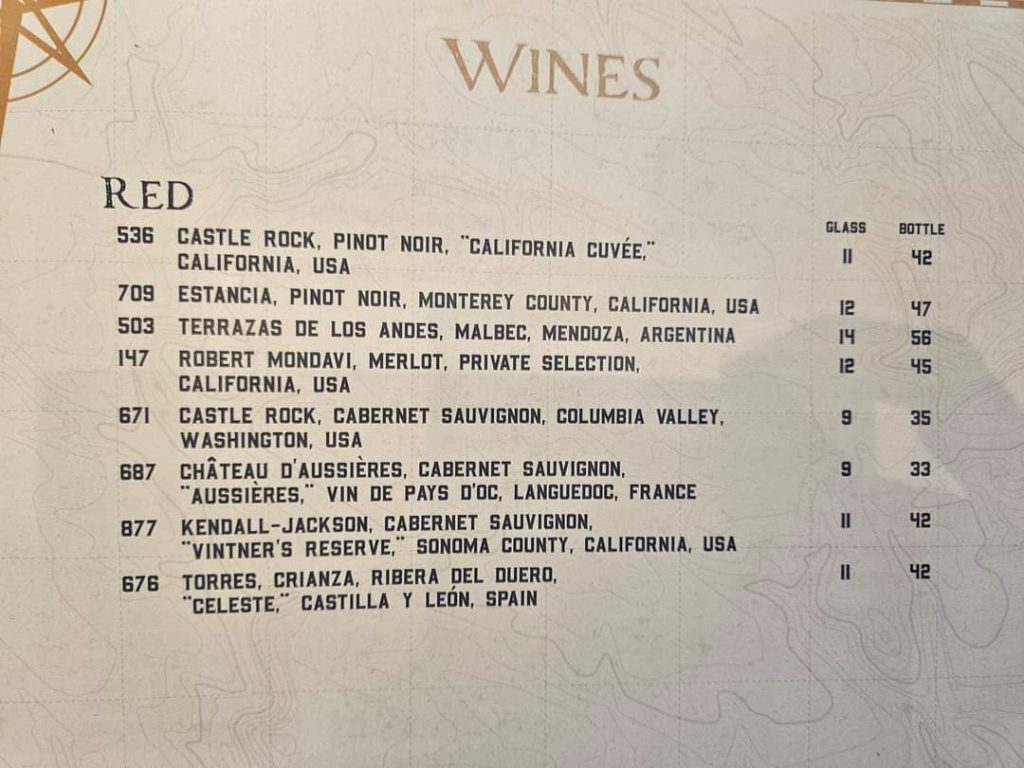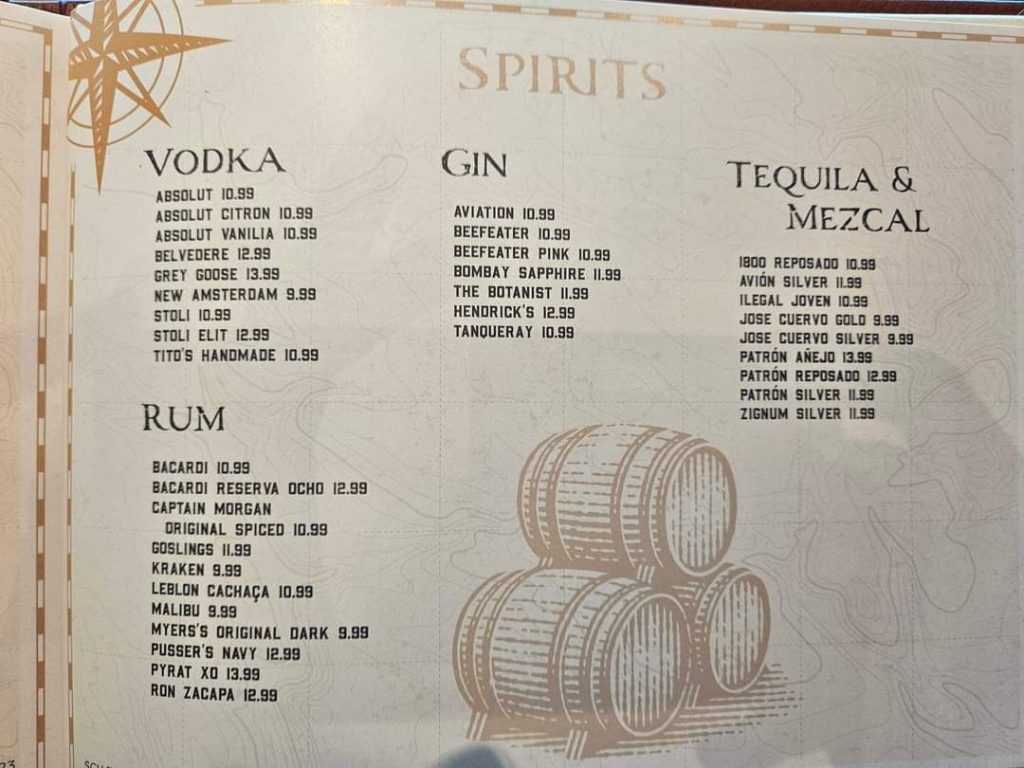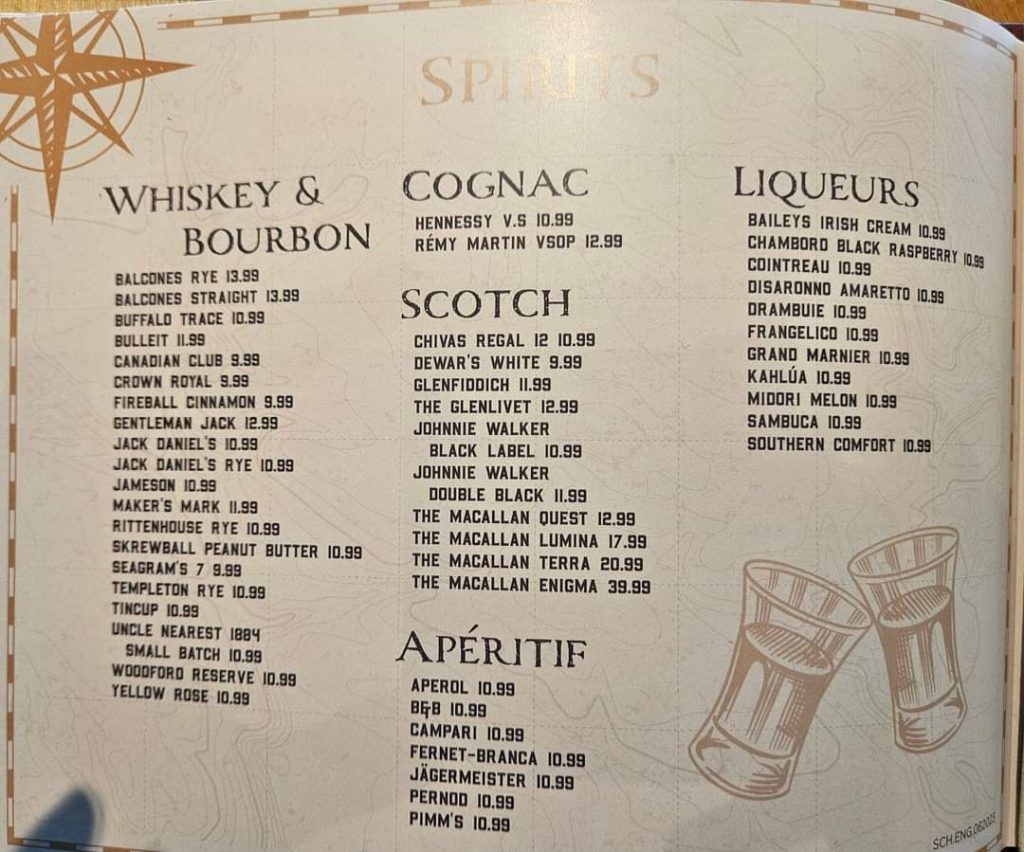 Schooner Bar Old Menu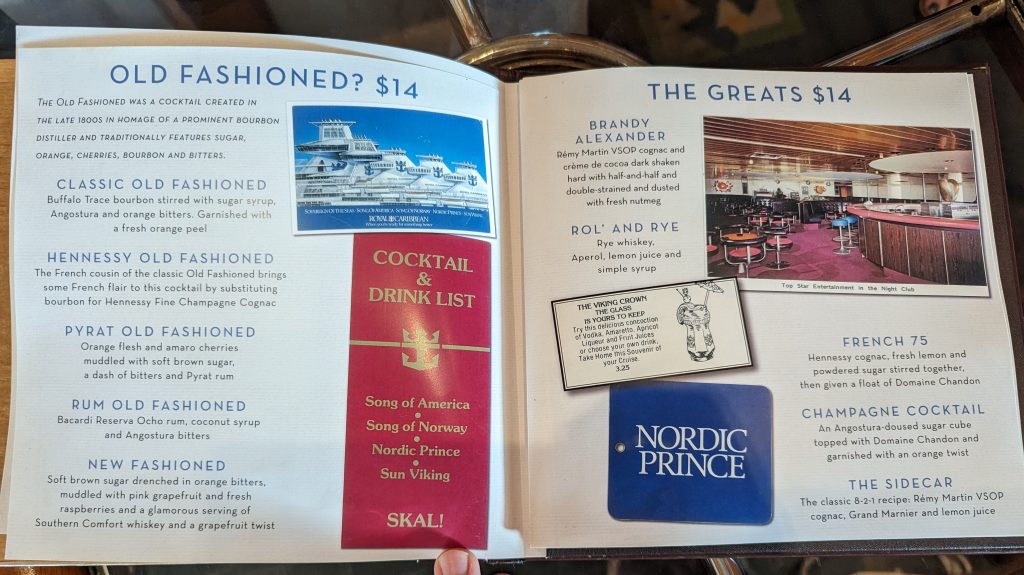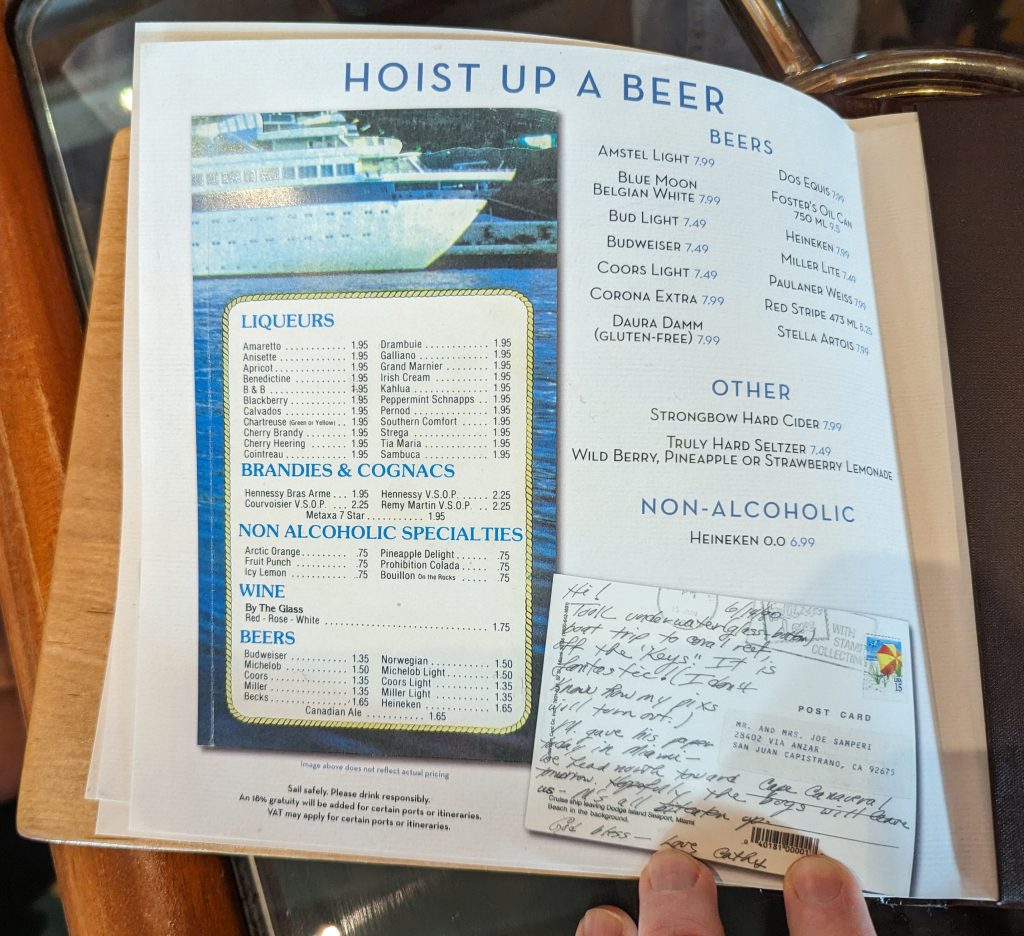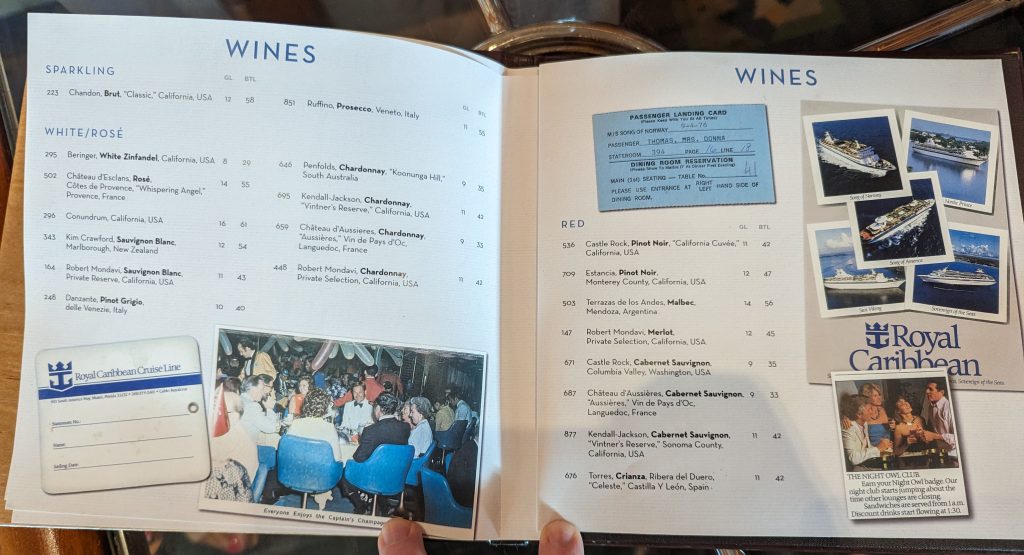 Trellis Bar
The Trellis Bar is located in the Central Park neighborhood on Oasis-class ships.
Vitality Spa Drink Menu
Wonderland Drink Menu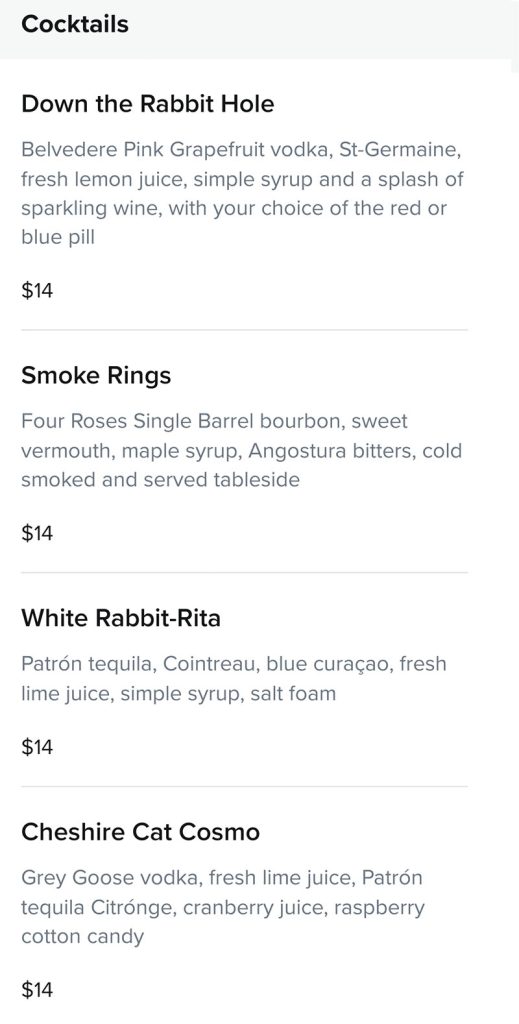 CruiseSpotlight is an Amazon Associate. We may earn a commission when you click links to retailers and purchase goods.