Skydiving on a Cruise Ship? RipCord by iFLY
Imagine the sensation of floating on a cloud of air while sailing through the Caribbean or Mediterranean. You can experience it for yourself on some Royal Caribbean ships. It's through a partnership with iFLY, a company specializing in indoor skydiving. 
Over the years, iFLY has perfected indoor skydiving, going through nine generations of wind tunnels to provide the sensation of skydiving without needing to get on a plane or have a parachute. Gusts of air up to 150 mph levitate you off the ground, allowing you to float in mid-air. iFLY has 41 locations across the United States and 80 worldwide.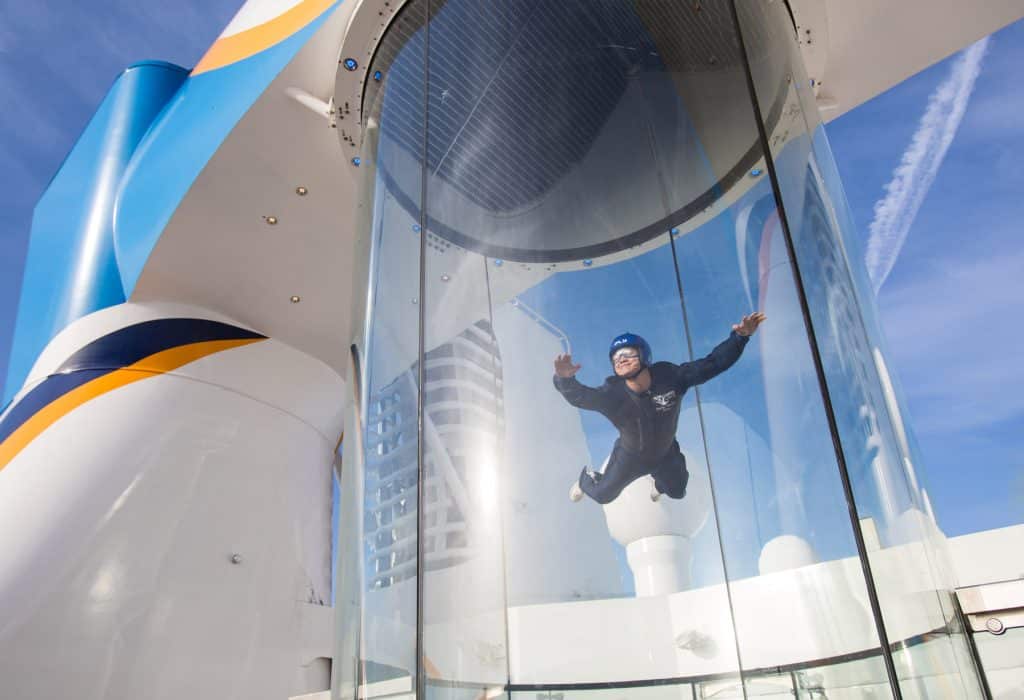 In 2014, Royal Caribbean worked with the company to debut a brand new experience they called RipCord by iFLY on their new ship, the Quantum of the Seas. It was just another of many innovative firsts introduced on this ship, like bumper cars, robotic bartenders, and the North Star viewing platform. Now you can try it on your next cruise. 
The RipCord by iFLY experience
You start your indoor skydiving experience by checking in at the activity desk on Deck 15. You show the staff your Seapass card and sign an electronic waiver. Groups are typically around ten people.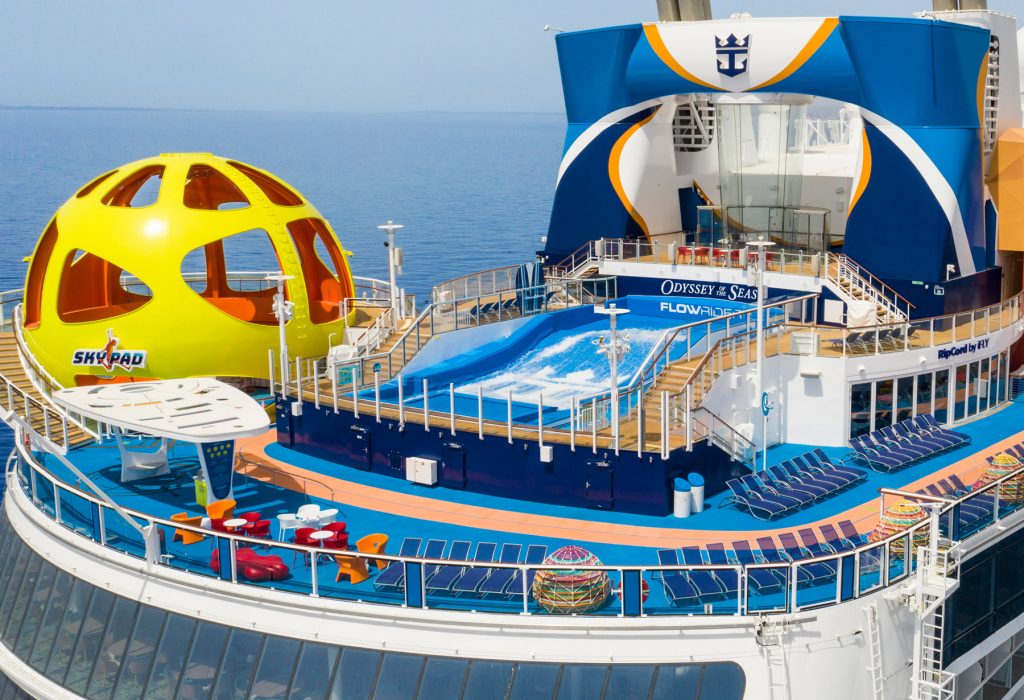 You go into a small room and watch a 5-minute video that instructs you about the experience. The video teaches you some hand motions the instructor will use to guide you through the flight since you won't be able to hear the instructor while in the tunnel. 
After that, you suit up. You are provided with a blue flight suit, helmet, earplugs, and goggles. All loose articles, such as rings, earrings, and necklaces, must be removed to enter the tunnel. A storage area is available to hold your stuff, although they're not locked.  
Once all suited up, you head up to the wind tunnel through a spiral staircase. One by one, you go into the tunnel with the instructor. Don't expect to be bouncing up and down on the air like you see in videos. Those people have had hours of training to do it. More likely, you'll be floating about 4 feet off of the floor with an instructor holding you most of the time. It takes some coordination and skill to "feel" the air and learn how to ride it. 
How much does iFLY cost on a cruise ship?
Like many Royal Caribbean experiences, the cost can depend on the ship and sailing. Most sailings will offer both complimentary and additional-fee versions. 
Guests are limited to one complimentary session per cruise, allowing you to fly for one minute. The additional-fee version is typical $29 per person and allows for (2) one-minute flights. The price is practically a steal compared to the on-land counterparts, which cost $64 to $160 per person per session. 
How to sign up for RipCord by iFly?
The easiest and quickest way to book a session is to use the Royal Caribbean app once you're onboard the ship. You can also go to the iFLY desk, but the line gets long, and other people are booking the good times while you're waiting.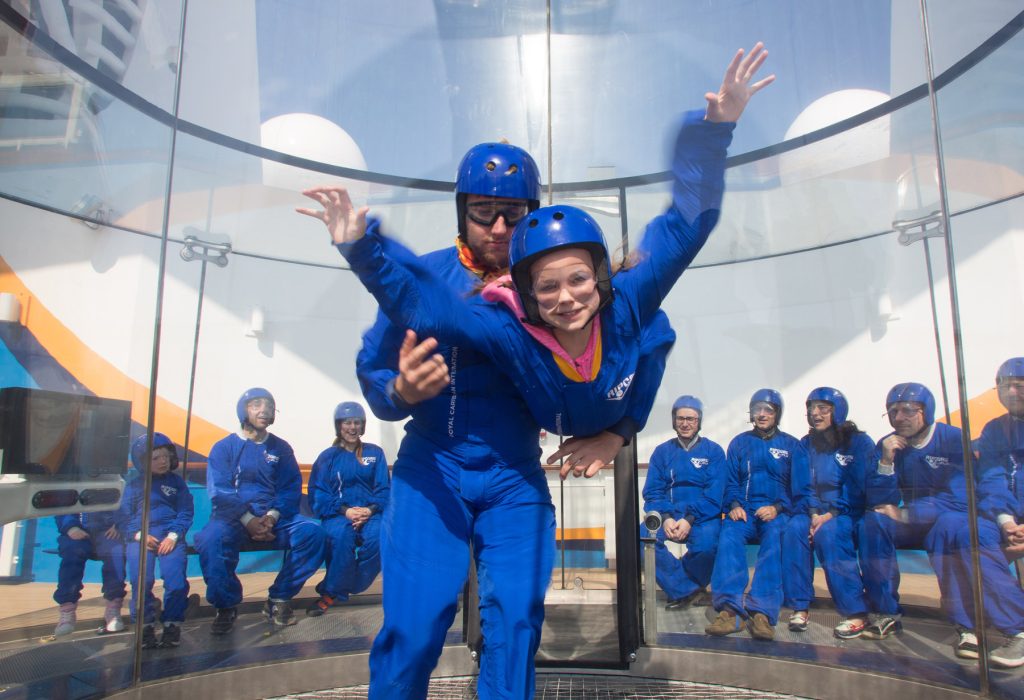 Who can try RipCord by iFLY on a Royal Caribbean ship?
There are a few restrictions on who can participate. Guests must be at least 3 years old. Guests under 6 feet must weigh less than 230 pounds. Guest over 6 feet must weigh 250 pounds or less.
Pictures of your iFLY experience
Usually, a photographer is on hand to take pictures during your flight. As you leave, they will offer you a package. It was recently reported the cost was $45 for three photos in a commemorative folio. They let you mix and match, so if you have three people, you can get one picture of each of you and split the $45. 
Unfortunately, the photos aren't connected to the ship's photo system, so if you don't buy the pictures at that time, you won't have access to them.
If you have friends or family members who won't be flying, they can take pictures from the viewing platform. While they're from a bit further away, they can still get some great shots.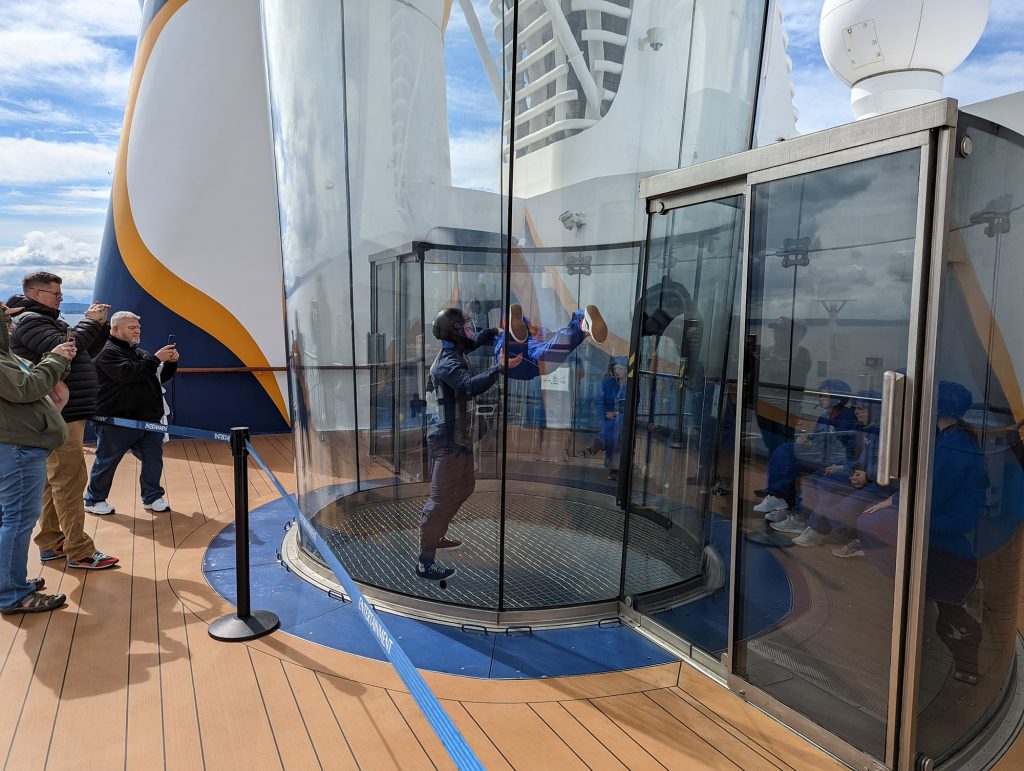 Which ships have iFly?
All of Royal Caribbean's Quantum and Quantum Ultra class ships have the iFLY experience. 
The following ships offer RipCord by iFLY:
CruiseSpotlight is an Amazon Associate. We may earn a commission when you click links to retailers and purchase goods.