Taking a Brewery Tour on a Carnival Ship
Last Updated on August 6, 2022
Microbrewing and craft beer have seen an explosion of interest over the last few years. Interest has bubbled over from just a niche audience to a much more mainstream appeal. Carnival noticed that its guests weren't happy with just standard beer offerings and in 2016, introduced the first brewery at sea aboard the Carnival Vista in the RedFrog Pub & Brewery. It was the first time custom brews were made at sea, and in the following years, breweries were added to the Carnival Horizon and Carnival Panorama as part of Guy's Pig and Anchor Smokehouse.
Carnival offers you the complete craft beer experience by providing brewery tours during the cruise. It's almost a "hidden" tour; you barely see it mentioned except for one line, "ParchedPig Brewery Tour" in the FunTimes, but if you're a beer enthusiast, it's totally worth it. 
What is the brewery tour?
The Parched Pig Brewery Tour is a 2-hour session where the ship's brewmaster will walk you through the process of making beer, explain how the program started, give you a tour of the facility, and let you taste 5 beers. At the end of the session, you receive a parched pig souvenir glass and a voucher for a free beer later that week. 
How much does the Carnival brewery tour cost?
The tour is only $30 per person, and, in my opinion, it's totally worth it. It's a steal considering that you get to sample all 4 draft beers, plus the seasonal brew. If you want to try all the beers, this is the way to go. The 16 oz pours are typically $6.75 each, so this is cheaper, AND you get an extra beer later on and souvenir glass.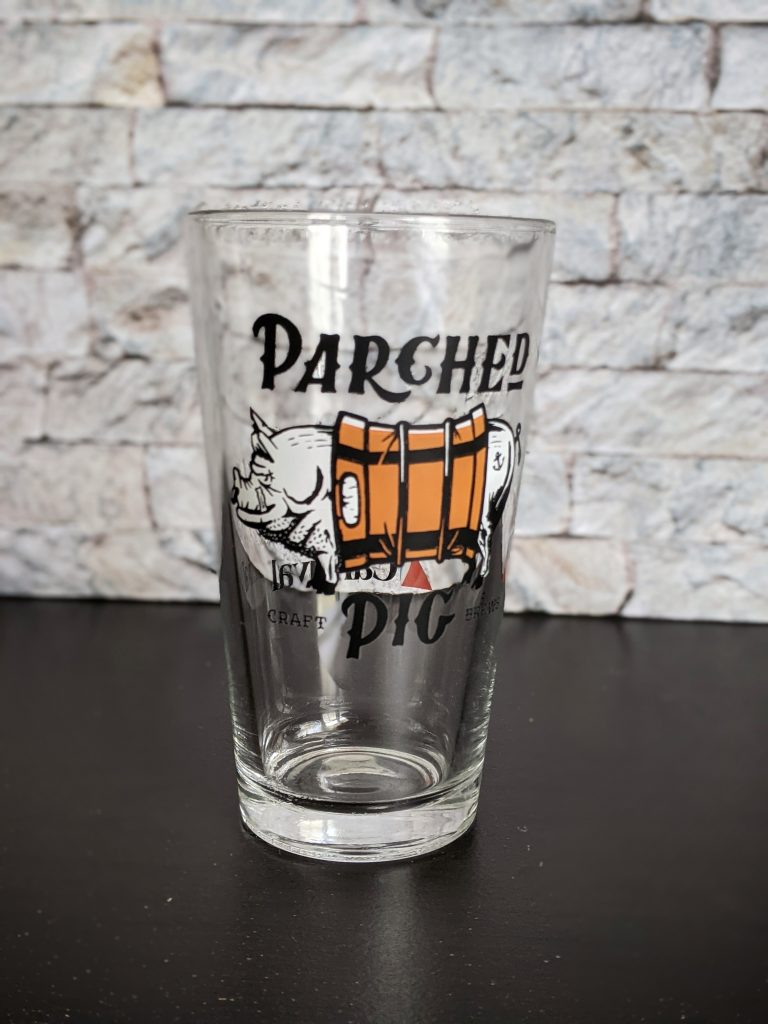 How to go on the Carnival brewery tour
Usually, if you're looking to do an activity on the ship, you book it online or through the Carnival Hub app in advance. The brewery tour is different; you have to wait until you're on board and sign-up manually. To sign up, you just talk to the bartender at the Guy's Pig and Anchor Smokehouse and sign your name and room number on a sheet.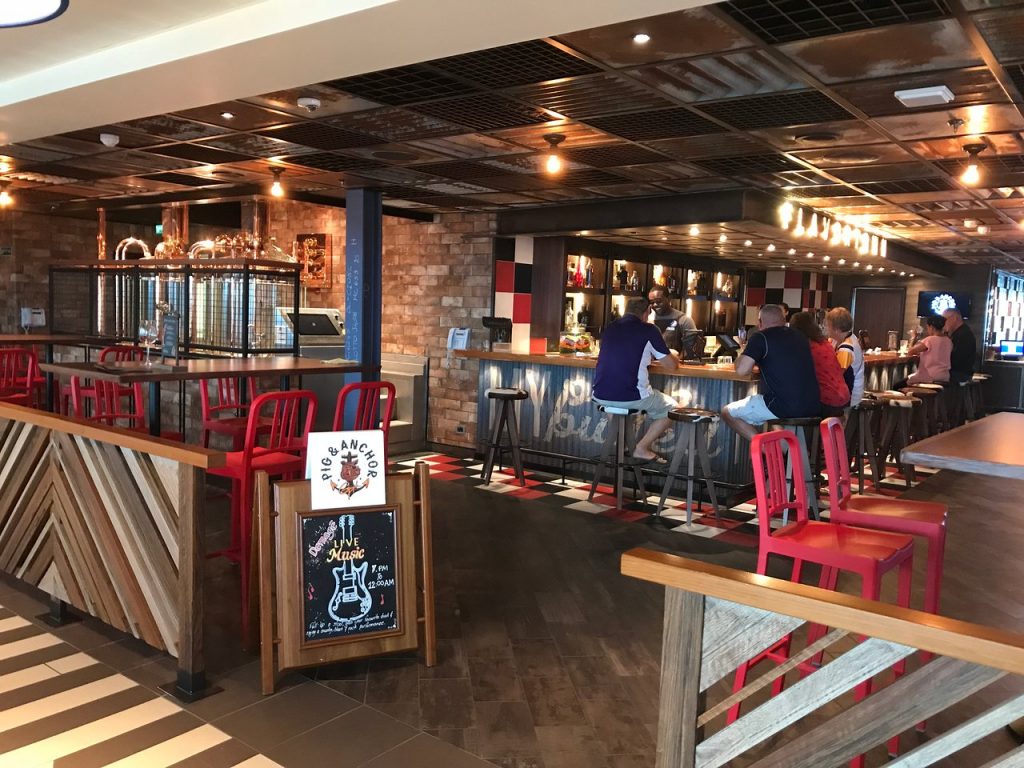 The brewery tour was high on our list of activities and one of the reasons we were excited about the Carnival Horizon, so we high-tailed it to Guy's Pig and Anchor Smokehouse on Deck 5 as soon as we boarded the ship. The bartenders were all busy, so we walked through the restaurant and went outside for the free BBQ lunch on the Lanai. Once we filled up on some delicious BBQ (see the menu here), we went inside and talked to the bartender about the tour. At that point, they didn't have the sign-up sheet yet, so we went back after dinner that evening.
When we went back, they had a sign-up sheet ready, and the tour was on the next day at 2:30 pm. They said if there's enough demand, they add additional times on the other sea days, so you shouldn't have a problem booking a tour. 
The brewery tour experience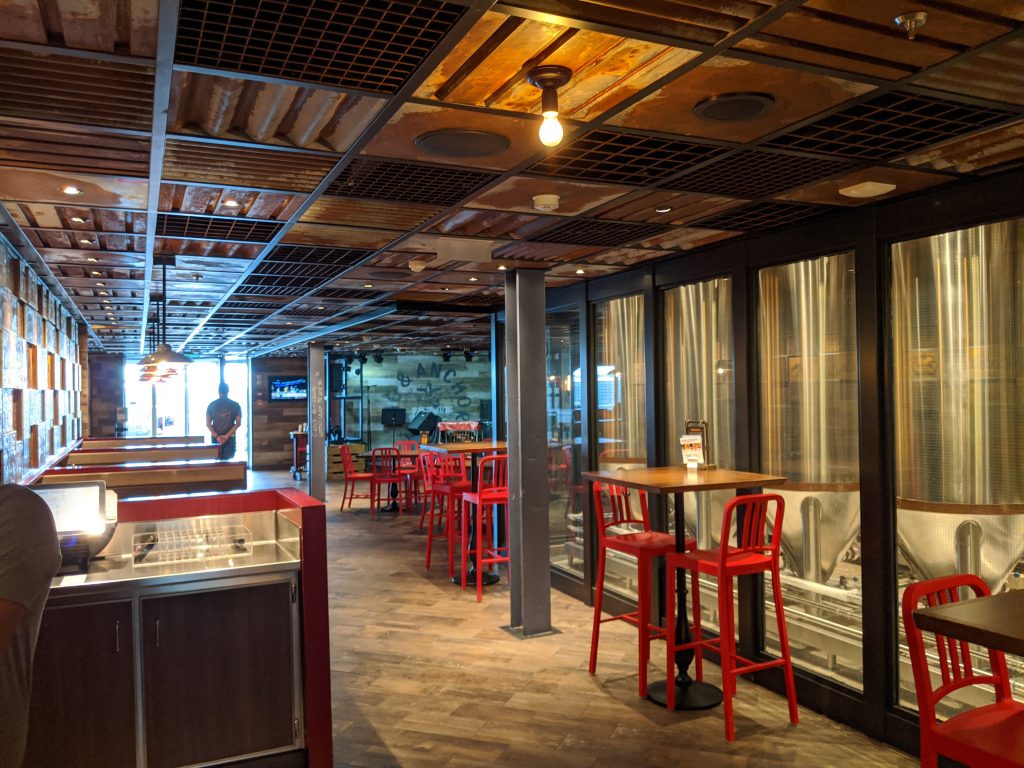 We started by going to Guy's Pig and Anchor Smokehouse a little before 2:30 pm. Unlike excursions, you don't get any tickets to your cabin, so you have to remember when it is. There wasn't much direction, but we saw a few people in the back of the restaurant, so we walked there. About 7 tables of 4 were arranged with a reserved sign and flight glasses, so we knew we were in the right place. 
The brewmaster showed up a little after 2:30 and kicked off the tour. He used to be employed by Brew Hub, the company in Lakeland, Florida, that first developed the beers with Carnival. He took over the position as brewmaster on the Horizon when the original brewmaster moved to the new Carnival Panorama to set it up. The brewmaster was not "corporate" at all; he was a laid-back guy who just focused on making some great beers for the guests. 
The brewmaster kicked off the tour by having us sit down at the tables. A majority of the 2-hours is actually spent sitting at the tables and sampling the beer; the production facilities themselves are relatively small, so they don't take long to go through. As he talked through his points, he poured some pitchers of beer and passed them around. Every two tables, or about 8 people, split a pitcher, so there was A LOT of beer to go around. 
The brewmaster started by explaining how beer is made. If you've been on a brewery tour before, it's something you're probably well aware of, but he tells it in an interesting way. Then he explained how beer is made on the Horizon specifically, from scheduling to brewing. 
After we tasted all the beers, we looked at the facilities. First, we saw the beautiful copper kettle out front, where they boil the mash. Then, we went into the cooler to see the beers in the fermenting vessels. It's a relatively small room and barely fit the whole group. We finished the tour by getting our free glasses and certificate for a free beer. 
Key takeaways from the brewery tour
The brewery onboard concept started when Carnival tried to overhaul their whole drink program to get away generic drinks. If you notice, on Carnival, each bar now a separate menu with unique beverages and offerings. It started with the higher popular Alchemy Bar and has continued since then.
Brewing on board is not that different from brewing on land. The biggest difference is all the certifications and paperwork he needs when disposing of the waste. 
This Brewery only uses malt, hops, water, and yeast. They don't add other flavorings like fruit or additives. 
The Brewery only makes a portion of the beer on the ship. For other venues, the cans or draft are bottled by the Brew Hub brewery in Florida. 
Each ship has a dedicated brewmaster who keeps up production during the cruise and makes their own seasonal offering. 
How were the Parched Pig beers?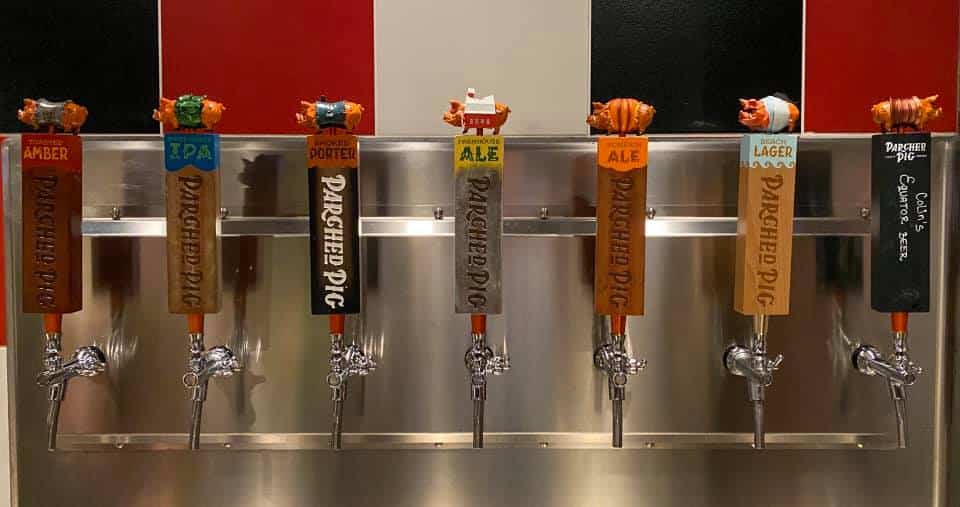 The general consensus was that Carniva's Parched Pig beers were pretty good. They are definitely more complex than the canned domestic beers on board but not as innovative or unique as some other craft breweries. They did produce a solid beer, though that ranks relatively high on Untapped, an app for beer lovers.  
Parched Pig Toasted Amber Ale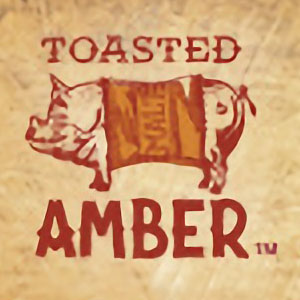 Untapped Rating: 3.52
Description: "Balanced and smooth, this versatile beer has a rich, toasty malt character with biscuit and caramel notes."
My take: It's a beautiful amber color and was very smooth. The light caramel notes were definitely there. 
Parched Pig Farmhouse Ale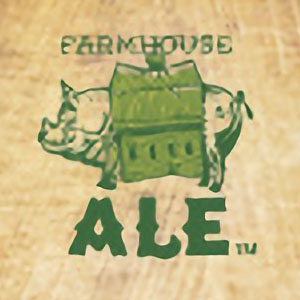 Untapped Rating: 3.55
Description: "Refreshing and fruity with mild spice character. This complex beer with a dry finish is perfect for a hot summer day."
My take: Probably one of the best beers of the bunch for drinking on deck in the Caribbean. It's light and dry, with a bit of fruitiness to it. 
Parched Pig West Coast IPA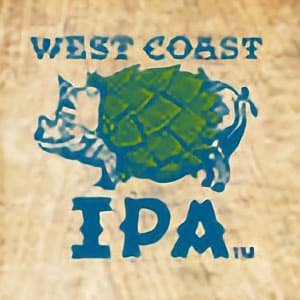 Untapped Rating: 3.61
Description: "High hop content makes this beer bitter and bright, with citrus and pine flavors and aroma notes."
My take: If you like hops or IPAs, this one is for you. It's quite bitter, and you definitely get the citrus and pine coming through without it tasting like a bottle of Pine-Sol. 
Parched Pig Smoked Porter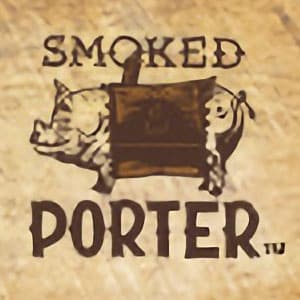 Untapped Rating: 3.71 
Description: "A full-flavor robust beer. Brewer with roasted grain and malts smoked in our wood smokers on board."
My take: I'm not a porter fan at all, but this beer was my favorite. I was shocked how much I enjoyed it; in fact, I used my free coupon to get a full pour of it later on in the cruise. The smokiness really added depth, and it perfectly complemented the BBQ they served in Pig and Anchor Smokehouse. 
Other Beers:
Depending on your sailing, there might be some other beers available. The Carnival Panorama has the Parched Pig Blond Lager, which has a 3.69 rating on Untapped. We've also tried the seasonal Christmas Dunkleweizen, a favorable, spicy blend that was probably great for the holidays (our cruise was in March, and they were just finishing off the last batch). They've also done a Pumpkin Ale for fall that people rave about. 
What Carnival ships have the brewery tour?
What beers do the other Carnival ships have?
If you're not on a Carnival ship that has a brewery, don't worry, you can still try quite a few of the custom Carnival beers. The Parched Pig West Coast IPA, Parched Pig Toasted Amber Ale, and Thirsty Frog Caribbean Wheat are available in cans and draft across the whole fleet. They also have a special Carnival Birthday Beer to celebrate their 50th anniversary and a new Beach Lager.
These beers are brewed by Brew Hub in Lakeland, FL, and then loaded on board. Want to stock up? You can pre-order these for your cabin at $24 for a 4-pack (see listing here).
What's the difference between Parched Pig and ThirstyFrog?
Parched Pig is the name of the beers developed for Guy's Pig & Anchor Smokehouse and are the ones brewed on the Horizon, Panorama, and Mardi Gras. The ThirstyFrog brand was the first beers developed to be brewed onboard the Carnival Vista. They have 4 standard beers available. 
ThirstyFrog Red: Light, clean, frothy, and a little bold, this craft beer offers balanced character and whispers of toasted malt.
ThirstyFrog Caribbean Wheat: With hints of spice and orange, this brew is as sunny as the weather on a tropical cruise. With its crisp, refreshing flavor, you'll want more than one on a hot day. 
ThirstyFrog Java Stout: Calling all coffee lovers: this stout beer features flavors of roasted java and dark chocolate for a bold, rich finish.
ThirstyFrog Port Hoppin' IPA: Between ports, nothing quenches the thirst of craft beer lovers like this extra-hoppy IPA. Hints of tropical fruit offer a delicious fragrance and flavor.
CruiseSpotlight is an Amazon Associate. We may earn a commission when you click links to retailers and purchase goods.