The Problems With Ports That Need Tenders
Last Updated on December 30, 2022
One of the benefits of cruising is that you get to visit lots of locations without having to pack up and move hotels. There are hundreds of potential ports out there, and it's fun to explore them. Unfortunately, not every port is ready for a huge vessel to come sailing up and drop off thousands of passengers at once. Big ships mean you need big piers and deep waters. For ports that can't accommodate these ships, you have to take a tender.
A tender (also called water taxi or water shuttle) is a smaller boat that takes passengers from the ship to the port. They're usually run by third-party companies and can hold from 50 to 200 people in each one. They run throughout the day, and there's no additional cost to use them. When you want to leave the ship, you go down a lower deck and board the tender directly from the ship. Then once you're ready to leave, you go back to the dock at the port and get in line to take a tender back.
To be fair, the process is relatively simple, and the cruise lines have done a lot to smooth out this experience over the years, but I hate it. In fact, when booking a cruise, I make sure it doesn't have a lot of ports that require tenders. If there are tender ports on my itinerary, those are the ports where I'm more likely to stay on the ship.
The Main Problems With Tender Ports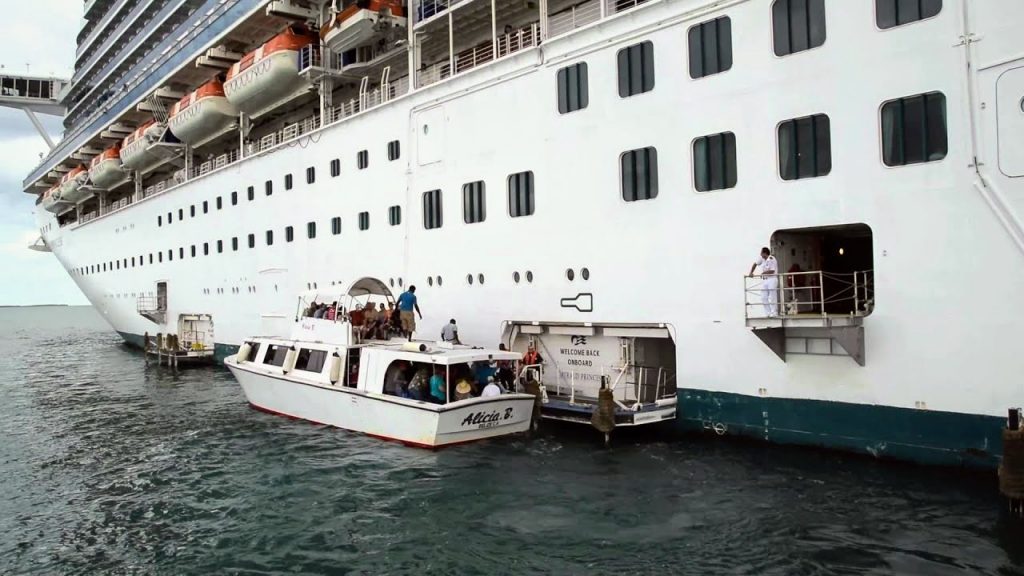 The Long Lines
Trying to get thousands and people to and from the ship in a short time using smaller boats is no easy task. Everyone is excited to either get to the port or get back on board, and the lines can quickly become crazy (once I waited in line for over an hour to get back on the Pride at Half Moon Cay). Each cruise line has its own way of giving passengers a time to tender, so pay attention to the cruise program you receive for the day. It's not usually difficult, but when you're on a relaxing vacation, waiting around to get on a boat is not your idea of fun.
The Bumpy Ride
Modern-day cruise ships have stabilizers and technologies to provide a mostly smooth sailing experience. Tenders, on the other hand, are much smaller and don't have these technologies. These boats also go at relatively fast speeds over shallower water, so you're bouncing up and down quite a bit. Because of this, people who might not get seasick on a cruise ship may have problems with a tender.
Accessibility Issues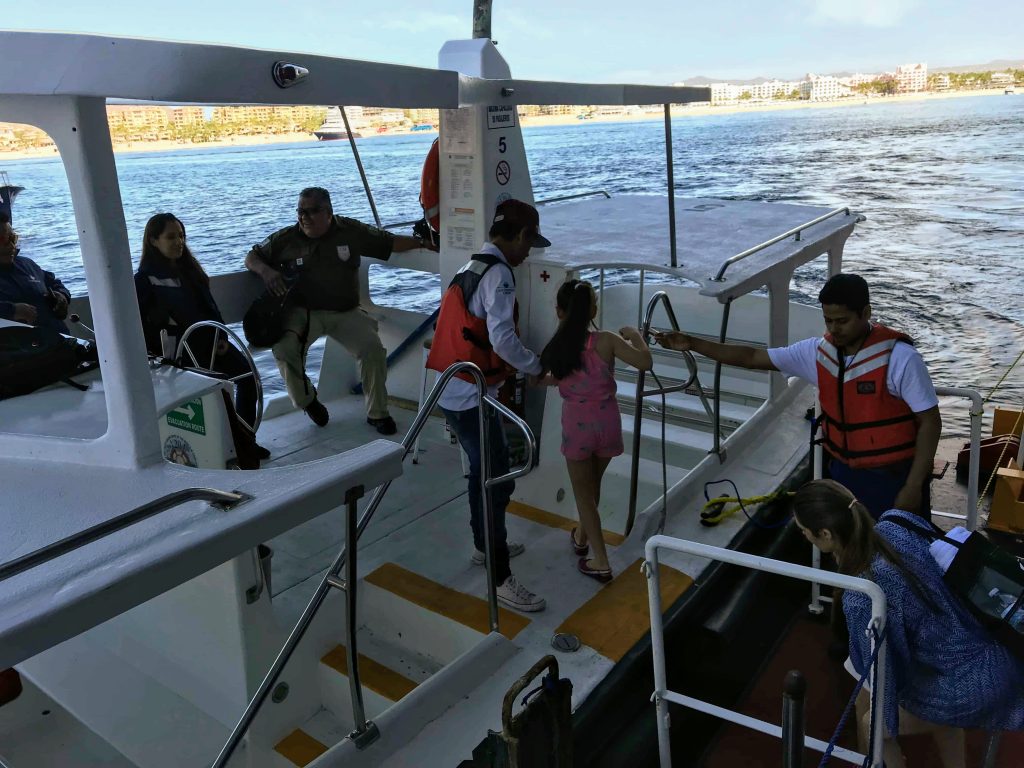 For the most part, cruises are pretty easy to get around if you have mobility issues. If you have crutches, a cane, a scooter or even just a stroller for your kids, you're usually able to navigate the ship easily. Getting on a tender is a whole different process, though. The walkway from the ship to the tender is usually secured with ropes and constantly moving around. It is nearly impossible to board if you're in a wheelchair and tricky if you're not sure-footed. Once in the tender, there are usually steep stairs or ladders involved. Typically cruise staff will work with you to safely get on board, but it is a hassle.
Noticing how much of a problem this can present, Celebrity's newest ships, the Edge and Apex, have a "magic carpet" to board the tenders. This is a moving platform that is lowered down to water level to make it easy to board the tenders. While I haven't tried it yet, I've heard that it makes boarding tenders much easier.
Wastes Your Precious Time
When tendering, you don't just waste time on lines, but depending on how far out the ship has to anchor, you also have a 10 – 20 minutes ride each way. That means allowing yourself enough time to travel if you have something to do in the port. It also means you're not going to just hop off the boat and see the port. Sometimes, it's nice to get off the ship and explore the local port and see what's around. That's much more of a hassle when you have 40 minutes of sailing time along with any lines you may experience.
Stormy Weather Can Cancel Ports
Rough weather and windy conditions can mean it's not safe for ships to allow tenders. With high winds or waves, the small boats can easily get knocked around as passengers try to board, so occasionally, a ship may have to cancel a port. While this can also happen when a ship has to dock, it's much more likely on a tender port. That being said, it's still relatively uncommon. While message boards and reviews are filled with stories of canceled ports, remember that there are plenty of cruises that have had no ports canceled that you don't hear about. Because tender ports have a higher chance of being canceled, you should just be aware that it may happen, especially during hurricane season. If the main reason you chose a specific itinerary was to visit a particular port and it's a tender, just be prepared that it may change.
Ports that require tender
You can easily check your cruise line's website to see if your cruise will be tendering at a specific port. Here is a list of ports where you're most likely to need a tender to visit them (for US-based cruises only).
Bar Harbour, Maine
Belize City, Belize
Cabo San Lucas, Mexico
Devil's Island, French Guiana
Grand Caymen, Caymen Islands
Gustavia, St Barthelemy
Half Moon Cay, Bahamas
Icy Straight Point, Alaska
Juneau, Alaska
Ketchikan, Alaska
Kona, Hawaii
Loreta, Baja CA, Mexico
Plays Del Carmen, Mexico
Princess Cays, Bahamas
Quepos, Costa Rica
Rockland, Maine
Saint John, US Virgin Islands
Saint Kitts
Samana, Dominican Republic
San Blas Islands, Panama
Sitka, Alaska
Avoid the Lines and Hassles
Do you hate lines or want to make tendering a smoother process? Using one of the methods below can get you priority tendering. If you have a lot of tender ports on your cruise, it might be worth looking to see if any of these options will be useful to you.
If you book your excursion through the cruise line, you will get an assigned tender time that makes sure you're on land by the time your excursion leaves. This will help you avoid the long wait on the ship.
Some cruise lines offer programs that give you priority boarding to tenders. Think of it like a Fast Pass at Disney, where you can basically cut the queue. One of these is Carnival's Faster to the Fun program, which is usually around $90 per cabin on a cruise, but they sell out very quickly.
Another option for priority tendering is based on your room. Certain room categories, like The Haven suites on Norwegian Cruise Line, may come with priority tendering as part of your stay.
Lastly, some of the cruise loyalty programs offer priority tendering for their top tiers.
What You Should Do About Tenders
Now that you know about tenders, what do you do with the information? The ports that require tenders can still be amazing and may be worth seeing. I don't want to scare you off, but it's better to be informed, especially for first-time cruisers. Personally, I wouldn't choose an itinerary with 2 or 3 tender ports on one trip, if possible. If you have a tender port, just be open to the fact that it may be a bit of a hassle to get to, and it may be canceled. If you go in with lower expectations, you can only be pleasantly surprised.
CruiseSpotlight is an Amazon Associate. We may earn a commission when you click links to retailers and purchase goods.