What is Half Moon Cay and Why Should You Visit?
Last Updated on April 18, 2023
If you're looking at a Bahamas cruise on a Carnival or Holland America ship, there's a good chance you'll see Half Moon Cay on the itinerary. Half Moon Cay, officially called Little San Salvador Island, is a small island in the Bahamas archipelago. Holland America purchased the island back in 1997, and now both Holland America and Carnival Ships (Holland's parent company) have exclusive access to this private island.
I've visited this island twice, most recently on my 7-day Bahamas cruise out of Baltimore (read more about my visit). 
What's Half Moon Cay like?
With 2 miles of beautiful white-sand beaches and crystal clear, calm waters, Half Moon Cay is the ultimate beach day. The island is very natural and lush with lots of local plant-life. In fact, 95% of the island is undeveloped, making this island feel quaint and like a secret oasis. It's a stark comparison to Royal Caribbean's CocoCay, which has been heavily developed and has much more of a theme park feel (read about CocoCay).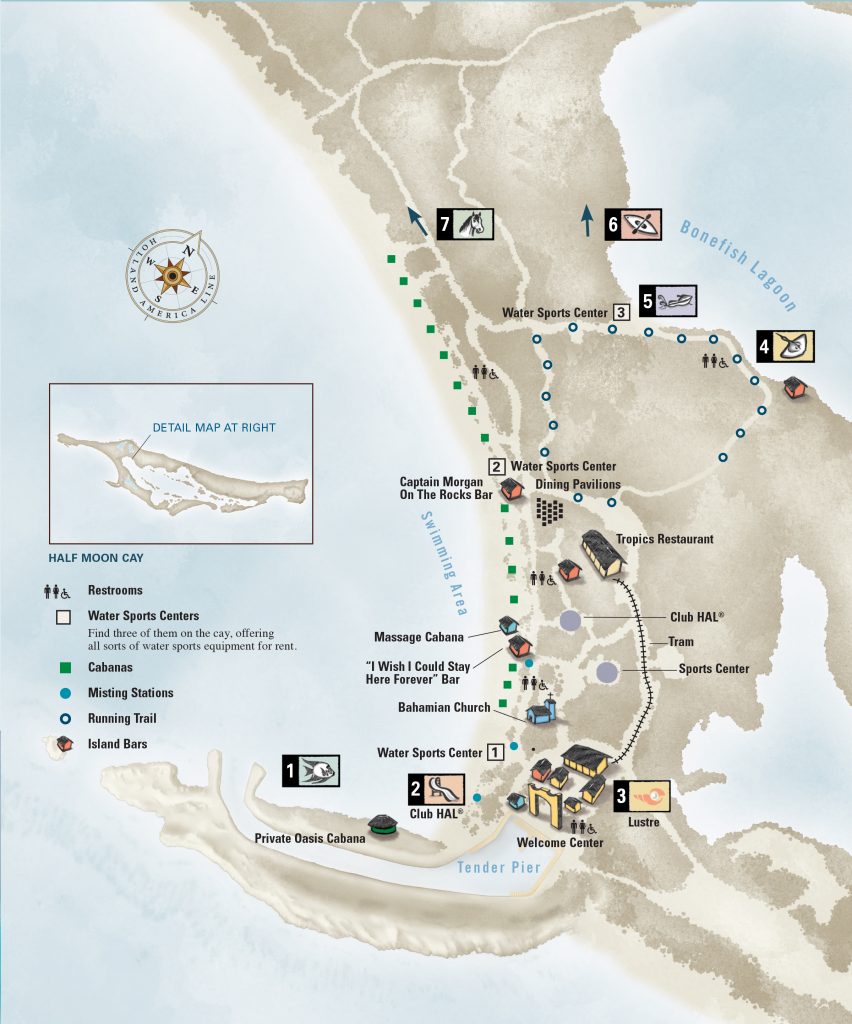 The water around the island is too shallow for a large cruise ship to access it, so you start your visit by taking a tender, or water taxi, from your cruise ship to the Island dock (see why we prefer ports without tenders). Carnival has filed a plan to add a pier to this island, but a date for completion is not yet available. 
Immediately upon arrival, you notice the quaint scale. The Welcome Square is paved, and you're greeted with some photo ops. You'll see a straw market with some Bahamian vendors, a few shops, and a bar. After that, you'll have to wander to find some beach areas. 
Keeping with the natural and mostly undeveloped feel of the island, there aren't many clear walkways or signage. Some paths will take you past some sand volleyball courts, some towards the beach, and others to the buffet area. While a bit confusing, it makes it feel like you are actually exploring the island rather than cattle being herded to a destination. The paths are sandy and not paved, so strollers or wheelchairs do not work well here.
Once you get to the beach, it really does resemble paradise. You'll find tons of lounge chairs all available at no charge. They seem to fill up quickly, but don't be discouraged; many people just drop their stuff as soon as they get there. If you just walk down a few minutes, you'll see a ton of extra chairs. The further you walk, the more space and peace and quiet you'll have. Umbrellas aren't as plentiful. You'll find some chairs and areas in the shade under trees, but don't count on it. Bring lots of sunscreen!
How much does Half Moon Cay cost?
Half Moon Cay is free to access, and you'll find many free activities such as beach sports like volleyball/basketball, free loungers, and playgrounds for the kids. There are many activities you can sign up for that do cost extra though (see below). A nice part of the island, though, is that you don't feel you're missing out if you don't want to spend more money. Most of the for-fee activities are far away from the main beach area, and there is no heavy up-sell pressure at all. 
What is there to do at Half Moon Cay?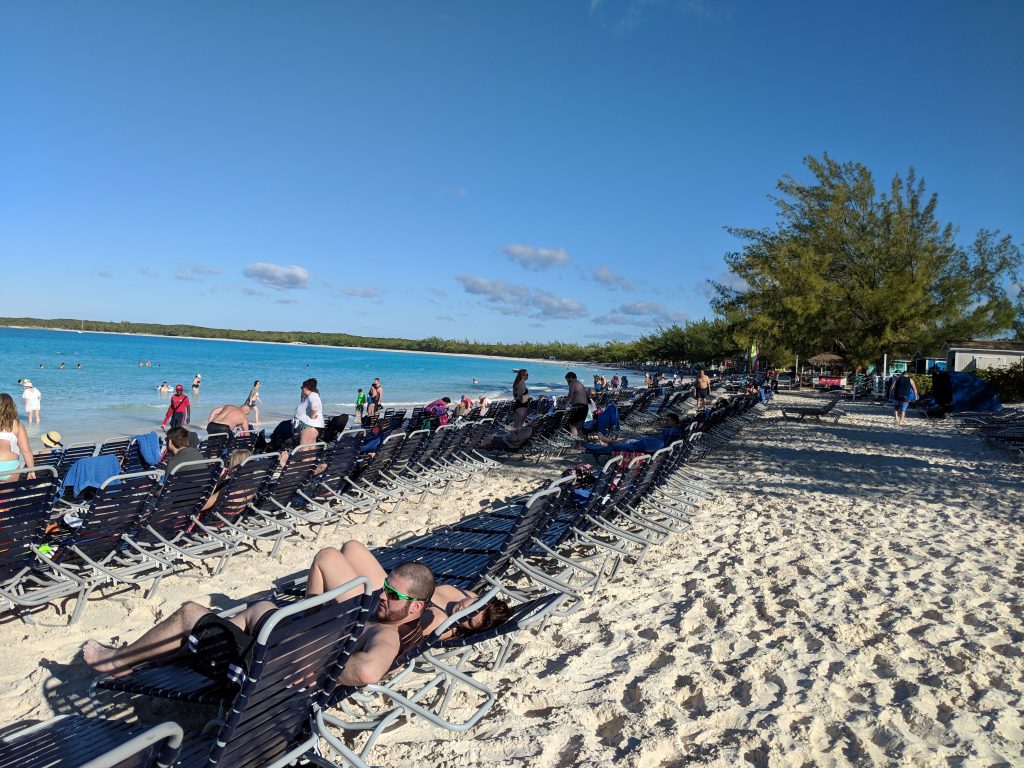 Beach time
Ask anyone about Half Moon Cay, and the first thing they'll mention is the beach. It's beautiful and free. You'll find plenty of free loungers available all over the beach. If you want some peace and quiet, head further down (maybe a 10-minute walk from the dock), and it'll be much more empty and serine. 

For a unique perspective, walk to the end of the island. Few people make it that far, and it makes you feel like you have the island to yourself. It's about a 20 – 25 minute walk along the water. Just make sure to bring flip flops or shoes. The sand gets hot, and it gets rocky toward the end.  
Snorkeling
The water is pristine and crystal clear. In the main beach area, you'll see silver fish swimming by you. Venture to a snorkeling zone, to the far left and right of the island, and you might see more colorful fish swimming among the wreckage. You can rent snorkeling equipment, but for the same price, you can buy your own and bring it and then use it on future trips (this is the one I use). 
Grab Some Food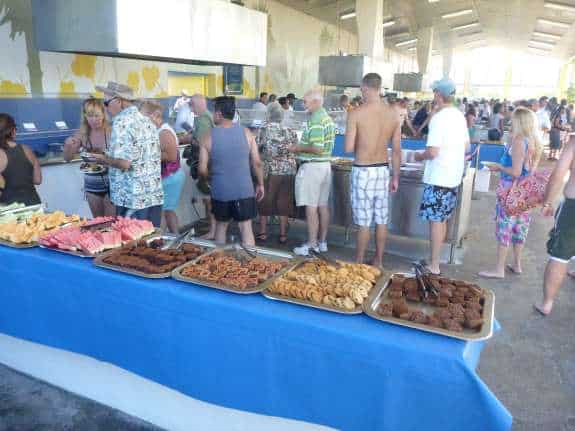 Lunch is free and available at the Island Barbeque. It's usually open from 11:30 – 1:30 pm. Here you'll find traditional beach foods like hot dogs and hamburgers as well as some salads, desserts, and Bahamian food like jerk chicken. It gets crowded here, so be prepared for long lines and a challenge to find someplace to sit. It's not gourmet by any means, and is prepared by your dining staff from the cruise ship, but it hits the spot on a hot, sunny day.
Play Areas for Kids
While most kids would be fine just playing in the sand and the ocean, you can also find two small areas for chidren. There is Half Moon Lagoon Aqua Park and a standard playground made to look like pirate ships. The standard playground is a nice alternative if your child doesn't like getting wet or if it's too cold that day. You won't find any fresh water pools or larger action slides for the kids.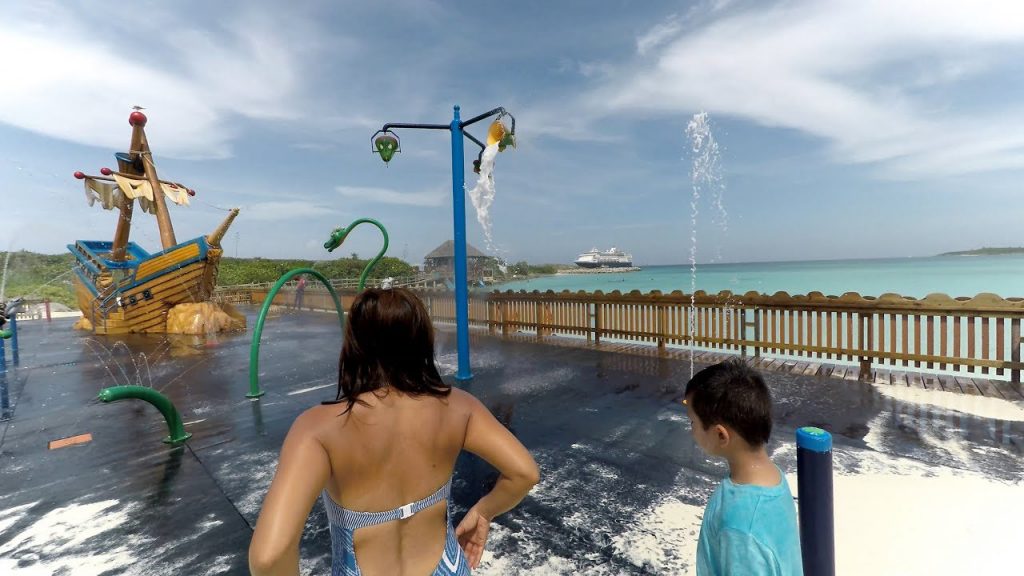 Nature Trails and Bird Watching
Most of Half Moon Cay is a protected wildlife preserve and bird watch area. There are numerous winding paths that you can take to explore at your own pace. If you prefer a more structured tour, Carnival offers a Historic Nature Walk for $19.99 per person or Island Bike Tour for $19.99 per person.
Grab a Drink
The island has 4 bars, the "I Wish I Could Stay Here Forever" Bar, Captain Morgan's, Lookout Bar, and Rum Runners Bar. Waiters, usually the same ones from the ship, will also be walking around on the beach with drinks available for purchase. The lines can get quite long at these bars, so be prepared. 
Carnival's Cheers and Bottomless Bubbles Packages don't work on this island, so you'll be paying for every drink. It's a slap in the face when you see all the bartenders AND the drinks themselves sailing over from your ship. You can use your Sail and Sign card to pay for all drinks though.
"I Wish I Could Stay Here Forever", the largest bar on the island, is right at the entrance to the beach has an iconic sign. Unfortunately that sign is on the main stairs that lead to the beach and people are constantly trying to take pictures under it. Since it's the most visible and easily accessible of any bars, this one is usually the most crowded.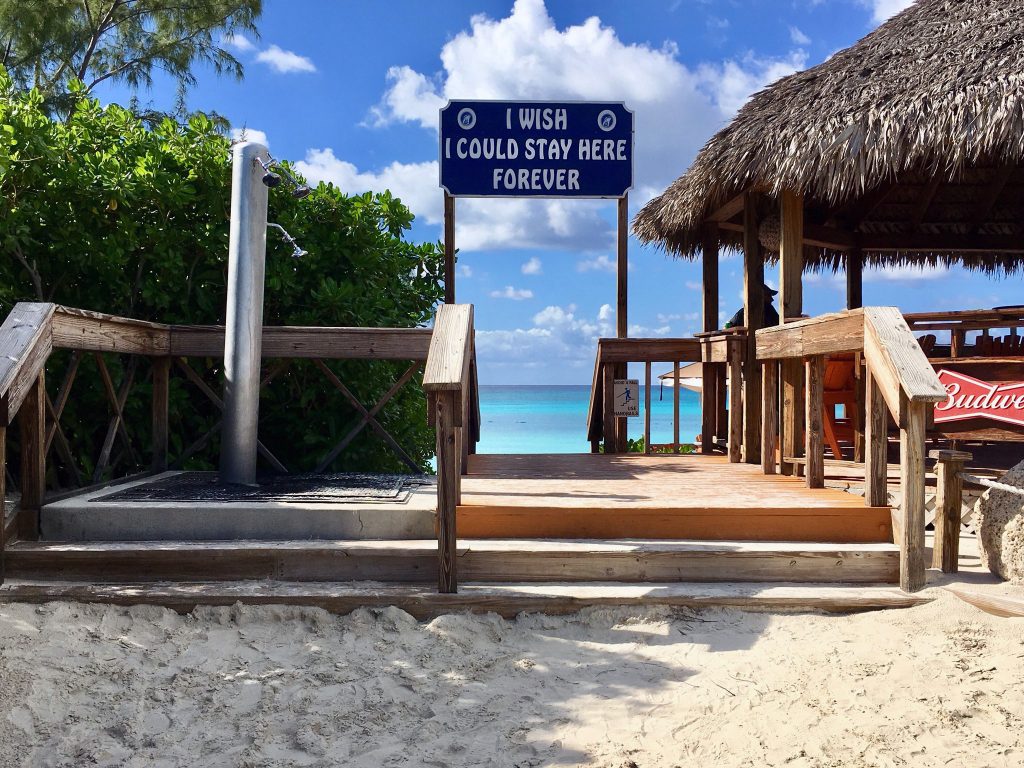 Captain Morgan's Bar is definitely a must-see. It's a two-story bar styled like an old pirate ship. Inside you'll see a full bar with a cool Captain Morgan stained glass window. Also, in this area, the Fun Squad and DJ's from the ship get the party atmosphere going, with games and music.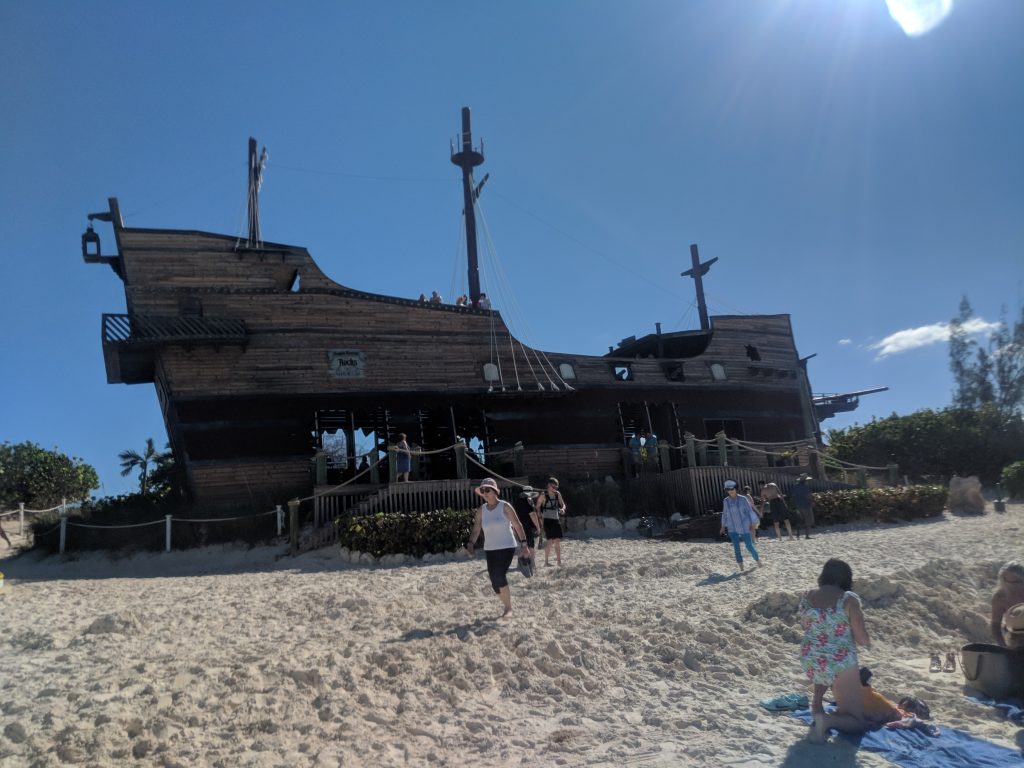 The Lookout Bar is on a quieter part of the island and offers a more relaxing tone. It overlooks Bone Fish Lagoon so it's a bit of a walk, but if you want a bar to relax at with less crowds, this is the one for you.
The Rum Runners Bar is near the Welcome Square and closest to the dining area if you want to get a drink with lunch.
Relax in Style
If you want to step-up your relaxation game, consider renting a cabana, beach villa, or the exclusive Private Oasis. 
Cabana Rental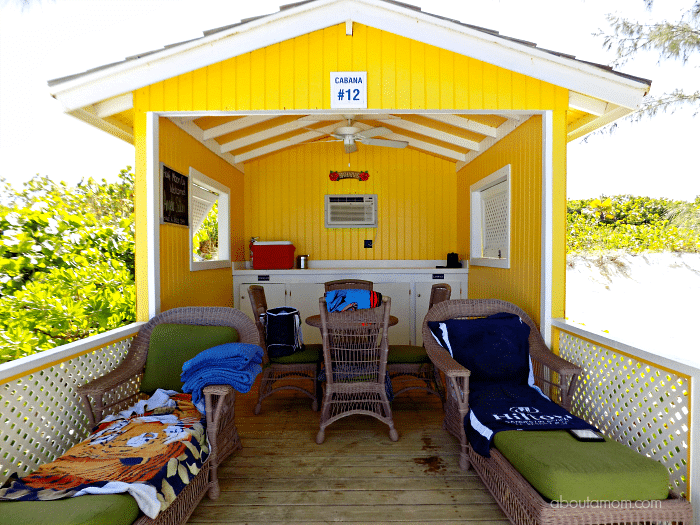 A cabana costs $449.99 for up to 4 people. Each unit has a ceiling fan, air conditioner, mini-fridge, table, and chairs. The cabana comes pre-stocked with light snacks and soft drinks (soda and bottled water). Guests will also receive floating mats and snorkel gear they can use throughout the day.
Beach Villa Rental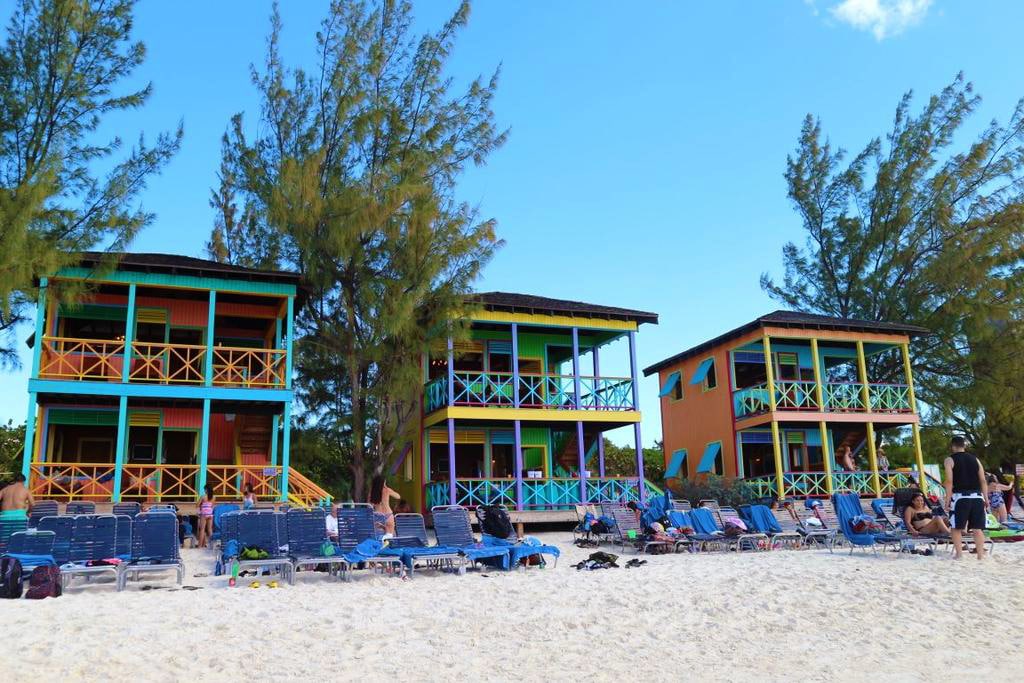 A Beach Villa on Half Moon Cay costs $649.99 for up to 8 people. You can pay for additional people if you like. Relax in style with an in-unit A/C, ceiling fan, misting showers, refrigerator, and 5 person hot tub. Each unit has a ceiling fan, air conditioner, mini-fridge, table, and chairs. The cabana comes pre-stocked with light snacks and soft drinks (soda and bottled water). You'll also get floating mats and snorkel gear to use throughout the day.
Private Oasis Rental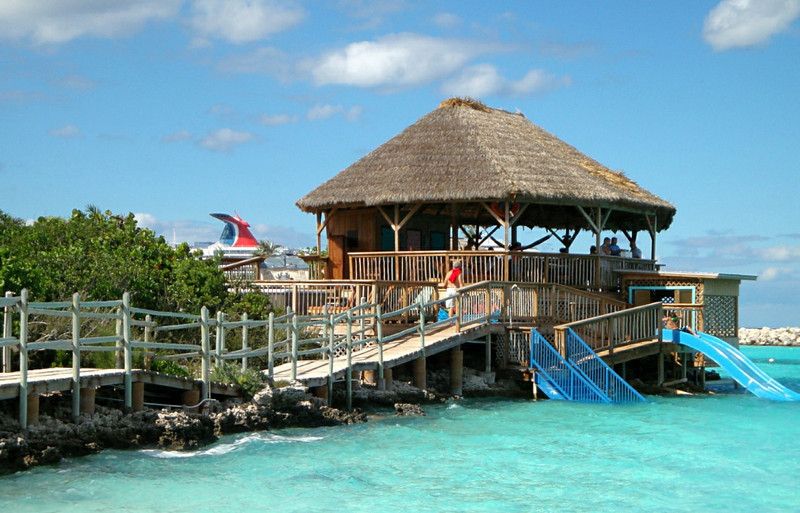 The Private Oasis is Half Moon Cay's most unique experience. Set apart from the rest of the island, it really looks like a private vacation getaway. It's usually around $1,699.99 for up to 12 guests (you can add more people for an additional fee). It's 1,620 sq. ft. and includes an 8-person hot tub, BBQ area, slide into the ocean, as well as a private bartender and chef.
Nature Adventures 
Not a big fan of relaxing on the beach? Carnival has quite a few other options for a more active day. Kayak through some marshes, ride horses through the ocean, or pet a stingray. These all have an additional cost and are booked as excursions.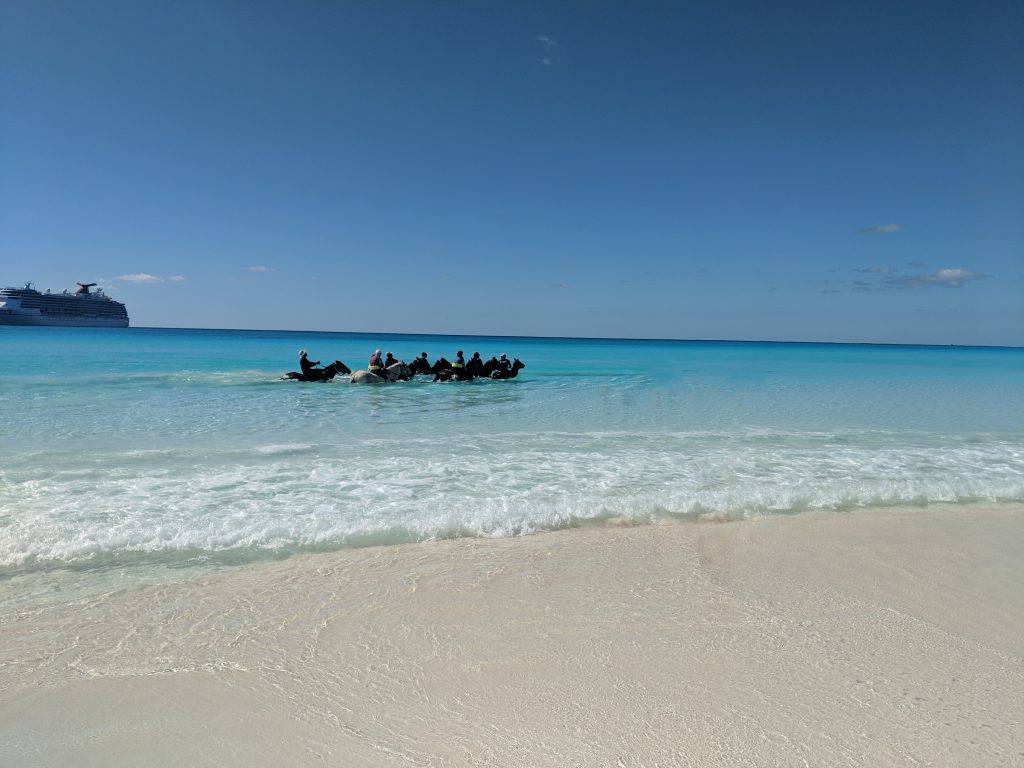 Eco Lagoon Tour – $44.99 Adult / $34.99 Child
Tropical Kayak Adventure – $44.99
Horseback Riding – $104.99
Aqua Trax Watercraft Adventure – $94.99
Stingray Adventure – $44.99
For a list of all the excursions and the pricing, check out this link to Carnival's Website
How to book activities?
You can book most of the activities on Carnival.com, from the Carnival Hub app, or the "Carnival Activities" desk when you're on board. It's best to book early, as things like the cabana rentals can sell out.
Is Half Moon Cay right for me?
You might like Half Moon Cay if you like…
You like nature

With tons of walking trails, a bird preserve, and pristine beaches, this island feels so natural.

You love a beach day

A free beach day is hard to say no to, and a beach doesn't get more ideal than this: white sand, beautiful clear waters, free chairs. 

You don't want to spend extra money in port

You could easily spend the entire day here without spending a single dollar and not feel like you're missing out on anything.
You might NOT like Half Moon Cay if…
You want a party day

Drink packages do not work on the island, so if you want to party and drink all day, it'll cost you. 

You want shopping

While there is a small straw market, if you're looking for duty free shopping for jewelry and fashion, you won't find it here.

You want local culture

No one lives on the island, so you're not going to get a lot of authentic local culture.

You want a fresh water pool

You won't find any fresh water pool on Half Moon Cay.

You don't like the sun

You'll find a ton of lounge chairs on Half Moon Cay, but shade will be hard to come by. They don't have many umbrellas, and you actively have to seek out chairs under trees. 
What to check it out for yourself?
These Carnival ships have sailings that include Half Moon Cay.
CruiseSpotlight is an Amazon Associate. We may earn a commission when you click links to retailers and purchase goods.