What is Perfect Day at CocoCay and Should You Visit?
Perfect Day at CocoCay, Royal Caribbean's private island, made a splash when it debuted in 2019. Although guests have been visiting CocoCay for over 30 years, the recent renovation transformed it into a premier vacation destination. Many new and old cruisers are now searching for cruises that visit the popular destination.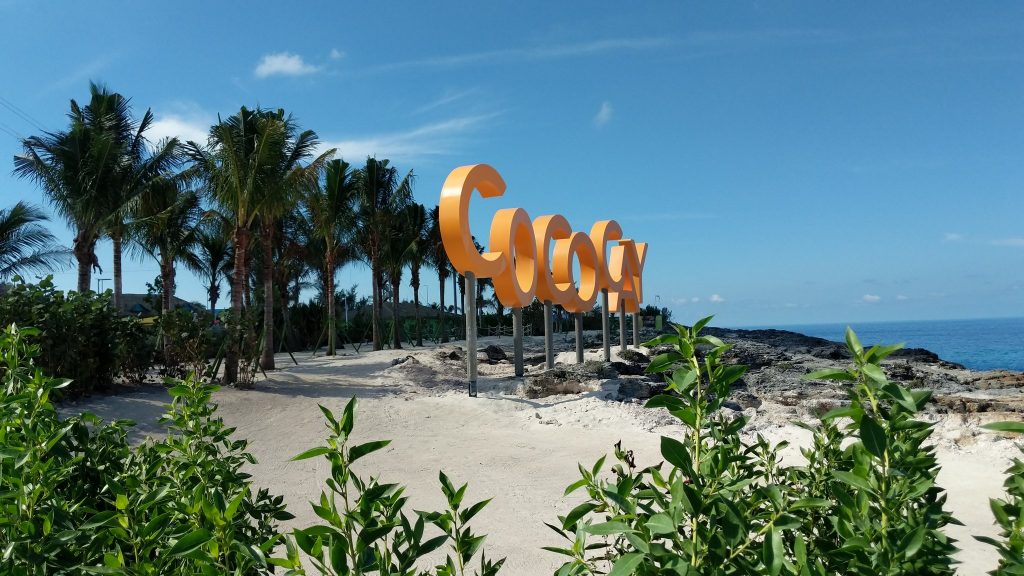 When you hear "private island," you may think of a secluded and deserted getaway with miles of sand and undeveloped beaches. In reality, they're small developments on larger islands that provide exclusive experiences for cruise travelers. Almost all the private islands in North America are in the Bahamas, and CocoCay is one of the Berry Islands in the center of the Bahamas archipelago.
What's Perfect Day at CocoCay like?
In the morning, your ship will dock at a newly built pier. No long lines, no bumpy tender rides; just walk right off the boat and onto the island. It makes it so much more convenient to go back (see why we prefer these types of ports to those with tenders).
With the new Perfect Day, you walk up through a new pier dotted with colorful arches and awnings. You pass by a huge CocoCay sign with water geysers that erupt and lead you to the island. It feels much more like a theme park than it used to, or than other islands do.
A winding path circles the island of CocoCay, taking visitors through many different zones. These zones help spread out the visitors and make the island, which can hold up to 9,000 people, feel much less crowded. A tram is available to help visitors get around the island and get back to the ship if it's too hot to walk or they have mobility issues.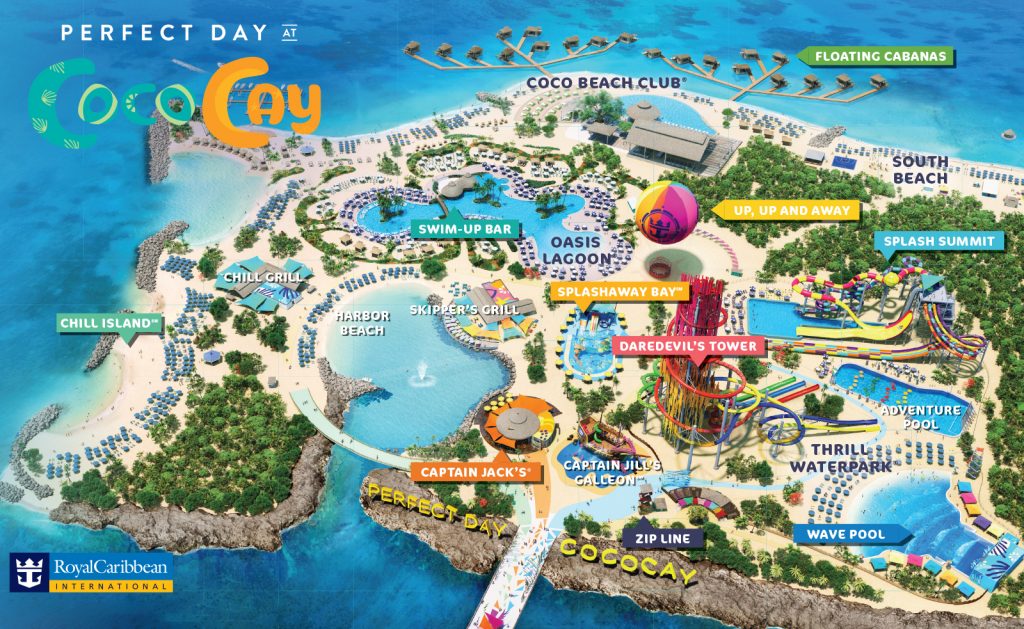 How much does Perfect Day at CocoCay cost?
There's no cost to get onto the island itself; just walk off the ship and enjoy. Some attractions and features may cost extra if you are interested in them. You can use your SeaPass card for almost anything on the island, except the Straw Market, so it makes it easy to be cash-free on the island.
Royal Caribbean adjusts the pricing based on specific cruise itineraries and ships. They're also known to offer discounts upfront as well. The prices below are based on what we've seen and heard from other cruisers. For the most accurate pricing and special deals, view your Cruise Planner before your cruise.
Various Costs on Perfect Day at CocoCay
Activities
| | |
| --- | --- |
| Splash Away Bay | Free |
| Captain Jill's Galleon | Free |
| Sports Courts (Volleyball/Basketball) | Free |
| Thrill Waterpark | $44 – $139 |
| Zip Line | $44 – $139 |
| Up, Up and Away | $33 – $99 |
| Snorkeling Supplies | $22 – $27 |
| Sea-Doo Rental | $110 |
| Kayak Rental | $43 |
Beach
| | |
| --- | --- |
| Chill Island | Free |
| South Beach | Free |
| Harbor Beach | Free |
| Coco Beach Club | $54 – $99 |
Dining
Skipper's Grill
Free
Chill Grill
Free
Snack Shack
Free
Captain Jack's
A la cart
Grille at Coco Beach Club
Included with Coco Beach Club Pass
Alcoholic Beverages
A la cart
(drink package works on the Island)
Other
| | |
| --- | --- |
| Beach chairs / umbrellas | Free |
| Towels | Free |
| Showers | Free |
| Tram | Free |
| Beach wheel chairs | Free |
| Cabanas | $299 – $869 |
What is there to do at CocoCay?
Oasis Lagoon – The Largest Freshwater Pool in the Bahamas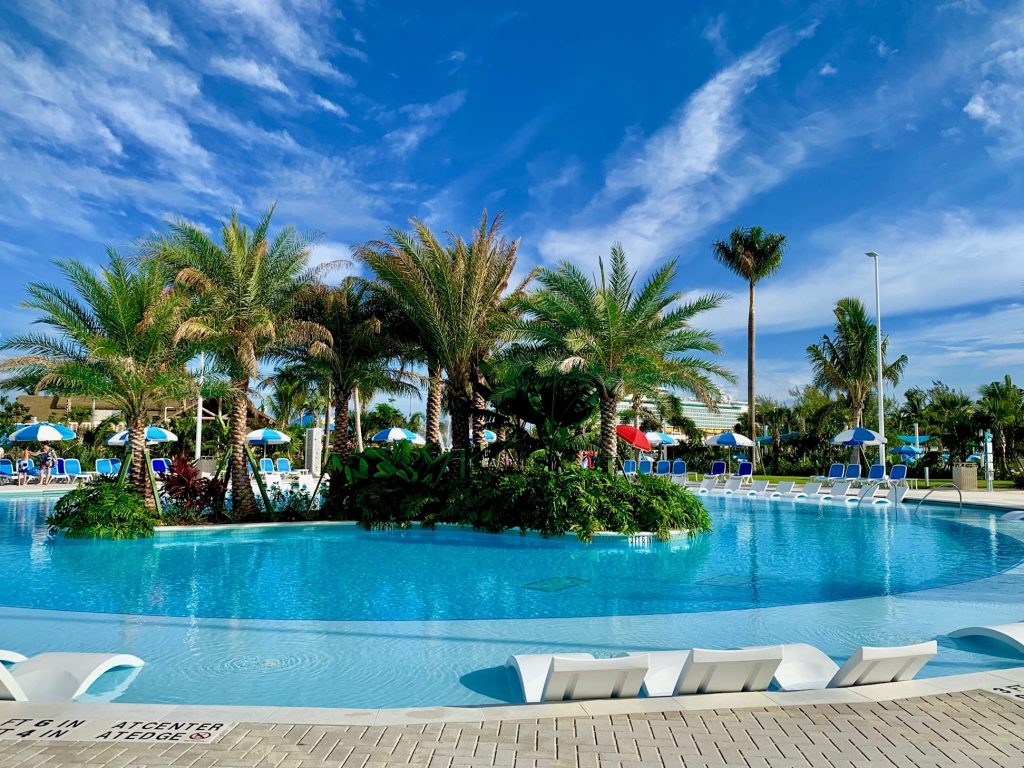 Filled with over 800,000 gallons of water, Oasis Lagoon is the largest freshwater pool in the Bahamas. That's the equivalent of almost 60 inground pools! Kids and adults will love this pool, with shallow zone-entry areas for younger children and a swim-up bar with 23 seats for adults. The water never gets deeper than 4 1/2 feet, so it's good for kids or just walking around. Find secluded coves, in-water seating, or swim out to one of the three islands in the pool with seating. The pool can hold up to 1,750 people, but it rarely feels crowded because of its size and layout.
For a cool effect, dive underwater and listen to some tunes. You can't hear them when you're above water, but as soon as you're submerged, you're hit with some energizing Caribbean music.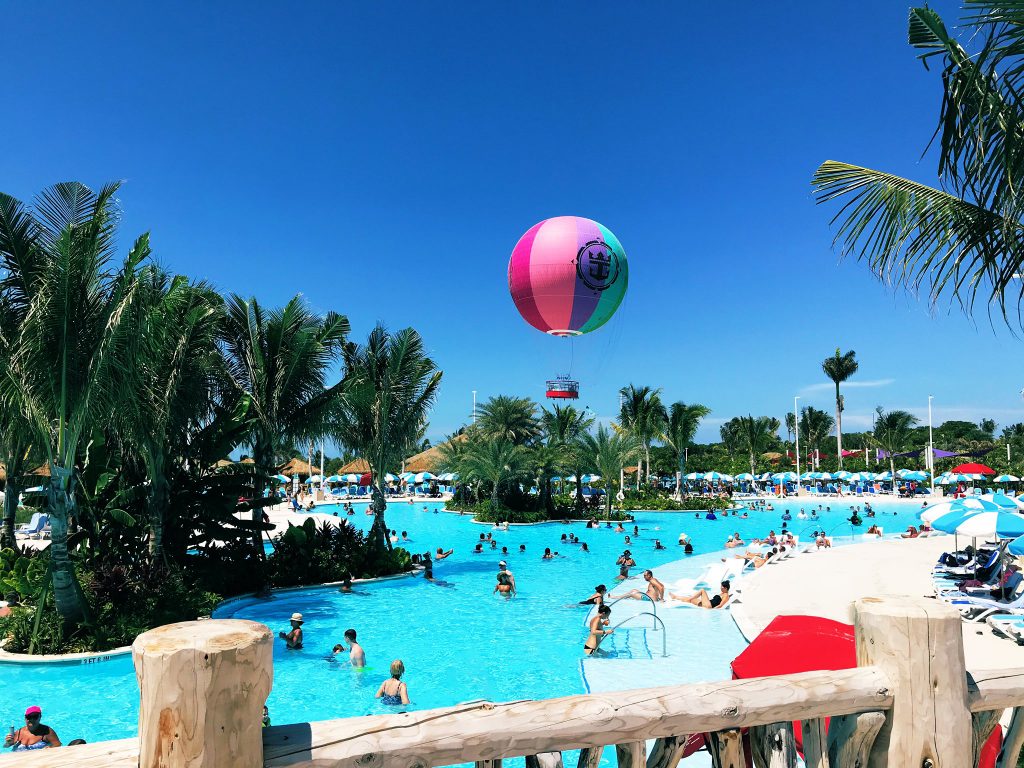 The loungers and umbrellas are all free. Don't worry if you forgot your towel; towel stations are available that will provide you complimentary towels while on the island (just make sure to return it before you head back to the ship).
Traditional Beach Fun on Chill Island or South Beach
More of a beach person than a pool person? Check out Chill Island or South Beach. With beautiful turquoise waters and soft sand beaches, it's the perfect way to enjoy your Caribbean vacation.
Stop by South Beach and visit the sports courts. It has traditional basketball courts, beach volleyball, corn hole, and more. Because this beach is further away than the others, it's usually easier to find lounge chairs here if you get to the island later in the day.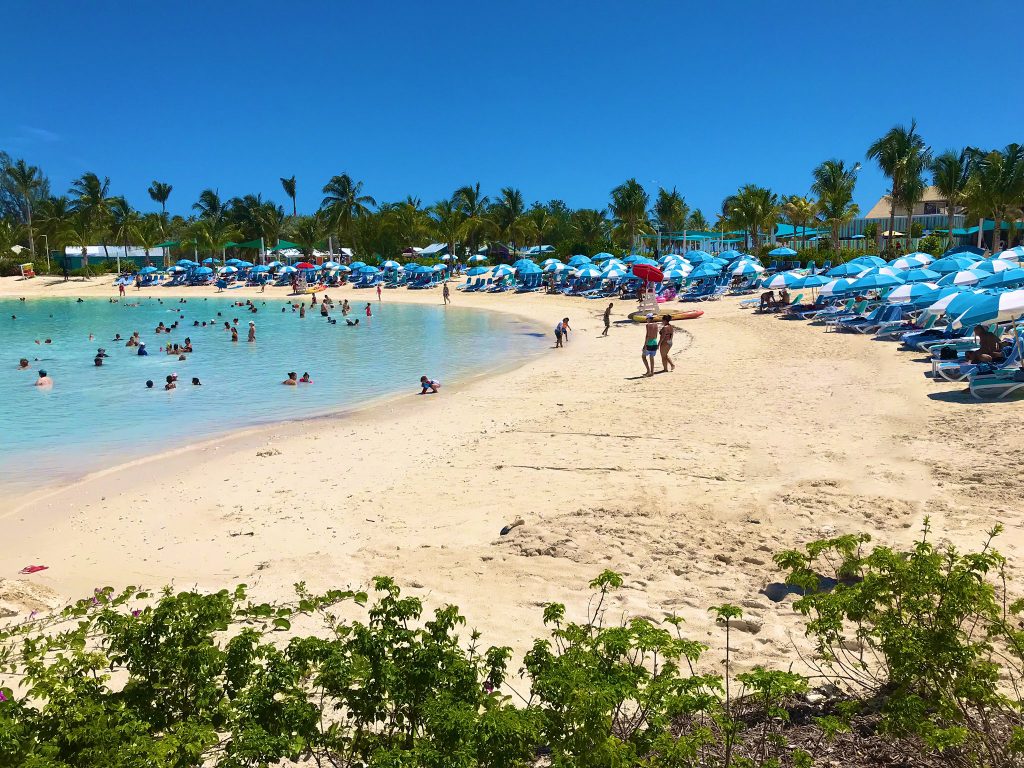 Chill Island is what used to be the main section of CoCoKey before Royal Caribbean built Perfect Day. It's a better section to visit if you're interested in snorkeling or water sports. You can bring your own snorkeling equipment or rent some there for between $22 and $27. Personally, I recommend bringing your own if you're interested in snorkeling. I paid the same price to get one from Amazon (see the snorkel) and I've used it at least three times since then. When I go on a regular cruise excursion, I just use what the vendor provides, but since this is just right off the boat, it's easy to bring your own. While you're there, swim out to the floating bar for a cocktail in the middle of the ocean.
Harbor Beach Offers a Quiet Lagoon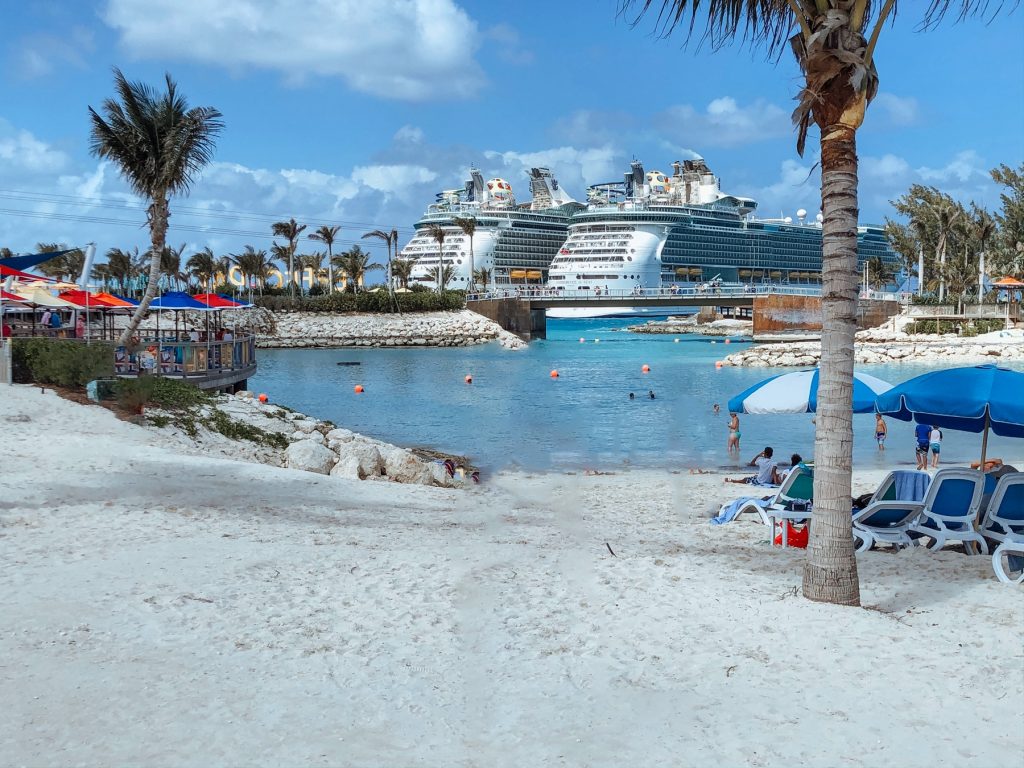 If ocean waves aren't your thing, check out Harbor Beach. It's in the center of the island and where the tenders used to arrive before Royal Caribbean built the new pier. It's salt water, but it feels more like a calm lagoon since it's more inland. It's great for kids or adults who are wary of the open ocean (you'd be surprised how many adults don't like being in the vast ocean).
Play Areas For Kids – Splashaway Bay & Captain Jill's Galleon
Splashaway Bay keeps the kids busy with five mini water slides, 2 dumping buckets, countless fountains, water canons, and pools. It's a great way to help your kids get all the energy out. It's right by Thrill Waterpark, but it is complimentary.
If it's a cooler day or you kids just don't like being splashed as much, try the splash area called Captain Jill's Galleon. Shaped like a traditional pirate ship, it has a tunnel slide and scramble net. It's right by the pier, so your kids won't have to wait long before going crazy.
Grab Some Food While on the Island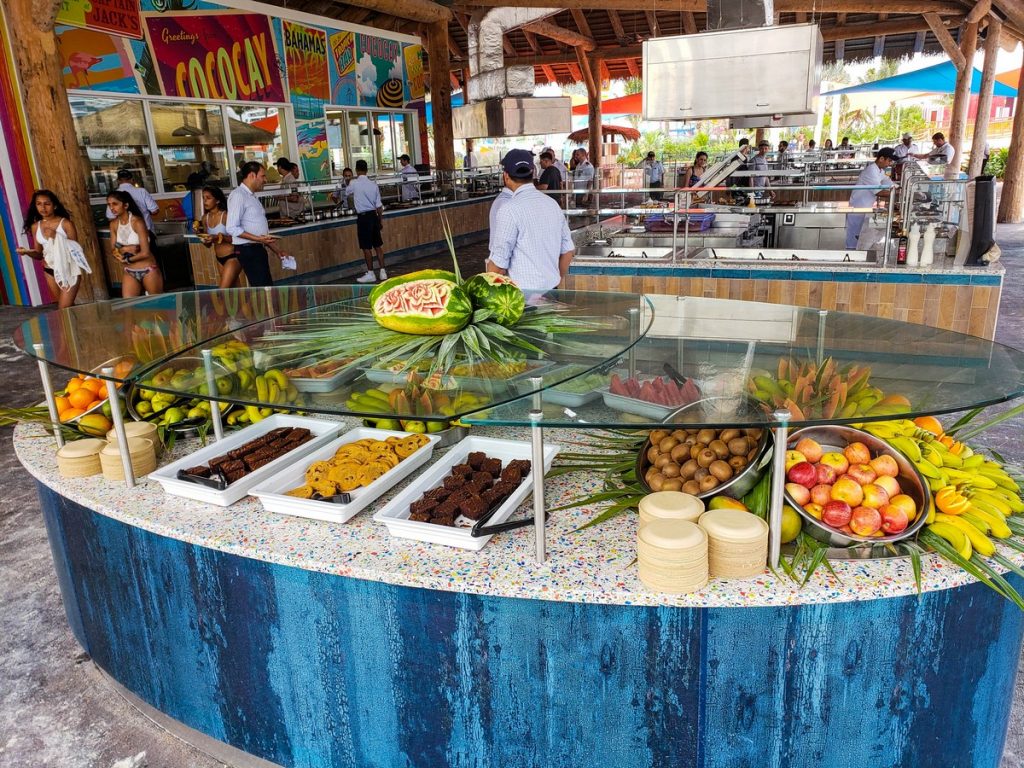 Feeling hungry while at Perfect Day? You have the choice of 3 venues that offer complimentary food; Skipper's Grill, Chill Grill, and the Snack Shacks.
Skipper's Grill and Chill Grill are two large, self-serve buffet style venues. If you're looking for traditional beach food, like burgers, hot dogs and fries, you won't be disappointed. They also have a salad bar, premade sandwich station, and taco bar. It's usually open from around 11:30 am – 3:30 pm, but that depends on the sailing.
For Snack Shacks, there are actually 3 of them on the island; in the Thrill Park, Oasis Lagoon, and South Beach. They are made to order venues, and you can get things like burgers, fried chicken sandwiches, mozzarella sticks, and funnel cakes. They are usually open from around 10:30 am to 3:30 pm.
If you don't mind paying extra for some food, stop by Captain Jack's, a cool themed bar with specialty drinks and wings. You don't pay admission here, so you can just stop by for a drink and play some bar games or swing of the swing seats. The food pricing is a la carte.
Grab a Refreshing Cold Beverage
Perfect Day at CocoCay has a lot of bars dotted around the island. You never have to walk too far to try a refreshing Daquari or Bahama Mama.
If you have a beverage package, you can use it at any of the bars or restaurants that Perfect Day at Coco Key. That's a huge benefit since you'll be there for quite a few hours and you can have many cocktails while relaxing. It's a nice change compared to Carnival or Princess, who make you pay for drinks on their private islands, even if you have a drink package.
If you don't have a drink package, the drinks cost the same on land as they do onboard. That's about $7.25 for a beer or $11 for a standard cocktail like a Hurricane or Bahama Mama.
Want to see if the drink package is worth it for you?
Thrill Waterpark (additional cost)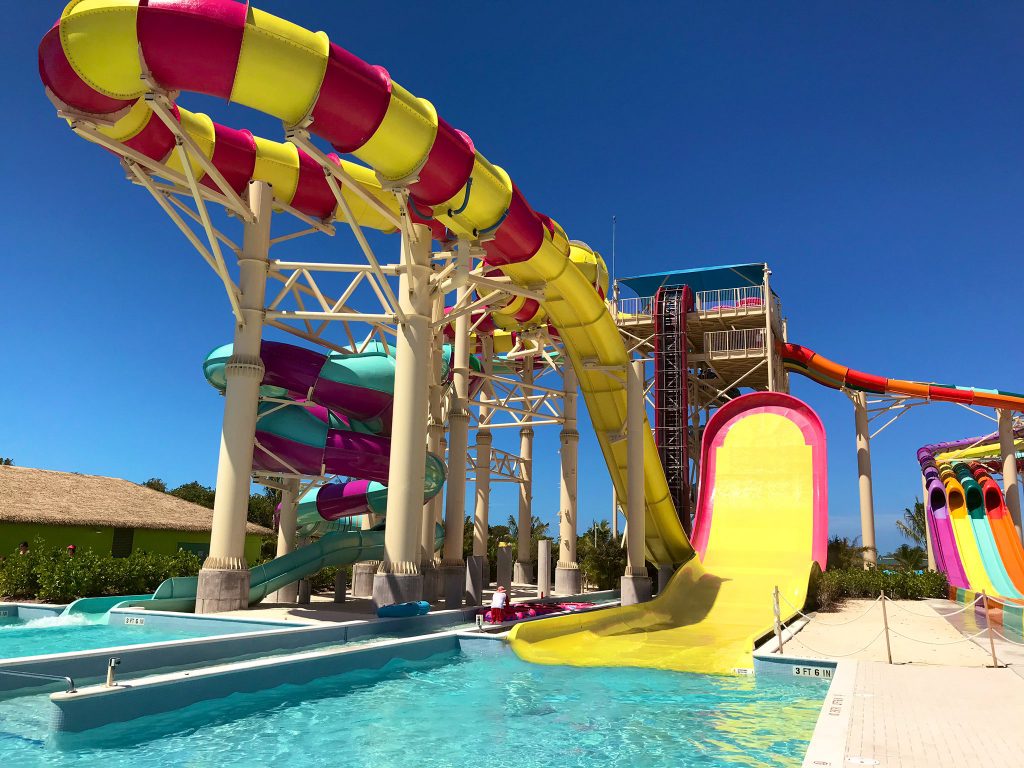 While not the island's main attraction, the Thrill Waterpark seems to be the island's visual icon, mostly because of its colossal slide tower. The unique looking and colorful structure houses the tallest water slide in North America, Daredevil's Peak, as well as several 6 other body slides.
You enter the waterpark by using your SeaPass card to enter. You can get in and out and often as you'd like over the course of the day. Once inside, you have 13 different water slides to choose from as well as the largest wave pool in the Caribbean, an Adventure Pool with swings, ropes, and obstacles for kids to try. Free lockers are available in the park so that you can store your towels, cell phones, and other personal belongings easily.
The park can get crowded from late morning until mid-afternoon. Get there before 10 am to beat the lines. The biggest attraction is the record-breaking Devil's Peak, which can have lines of up to an hour. For the rest of the water slides, the wait is usually 10 – 30 minutes per slide, which is on par with other water parks I've attended.
Noticeably missing is a lazy river. It seems like every waterpark has one (the one in Atlantis Bahamas is excellent), but this one does not. Also, the freshwater pool and kids splash areas are actually outside of the waterpark, so it's weird. In essence, you're just paying to ride the water slides or use the wave pool. If you have younger kids who just want to splash around, save your money, and use the free facilities.
Costs will vary, but here are some ballpark costs. Be on the lookout for bundles with the zip line to save money or Thrill Waterpark Cabanas, which may make it cheaper (those cabanas include admission for up to 6 people).
Full-day Thrill Waterpark Admission $44-$99 per person depending upon the season
Half-day admission $39-$74 also available
Children aged 0-3 are free
Thrill Waterpark and Zip Line Bundle $99-$179
Up, Up and Away Hot Air Balloon (additional cost)
Get a unique perspective of CocoCay but flying up in its signature hot air balloon. Just like the Thrill Tower, you see this gigantic balloon in many of the ads in CocoCay. Up to 30 guests can get in and slowly rise 450 feet in the area for a beautiful view. The balloon only runs in good weather with low winds, so don't get your hopes too high. Because of this issue, you can't pre-reserve tickets for it and instead need to book when you arrive on the island.
Pricing is usually between $39 – $99 for ages 13 and up and $24 – $64 for ages 4 to 12.
Zip Line (additional cost)
If you want a bit of a thrill, try out the zip line on Perfect Day at CocoCay. It's over 1,600 feet long and has three segments lasting 20 seconds each. Riders must be between 50 and 300 pounds, and closed-toe shoes are required.
The prices for a stand-alone zip line run from $79 – $139 per person, but we've seen packages where you can get it along with the waterpark or hot air balloon for as low as $10 more. Personally, it doesn't seem worth the steep stand-alone price, but for a small add on, it can be fun for a thrill seeker.
Coco Beach Club (additional cost)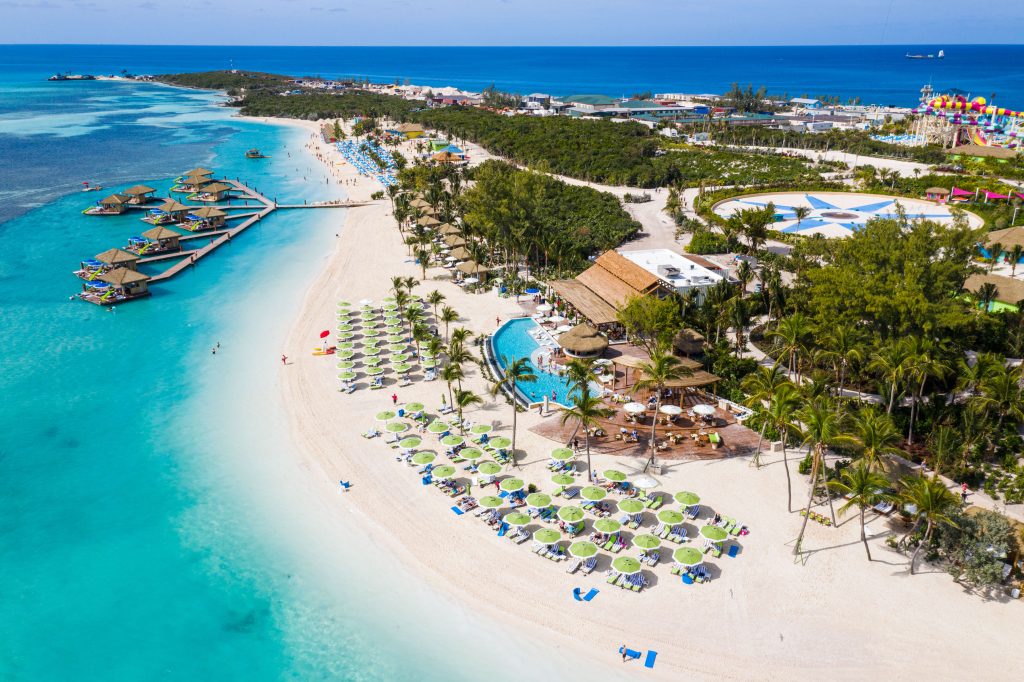 This beach club is the premier private island experience. If you want to go all out and spend your day in the lap of luxury, try the Coco Beach Club. You can get day passes which include access to a premium beach, clubhouse, infinity pool, the exclusive restaurant "Grille at Coco Beach Club," beach chairs, and umbrellas. They also have cabanas here, both on the island and the only Overwater cabanas in the Caribbean.
The cost for a day pass can range between $54 – 99 per adult and $34 – $69 for children 4 – 12. Children 0 to 3 years old are free. The beautiful overwater cabanas, for up to 8 people, can range from $949 to $1,549.
Cabanas and Daybeds (additional cost)
While there are tons of free loungers and umbrellas available, some people prefer to upgrade to day beds or cabanas. If you're with a family or a group, it is nice to have a set meeting place that's just yours to relax and enjoy. Cabanas typically come with complimentary bottled water and a safe to use.
When you book online, you have a choice of where to pick your cabana. It's not just about location, but what you want to do and how you want to spend your time on the island. The Oasis Lagoon Cabanas are usually more loud and busy since they're close to the pool. Thrill Waterpark Cabanas usually include admission to the park for up to 6 people. Chill Island and South Beach Cabanas typically include snorkeling gear and floating mats. Cabanas give you access to a cabana concierge who can help you get drinks, towels, food, etc.
Tip: If your whole family will be going to the Thrill Waterpark, check out one of their cabanas. The cabanas come with admission for up to 6 people, so it can be cheaper than buying admission separately. Just be sure to book early!
If you are considering a cabana or day bed, book early using your Cruise Planner! They fill up quickly, especially during peak season or when there are two ships at the island on the same day. Usually, pre-booking will always get you a better price as well. If you do ever see it go on sale after you book, give them a call, and they'll usually offer you a credit. 
Here is the price range of some of the items. Again this will vary depending on demand and time of year. 
Full-Day Beach Bed Rental: $199 – $569 for 4 guests
Oasis Lagoon Cabana: $499.99 for 8 guests
Chill Island Cabana: $499.99 for 8 guests
Thrill Waterpark Cabana: 299.99 for 6 guests
Beach Rentals (additional cost)
Want to float on the ocean on a comfy foam mat? Or maybe you want to kayak or jet ski across the beautiful blue waters. You can rent these while you're on the island to add some adventure to your day.

Sea-Doos / Jetskis are usually around $110 while kayaks are around $43. If you prefer to snorkel, you can rent equipment for that as well at around $22 – $37 per person (or bring your own).
Straw Market
The Straw Market offers traditional, handmade Bahamian crafts. This area is one of the only things on the island you will need cash for, as these vendors aren't employed by Royal Caribbean.
How to Book Activities?
The best way to book these activities is by using your Cruise Planner, either the website or through the app. Since Royal Caribbean uses dynamic pricing, the cost, discounts, and bundle promotions can change often.
Tip: Booking usually opens 6 months before your cruise. Book early; things sell out quickly. Also, Royal Caribbean usually uses dynamic pricing, which means things will be more expensive as they get full.
Is CocoCay Right For Me?
As always, there's no clear answer; everyone has their own tastes and opinions.
You might like Perfect Day at CocoCay if…
You have kids

There's tons to do on the island that don't require extra money. Little kids love just swimming and playing in the sand; here, they can do that at no cost. 

You're with a group

Planning excursions with a group is such a hassle. With Perfect Day, you just walk off the boat and enjoy.

You like waterparks

How can you say no to trying the tallest water slide in North America?

You don't like spending a lot of money on excursions

There are lots of ways to spend money on CocoCay, but you don't have to. If you just want to relax by the beach or in the pool, you don't have to spend a single penny and food is included. You won't find that in many other excursions at other ports. 
You might not like Perfect Day at CocoCay if…
You want to learn about local culture, cuisine, architecture, or history.

Perfect Day at CocoCay is basically the equivalent of a theme park. Most people who work on the island live on the island, so you won't be sharing culture. There are no visiting museums or historical points of interest either. 

You don't like outdoor or sun based activities

While there are many opportunities for shade on CocoCay, you have to walk in full sun to get to them, and there's no air conditioning. If you prefer being indoors or excursions in air-conditioned busses to museums, then you won't like CocoCay.

You like to shop

There is a small Straw Market on the island, but if you like to go to different stores to find deals and tax-free merchandise, you won't find much to do here.

You like to find secluded getaways not many people know about

This island is not a "hidden gem"; it's a very well known beach getaway. 
Want to check it out for yourself?
These Royal Caribbean ships offer cruises that may visit Perfect Day at CocoCay.
Allure of the Seas
Brilliance of the Seas
Enchantment of the Seas
Explorer of the Seas
Freedom of the Seas
Harmony of the Seas
Independence of the Seas
Mariner of the Seas
Navigator of the Seas
Oasis of the Seas
Symphony of the Seas
CruiseSpotlight is an Amazon Associate. We may earn a commission when you click links to retailers and purchase goods.