What to Know About Taking A Winter Cruise from Baltimore or New York
Last Updated on July 16, 2021
Have you ever looked into a cruise from the North East US during the winter? It's an enticing idea; escape the frigid cold and snow and go to a warm tropical location. On top of that, cruise prices are usually at their lowest this time of year since most people just took vacations for Christmas and Winter Break. Leaving from Baltimore or New York City gives you the added bonus of not having to worry about airports or flight delays if you're in the North East. You just drive to the ship and start your vacation right away. But there can be some downsides too. When I was preparing for a January cruise out on Baltimore on the Carnival Pride 2 years ago (see the blog for this cruise), it was hard to find people's comments on what it's like to cruise in the winter. So to help you, here's what to expect when cruising from the North East in the winter.
It's going to be a cold trip down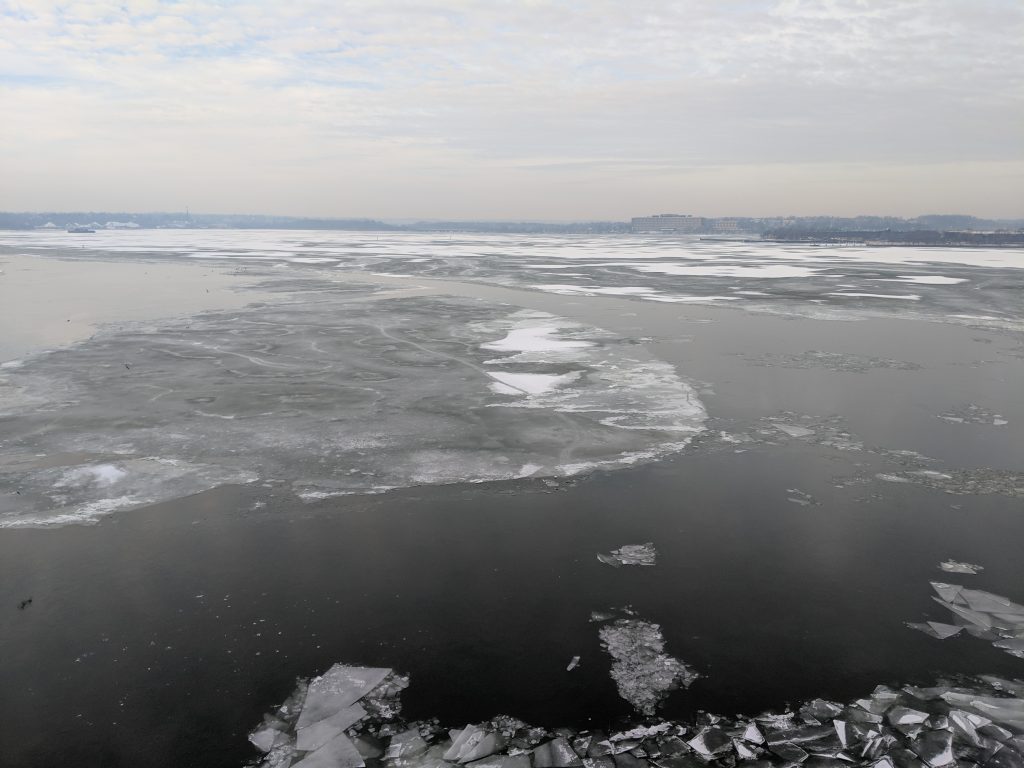 You're in vacation mode and can't wait to be poolside with a nice cocktail, right? Well, if you're cruising in January, February, or March, you're going to be waiting a while. Most cruises that leave from the North East take two days to get down to their ports of call (usually the Caribbean or Bahamas). These two sea days are going to be pretty cold. Even the bravest of children wouldn't try going in the pools on the first few days. The first day, you might even have snow on the deck! You'll be wearing long pants and inside most of the time. It's a good idea to wear layers like sweatshirts or light jackets as the weather will warm up as you go down. Even on the 2nd sea day, it was just barely warm enough to go out on deck and enjoy. 
At least it's warm in the Caribbean, right?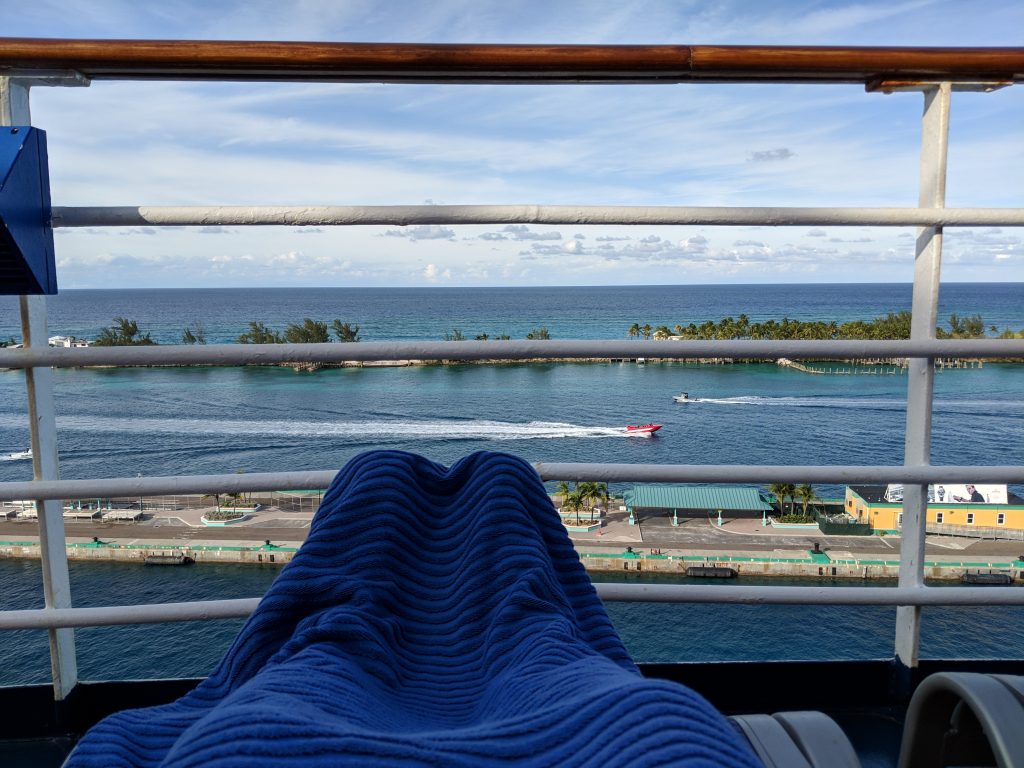 So you arrive in the tropical location and are ready for your nice, hot weather. Not so fast. The average temperature in the Bahamas in January is 67 – 77 degrees, so it's warm but not hot. Luckily the ocean is still quite warm, an average of 75 degrees, so water activities are still doable. It's nice not sweating and suffering in sweltering weather, but if you plan to go to a water park or beach adventure and the sun isn't out, you might be a little chilly.
Where are the kids?
Since many children just had off for winter break, you'll find much fewer kids on cruises that leave in the winter months from New York or Baltimore. They just had off of school, so parents are reluctant to take them out again. It does change the environment and vibe quite a bit. Ships that might usually be packed with loud children crowding the pools and running around the buffets are much more subdued. The kids who are there get more attention in the youth clubs and have smaller lines. On my cruise, the kid's splash park never had more than 2 or 3 kids in it.
You might get stir crazy
I've been on many 7+ day cruises with multiple sea days and have never really felt trapped on a ship before, but I was going a little stir crazy on this cruise. With it being so cold the first few days, you're really stuck inside and only able to access half the ship. By the second day, you want something a little different. The cruise staff tries to keep you entertained with trivia, demos, games, and activities, but since it's so cold outside, you're missing out on pool fun, mini golf, sunning, etc. 
Rougher waters in winter
If you're someone who gets seasick easily or is sensitive to rough seas, a winter cruise from the North East might not be for you. During the haul from port to the Caribbean, the ship is moving at a fast pace, and the seas can be a lot rougher than usual. On my winter cruise on the Pride, many people were complaining about the seas, and even though I had been on 5 cruises at that point, this was clearly my roughest. I was okay with it, but some in my group remained in their room for the sea days. 
Would I recommend a winter cruise from New York or Baltimore?
Prices are usually really low if you cruise this time of year, and if you want the convenience of not having to fly, it can be nice to leave from New York or Baltimore. It's a convenient and easy escape. That being said, the cold days at the beginning and end of my cruise made the cruise a little different than a regular cruise. Last year, I took a cruise at the beginning of March out of Miami, and it was a totally different experience. You're in vacation mode right off the bat, and the weather is nice from the get-go. Personally, I don't think I'd ever take a winter cruise from the North East again. If you hate airplane travel or just want a more effortless getaway, though, it's hard to say no to a tropical getaway in the middle of winter.  
Tips for winter cruising
So you still want to take a winter cruise out of the North East? Here are a few tips to improve your cruise. 
Bring a book or some games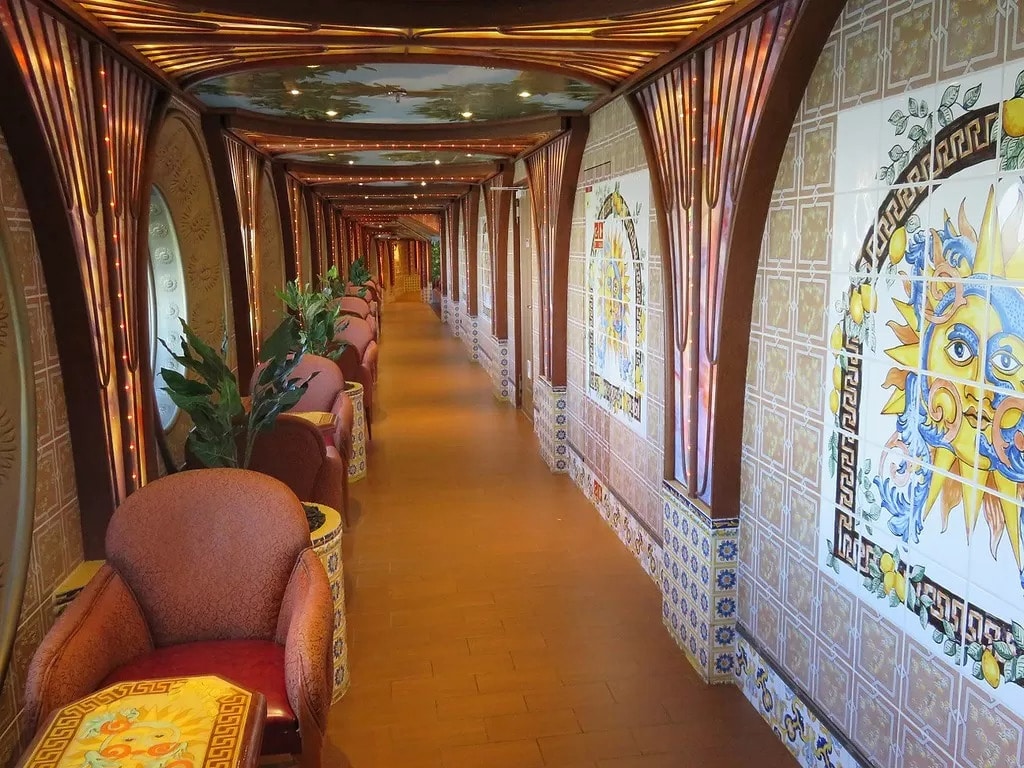 While you won't be reading on deck, most ships have tons of places to get away and quickly immerse yourself in a book. The Pride has a really unique area on Deck 3, called the Sunset Garden Promenade, that's a hidden quiet area that's perfect for reading.
I'd also recommend bringing a deck of cards or some portable board games (like Bananagrams) that are easy for fun afternoon entertainment with a group. It's a great way to kill some time in the afternoon.
Pick a ship with an indoor pool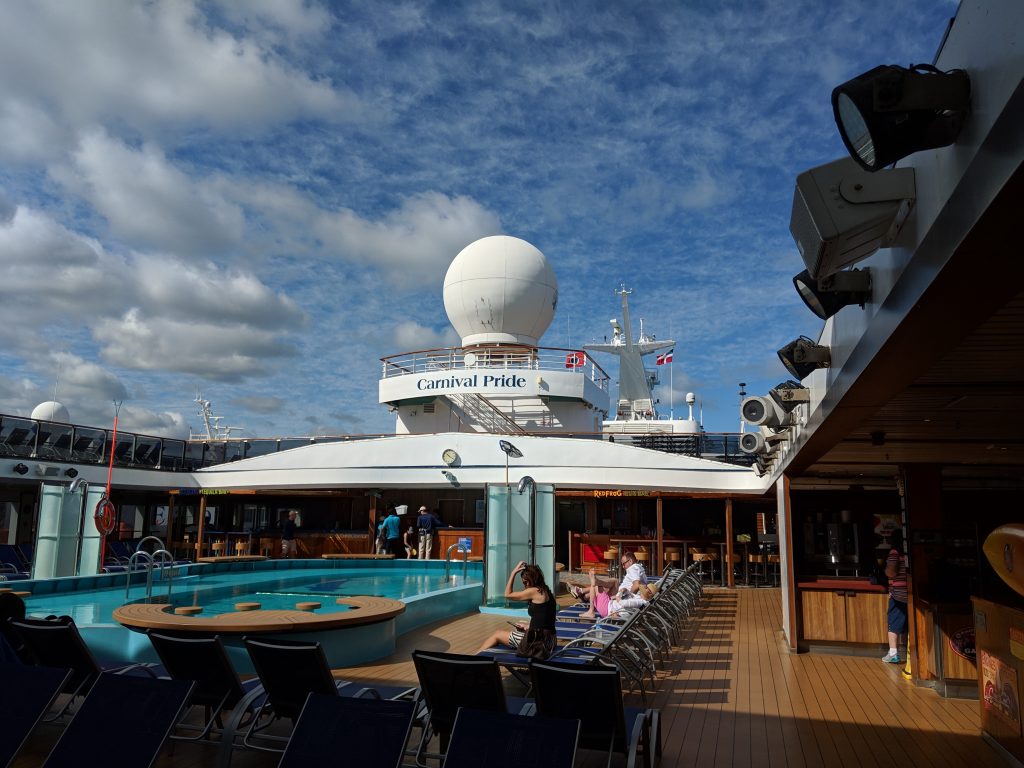 A ship with an indoor or covered pool would make sure you have access to the pool every day of your cruise, even the cold sea days. The Carnival Pride has a pool that has a glass ceiling, but often it's not working and left open. On my cruise, it was never closed. The ship did have a large hot tub in the fitness center that passengers could use on cold days at least. 
Pack your clothes accordingly
Layers are essential for dressing for a winter cruise. For at least half of the cruise, you'll want a light jacket or sweatshirt to wear while you're up on deck or outside. You'll probably want some long and short sleeve shirts as well. For the most part, even in the Caribbean, it gets chilly at night in winter, so for most evenings, you'll want long pants. If you're planning on going in the ocean or to a water park, a swim or water shirt can help. Not only will it keep warm if it's a cool, cloudy day with a breeze, but it'll protect you from the sun.
Don't forget sunscreen
Half of my group on my winter cruise got bad sunburns on the first port day we had. You can get a burn even if it's cloudy or cool out. Also, with it being winter, people are less likely to have base tans and more likely to burn. Bring a good sunscreen with you (much cheaper than on the ship), lather up, and remember to re-apply. I always travel with one lotion and one spray (this is my favorite).
CruiseSpotlight is an Amazon Associate. We may earn a commission when you click links to retailers and purchase goods.