Why It's Good to Go on a Cruise with a Private Island
When you pick a cruise vacation, you not only have to consider the ship you want but also where that ship is visiting. Cruise ships stop at countless ports that can each offer something unique. Over the years, cruise lines have sought to take control and provide customized experiences to their guests by developing their own "private island" attractions. See why you might want to book a cruise that stops at one of these private islands. 
While they're called "private islands," most of them are actually part of The Bahamas, which consists of over 700 islands. The islands are either leased or purchased, and the cruise line sets up shop. Most islands are beautifully picturesque with white sand, blue waters, and plenty of palm trees. Few people usually live on these islands; they're usually staffed with cruise line employees who boat in every day or live in a cruise line compound on the island. 
What's the benefit of going to a private island?
One of the nicest parts of going to a private island is they can be less expensive than traditional excursions. Excursions are adventures that can be planned at each port you visit on your cruise. In many cases, they can be amazing experiences like swimming with dolphins, snorkeling with colorful fish, or ziplining through the rain forest, but they can add up. Excursions can run anywhere from $50 – $200 per person. If you have a family of 4 and it's a cruise with 3 ports, you can see how quickly these activities can add to the cost of your vacation. Even if the excursions were on the low end, this family would end up paying $600 extra. 
Potentially Less Expensive
A cruise line's private island offers a day where you can go and potentially spend no money. Of course, there are opportunities to spend money, because Cruise Lines love selling you add-ons, but most offer you the ability to have a beautiful beach day for free. You can relax on a lounger with a good book or lazily swim in the beautiful turquoise Caribbean waters without paying a cent. Most private islands include lunch and some snacks, so you don't have to pay for food either. 
Less Planning and Hassle
If you're going to a port, you need to plan what you're doing there, either selecting an excursion from the cruise line or figuring out how to do it yourself. You also have to go through the port security when leaving and getting back to the ship. With a private island, you just get off the ship and enjoy the beautiful beach. There's no need to bring a passport/license with you, and no worries about taxis or busses. Some private islands even have their own docks, rather than having to take a water taxi/tender, which means you can walk on and off the ship with ease. It makes the day so much easier if you're with a family or a large group. Traveling with kids and one is getting cranky midway through, one parent can easily take the kid back for a nap while the other parent and kid stay on the island.
More Secluded / Protected
International travel can scare many Americans; in fact, only 42% of people ever leave the country. The thought of navigating the streets of a foreign city or planning something in a new country can be intimidating or downright frightening to some people. While, on the whole, the ports cruise ships stop at are relatively safe, and you'll have a great experience, having a private island makes it a baby step. The island will be full of the cruise passengers, the ship staff, and the local staff the cruise line has hired or contracted, which may make it feel safer.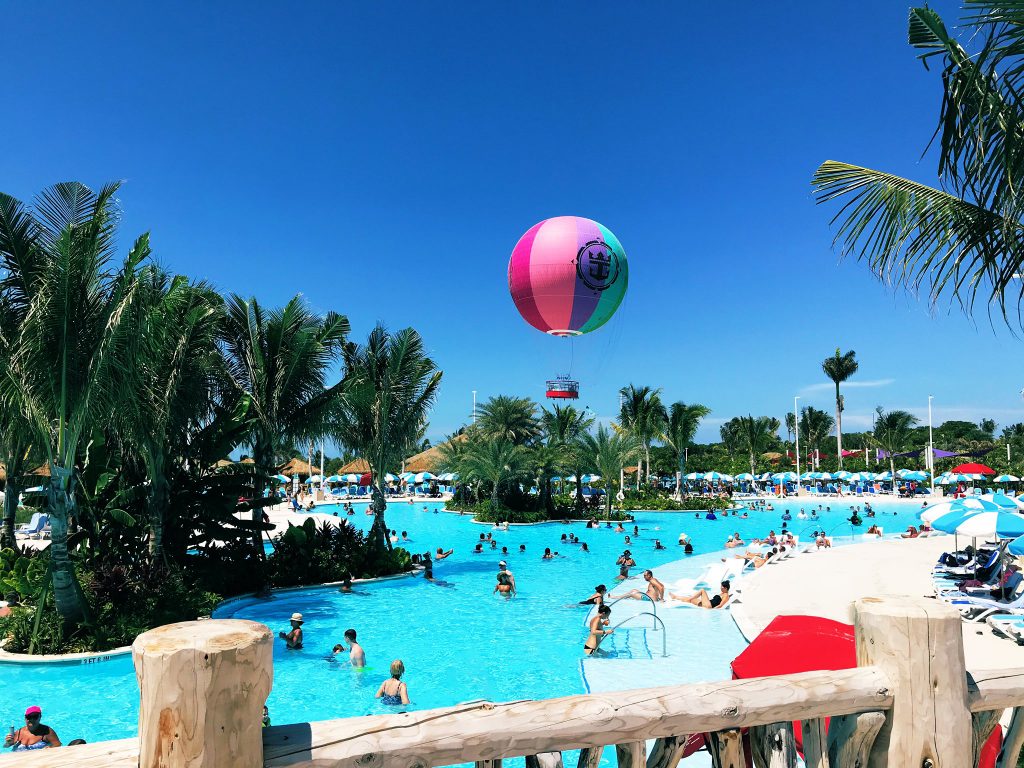 What's the drawback of going to a private island?
There might not be as much to do. 
Depending on the private island, you might not have as many options for activities as you would at other ports. Most have at least a beautiful beach with free loungers. They usually offer areas for snorkeling, sports activities, and some kind of play place for children. In the past few years, the amenities at private islands have exploded, though. Royal Caribbean sunk $200 million into their CocoCay Island, turning it into a premier vacation destination, with a huge water park, kids splash zones, over-the-water cabanas, and much more. 
You're at the whim of the Cruise Line
Some people like to adventure out on their own when they get to a port. They'll explore a city by themselves or book their own activities to do when they arrive. They don't want to do what the cruise line is offering. On a private island, you don't have that choice. Everything you can do on the island is decided by the cruise line. They pick the food that's available, the drinks you can buy, the activities you can do, even most of the souvenirs. While many will bring a few local vendors in for "straw markets" when you can buy Bohemian goods, the cruise line still approved those vendors and prices. 
You don't get any local culture
If you like to experience local culture while visiting the ports, you're going to miss out when visiting a private island. There are no museums to visit and no historical sights. The food may be considered local food, but it's still prepared by the cruise line, so it's been Americanized quite a bit. You're not going to find any hole-in-the-wall, hidden restaurant gems you might if you explored on your own.
You might have to tender
Having to tender, or take a water taxi from the ship to the port, is a pain. While this can be a problem in many ports as well, I specifically mention it here because the private islands for the biggest cruise line in the world, Carnival Corporation (who also owns Princess and Holland America), all require that you take a water taxi. You can read exactly why we're not a fan of water taxis in this article, but it does kill the flow and vibe of an easy-going vacation. 
You have to like beach days
Some people are not beach people; the thought of spending a day in the sun on the hot, rough sand is a nightmare for them. If that's the case, private island beach days might not be the best of options. Maybe they prefer ports where they can walk around cities and sight-see or shop. Maybe they prefer adventure excursions. Either way, they're not likely to love a stop at a private island. Personally, I like when I have two ports where I can do adventurous excursions and then one private island where I can relax for free and just chill for a day. 
What are the different private islands?
Here are all the private island cruise getaways in the Atlantic.
Beach Club at Bimini
Country: Bahamas
How do you get there: Dock with a short bus transfer to the beach club
Which cruise lines visit: Virgin Cruises
---
Castaway Cay
Country: Bahamas 
How do you get there: Dock
Which cruise lines visit: Disney
---
Great Stirrup Cay
Country: Bahamas 
How do you get there: Tender
Which cruise lines visit: Norwegian, Regent Seven Sea Cruises 
---
Country: Bahamas 
How do you get there: Tender
Which cruise lines visit: Carnival, Princess, Holland America
---
Harvest Caye
Country: Belize
How do you get there: Dock
Which cruise lines visit: Norwegian, Oceania, Regent Seven Sea Cruises 
---
Labadee
Country: Haiti
How do you get there: Dock
Which cruise lines visit: Royal Caribbean
---
Country: Haiti
How do you get there: Dock
Which cruise lines visit: Royal Caribbean, Celebrity
---
Princess Cay
Country: Bahamas
How do you get there: Tender
Which cruise lines visit: Carnival, Princess, Holland America
---
Ocean Cay
Country: Bahamas
How do you get there: Dock
Which cruise lines visit: MSC
Is a cruise that goes to a private island right for you?
As always, that's a personal decision that depends on your taste and how you like to vacation. Personally, I love cruises that have one stop at a private island. It allows me one relatively cheap day of relaxation. In the other ports, I usually plan more exciting and action-packed excursions that can be unique to the area. Consider the benefits and drawbacks I mention above and see if you think one would be right for you. 
CruiseSpotlight is an Amazon Associate. We may earn a commission when you click links to retailers and purchase goods.