Why you need an AirTag or Tile for your next cruise
There's lots of advice on must have's for cruises, we even have one ourselves, but something that really should be at the top of your list is a Bluetooth tracker like an AirTag or Tile. What's funny is that this item would not have been on my recommended list just a couple of years ago. 
What is an AirTag or Tile Bluetooth Tracker?
A Bluetooth tracker is a small battery-powered device that you can use to track things like luggage, purses, keys, remotes, etc. It has no internet or cell phone connectivity on its own, so there's no monthly subscription required. Instead, it uses Bluetooth on surrounding phones to report back to the company's servers. 
If your tracker is within 50 – 400 feet of your phone, it will be able to identify if it is near you and even have it ring so you can find it. If it's further away than that, you can put the device in lost mode. At that point, it will ping any nearby phone with the installed software and report its approximate location.  
For example, let's say you have a tracker on your keys and you dropped them in a grocery store. You get home and realize they're missing, so you open the app, and it shows the last time your phone was close to your keys and the approximate location. Then you put it in lost mode, and your tracker starts searching. Then, someone with an Apple phone walks by your keys in the grocery store, and the tracker reports their location to your app. It's not going to be a "real-time" live view, but it will give you a much better idea of where they are. 
The difference between an AirTag or Tile
Many manufacturers have Bluetooth trackers, but there are two major ones in the US. For Bluetooth trackers, the big benefit comes down to remote finding, which is based on the network of other devices out there that are also helping look for your device. Because of that, we'll focus on the two most extensive networks. 
Apple AirTag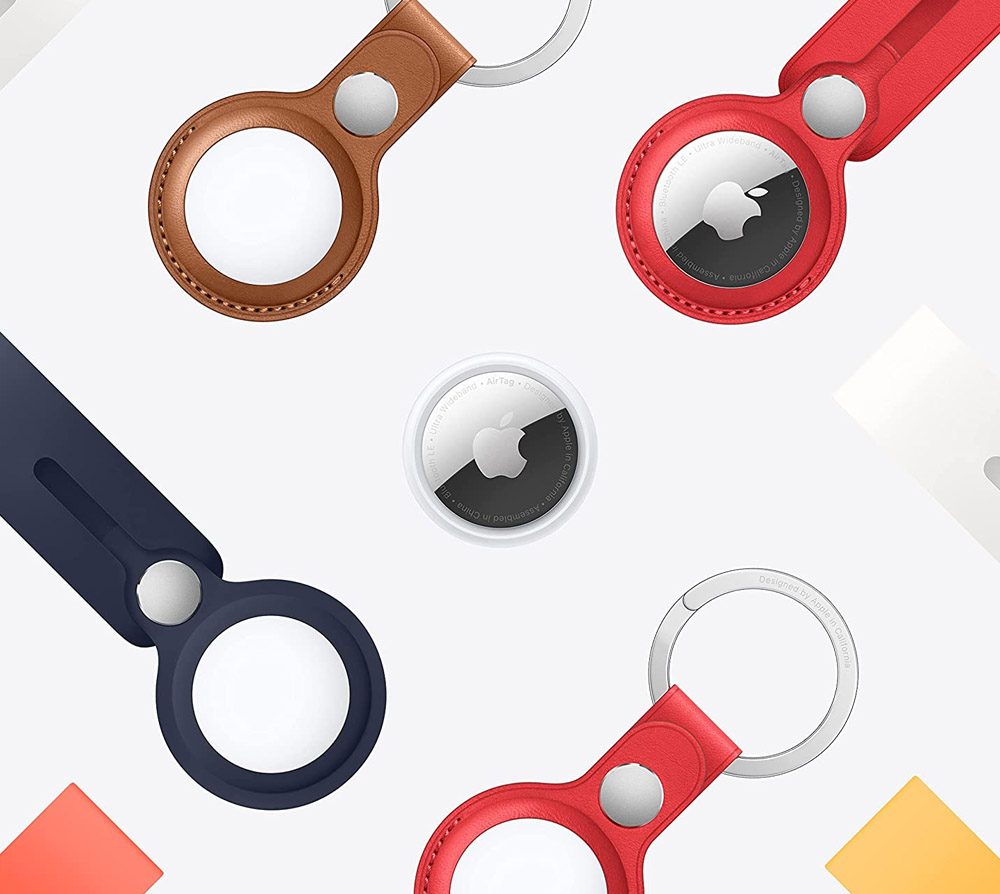 Apple AirTags work with any relatively recent iPhone or iPad. They use Apple's "Find My" network, which is made up of almost anyone with an iOS device. That's a massive number of users potentially searching for your lost tag, and it's the AirTags' biggest benefit. 
There is currently only one version of AirTag. It's just a small, quarter-sized device with no way to attach it to anything. So if you're doing anything other than throwing it in a bag, you'll need to buy a third-party accessory like a keychain holder or adhesive case to keep it handy. It's probably the most frustrating part of the AirTag, but Apple makes a lot of money off third-party accessory makers, so don't expect it to change anytime soon. 
AirTag Pros:
Large network of devices
Enhanced privacy settings
User-replaceable battery (battery lasts about a year)
AirTag Cons:
Only work with Apple/iOS devices
Only one model available
Need to purchase a holder if you want to attach them to something
Tile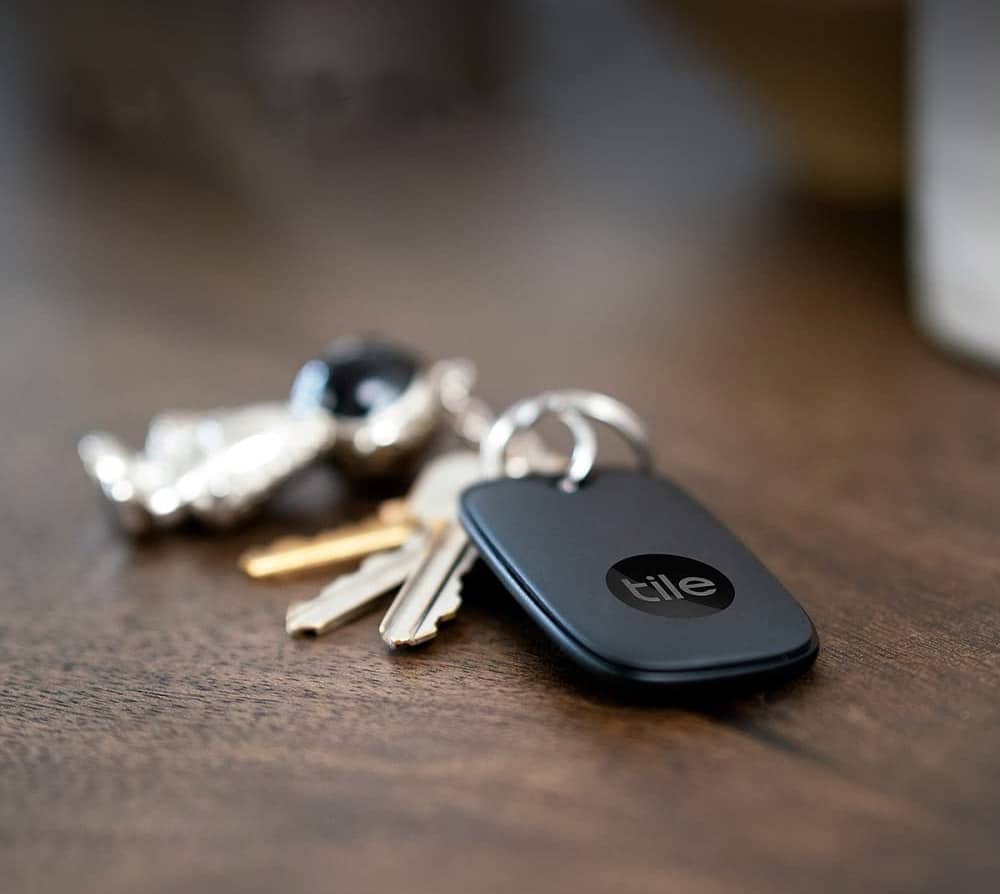 Tile is probably the most well-known and established name in Bluetooth tracking. They debuted their first tracker in 2013 and have been innovating new versions since then. They are compatible with both Android and iOS/Apple devices. Unlike Apple, to have a device join the Tile network, you have to download an app to your phone, meaning the network is smaller than the Apple Find My Network. That being said, an estimated 40 million Tiles are circulating the globe. That's still a decent-sized network. 
Tile also partnered with Amazon's Echo devices using the Amazon Sidewalk network. That means if you leave your keys at home, your Echo device can report their approximate location. So, for example, my laptop bag, which is at home, currently shows as "Last seen near Bedroom Echo" in my app. 
Unlike AirTags, Tile has several models to choose from based on size and form factor. For the purpose we're talking about here, I'd recommend the Tile Pro, which is the largest Tile but also has the longest range, battery life, and loudness of the alert signal. 
Tile Pros:
Lots of models to choose from
Can easily attach to keys, bags, etc
Most have user-replaceable batteries (1-year battery life)
Works for Android AND Apple devices
Tile Cons:
Have to install an app to use it
Smaller network than Apple's Find My Network. 
Do AirTags or Tile work on a cruise ship?
On the cruise ship itself, the AirTags or Tiles aren't going to be really useful. I see a lot of people talk about using it to track their kids on board or find their spouse, but it's not going to be helpful for three reasons. 
1) A cruise ship is made of a lot of metal. That metal is excellent at blocking signals like wifi, cell phones, and Bluetooth. That means the range will be much smaller on a cruise ship. 
2) Devices need to connect to the internet to register where the Bluetooth tracker is. So unless someone has an iPhone or phone with the Tile app installed AND is actively connected to the internet, it won't register its location. Even if it does, the location it reports is often incorrect because it's using a remote satellite system to get internet. 
3) A cruise ship has multiple decks that are pretty close together. So if a tracker says something is within 30 feet of you, that can mean it's also up to 3 decks above or below you.
Use AirTags and Tile to find your luggage
So if Bluetooth trackers aren't going to work well on a cruise ship, why am I recommending them? Simple…airlines suck. Let's be real, no one really enjoys flying, and over the past year, it's gotten nearly unbearable. Flights are delayed, trips are canceled without notice, and bags are lost. It's awful right now, and this is where a Bluetooth tracker will come in handy. Just throw one in your checked bags, and you'll know exactly where they are.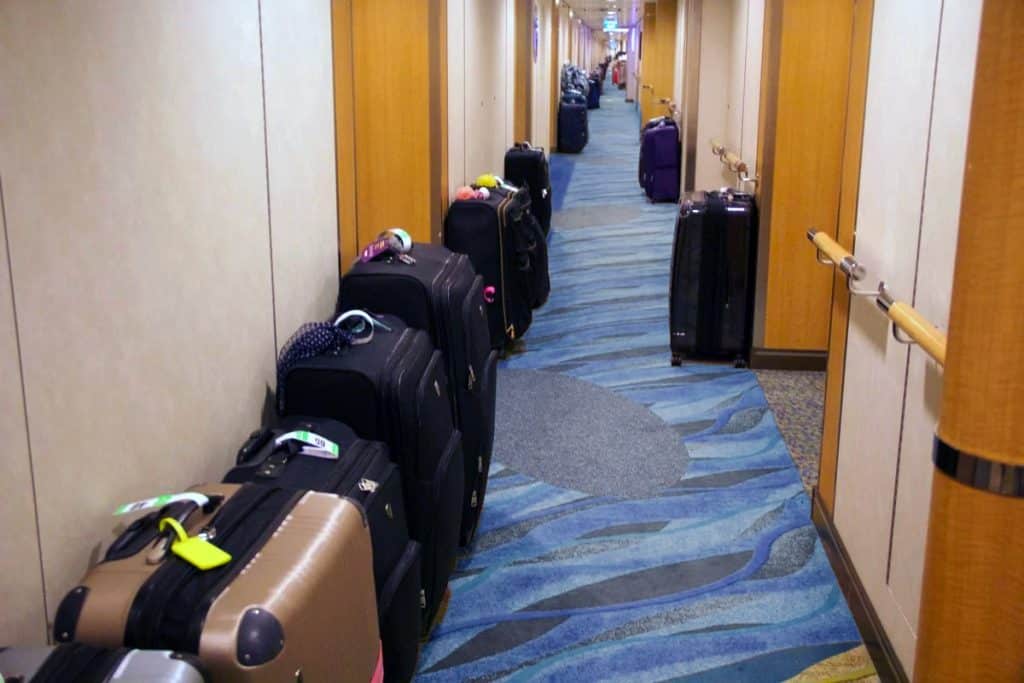 How Tile saved my sanity on my last cruise
In June, I was flying home on Alaska Airlines from a beautiful Alaskan cruise in Seattle. We used Port Valet, which takes your bags directly from the cruise ship to the airport so you can explore the city of Seattle before your flight home. As soon as I stepped off the Ovation of the Seas, I pulled up my Tile app and could see my bags were already at the Seattle Tacoma Airport waiting for me. It was great to have that peace of mind.
Twelve hours later, we were waiting for our flight at the airport. Then we received a notification that Alaska Airlines had canceled our flight. We scrambled to find another flight home that day and rebooked. Even though we changed our flight on the phone, we waited in line for an hour to ensure our bags were transferred to the new flight and were assured they would be.  
Once our flight landed at our home airport, I pulled up my Tile app and immediately saw that my bags didn't make it. They reported their location just half an hour before, meaning someone with a Tile app walked by them, and they were still in Seattle. Because I knew this, I could go directly to the luggage room at the airport and not wait 20 minutes for the bags to come out on the carousel to see that they were missing. It put me at the front of the line. 
They agreed to ship the bags back to my house, but it'd be a day or two. Using the app, I could track them as they made their way to two other airports before heading to my phone. I could even follow them as they headed to my home for delivery. It wasn't real-time like you might have with Uber or Door Dash, but it was enough to have a general idea of where the bags were and that they were on their way to me. It saved me so much time having the follow up with the airline to check on the status of my bags.
Should you use AirTag or Tile on your trip?
I highly recommend using a Bluetooth tracker on your trip. It saves you such a headache and could prove to be a lifesaver if you do need them. They're relatively inexpensive, but what's nice is that you can use them for other stuff as well. For example, every day, I have my Tile Bluetooth tracker attached to my keys just in case I lose them. Then, when I go on a trip, I take it off the keys and throw it in my bag. 
Is AirTag or Tile better for you?
Either tracker will work well for you. Typically, if you have an iPhone, I recommend the AirTag as it's a bigger network and works seamlessly with your phone. If you have an Android phone or are a mixed phone household, Tile is the better bet. 
CruiseSpotlight is an Amazon Associate. We may earn a commission when you click links to retailers and purchase goods.