Zooming Around A Race Track on a Norwegian Cruise Ship
Last Updated on October 10, 2022
In the early days of cruising, having a 10-foot water slide or hot tub was a big deal. Today, the cruise lines have upped their games, adding new and innovative features to their ships like roller coasters, mini-golf, water parks, and climbing walls. In 2017, Norwegian Cruise Line shook up the industry and introduced a race track on their new ship, the Norwegian Joy. 
The Norwegian Joy Speedway allowed passengers to hop in a go-kart and zoom around a two-level, 11,500-foot race track hundreds of feet above sea level. The Speedway could handle ten electric go-karts that zoomed around the track at up to 40 mph. A similar race track was also installed on Joy's sister ship, the Norwegian Bliss. Then when they introduced Norwegian Encore, they improved upon that design, extending the raceway and adding four sections that extend off the side of the ship. 
What are the race cars like?
Having ten gas-powered go-karts noisily making their way around the track would kill the peace and quiet for other passengers. So to get around that, Norweigan went with electric cars. Norwegian added speakers in the headrest that blast engine sounds to make sure riders still felt that "authentic" race car feel. The cars can be one or two-seaters (or tandem cars). There are mixed reports as to the top speeds, but it's reported they max out at between 30 and 40 MPH. The cars have a turbo button that is supposed to give a boost of speed, but we've heard these buttons no longer actually do anything.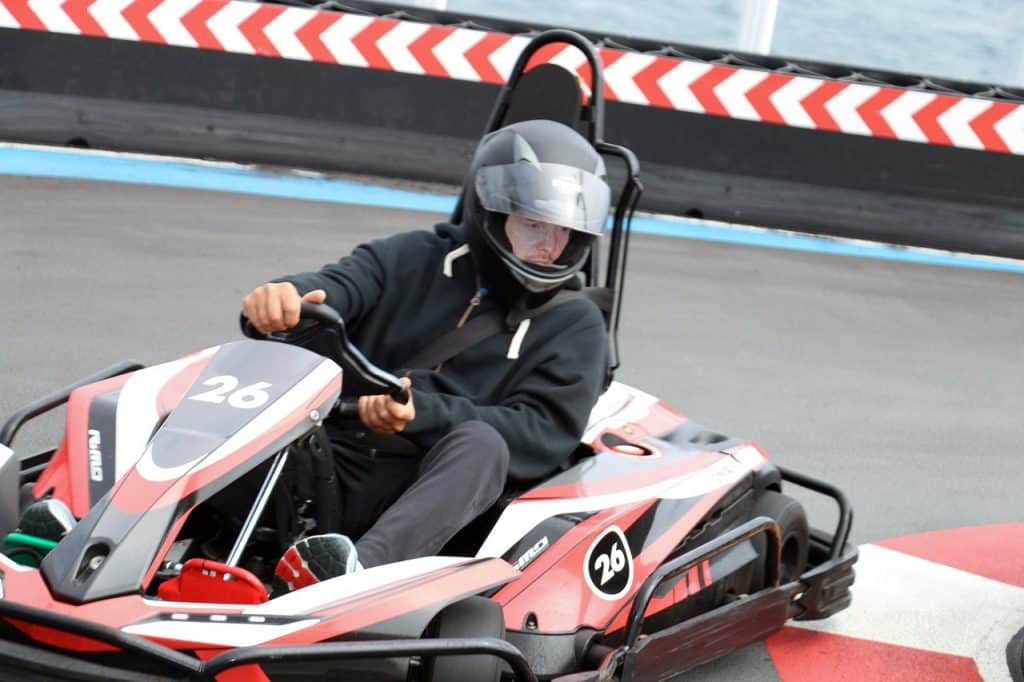 The race track experience
The race track is popular, so make sure to reserve a time early on. Arrive at your scheduled time, but give yourself some buffer time before you schedule other events. Between completing waivers and waiting your turn, it might be another 30 minutes before you're actually racing. 
When you first arrive at the Speedway, you'll sign a waiver and wait until they're ready for you. Then you'll receive a head sock that you'll wear under your race car helmet (leave your own hats back in the room). Next, you'll watch a safety video before making your way to the boarding area/pit row. Riders then get into their cars in a single file line and slowly start making their way up a hill and around the track. For the first lap or two, the go-karts have speed governors on so you can get a feel for the track and driving around it. Then they turn off the limits, and you can zoom around at full speed. A race session lasts between 8 – 10 minutes, and you usually can get in about ten laps. 
While this is a race, you're not going to have a red, yellow, green start light like you might expect in an actual race (or MarioKart, which is my closest race car experience). Instead of racing head-to-head, a computer will keep track of your progress and give you a lap time. Then you can compare lap times with your friends and family to see who's best. There will also be a scoreboard keeping track of the best times of the day and the cruise. 
What are the requirements to go on the race track?
You don't want to wait in line or make a reservation and not be allowed to race. Make sure you make closed-toe shoes, or you will be turned away. Also, leave your bags somewhere else; there are no nearby lockers to store your belongings, and bags are not allowed in the car. Also, don't forget your room key; you'll need it so they can identify you. 
To drive alone, the minimum height to ride is 48″ (although the Joy used to have saying 55″). The maximum height is 79″. There are no age limits, so smaller riders can go in a two-seater with adults.  
How much does the race track cost on a Norwegian ship?
If you want to do one single run, the cost is $15. There's also the $199.95 unlimited weekly pass which gives unlimited rides for the entire cruise. 
When does the race track run?
Check your cruise schedule to see the hours each day. When the ship is at sea, it's usually open from 9 am to midnight. Make a reservation if you want a sea day. You can claim your time using your stateroom television, in the Cruise Norwegian mobile app, or touch-screen kiosks throughout the ship. 
Which cruise ships have a race track?
Cruise ship race tracks are currently exclusive to Norwegian Cruise Line. You can experience it for yourself on the following ships: 
CruiseSpotlight is an Amazon Associate. We may earn a commission when you click links to retailers and purchase goods.