All about the Celebrity Beyond
The Celebrity Beyond is a fairly new ship, being built in 2022. It's considered a medium size ship. Coming in at 1,072 ft long and 128 ft wide, it's roughly the length of 3 football fields, as wide as 2.4 tractor trailers and the same height as a 16 story building. The Celebrity Beyond features the "Magic Carpet," a moving platform that makes using water tenders a breeze while in port, or adds outdoor dining space while at sea. This Edge-class of ship is known to feel quite different than the rest of the Celebrity fleet as it's less geared towards traditional cruise passengers. The Beyond is still under construction and Celebrity hasn't released all the details yet. This page will be updated as we learn more.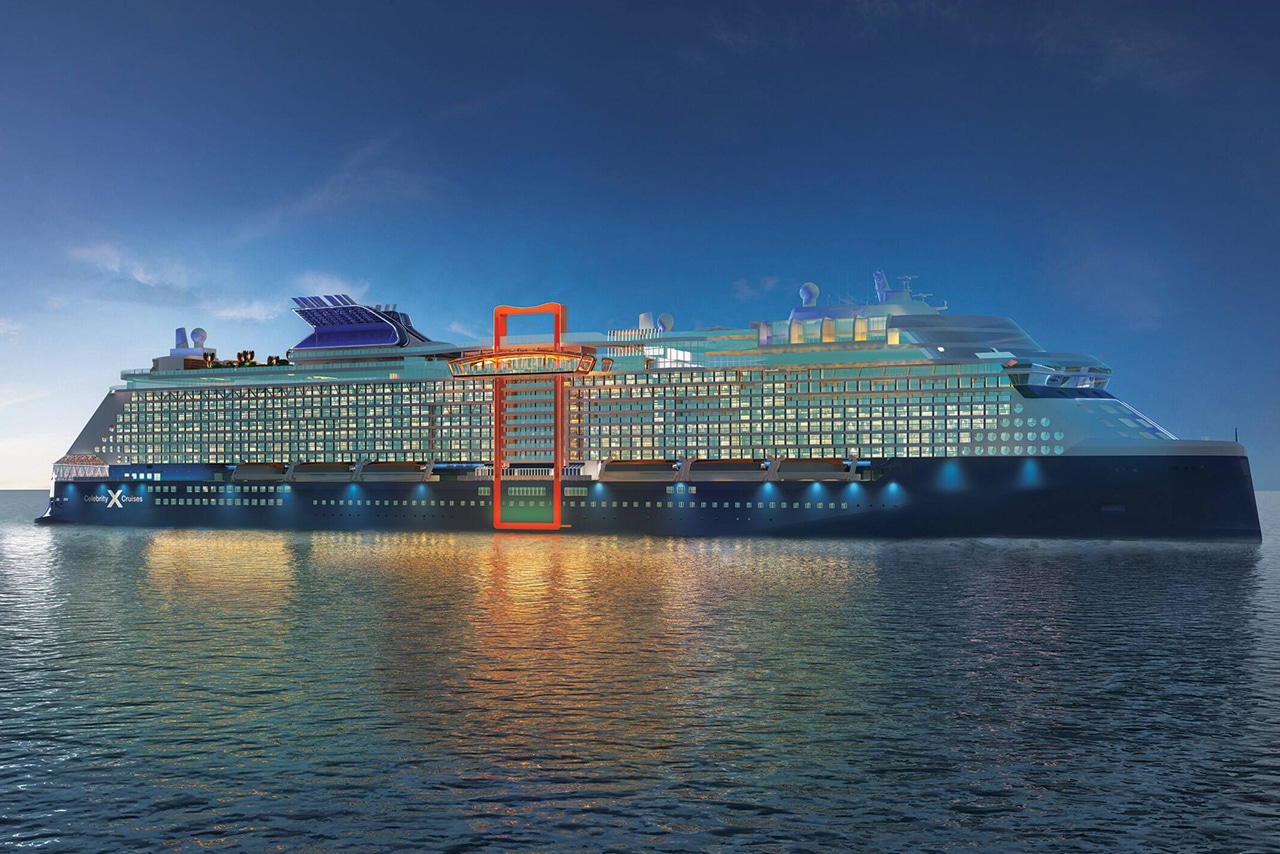 The Celebrity Beyond can hold 3,260 based on double occupancy (two people per room) and more when you take into account 3rd and 4th passengers. When you compare the total tonnage of the ship to the number of passengers, the Beyond has a space ratio of 43. Depending on the ship, this number can range from 30 to 52 (with a bigger number meaning more space per person) so this ship's space to person ratio is about average.
Celebrity
Beyond
Class
Edge
Gross Tonnage
140,600
Length
1,072
Beam/Width
128
Passenger Decks
16
Passengers (double occupancy)
3,260
Crew
1,416
Passenger to Crew Ratio
2.3
Space Ratio (tons of ship per passenger)
43
Dining Establishments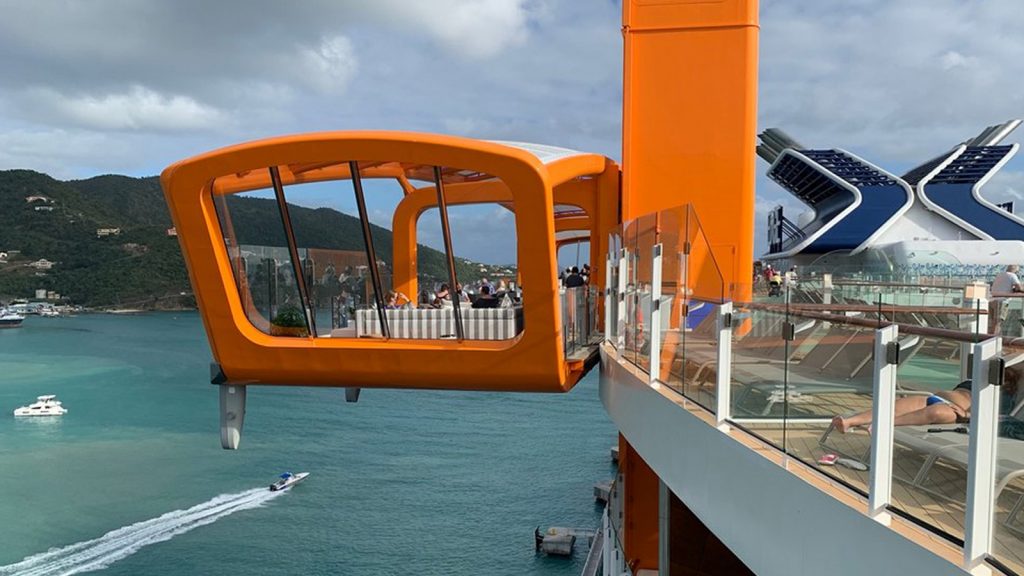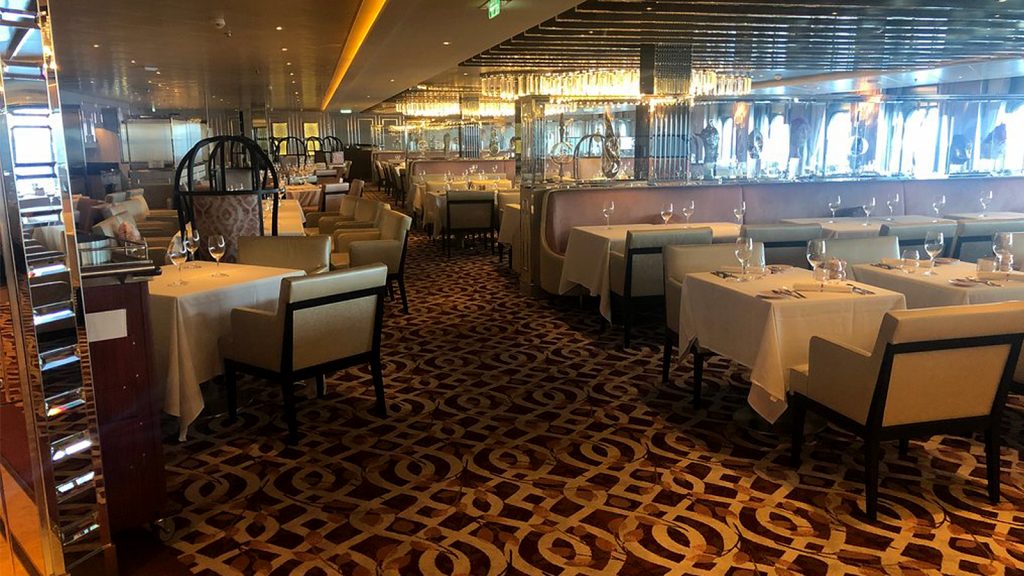 Food is a big part of any cruise, and on the Celebrity Beyond, there will be plenty of it. You have 19 different dining options to choose from. Of those options, 8 are complementary, or included with your cruise fare. The other 11 options have an additional fee. Some options are a set price and some are a'la cart menu pricing. Only 42% of the dining options are included which means you might spend more while on the ship due to the additional fees.
There are also plenty of bars available on this ship. Alcohol is not included in the base price of this cruise ship. To see if you would save money with a drink pacakge, try our Drink Package Calculator.
Pools and Hot Tubs
Nothing beats relaxing by a pool with a nice drink in hand as you feel the fresh sea breeze pass by you. The problem is that with thousands of people on a ship, there's not always room. We're a firm believer that if you want to just spend all day for 7 days in a pool, a cruise isn't for you. You would have a much better bet choosing a resort with a huge pool complex. That being said, a quick dip in the pool can be nice on a hot day. The Celebrity Beyond has a total of 5 pools and 6 hot tubs.
Tired of loud kids and splashing? 1 of the pools and 2 of the hot tubs are adults only. 1 of the pools and 2 of the hot tubs are exclusive access, which means there's either an extra charge to access them or you need to book a certain class of cabin to have access to them.
Celebrity
Beyond
Total Pools
5
- Pools - General Access
3
- Pools - Adults Only
1
- Pools - Exclusive
1
Total Hot Tubs
6
- Hot Tubs - General Access
2
- Hot Tubs - Adults Only
2
- Hot Tubs - Exclusive
2
Ammenities
There are quite a few things to do on the Beyond. These are the main ammeneites that are available. Some are included in the cost of the cruise, while other have an additional charge.
Celebrity
Beyond
Basketball
Included
Beyond the Podium Talk Series
Included
Bingo
A la cart
Casino
A la cart
Eden Entertainment Space
Included
Fitness Center
Included
Jogging Track
Included
Movie Theater
Included
Pool-side Movies
Included
Rooftop Garden
Included
Shows - musical review
Included
Spa
A la cart
Thermal Suites
Flat fee
Articles Related to This Ship
Compare the Beyond to Another Ship