Harmony of the Seas – Cruise Blog – Day 1 – Fort Lauderdale
Last Updated on March 5, 2023
Last week, I sailed on the Harmony of the Seas, the third-largest ship in the world. It was my first time on an Oasis-class ship, and I wondered how I'd feel about this groundbreaking (at the time) ship. It was also a group cruise with 7 of us traveling together. Here I'll take you through our 5-day Mexican cruise covering every aspect of our trip including food, activities, transportation, and excursions.
Harmony of the Seas Day 1 Overview
Getting to Florida the day before
Our cruise started with our journey down to Florida from New Jersey. My group flew in the night before our cruise in order to be safe in case there were delays or canceled flights. It was a good thing because our flight down was delayed 3 hours. I know it's very tempting to fly on the day of a cruise to save some money, but with how flights are nowadays, always fly down the day before. You'll be happy you did.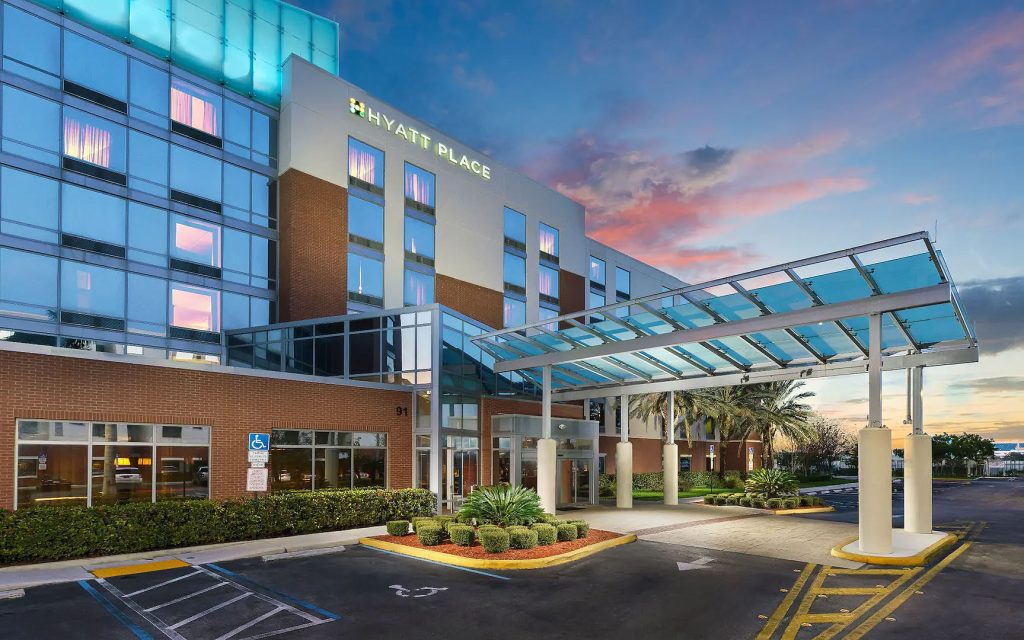 The Harmony of the Seas was sailing out of Fort Lauderdale so we chose to stay in nearby Dania Beach. Despite the name, it's not near the beach, but it is near a bunch of shops and stores and just minutes from both the airport and the cruise port. We picked the "Hyatt Place Fort Lauderdale Airport – South & Cruise Port," which cost $177 per room after taxes and fees. The hotel offered a free shuttle from the airport, which was convenient, and also had free breakfast. Overall, it was a good place to stay right before a cruise. 
Getting to Port Everglades and the Cruise Terminal
We woke up, enjoyed the included breakfast, and then got ready to head over to the cruise port. We were able to score an 11:00 AM boarding time, the earliest available for this specific sailing. While our hotel offered a shuttle for $15 per person to the cruise terminal, we chose to use Uber instead as it was cheaper and more convenient. We had seven people with bags, so we had to get two Uber XL's. They cost $20 per Uber and it only took 5 minutes for them to show up at the hotel. 
The ride to the cruise terminal itself was a bit rockier. While it's usually a 20-minute drive to the cruise port, according to Google Maps, it took us 40 minutes. That's because the port checks every car entering to see people's passports and ensure they're allowed in the restricted area. I haven't seen this in other ports, which created a choke point that slowed traffic down considerably. 
That was just a minor inconvenience; the bigger problem was that one of the Ubers we took got turned away! The driver's documentation didn't match his Uber documentation. Basically, he wasn't supposed to be driving that Uber, so they made our party get out, and the Uber had to turn around. They could have called another Uber to pick them up, but it would have been a long wait because of the line, so three people had to walk their luggage about half a mile.
Once we got through that security point, the traffic was much quicker. For the Uber that got allowed in, we proceeded to find the ship. Cruise lines do a horrible job of communicating what terminal you should go to. Thankfully there are usually signs to show which ship is at which terminal, but I still find it very frustrating. If Royal Caribbean can send 50+ emails reminding me to book a drink package and excursions, they can let me know where to go for my cruise. In this case, the Harmony was at Terminal 18, which is pretty common. 
Smooth sailing through Port Everglades Terminal 
We arrived at the terminal and immediately dropped our bags off with porters. It was warm and humid outside but thankfully, there were no lines outside the building, so we wouldn't have to worry about being in the heat.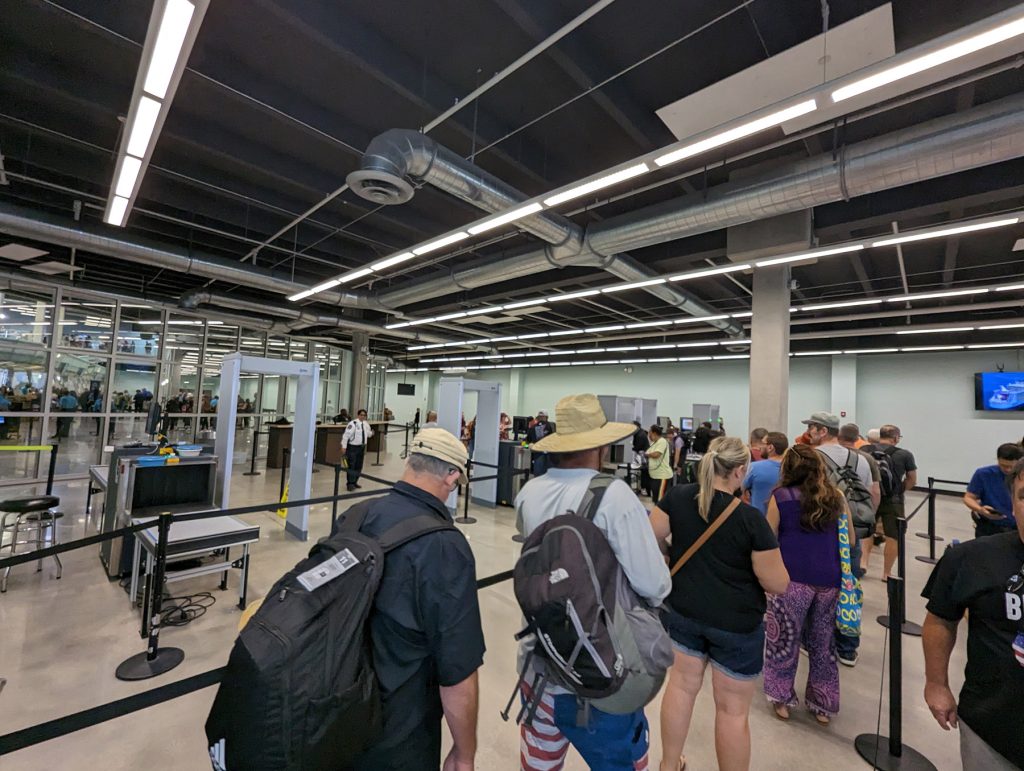 We proceeded into the large warehouse-like building and were immediately at initial security screening/x-ray/metal detector. I was shocked that there wasn't a line; we weren't prepared because we thought we'd have time to get the stuff we needed out. 
We breezed through the scanners and went to the next station where a rep checked us in using an iPad. All we had to do was show them our SetSail Pass (we printed it out rather than use the digital version in the app just in case something went wrong), and answer a few health questions and we were good to go.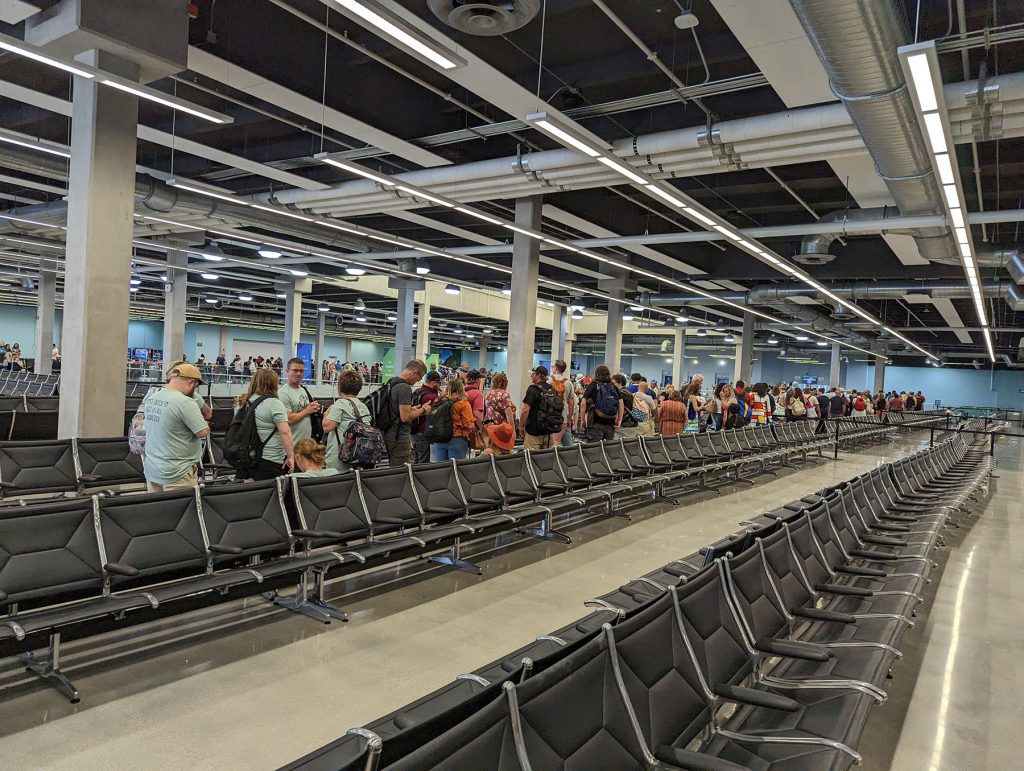 After that, we were given the green light and moved up one level using an escalator to a large room filled with airport-style seating. But little of it was in use. Instead, people lined up across the different aisles between the seats. They would wait a couple of minutes until an attendant directed their row to walk to the boarding area. That part got a little messy as a bunch of lines converged into one, but overall it was still incredibly smooth. 
All in all, it took us 25 minutes from when we dropped out bags off at the porters until we walked onto the Harmony of the Seas. The staff was all incredibly friendly and helpful. It was a welcome change from my last cruise on the Ovation of the Seas out of Seattle, which took almost an hour and had rude staff. Miami and Fort Lauderdale are some of the easiest ports to sail out of. 
Walking onto the Harmony of the Seas
Our group walked back and forth up the gangway as we approached the massive ship. One by one, we crossed the threshold onto our home for the next five days. The flow of people traffic came to a halt as soon as people boarded as they had to stop to take in what they were seeing. Half of our party had never been on a cruise ship before, and you could see their jaws drop as they took everything in.
The Harmony of the Sea has two embarkation entrances, both located at the Royal Promenade on Deck 5. The Royal Promenade is a two-story high venue that stretches across the ship from front to mid-ship. It almost looks like a downtown street, lined with shops, bars, restaurants, and artwork. It was bustling with life. All along the concourse, vendors sold drink packages, specialty dining, and excursions. It was busy, and it took a moment to adjust. Our group got our bearings and decided we'd first check in at our muster station.
E-Muster Check-in
If you've cruised in the past, pre-covid shutdown, you might remember the awful muster drill. The whole ship would come to a halt about an hour before the ship sailed, and you'd have to spend 30 minutes gathering in a large venue to watch the crew members demonstrate how to use a safety vest and what to do in case of an emergency. Since COVID, almost all North American cruise lines have implemented a new electronic muster station process.
Royal Caribbean calls this "eMuster," and they make it incredibly easy. You just watch a video on the Royal Caribbean app on your phone, and then once you board, you go to your muster station to check in. The video becomes available before you even board, so we watched it in the Uber on the way to the ship. While this process is faster, it requires a smartphone with the app installed, which some older cruisers might not want or be able to do. Luckily, if they're traveling with others, they can check in on their app if the reservations are linked. They can also get a personal demonstration instead.
Since our group had cabins in two different parts of the ship, we had two different muster stations. We went to both, showed our printed-out SetSail cards, and we were done. We were now officially on vacation.
Harmony's Boardwalk and Central Park Interior Facing Balconies
Before exploring the massive ship, we wanted to head to our cabins to drop off our backpacks. Normally, cabins wouldn't be accessible until around 2 PM, but this was a unique sailing for the Harmony of the Seas. The ship was repositioning from Orlando to Fort Lauderdale, its new homeport, so it was empty the night before. That meant our rooms were available as soon as we got onboard.
For this cruise, we tried interior-facing balcony staterooms. They're officially called "Boardwalk View Balcony Staterooms" and "Central Park View Balcony Staterooms." However, you might be fooled by the name if this is your first time cruising on Royal Caribbean, and you might think these have an ocean view. 
The Oasis-class ships have two large sections in the middle of the vessel that are open to the air above and are lined with cabins. This way, rooms that would typically be interior cabins can have a balcony that overlooks these neighborhoods. I'm a sucker for an ocean view, so usually, I opt for an ocean-view balcony, but since this was my first time on an Oasis-class ship, I decided to try one of these balconies. Also, because it was a group cruise, I'd spend less time alone in my cabin and more time out socializing.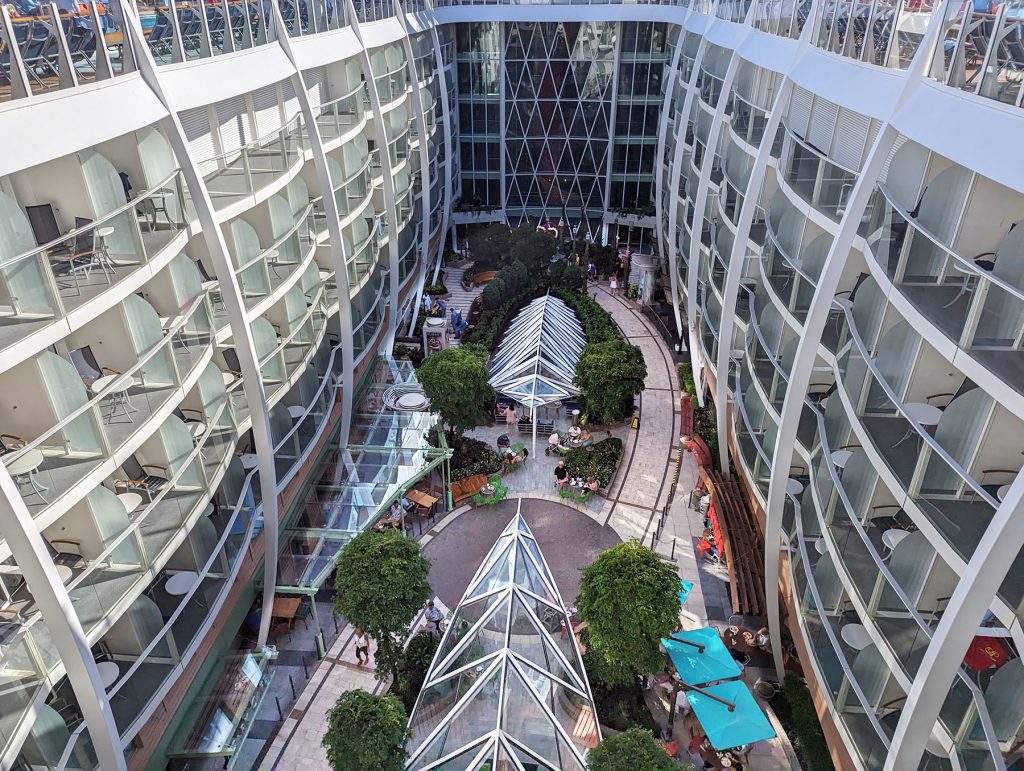 Our cabins were on the same deck, Deck 12, but they were in two different sections. Two were Central Park balconies, and two were Boardwalk Balconies. The rooms were relatively spacious. Decorated in dark woods and colors, they didn't have the most personality, but they were modern, clean, and sleek. The cabins on this ship alternate in layout; one cabin will have a bed by the balcony door and a couch by the bathroom; the room next to it will be the opposite.
Central Park Balcony Cabins
We started by checking out the Central Park rooms. When we first entered, the curtains were closed, making it dark. But as soon as we opened the curtain, the bright sunlight illuminated the room, making it feel much more airy.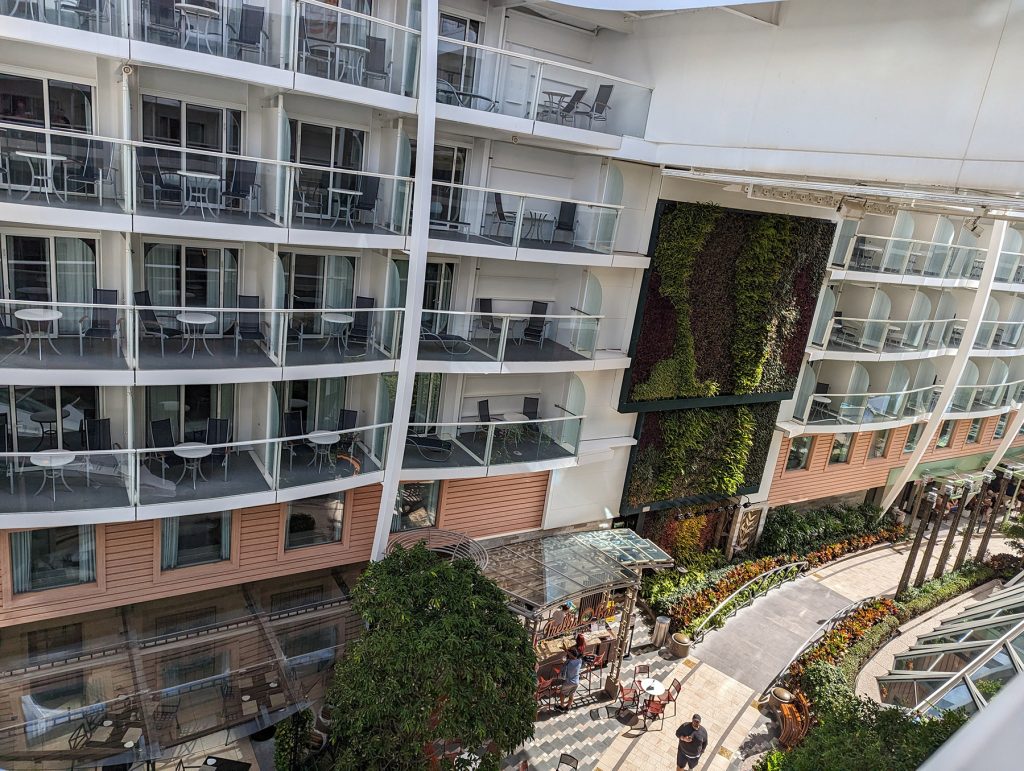 The rooms overlooked Central Park which was beautiful. The neighborhood is inspired by Central Park in NYC, a beautiful oasis of greenery in the middle of urban bustle, as it serves the same purpose. The space is filled with over 12,000 living plants. Living plant walls spanned the different decks of Central Park, and trees and ferns lined the inside. 
The balcony itself was spacious with a good-sized table and two chairs. You could easily sit down there and have cocktails or snacks throughout the day to enjoy the view. The two cabins in this area were right next to each other, so we were able to request that the cabin steward open the divider between the two balconies so we could move between the two balconies. So it wasn't one large seamless balcony, but it made it a good place to hang out.
Boardwalk Balcony Cabins
After I checked out the Central Park Balconies, I headed to my room in the Boardwalk neighborhood at the back of the ship. I opened the door, and my cabin was essentially the same as the Central Park Balcony Rooms. In fact, with the window closed you couldn't tell the difference between the two rooms.
When I opened the curtains though, I was really disappointed. This view was much more industrial; there was no greenery or beautiful sights. You could see the top of a carousel, but it wasn't too impressive from that angle. You could also get a glimpse of the AquaTheater at the end of the ship. Some rooms can actually watch the show from their room, but my room was a little too far back to make it easy.
Looking at the two types of cabins, I would not book a Boardwalk Balcony again. It was loud in that section, and the music from the Aqua shows, which can play as late as 11 PM, came right through the doors. It wasn't bad for two adults, but it could be annoying if you had kids who go to bed early. I much preferred the Central Park balconies with their relaxing and peaceful atmosphere. 
It was also annoying that the rooms only had blackout curtains, no sheer or light-filtering curtains. That meant you either had a dark room that felt like an interior cabin, or you opened the curtains and the people across from you could see right in. 
Overall, I did miss the ocean view, but because I wasn't in the cabin much on this cruise, it wasn't worth the $100 price difference. But if it was a longer cruise with more sea days or I was on my own, I personally would opt for the ocean view.
Enjoying the pool decks on Harmony of the Seas 
After we put our carry-on bags in our rooms, we headed up to Deck 15, the main pool area. The Harmony of the Seas' pool deck has three large pools and a kid's splash park called Splashaway Bay. Two of the pools are regular pools while one, called the Beach Pool, had a gentle slopping entry with loungers in the water and then the large pool. Several large hot tubs also dotted the area, with room for 11 to 20 people depending on the hot tub.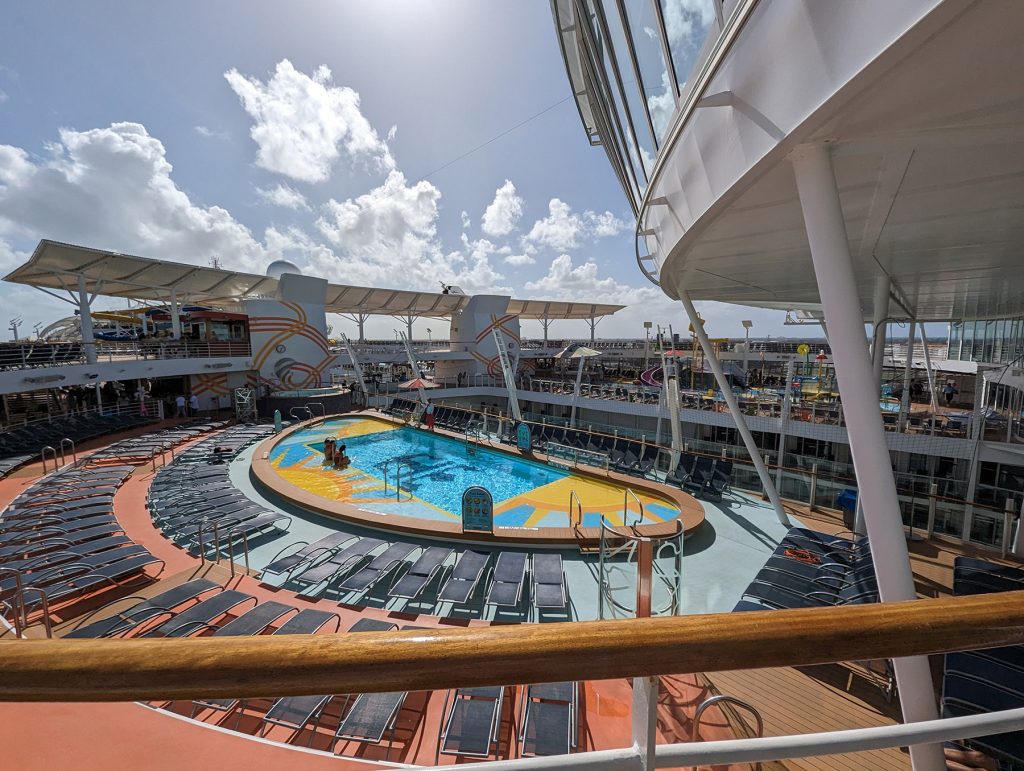 At this point, the pool deck was empty, and we had our choice of available loungers. The main pool deck had a mixture of shaded and full-sun loungers and two bars between the different pools.  
TIP: Always wear your swimsuit or bring it in a bag when you board. Many people don't think about it and pack their swimsuits in their checked luggage, which will not arrive until between 2 and 6 PM most of the time. This time is when there will be the least crowds in the pool and the smallest lines for water attractions.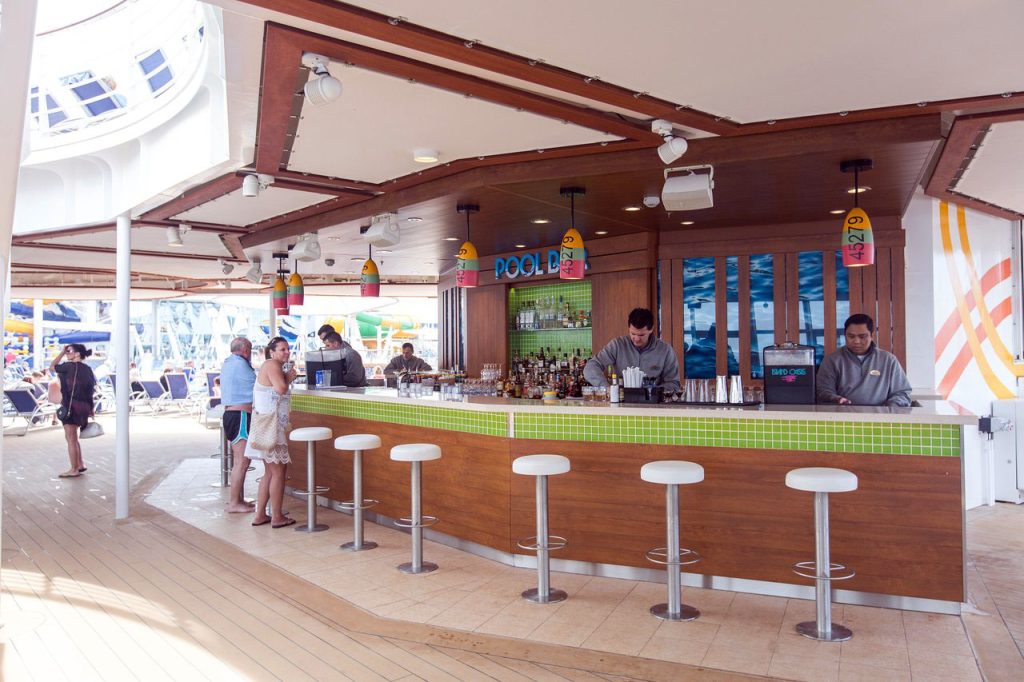 Poolside Cocktails
We got some "welcome aboard" cocktails to start the trip off right. Annoyingly, Royal Caribbean still refuses to put out full drink menus at all their bars (you can see the full menus here). Instead, they have one sign with a drink of the day, usually $10.95, and then a sign with 3 "signature" drinks and a QR code to pull up the full menu. It's so frustrating and a stupid decision on Royal Caribbean's part. Instead of ordering Royal's signature drinks, guests would order their "usual" drink, like a rum and Diet Coke or Long Island Iced Tea. These drinks are $2 – $4 per drink cheaper than the Royal Caribbean drinks, so it's a good cost-saving measure for cruisers, but sometimes you want to try something new.
The bartender also told us about a promotion for canned beers. You could buy four and get one free. That would save $10 per round, so it's a good deal, but it's annoying that the offer wasn't written anywhere, which would make it easier to understand. 
The bartenders were fast and friendly but were already struggling to keep up with the crowds coming in and going immediately to the pool area. Guests were still figuring out how to order and what to order. On top of that, the bartenders were spending a lot of time explaining the drink package to guests and getting them to upgrade. 
Now I never get the drink package, as I always save hundreds of dollars by paying per drink, but for some people, it's worth it. For the group I was traveling with, we did the math using our Drink Package Calculator and we knew it would not be worth it for us. Still, the bartenders did a good job selling the package and almost convinced some in our party. They'd run back of napkin calculations to help people decide, but Royal Caribbean's drink packages are expensive. The price will vary for each sailing for Royal Caribbean, but it would have been $800 for two people for us (everyone in the cabin must get it). That was half of the cost of the actual cruise!
Water Slides on Harmony of the Seas
While there were no lines, we decided to check out the three water slides available on the Harmony of the Seas called the "Perfect Storm." There's a dual racer slide called "Cyclone" and "Typhoon" and then a bowl-style slide called "Supercell." The minimum height to ride is 42 inches.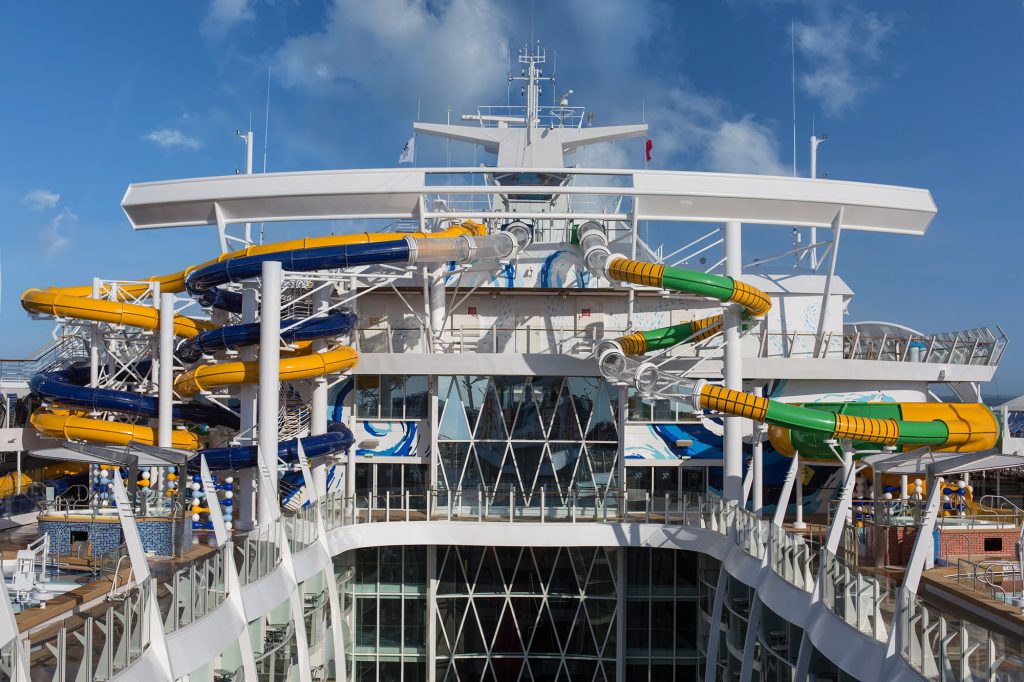 The Supercell bowl slide was fun. The tube had clear sections, so it wasn't pitch black. Some sections have colored portions of plastic that the sun would illuminate, almost making them look like lasers. You slip and slide down the tube and shoot out into the yellow plastic bowl. Depending on your speed, you shoot around the bowl one or two times and then, most of the time, have to scoot your way to the center to slide into the exit. 
The dueling slides are pitch black except for a small section of the yellow one at the beginning that is clear. They go really fast and the darkness means you have no idea what's coming. It gets the adrenaline pumping and cools you off. 
Overall we had no lines at this time, and even on the sea days when it was crowded, the longest wait was 10 minutes. Still, if you want to ride the slides, do them on boarding day or after you return from an excursion to avoid lines. 
Lunch food on Harmony of the Seas
We had a lot of ship to explore, so we didn't want to have a sit-down lunch. Instead, we grabbed small bites while we explored the ship.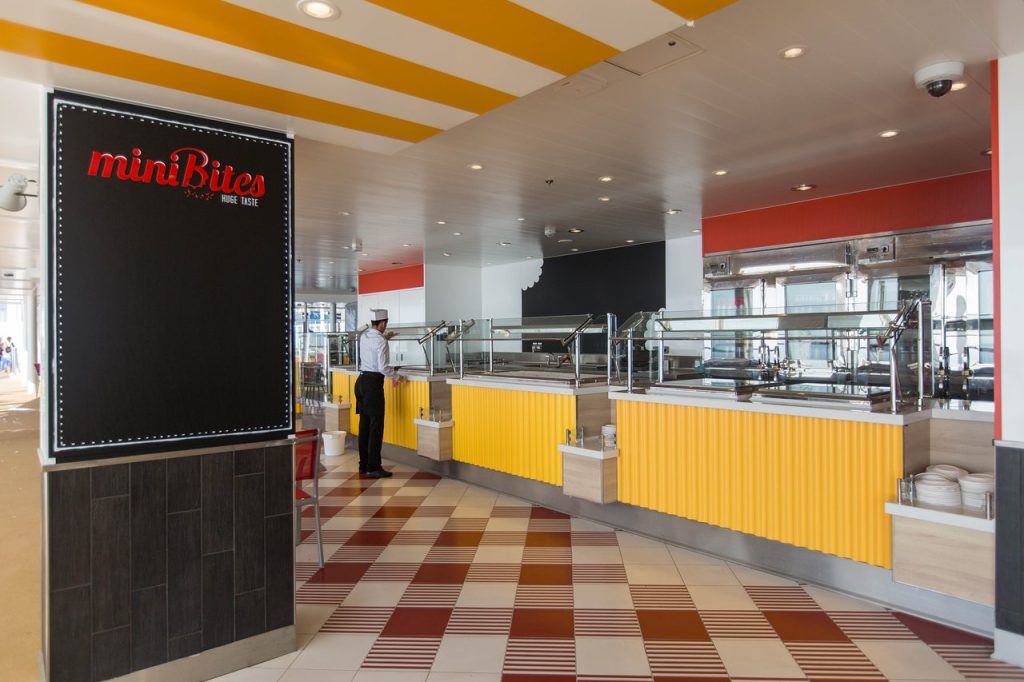 We started at "Mini Bites" on the back of Deck 15 near the sports section and teen club. It's a small buffet with lots of casual, kid-friendly fare like burgers, hot dogs, chicken nuggets, fries, and quesadillas. I grabbed an assortment of finger food and brought it back to the group to enjoy near the pool. It's a great option for a quick bit without having to go through the hassle of getting into the main buffet, the Windjammer. 
Exploring the Boardwalk Neighborhood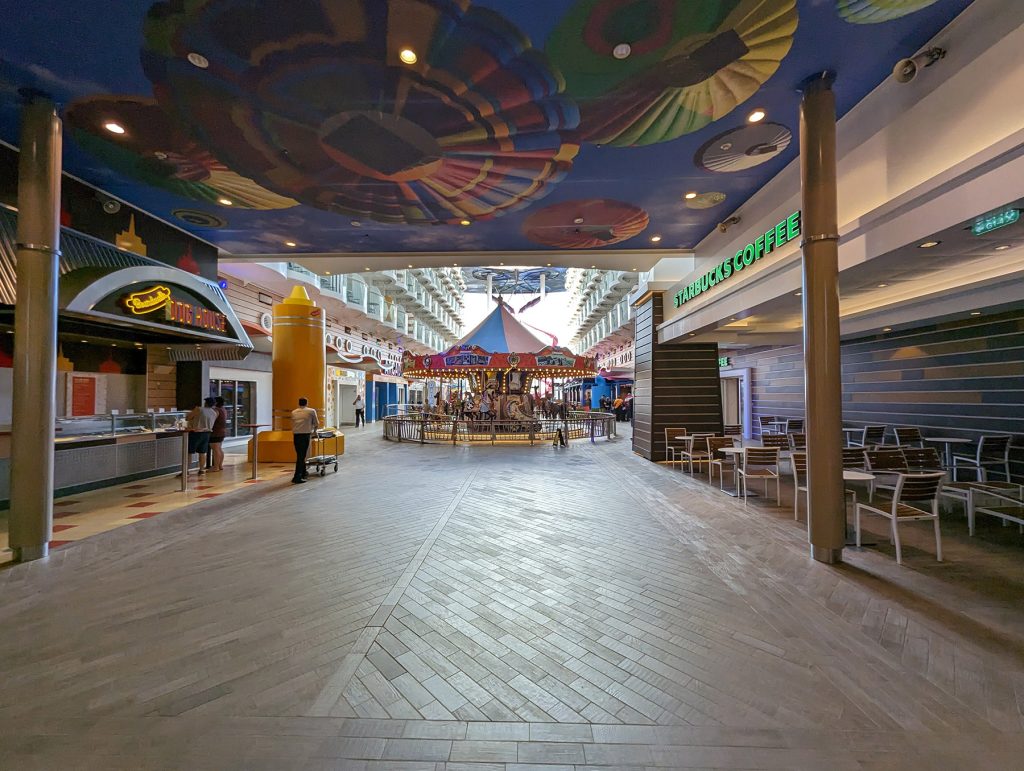 Afterward, we headed down to the Boardwalk Neighborhood on Deck 6 to explore. As I noticed from the balcony above, walking into the boardwalk felt a bit industrial, but at least from this perspective, you could appreciate its grand scale. The space is very wide; the cabins on either side raise ten decks high from the bottom level. Inside the neighborhood was a Starbucks, a few shops, dining options, and a play structure for kids. It wasn't as Boardwalk-feeling as I expected based on pictures I'd seen, but I definitely had never seen anything like that on a cruise ship before. 
We stopped at the Dog House for a snack which had a variety of hot dogs and buns to try. It's another great place for a quick bite. Oddly, on this cruise there was never a line. When I was on Ovation of the Seas this past May, the line was always around 10 minutes, so I wondered why it wasn't as popular on this ship. It could be because it wasn't close to kid's clubs. 
Main Dining Room for dinner
Since this was a group cruise, we opted for a set-time dinner rather than their "My Time Dining." That way, we'd have a specific time and place to meet each day. Unfortunately, the "Set Time Dining" times aren't great; you can choose either 5:30 or 8 PM. We selected 5:30 since 8 PM would just be too late by the time the meal was over. 
Technically, there is only one massive dining room on Harmony of the Seas, but they break it into three levels, each with its own entrance, name, and décor. It's peculiar, but it meant it was easy to find our table. Our room key said "Dining room deck 5" (the top level of the dining room) and our table number, so we knew exactly where to go.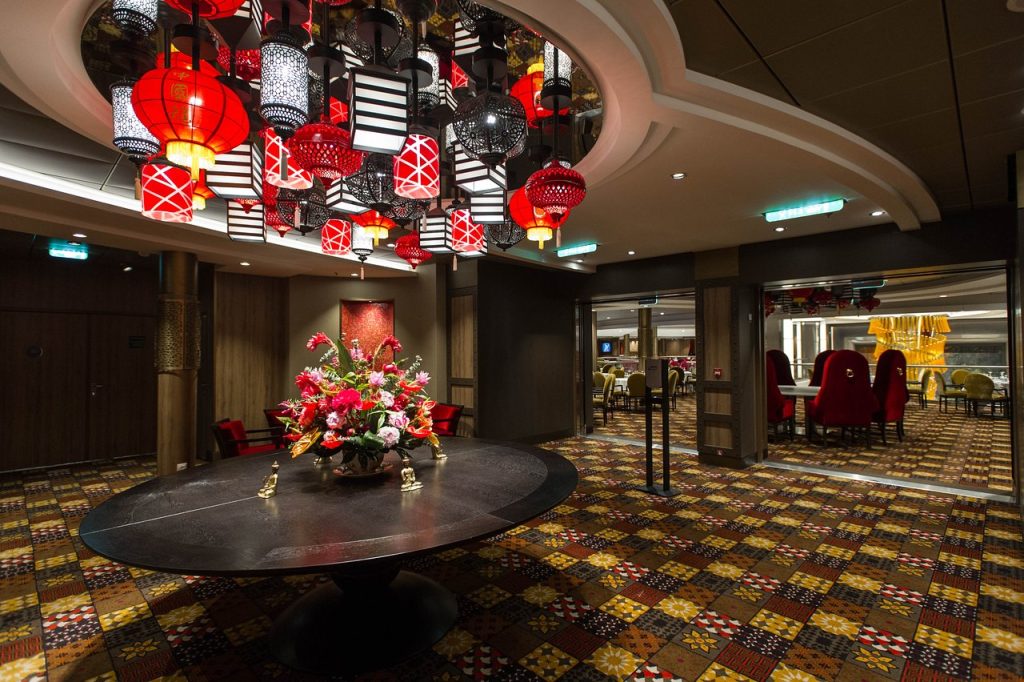 Deck 5 was called the Silk Dining room. It had an Asian flair to the décor, with vibrant reds and golds throughout the space. The dining room was quite spacious and very classy feeling. The tables were spaced out nicely, and the high ceiling made it feel much more open than some other ships. Unfortunately, being at the top of the 3-story dining room, you didn't realize how massive the room was. The dining room is also missing any windows so it could feel a bit cave-like, and you could lose track of time.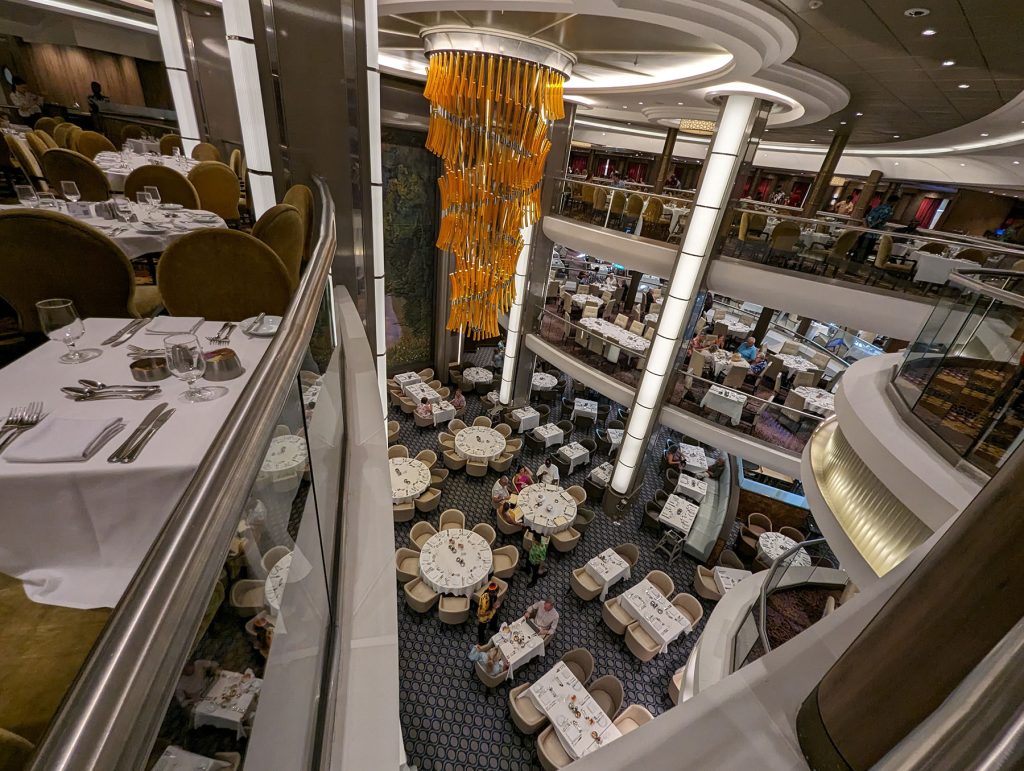 Another nice thing about set time timing is that there are no lines. We arrived at the dining room at 5:30 and walked right to our table every night. At the start of the meal, our waiter and assistant waiter came over to introduce themselves to us. Thankfully, on this ship at least, Royal Caribbean has reverted back to printed menus so we could look at our options without everyone having to stare at their phones. 
Our group had two guests who had dietary restrictions and had to eat gluten-free. I've heard great things about Royal Caribbean's accommodations for special dietary needs, but I was concerned about how it would be. I'll do a whole separate article on it, but overall I was very impressed with how Royal Caribbean handled it.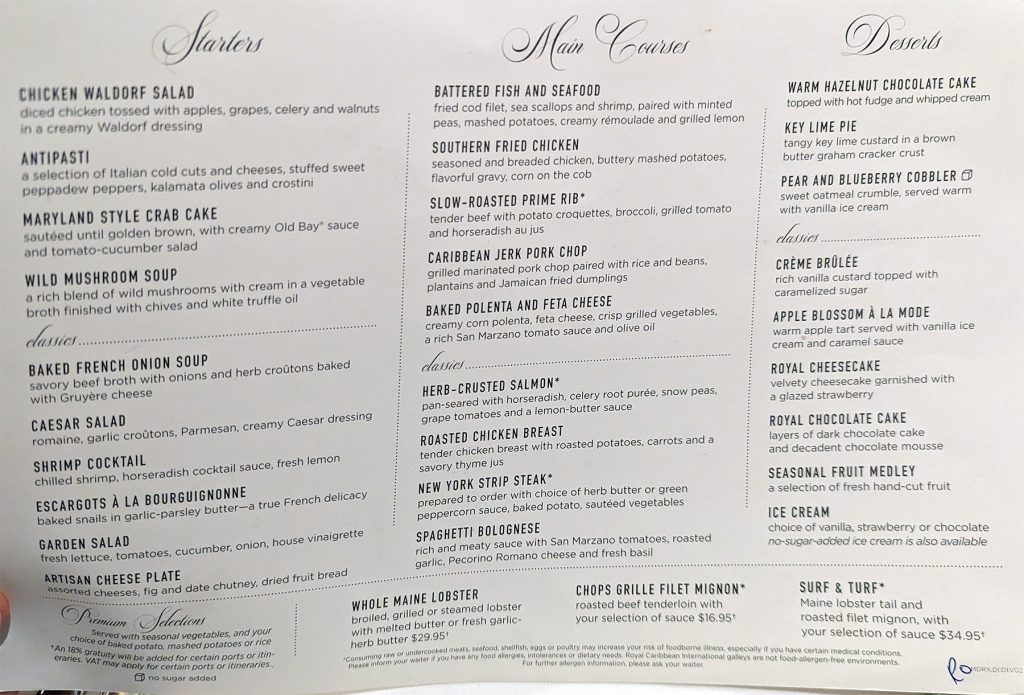 Overall, dinner was delicious. You can see the full menu here, but everyone at the table was impressed. On my previous Royal Caribbean cruise in May, I was completely underwhelmed by the food. It wasn't bad, but there wasn't anything that excited me and nothing I'd want seconds of. It was the complete opposite on this cruise. The food was all delicious and well made. This evening, their signature french onion soup was piping hot with perfectly browned cheese on top, my crab cake was filled with chunks of tasty crab, and my apple tart was crisp and delicious. Overall, I was pleasantly surprised and was very concerned if my shorts would still fit at the end of the cruise. 
Nighttime stroll through Central Park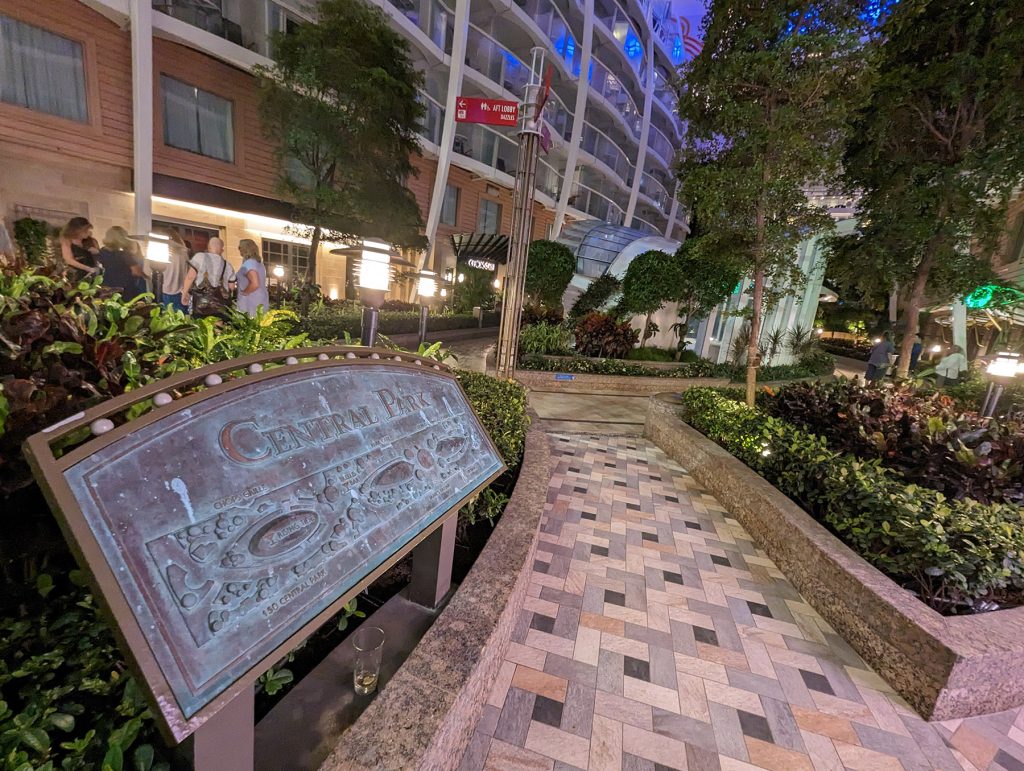 After dinner, we took a stroll through the Central Park neighborhood. While we could see it from our rooms above earlier, this was our first time seeing it up close. I was blown away by it; you honestly would have no idea you were on a cruise ship. The leaves and branches swayed in the leaves, and you heard crickets in the distance creating a surreal experience (the sound effect was piped in). It had rained while we were at dinner, so there wasn't a ton of seating available since most were open to the elements in Central Park. Many paths were surprisingly slick when wet, so we had to be careful as we walked through. 
A Fine Line at the AquaTheater
We booked tickets to the AquaShow as soon as we boarded the ship. I've heard that a lot of performances get canceled because of the weather or the roughness of the seas, so we wanted to book the first one. That way, we could reschedule for later in the cruise if needed. In fact, during our sailing, the first show was canceled, and our show had to stop halfway through the performance. 
When you reserve your spot at a show, you only guarantee that you can get into the venue, not a specific chair. So we showed up 30 minutes early to ensure we got a good seat. The theater has a mixture of backed lounge chairs and backless bench seating, so we wanted to get comfy chairs. 
As we were sitting there, the sky opened and started pouring. The AquaTheater wasn't covered, so everyone ran to get shelter under the upper decks. Thankfully, it was a quick rain, and everyone returned to their seats once it stopped. 
Before the official start time, a guy came out to the center of the stage and started spinning in a circle for 15 minutes. I'm not sure if he was buying time because of technical difficulties or the weather, but it was bizarre to see him just going in circles for that long. 
Thankfully, then the show started without any announcement or fanfare. The show's main stage is a pool with a floor that can go up and down seamlessly like magic. At first, most people don't know that, and they think it's just a pool, but one of the first major wow's of the show was when the floor raised up to reveal a group of 10 people sitting in metal chairs coming out of the water. It was an amazing effect.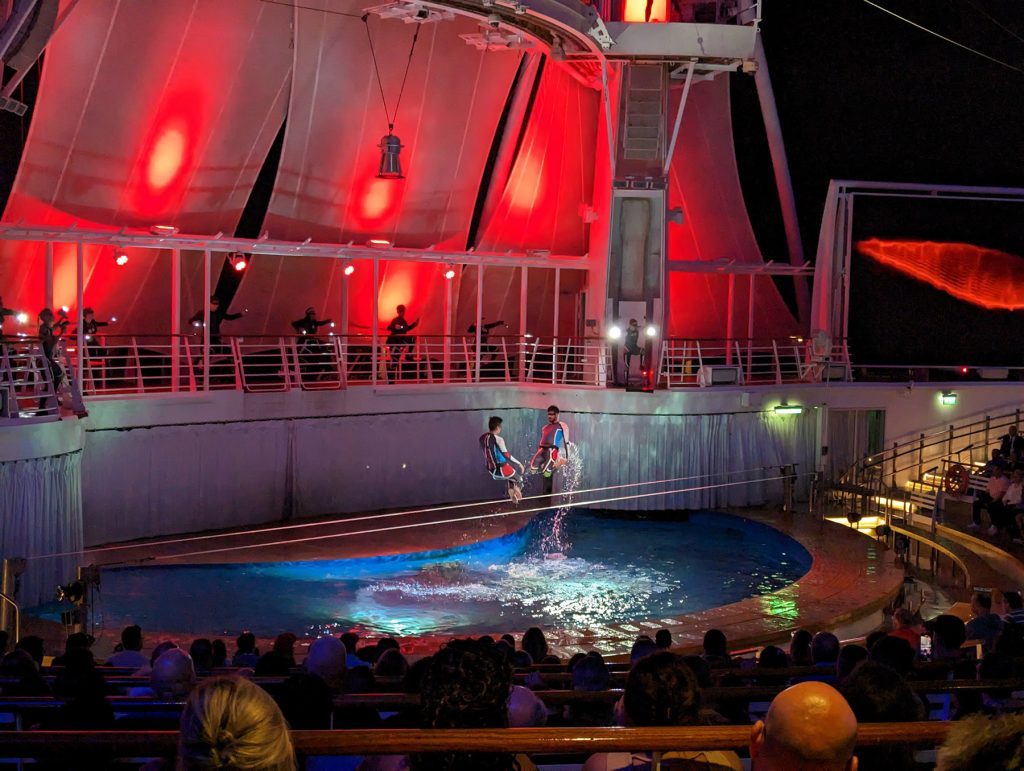 In fact, the show had a lot of impressive features. Over twenty incredibly talented acrobats pulled some remarkable feats. It wasn't just a diving show but a performance with a plot and story (although no one in my group could explain the actual story). At one point, someone would fly through the air on wires; the next second, people fall 50 feet into the water, then there's dancing and diving. The show constantly amused you with action and movement. Another great moment was the slackline work of two performers. They would wet the slacklines to create effects of splashing water, and they bounced effortlessly on them. 
As I mentioned, this performance was canceled halfway through because of weather, but we saw the remainder later on that cruise. Overall, it was a really interesting show, and Royal Caribbean did a great job with it. That being said, having a theater that relies on calm seas, no rain, and no high winds seems like such a risky venture. Surprisingly, they put these AquaTheaters on all the Oasis-class ships as I constantly read about canceling shows. That's why the theater is now enclosed, and at the front of the ship on the newest ship, Icon of the Seas. 
Hassle to get a printed Cruise Compass schedule
Before I went back to my room, I stopped by guest services to see if I could get a printed copy of the "Cruise Compass," the daily schedule of events. It's all available in the Royal Caribbean app, but the app format isn't as easy to read as the Cruise Compass. 
They don't have the Cruise Compass readily available, and it was more of a struggle to get it than I would have thought. They mentioned going forward, they'd ask my steward to put it in my cabin, but that only happened half of the days. I heard that many people over 55 automatically received a Cruise Compass in their room without requesting it. I don't know if that's true, though, or if they just had a good cabin steward. 
There was a PDF version of the Cruise Compass, which was easier to read than the app, but the only way to access it was with a QR code found in your cabin. Unfortunately, it's not linked in the app for some reason, and it's hard to find. 
Calling it a night
It was only 10:30 PM, but it was a long day, and I was ready to turn in. Overall, it was a great day, and I was excited to explore the ship the next day.
Follow along on the rest of our Harmony of the Seas cruise
Harmony of the Seas – Cruise Blog - Day 1 – Fort Lauderdale
Harmony of the Seas – Cruise Blog - Day 2 – Sea Day
Harmony of the Seas – Cruise Blog - Day 3 – Costa Maya
Harmony of the Seas – Cruise Blog - Day 4 – Cozumel
Harmony of the Seas – Cruise Blog - Day 5 – Sea Day
5 Hits and Misses on Royal Caribbean Harmony of the Seas
If you want to stay up to date with what we publish, sign up for our monthly newsletter
CruiseSpotlight is an Amazon Associate. We may earn a commission when you click links to retailers and purchase goods.