Harmony of the Seas – Cruise Blog – Day 5 – Final Sea Day
Last Updated on September 1, 2023
It was the last day of our cruise. The Harmony of the Seas was sailing at our top speed to make it back from Cozumel to Fort Lauderdale in time. The weather looked like it would be perfect to enjoy one last day of fun.
Day 5 Overview
Harmony of the Seas Day 5 – Cruise Compass
Noisy neighbors mean an early start
My day started with a jolt as the two children in the cabin next door started screaming and jumping loudly. It was the second morning that I woke up to this kind of commotion. I can't remember the last time I heard my neighbors on a cruise (besides their door slamming closed). I don't know if the walls were too thin or the kids were unreasonably loud. Either way, it meant I didn't sleep in on the last sea day. 
Johnny Rockets for breakfast
For breakfast this morning, we decided to try Johnny Rockets. Located in the Boardwalk neighborhood, Johnny Rockets is an old-fashioned hamburger joint. You may have seen them in malls in the '90s and early '00s. They have a retro vibe and mini-jukeboxes on the tables.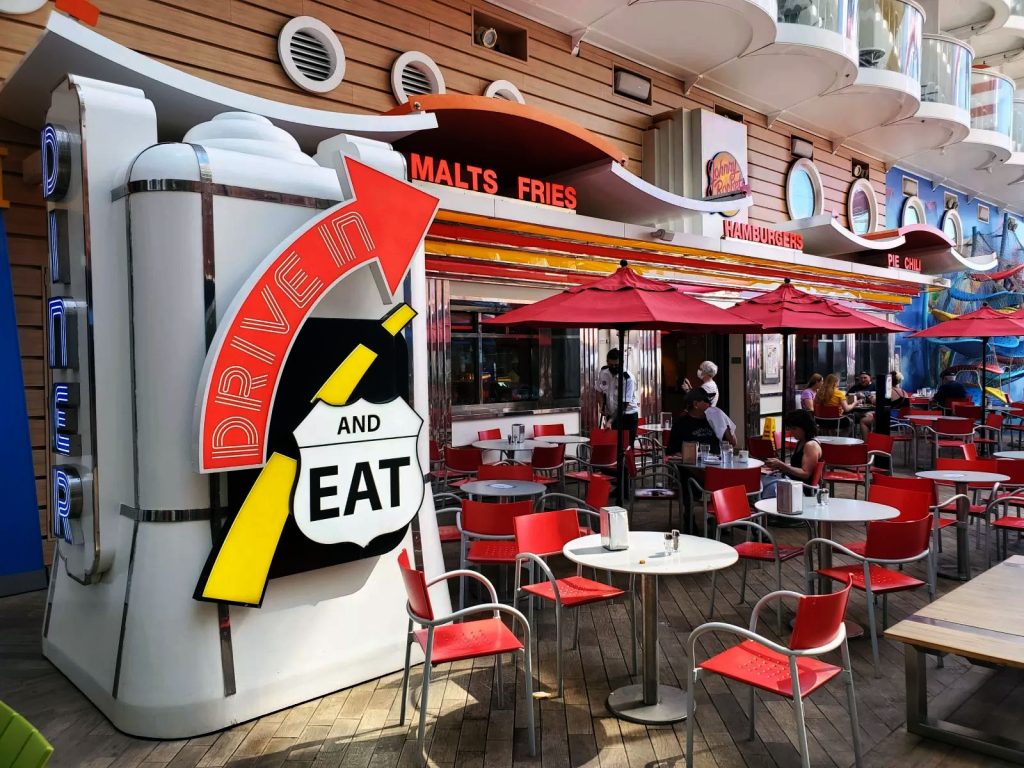 Johnny Rockets has an additional fee for lunch and dinner, but on Oasis-class ships, it's open for free breakfast. Don't worry; you don't have to eat a hamburger or hot dog at 8 AM. They have a separate breakfast menu with various options like pancakes and breakfast sandwiches.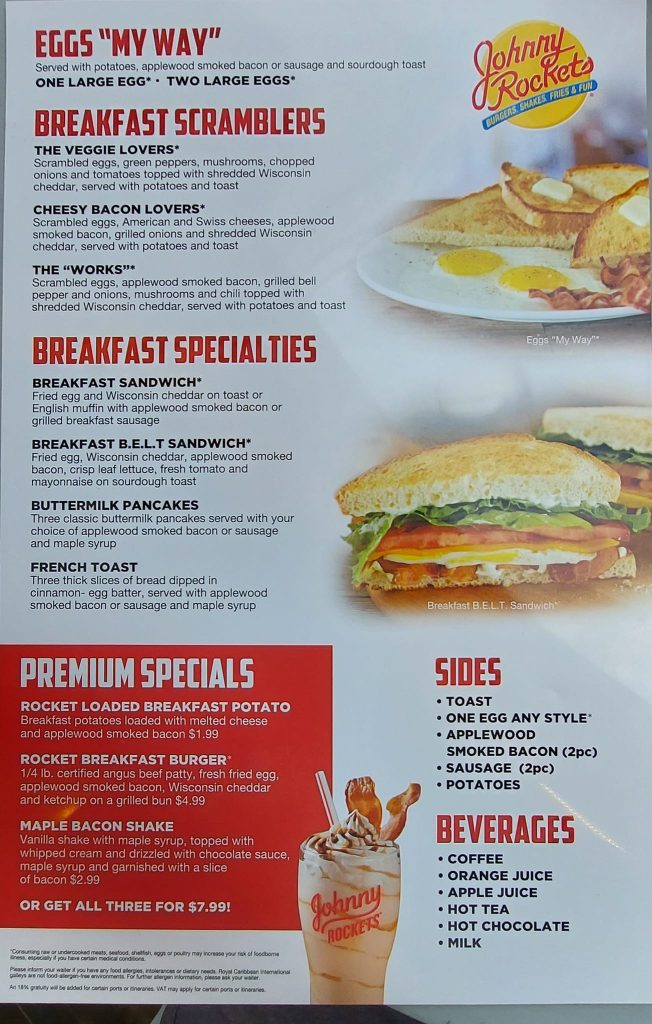 We headed down to the Boardwalk around 8:30 AM for breakfast. It was a relatively cool morning. It rained overnight and you could feel the dampness still hanging in the air. We walked up to Johnny Rockets and saw some from our group were already seated in the outside seating area, so we joined them. 
We were seated immediately, but the service after that was lacking. Despite the restaurant being only about one-third full, it took almost 15 minutes before someone came by to take our orders. Then, it took a while before our food showed up. After they dropped off our food, we didn't see our server again for the rest of the meal.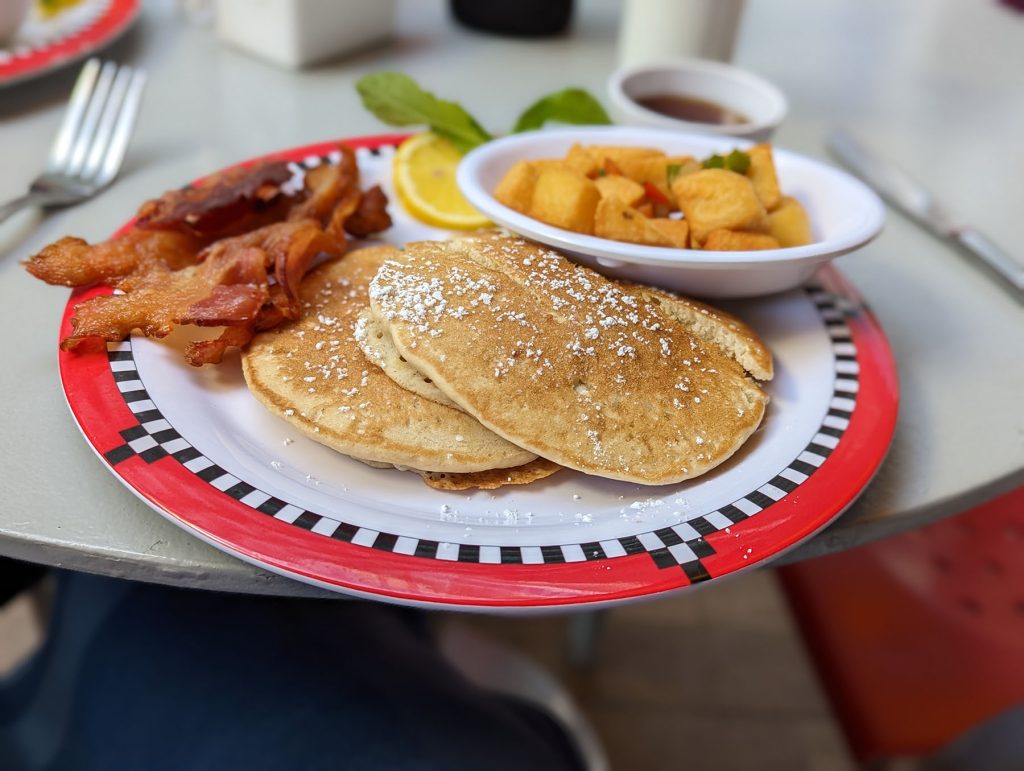 I ordered the pancakes and hashbrowns, which were good but similar to something you'd get from IHOP or Dennys. The french toast had a nice batter on it, and the bacon that came with it was nice and crispy. 
Overall, the breakfast was pretty ok, but nothing special. It had the benefit that I didn't have to wait in buffet lines, but it took a while to get served, and the food was no better than other venues. Then again, it provided a nice place to eat outside and had no extra cost. 
Kid's activities in the Boardwalk
I hadn't spent much time on the Boardwalk, so I got to look closer at some kid-friendly attractions in this area. Besides the carousel in the middle, the Boardwalk also had a video arcade and a kid's climbing structure. It was the first time on any of the cruises I'd been on to see a dry activity for kids. Many ships had splash areas, but if it was cold or kids didn't want to get wet, they had little to do. This play area was a neat idea, and the kids seemed to enjoy it.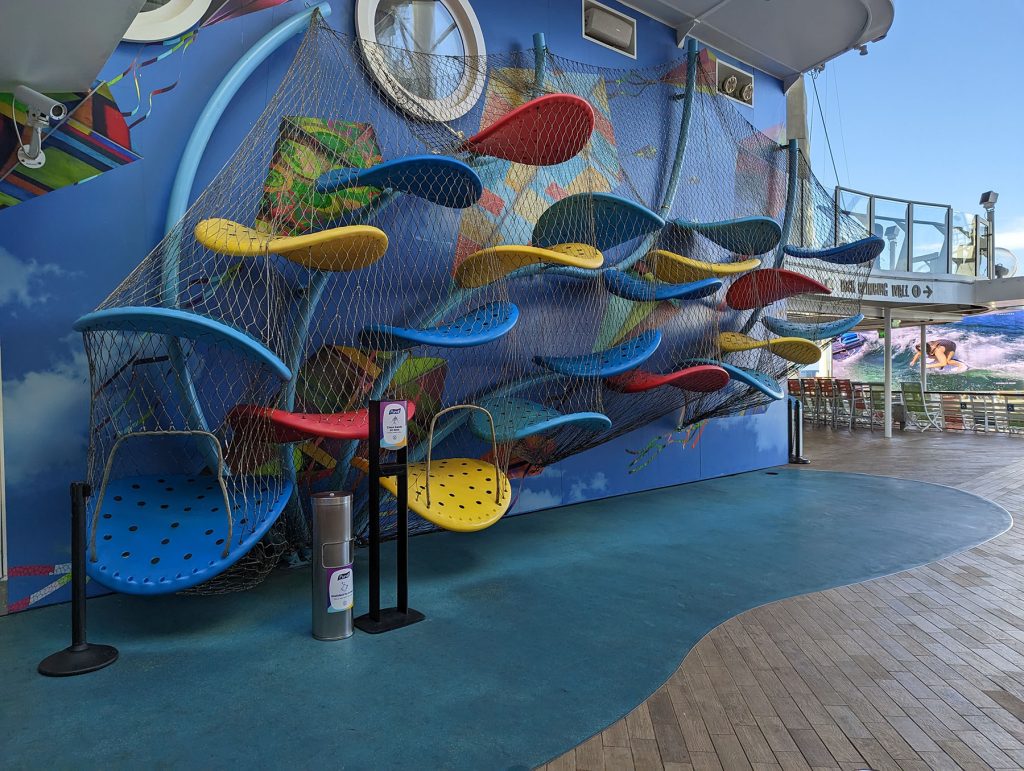 Royal Caribbean has doubled down on this concept. When they debuted the Wonder of the Seas, they removed one of the two FlowRiders and put in a whole dry kid's play area. They have even more elaborate plans for their upcoming ship, Icon of the Seas, which transforms the Boardwalk into a family destination called Surfside. 
Pool decks on a sea day
We figured we'd spend the morning on deck enjoying the last day of warm weather before we headed back to the frigid North East. I brought my Kindle loaded with a book for this vacation, but so far, I'd only made it about two chapters in, so I was hoping to make a good dent in it. 
The pools were moderately crowded when we arrived, but they filled up quickly throughout the morning. Finding loungers in the shade was challenging, but plenty of loungers were available if you were ok with sitting in full sun. 
After some searching, we managed to grab some shaded loungers near the kid's Splashaway Bay area. I wasn't thrilled with the location, but the kids were busy running around and sliding down the little slides, so the noise wasn't much worse than anywhere else on the deck.
Over the course of the morning, I hopped into the pool for a quick cool down. Plenty of people were around the edges, hanging with friends and drinking cocktails, but the centers of the pools were still pretty open. 
Park Cafe for lunch
It was a little after noon, and since you can't go more than two hours on a cruise without eating, we figured it was time for lunch. We decided to check out the Park Cafe in the Central Park neighborhood for lunch. 
We took the elevator down and walked through Central Park to the Park Cafe. At that point, the neighborhood was much less busy than the pool decks above. The Park Cafe had no lines at all, and plenty of tables were available in the outside area.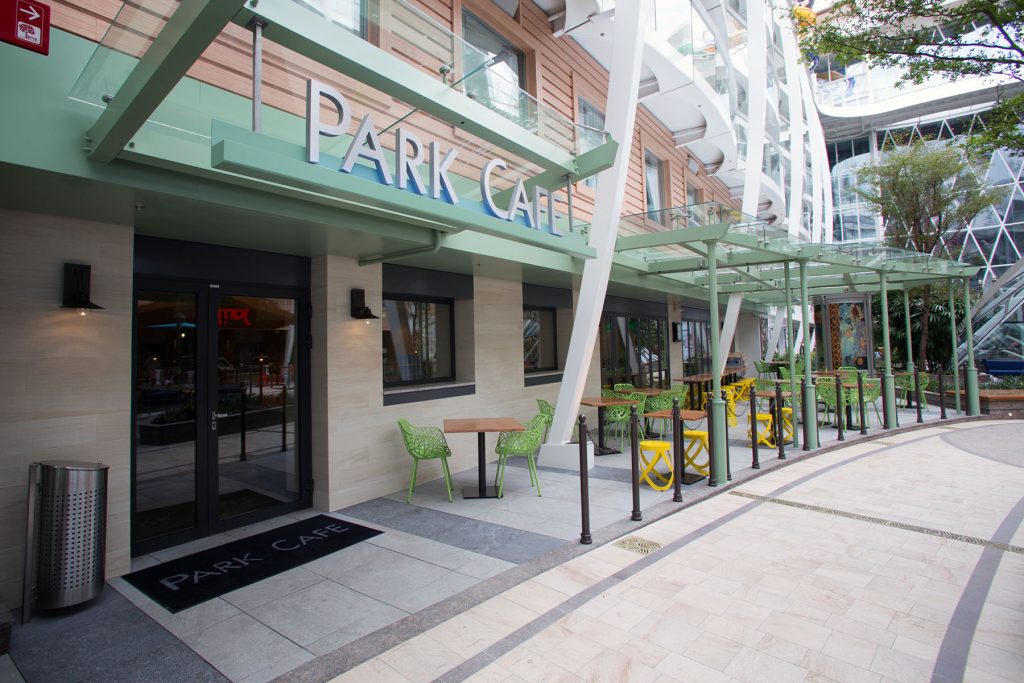 I started with a Kumelwack sandwich that I've seen people rave about on forums. It's a dish that originated in the Buffalo area. It's roast beef and an au jus served on a crusty hard roll that's usually topped with caraway seeds and salt. The roast beef and au jus were very tasty, but I wasn't a fan of the hard roll. I like a softer bun for that kind of sandwich. I didn't understand what all the fuss was over. I thought it was good but not mind-blowing. 
Then I went back and got a fresh, made-to-order salad. Park Cafe had a variety of ingredients and toppings here, and everything tasted very fresh. If you want to eat healthy on the Harmony of the Seas, the Park Cafe probably has the best breakfast and lunch options for you. 
We finished around 1 PM and Central Park was starting to get more full. All the tables at the Park Cafe were taken by that point, and a steady stream of people walked up and down the neighborhood. 
Game of Thrones Trivia in On Air
After lunch, we went to check out the Game of Thrones trivia. This event was held in the On Air lounge on the Royal Promenade. I had yet to visit this venue, so I was curious to see why the trivia was here and not at the Schooner Bar, where Royal Caribbean had most of the other trivia.
On Air is where they host most of the karaoke events. It's a decent-sized venue that can hold up to 113 people. With tiered levels, ample booth seating, a dedicated bar, and screens all over, it was literally made for karaoke.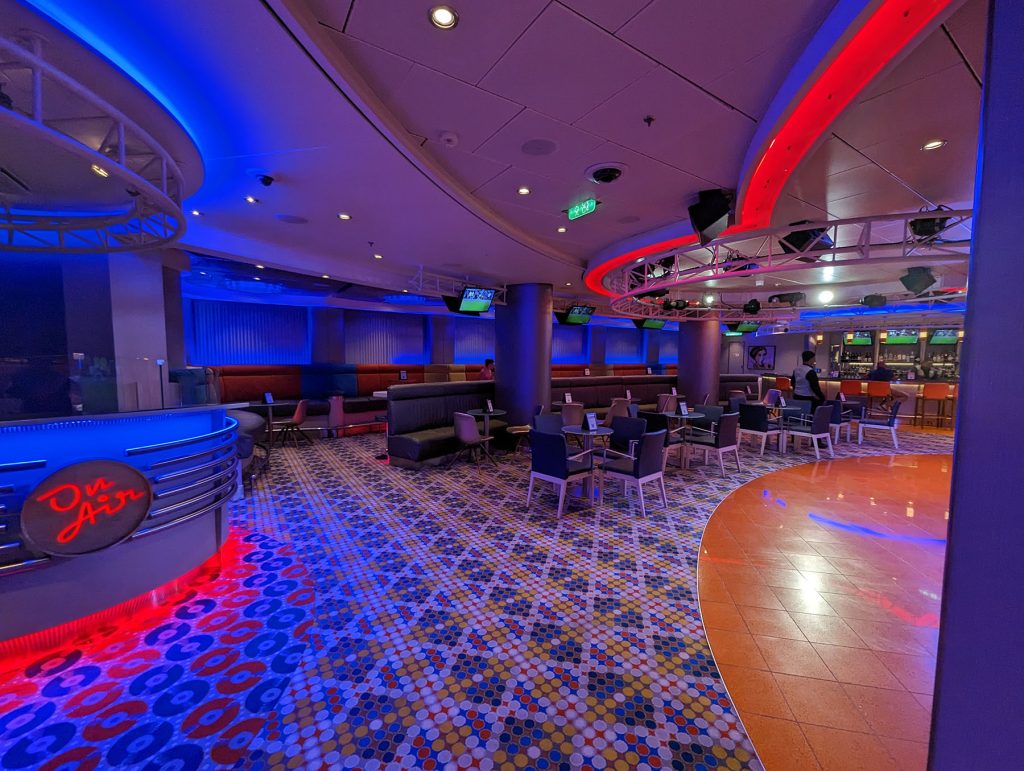 In this case, those screens also helped with the trivia because it was video based. The host came out and had everyone get pens and paper to prepare for the trivia. It was the host's first week on the ship and his first time running this game. You could tell. He tried hard but his lack of knowledge of Game of Thrones was evident. You have to at least pretend that you're interested in what you're presenting. 
It was a full house for the trivia. The room fell silent as the first video and photo clues came up. It was harder than I expected. We had twenty questions to answer, and you could see people racking their brains. One question led to a very spirited debate between two hardcore fans. It felt like it was about to turn into a brawl, but luckily the host was able to put it to rest. 
Big Daddy's Hideaway Resort at the AquaTheater
Our plan after lunch was to try out the rock climbing wall, but they were closed because an impromptu show was playing in the AquaTheater. The cruise director came on and said they were doing a dress rehearsal of a new show, and anyone who wanted to attend could stop by the theater. Since we were already in the area, we stood in the back and watched. 
The show was called "Big Daddy's Hideaway Resort," and while the cruise director indicated it was a "new" show, there are YouTube clips of the show going as far back as 2017. I'm assuming it was new for this specific cast, but he was very misleading in his statement. 
This show had a much different feeling than The Fine Line show that we saw a few nights ago (read more here). That one was very artsy and serious. This show was much more of a light-hearted affair. It felt very vaudevillian, with slapstick comedy, over-the-top costumes, and silly choreography. 
Every time I saw a show at the AquaTheater, I was astounded by the skill and the performers. They'd jump from the high dive, perform synchronized swimming, and execute difficult flips and tricks. While I preferred The Fine Line better, this show felt like it had more impressive stunts and was visually more interesting. 
Rock Climbing on Harmony of the Seas
After the show ended, we headed up one level to the rock climbing wall. The Harmony of the Seas has two climbing walls, but we never saw them open at the same time. Because everyone was already in the area for the show, the line rapidly grew. Thankfully, it moved quickly, and within 10 minutes, we were suited up and on the wall.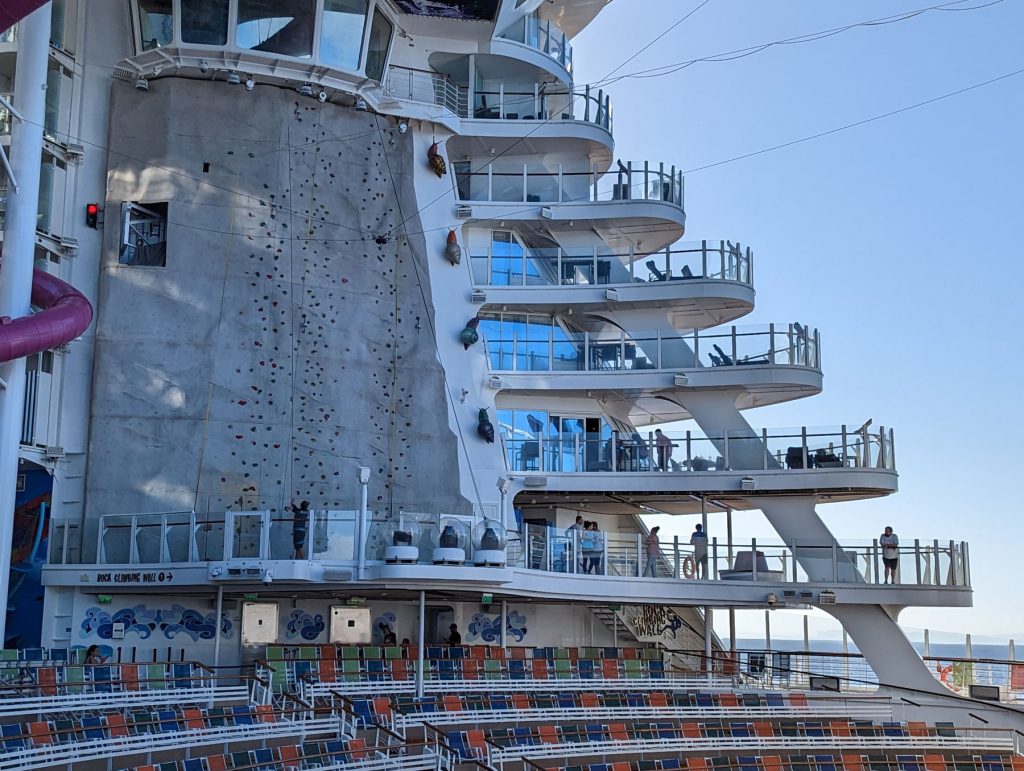 I started by checking in at the desk where they give you some climbing shoes and a harness. Then I got in line and waited for my turn. The climbing wall on Harmony of the Seas is 40 feet tall, but it feels so much higher. Because it's on a raised portion of the deck, it feels at least 15 feet higher and even more if you look at the water line. It was intimidating. 
People of all ages attempted the wall, and both kids and adults seemed to enjoy it. The rock climbing wall uses an auto-belay system which keeps you safe if you slip. They could run three people at a time with that system. 
Each section of the wall had grips of differing colors and difficulty. The attendant could tell you the most challenging path if you were serious about climbing. I just wanted to get as high as I could, so I opted to go for any grip I could reach for.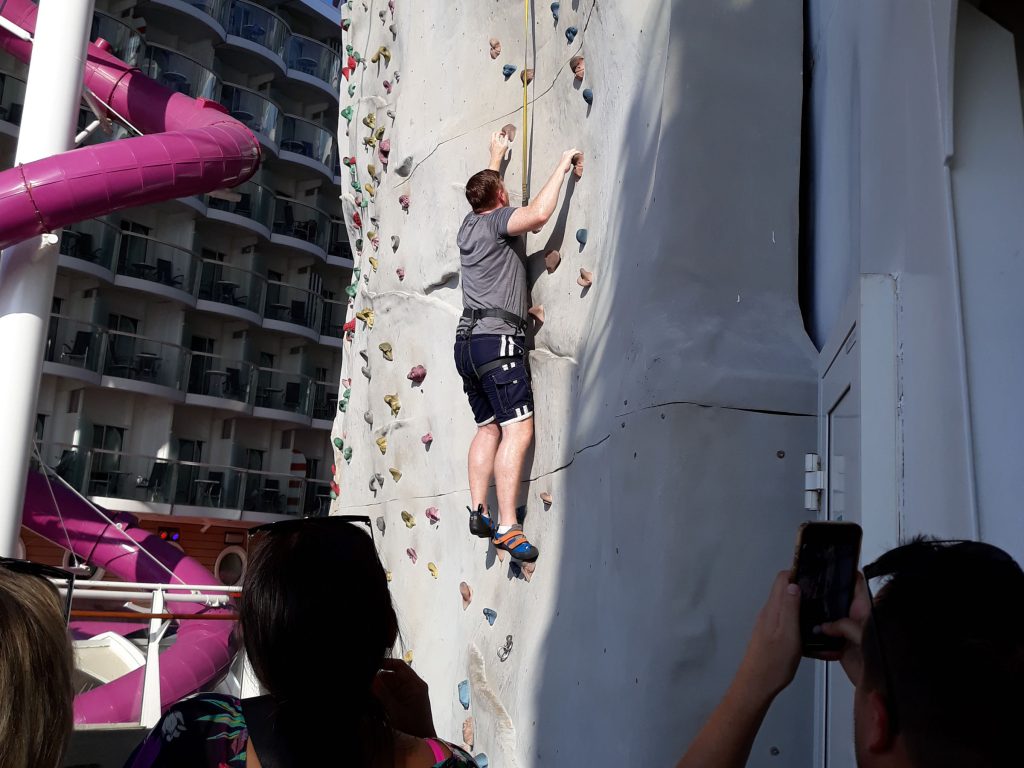 It was my turn and the attendant made sure I was secure in my harness and hooked me up. I started my ascent. If you're nervous about climbing in front of an audience, you'll be fine on the Harmony of the Seas. The rock wall doesn't really have a place for people to stand to watch; they're off to the side, where it's much more difficult to observe. But that also means it's hard for your loved ones to get pictures of you.
I only made it about halfway up the wall before I slipped and the auto belay system slowly lowered me back to safety. It was a disappointment because I did much better when sailing on the Ovation of the Seas earlier this year (read about that here), but I didn't want to get in line to try again. 
Last dinner in the Silk Dining Room
The rest of the afternoon went by quickly, and before you knew it, it was dinner time again (Royal Caribbean moved the 5:30 seating on this sailing to 5:15 because of demand, so it felt really early). 
Overall, I was really impressed by the service and food quality on this sailing. But remember, food is very subjective. While everyone in my group had great experiences in the main dining room, in the Facebook group for our sailing, opinions varied from "the best food I ever had" to "they served us slop." It's tough to get a true picture. All I know is that when I sailed in May on Ovation of the Seas, I never got a second dish, and there was nothing I wanted more of. On the Harmony of the Seas, I had seconds and thirds and everything was so tasty.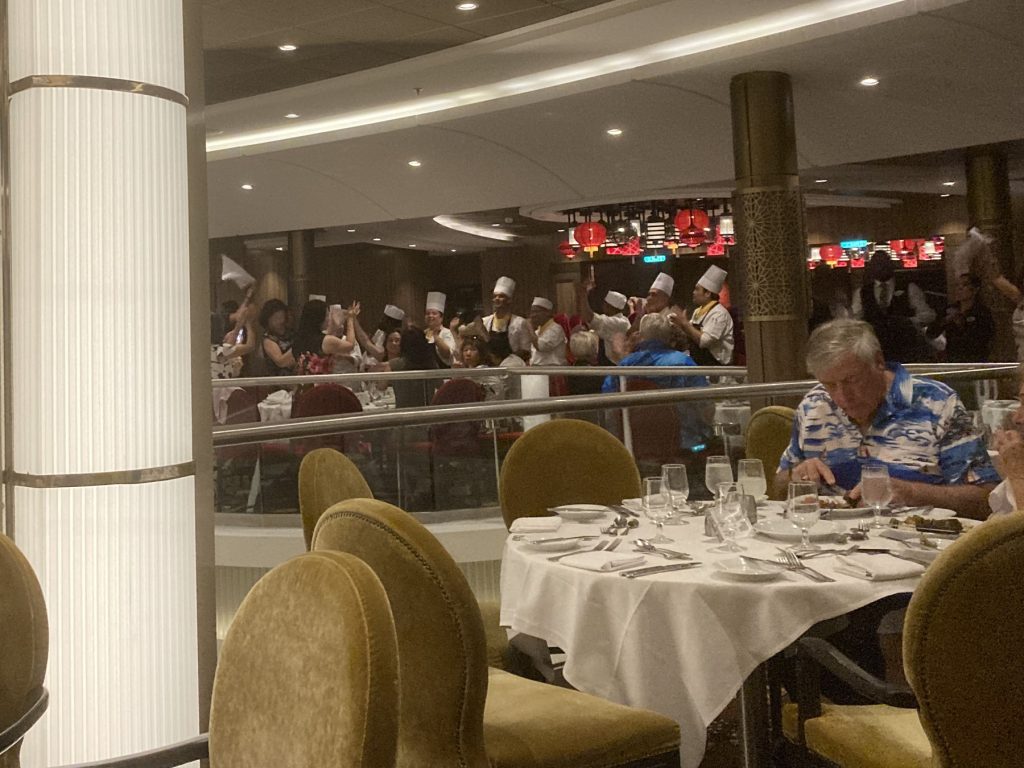 Since this evening was the last dinner, they did "showtime," where the staff would dance around the dining room. This event happens every night on Carnival, but I guess Royal Caribbean only does it once. Because it's a 3-story dining room, you couldn't see the maitre'd on the first floor, but you heard him on the loudspeaker and saw the staff at the front. 
This evening's dinner was 90 minutes, which felt a bit long, but it was still enjoyable. We thanked our hard-working waiters with an extra tip at the end of the meal and headed out to enjoy the rest of the night. 
Putting our bags out the night before leaving
After dinner, we all ran to our cabin to pack our bags. Royal Caribbean gives you two options when leaving the ship. The first is self-assist, where you carry your bags off with you. The second is regular departure, where you put your bags out the night before and pick them up in the terminal the next morning. Self-assist guests are the first ones off the ship at around 6:45. Regular departure guests are assigned times between 7:40 and 9:00 AM. 
Our flight home was at 2:30, so we were in no rush to get off the ship. Because of that, we picked regular departure and requested the latest departure time possible. But that meant we had to pack our bags and have them outside our room by 10 PM the night before. 
Tip: If you're doing regular departure, take a picture of the baggage tag they give you. The number on the tag tells you when to leave the ship, and it's where your bag will be in the terminal. 
1887 Show in Studio B Ice Rink
This evening, we'd be checking out the show "1887: A Journey in Time" Ice Spectacular. The show required reservations, but we had no problem making them using the app. In the Royal Caribbean app, the show was just listed as "1887," so when we were making reservations on Day 1, we didn't realize it was an ice show and we didn't book it. On Day 3, we found out it was the ice show, and we were able to get seven seats for the 8:15 PM performance.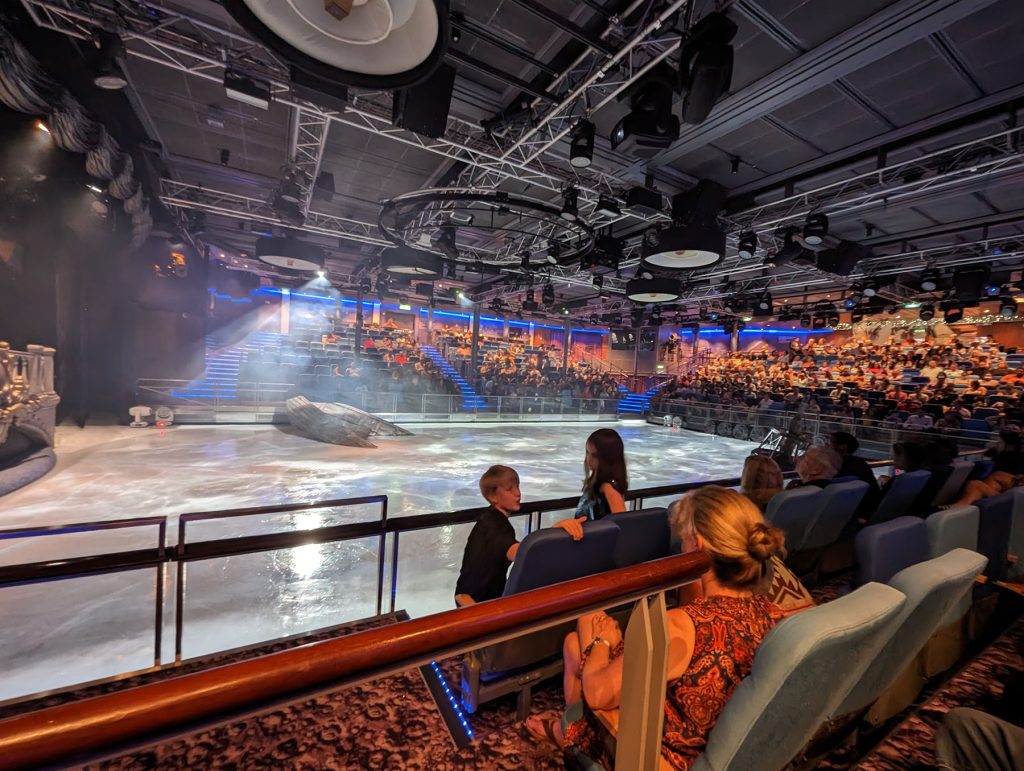 The show takes place in Studio B on Deck 4. It's a theater/ ice rink that is used throughout the cruise for other events as well. We were looking forward to trying ice skating in Studio B, but unfortunately, they didn't have public skating available on this sailing. But, at least we could see an ice show during this cruise.
We showed up about fifteen minutes early and were easily able to find seats in the third row along the side of the rink. Once we sat down, I was immediately struck by how small the venue was. It couldn't have been much larger than a high school basketball court with stadium seating. However, there wasn't a bad seat in the house. I had seen Ice Capade shows when I was younger in NBA basketball arenas, but this was much more intimate than expected. 
Studio B can hold 775 guests, and it seemed about 3/4 full for this performance. For the earlier show, the cruise director came on the intercom right before to tell people that seats were still available. For some reason, the show just didn't seem high on people's lists. 
The show itself was visually impressive. The production values were so high quality. You could see they spent a lot of money on this show. Large set pieces would move around the ice, and projection mapping added different effects on the ice throughout the show. 
The skaters were incredibly skillful, doing jumps and turns on the ice. I can't imagine how hard it is to do that on a ship that's bobbing up and down on the ocean. A few times performers slipped and fell, but the audience cheered for them, and they didn't seem to miss a beat.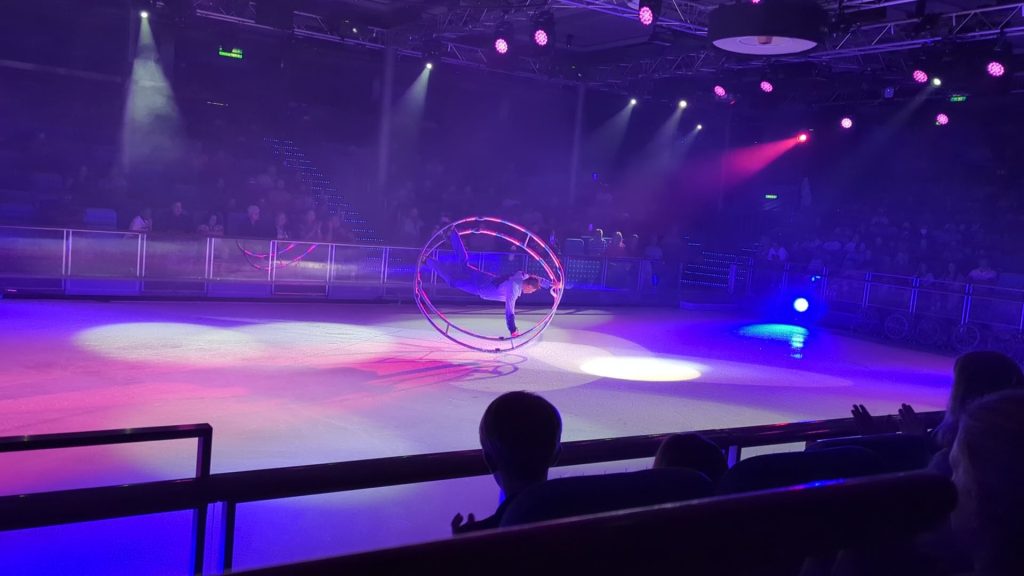 As for the topic, the Cruise Compass described the show as, "Beginning their journey on the frozen River Seine, Juliet and her mysterious time traveling companion, the Tempus, travel in multiple dimensions to discover the wonders of the world, and of the heart. World-class skaters and breathtaking technology combine in a unique way that is guaranteed to leave you both breathless and emotionally touched."
It had something to do with Jules Vernes' stories and traveling through time. There wasn't any dialogue, so it was more of a "theme" than an actual play you had to follow. Some in our group understood what was happening; others just liked the performances. Overall, it was an excellent show. I enjoyed it much more than I thought and was blown away by its quality. 
Finishing the evening at Boot and Bonnet English Pub again
Even though it was the last night, the Cruise Compass had events scheduled throughout the night. I wanted to try the Silent Disco, but that was at 11:30 PM, and I was just too tired after the early start we had that morning. 
Instead, we returned to the Boot and Bonnet to listen to live music with Nicole. It seems every cruise I go on, I find one musician I really appreciate, and it becomes the go-to spot for late-night entertainment. For this cruise, this was it.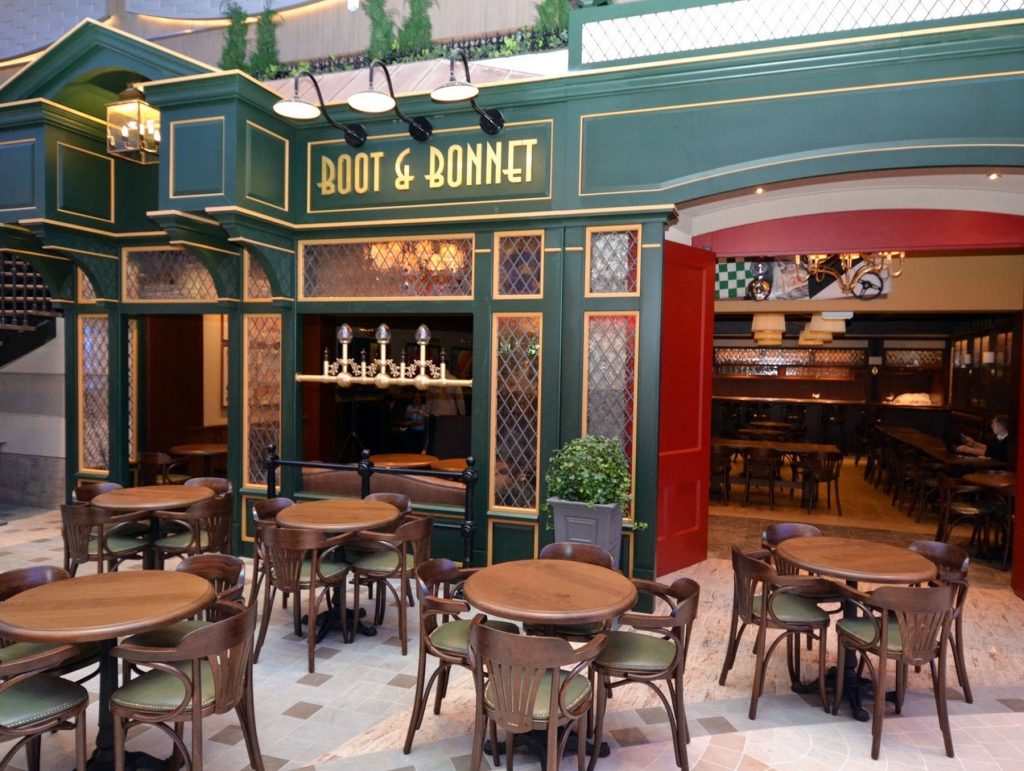 We grabbed a table and some drinks and listened to a '90s acoustic set. Since it was the last day of the cruise, I treated myself to some cookies from Cafe Promenade and then a slice of pizza from Sorrento's across the way. It was the perfect way to end a fantastic cruise. 
After Nicole's set, we returned to the cabin for our last sleep before leaving the beautiful Harmony of the Seas.  
Follow along on the rest of our Harmony of the Seas cruise
Harmony of the Seas – Cruise Blog - Day 1 – Fort Lauderdale
Harmony of the Seas – Cruise Blog - Day 2 – Sea Day
Harmony of the Seas – Cruise Blog - Day 3 – Costa Maya
Harmony of the Seas – Cruise Blog - Day 4 – Cozumel
Harmony of the Seas – Cruise Blog - Day 5 – Sea Day
5 Hits and Misses on Royal Caribbean Harmony of the Seas
If you want to stay up to date with what we publish, sign up for our monthly newsletter
CruiseSpotlight is an Amazon Associate. We may earn a commission when you click links to retailers and purchase goods.