How Much I Saved Booking a Cruise Through Costco Travel
Last Updated on July 1, 2022
Yesterday, I booked a cruise aboard Royal Caribbean's Ovation of the Seas for a 7-night Alaskan Experience in May 2022. Alaskan cruises have been on our wish list for a while now, and after a year of being trapped at home with no travel, it seemed like next year would be a perfect time to try one: beautiful mountain views, whales, moose, adventurous excursions. Sign me up!
In the past, when planning a cruise, I've either booked directly through the cruise line or through a travel agent. This time, I tried Costco Travel and ended up saving quite a bit of money.  
About Costco Travel
To be clear, Costco is NOT a sponsor of this post, and it's NOT a paid endorsement for them. As my friends and family know all too well, I always talk about Costco's extra benefits. I purchased my last two cars through the Costco Auto Program. I bought my dishwasher and oven through their website and got free installation. I've purchased preprinted checks through them at a much better price than I saw elsewhere. Long story short, Costco offers outstanding deals if you look for them. 
If you're a Costco member, you can book travel or rental cars through the website CostcoTravel.com. It's technically a separate company from Costco, and you won't see any of these offers in the Warehouse. Still, the vendor has to go through a pretty stringent selection and review process to get to use the Costco name, and they must offer certain deals and benefits to Costco customers. I've booked rental cars through this website in the past and had a great experience and got a great price. 
Why I booked this cruise through Costco Travel
Honestly, I intended to book my cruise through Royal Caribbean's website. I started my search on the Royal Caribbean website and identified the ship and itinerary that was important to me. Because it's colder and rainy in Alaska, I wanted a ship with enough to do inside. The Ovation of the Seas was perfect. Two indoor pools, bumper cars, an esplanade (this ship's version of Royal Caribbean's famous Promenade), and the pièce de résistance; a glass-enclosed adults-only solarium that looks over the front of the ship that just screamed Alaska.
I went through the whole process and was about to book only to be greeted with a blank white screen error screen. I refreshed and tried again, the same. I tried to start from scratch, and nothing; Royal Caribbean's site kept crashing. I was all ready to book the cruise at that moment, so I thought I'd try an alternative, and Costco Travel was the first that came to mind. 
Costco Travel cruise booking process
Costco Travel's website seems a bit dated in their navigation, but at least it works (compared to Royal Caribbean's site). It's a very traditional website; you're not going to find fancy chatbots or pop-ups trying to upsell you or move you along the process. There are no bells and whistles, but honestly, do you need any? 
I searched through the cruises and found the one I was looking at previously. Right up front, the website listed this itinerary as a "Kirkland Signature Cruise," which meant it had special prices and benefits. I couldn't see what those benefits were until I created an account with my Costco membership number. I logged into my account and continued through the screens. Most of the process was pretty standard for a cruise booking website. You start by picking your sailing, then entering the number of guests and the type of room you want. The only part that got confusing was when I had to choose the actual cabin. 
I selected a balcony room, and a map came up with a highlighted room. Looking at the picture, it looked like there were no other rooms available and this was the only one I could choose. I like to see all my options when I book, so I scrolled down and found a white box that said, "Choose Different Stateroom." The page refreshed and then showed me all the possible rooms on that deck and let me switch deck. There were quite a few other rooms available that I wouldn't have known about initially. The button does the trick, but I just wish the button was more straightforward, or like other websites, it just shows all possible rooms.
After that, I just put in my information and credit card, and I was set. Alaska, here I come! Just a note, if you are a Costco Executive Member (that's a black card), you'll get 2% of this cost back at the end of the year! 
How much Costco Travel saved me on this cruise
I honestly wasn't prepared to save a lot when I started, but after I selected the room I wanted, I was pleasantly surprised with the deal. If you look at the out-of-pocket cost, or what will show up on my credit card, booking through Costco Travel saved me $260 or about 8%. That alone is pretty impressive. You can see the comparison below:
| | Costco Travel | Royal Caribbean Website |
| --- | --- | --- |
| Cruise Fare (2 guests) | $2,562 | $4,662 |
| Taxes and Fees | $467 | $467 |
| 60% off Second Guest | | -$1,665 |
| Flash Sale | | -$100 |
| Instant Savings | | $75 |
| Out of Pocket Cost | $3,029 | $3,289 |
Not only was the cruise $260 than Royal Caribbean's website, but I also received several perks like a $50 onboard credit, two free soda packages (valued to be $149 for this cruise), a free spa treatment for 1 ($100 value), and a $190 gift card to Costco.
Extra Perks:
| | Costco Travel | Royal Caribbean Website |
| --- | --- | --- |
| Out of Pocket Cost | $3,029 | $3,289 |
| Costco Gift Card | -$190 | |
| Spa Treatment for 1 | -$100 | |
| Soda Package for 2 | -$149 | |
| Shipboard Credit | -$50 | |
| End Cost: | $2,541 | $3,289 |
I saved $749 compared to booking directly through Royal Caribbean. Now, if you don't use all these perks, they've of no value. For sure, I'll use the $190 Costco Gift Card, Shipboard Credit, and I would have purchased a soda package for myself, so that means it saved me $575 in total or 17%. That's a killer deal. 
Planning my cruise activities through Royal Caribbean
Within minutes, I received the confirmation email from Costco Travel. It included a cruise line confirmation number that I was able to put into the Royal Caribbean website. It linked that cruise to my account, and minutes later, the cruise showed up in my cruise planner just like if I booked it through Royal Caribbean. I could then book excursions, wifi, drink packages, etc. By booking through Costco Travel, though, I can't change dining times, guest names, or request room changes on the Royal Caribbean website. For that, I'd have to contact Costco Travel, but that is pretty rare for me anyway.  
Your mileage may vary
Is Costco Travel going to save you hundreds on every cruise you look at? No, I highly doubt that, but based on my experience, it's an option worth considering, especially if you're a Costco member already. For my cruise, it saved me money and gave me a few additional perks. Do your homework and price it out a few ways to see what your best deal.  
Overall, the process was simple, painless, and saved me money. I'll update this post as the cruise gets closer to let you know how it goes and how the experience with Costco Travel pans out. 
Update – 7/7/2021 – Scoring a price drop
Every once in a while, I check on the price of the cruise. To do that, I have to go to Costco Travel and complete a mock booking. I try to pick cabins nearly identical to mine, so I'm comparing apples to apples. Today, I noticed the price looked lower. It's hard to be sure, though, because of all the stipulations, so I gave them a call to see.
Their automated system said it'd be about 20 – 30 minutes to speak to a representative, so I put my phone on speaker and waited. This time can vary a lot; I called once before and got an agent in 5 minutes; other times, it was an hour, so I hung up and called later. In COVID times, your wait time will be all over the place, and I totally understand that.
After 25 minutes, an agent picked up. She was friendly and, using my Costco travel booking number, pulled up all the information to confirm. I said that it looked like the cruise was cheaper on the website and is it possible to make a price adjustment. She looked at my reservation and ran the numbers, and said it looked like I was correct. She put me on call and then called Royal Caribbean to see about the adjustment. She was on hold for about 20 minutes waiting for a Royal Caribbean representative but kept coming back every 5 minutes to let me know she was still working on it. When she finally got someone, she confirmed the lower price, which saved me $275. She sent me an email with the confirmation and updated price and waiting to make sure I received it. All the selections I'd made previously with Royal Caribbean (dining time, internet package, etc), stayed precisely how they should be.
Overall, it took me about an hour to save $275, so it was totally worth it. While there was a bit of a wait, it's understandable with all the COVID changes going on. The Costco Travel representative was friendly, efficient, and competent. The one downside is that I had to be actively looking for this price drop. Some travel agencies will automatically do this for you, but apparently, that's not part of Costco Travel's services.
Update 9/1/2021 – Another price drop
Here's a helpful tip. Once you book a cruise, look for your sailing's Facebook group. These groups are not affiliated with the cruise line and are often created by a fellow passenger, but it gives you a great place to get ideas and input about your specific cruise. Today, someone in the Facebook group for this cruise posted that they saw a price decrease today. I repriced the cruise on Costco Travel's website, and saw the price was now $220 lower. I called up Costco Travel and was connected to an agent in about 5 minutes. He verified that I could be eligible for the price drop and then he called Royal Caribbean to get it changed. He was on hold about 35 minutes to make that change, but kept checking in to let me know he was waiting on the cruise line. Overall, it took me 40 minutes on the phone to save another $220. Overall the process with Costco Travel was simple and I still am really impressed with the service. Again, the only thing I wish is that they monitored the prices and adjusted them accordingly.
Update 6/10/2022 – Costco Travel cruise was a success!
Our Alaskan Cruise through Costco Travel was a success. We had an amazing time (read more here). In the end, booking through Costco Travel was not much different than if I booked through Royal Caribbean. The letter below was left in our cabin around 6 PM on the first day. It was accompanied by coupons for the spa and the soda packages. There was no hassle in using the coupons. The one down side was that for the soda package, they couldn't activate it until I gave them my coupon. I didn't receive the coupon until 6 PM so that meant I had to go from 10 AM (when we boarded) until 6 PM without a soda. As a caffeine addict, it was rough, but not the end of the world. Two weeks after we arrived back home, we received our $190 Costco Gift Card as promised as part of the deal.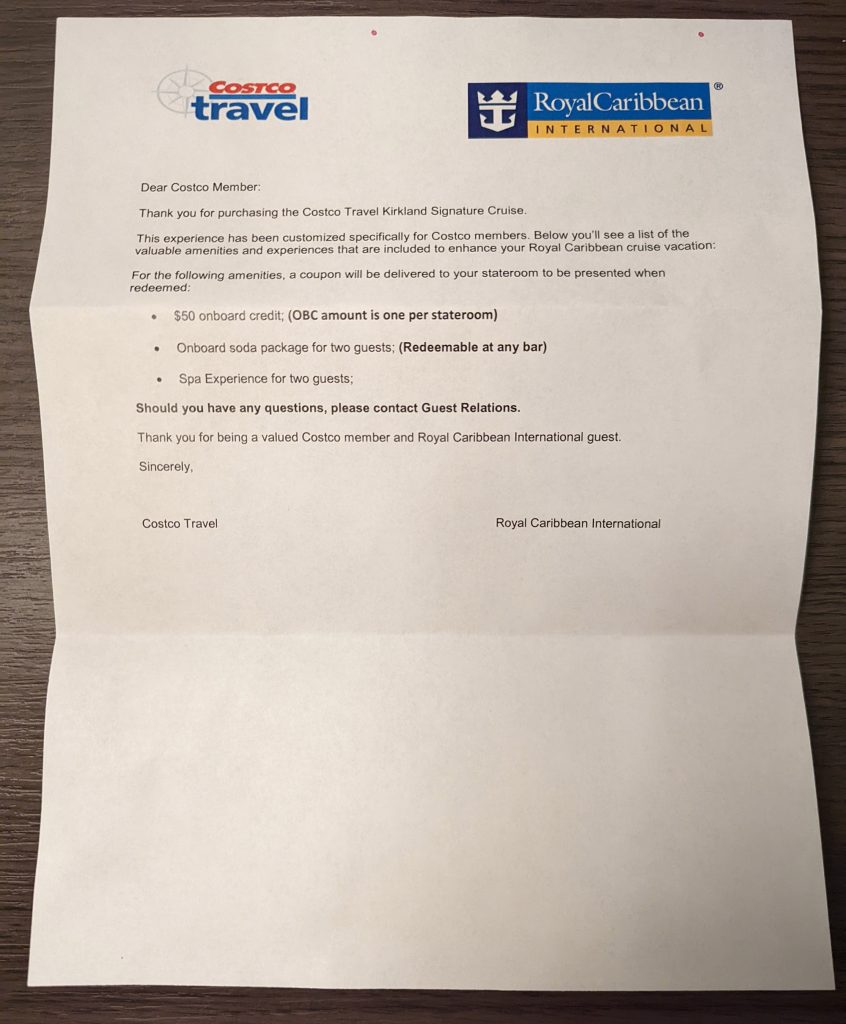 Costco Travel can be right for you if…
Are a Costco Member 

You have to be a member to see the pricing and book a cruise. Plus, Executive members get 2% back on travel through this website

Are an Experience Cruiser

If you know what you want in a cruise and what to expect when booking, then this is no different than many other websites

You Like A Deal

You can find excellent deals on the website, especially if you're flexible.
You might want to avoid booking a cruise through Costco Travel if you…
Want a hassle-free experience

If you're new to cruising and don't want to do the research, you might be better off using a travel agent. Do you need a passport? Which dinner seating is best? If you have many random questions and don't want to spend time on the internet, a travel agent is a better fit for you.

You're with a group

The website experience isn't great for booking more than 2 cabins. If you're booking a cruise for more cabins, you can call them although I'd suggest using a travel agent who can act as a point person with everyone.
CruiseSpotlight is an Amazon Associate. We may earn a commission when you click links to retailers and purchase goods.