Make Carnival's "Bog Juice" from the Fortune Teller Bar
Last Updated on October 25, 2021
The Fortune Teller Bar, currently only found on the Carnival Mardi Gras, is the newest themed bar at sea and has been a runaway hit. The venue offers custom-made cocktails with a twist; from smoking beverages to color-changing concoctions, they serve up unique cocktails sure to delight all your senses. 
The Fortune Teller Bar features 18 unique custom-made cocktails, but one of the popular drinks is Bog Juice. The main feature of this drink is the little beads of juice in the cocktail. They're called boba pearls, and these little spheres are filled with a sweet liquid that bursts when you bite into them. It's a really refreshing sensation as they explode in your mouth.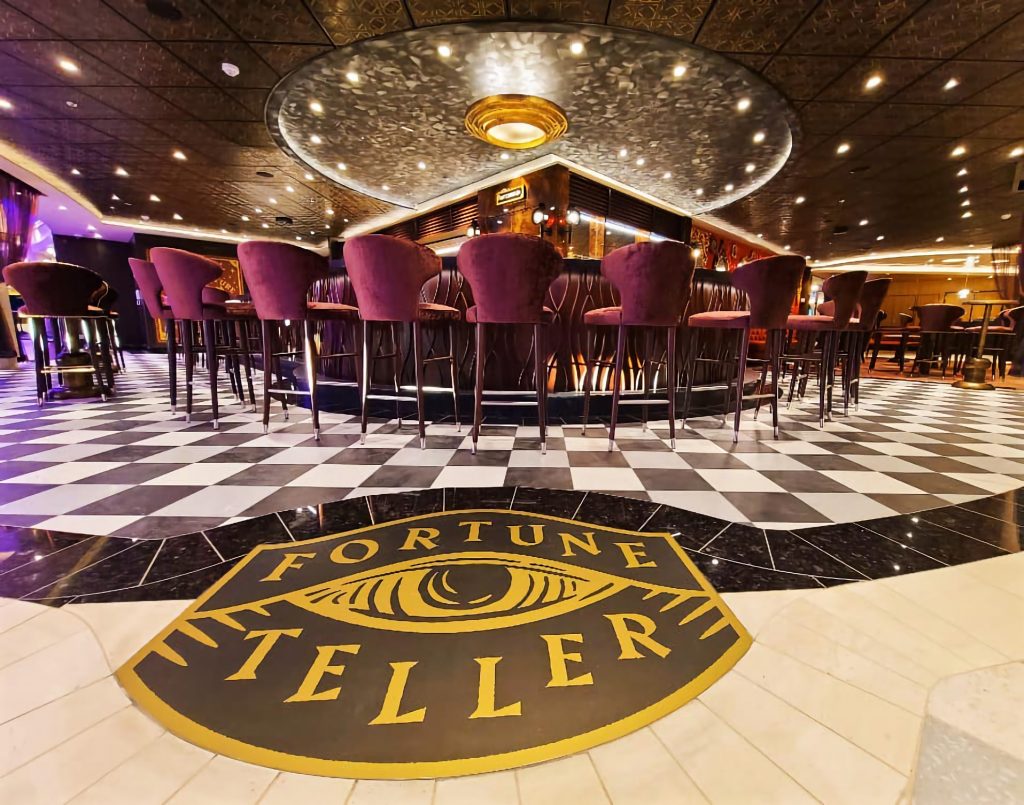 The drink itself has a cloudy or murky color to it. It adds an air of mystery and is reminiscent of a bog, I'd say. Bog Juice's flavor is heavy on the citrus, with the lemon, pineapple, and passion fruit working together to balance the sweetness. It's not as fruity as a Rum Runner or Daqarui, more on the tart side, but overall well-balanced. 
About the Ingredients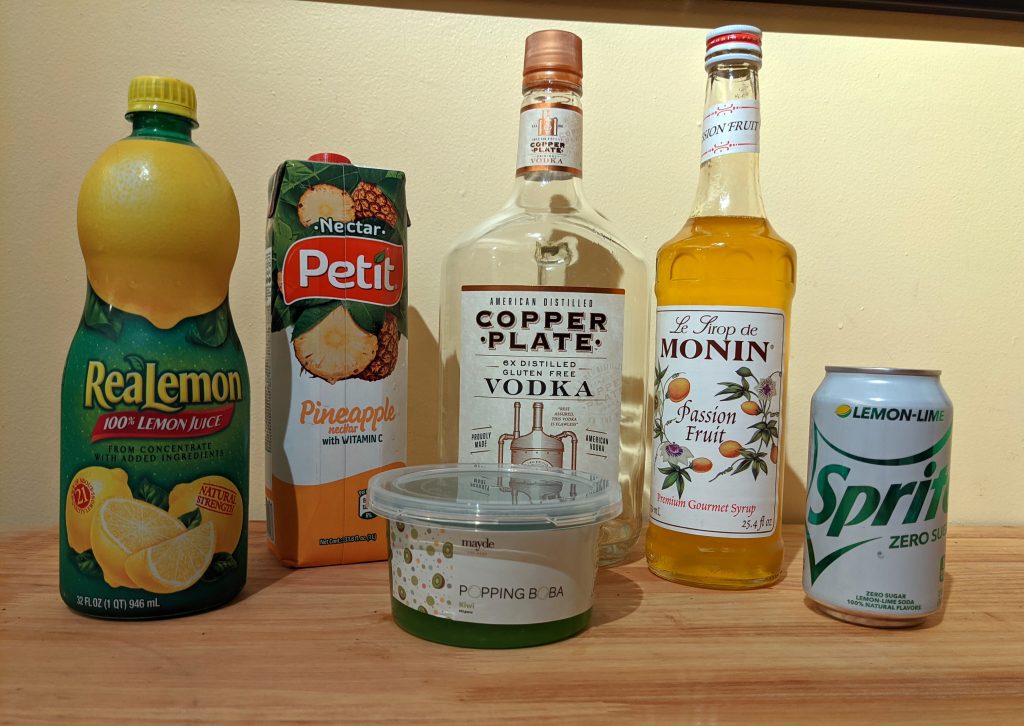 Most of the ingredients you'll need are pretty standard. The recipe calls for Absolut vodka, but I just used what I had handy. Also, it calls for Sierra Mist, since Carnival now serves Pepsi products, but Sprite or the diet versions of either will work just as well. There are two key ingredients, though, that you'll have to search for.
Boba Pearls
The recipe for the Fortune Teller Bar's Bog Juice calls for kiwi boba pearls. Their green color works with their drink, and the kiwi flavor breaks up the tartness from the lemon juice. That being said, you can experiment with other flavors as well. I bought a 4-pack of boba pearls on Amazon and have tried mixing the kiwi and mango in a cocktail with good results. 
Passion Fruit Monin Syrup
If you've used our recipes to make Alchemy Bar's Cucumber Sunrise or Spicy Pineapple Martini, you're familiar with the Monin syrup. Carnival uses these intensely flavored syrups in many of their high-end cocktails found on board. You may have some luck finding some in your local store, but here, I had to order online from Amazon. You only need 1 ounce per drink, so a bottle of syrup will give you about 25 drinks. 
Learn from my mistakes
After ordering all the materials I needed well in advance, I made an impromptu decision to whip us two drinks the other night. While the results were good, there definitely was room for improvement. So these are the changes I'd make next time. 
Don't fake the lemons 
Since I didn't plan to make this drink ahead of time, I didn't have fresh lemon juice. Instead, I used the "real" lemon juice I always have in my fridge. That gives the drink a noticeably different taste. I've written about this issue in several of my recipes, but I still didn't learn. Always use fresh lemons!
You're gonna need a lot of ice
The recipe makes about 4.5 oz of fluid. That only fills a standard high ball glass about halfway (they're usually 8 – 12 fl oz). Unfortunately, I wasn't prepared and didn't have enough ice. The boba pearls don't float, so you need to ice for them to stay near the top of your drink. Ideally, you'll want to put in half the pearls on the bottom, ice up the glass, fill it with your cocktail, and then top with the remaining pearls.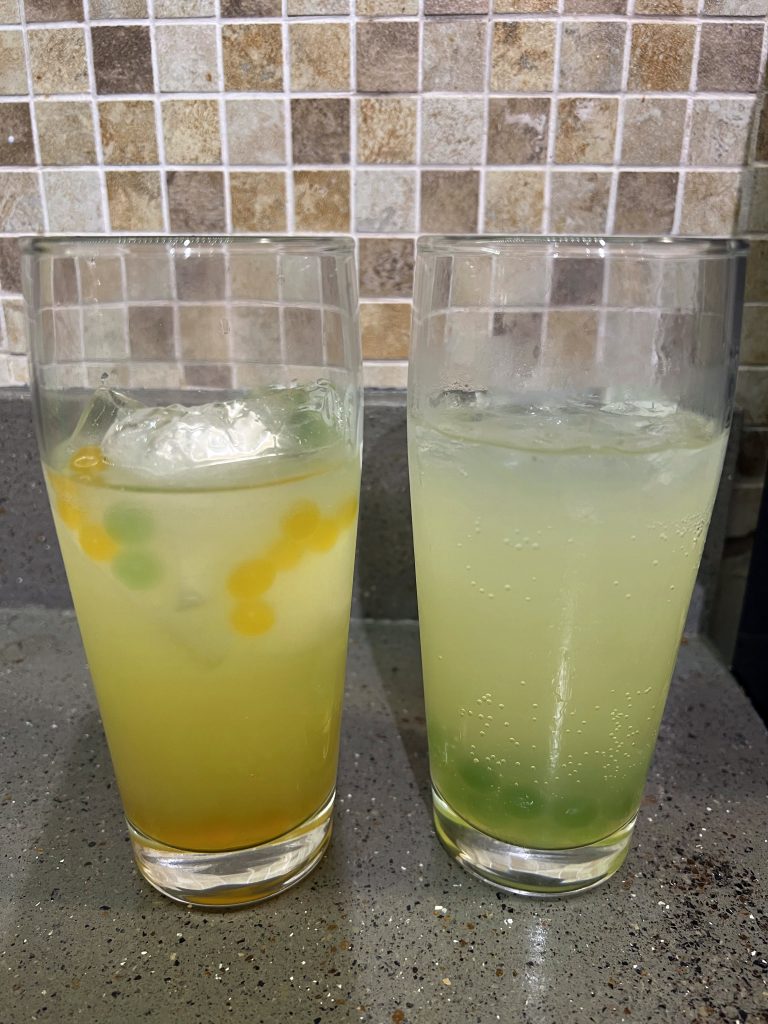 Batch it Up For Parties
If you want to make this drink for a party, you can easily batch it up and make a large pitcher. First, mix together the vodka, passion fruit syrup, pineapple juice, and lemon juice but leave out the boba pearls and the Sierra Mist. People can then fill a cup with ice, pour the pitcher, then top with the pearls and a splash of Sprite. 
Bog Juice Recipe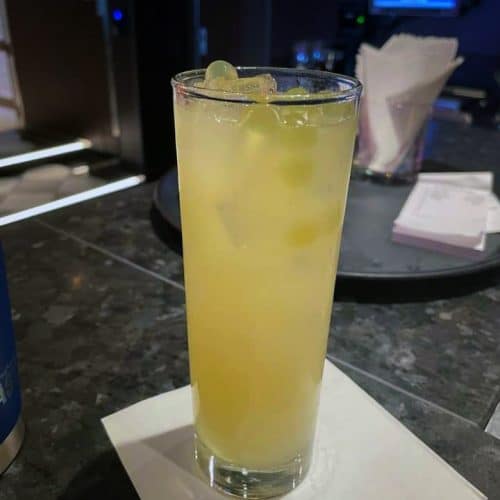 Fortune Teller Bar's Bog Juice
Found exclusively in the Fortune Teller Bar on the Carnival Mardi Gras, Bog Juice is a fun cocktail you can make at home. Described by Carnival as a "teeming, spawning brew," the main feature of Bog Juice is delicious boba pearls that burst with juicy goodness. When combined with a cloudly, citrus-heavy mixture of vodka, lemon juice, pineapple juice, and passion fruit syrup, they create a subtly sweet drink that's much more refined than a typical tropical cocktail.
Ingredients  
2

ounces

Vodka

Carnival recommends Absolut

0.5

ounces

Monin Passion Fruit Syrup

0.5

ounces

Pineapple Juice

1

ounce

Lemon Juice

One medium lemon is usually around 2 ounces.

.5

ounce

Sierra Mist

2

ounces

Ice

You'll want a lot
Instructions 
Combine vodka, passion fruit syrup, pineapple juice, and fresh lemon juice in a shaker

Add 6 boba pearls in the bottom of the glass then add fresh ice

Pour the cocktail over the ice

Add another 6 – 10 pearls on top of the drink
CruiseSpotlight is an Amazon Associate. We may earn a commission when you click links to retailers and purchase goods.