5 Hits and 5 Misses on the Carnival Horizon
Last Updated on August 22, 2023
I recently came back from a 6-night cruise (see the live cruise blog) on the Carnival Horizon leaving out of Miami. Although we had to change all of our ports due to the COVID-19 virus, it was still an amazing cruise. That being said, there were a few things I would have changed. Here are my top 5 hits and misses from the Carnival Horizon.
HIT – Boarding and Leaving the Ship
This might apply to any of the Carnival ships out of Miami, but I was literally shocked at how quickly we got on and off of the ship. I timed it and it literally took 15 minutes from when I walked in the Cruise Terminal door until I was sitting down eating BBQ and Guy's Pig and Anchor. We had a 12:30 arrival appointment time but showed up at 11:30 since our hotel checkout was at 11. We got into the early/late arrival lane and just flew through everything. We had completed all the check-in information online beforehand and put our credit card information for our Sail and Sign account so they didn't need anything from us but our passports and boarding pass. If you haven't cruised before or with Carnival in a while, they leave your sail and sign cards outside your stateroom, which speeds up the whole process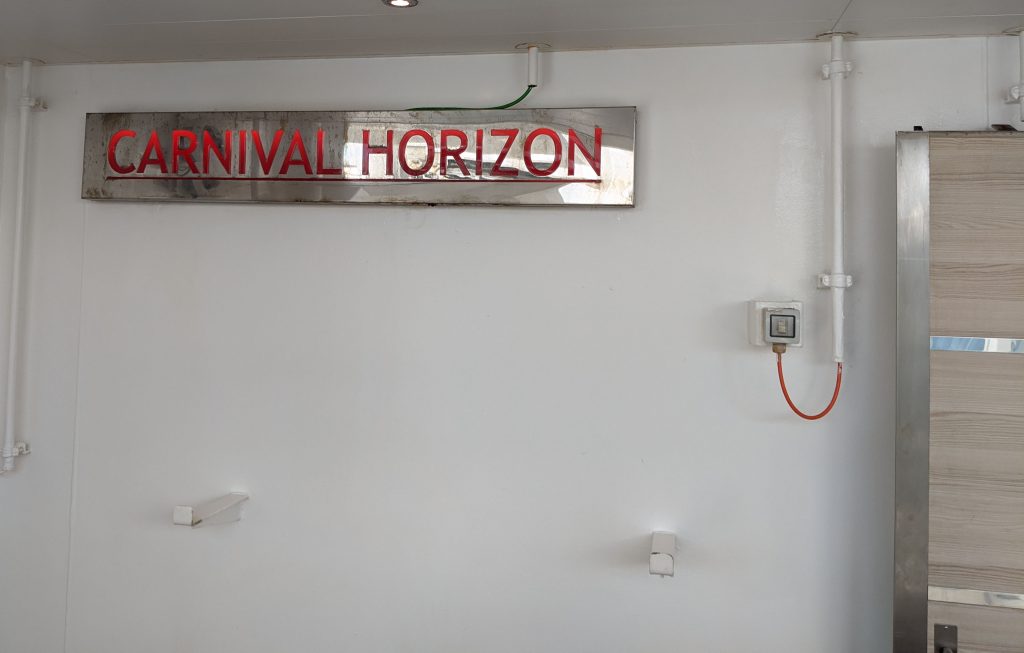 Getting off the ship, or debarkation, was just as easy. They called our deck to leave the ship around 8:30 am and we were out the door by 8:50. There were no customs forms, declarations, or hassle; the new system just takes a picture of your face and you walk right through. We put our bags out the night before and they were in the terminal waiting for us.
MISS – The Elevators
If you've read anything about the Carnival Horizon, you've undoubtedly heard about the new elevator system on the Horizon. For this system, there are no buttons in the elevator itself; you choose the floor you want while in the lobby and it assigns a specific elevator to you. Then when it arrives, you get in and it takes you to the floor. Systems like this are in use in many sky scrappers in large cities across the US because they can prioritize people flow and not have to stop and every floor. On a cruise ship though, this is not as successful, mostly because of human error.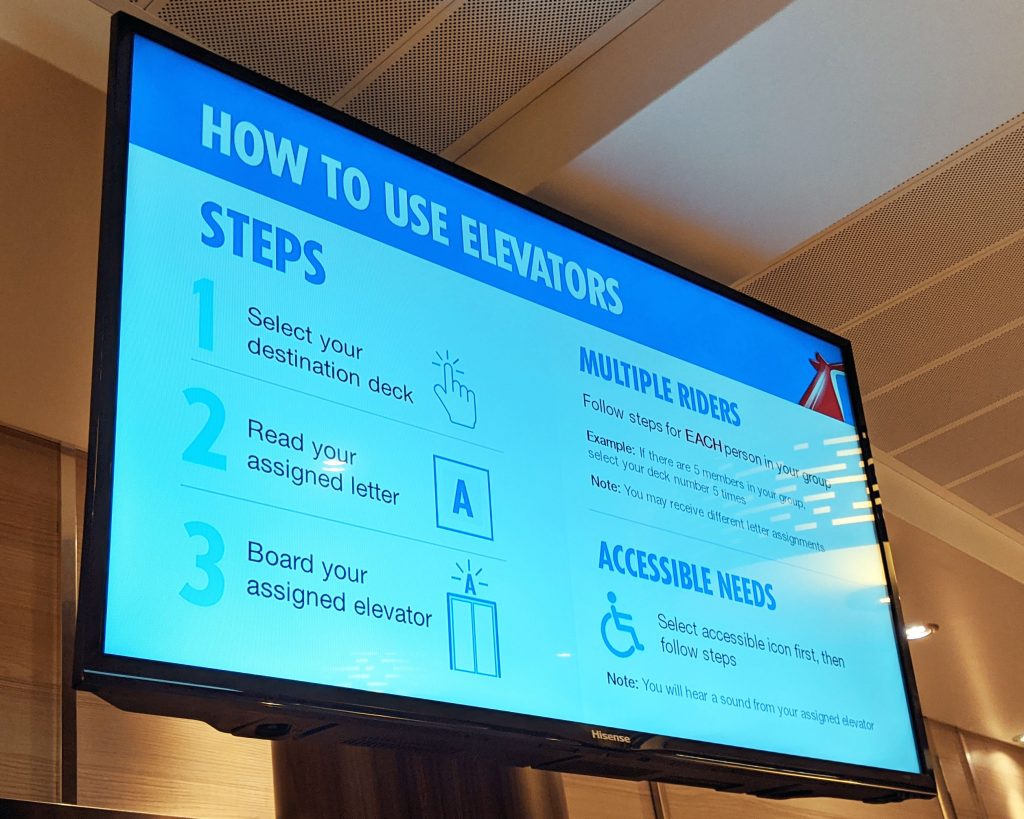 On the first day, it's chaos and no one knows what to do. In a few of the larger lobbies, there are video screens that try to explain what to do, but many people don't read them. The staff explains the process during the muster station briefing, but it's apparent most people weren't listening. The biggest problem is you have to hit the floor number once for each person getting in the elevator. That way it knows how many people can fit. I have no idea why Carnival doesn't just put up a sign in EVERY lobby saying that. It's also silly that the number of people wasn't an option on the screen. If you hit "Promenade" deck and select 6 people, it'd be easier than hitting Promenade 6 times, each time waiting to be assigned an elevator.
HIT – The Unique Bars / Venues
Carnival Horizon has a ton of bars and venues to choose from, each with a unique feel/vibe. Previously Carnival ships I had been on were all pretty much one-note; the Horizon has many more distinct venues most of them with their own distinct drink menus.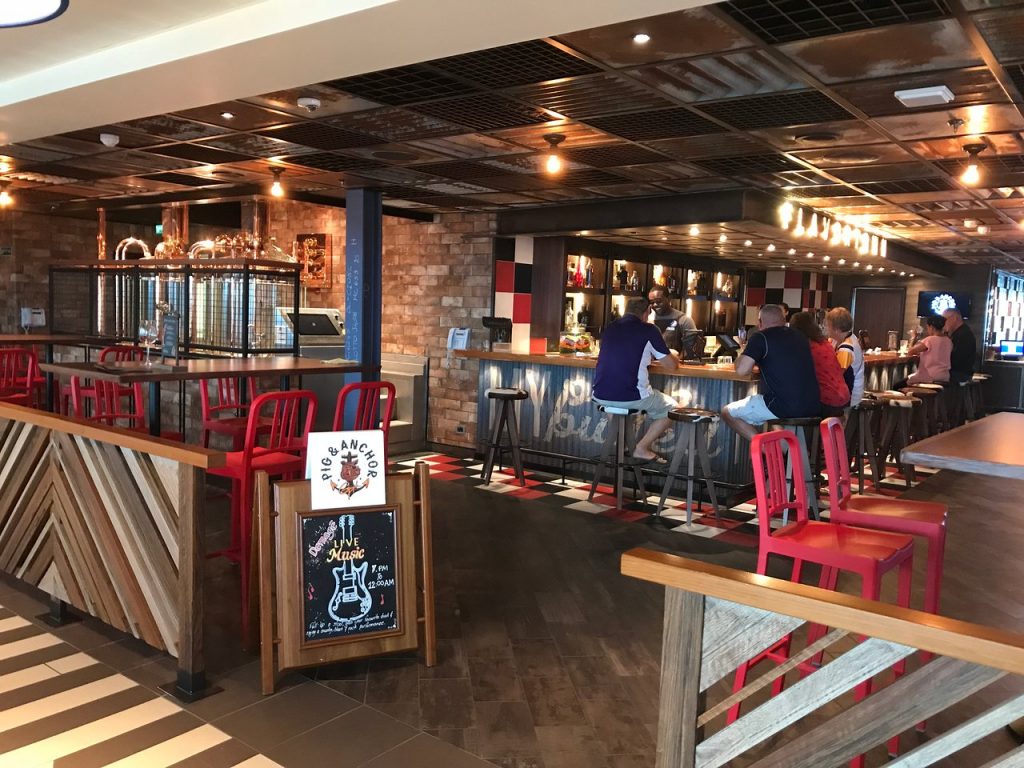 Guy's Pig and Anchor Smokehouse, for example, had a totally different atmosphere; if you were in the back of the bar, you almost wouldn't know you were on a cruise ship. It had a very industrial / BBQ feel and with live music that often fit the setting.
The Havana Bar, a Cuban inspired bar, was also similar, with rocking chairs, domino boards, soft couches. Most evenings, this bar had live Latin music and dancing. You could relax here with a nice mojito or other Cuban inspired drink.
MISS – The Public Bathrooms
It may seem silly, but finding a public restroom on this ship was incredibly difficult, even after 6 days. Why? Because in what I assume was an attempt to look very clean, polished and artsy; the doors to the bathrooms all blend in with the walls and there's only minimal signage indicating that it is a restroom. There was no signage except for a little plaque right next to the door.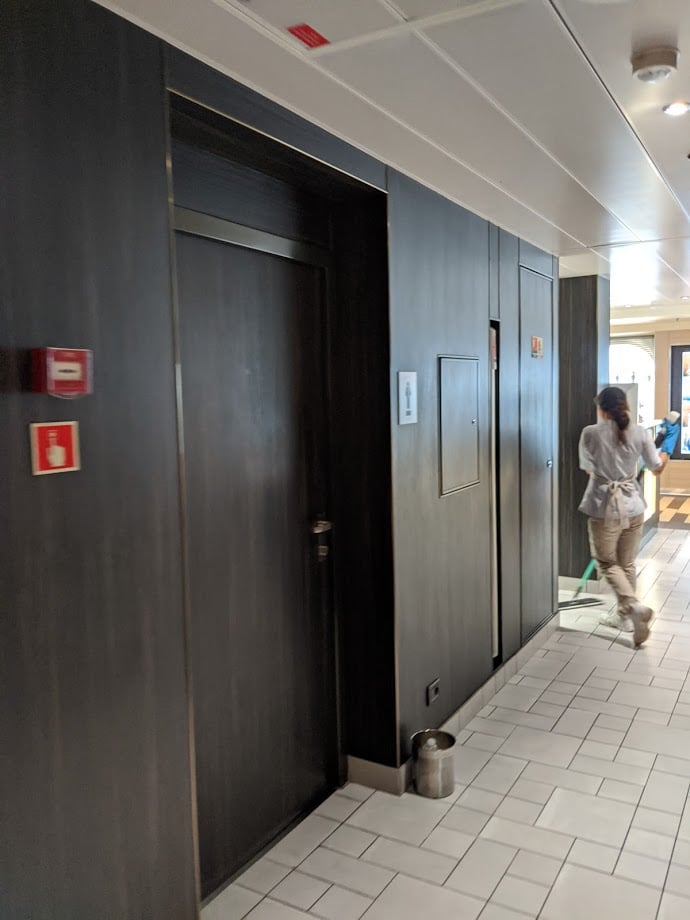 The bathrooms themselves were really small compared to other ships I'd been on, and quite a few were decorated in this hideous green color. I don't know what they were thinking.
When it comes down to what really matters though, bathrooms were always clean and well maintained.
HIT – The Staff
This was my 7th cruise, and I've always had relatively good service, but this ship way above and beyond. It might have helped that this ship was only a year old when I took the cruise and the 2nd newest in Carnival's Fleet. It's rumored they usually save their best and highest rated staff for the new ships and I could see that being true. Everyone was super friendly, smiling and happy to help. They went above and beyond whenever they could. While there were some waits for a drink from time to time (maybe 10 minutes was my longest wait on a sea-day), most times things were quick and smooth and people were working at top capacity without being brisk or rude. My waiter in the main dining room was always amazing, remembering to bring me peanut butter with my chocolate melting cake and my Diet Coke each meal without asking. If he saw me in the breakfast buffet that morning, he'd come over and ask if I needed anything and how breakfast was. It was great service all around.
MISS – The Theater / Comedy Lounge
I don't know who should be fired, the guy who designed the Liquid Lounge (the theater) and Limelight Lounge (the comedy venue) for the Vista-class ships or the guy who, even after seeing it in place on the Vista, decided to copy the exact layout to two other ships. In an effort to make these flexible spaces that can serve many purposes, the main floors of both venues are completely flat and they use chairs and benches in these areas. That way, they can be moved around to different configurations or moved out of the way to provide a dance floor. I'm sure this made sense in theory, but in practice, not having a tilted floor means it's harder to see the people on stage. The chairs are less comfortable than the traditional theater seating and in many cases, there's nowhere to put your drink.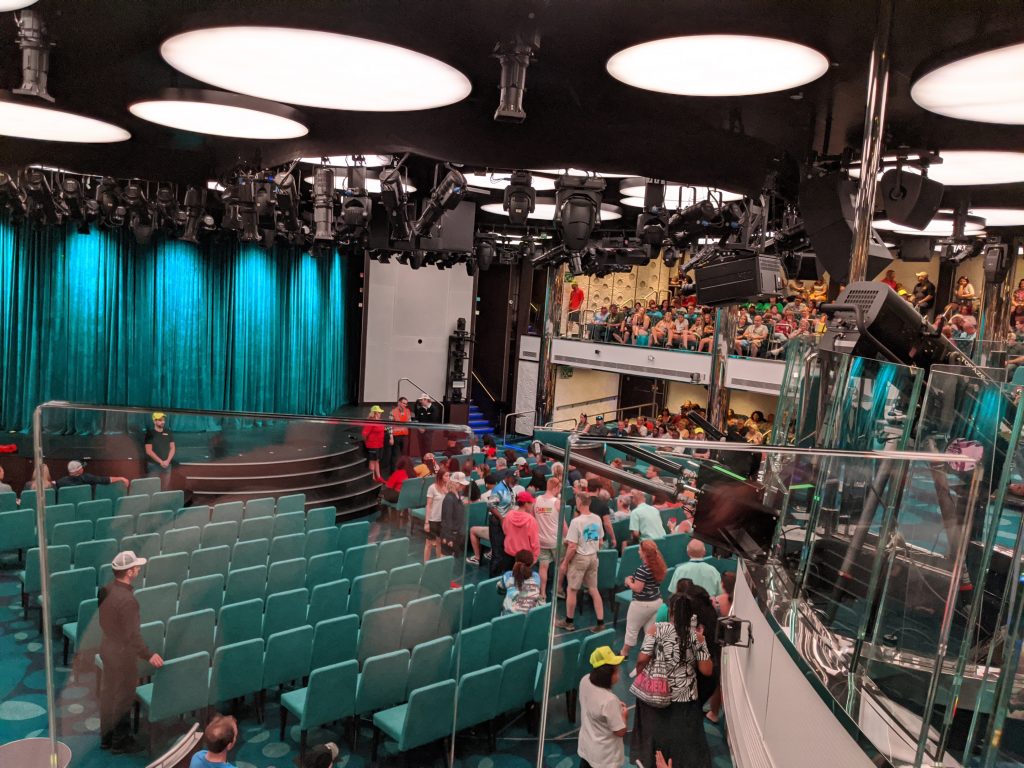 The seating on the sides and back have cup holders and nicer seats, but they're laid out oddly and have bad sightlines. There are huge mirror plated columns that block a lot of views at each venue. I'm not sure how they can get around it, but I've never had a problem like that on any other cruise ship.
They're also too small. The Carnival Horizon hold 86% more people than an older ship, like the Carnival Pride, but the theater holds 20% FEWER people. That means if the theater was full, it'd fit only a quarter of the people on the ship. Maybe they're not used to having shows with good attendance, but it was crowded. For the early comedy show one night, we got there 35 minutes early and it was completely full. They were letting people stand but it blocked the seats against the wall. Just a bad design all around.
HIT – It Didn't Feel Crowded
This is one of Carnival's biggest ships and holds more people than they ever had before. When booking, I was concerned this ship would feel cramped and overly crowded, especially when you look at the gross tonnage of the ship per person (this ship has Carnival's lowest ratio). In practicality, the ship rarely felt overwhelmingly crowded. The sailing I was on was near sold out, but it was March, so only about 10% of the patrons were children; it could be way different in June or July cruises. Because of all the different venues available, all the 4,000+ people were spread out. The most packed part hard to be the Lido pool and Tides pool on sea days. The pools themselves and lounges surrounding them were all full but to me, that's not unexpected…I come to realize you'll seldom see room in a pool or a pool lounger free on a sea day on any cruise; they're just not big enough. That being said, there were tons of loungers available on other parts of the boat. I spent a few hours on a sea day on the padded lounges on the lanai (a walkway that extends around the outside of deck five) and barely saw another soul. Inside, there were tons of quiet areas you could get away to; the Library Bar, the entry to Havana, the adults-only Serenity Deck; if you wanted a place to relax and that has peace and quiet, it's easy.
Even more impressive was that the breakfast lido buffet was not that crowded. On other ships, I've found it nearly impossible to find seating at the Lido Buffet for breakfast. On this ship, I never had a problem at all which totally surprised me. Even venues that would be normally crowded weren't awful, I never waited more than 5 minutes to get a fresh pizza (on some boats, the wait could be 15 – 20 minutes) and when I wanted dinner at Guy's Pig and Anchor (which was free for this cruise), the wait was 10 minutes.
MISS – The Lack of Grandeur and Spectacle
Don't get me wrong, the Horizon is a beautiful ship. It has a very contemporary feel that has a lot of polish and class; especially compared to Carnivals more gaudy ships of the past. What's surprising is that for one of Carnival's biggest ships, all the spaces seem small and lacking the grandeur many of their other ships has. Almost every other one of Carnival's ships has a beautiful atrium with 12+ story glass elevators and a glass ceiling. The Horizon has a much smaller 3 story atrium with a big LED funnel in the middle. While it was impressive, I couldn't help but be disappointed when I walked in, you weren't blown away by the size or ambiance; it just felt like a normal hotel. There were no jaw-dropping moments. Even when being compared to pictures, it just felt much smaller in person.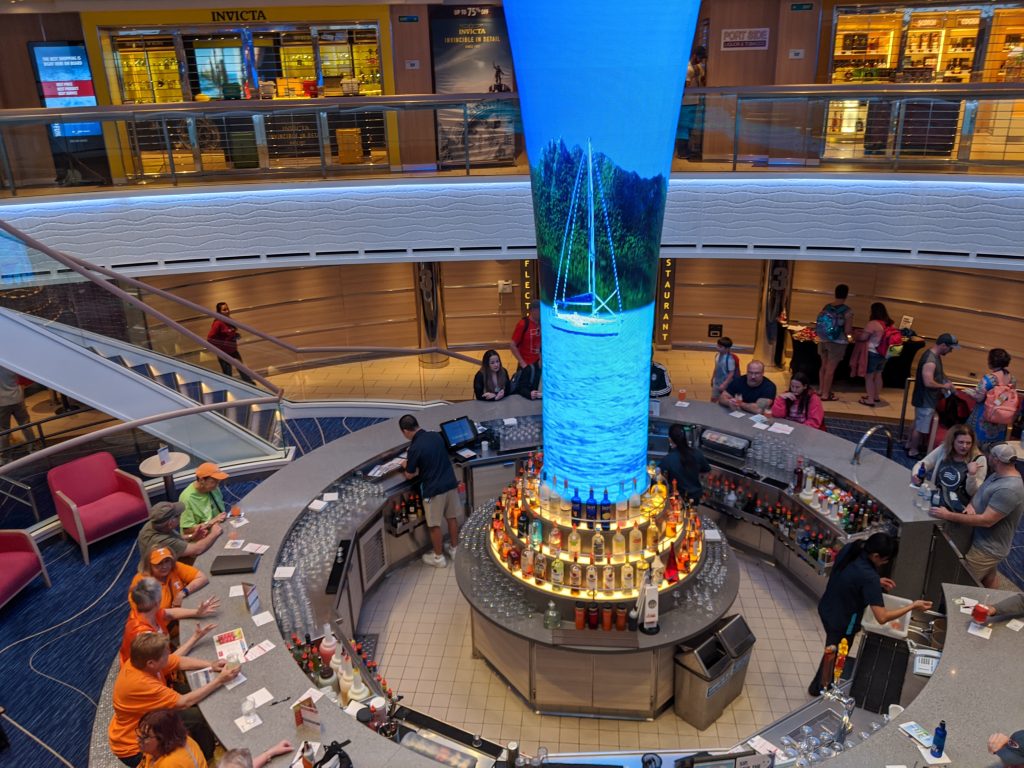 The theater, as mentioned above, has the same problem. It's just not grand feeling as other ships. Most other theaters are 3 stories, this one is only 2 stories, and with all the lights and equipment hanging from the ceiling, it feels smaller.
Even the pool areas felt smaller. While the pools themselves are relatively large by Carnival's standards, the way they are situated on the decks make them feel smaller than they are. It can be a total trick of the eye because the boat still holds 4,000+ people comfortably. Look at this picture of the Awesome 80's Deck Party, there are easily several hundred people dancing and not being packed in, but it just feels less grand. It's really hard to explain but I did miss the awe I'd felt on other ships.
HIT – The Live Music
It's funny, on a ship of this size, you don't realize how much there actually is to do. When we'd talk at dinner, we'd hear stories from our table mates on all the different stuff they did before that we weren't aware of. Most evenings, there were at least 4 different musicians performing if not more. There was a Latin band in the Havana bar; electric violins playing mashups and classical and contemporary pop music in the atrium, country and rock music in Guy's Pig and Anchor, Big Band type music in Ocean Plaza, Piano Sing A Longs in the Piano Bar. It was crazy how many options there were and they were all really good!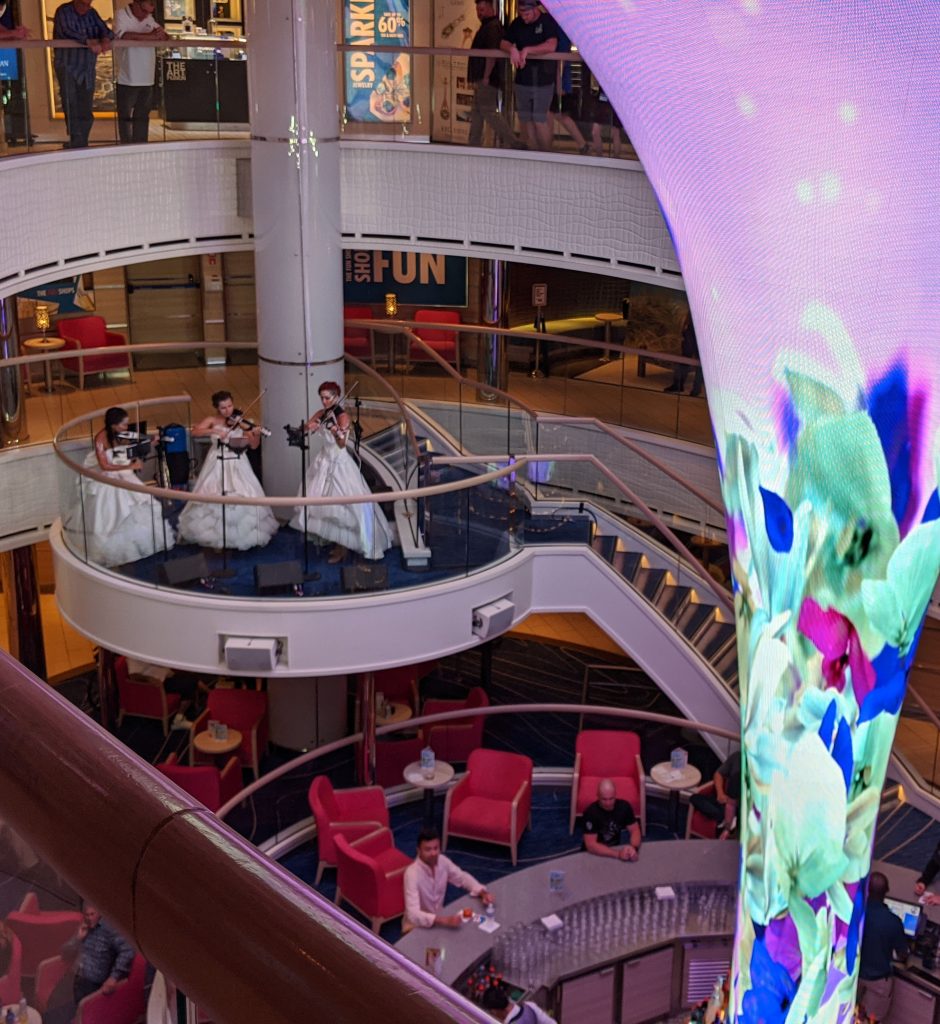 The Horizon also has several production shows that you can see while on board. The Celestial Strings production show was amazing to watch…hand's down one of the best shows I've ever seen on any cruise ship. The show basically mashes up pop songs with classical music. There no dialogue and a very slight story-line here, but it looked and sounded great.
Less impressive were their other two shows, Soulbound and Vintage Pop. They just couldn't live up to the excitement and energy of the Celestial Strings show and I would skip them if I were to do it again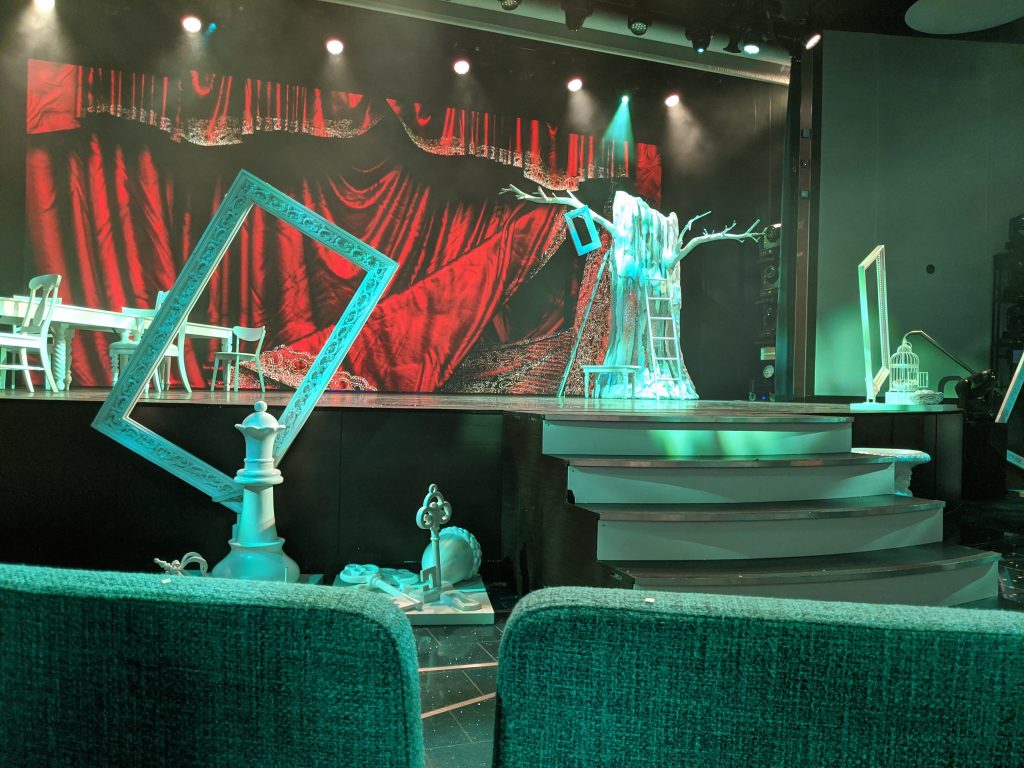 MISS – The Doors
This may sound stupid, but the cabin, balcony and bathroom doors on this ship were just too loud. Yes, I know that sounds like a nit-picking comment, but at 8:30 AM, when you hear all the doors around you slamming from your floor and other floors, it drives you insane. Slamming doors are a problem on all ships, and I acknowledge that, but even if you tried to close these doors quietly, it resulted in a loud thump. Maybe it's just because it's a new ship and the door's closing mechanisms are still strong, but it was getting to me by the end.
SUMMARY – A Great Ship To Cruise On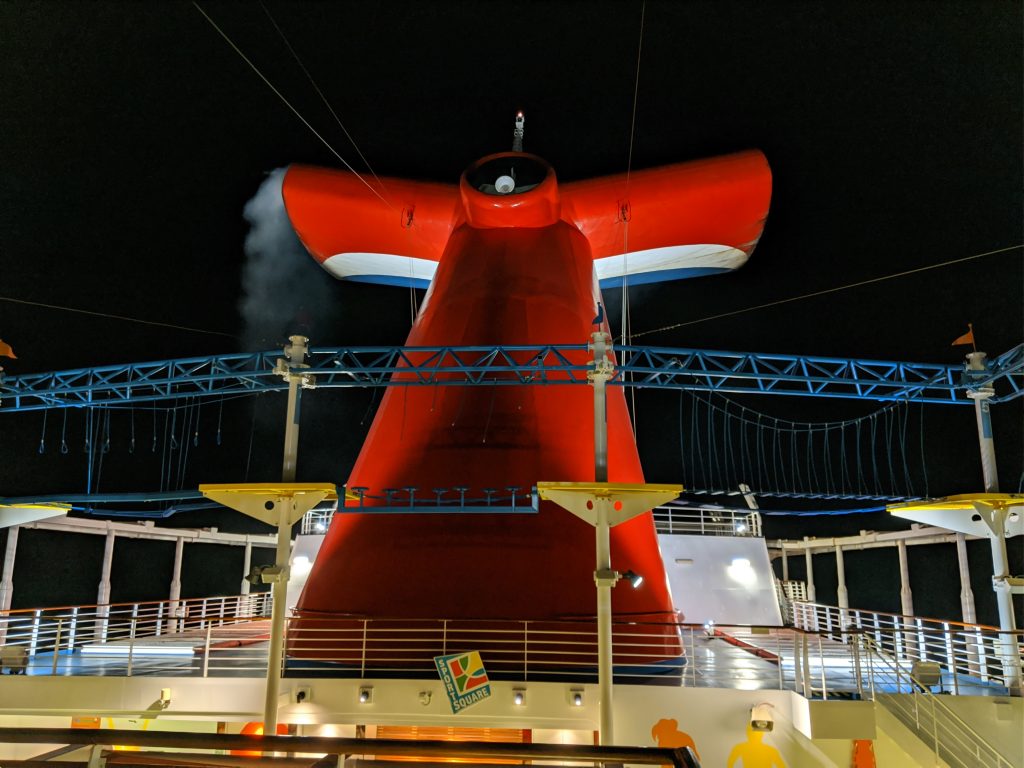 Overall, the Carnival Horizon has been my favorite Carnival ship yet. Yes, it was big, but I like a boat with tons to do. It didn't feel very crowded and the staff was all top-notch. This may be different in a Summer cruise when the boat is filled with more kids, but overall, I really enjoyed the Horizon and I would definitely book another cruise on it, or its sister ships the Vista and the Panorama, in a heartbeat.
Follow along on our 6-day cruise on the Carnival Horizon
Carnival Horizon – Cruise Blog - Day 1 – Miami
Carnival Horizon – Cruise Blog - Day 2 – Sea Day
Carnival Horizon – Cruise Blog - Day 3 – Amber Cove
Carnival Horizon – Cruise Blog - Day 4 – Grand Turk
Carnival Horizon – Cruise Blog - Day 5 – Sea Day
Carnival Horizon – Cruise Blog - Day 6 – Nassau
5 Hits & Misses of the Carnival Horizon
Want to learn more about the Carnival Horizon? See the ship details here
CruiseSpotlight is an Amazon Associate. We may earn a commission when you click links to retailers and purchase goods.