Carnival Details New 820 Biscayne Zone on the Celebration
Today, Carnival Cruise Line released some new information about another new zone on their next ship to debut, the Carnival Celebration. Excel-class ships like Mardi Gras and Celebration are split into six zones. These areas contain various shops, restaurants, bars, and venues that are themed to offer a cohesive experience. The zones help large ships like this feel less crowded and easier to navigate. 
The Celebration is a sister ship to the Mardi Gras, and it was expected to be widely similar, except two of the six zones of the ship would be rethemed. One of the zones will be called 820 Biscayne and will replace what is the "La Piazza" zone on the Mardi Gras.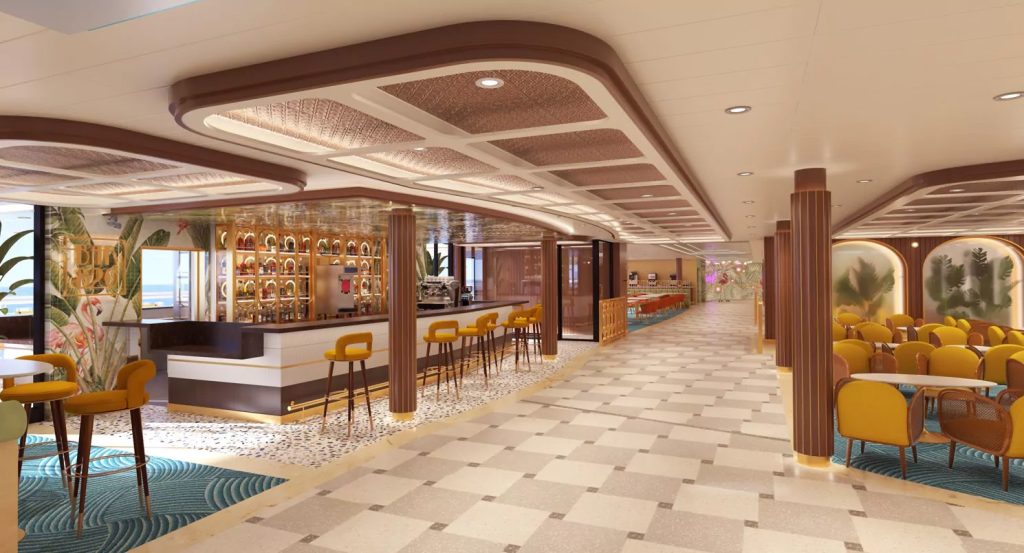 La Piazza becomes 820 Biscayne
On the Mardi Gras, the La Piazza zone spans the middle of deck 8. The Italian-themed zone is designed to look like a courtyard you would find in Italy. It pays homage to Carnival's Italian roots (many Carnival captains hail from Italy, and many of the ships were originally built there). Red brick and iron streetlights accent the area, and murals of famous piazzas from Venice, Rome, and more adorn the walls. Guests in this zone will also find a Vespa scooter and Fiat car, favorites for photographs. In addition, this area is home to the Italian Speciality Restaurant Cuchina Del Capitano, Pizzeria del Capitano, Bar Della Rosa, and Piazza Panini (which is basically a rebranded Carnival Deli found on almost all other Carnival Ships.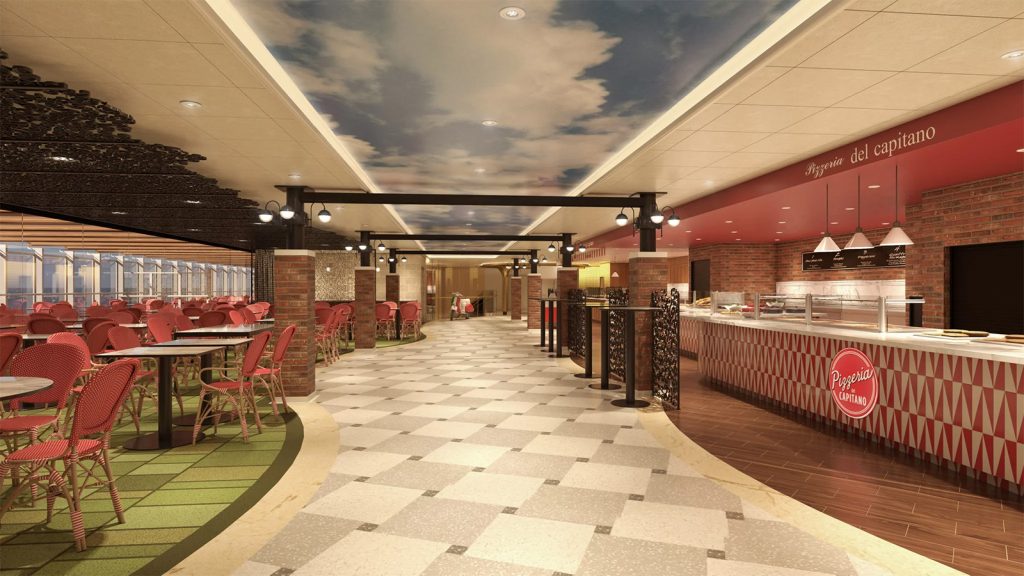 As we previously speculated a few weeks ago, this will be replaced by 820 Biscayne, named after Carnival's first corporate headquarters. We assumed this area would then have a Miami theme, and we were right. The new zone will highlight Miami's styles, flavors, and culture. Instead of brick and ironwork, the decor will feature Miami staples like art deco and light, airy design. 
For the most part, the layout and functionality of the spaces in 820 Biscayne will be similar to their counterparts in La Piazza on Mardi Gras. They've just been adapted and rethemed. 
Bar 820 replaces Bar Della Rosa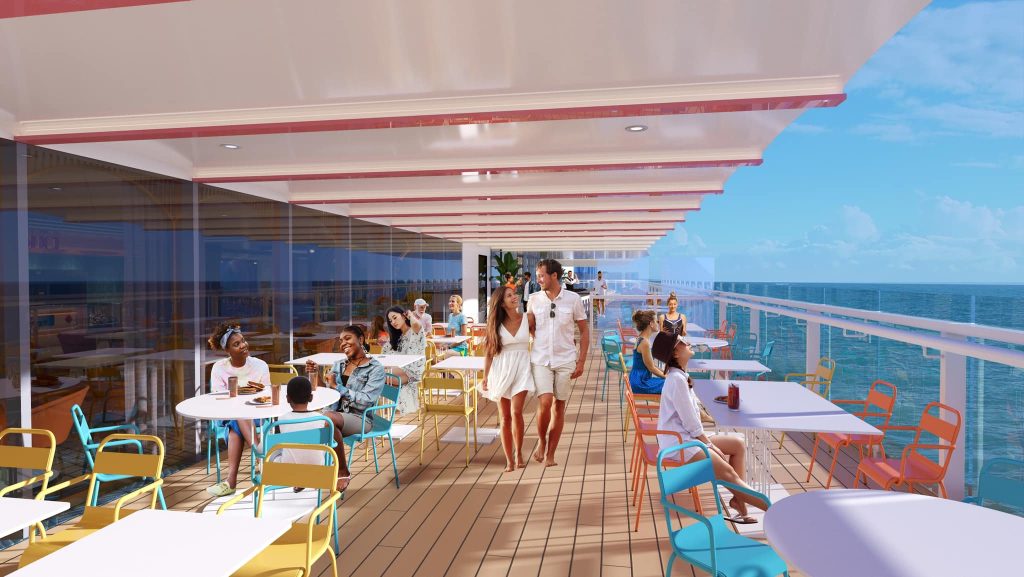 Bar Della Rose on the Mardi Gras will be replaced by Bar 820 on the Celebration. The retro-themed bar will feature Cuban and specialty coffees and some Miami-inspired frozen drinks and cocktails. It runs right along the main thoroughfare in 820 Bisquane and spills over into a beautiful outdoor area. If it's like Mardi Gras, this will also be one of the designed smoking zones on the ship. 
Deco Deli replaces La Piazza Panini
The Deco Deli takes inspiration from the art deco trend in Miami, with colorful fonts and signage. It replaces La Piazza Panini on the Mardi Gras, and replaces the Carnival Deli found on most other ships. On top of their usual made-to-order sandwiches, the Deco Deli adds some Miami staples like a Cubano, a croqueta sandwich, and pan con lechon (pork, ham, swiss, and mustard). 
Miami Slice replaces Pizzeria del Capitano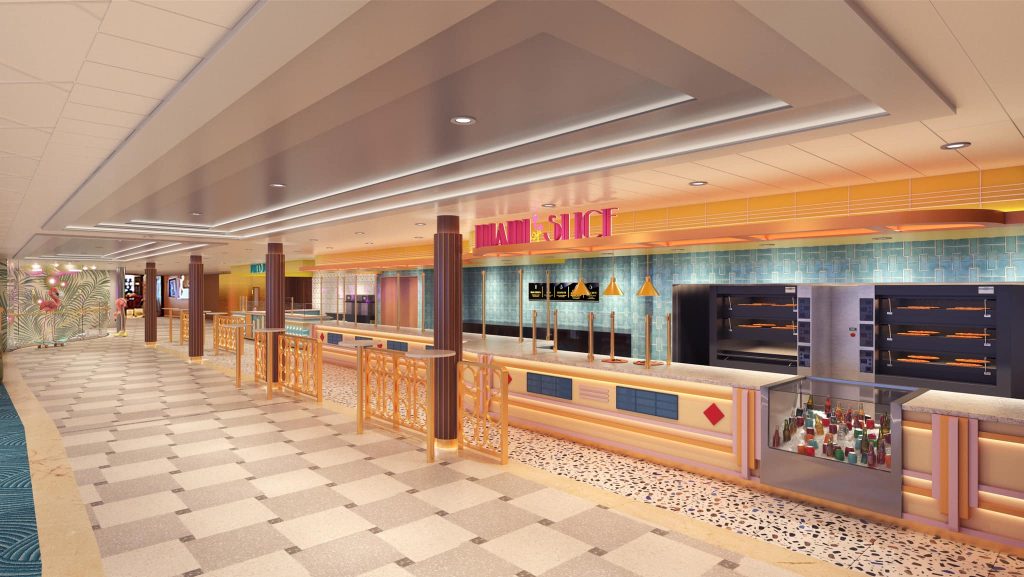 Carnival is known for its 24-hour pizza. During the day, it's a great place to stop and get fresh-made pizza. At night, it's also the place to be, as it's usually the only late-night food available on a Carnival ship. Lines of 30 to 40 minutes can easily spring up around midnight for people looking for some snacks. On the Celebration, the pizza venue will be called Miami Slice and have a very "Miami" look and feel. 
Rudi's Seagrill and Cucina del Capitano Return
Two popular favorites found in the La Piazza zone on Mardi Gras will also return to the Celebration. Cucina del Capitano, the popular Italian specialty restaurant on the Carnival ships, will be back but get a make-over to reflect the feel of a Miami restaurant instead of a traditional Italian restaurant. In addition, Rudi's Seagrill, which debuted on Mardi Gras, will also return with their high-end seafood dishes.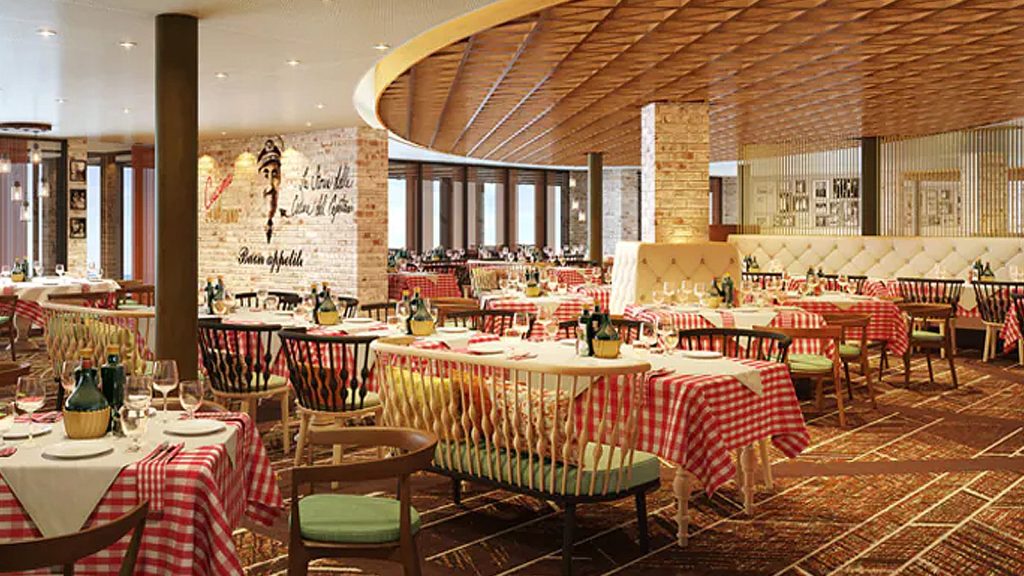 Our take on 820 Biscayne
We're torn on 820 Biscayne as a zone. On the one hand, it makes sense. The Celebration will be honoring many of Carnival's past ships, and since Miami is the headquarters of Carnival, it should be included as well. But, on the other hand, does the average cruise passenger care where Carnival's headquarters is? And would they even understand what 820 Biscayne means? 
On top of that, Cuban-themed elements are highlighted a lot in this zone, but the ship already has a dedicated Cuban-themed venue in the Havanna Bar. So why do they need to duplicate it?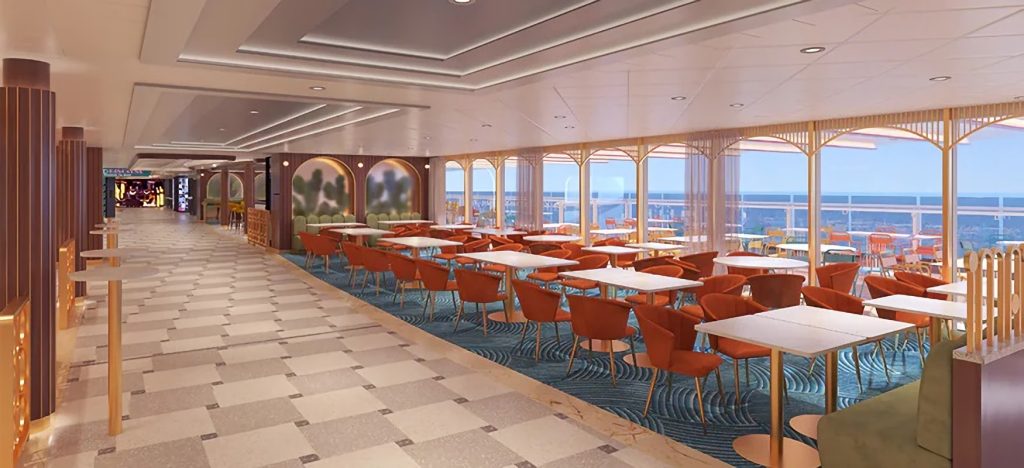 That being said, the theming really does look attractive in this zone. The decor almost makes it feel like a throwback to the older Carnival cruise ships with their over-the-top avant-garde decor but in a much more subdued and refined implementation. It's nice to see the Excel-class ships getting some personality. The previous Carnival ships (Vista, Horizon, and Panorama) were all beautifully decorated, but they lacked character, and it was hard to tell the difference between any of those ships. 
Still to Come – The Gateway Zone
We still have one more zone to learn about on the Celebration. It'll replace the Mardi Gras' "French Quarter" zone, and according to deck plans, it'll be called "The Gateway." Our hunch is that it will be a global theme, as Miami is considered the gateway to the world for cruise ships and cargo. This zone will have two new bars and one new restaurant. There have been rumors that the popular Fortune Teller Bar will be replaced by a new one with a global-inspired cocktail menu. 
CruiseSpotlight is an Amazon Associate. We may earn a commission when you click links to retailers and purchase goods.