Introducing "The Golden Jubilee" Bar on the Carnival Celebration
Carnival has announced one of the last few unknowns for their upcoming ship, the Carnival Celebration. Although the ship isn't set to sail until November 2022, they've dropped a ton of information while keeping a few cards close to their chest. Now we learn just a little bit more. 
"The Golden Jubilee" will replace "The Brass Magnolia"
The Golden Jubilee is a new bar that will debut on the Carnival Celebration. It takes over the location that's occupied by The Brass Magnolia Bar on the Mardi Gras. It will be on deck 6, in "The Gateway" zone, although Carnival hasn't released details on the theme of that zone. 
Renders of the space show that The Golden Jubilee will be visually impressive. Part of that comes from the high ceilings. Like The Brass Magnolia, the Golden Jubilee will have a spacious two-story entry. Since ceilings on a cruise ship are relatively low, adding the second story gives this space a different feel; it's much more open and grand.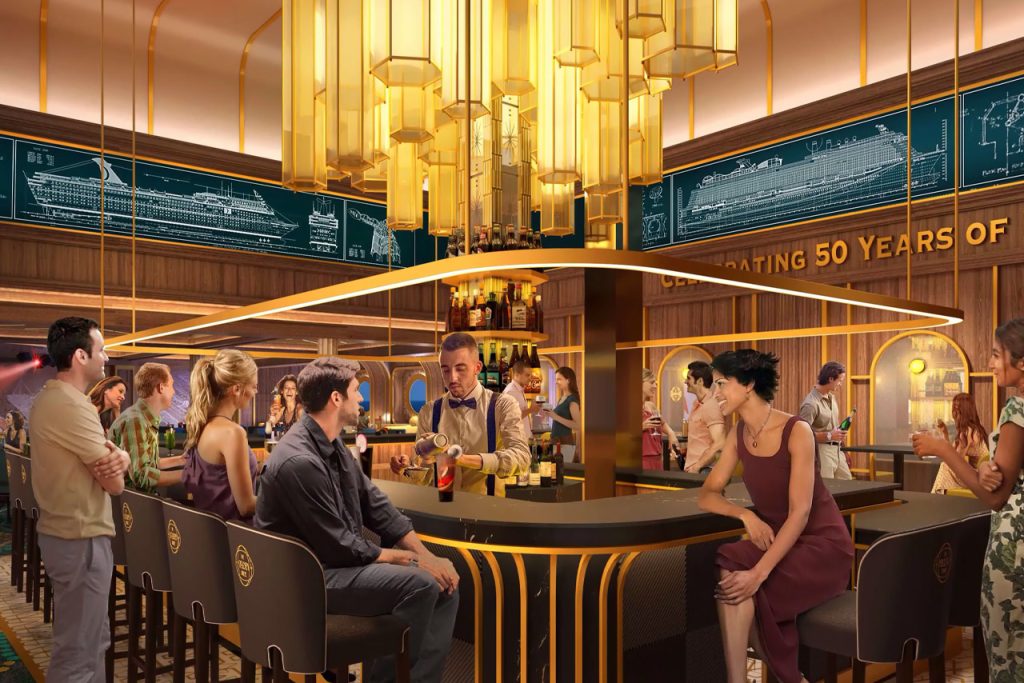 A suspended brass rail with embedded LEDs that seemingly floats in mid-air will illuminate the bartop. This type of lighting gives the space an intimate feel without making it closed off. Above the bar will be a beautiful class chandelier with suspended hexagon glass cylinders. The panels of the bar feature warm wood panels with gold accents. It's a very vintage meets modern vibe. 
Further in the venue, the ceilings drop down to a single story, creating a cozy, intimate atmosphere. In this part of the bar, you'll find a stage for live performances as well as plenty of lounge-style seating. In addition, the windows in the back are circular rather than square, a nod to the old porthole windows found on Carnival's original ships. 
Celebrating 50 years of cruising
The bar's name clearly indicates what the theme is. A "golden jubilee" is the 50th anniversary of an event. In this case, it's in honor of Carnival Cruise Line's 50th year of operating. Fans of Carnival ships, and cruising in general, will find a lot of neat decorations and easter eggs all around this bar. 
The bar's main area will feature blueprint reproductions of several Carnival cruise ships and how they have evolved over the years. 
The chairs in the back are styled after the seating found in the Riverboat Lounge on the original Carnivale ship. It's paired with cocktail tables inspired by the Hollywood Boulevard venue from the Carnival Fascination.
A 17′ x 7′ full-height partition wall from the original Mardi Gras casino, adorned with etched glass, nickel, and mahogany, is used to separate the bar from the promenade area. 
Original sketches and drawing from Joe Farcus, one of the primary designers and architects of many of Carnival's most popular ships, are hung around the venue.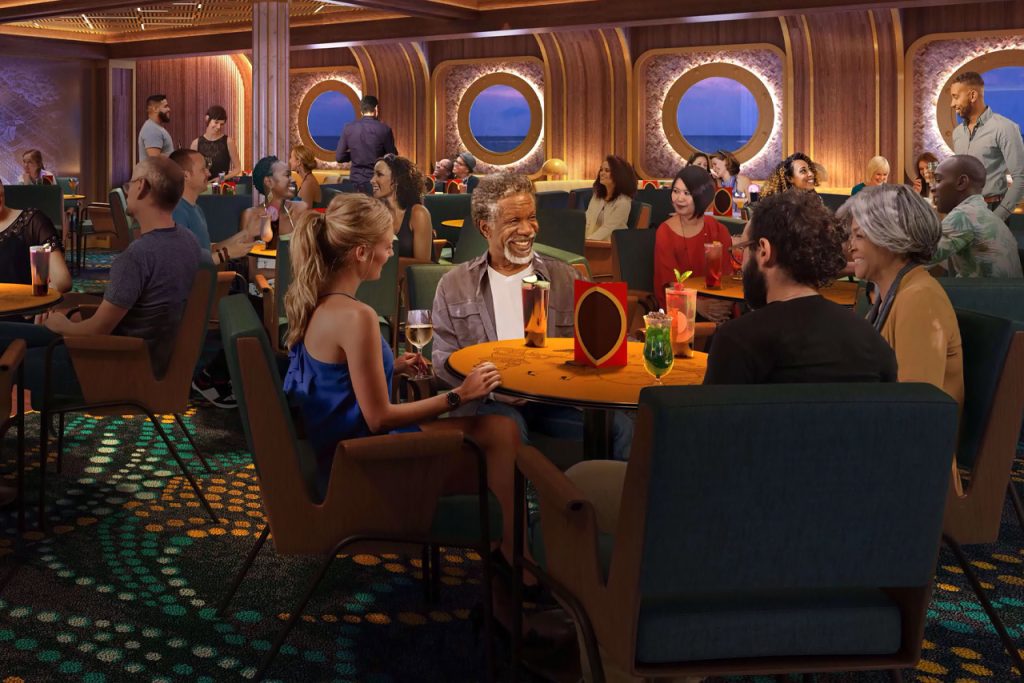 The Golden Jubilee will have a unique cocktail menu
Carnival typically has a signature cocktail menu for all of its bars, and this one won't be any different. This menu will feature cocktails that have been popular through the decades and since Carnival's debut in 1972. Think of classics like a Tom Collins or a Harvey Wallbanger, but with an elevated twist. Carnival introduced some amazing cocktails on the Mardi Gras, so it'll be interesting to see if they can keep raising the bar. 
Carnival doubles down on confusing names
Carnival does many things right, but naming isn't their strong suit. Over the years, they've created so much confusion with guests due to their naming conventions. For example, they have "Guys Pig And Anchor BBQ" on some ships and "Guys Pig and Anchor Smokehouse" on others. One is a buffet-style BBQ for lunch on sea days, and one is a sit-down BBQ restaurant for dinner that has an upcharge on some ships. Then, there's Red Frog Rum Bar, Red Frog Tiki Bar, and Red Frog Pub, which are all different. Now, there's the Golden Jubilee Bar which is remarkably similar in name to Carnival's next upcoming ship, Carnival Jubilee. 
A beautiful addition to the Carnival fleet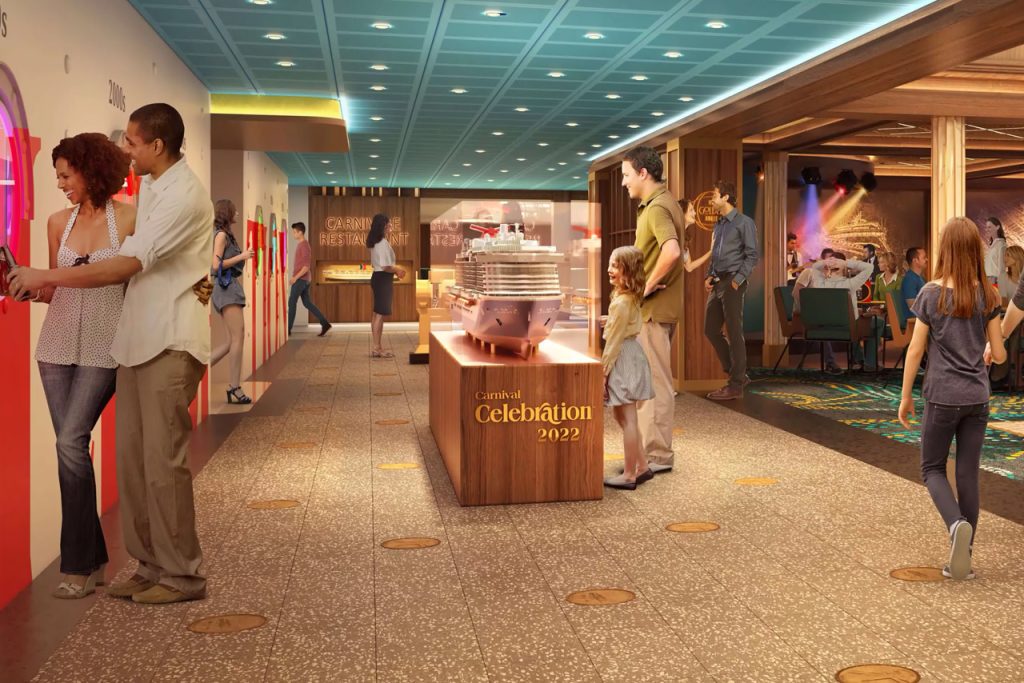 The Carnival Celebration is really turning out to be the ultimate tribute to Carnival. Typically, corporate "pats on the back" to themselves often feel hollow and can even leave a bad taste in your mouth. But, so far, it seems that they're well done on this ship. People have an emotional attachment to the previous ships they've sailed on. This venue, and many others on the Celebration, take advantage of that sentiment. If you're a fan of Carnival, this bar will be an absolute treat. If you're not, you'll still enjoy the beautiful ambiance and atmosphere. 
CruiseSpotlight is an Amazon Associate. We may earn a commission when you click links to retailers and purchase goods.