Perfect Day Has a New Adults-only Area…If You Pay
Royal Caribbean just provided more information on the new Hideaway Beach area that will be coming to their popular Perfect Day at CocoCay private island. This new area will be the first adults-only escape hidden away in a previously undeveloped part of the island. 
This area will be available exclusively to guests 18 and over. According to previous investor calls, Hideaway Beach can accommodate up to 3,000 guests, increasing Perfect Day at CocoCay's capacity from 10,000 to 13,000 guests per day. This isn't going to be a relaxing, tranquil area but an energetic beach bash in a private beach-club like atmosphere.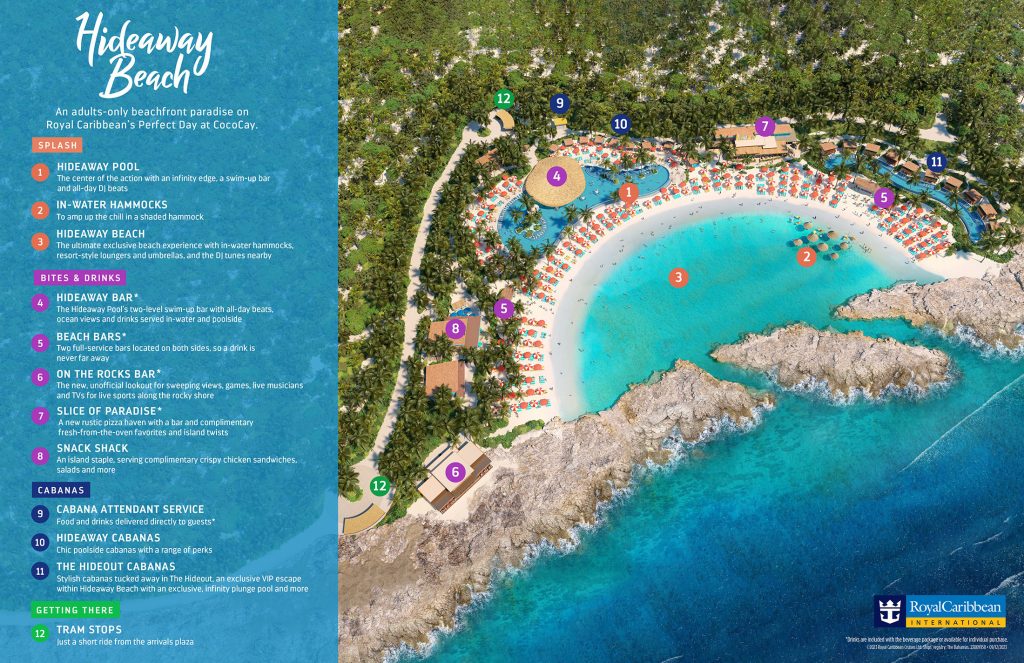 Hideaway Beach is going to cost you
If you'd like to enjoy this new child-free area of Perfect Day at CocoCay, you'll have to pay. Guests who want to enter must pay an entry charge or rent one of the 20 available cabanas. 
Royal Caribbean uses dynamic pricing, so the exact cost depends on your sailing. The prices also fluctuate depending on the overall demand for that specific day and whatever sales Royal Caribbean is currently offering. 
While Royal Caribbean does not officially release prices, guests are reporting prices that range between $49.99 to $89.99. For that price, the only thing you get is access to the dedicated pools and bars in Hideaway Beach.
Guests are reporting prices of $1,299 to $2,499 for the cabanas. That includes access for up to 8 adults. Extra passes are available for $50 per person for up to two more people.
New beaches and pools in Hideaway Beach
At the heart of Hideaway Beach is the Hideaway Pool. This heated infinity pool overlooks the beautiful turquoise Caribbean waters. Guests can find a seat at the swim-up bar or find one of the in-water loungers. This area will be hopping throughout the day with live music by a poolside DJ. This area will also have 10 cabanas available to book.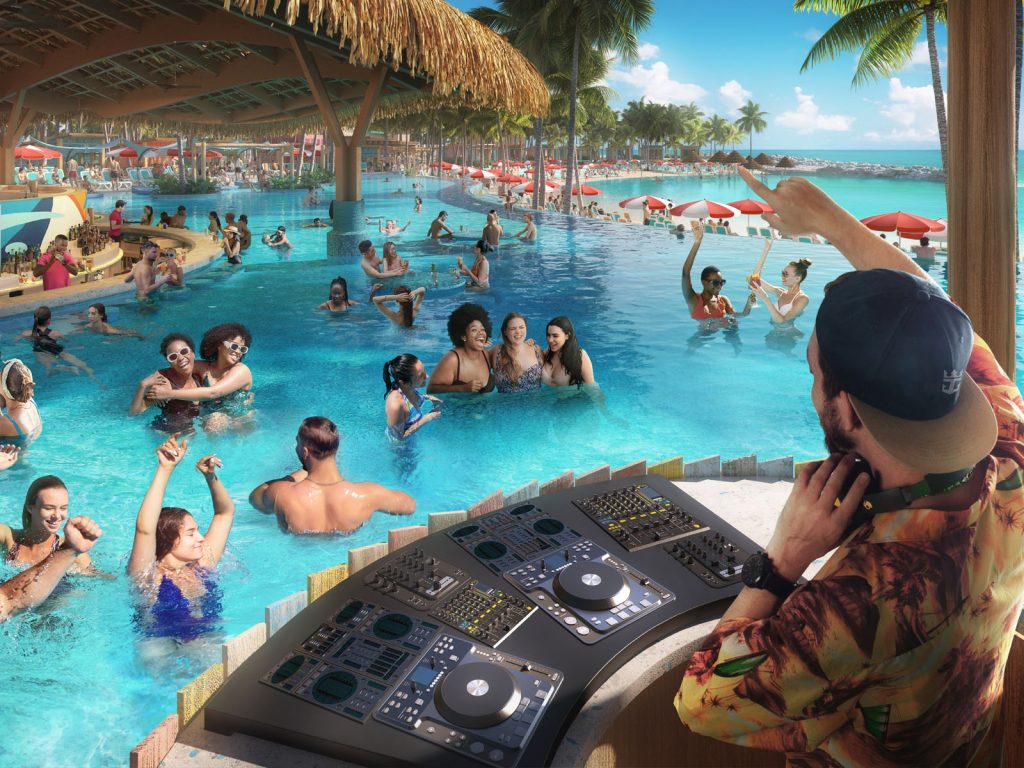 Hideaway Beach will also offer over an acre of white sand beaches to enjoy. Along the shore, guests will find resort-style loungers, umbrellas, and hammocks.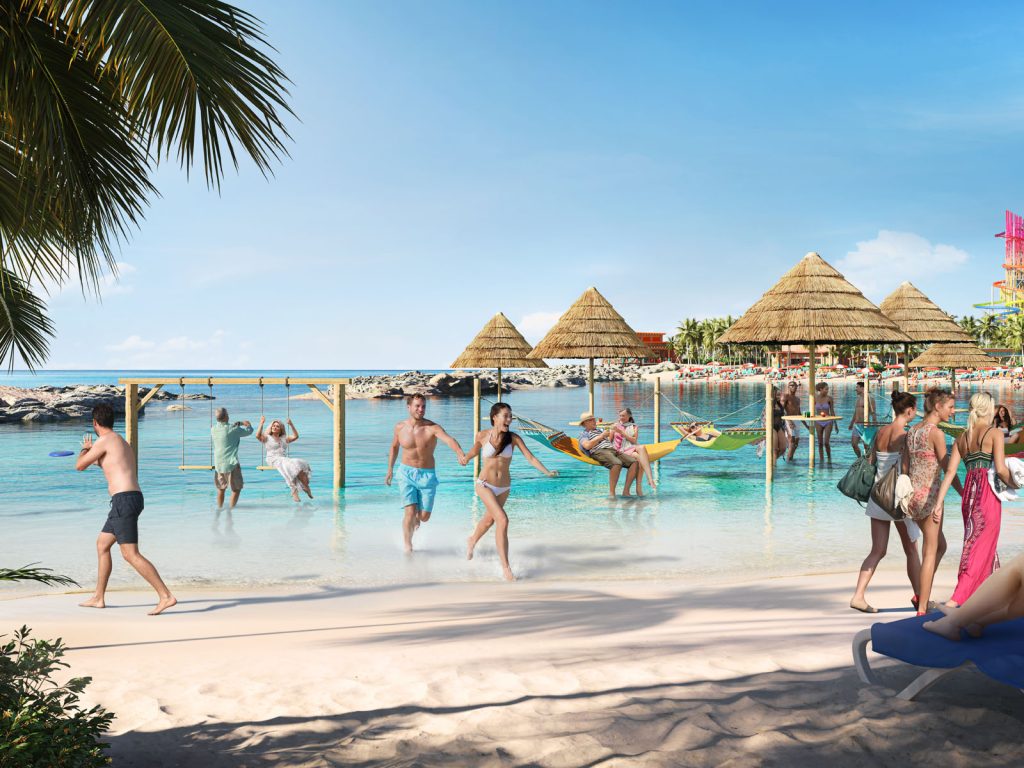 Hideaway Beach will have a second, smaller infinity pool called The Hideout. This heated plunge pool is only open to guests of the Hideout, a VIP area with 10 Cabanas.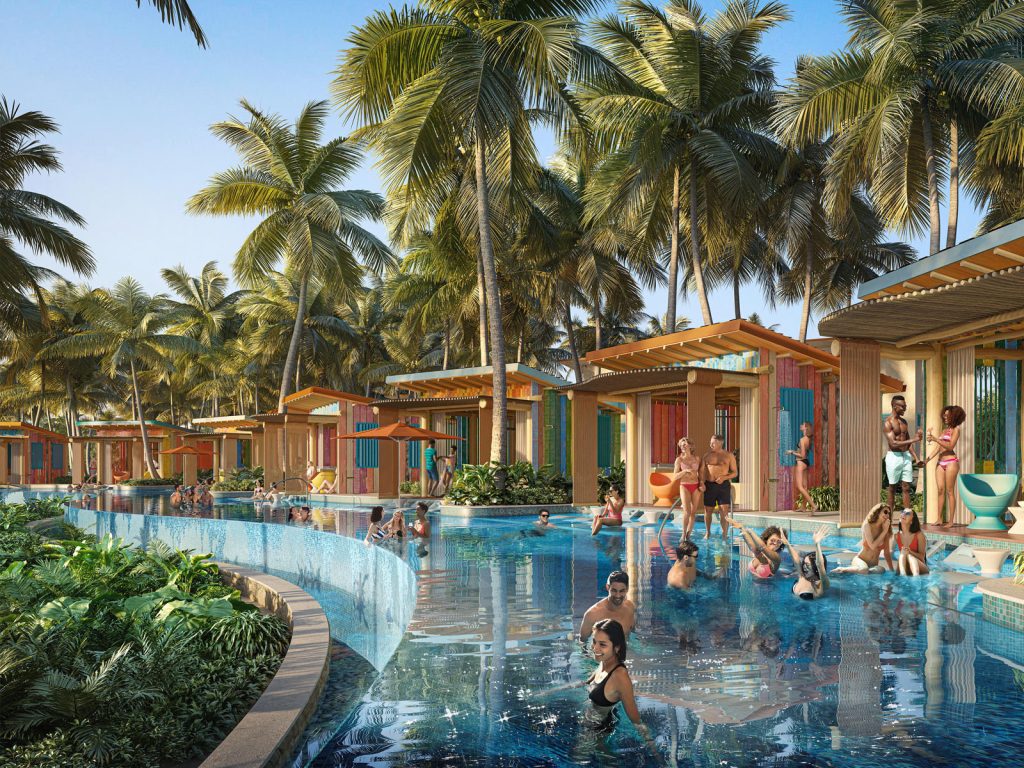 Hideaway Beach restaurants and bars
Royal Caribbean is making sure you won't go hungry or thirsty while spending the day in Hideaway Beach by offering several bars and restaurants. 
The On the Rocks bar provides a unique vantage spot and lookout for Hideaway Beach. It's located, literally, on the rocks, nestled in the rocky shore along the area. Here, guests will find live music, TV with sports, and games.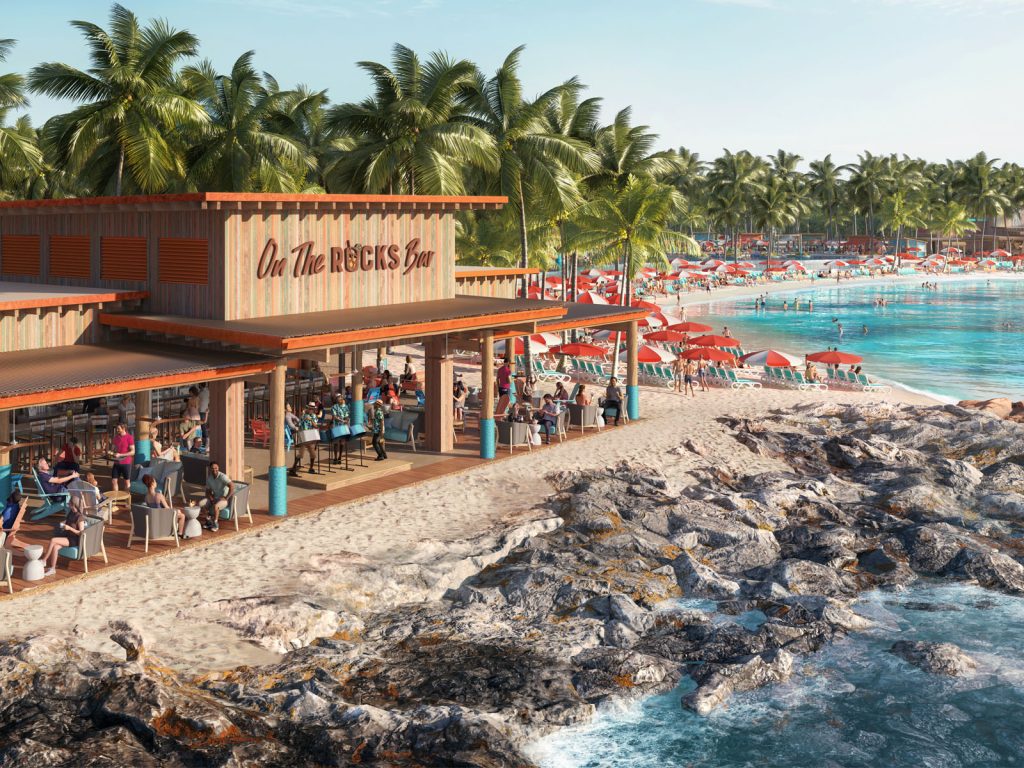 The Hideaway Bar is the swim-up bar in the Hideaway Pool. This two-story venue makes it easy to grab a drink while in or out of the pool. 
Two additional beach bars will also be available on either side of the beach.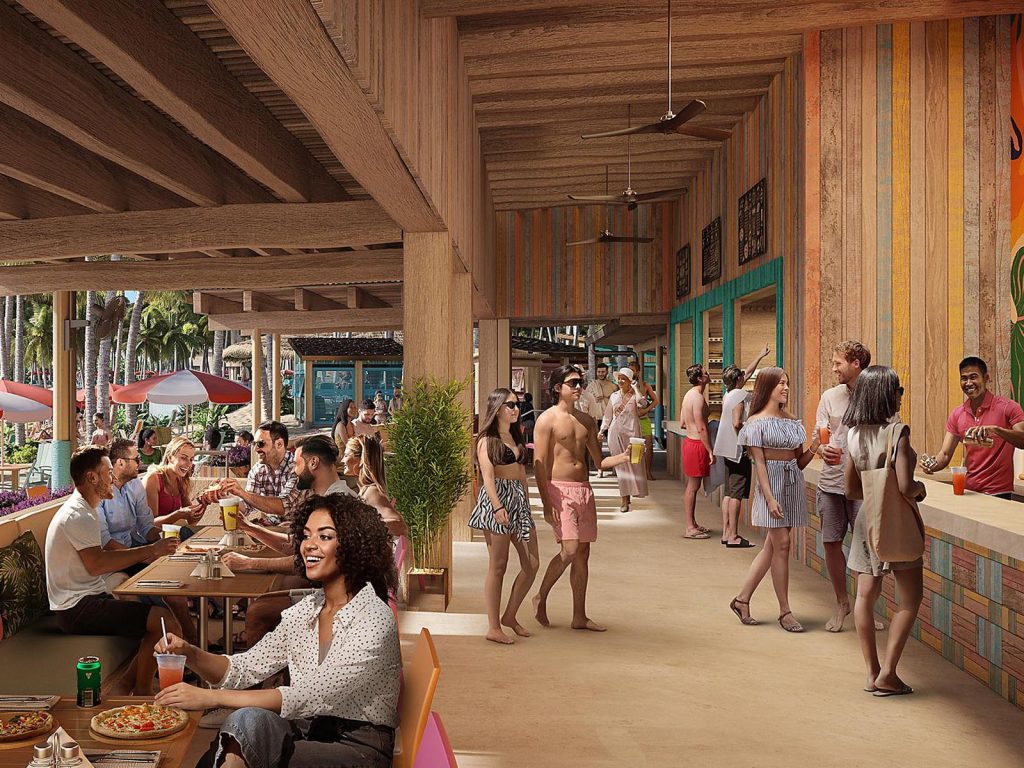 For guests who are hungry, Slice of Paradise is a dedicated pizza place in the area serving classics as well as some favorites like Bahamian guava barbecue chicken pizza. Snack Shack, Perfect Day's staple go-to for snacks while on the island, will also open a location in Hideaway Beach. Like the other locations, it'll offer dishes like mozzarella sticks, chicken sandwiches, and fresh salads. 
Thankfully, the food options are complimentary here, and Royal Caribbean will continue to honor their drink package, the Deluxe Beverage Package, on the island. Guests who do not have the drink package will pay per drink, which will be charged to their onboard account, just like they were on the ship. 
Hideaway Beach will open in January 2024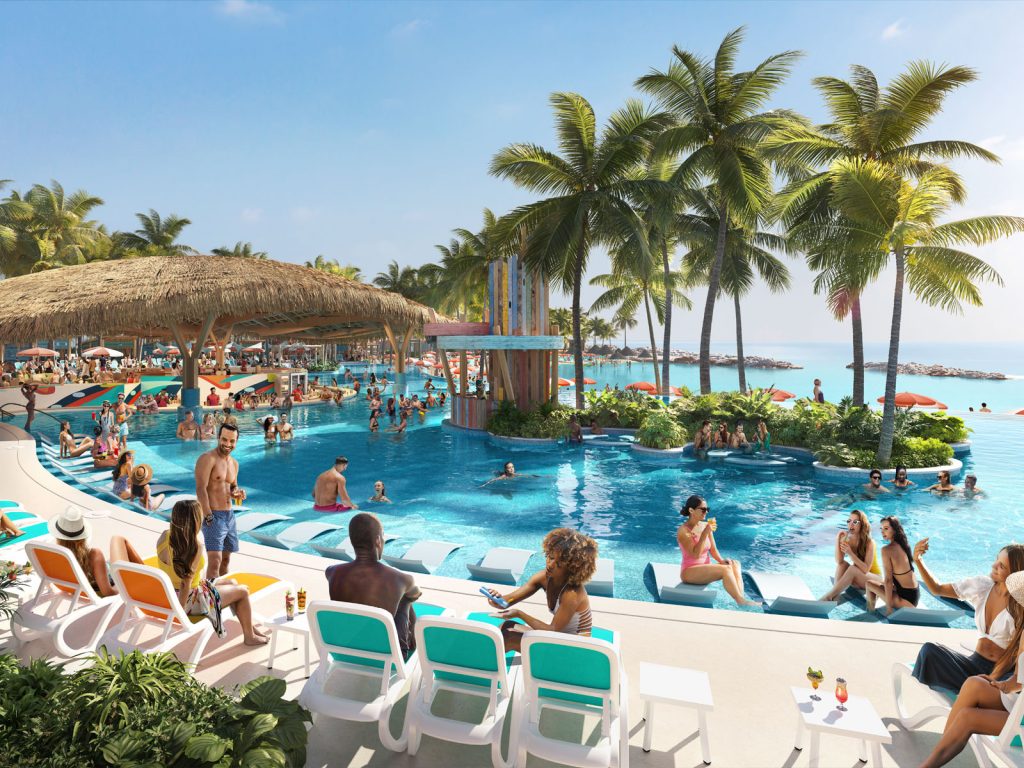 The new Hideaway Beach will open in January 2024 to coincide with the debut of the new Icon of the Seas. In 2024, 22 different ships will visit Perfect Day at CocoCay, including some new itineraries by sister cruise line Celebrity (read more here). If visiting Hideaway Beach is important to you, be sure to book early. You can purchase Hideaway Beach access through the Royal Caribbean cruise planner. 
Our take: An adult's only place is nice, but the extra cost is not
Having an adults-only section of Perfect Day at CocoCay makes sense, especially considering Royal Caribbean's increased focus on families for their new ship Icon of the Seas. It can help make the experience more enjoyable for guests who aren't traveling with children. 
But the cost? That's not so nice. One of the best parts of going to a cruise line's private island is that there is so much to do without paying extra. CocoCay has a lot of free, beautiful beaches, and it's a shame that they choose to charge extra for little more than access to an area without children. 
You can learn more about Hideaway Beach at Royal Caribbean's website.
CruiseSpotlight is an Amazon Associate. We may earn a commission when you click links to retailers and purchase goods.