5 Hits and Misses on the Norwegian Prima
Norwegian recently debuted their newest ship, the Prima, the first of 6 Prima-class ships they'll launch over the next six years. It's a whole new class of ship with a new design. It represents how Norwegian sees the future of cruise vacations. I was onboard a four-day sailing on the Prima, and I'll take you through the hits and misses of the Norwegian Prima. 
Hit – Indulge Food Hall
Norwegian knocked it out of the park with the addition of the new food venue Indulge Food Hall. The food hall consists of 11 different restaurants/concepts, all available in one area in the aft of the ship.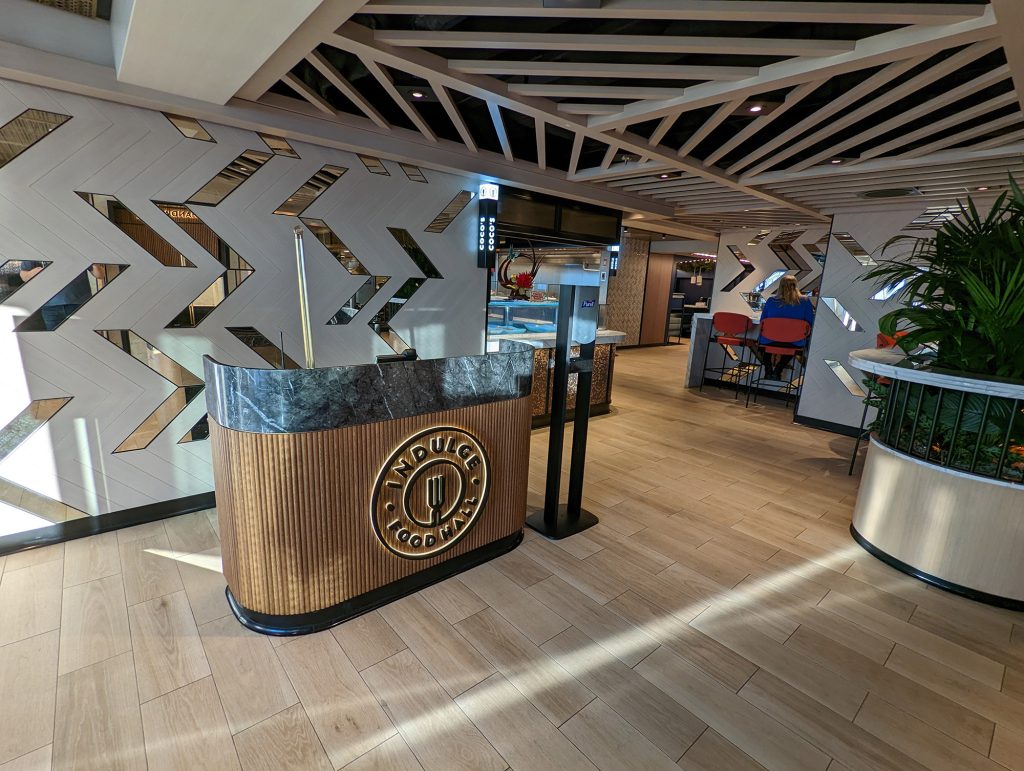 Indulge Food Hall is open for breakfast, lunch, and dinner. The breakfast is primarily grab-and-go option like breakfast burritos and sandwiches. For lunch and dinner, you sit down at a table and order using touchscreens or a server (if you're outside or they're having technical difficulties). 
Cozy and unique seating options fill the Indulge Food Hall area and spill out onto Ocean Boulevard outside. You have the option to sit at a specific food stall, but then you can only order from that restaurant. However, if you sit in any of the general areas, you can order from any of the food stalls.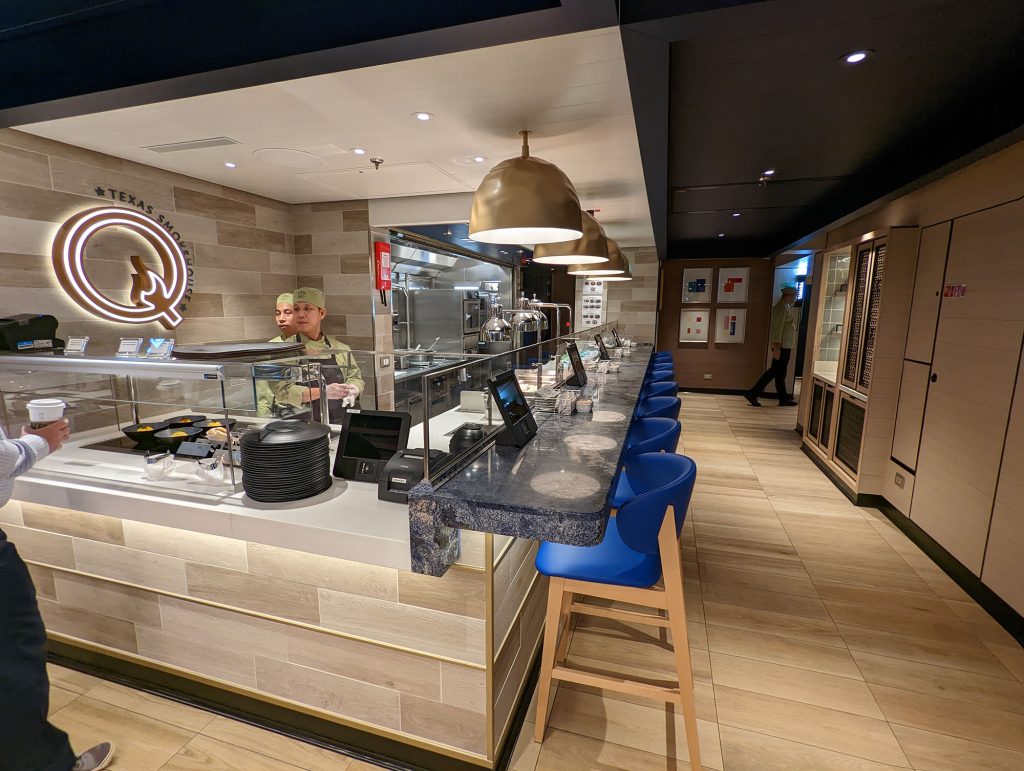 The food is all made-to-order and tastes incredibly good. The speed is also impressive. In the five times we visited the restaurant on our sailing, the first dishes hit our table within three minutes of ordering. Just a tip, if you're ordering a lot, don't order it all at once; stagger it out because the food comes fast. 
I'm also impressed that almost everything here is available at no extra charge (except for some high-end desserts at Coco's and anything at Starbucks). It was a great way to try new foods you've never tried before with no risk. That being said, picky eaters might not find something on the menu here. 
Miss – Confusing Layout
The Prima has some layout issues that make it challenging to navigate and create some sub-optimal spaces. 
The worst is that you literally have to walk through the buffet, right next to the food, to get to the back of the ship from mid-ship on the pool deck level. Every time you try to get to the aft elevators, someone asks you to wash your hands because you're walking into the buffet. And during busy buffet times, this hallway gets crowded with people trying to get food.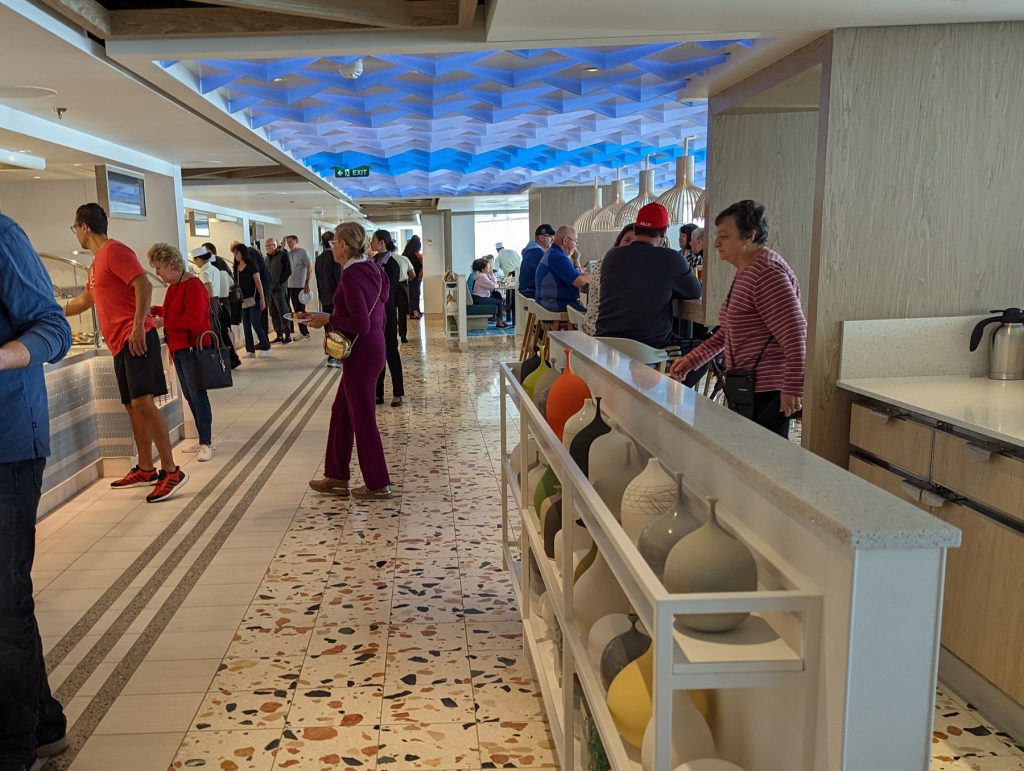 Down on Deck 8, if you want to get to Indulge Food Hall, you have to walk through The Local bar, which is fine, but no signage indicates this.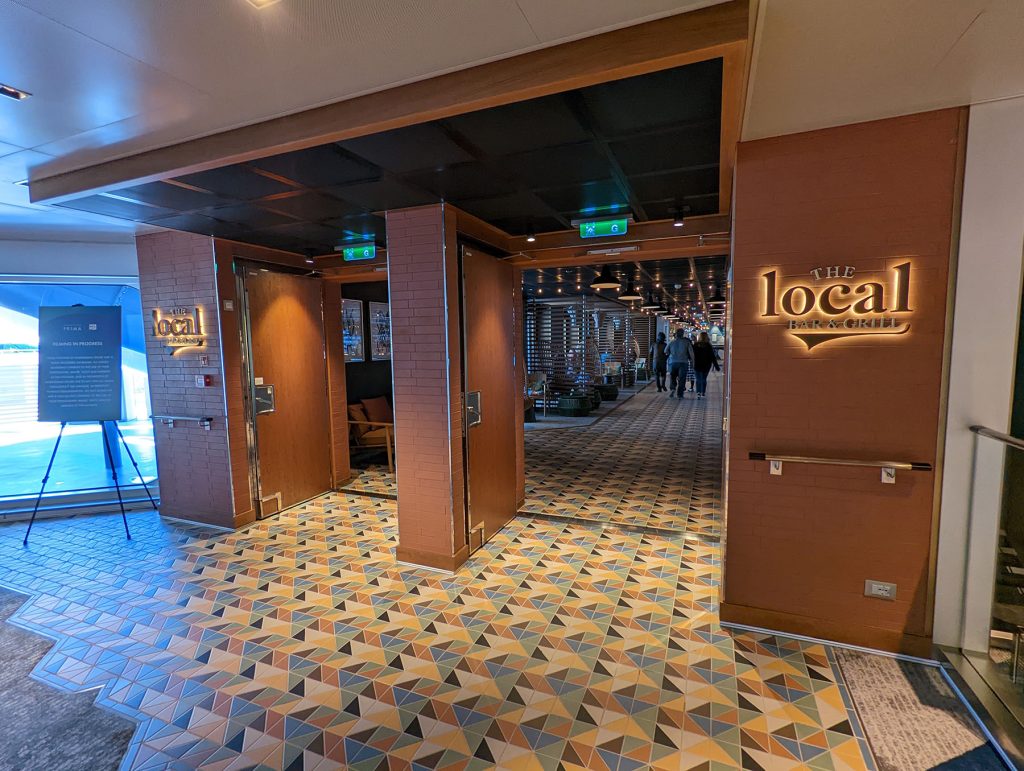 The Prima also has some odd concourses filled with stands rather than stores. It feels like a hallway filled with mall kiosks. I think it was to encourage spur-of-the-moment shopping, but instead, you get an uncomfortable feeling as workers are just standing at these sad retail spots waiting for someone to talk to them. 
There are also areas of the ship you can only find if you're looking for them. For example, the Belvedere Bar and Commodore Room feel forgotten in a back part of the ship in an area that's only visited during dinner. The viewing platform for the Prima Speedway is another example. Few people used it on our sailing, and it'd make sense to have some kid's activities up there. 
Hit – A unique high-end, intimate feel
When you first step foot on the Prima, you'll realize it doesn't feel like the rest of the Norwegian fleet. In fact, it feels much different from other cruise lines in the same category, like Carnival and Royal Caribbean. Most of the ship has a distinct high-end, intimate feel. It's very modern and filled with lots of light, both natural and artificial. If you showed people pictures, most wouldn't even think it was a cruise ship.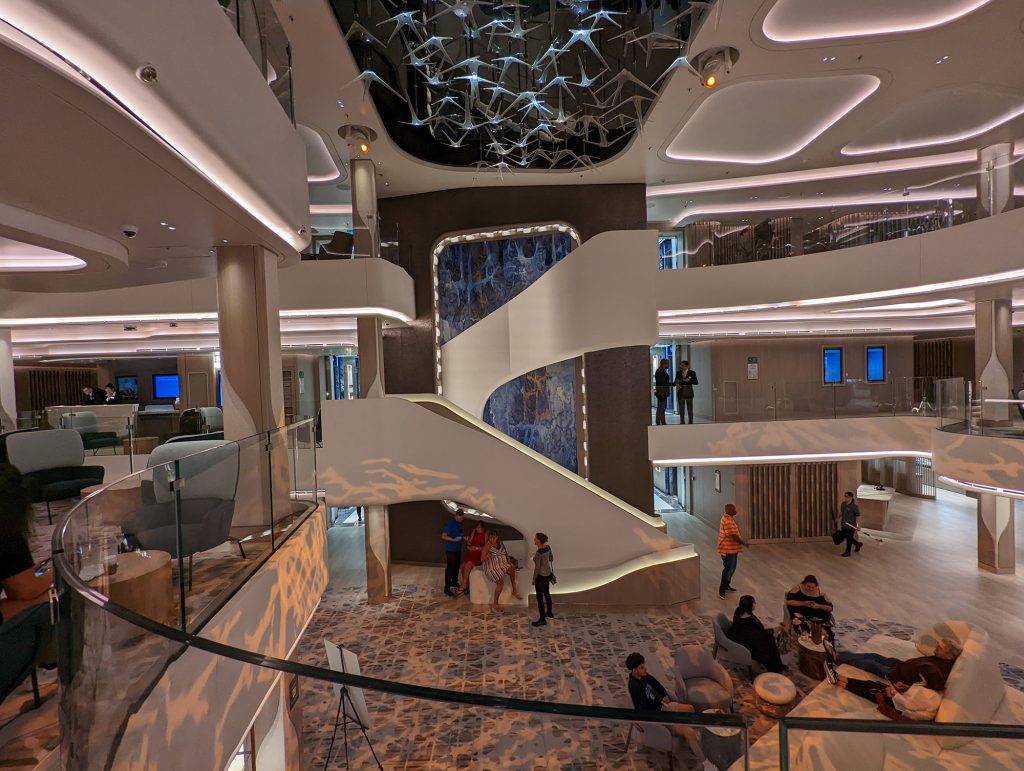 Norwegian also wanted to focus on "intimacy" with the Prima. Only a few spaces on the ship hold more than a hundred guests. Many of the larger areas are broken up with different barriers or sections to make it feel cozy. There's almost no time while you're on Prima when you feel like you're with 3,000 other passengers. Our sailing was near capacity and rarely felt full (except for below). 
It's also unique in that the ship isn't going for a "wow" factor. While Carnival might have a roller coaster and Royal Caribbean may have its expansive Royal Promenade, Norwegian went the other direction. The Prima has a subtle elegance that is unique and more in line with something you'd expect from a premium cruise line like Celebrity. 
While the modern and futuristic design aesthetic isn't to everyone's taste, Norwegian pulls it off very well on the Prima. 
Miss – Improv Comedy Club and Syd Norman's Pourhouse
Simply put, the Improv Comedy Club and Syd Norman's Pourhouse are grossly undersized. The comedy club holds less than a hundred people, and Syd Norman's maybe double that (official capacity counts were not disclosed). While I understand cruise lines are trying to get away from large venues to provide a more intimate experience, a comedy club that holds only 3% of the ship's guests is ridiculous. 
The designers didn't seem to get how they would be used when making them. Both spaces are well-decorated and have unique "feels" that it's easy to appreciate. The Improv Comedy Club feels homey and cozy, while Syd Norman's is more like a little-known bar where your favorite band is playing. But Norwegian didn't optimize them to make use of the space and the decor actually makes the small spaces even worst.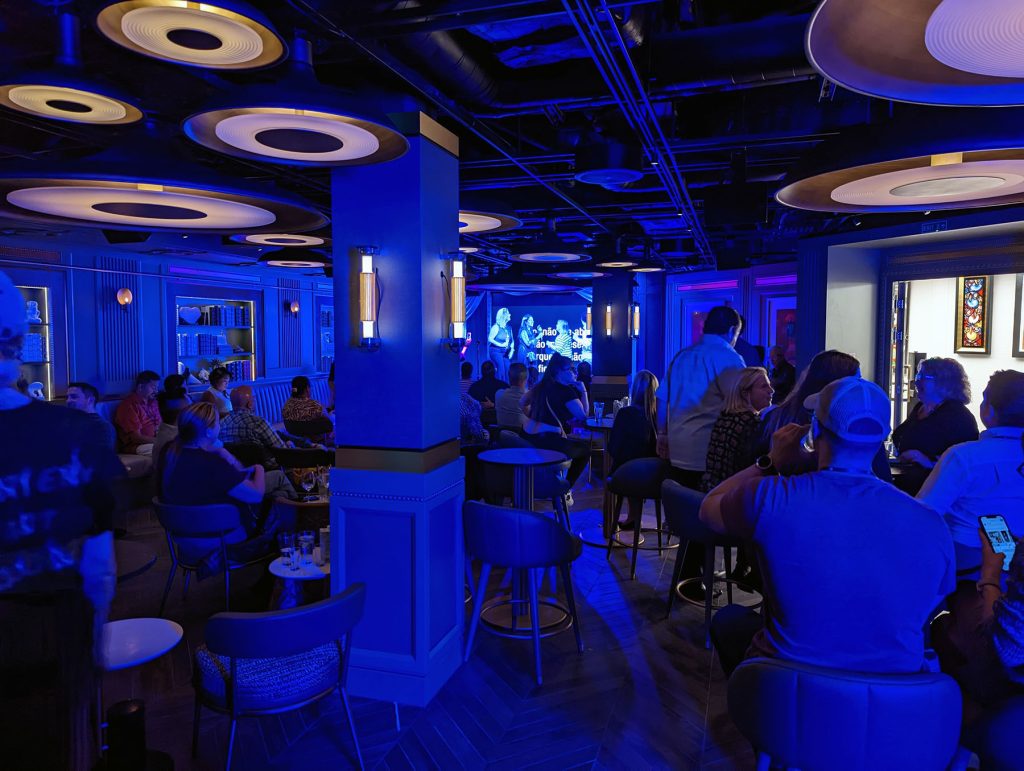 In the comedy club, several 2-foot wide columns in the middle of the floor block the view of half of the guests. It was so bad, the comedians were commenting how they couldn't move around the stage or no one would see them.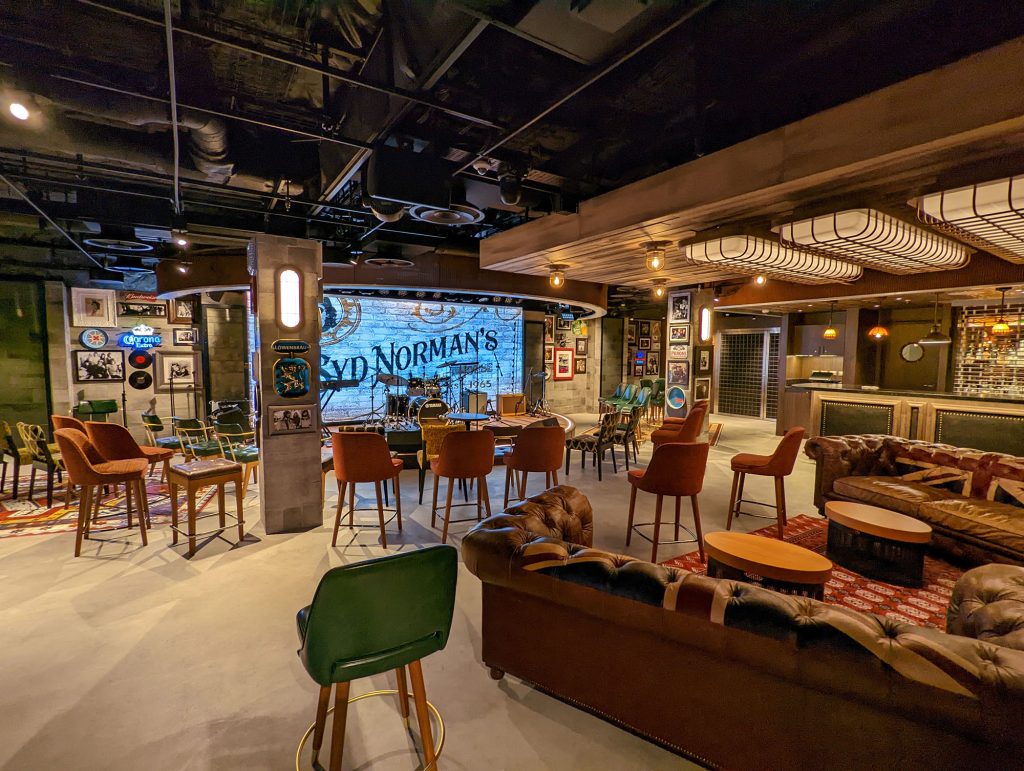 In Syd Norman's, they have massive, plush furniture in the center of the room, which works great when there are 50 people in the space, but when there's rock music going on and it's crowded, the furniture blocks the flow and takes up space. Also, one of the entrances opens directly to the bar, leaving a massive block in the people flow. 
With the amount of time and money Norwegian spent on this ship, it's hard to believe they did life-size mockups and thought they'd be sufficient. 
Hit – Stateroom Bathrooms
It seems silly to have a bathroom as a "hit" on a ship, but it's clear Norwegian spent a lot of time and attention on the stateroom bathrooms. The bathroom is one of the biggest bathrooms you'll see in a standard cabin. Even the cheapest interior rooms have a large, roomy bathroom. They're so large that you have room to maneuver in the bathroom, unlike other ships where you walk in and can only turn around.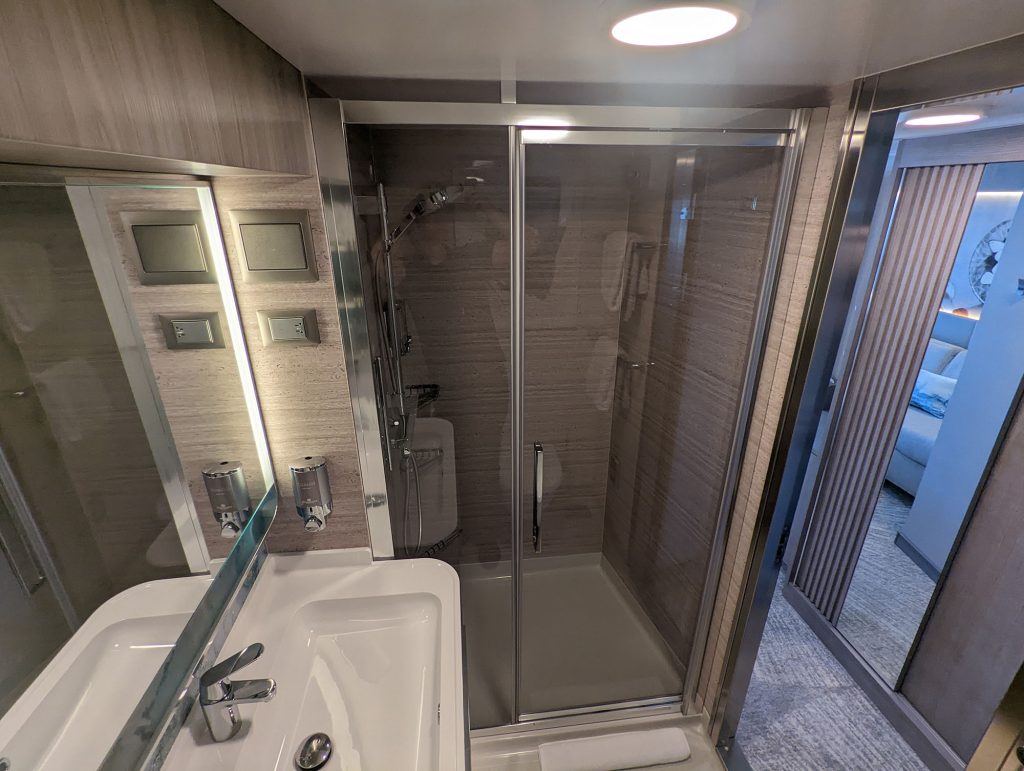 The shower is great as well. A floor-to-ceiling glass door keeps the steam and water in the shower and gives it an elevated feel. It's also very sizeable; it's probably just as spacious as many stall showers at home. The adjustable-height showerhead had several settings, although none were particularly powerful. 
While the staterooms themselves are beautifully redecorated, and larger than most Norwegian ships, they're not much different than the competition. The bathrooms, though are quite remarkable. 
Miss – Undersized Buffet / Surfside Cafe 
Over the years, cruise lines have tried to move away from large, cafeteria-style buffets, but they still remain a very popular option for cruisers, especially at breakfast and lunch. Norwegian continued with this trend. The main buffet on the Prima, the Surfside Cafe, has been downsized considerably compared to other ships.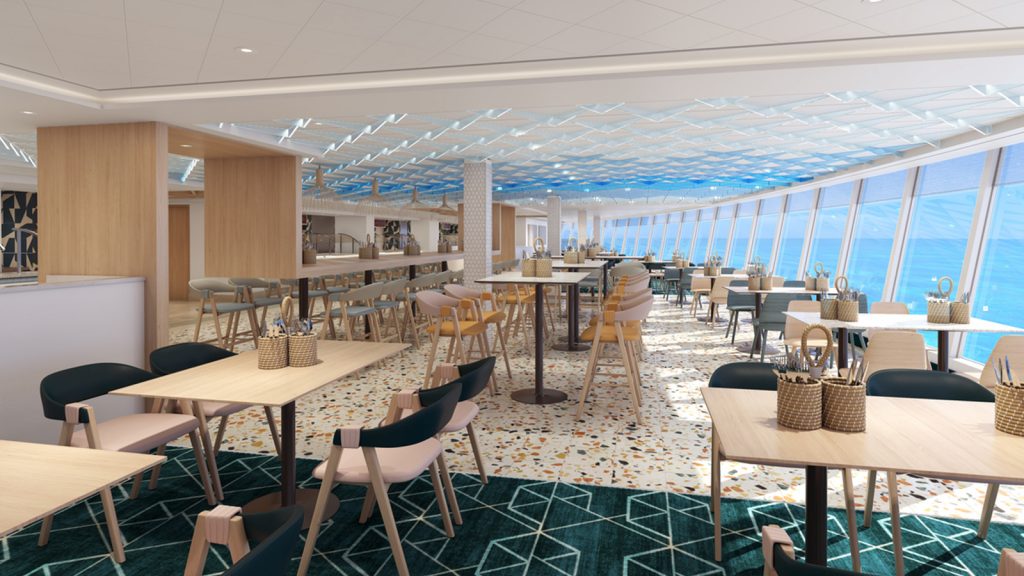 The food itself in the Surfside Cafe was quite good. For all three meals, guests could choose a variety of options, from standard buffet fare to international cuisine. When we ate there, the food was always hot and fresh. It was probably some of the best cruise buffet food I'd had in a long time. 
The problem with the Seaside Cafe is they didn't allow enough seating. There were plenty of food stations along the entire length of the buffet, and there was rarely a line for the food itself. But you'd see guests with their hands full of food and trying to find somewhere to sit. 
During breakfast, they would open the restaurant next door, Food Republic, and allow guests to sit there as well. It eased the pressure, but it was a bit of a walk if you wanted more food. It's ridiculous they thought this space would suffice on this ship. 
They also have the oddly designed "Surfside Grill" tacked onto the back of the buffet. It's technically a separate room accessible through automatic doors at the end of the restaurant. The space was almost always empty and had the same food selection as the middle section of the Seaside Cafe. Norwegian likely meant this space to be a dedicated food option for the Vibe Beach Club, but they must have realized it wasn't feasible because the buffet needed to be bigger.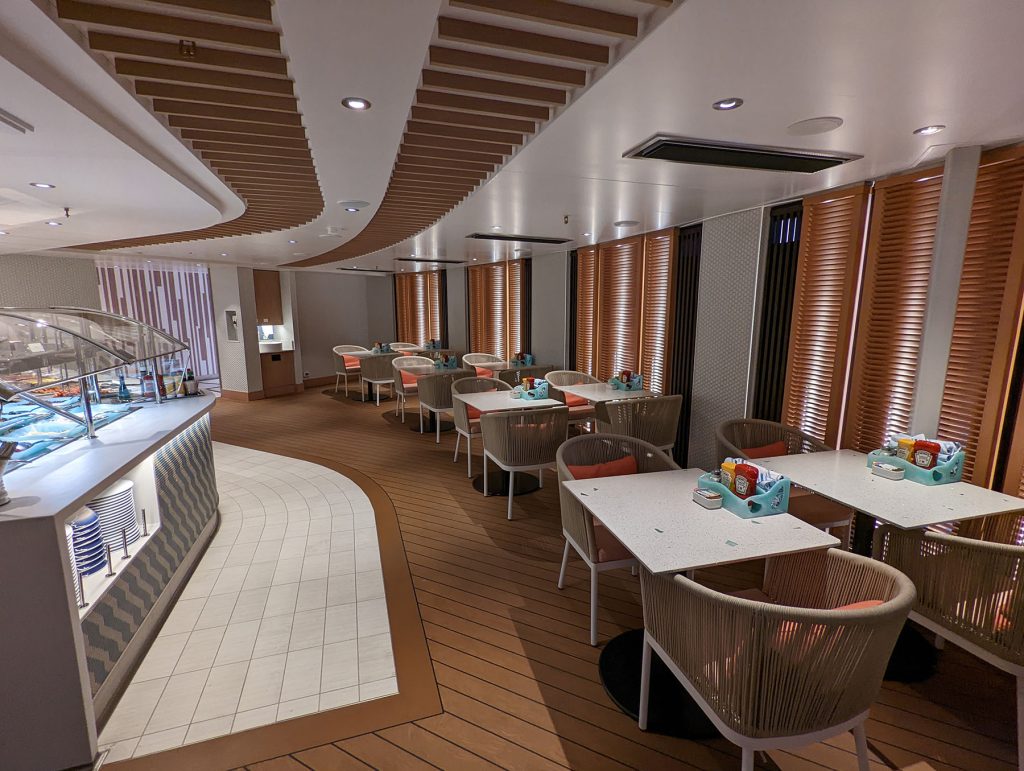 Hit – Number of bars and dining venues
Considering it's a midsize ship, it's incredible how many different venues are available onboard the Prima. You have over 17 different bar options and 14 restaurants to choose from while sailing. While some of these cost extra (see below), it's still nice to have so many options available.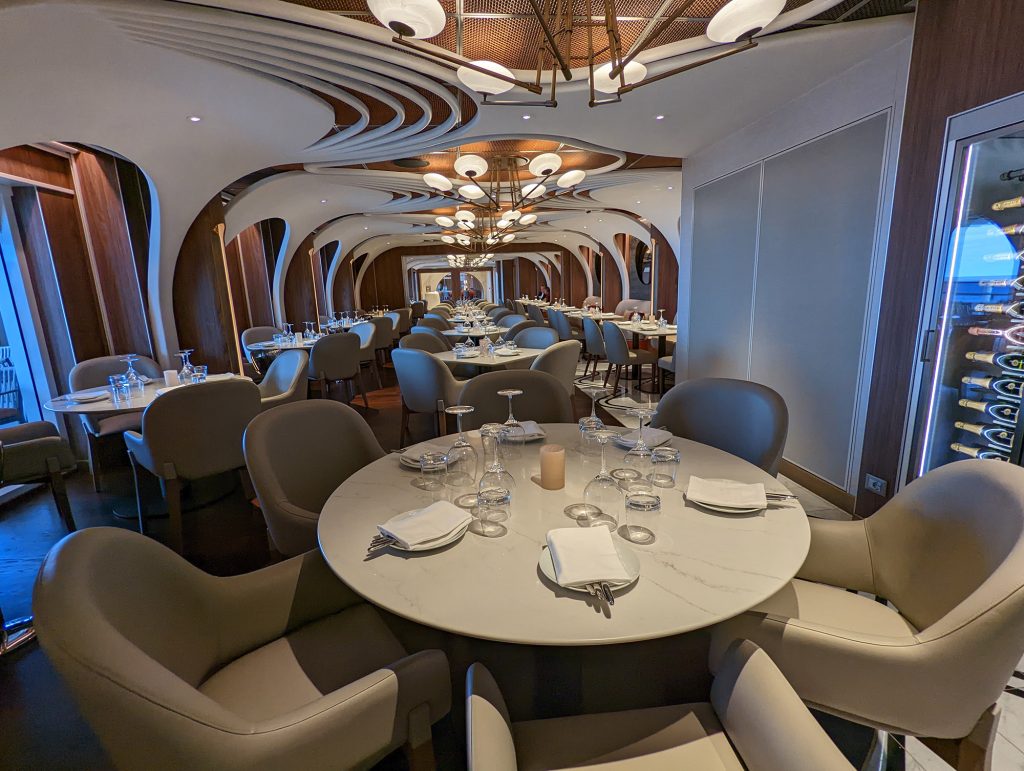 Because there are so many restaurants on a midsize ship, none of them can be particularly large. Because of that, the tables can fill up fast. So if you have a specialty dining option you don't want to miss, be sure to book as early as possible.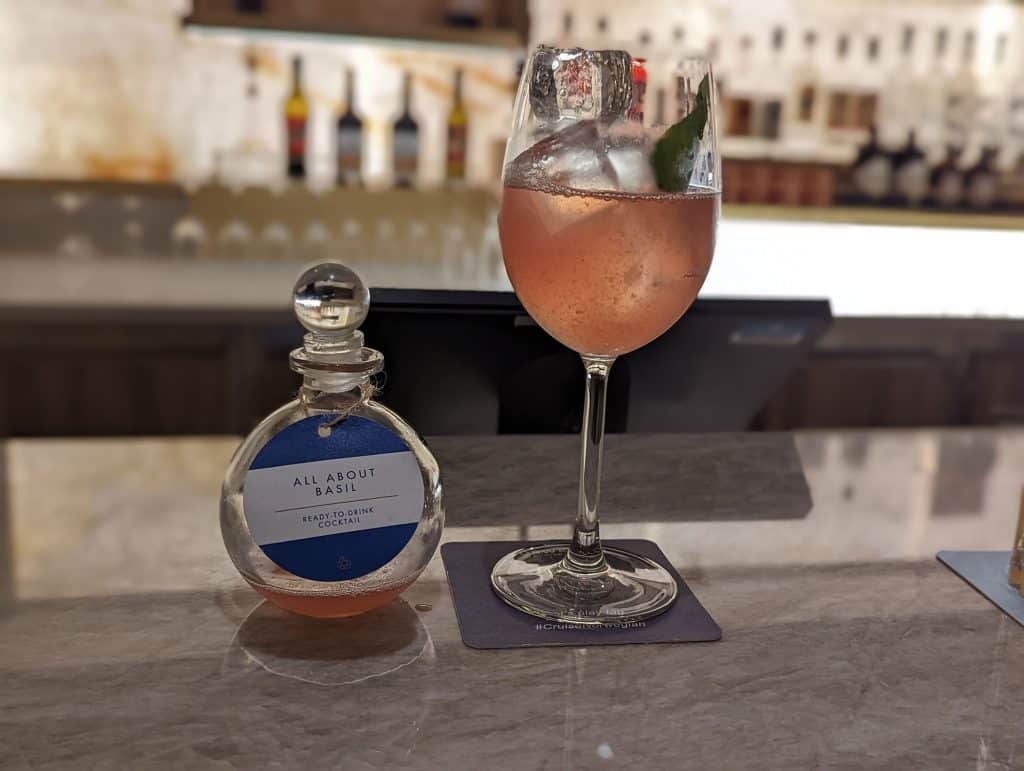 It's also nice that the menus were all different. If you go on a Royal Caribbean ship, 90% of the drink menus are the same across the whole ship. It gets boring. On the Prima, most bars have a dedicated menu with different options unavailable at other locations. It's especially nice since most people get the "Unlimited Open Bar Package" (learn more here) when booking a "Free at Sea" fare, meaning it's so many more drinks to try. 
Miss – Way too many upcharges
A lot of the activities and attractions onboard the Prima cost extra. While it's not as pushy or "in your face" as some other cruise lines, it is still everywhere. For example, only 48% of the dining venues are included, and many activities like the race track, darts, and even mini-golf cost more. 
The ship also has two sizeable areas entirely off-limits for guests not paying more; the Vibe Beach Club and the Haven. The Vibe Beach Club is probably the most offensive of the two spaces, as guests can see this whole area from the back of the buffet and the Prima Speedway but can't access it. It's frustrating that the only adults-only space on the ship is an extra charge and is limited to just a few hundred people.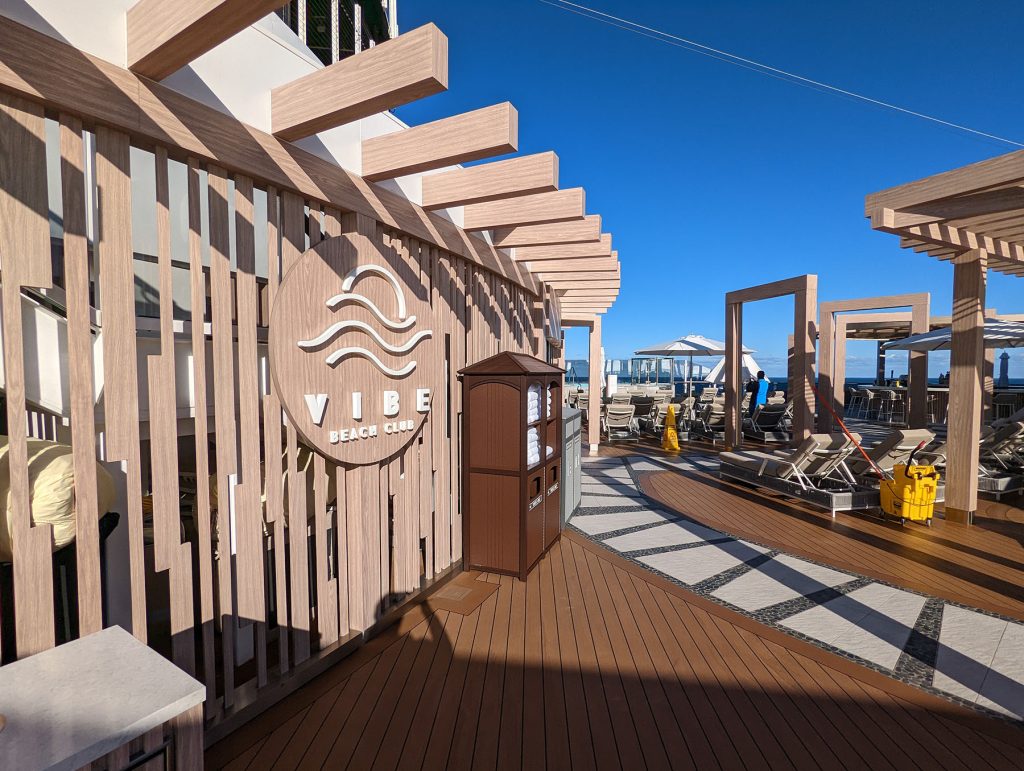 This deck plan shows how much of the ship is available if you don't pay anything extra (we treat bars as having no additional charge because you can sit there without paying).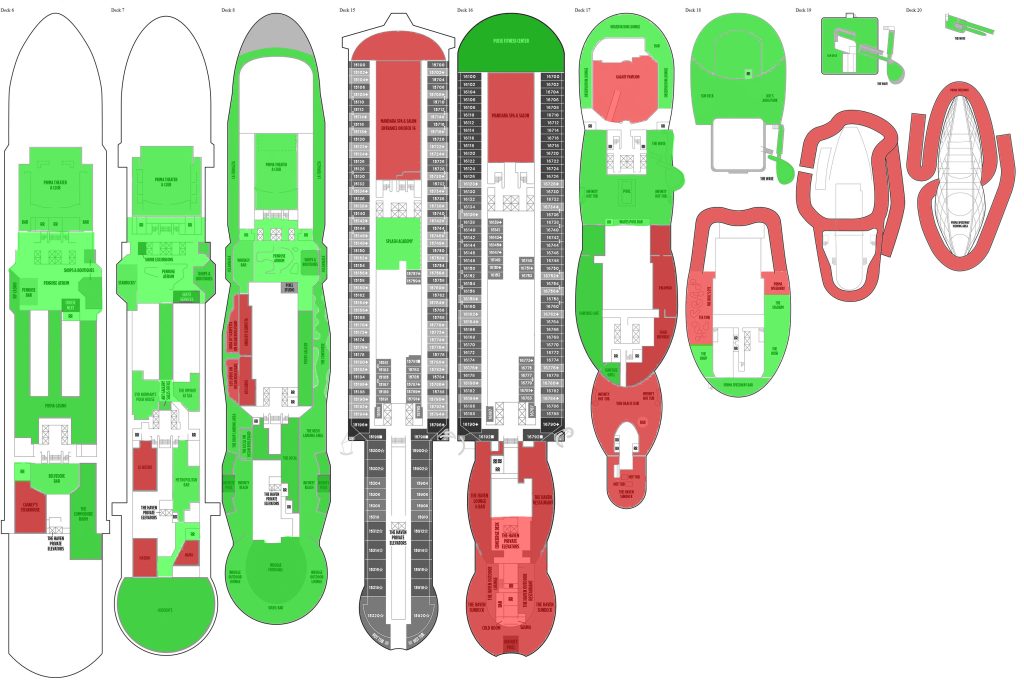 If you're a Norwegian fan, this will be in line with the rest of the fleet, and it might not be as jarring as if you came from any other American cruise line. 
Hit – Ocean Boulevard
When you go on a cruise ship, you want to see the ocean, and it's amazing how many cruise ships don't consider that. Norwegian has long tried to embrace that, having debuted the "Waterfront" space on their Breakaway-class ships that offered an exterior promenade with outdoor dining options. On the Prima, Norwegian evolved that concept into "Ocean Boulevard."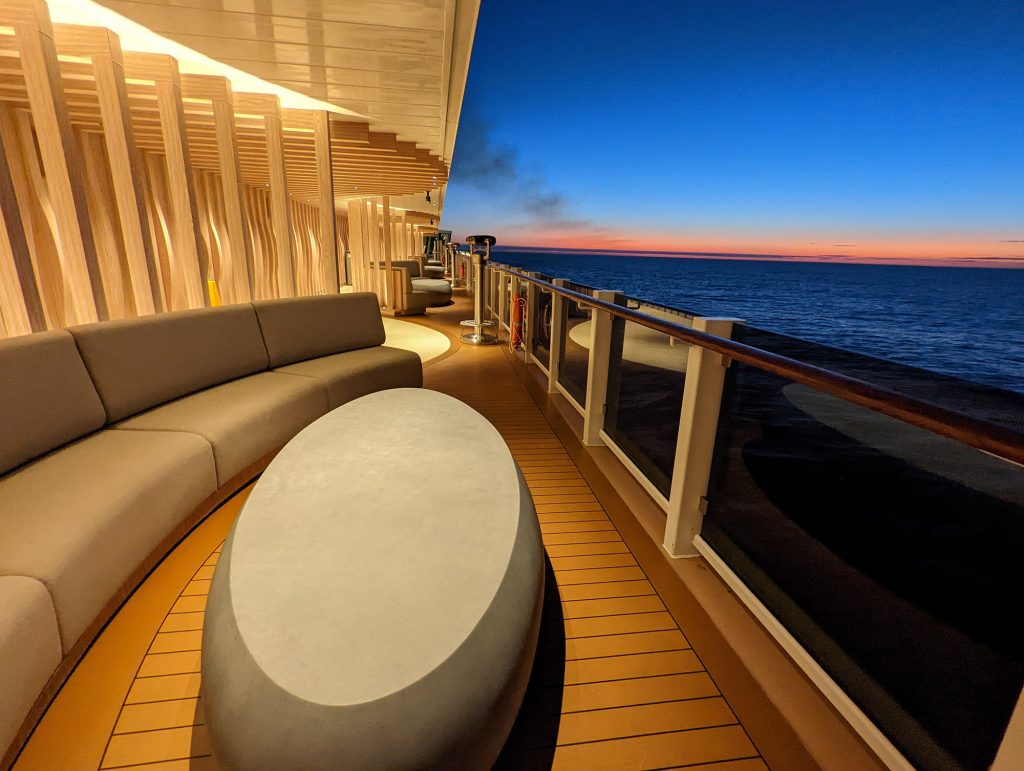 Ocean Boulevard runs all around the ship at Deck 8 and it's reportedly double the size of the Waterfront on the Norwegian Breakaway. It offers some breathtaking views and is filled with seating options to take them in. It's so easy to find a place to get away and chat with friends, old and new. Couches, beds, swings, loungers, you name it, it's there. I can't imagine how much time Norwegian designers must have spent looking at chairs.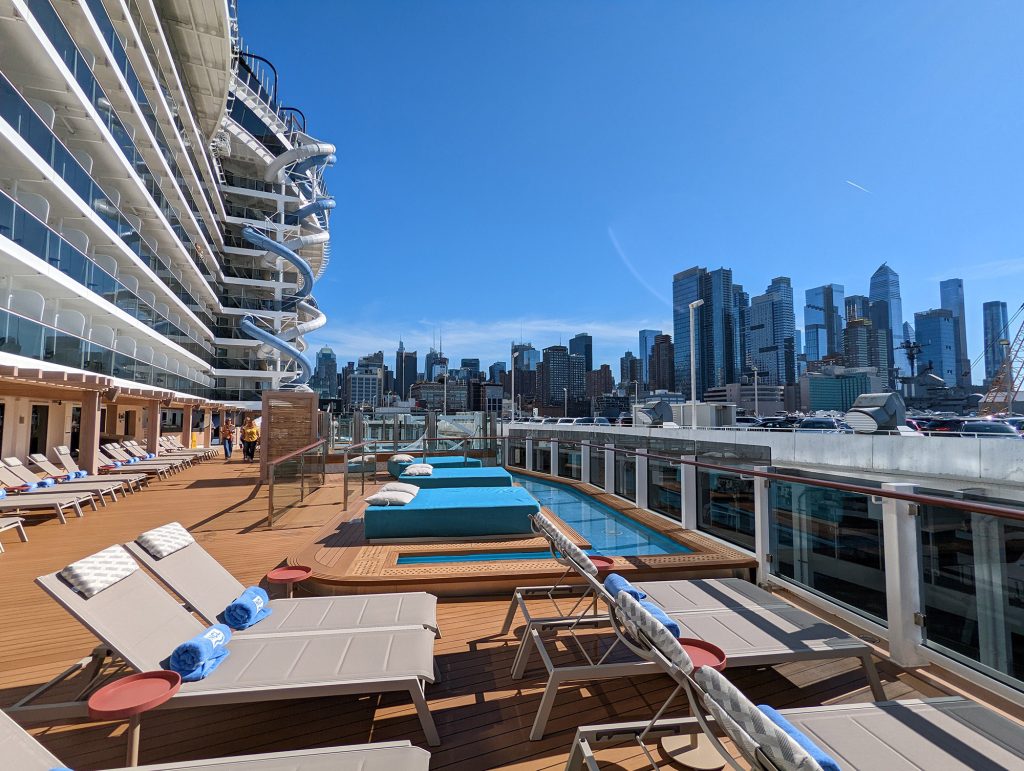 Ocean Boulevard also has some unique areas. It has two infinity pools, a dedicated aft-bar, several outdoor dining areas for restaurants, glass walkways, and an art walk. It is a perfect place to spend a day at sea or take an evening stroll. 
Miss – Main Pool and Sundeck area
For all the high-end design and meticulous detail Norwegian put into Prima, the main pool area feels like a complete afterthought on this cruise ship. It's nowhere near as elevated as the rest of the ship and severely lacking in personality.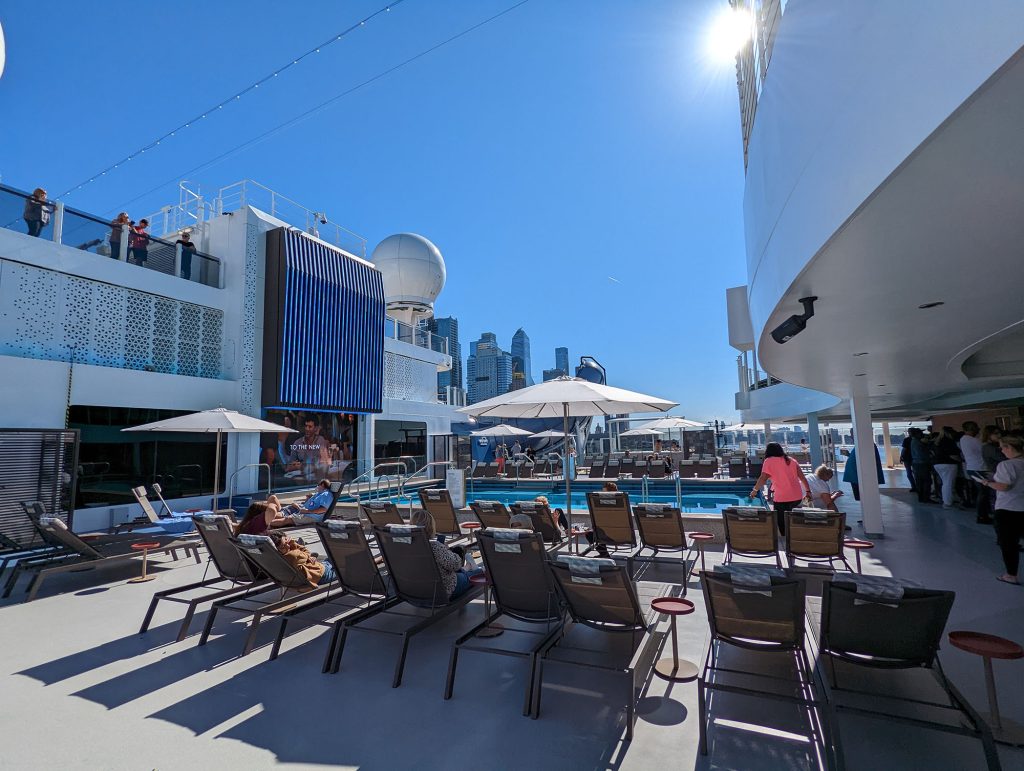 On either side of the pool area are large multi-story walls, one being the Prima Speedway. It gives the space a very industrial and boxed-in feel. You also won't find any Caribbean decor or flare here.  
Located at one end of the pool is a bright and vibrant large screen, but it's installed at ground level and you only really see it if you're at the pool bar or the loungers right by the main pool. It's also where they have a small "stage," basically just a walkway, that the entertainment staff can use for the "deck parties."  
While the pool is decently-sized, it's the only one on the upper decks. There are two cantilevered hot tubs off the side of this area, but with all these being so close, children will easily monopolize them. Just one level up is a separate "splash park," but it's almost comical how bad the design of it is. No slides. No dump buckets. No climbing structures. It won't keep children entertained for more than a couple of minutes.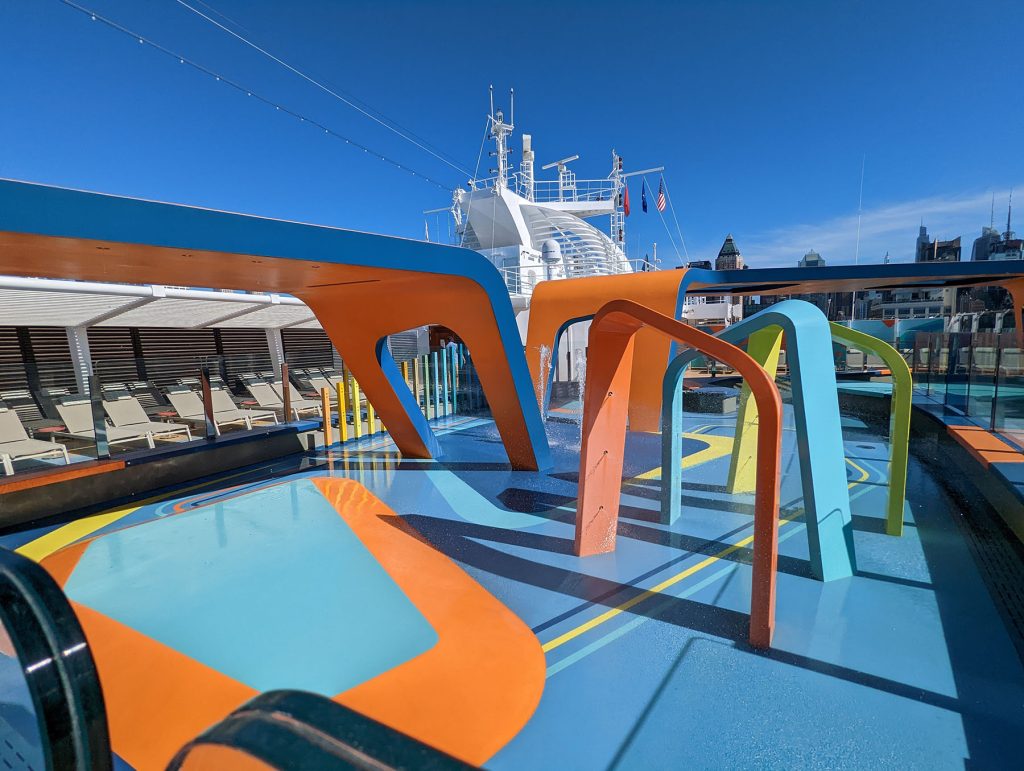 Luckily, two more pools are located on Ocean Boulevard down on Deck 8. Hopefully, these will be less packed with children because of their location, but they're also quite smaller. They offer amazing views but are not much bigger than a hot tub. 
Overall: A premium ship from a mainstream cruise line
Norwegian Prima feels on par with something you'd expect from a premium cruise line like Celebrity and elevated from the rest of its fleet. After four days on board, I grew to appreciate the intimacy of the spaces and the concept Norwegian was going for with Prima. 
But Prima isn't a ship for everyone. I have a friend's cruise booked about the sister ship, the Viva, which will be almost identical to the Prima. For that trip, this ship will be perfect. But I have other cruises planned with my family where I would definitely not recommend this ship. 
You might enjoy Norwegian Prima if…
You're a Norwegian cruise fan
If you're a Norwegian fan, the Prima will feel similar to what you've experienced on other ships, just evolved and higher end. It won't be a huge departure from what you're used to.
You're taking a couple's or friend's trip
This ship is perfect for getting away on a couple's trip or a friend's trip. You have lots of lounges, seating options, and bars to meet up at and enjoy each other's company. Also, since it's not a mega-ship, it's easier to meet up with each other. You might bump into each other while going about your day instead of setting a designated time and space because the ship is so big you wouldn't see each other otherwise. 
You're new to cruising
If you've never cruised before and have no preconceptions, the Prima might be right for you. With no expectations, you'll likely be impressed by the ship's features and overall look and feel. It might be especially good for cruisers who are looking to avoid the "party" vibe from other lines like Carnival. 
You're going for the itinerary
Because the Prima is not a mega-ship, it can more easily access ports that ships like Royal Caribbean's Oasis of the Seas can not. The Prima, and its sister ship the Viva, both have some unique itineraries with less common cruise ports. Some of the Prima's most significant shortcomings are the onboard spaces for daytime activities, so if you're off the ship most of the time, you won't notice it. 
You might not like Norwegian Prima if…
You like mega-ships
If you like mega-ships, like Royal Caribbean's recently announced Icon of the Seas, you will be disappointed. There's nothing "mega" or "big" about this ship; they wanted it to feel smaller and more intimate. Norwegian Prima doesn't have any attraction or feature that will make you go "wow." 
You don't like paying extra
While Norwegian's "free at sea" program covers alcoholic drinks, limited wifi, and one or two meals at specialty restaurants, it doesn't cover everything. If you want to experience everything Prima offers, it will cost more, especially with kids. $15 per person for mini-golf, $15 for the race track…it adds up quickly. Similarly, most dining options cost extra, so if you want to experience the whole ship, you will be spending more. 
You have kids
While Norwegian says the Prima is geared towards multi-generational cruises, it's less family-friendly than Carnival or Royal Caribbean. While they have a kids club on board, there's not much more geared toward the younger crowd (3 – 10). There are no kids' water slides, a depressing splash area, and extra fees for most activities kids might want to try. On top of that, many of the intimate spaces would be a nightmare for parents; kids will easily climb over the furniture or even the sculpture garden (we witnessed this on our cruise). 
Follow along on the rest of our Norwegian Prima cruise
Norwegian Prima – Cruise Blog - Day 1 – NYC
Norwegian Prima – Cruise Blog - Day 2 – Sea Day
Norwegian Prima – Cruise Blog - Day 3 - Halifax
Norwegian Prima – Cruise Blog - Day 4 - Final Sea Day
5 Hits and Misses on the Norwegian Prima
If you want to stay up to date with what we publish, sign up for our monthly newsletter
CruiseSpotlight is an Amazon Associate. We may earn a commission when you click links to retailers and purchase goods.