Norwegian Prima – North American Debut – Day 4 (Final Sea Day)
Last Updated on December 13, 2022
It was my last day onboard the Norwegian Prima, and even though it was a medium-sized ship, I still had quite a few things I had to check out before I had to leave.
Day 4 Overview
Pulse Fitness Center is front and center
After three days of eating and drinking way too much, I started my day with a visit to the Pulse Fitness Center. While some people may think going to a gym while on vacation is insane, I like to go at least once or twice on a cruise. Partially to get the blood pumping and partially to ensure I'll still fit into my clothes once the cruise is over. 
Norwegian upgraded the Pulse Fitness Center on the Prima by giving it prime real estate at the front of the ship. It bucks the trend of cruise lines shoving the fitness center in a dark corner in the bowels of the ship. Instead, it's located right under the Observation Lounge on Deck 16, and I was excited when I saw the first press release saying it would have 270 degrees of windows. 
To access the fitness center, you must walk through the Mandara Spa entrance. It's very confusing; no signage says how to get to the Fitness Center. Instead, you wander past the barber shop, salon, and massage treatment rooms as you wander the way forward to the gym. I'd give Norwegian a hard time for this, but 75% of the cruises I've been on have the same issue. I'm guessing it's because they're trying to have you talk to the front desk so they can upsell you services, but I'm not sure. 
I was surprised at how dark and small the place felt. While the footprint of the space was large, it sure didn't feel that way. The sun was shining through the panoramic windows, so it should have been bright and spacious, but instead, it felt dark and cramped.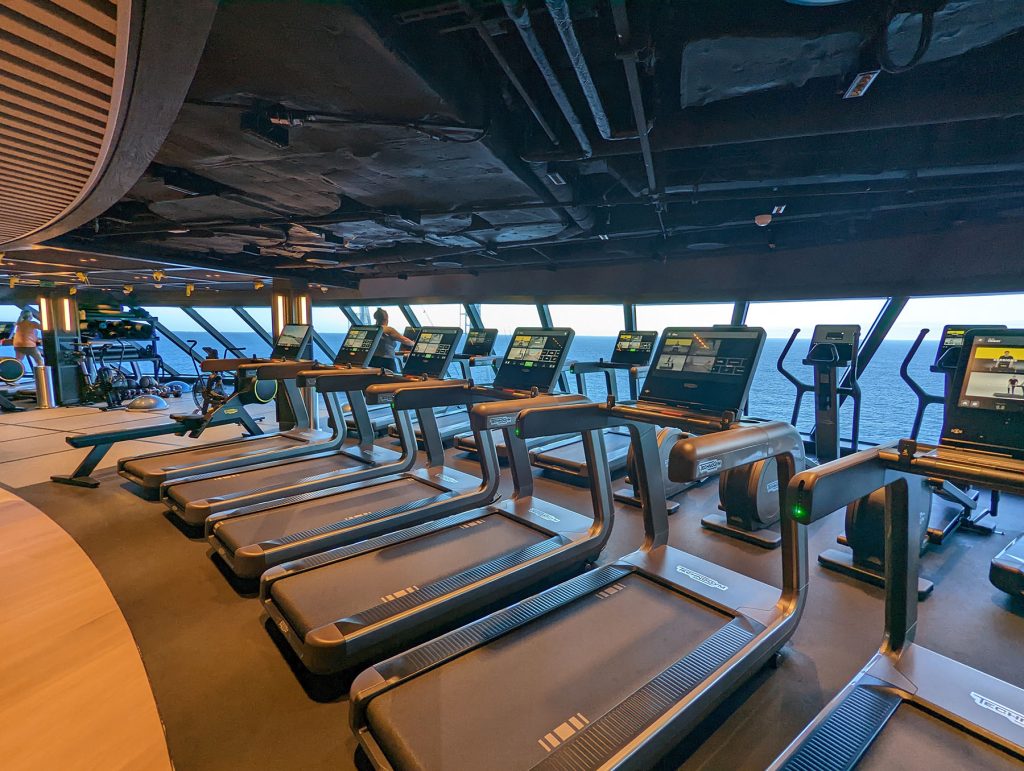 I walked around some and realized it was because of how the Pulse Fitness Center was decorated. The ceilings were coated in matte black paint, and the floors were lined with black mats, both absorbing all the available light. It gave it a cave-like feel I wouldn't expect when reading about the space. It was like they were going for a modern, trendy vibe, like a Soul Cycle class. That'd be fine, but why waste some of this prime ship real estate on a space you want dark?
In terms of equipment, the gym was well stocked. It had 28 treadmills, 6 elliptical machines, and 6 stationary bikes. It also had a decent free-weight selection, although there was not a ton of room to use them. Then again, it depends on how crowded the gym is. It was 10 am when I went, and there was plenty of room for everyone.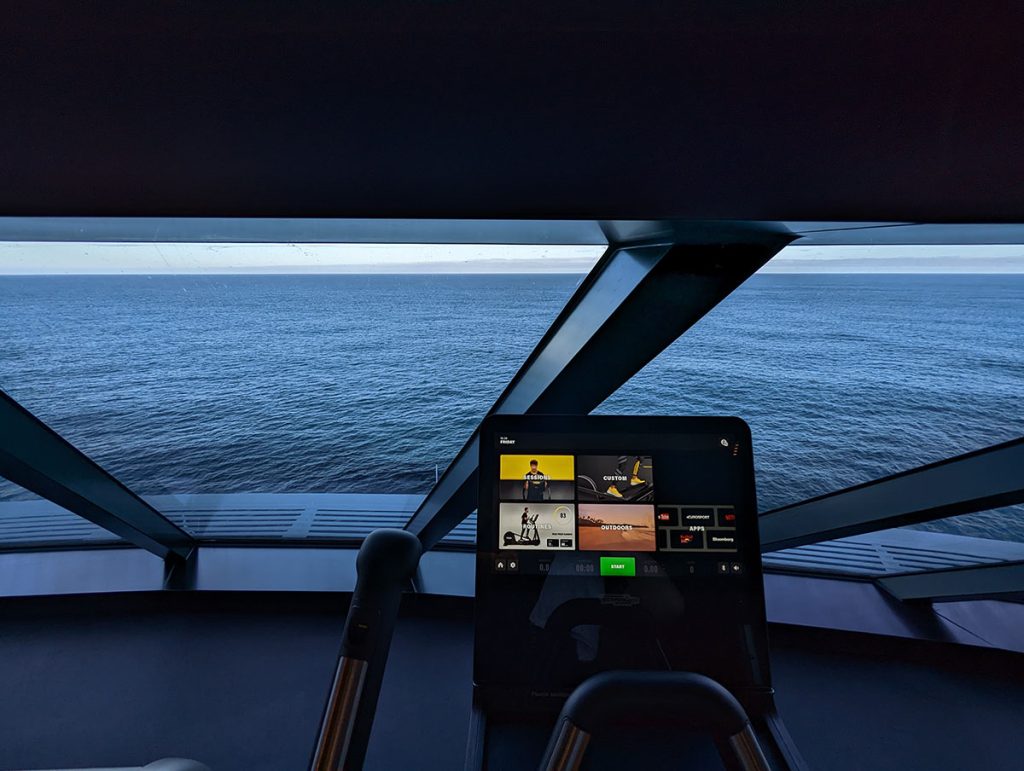 I found an elliptical at the front of the gym and started it. The equipment is top of the line, with huge screens, USB ports, headphone jacks, and even wireless charging built in for your phone. Unfortunately, being 6′ tall, a black structural beam immediately blocked my view of the vista when I stepped into the elliptical. Of course, that won't affect everyone.
Overall, the gym was nice, but it might get a little full during peak times. A better design would also have gone a long way to making it a better-feeling space. Unfortunately, it feels like the designers missed the mark here. 
Prima's disappointing pool area
After a good workout and shower, I decided to head to some other parts of the ship I hadn't fully explored yet. I started with the Pool Area, located on mid-ship on deck 17. 
The main pool area, a prime venue for many cruise lines, comes off as almost an afterthought on Prima. It's hard to believe a company so obsessed with beautiful fits and finishes on the inside just came up with this pool area that can best be described as functional or industrial. It's very different from what any of the other cruise lines are doing, and not in a good way
It's tucked between the two high walls, one of which has the Prima Speedway racetrack on top of it. In the center of the area is a decent-sized fool, but the fact it's the only one on the upper decks could present a problem. I'm not sure if it was heated, but it was useable even though it was only 65 degrees outside, so I think it is.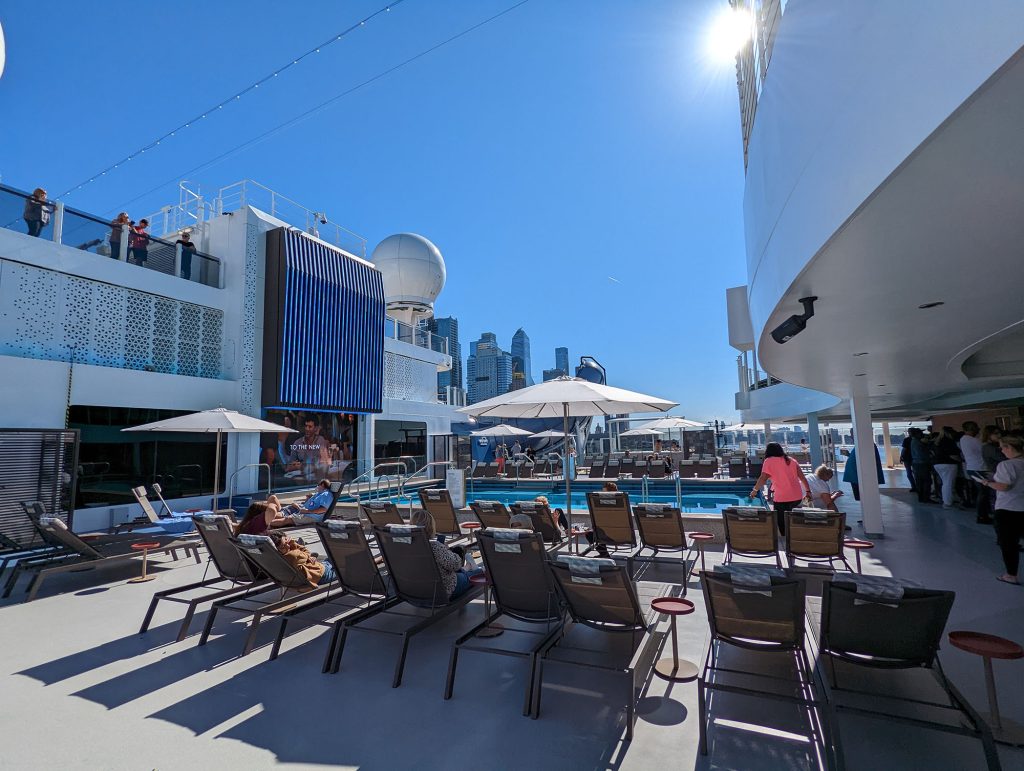 Behind the pool is a vibrant LED screen that shows programming and sports games. Above that is a decorative panel, but it kind of blends into the area. This part looks nice, but it faces the pool bar with a handful of seats; no one outside that area can see either of these things.
On either side of the pool deck, there's an infinity hot tub looking out onto the water. On this chilly day, there were about eight people in each, and they were pretty much at capacity. On their own, it's not a bad design, but these are the only hot tubs available to the general public, and they're right next to the main pool (the other hot tubs are all in extra fee areas). So they're going to be swarmed with kids during summer sailings.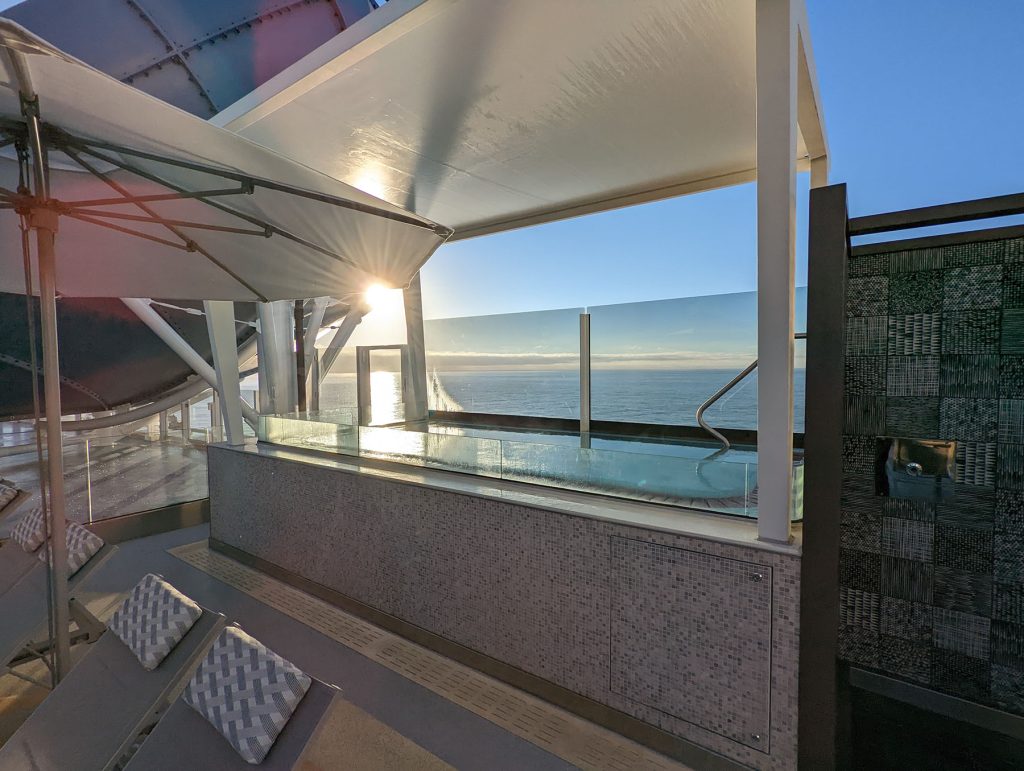 The kids have their own splash park, but it's a prime example of design over function. Norwegian dedicated a good amount of space to the splash park, but the design is like something out of a modern art museum. Water falls down from the structure onto the kids. But that's it. No slides, no dump buckets, not even any dynamic moving features. It's something that might not keep the kids entertained for long.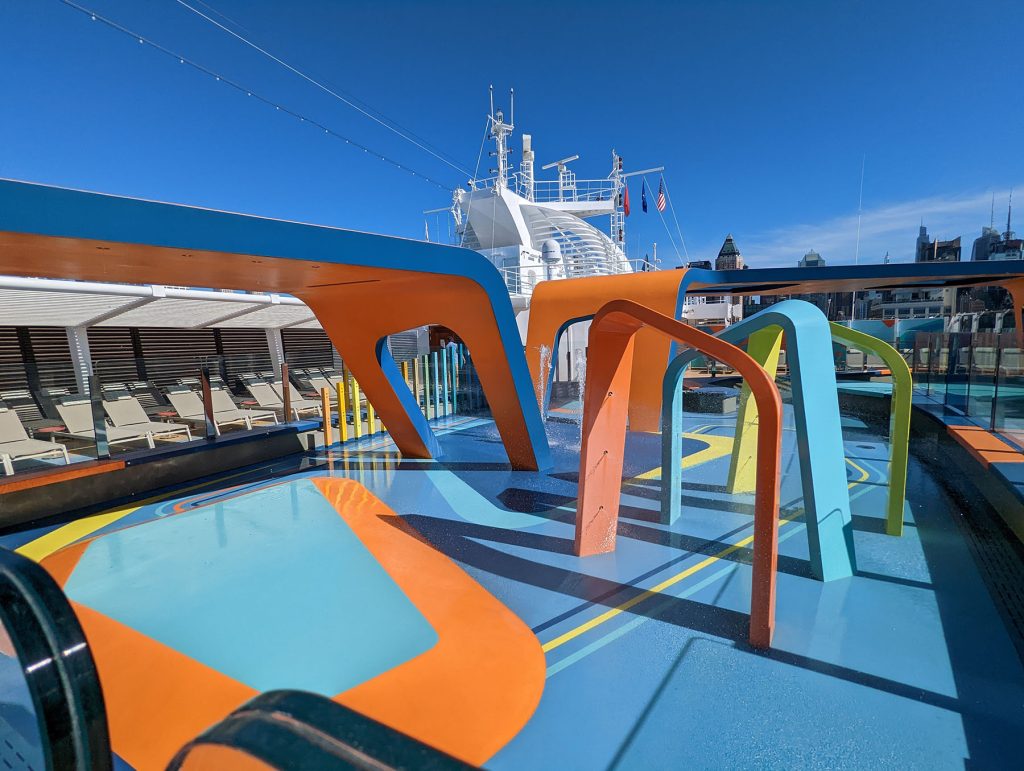 Prima's sundeck
Even though the pool area is relatively small, the Prima also has some sun deck areas with plenty of padded loungers and seating options. Again, they seem like an afterthought, though. To get to the nearest bar, you must walk a considerable distance and down a flight of stairs. It has the same industrial feeling as the main pool.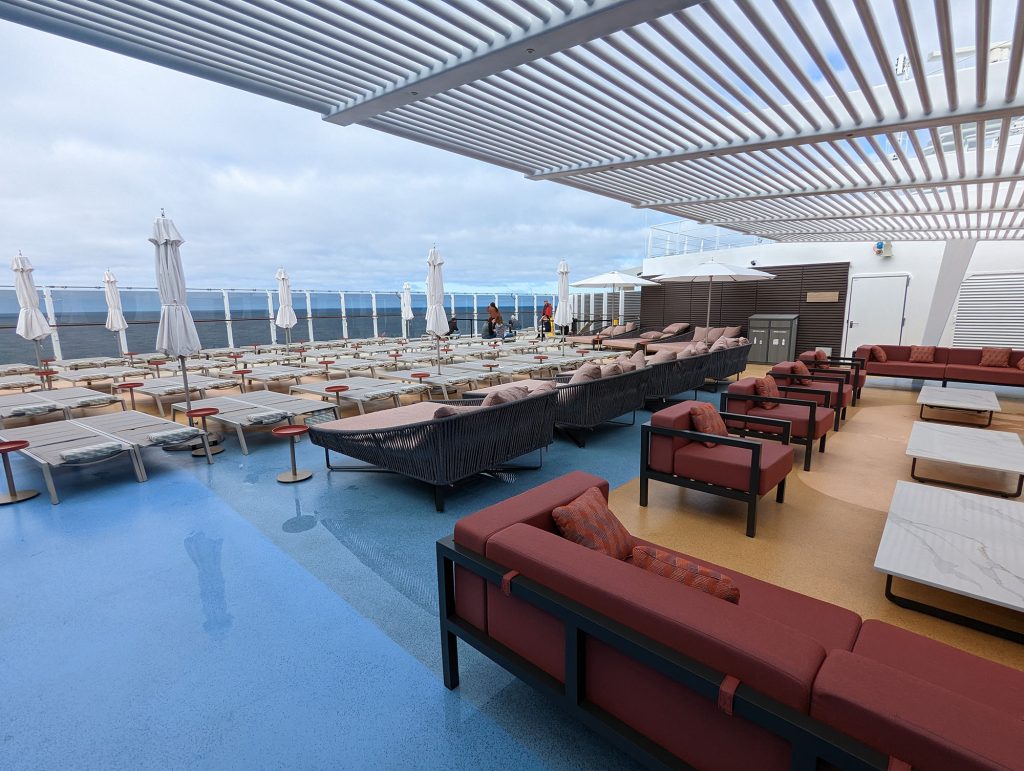 The sundeck is also home to the only "smoking" section on the ship, about 10 feet of roped-off area in the corner. 
Wave Slide
The Prima features Norwegian's first tidal wave waterslide. For this slide, you get into an inflatable tube and slide down only to then slingshot up a ramp and slide out. It was running on our sailing, but it was so cold, no one was using it. It looked massive, though, and like it could be fun.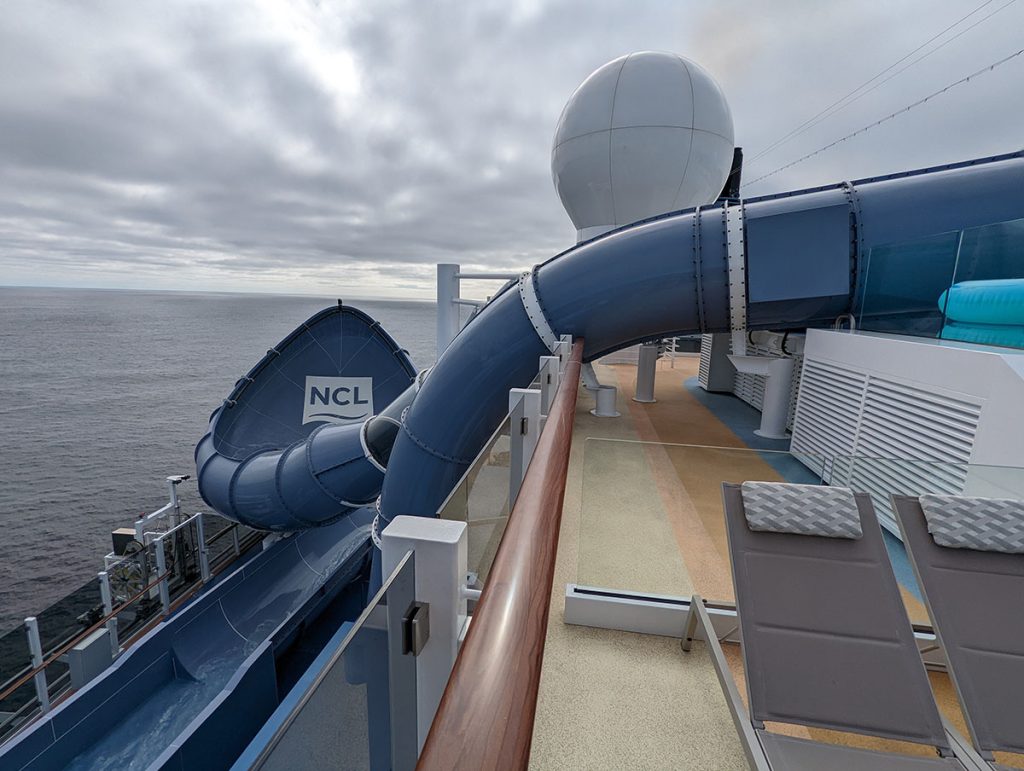 Vibe Beach Club
After I checked out the pool, I headed to the Vibe Beach Club. Normally, Vibe Beach Club access is restricted to a select few guests who buy the pass, but for this sailing, it was open to everyone to get a feel for it.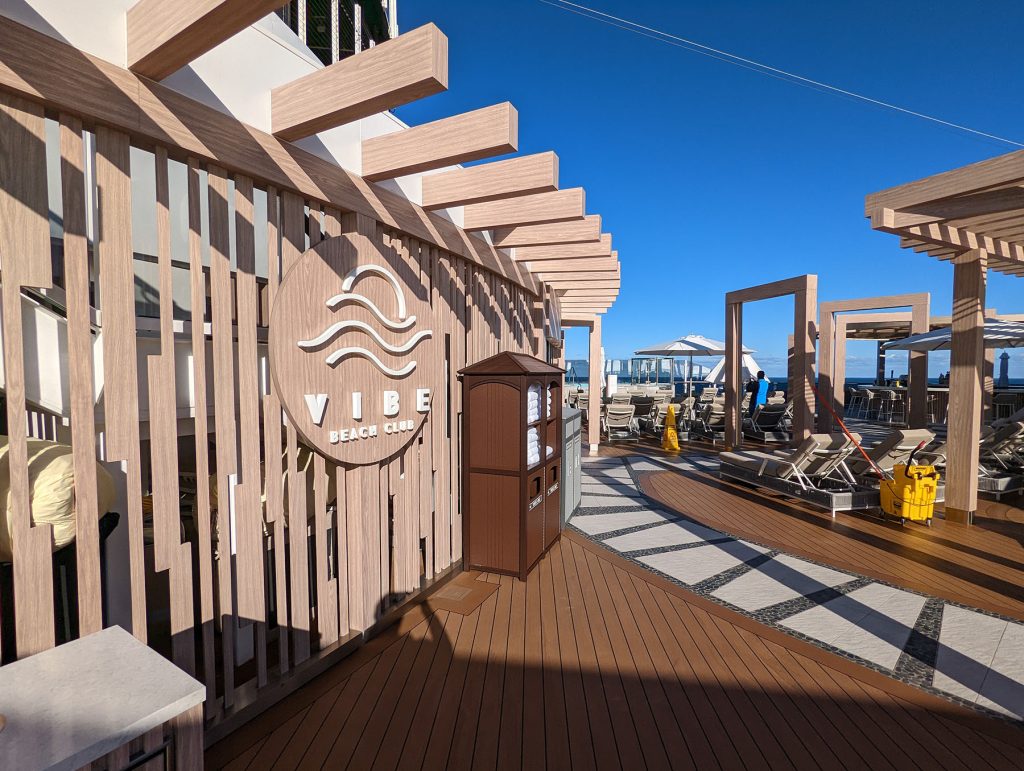 To get to the Vibe Beach Club from the main pool area, you walk through the buffet and go through a sliding door. It's located in the center of the ship, with many upgraded padded loungers (you can tell how much you spent on Prima by how thick the chair's padding is). 
The Vibe Beach Club has two infinity hot tubs and a large circular bar on one side. Typically, it costs around $200 for access to the area for an entire cruise. Usually, they sell less than two hundred passes, so likely you won't get access.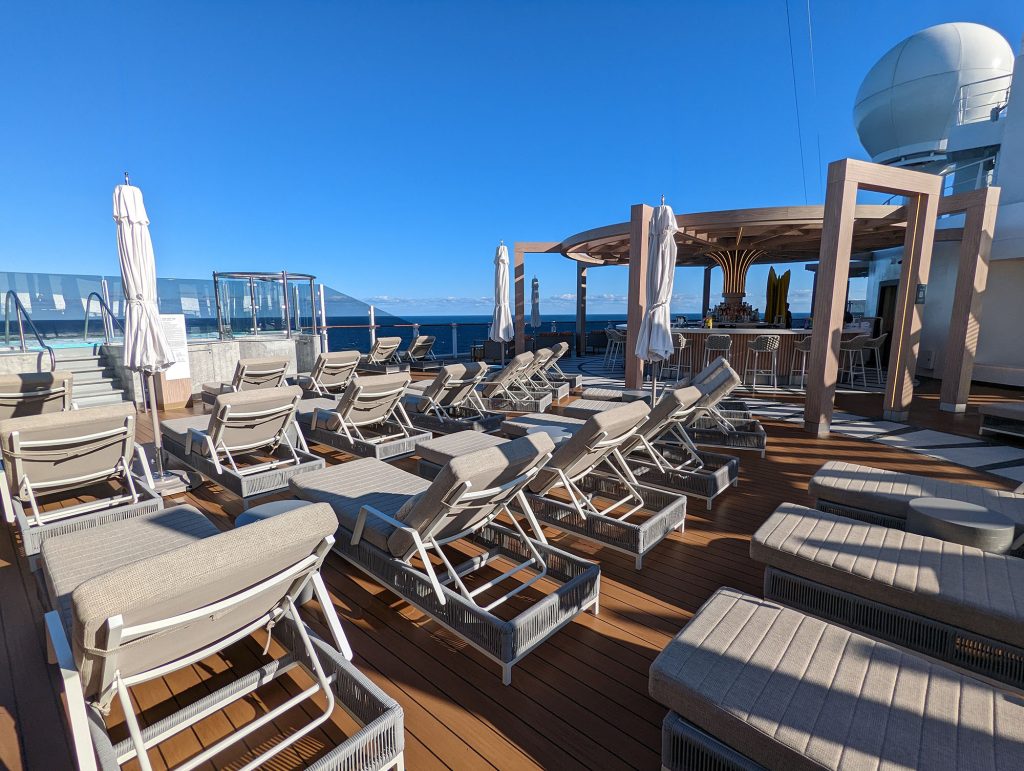 Overall, the Vibe Beach Club is really nice, but I hate that the only adult's-only area on the ship is an extra free and limited to a select few. Both Royal Caribbean and Carnival offer adult-only, elevated areas at no additional cost. 
If you're a fan of the Vibe Beach Club, there are a few differences on the Prima versus the other Norwegian ships. First, is that this Vibe doesn't have any dedicated cabanas; everyone with a pass has access to the whole area. Also, on the Prima, the Vibe Beach Club is right underneath the Speedway Bar, so there can be a bunch of people looking down on you the whole time. 
Bullseye Dart Game
Next, I went to check on the Bullseye Dart Game. It's a new innovation for the Prima that's kind of like Top Golf but for darts. You can select from various games using an iPad; it then tracks your score and gives you lighthearted feedback on how you did.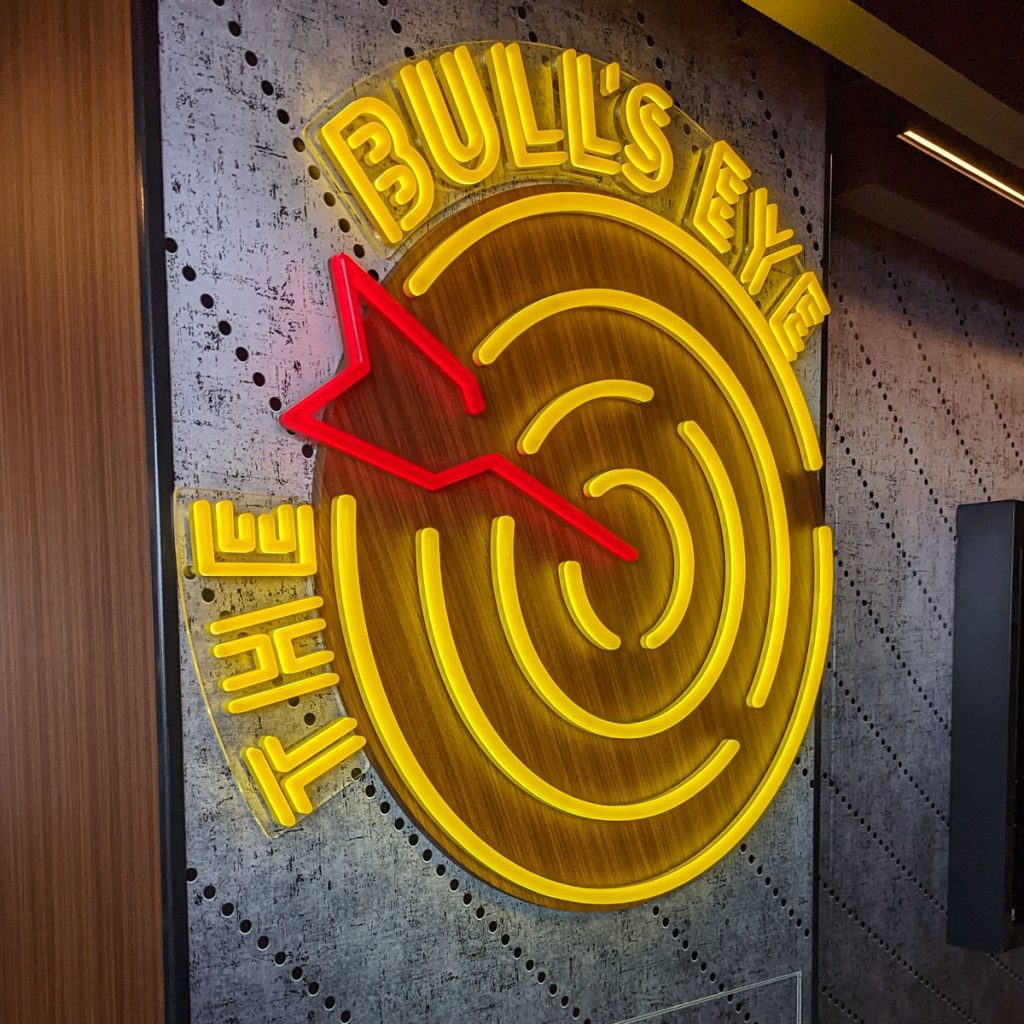 There are five dart bays decorated with supple leather couches and wood paneling. It gives it a very authentic feel. The only thing killing the vibe is that it's right next to the mini-golf course with no divider, which might take away from the ambiance if the mini-golf is filled with kids. Also, for an adult activity, it's unfortunate that there's no drink service nearby.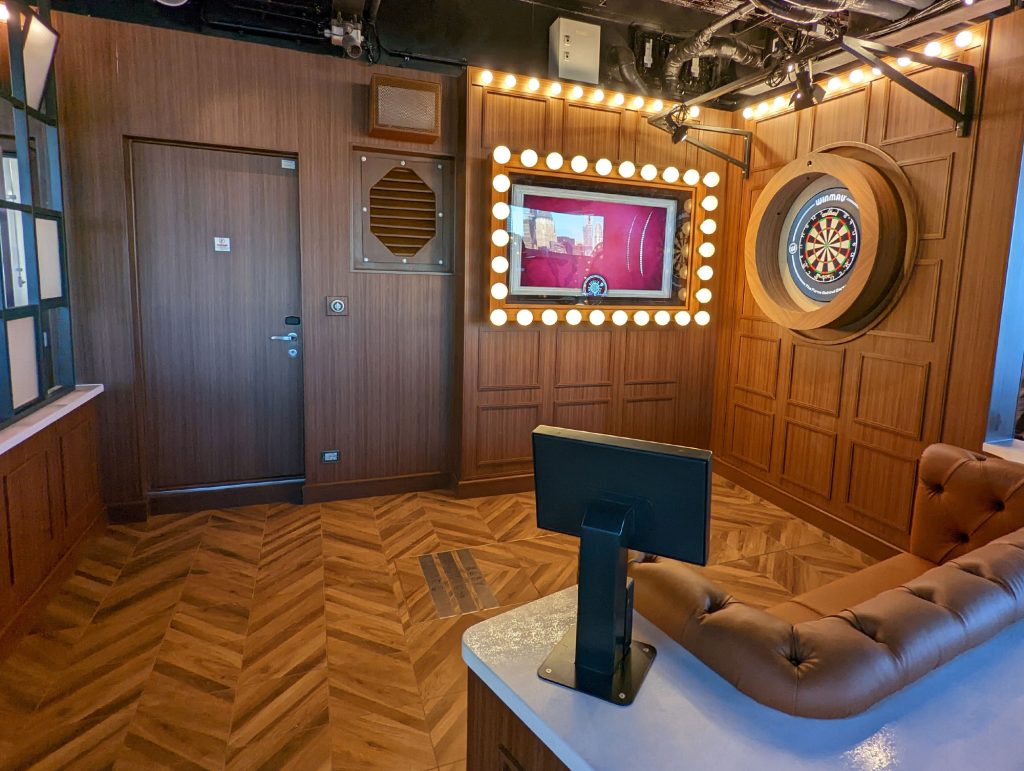 Bullseye Dart Game is an additional charge. It's $40 for a 55-minute round. You pay per bay, and each bay can accommodate up to 6 players. If you're playing with six people, it's a reasonable fee, but I wish they had a smaller 20-minute session if it's just a couple playing. It was fun to play, but we were done after about twenty minutes with just two people.   
Video Games in the Galaxy Pavilion
Next, we checked out the Galaxy Pavilion, a virtual reality arcade. Norwegian has a Galaxy Pavilion on the Joy and Encore, but they upped the space's ambiance on Prima.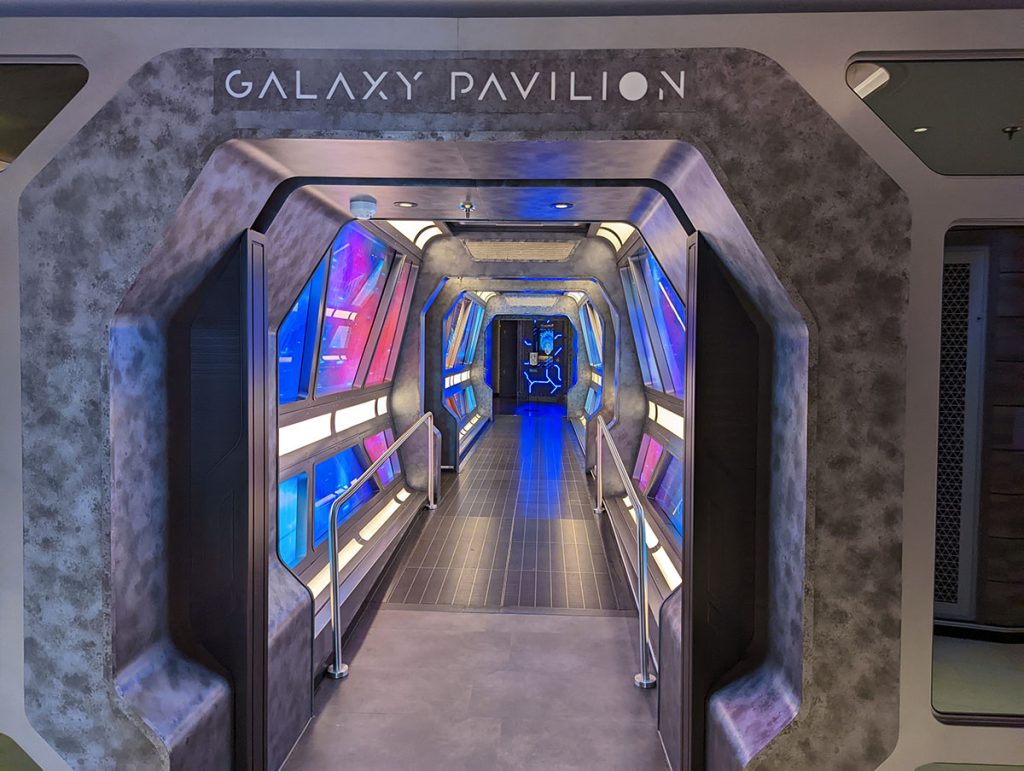 You enter the Galaxy Pavilion through a hallway with vibrant video screens displaying streaming stars on it. It's meant to evoke the feeling of walking on a starship. Inside, the design is just as good, with lots of LED lights and a sci-fi feel.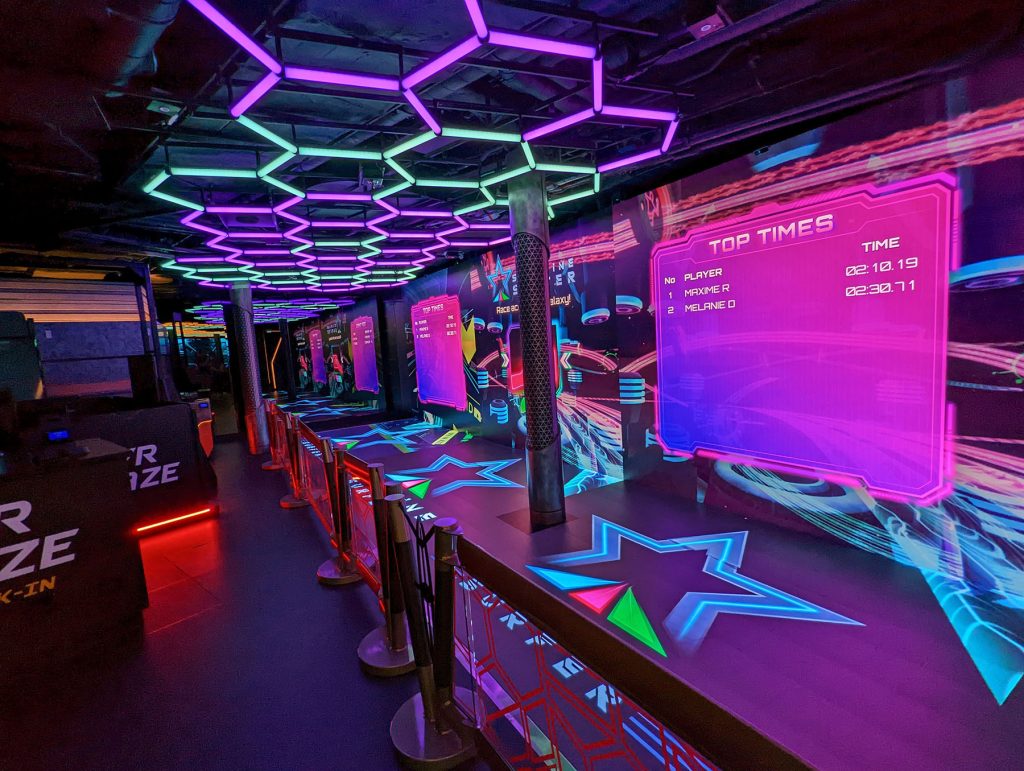 Overall, there are 13 different VR games in the Galaxy Pavilion. Some of the games are interesting and unique, but others seem like filler. For example, there are a couple of games where you sit still and watch stuff on the screen. One of them was like of knock-off of Disney's Soarin, where you "fly" through a landscape, but it's much less immersive. 
While some of the games rival something you'd see in The Void or premiere virtual reality spaces, most feel like they're running on Windows 98. They also dedicate a large portion of the floor to virtual go-karts, which seems silly, considering the shape has an actual go-kart track on it. 
Everything in the Galaxy Pavilion is an additional cost. The games are $8 each. You also can pay a flat $29 for an hour of rides or $49 for the day. 
The space also has two Escape Rooms. One is geared toward families and the other towards adults. Each room can have up to 6 people. The cost is $15 per person, so it can add up for a family.
The Galaxy Pavilion also has a Top Golf Swing Suite, a golf simulator that gives an arcade-like experience for a driving range. It's an odd placement for this adult-oriented attraction. It would have made much more sense for this setup to be with the Bullseye's Dart Lounge than here in a video game place. The Top Golf Suite is not included in the cost of Galaxy Pavilion; it's $55 per hour for up to 6 people. 
For those looking for a traditional arcade, you're out of luck. Galaxy Pavilion is the only arcade available on the Prima.
Dinner in the Commodore Room 
For dinner this evening, we wanted to try the Commodore Room, the other main dining room on the Prima. During all the press events and in all the materials, they tout how beautiful Hudson's dining room is, but there was hardly a mention of the Commodore Room. It was like the forgotten stepchild.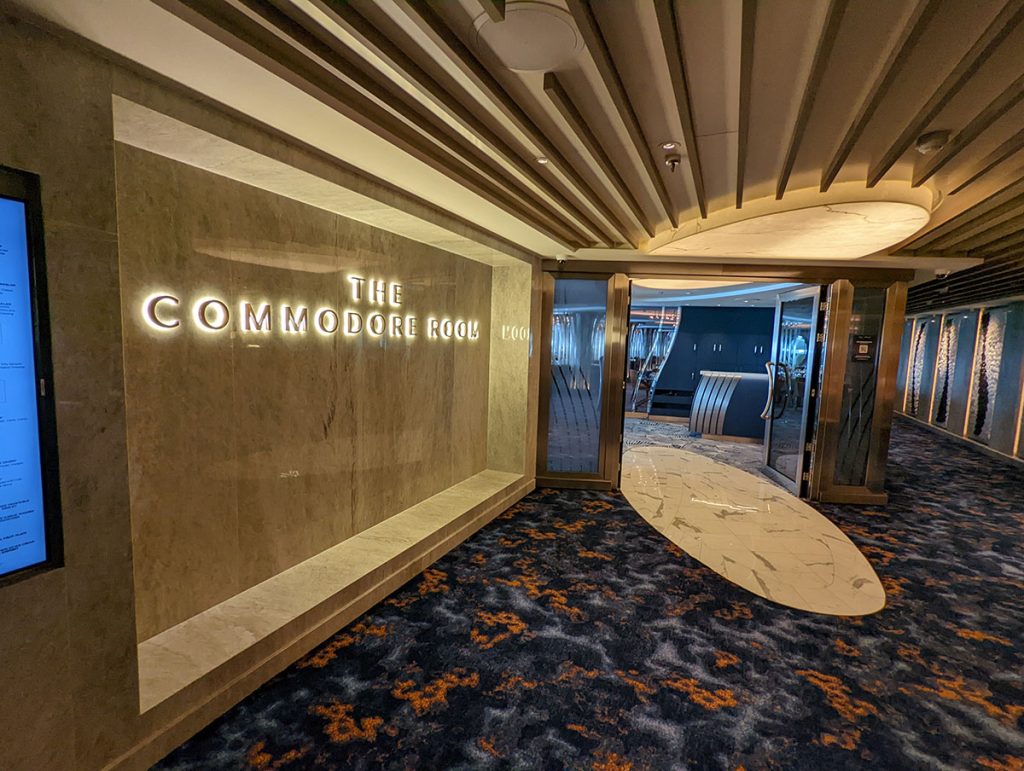 It wasn't just the marketing materials where it felt forgotten. While Hudson's is open for breakfast and lunch, the Commodore Room isn't. Also, when we went to book it at 7 pm, we couldn't; we could only get Hudson's. Someone said it was used as overflow when Hudson's was filled. By 7:30, we were able to request a table, and 15 minutes later, we were alerted our table was ready. 
Based on all that, I didn't know what to expect from the Commodore Room, so I was pleasantly surprised. While the decor definitely wasn't as high-end feeling as Hudson's, it was still very nice. It resembled the kind of one-story dining rooms you'd see on other Norwegian ships or Royal Caribbean's Quantum-class ships. You didn't get the beautiful views here, the windows in the Commodore Room overlook the lifeboat area, but the space itself was intimate.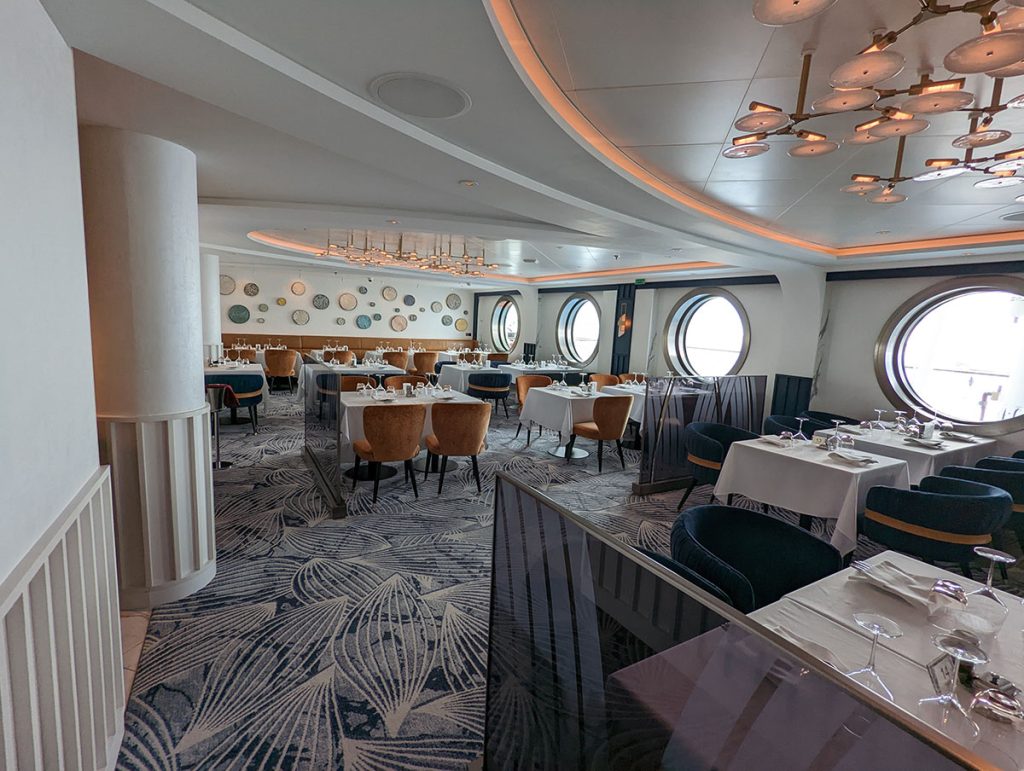 You get the same menu and the same excellent service in this dining room as you do in Hudson's. Our meal here was quick and yet again delicious. I started with a California roll and caesar salad, and my meal was the NY strip. The California roll was fresh and tasty, definitely better than you'd get in main dining rooms on some other cruise lines. The steak was cooked perfectly and served hot. For dessert, I got the warm chocolate lava cake, my new favorite dessert on a cruise ship.
Comedy show in the Improv At Sea
When we first arrived on the Prima, we booked all our entertainment options. We were able to get all the shows we wanted except for comedy shows which were completely booked. They told us we could try for standby. 
Norwegian's standby system is one of the best I've seen. Two hours before a show, the Norwegian app opens up the standby line. You press a button, and it tells you your place in line. Then, they notify you 20 minutes before the show, and you show up. We did it twice on this cruise and got in successfully. I really wish more cruise lines had a system like this.
The comedy club has a great look to it. The outside is decorated with different chemical element symbols to convey a feeling of a "laugh lab." Studio Dado, the designer behind the space, said it was inspired by the fact that the comedian has to have "chemistry" with the audience for a show to work. On the inside, you see the same attention to detail seen in other venues on the ship.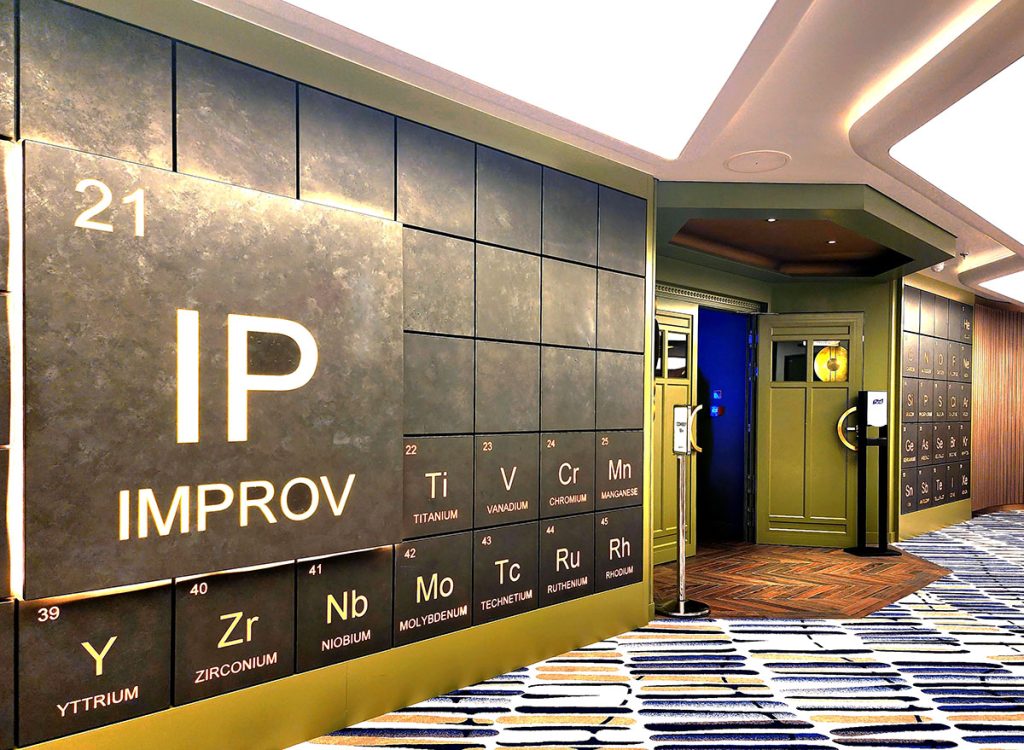 That being said, Improv at Sea is arguably one of the biggest missteps on the Prima. It makes you wonder what Norwegian was thinking when they made this space. The venue is grossly undersized. It has to hold less than 100 people (I've heard reports that the max capacity is 75 people). In the middle of the room, huge 2′ square columns block the view for half of the audience. While I understand structural beams are needed, I've never seen a support beam in a public area on a cruise ship be so thick, especially when it's in the middle of the room. Even the comedian joked about the obstruction and only being able to use half the stage.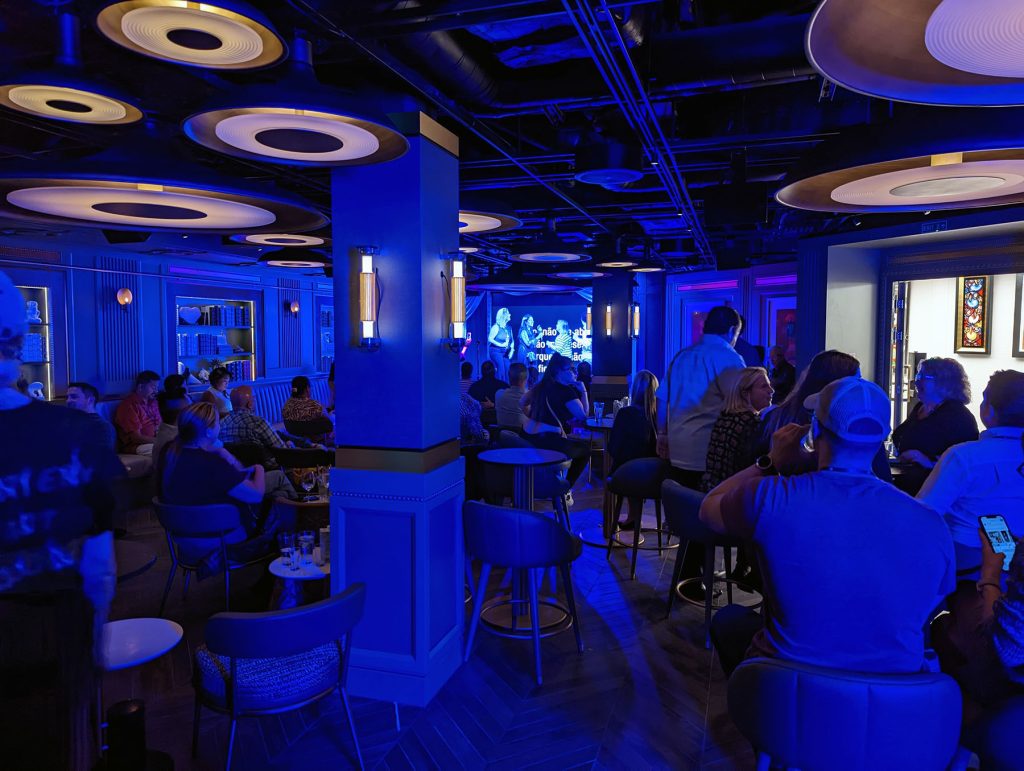 During the cruise, they had comedy shows and karaoke in this venue. I also found it odd that the place was called Improv at Sea, a specific type of comedy, and yet there was no improv here (although that's probably for the best). That's like calling a restaurant "Grilling" and serving fondue. 
An Evening with the Noise Boys in the Prima Theater
After the comedy show, we headed to the Prima Theater to see the Noise Boys. It was another show that Norwegian promoted heavily during the ship's initial announcement but had only done a handful of performances so far. 
But in all the materials, no one actually explained what the show was. All they said was that it was from the same producer of "Choir of Man," a popular show on several of the Norwegian ships. So I wasn't sure what to expect.
As we walked in, the theater had a different setup than we had seen for the Donna Summer show. For Noise Boys, the stage is extended into the audience area, and the seats are partially retracted. It gives it a much more immersive experience.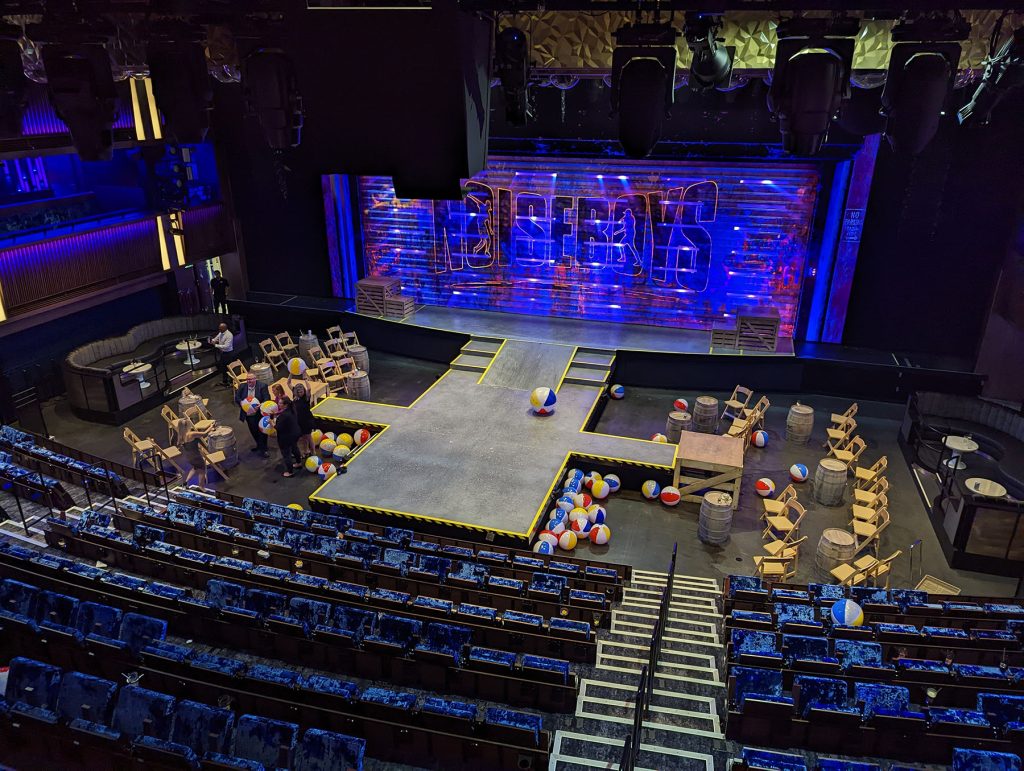 The show itself was very avant-garde, artsy but not too artsy. The show consists of a troupe of tap dancers, a troupe of beatboxers, and a lyricist/rapper. During the roughly 45-minute show, they put on a mish-mash of dancing and singing that oddly works at times. 
The weakest part of the whole performance was the lyricist, though at no fault of the performer herself. She would narrate through the show using rhymes that were hard to understand and that were, in themselves, weak. It felt like elementary school rap, not edgy or pushing the boundaries. A few times, she performed covers like "Girl on Fire" by Alicia Keys, and that's when the audience really seemed to connect with her. 
At first, the audience didn't seem to understand that there were no drums and that all the percussion sounds were coming through the two beatboxers. After a few minutes, the two beatboxers came down to have a beatbox battle. It's hard to explain, but the performers really came through here, and the audience got into it and started to understand what the show was…kind of. The tap dancers were also very talented and had some tight routines. If you ignored the early 90's grunge costumes, you could really see them as good performers. In another odd choice, the dancers were interacting and joking with the audience, but they didn't have mics, so most people missed it.  
Overall the audience seemed to enjoy Noise Boys, and while it wasn't my favorite show, it was way better than some other cruise entertainment I've seen. Still, it feels like a production that's still being workshopped and needs some adjustments. It'll also never be a tentpole entertainment show like Summer; people can't explain what it is. 
That's a wrap on Prima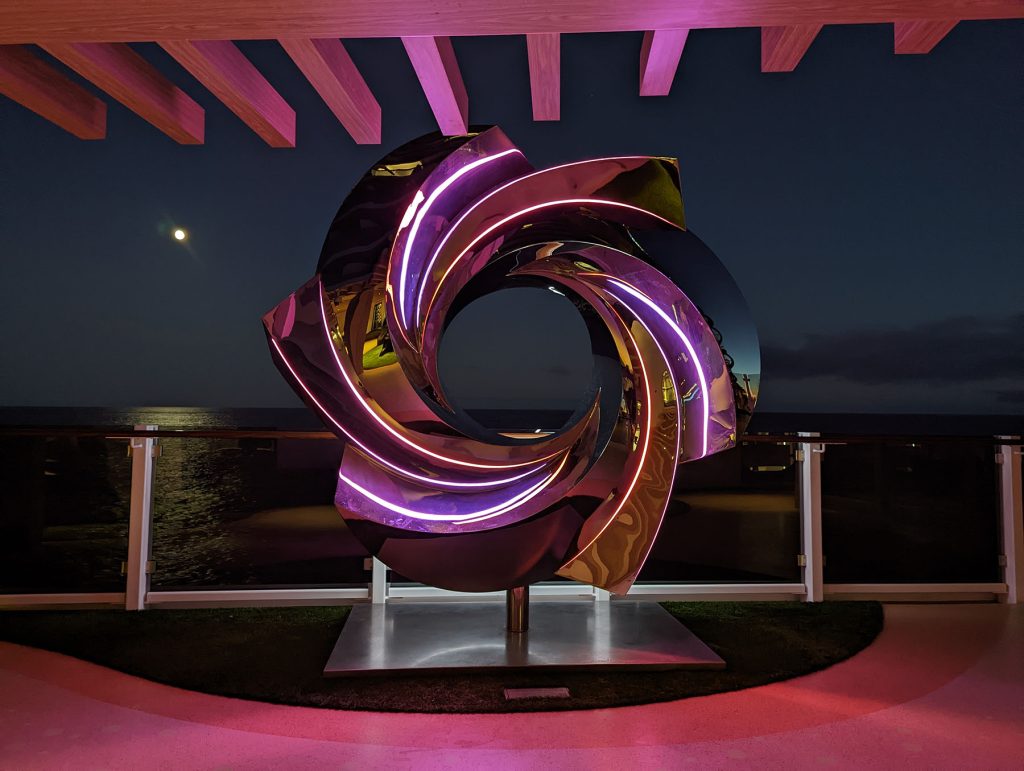 And that's a wrap on my experience on the North American sailing of the Prima. In the next post, I'll have my complete thoughts and who I think this ship is for. Hopefully, these blogs helped you know what to look forward to (and look out for) if you're on a sailing of the Prima. 
Follow along on the rest of our Norwegian Prima cruise
Norwegian Prima – Cruise Blog - Day 1 – NYC
Norwegian Prima – Cruise Blog - Day 2 – Sea Day
Norwegian Prima – Cruise Blog - Day 3 - Halifax
Norwegian Prima – Cruise Blog - Day 4 - Final Sea Day
5 Hits and Misses on the Norwegian Prima
If you want to stay up to date with what we publish, sign up for our monthly newsletter
CruiseSpotlight is an Amazon Associate. We may earn a commission when you click links to retailers and purchase goods.